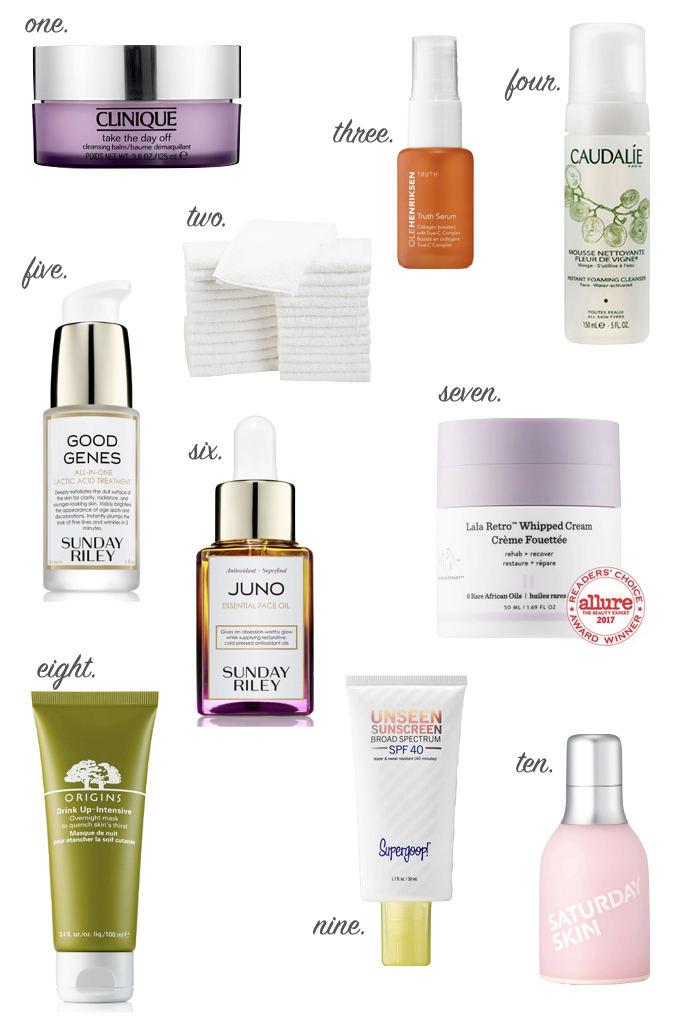 one. two. three. four. five. six. seven. eight. nine. ten.
Hi you guys! I know it's been a little quiet over here. I have been forcing myself to take it easy since my surgery. Each day I have been feeling more like ME, and it feels so good. Immediately after my surgery with the painkillers and such I was totally motivated and had energy. But the days following when I stop taking the pain meds, I felt those inevitable blues and just feeling blah and gross in general. Which leads me to today's blog post which I'm super excited about!
So Saturday night as I was washing my face I had a few realizations. The products I was using was mostly a bunch of randoms that had been gifted to me. And also my skin was a hot mess. Super dry in areas- especially around my eye area + brows… does this happen to anyone else?
I ended up washing + moisturizing and serum-ing for like 20 minutes that night and got into bed with a mission. With my husband already passed out right next to me (and snoring), I think I researched the best skin products, mostly for dry and combination skin for like 3 hours. And I have to admit it was really fun!
These are all the products I purchased, and I got everything from Nordstrom + Sephora (with the exception of the cotton washcloths which are from Amazon). These products all have tons of rave reviews (that I read for hours so you don't have to). haha! After I use them for a while, I will do a complete review here on the blog… if you guys are interested!
I've decided that I wash my face too aggressively. I use a Clarisonic and really try to exfoliate off that dead skin. see above. I'm switching to double cleansing- first using this cleansing balm (RAVE reviews) to remove my makeup and then this gentle foaming cleanser (RAVE reviews, great container for travel). My Clarisonic is going to take a little break (we will see how long that lasts haha) and I'm switching to simple cotton washcloths. Get enough washcloths that you can use a fresh one every day. That's one of the things I don't love about the Clarisonic. If bacteria builds on there, you keep reapplying that growing bacteria to your face.
After washing, I am spritzing a toner that I already have. And then serums- this one by Sunday Riley (so excited to try!), this face oil for extra moisture (I read that it actually balances the oily parts of your face if you have combination skin), and this vitamin C serum (I got the tiny bottle which is only $15- great to test out).
For moisturizer, this product is supposed to be the best! Ultra-moisturizing, but I also got this overnight mask to use twice a week. More is more right? And then I never really use an eye cream because I read that eye cream is just a marketing scheme and doesn't do anything that your moisturizer can't. BUT then I read the reviews for this eye cream which is basically a miracle worker. And the cute packaging helps too! It is supposed to reduce puffiness and dark circles like no other. I don't have issues with the puffiness, but I really struggle with my dark under eyes.
And then last… I hate to say it but I've been really slacking on putting sunscreen on my face. I started getting laser treatments a few years ago and was so good about religiously applying sunscreen every morning. The IPL laser got rid of all my sunspots, but they can come back quickly if you don't protect your skin.
I tried switching to a brush-on block and personally I'm just not a fan. I never knew if I had any or enough on my face. With liquid sunscreens- those can make your skin have a white-cast, make your eyes burn, and interfere with your makeup going on smoothly. It's any wonder we don't like applying sunscreen! Then I came across this little gem of a sunscreen– it's actually a two-in-one sunscreen + primer. And people love it! No eye irritation or visible product, and it helps your makeup glide on more smoothly.
Taking care of my skin at home is just a small piece of the puzzle. I swear by lasers… it's been a while since I've gotten one and I need to get back on a consistent routine. I just hate the downtime afterward with crazy looking skin. I hope you guys liked today's post since it's different from what I normally do. Let me know if you are interested in seeing more skincare and beauty posts in the comment section below!
Thanks for reading! xo, Missy