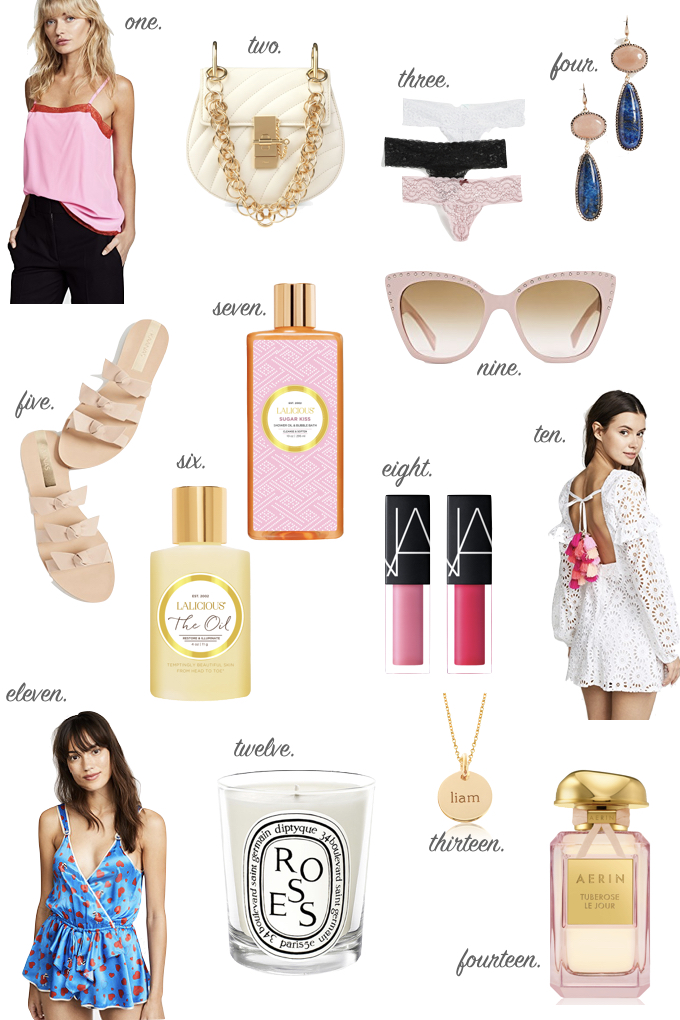 one. | two. | three. | four. | five. | six. | seven. | eight. | nine. | ten. | eleven. | twelve. | thirteen. | fourteen.
When it comes to shopping, I go through stages. There is the stage where I can't find anything I really like or want to buy, and this stage usually occurs when I have money to spend. The other stage is the gimme-gimme I want everything stage slash "why is there so much cute stuff out right now."
When I can't find anything I really want to buy, putting a collage like this together can be a struggle. Unfortunately for my credit card and poor husband, I am currently in the gimme stage. I bought FIVE bathing suits this week. FIVE! I keep telling myself that I will return some but so far the returns have been pretty stagnant. ha
I die for everything on this gift guide. Husband, if you are reading HINT HINT.
My latest obsession is the brand-new, hasn't been released yet, 2018 Spring Chloé Drew Bijou Mini-bag. She is darling! I think I love it best in white, but since I have the Chloé Nile in white, I think I am going for the peachy color. Although the black is gorgeous too!
The sweetest gift idea on this collage is this engraved mommy necklace. If you are a mama, you can have your child's name engraved on the little round disc. If you have more than one child, you can get multiple discs and they will even put the birth date on the back. If one of your girlfriends is a new mama, I couldn't think of a sweeter gift! I have this necklace with Max's name engraved on it, and it is so very special but simple enough I can wear it every day. Because the engraving/shipping process takes some time, I would jump on this one right away!
Some of my favorite go-to gifts for girls are a candle, bubble bath, and fragrance. This rose-scented candle is the perfect scent for Valentine's Day, and it also makes a great container for your makeup brushes after you've used up all the wax (just poor boiling water in the vessel and let it sit overnight). I am captivated by this bubble bath + body oil. The packaging is so pretty, and I am definitely going to try! This perfume smells like summer and will look so pretty on your bathroom counter.
Statement sunnies are going to be a big trend going into spring + summer. Perfect to pair with all your swimwear. This pink pair is everything! I recently ordered this cover-up dress (mark my words it well sell out) and I'm watching these bow sandals like a hawk waiting for them to be restocked in my size.
I was kind of bummed that the holidays were over, but I am definitely perking up and getting in the spring mood. I love Valentine's Day! And in case you missed my recent post on gift ideas for the guys, you can catch it here!
Have a nice weekend! xo