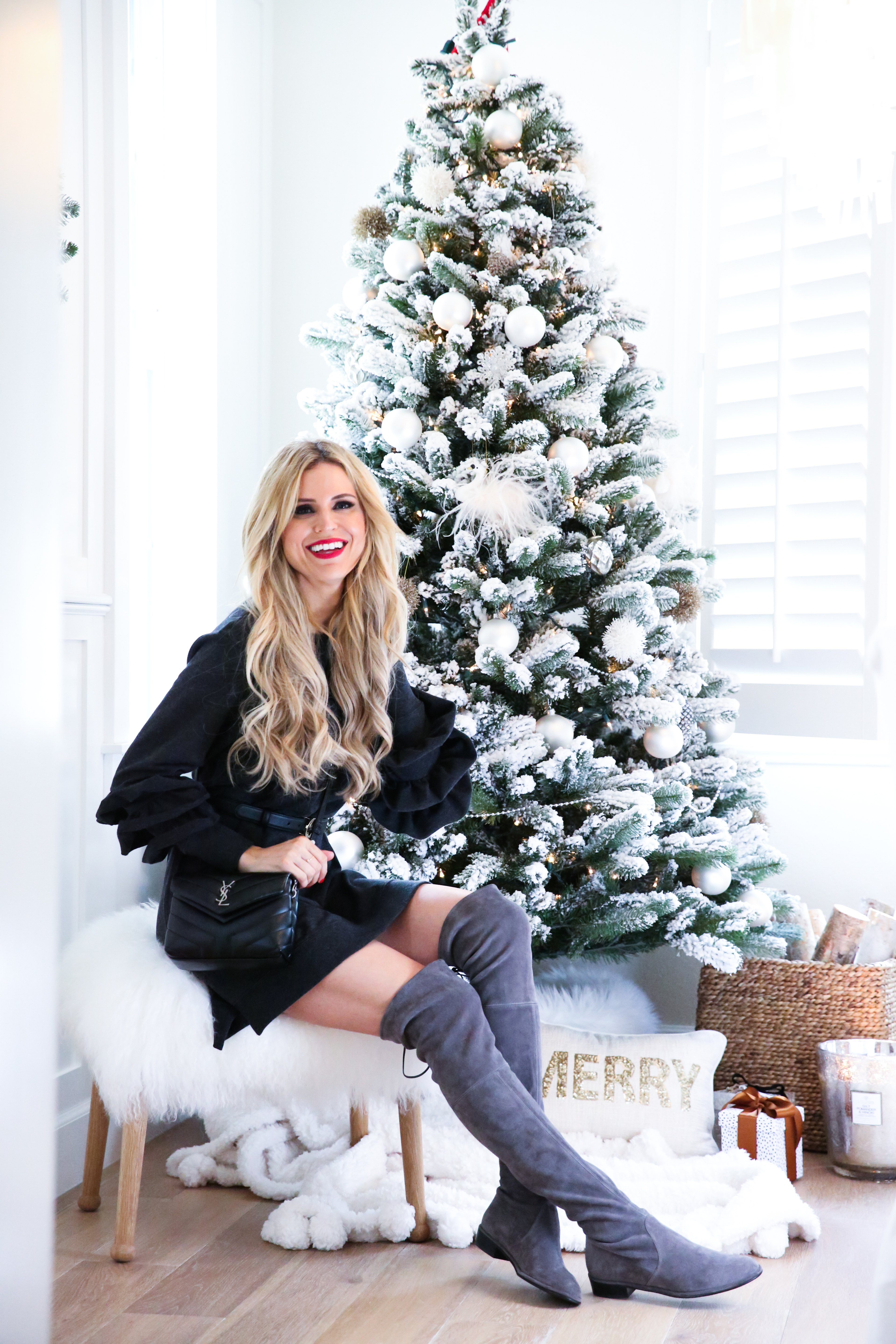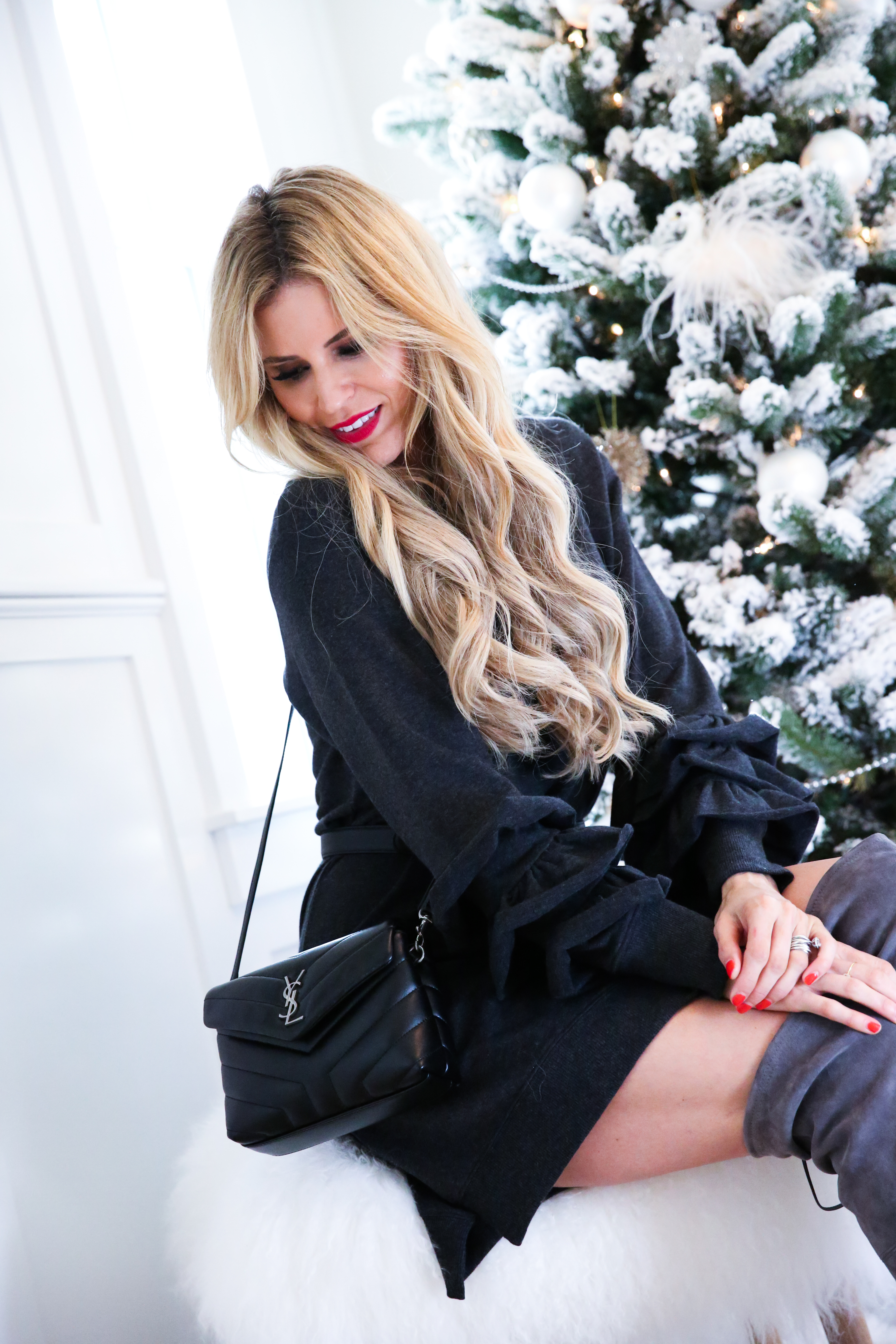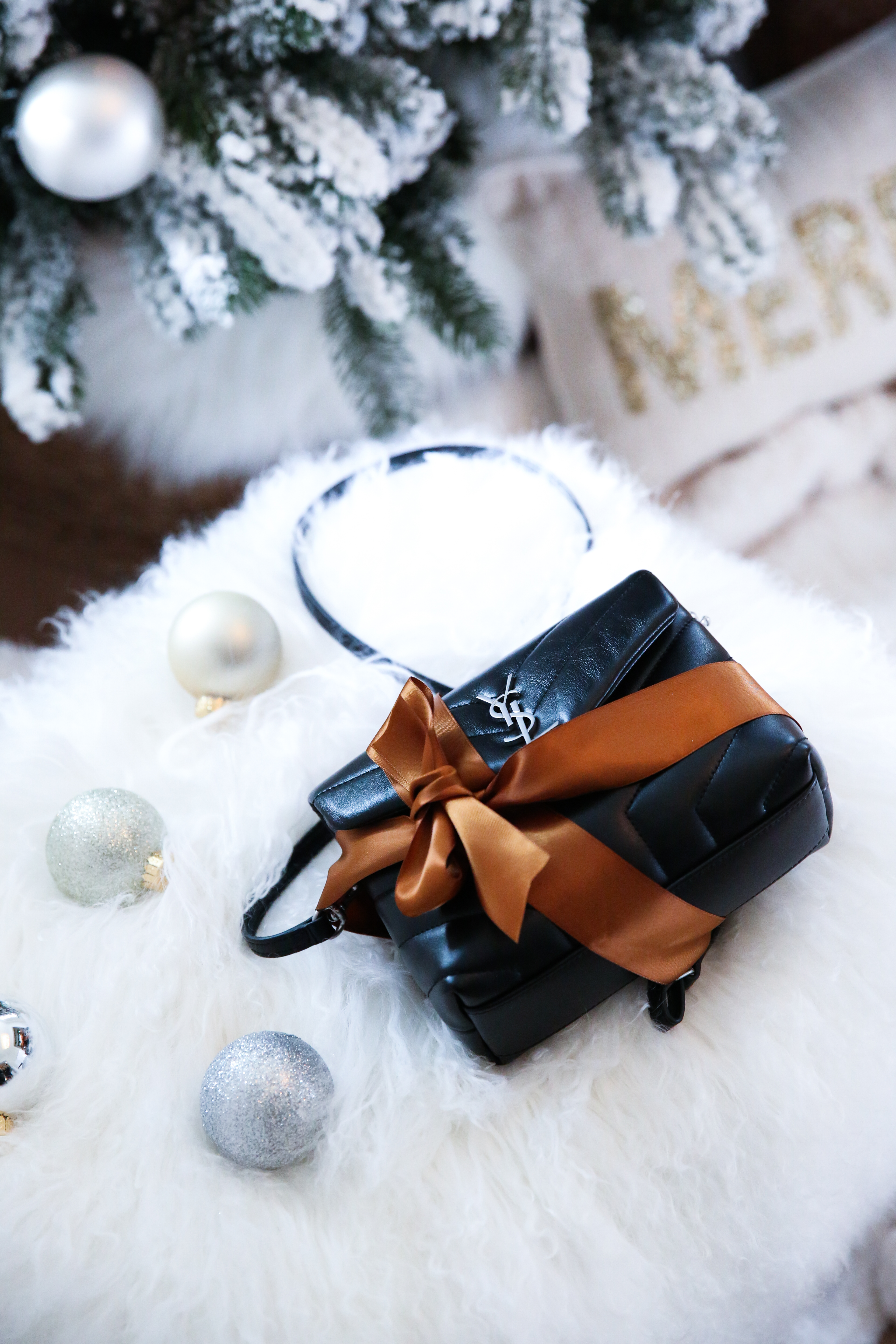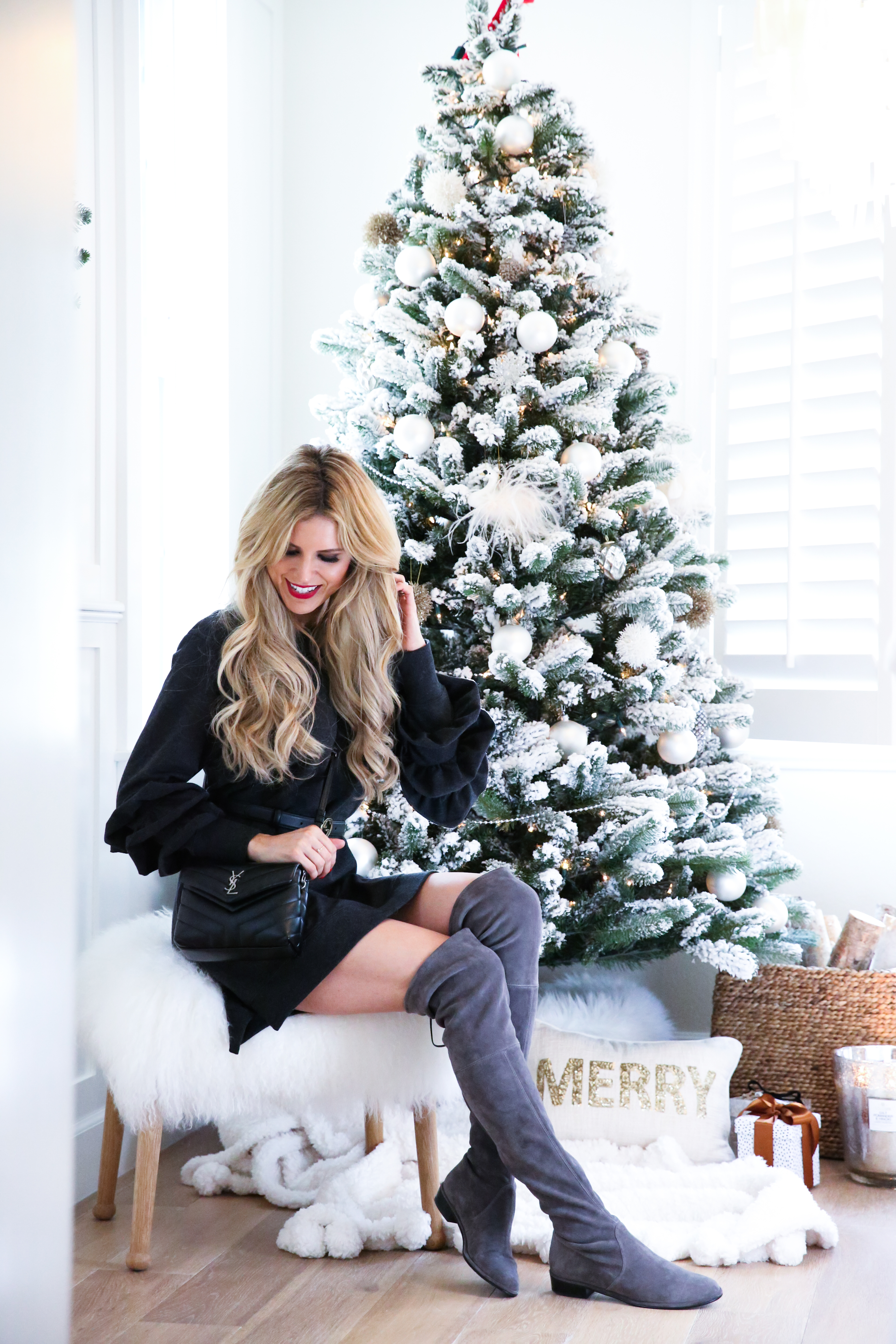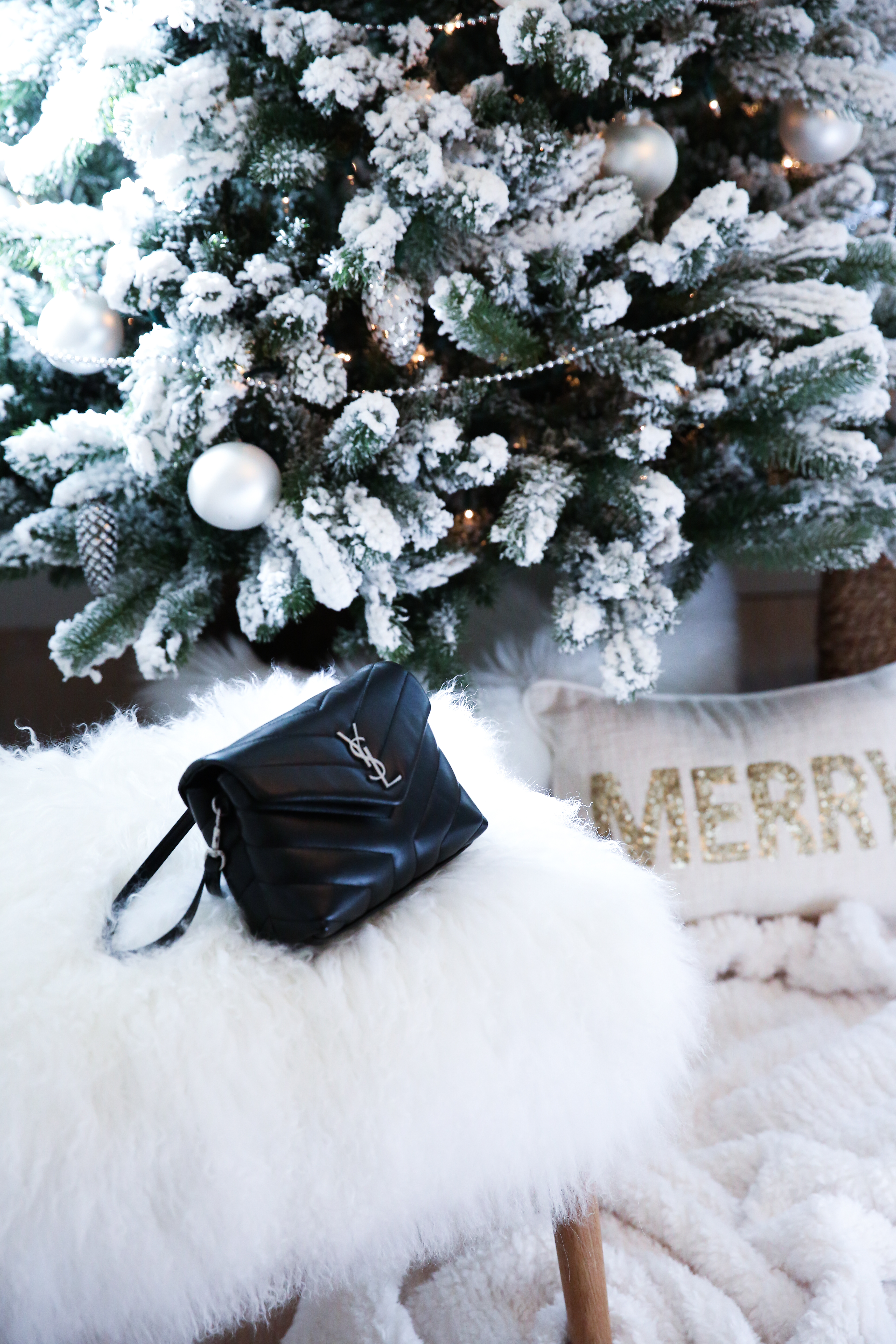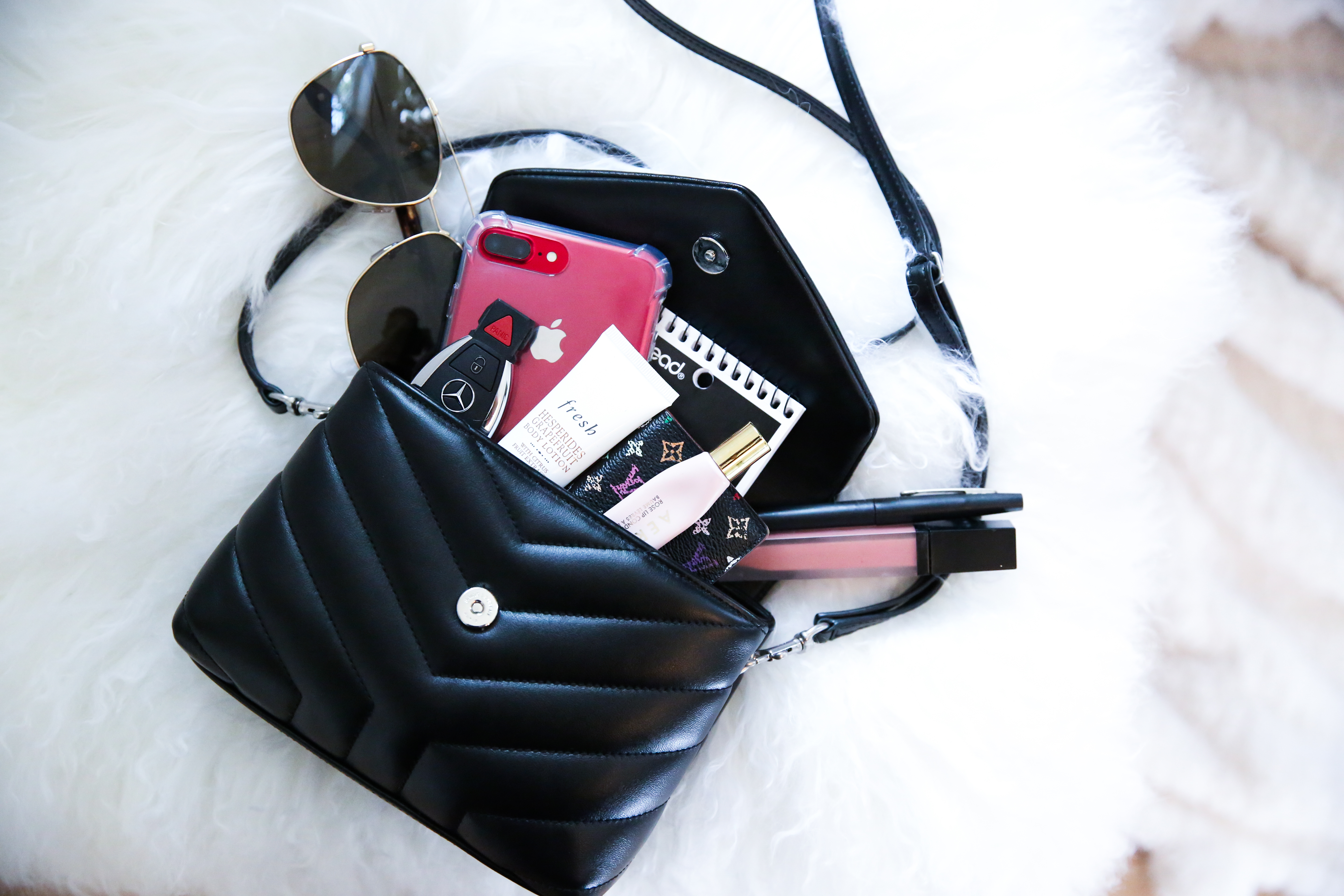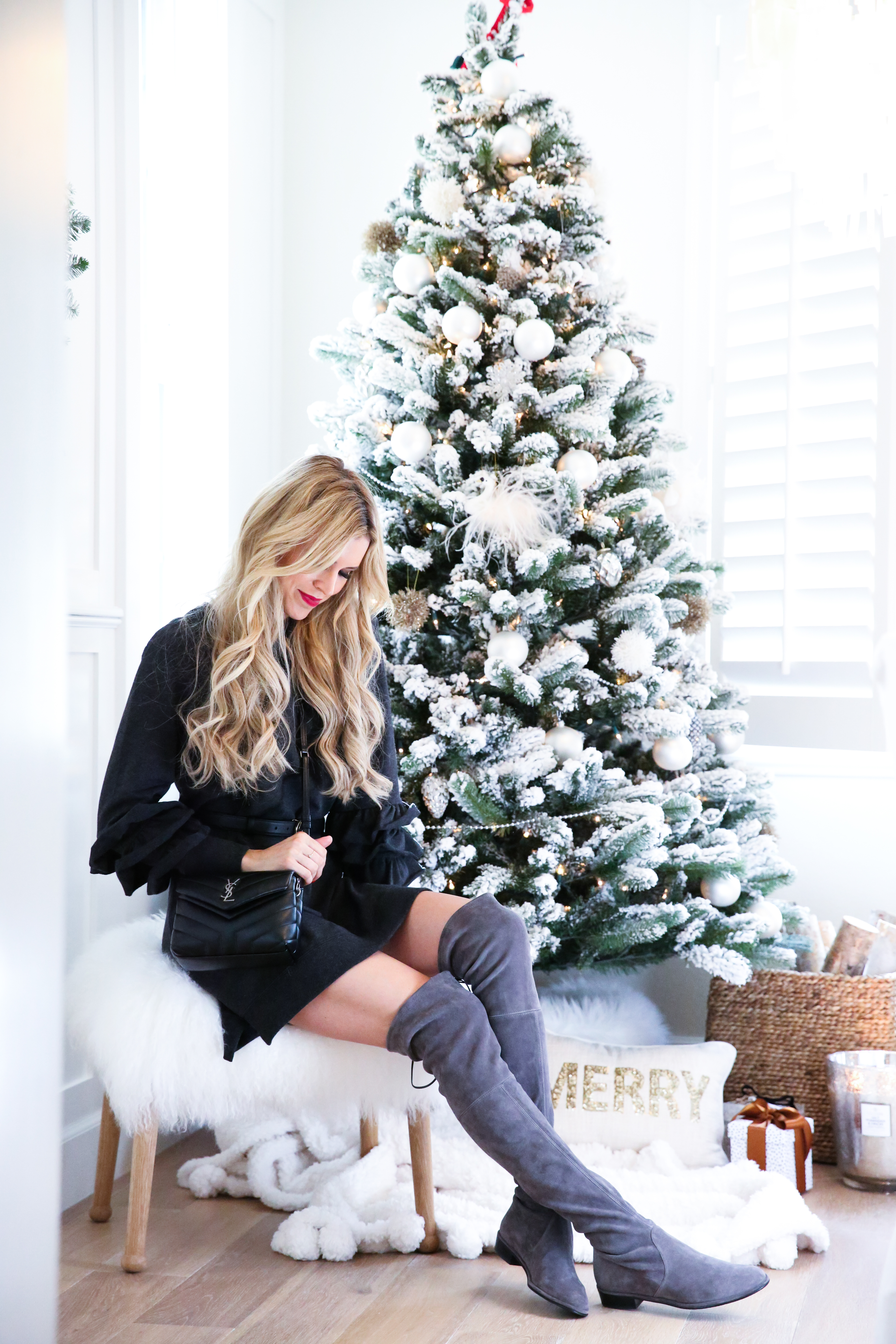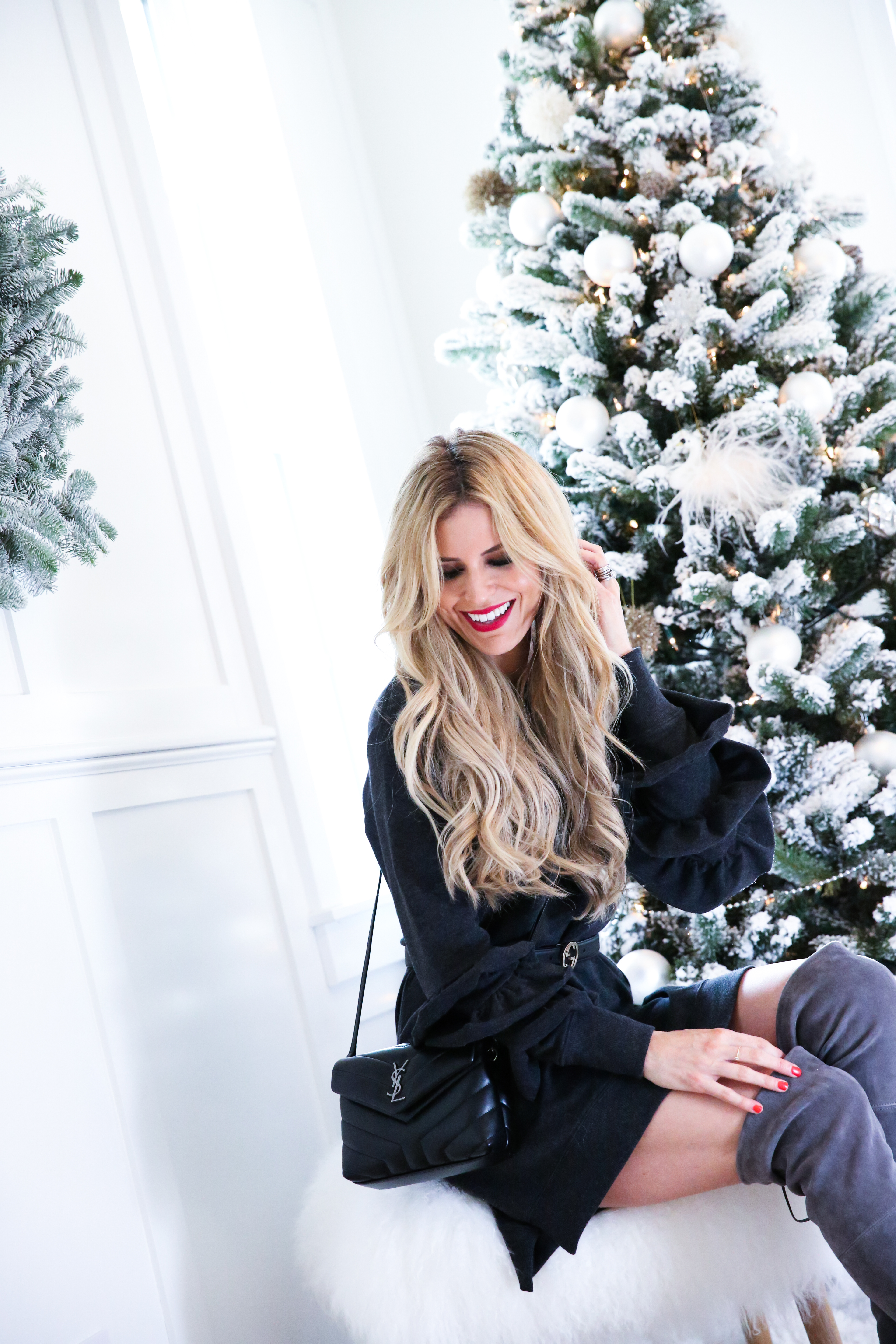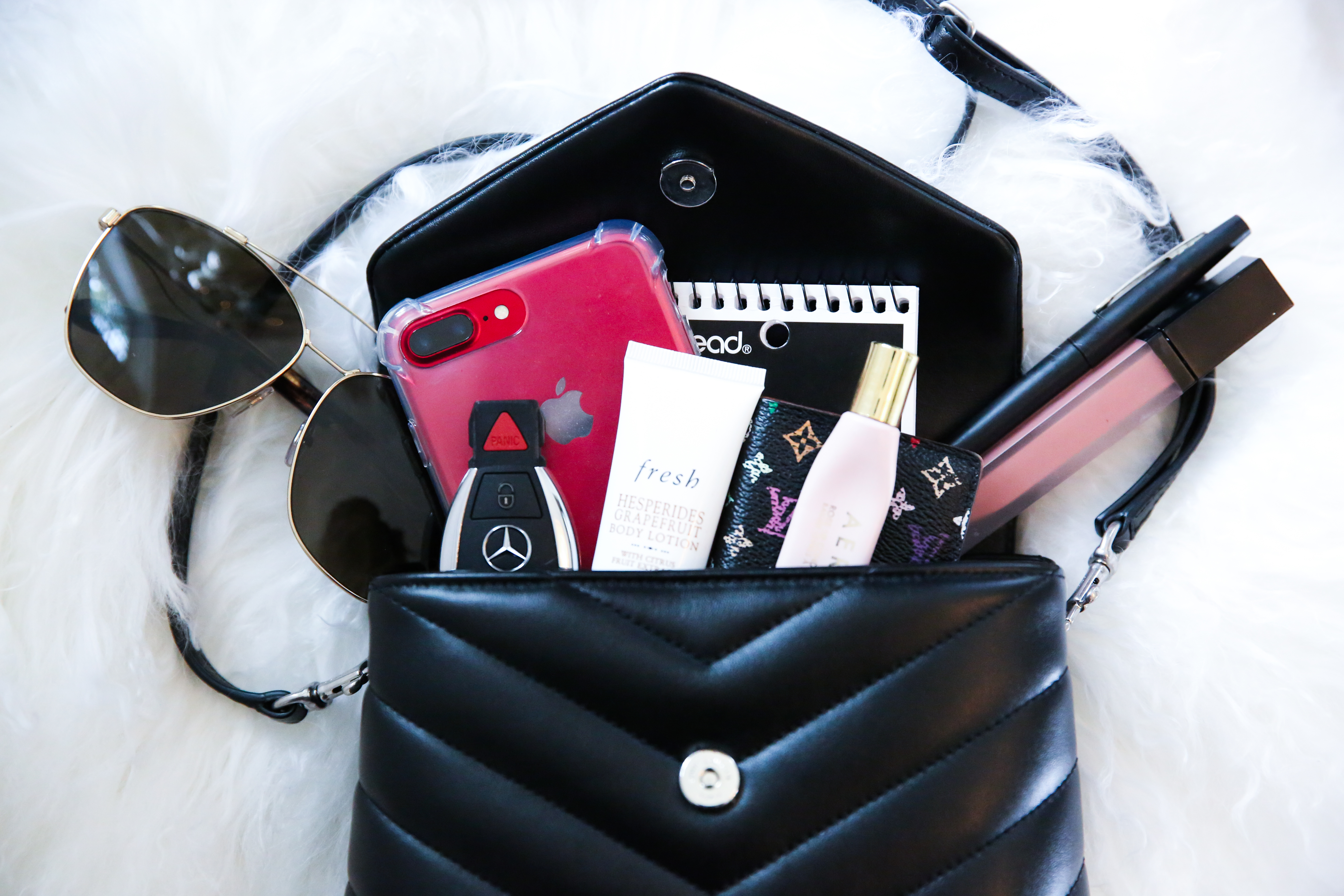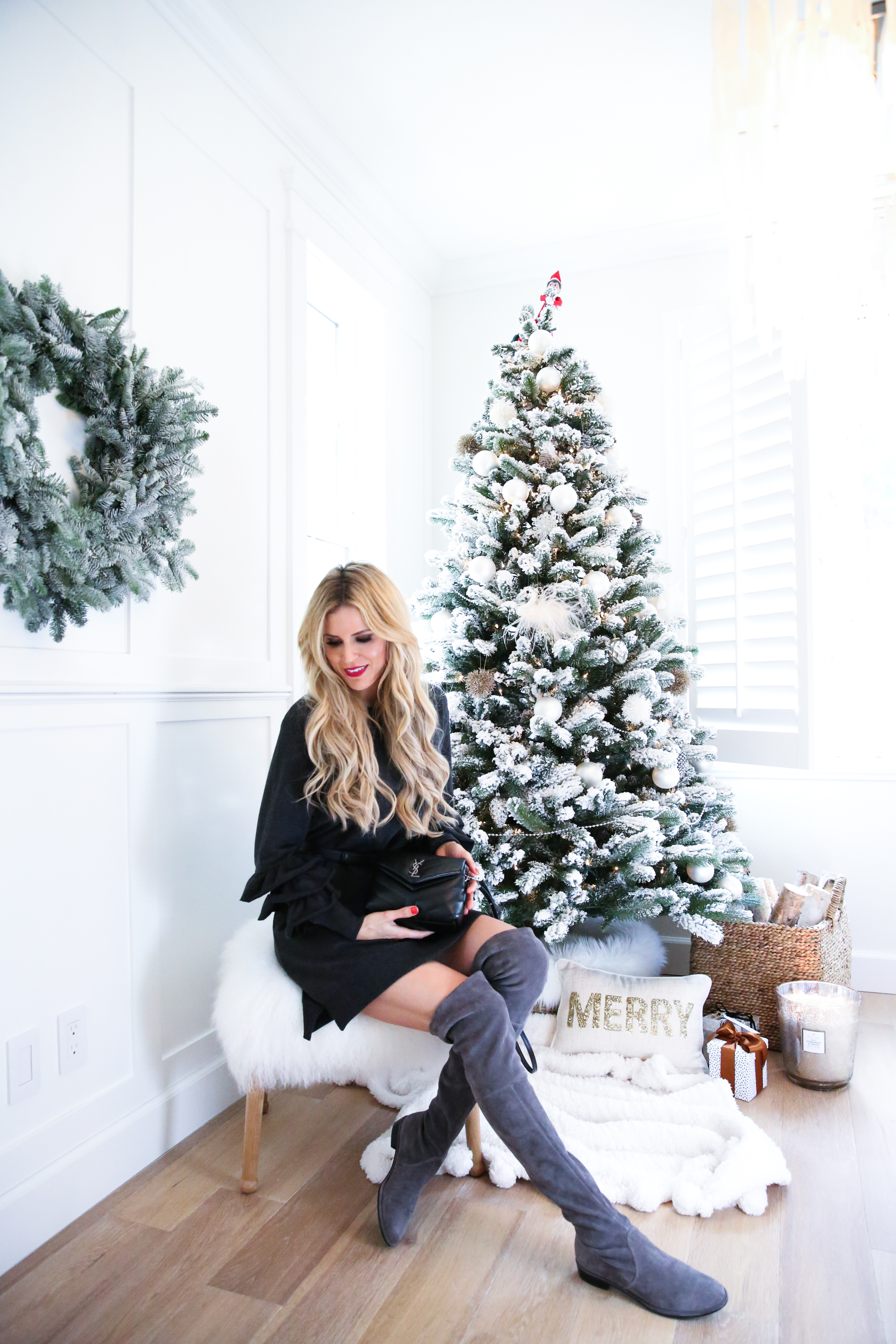 Dress: Tier Sleeve Sweatshirt Dress (Under $50!!!, comes in 3 colors, wearing a size small) | Bag: Toy LouLou Calfskin Leather Crossbody Bag | Boots: Lowland Over the Knee Boot | Belt: Gucci Leather Belt (similar option here!) | Lipstick: MAC Ruby Woo
You guys… Christmas is almost here! What's on your wish list? My husband and I trying something new this year inspired by my friend Erica from 1011 Makeup who styled my hair + makeup for this shoot. P.S. if you're in the O.C. and need beautifying, she is your girl!
My husband is an over the top gift giver, and we have been spending so much money lately on our house with projects and renovations (next up is our master bedroom- stay tuned!). So this year we are setting a budget of $200 …plus filling each other's stockings. Which my husband always goes over the top with as well. I remember the first year I pulled open my stocking from him and there was a Jo Malone candle and I felt kinda bad when he got his snickers and Twix LOL.
The four gifts have to fall into these guidelines (and this is where Erica's idea kicks in): something you want, something you need, something to wear, and something to read. Have you guys heard of this concept before? It makes things easy, and it will be fun being creative while staying within the guidelines.
And let's be honest… all I really wanted for Christmas is this YSL LouLou bag, which… I got for myself. whoops 😉 In this post, I am sharing what I love about the bag and doing a quick review, which is a fun change-up from my usual outfit posts.
What I love:
Versatile- it can be dressed up or down. The strap detaches so you can carry as a fabulous little pouch. And the black goes with everything!
It can be worn a crossbody, over one shoulder, or as a clutch. Again- VERSATILE! For me crossbody is key, so I can be hands-free chasing around my 5 year old.
It's size is deceiving because I can fit SO MUCH stuff in that little guy. More on that later.
I haven't seen a lot of people carry this bag. I appreciate wearing something that a lot of people aren't wearing.
The price point is decent for a designer bag!
It is classic + timeless and won't go out of style. I can see myself wearing this bag for years to come!
I'm personally fascinated with what people carry in their bags so I included some photos of my daily necessities (which usually include a stack of receipts- the worst!). I hardly ever carry cash so I use a LV cardholder which I have been using for years. I always have a pair of great sunnies (this pair linked here), my phone + keys (obviously), hand lotion (my hands are forever dry since I'm always washing them), lip moisturizer and lip color, and a small notepad + pen that I can write my "to do" list or jot down any ideas that I have for my blog throughout the day (these usually come to me while driving). And that's it! And I'm able to stuff all this in my LouLou bag no issue.
My wardrobe is always a mix of high + low pieces. Like this outfit- this sweater dress is under $50 which I am seriously obsessed with. The ruffled sleeves are so cute, and I love how it looks with a skinny belt. I paired with high-end accessories that I can wear many times over with all my different outfits. You guys have seen me wearing these over-the-knee boots a ton lately. I get so much wear out of them!
I found all these items at Nordstrom which you guys know I love! While writing this blog post, I am also simultaneously shopping at Nordstrom online for presents. One of my most favorite things about Nordstrom is their online pick-up. It's perfect for last minute shoppers (like me) who are pressed for time (like me). I just placed orders at two different Nordstrom locations (gotta love Orange County) and plan on swinging by and taking advantage of their curbside pick-up which feels so fancy and decadent.
xo, Missy
Thank you Nordstrom for sponsoring this post! All thoughts and opinions are my own.
Photos by Vincent Elejorde. Hair + makeup by Erica, 10.11 Makeup.