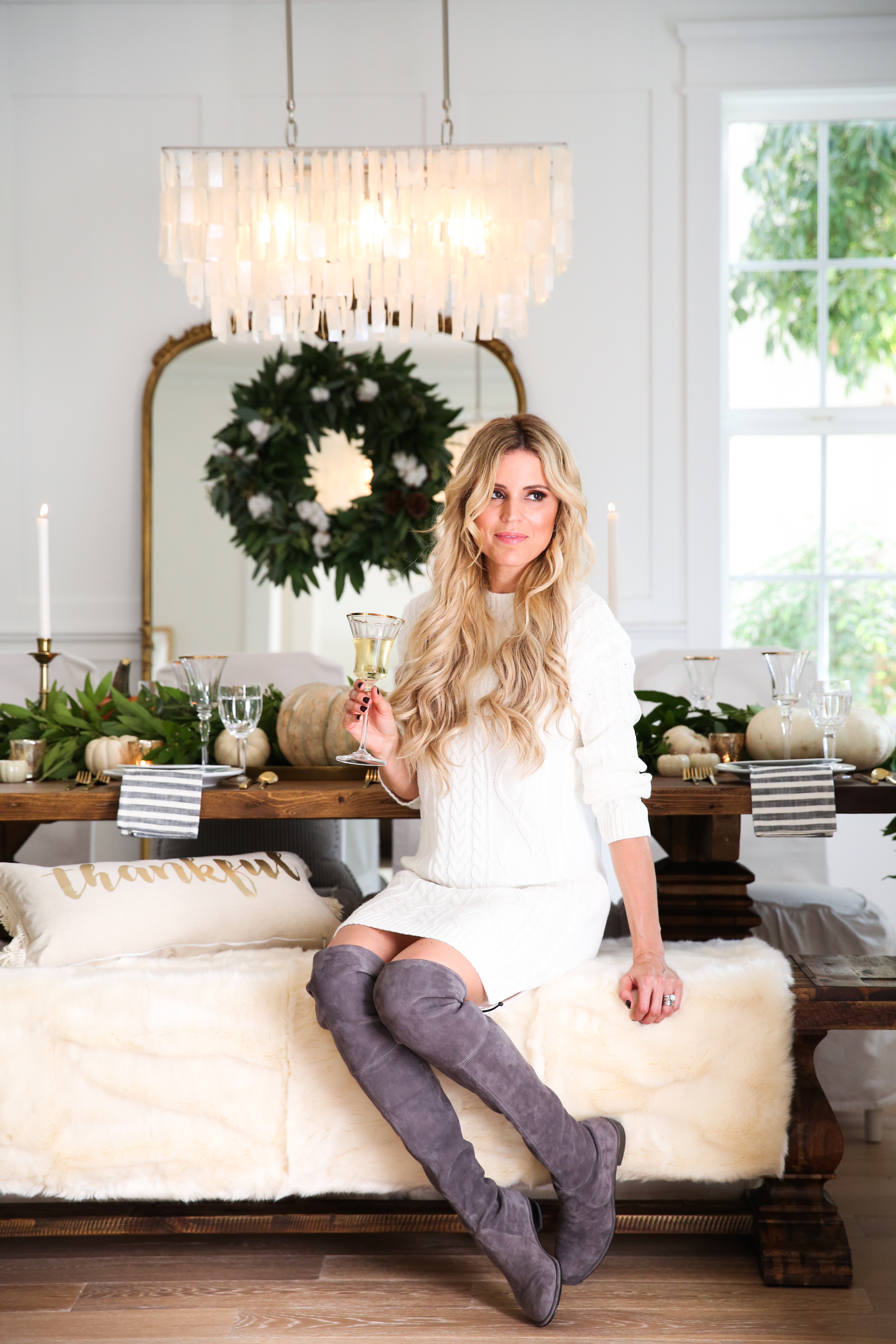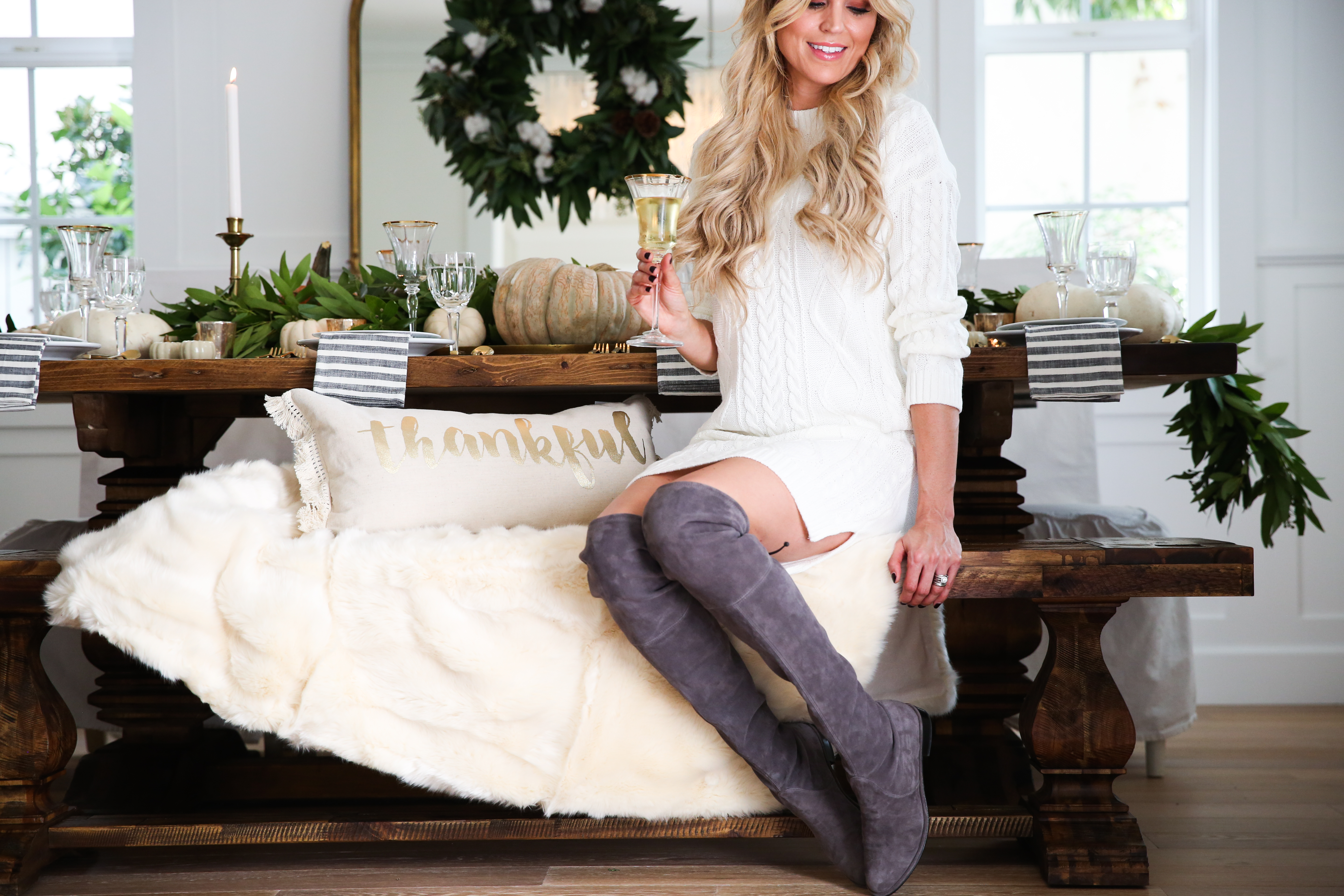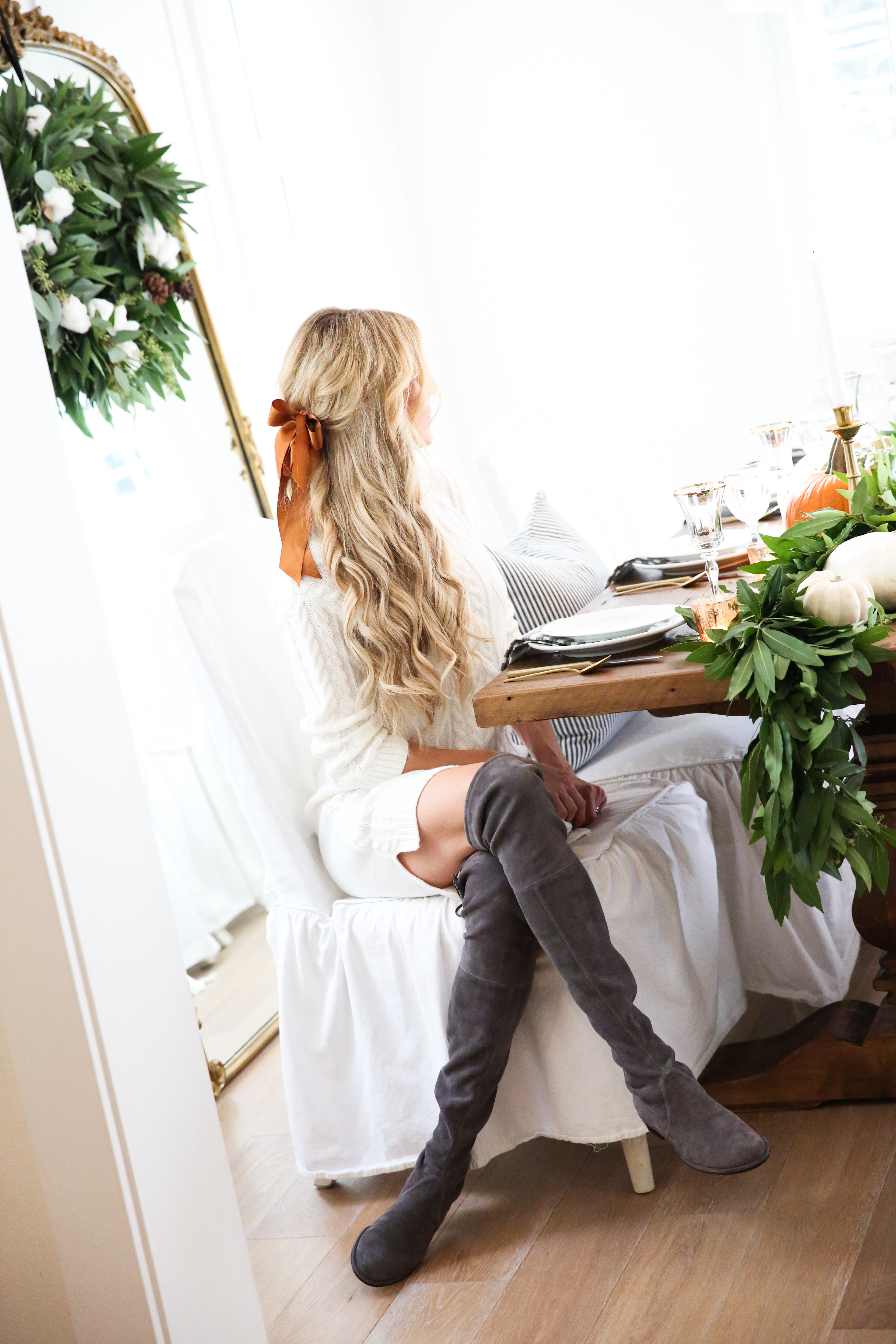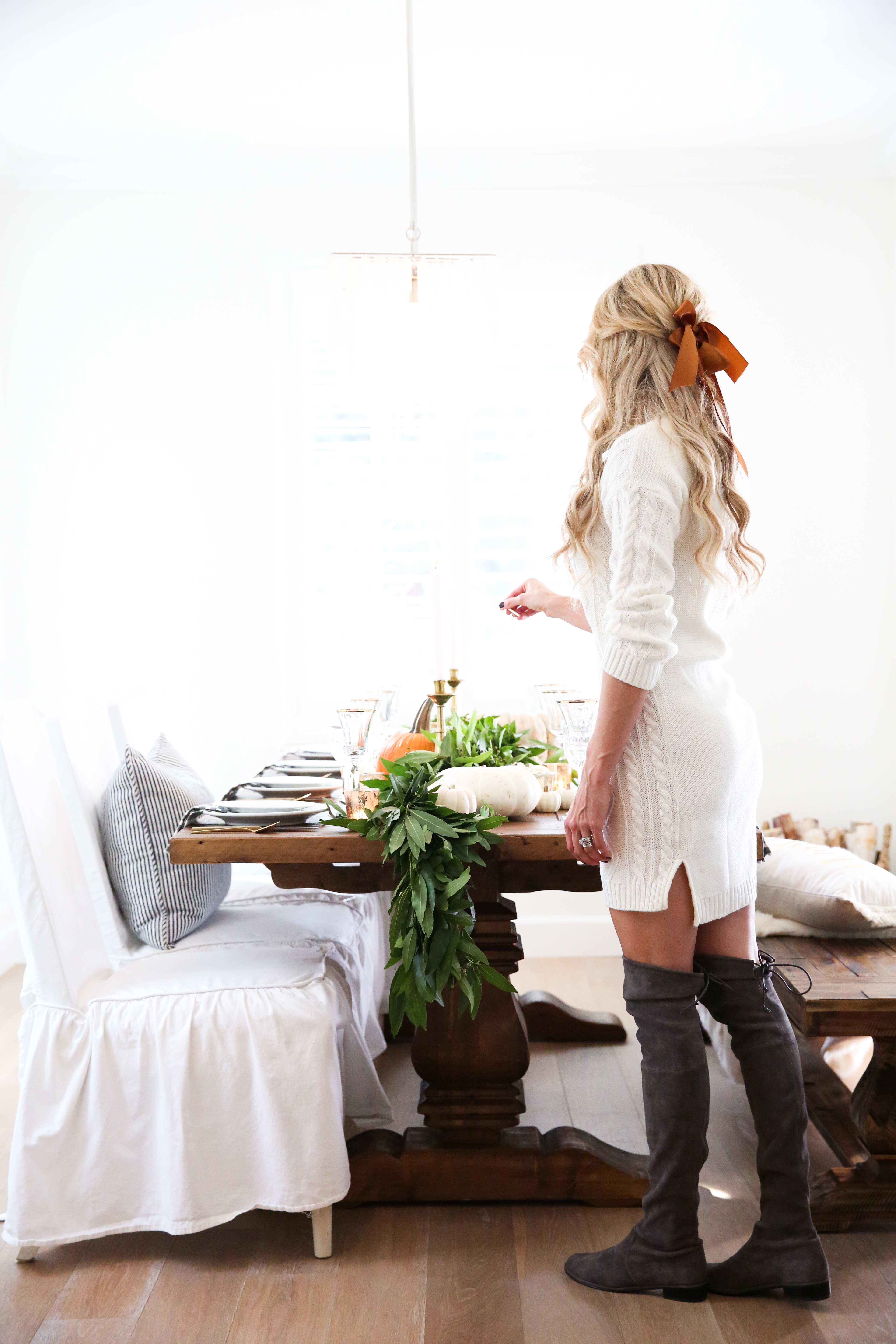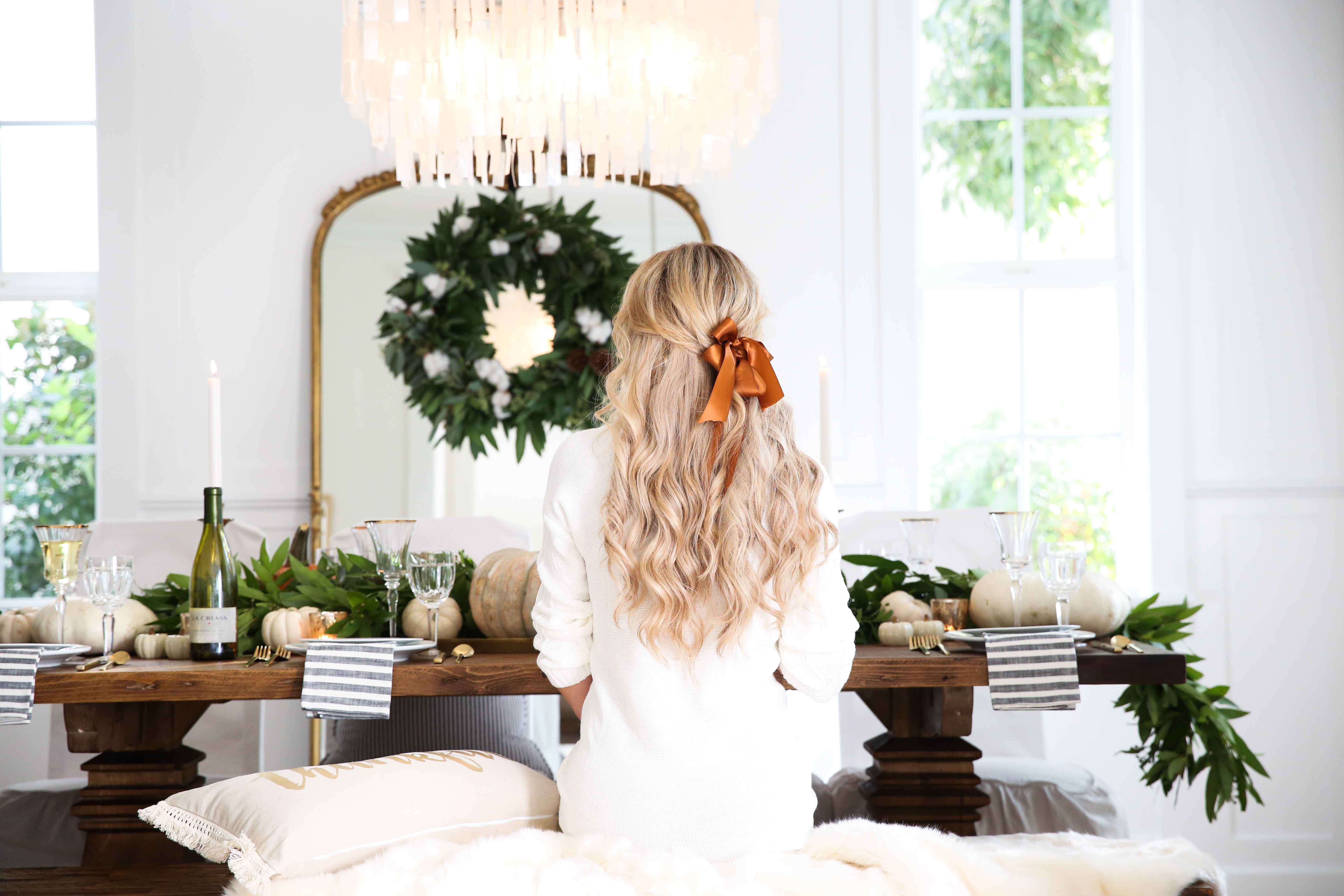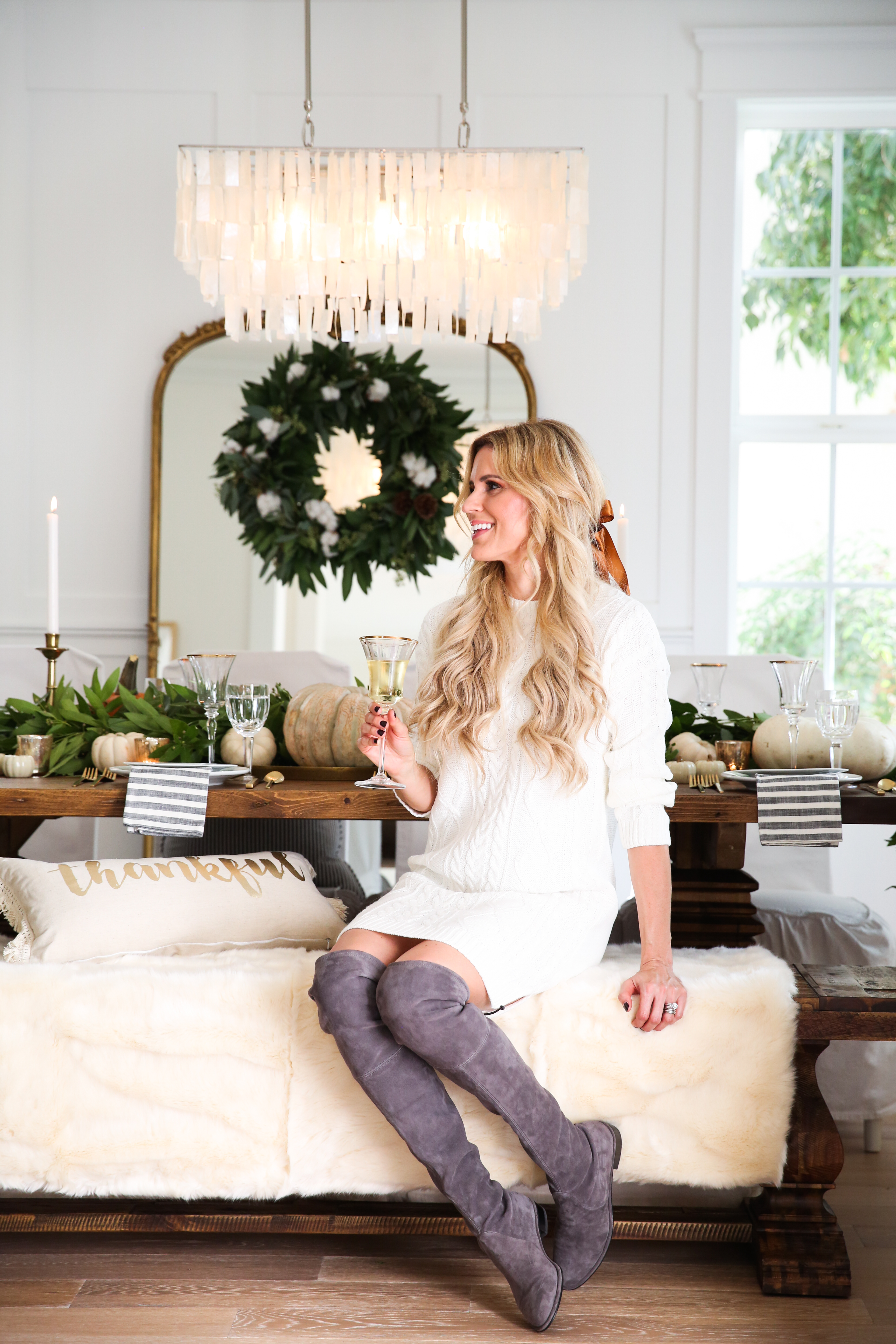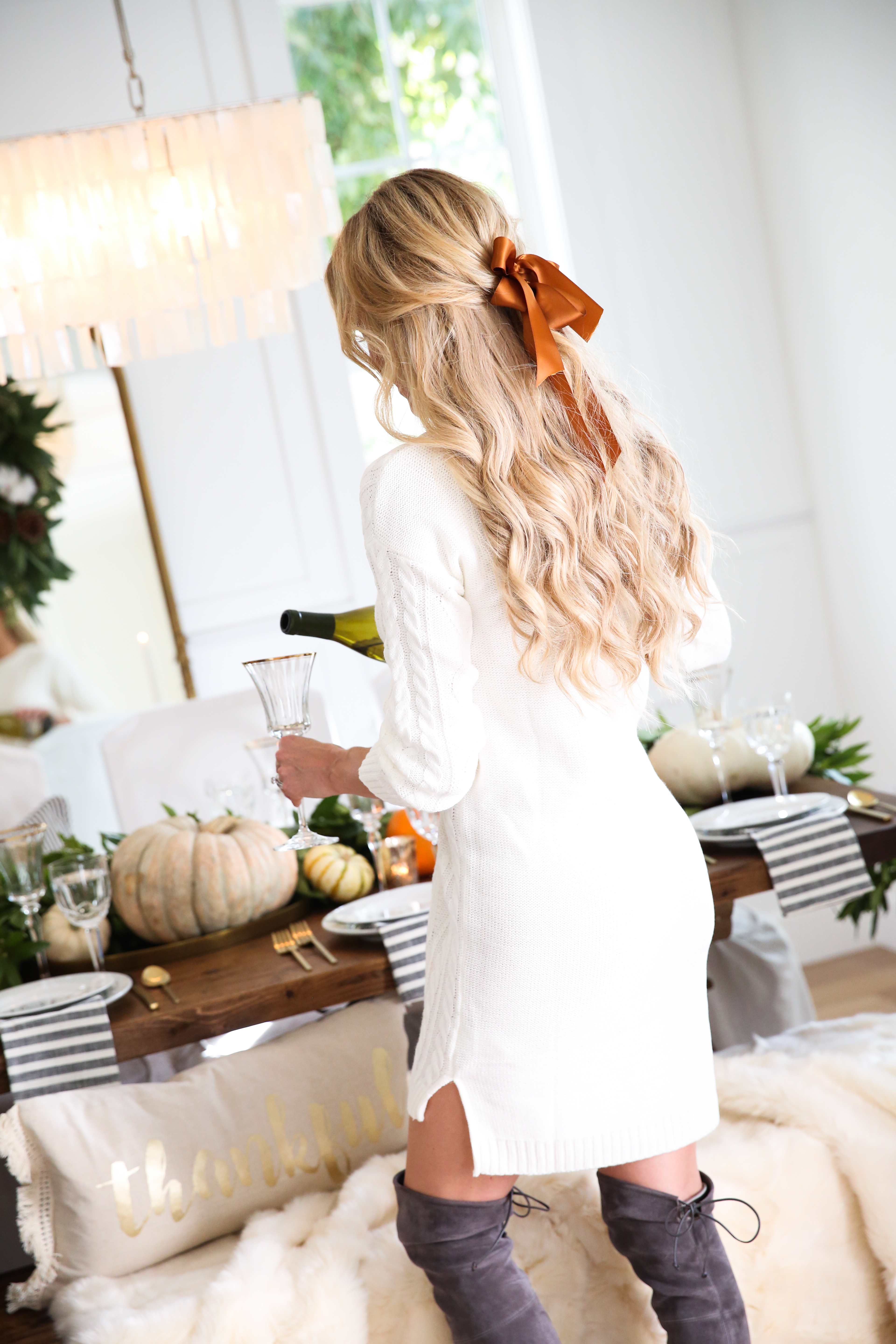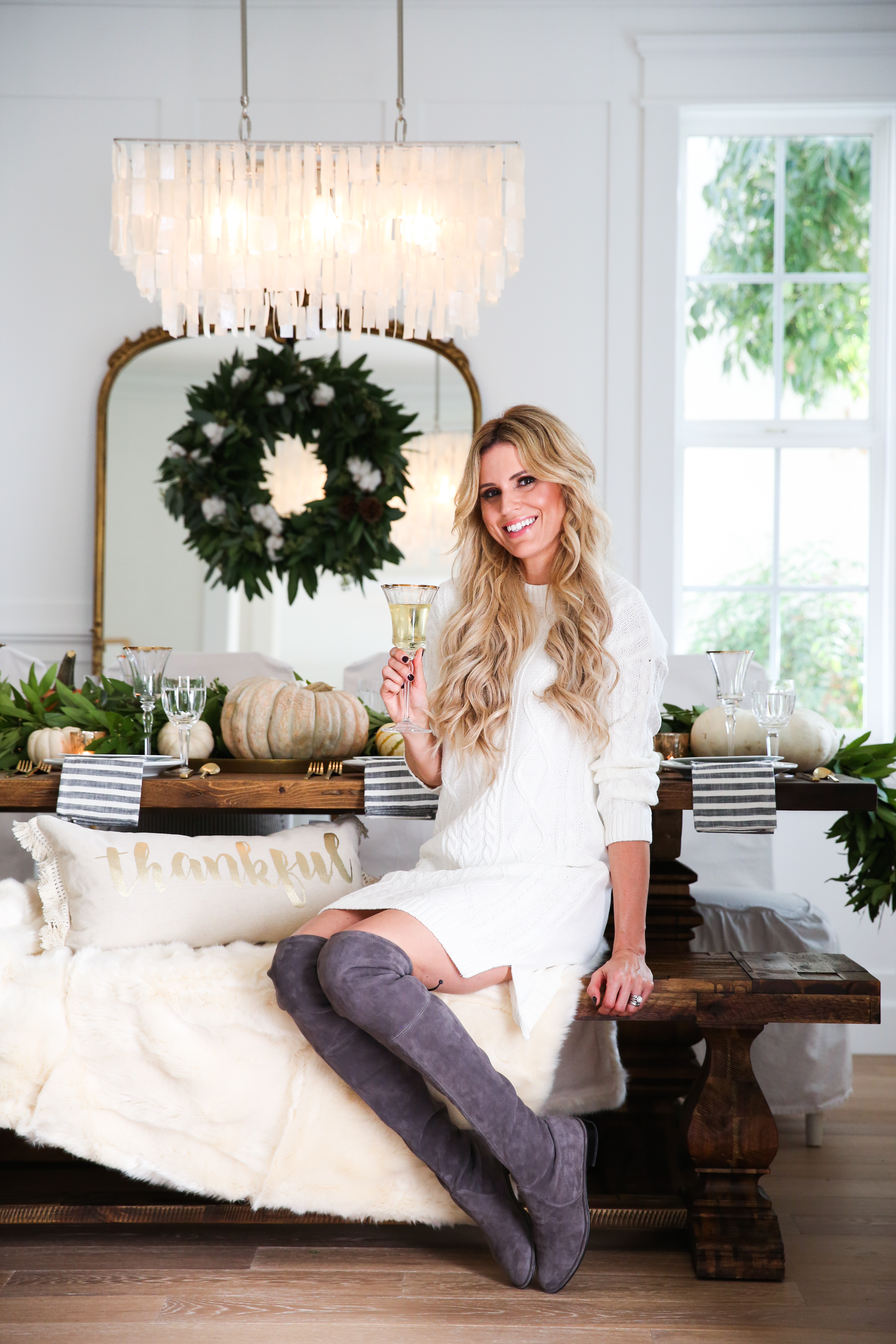 Dress: Cable Knit Sweater Dress only $55!!! (similar option here + LOVE this one) | Boots: Lowland Over the Knee Boot | Throw Pillow: "Thankful" accent pillow
Do you dress up for Thanksgiving or stay comfy in a sweater and jeans? Being a dress kind of girl, I usually wear a dress and heels. I took an informal poll and was surprised by how many people prefer to keep it cozy and casual. This outfit is that perfect in between- a sweater dress with enough room for that inevitable Thanksgiving bloat and my favorite Stuart Weitzman boots.
I get a lot of questions on these SW boots, and I can honestly say they are one of my favorite investment purchases. And despite the $800 price tag, these boots are probably one of the best sellers on my blog. Pair with anything, and your outfit is instantly elevated. This sweater dress is a bargain piece at $55 but looks so much more expensive because of the boots, and I right?
Because they are investment, which can be scary I am going to try and answer all the questions I get on these gorgeous OTK boots. Every year I invest in a pair of Stuart Weitzman boots. And in case you are wondering, right now I have my eye on this pair! Stuart Weitzman boots are classic. I know I can pull them out the following year, and they will still be gorgeous and relevant. They go with everything- fitted denim, skirts, dresses and I get so much wear out of them.
One of the main reasons I love them so much is that they are literally the ONLY over-the-knee boot that doesn't sag down or fall off my legs. One of my pet peeves is having to keep pulling up my boots (and my jeans). I have slim legs so if yours are anything like mine these are the only boots that I have found that work.
In my opinion the boots run true to size or slightly big. I usually wear an 8 in Stuart Weitzman shoes, and the boots I have are 7.5, and they feel a tiny bit small. Since I live in Orange County, I only wear them with socks for maybe one month out of the year so I don't have extra room for layering. The trick to getting these boots on easily is flipping the top part of the boot shaft down before pulling them on. Once you have the boots on, you can flip the top portion back up and cinch with the tie in the back.
I mentioned that I have a few pairs of these over-the-knee boots, and all but one are the flat heeled version called "Lowland." To me, they are more wearable than the high heel (hello mom life), and I still think they look fantastic with dresses. You can see how I styled them with a different dress on Instagram recently here. And apparently I am not the only one that loves them… they are the #1 selling/ best rated low heeled over-the-knee boot at Nordstrom.
I buy all my Stuart Weitzmans' at Nordstrom. I know they are guaranteed and authentic. Because they are a big purchase, I feel most comfortable buying them there. And their amazing return policy doesn't hurt either! Oh and also their new rewards points system which is FREE! Buy these boots at Nordstrom and you are already almost halfway to your reward. Do your Christmas shopping there, and you can get a little something-something for yourself. 🙂
I'm linking my exact boots below + some cute sweater dress options. There's still time to order before Thanksgiving!
A closer look at my Thanksgiving table is coming to the blog tomorrow so make sure to stop by! xo
Thank you Nordstrom for sponsoring this post! All thoughts and opinions are my own.
Photos by Vincent Elejorde. Greenery by MV Florals. Hair + makeup by 10.11 Makeup.