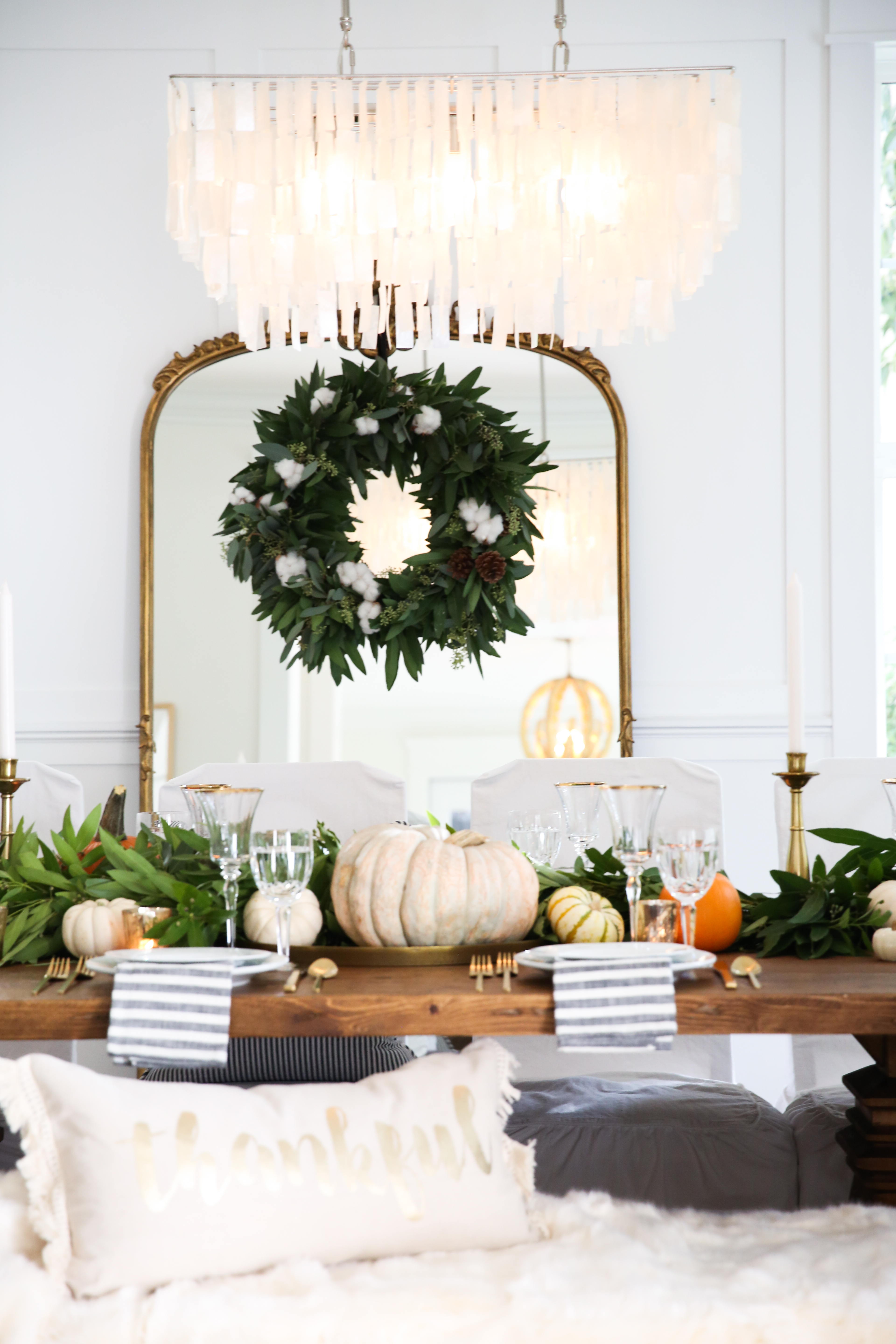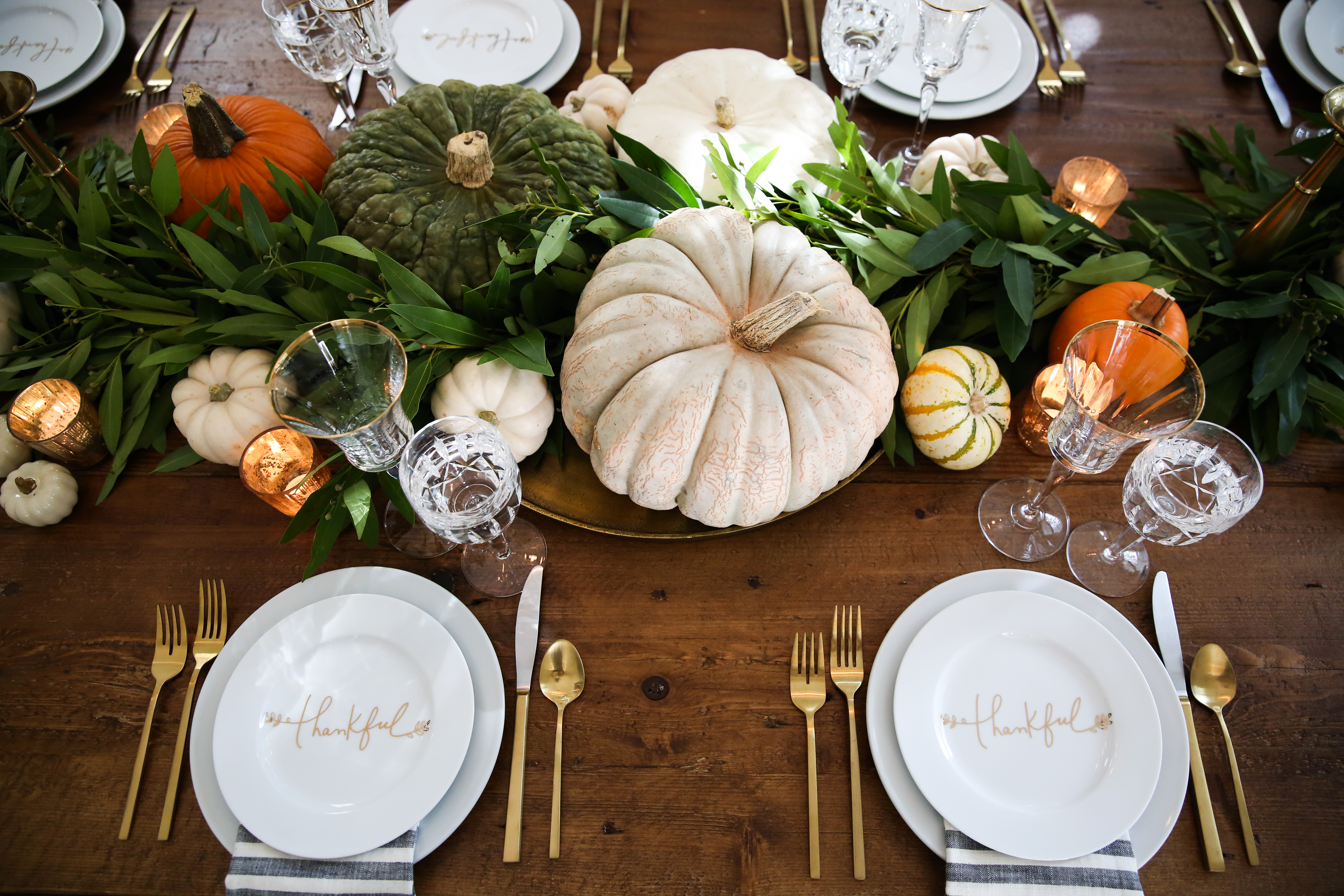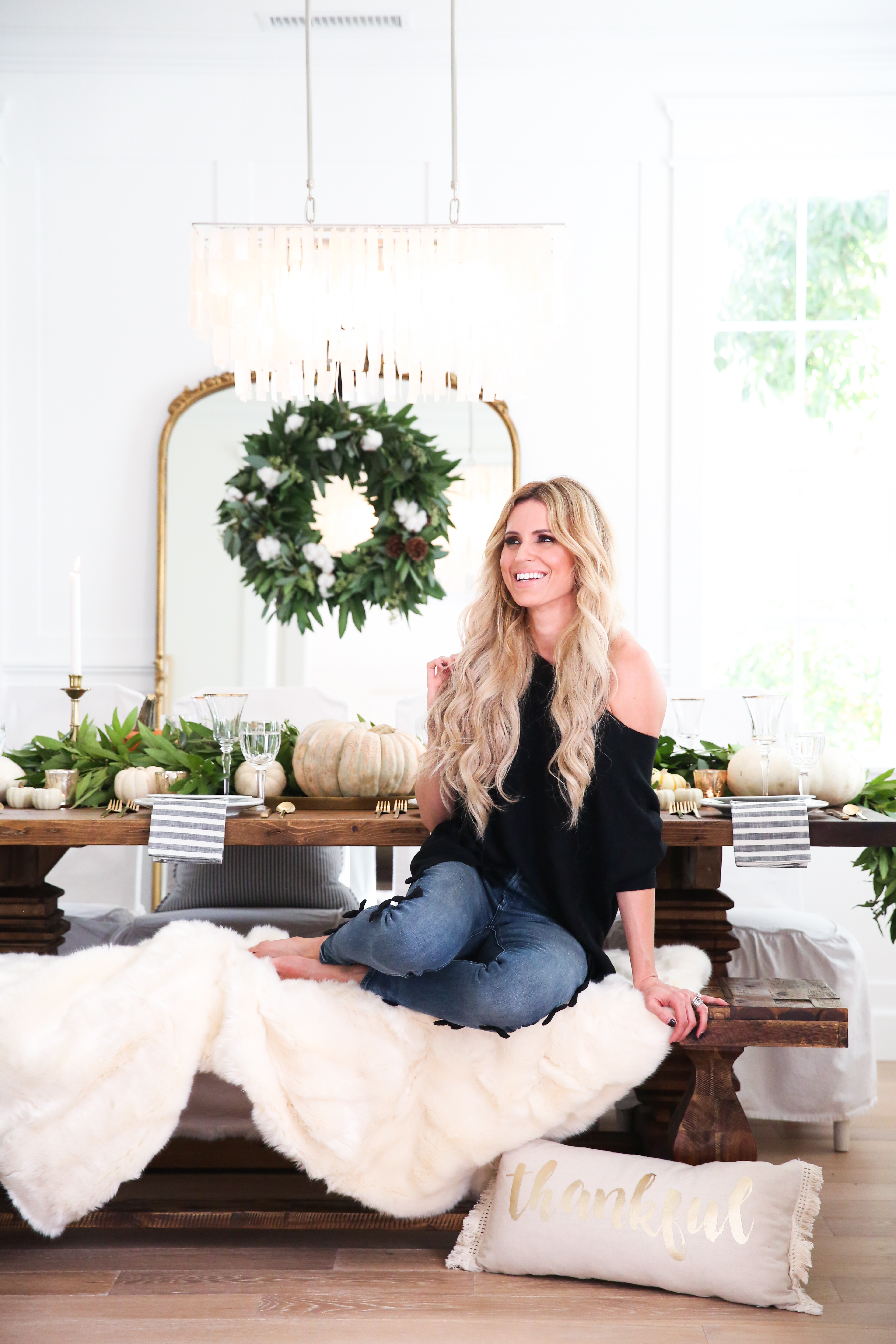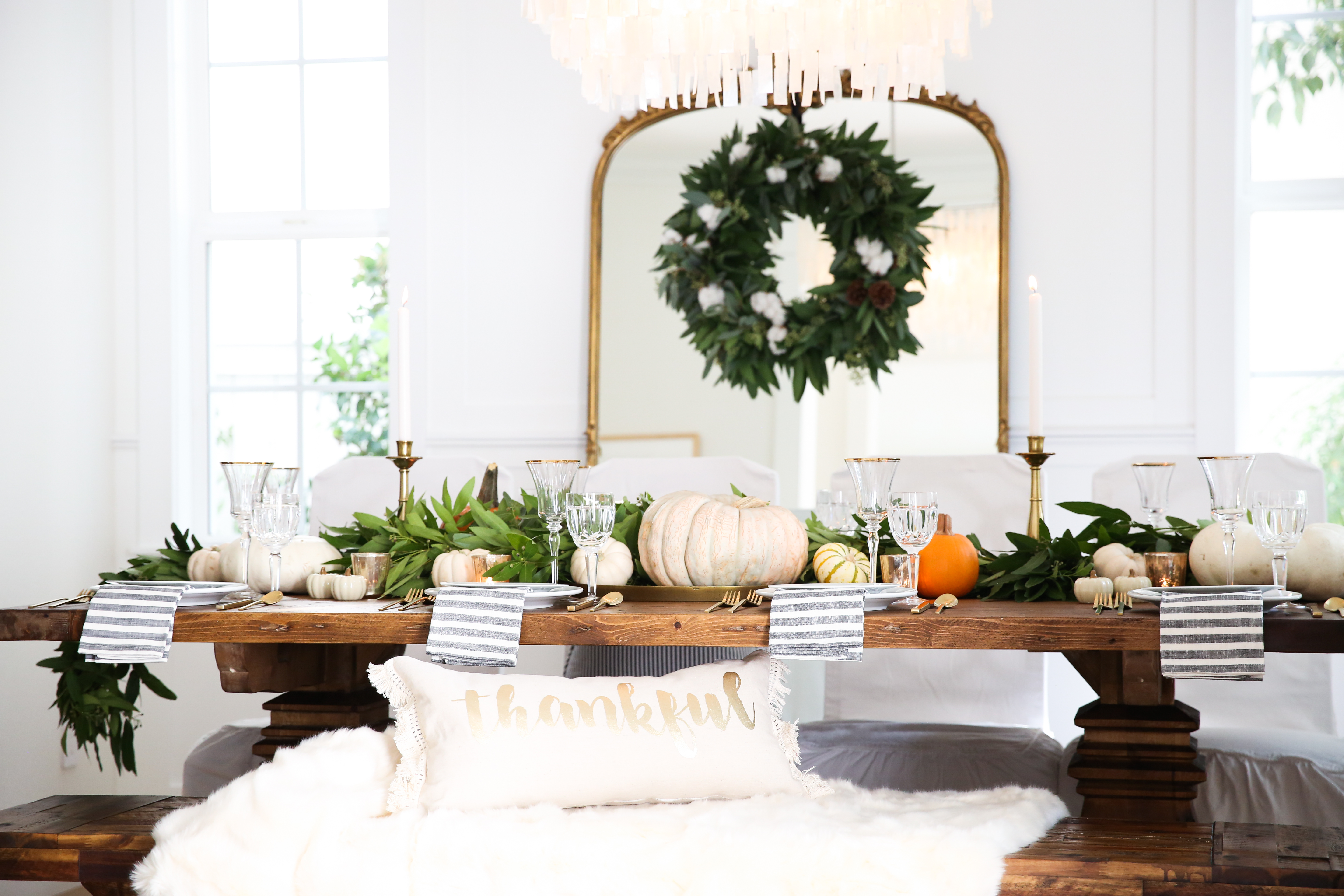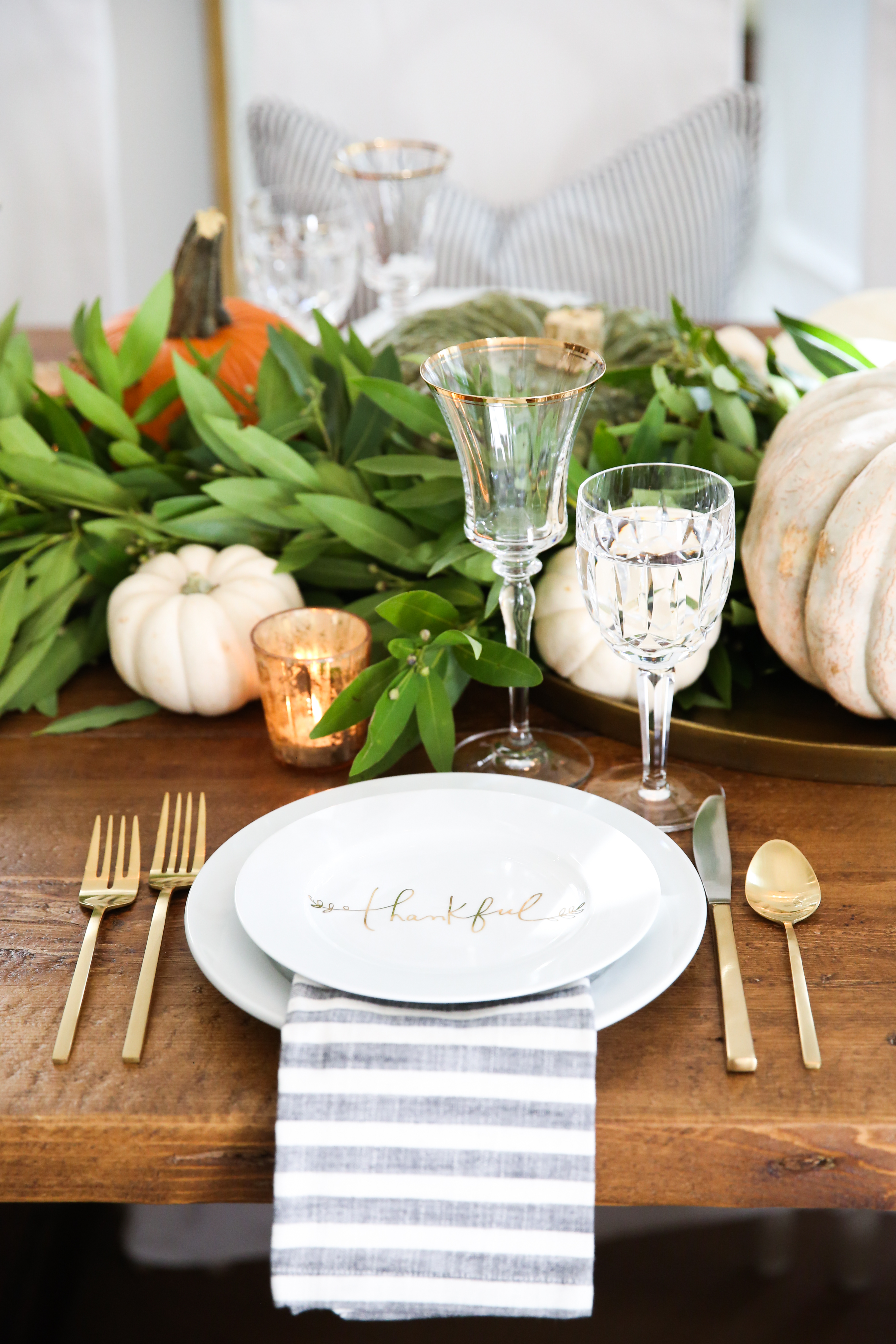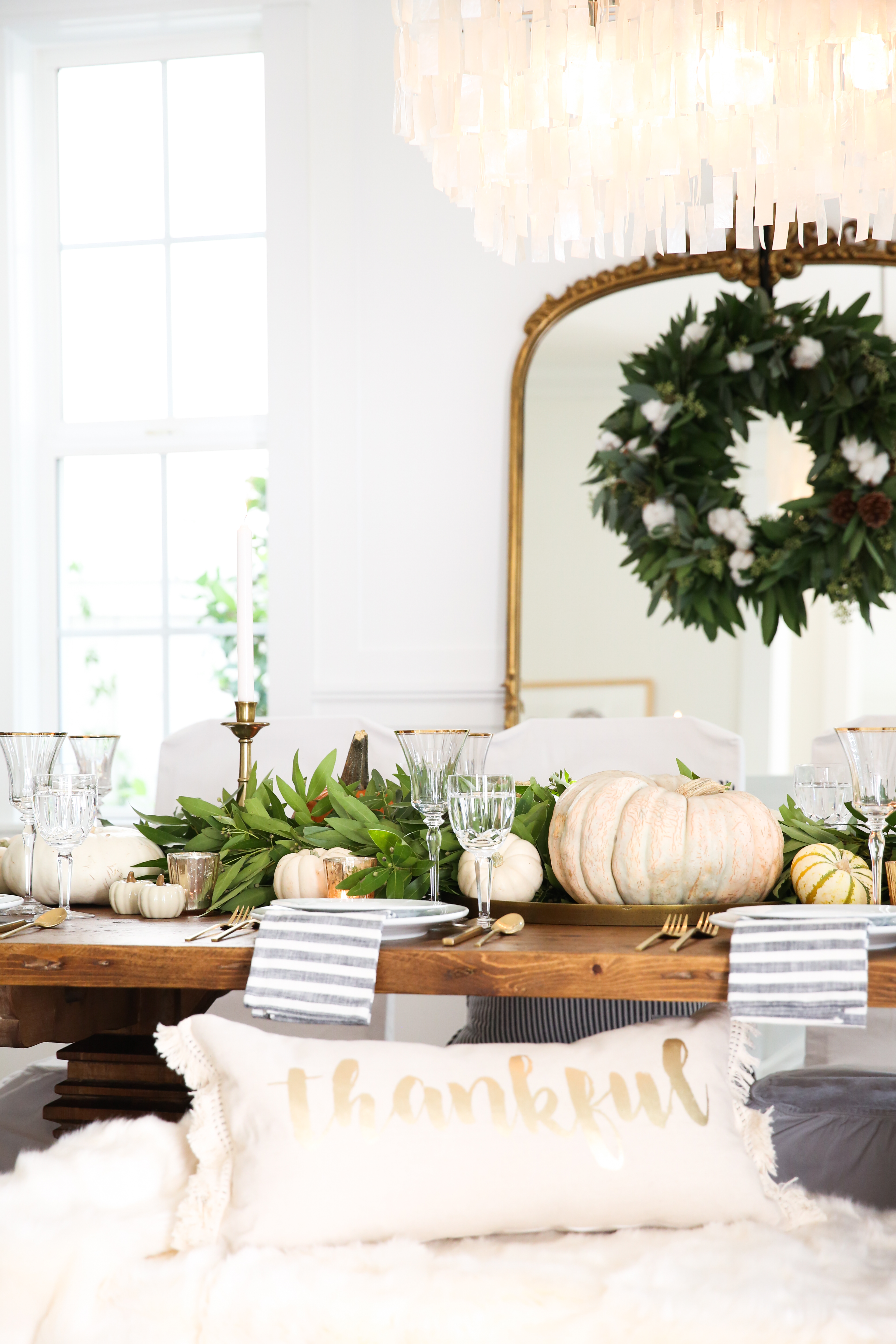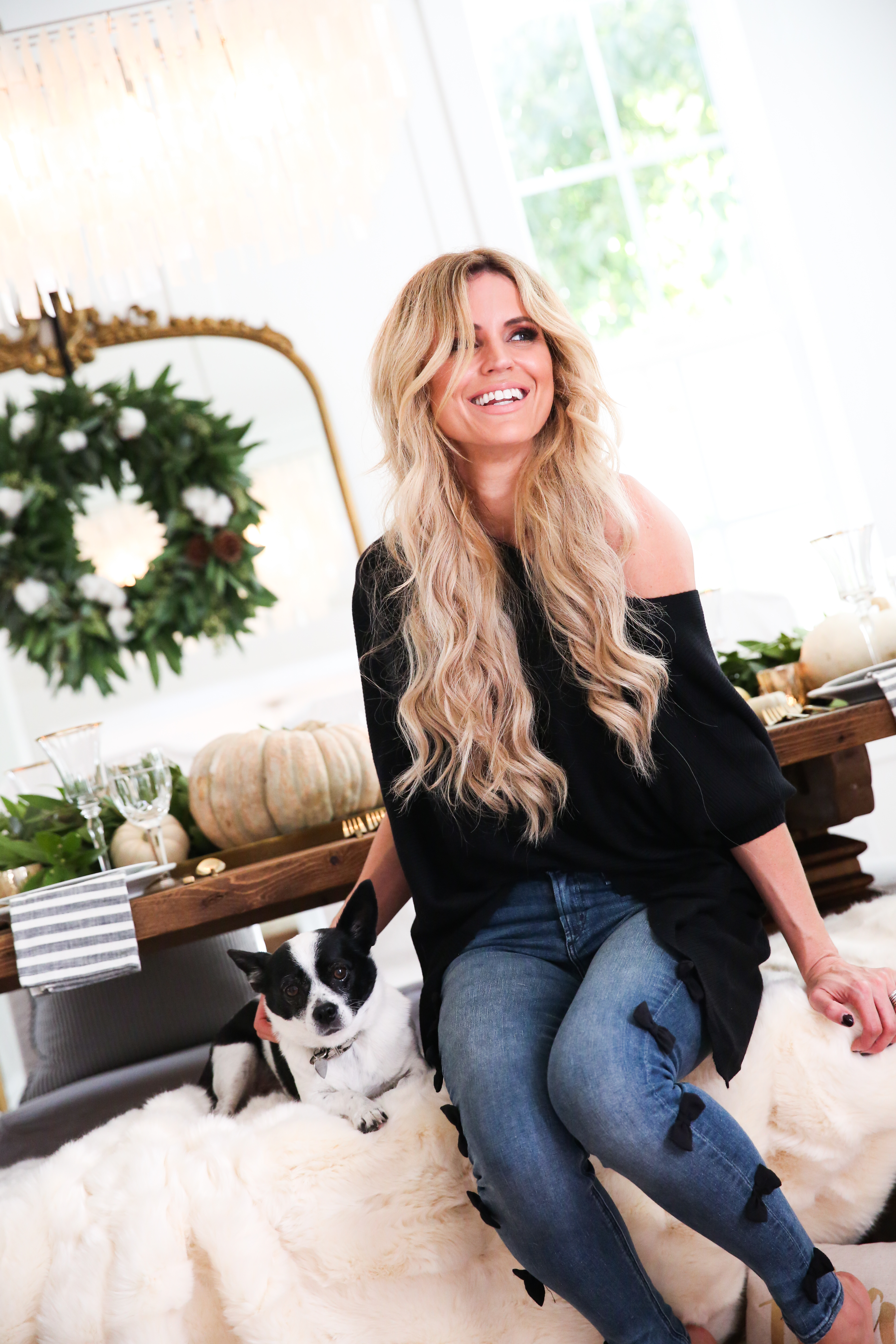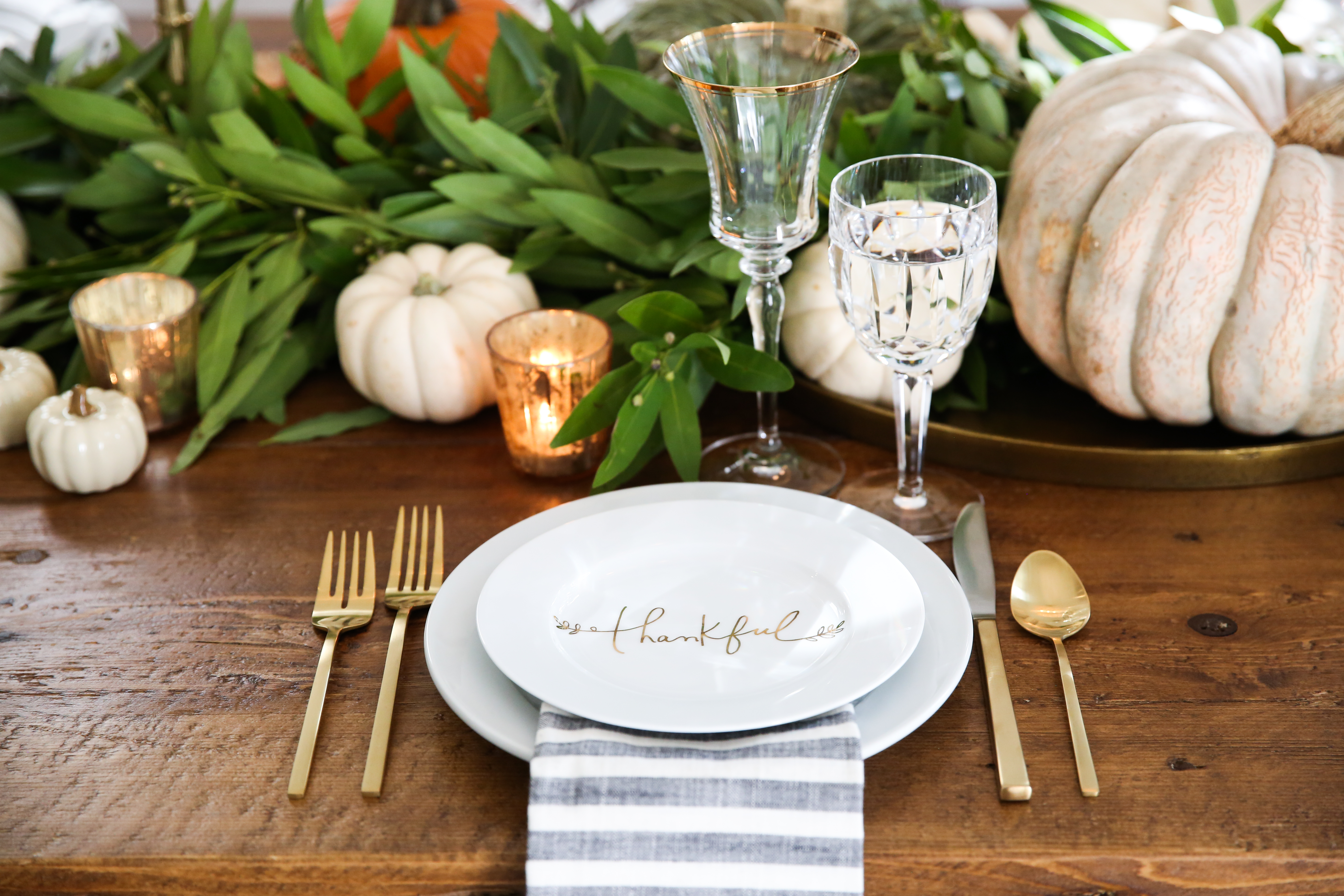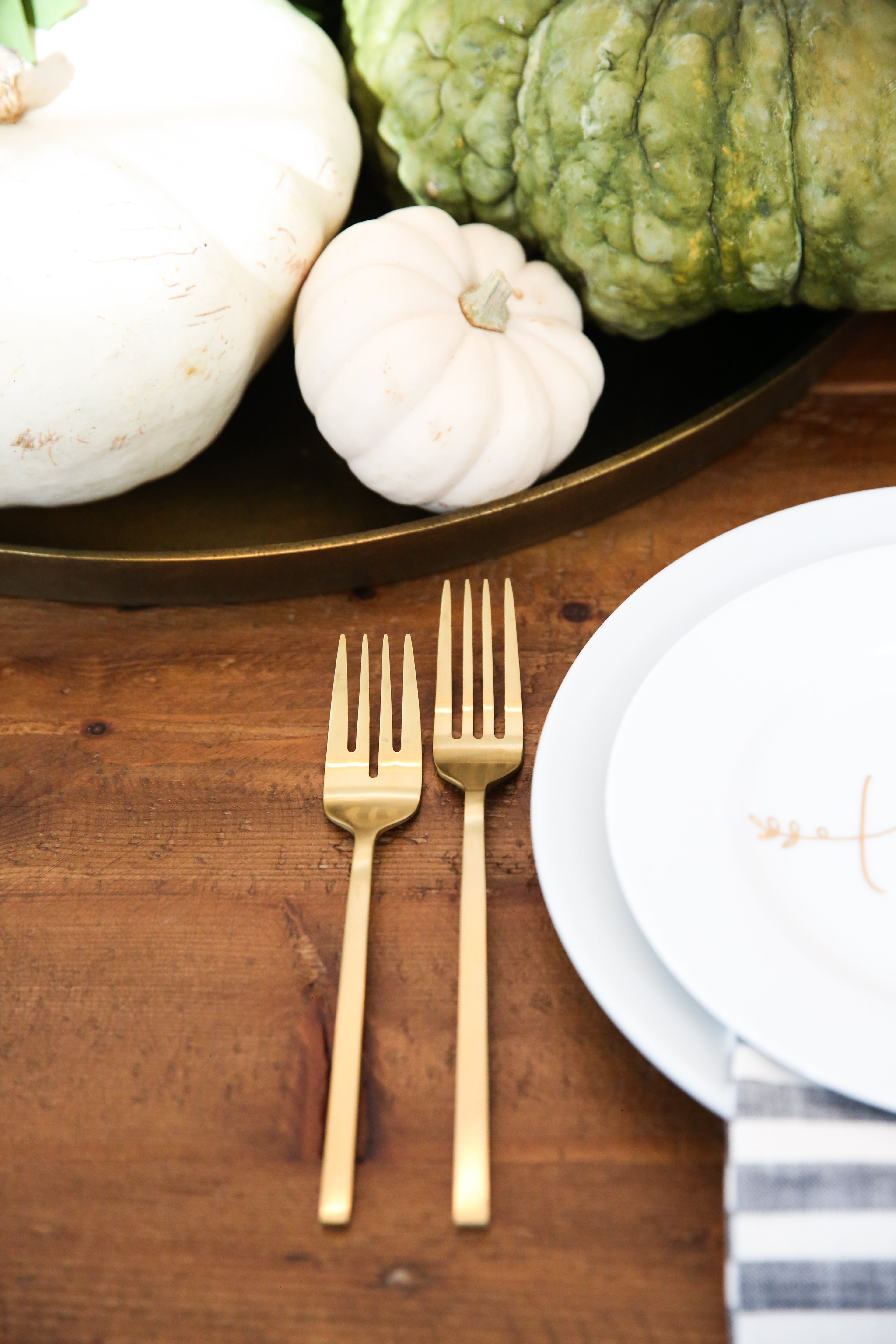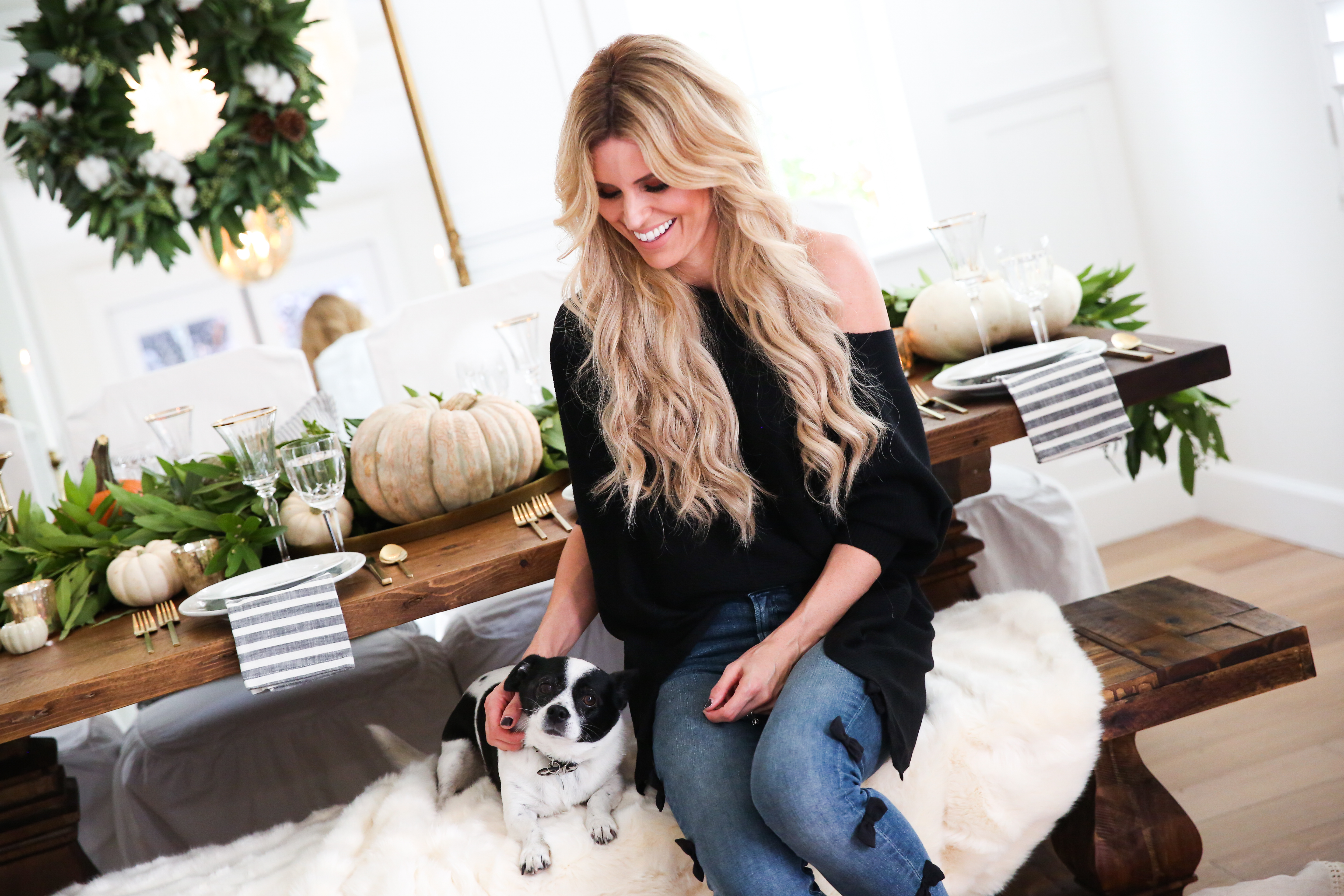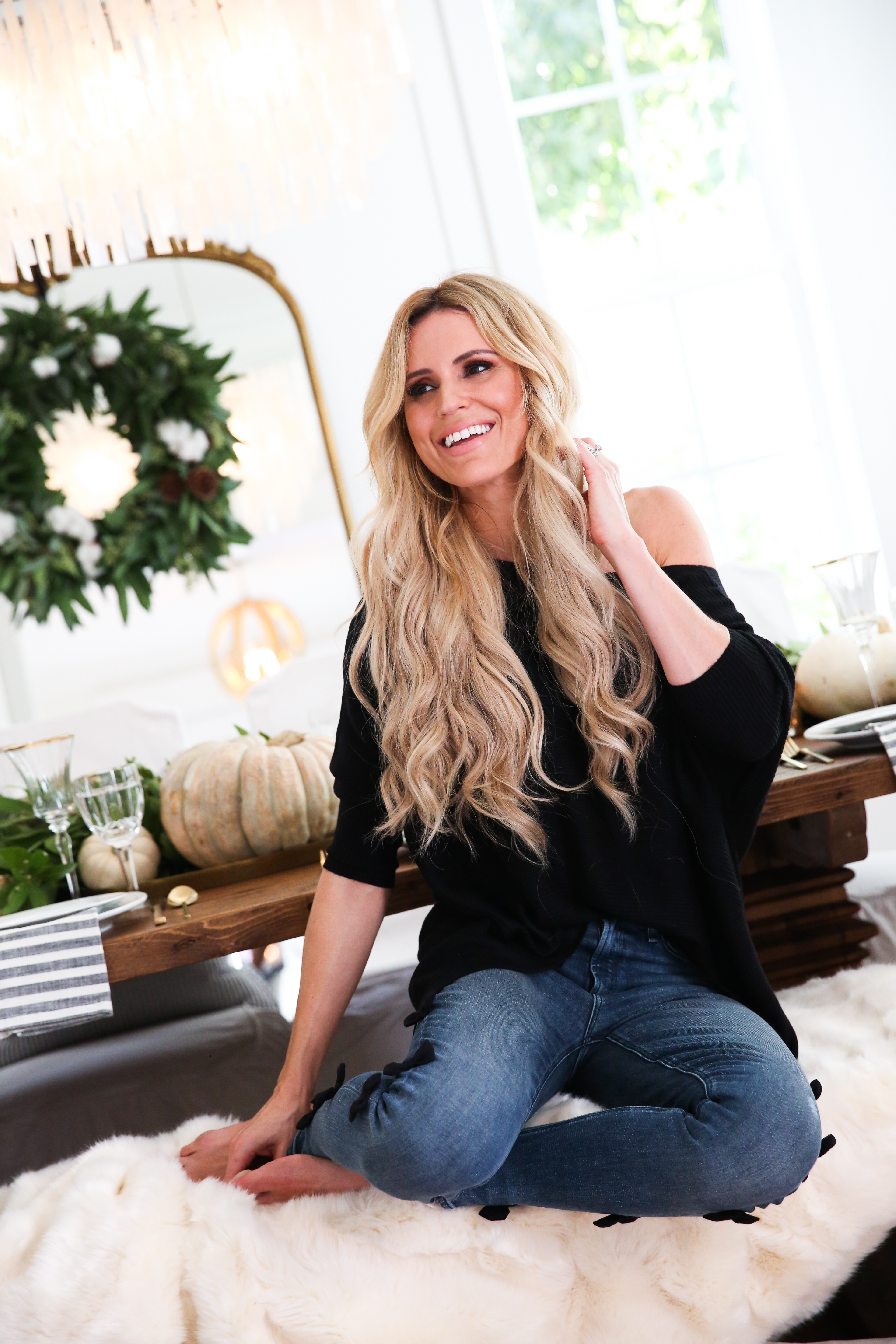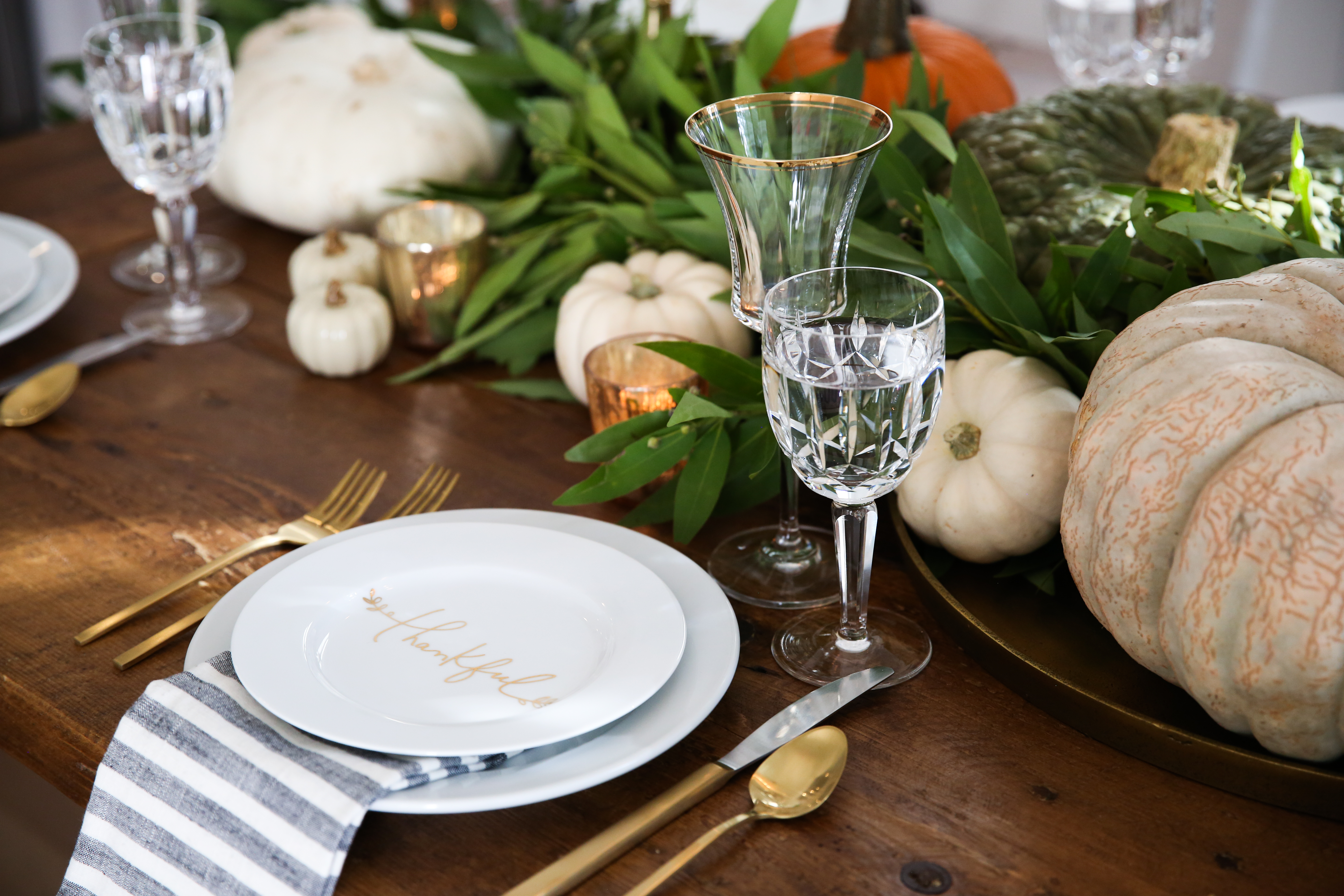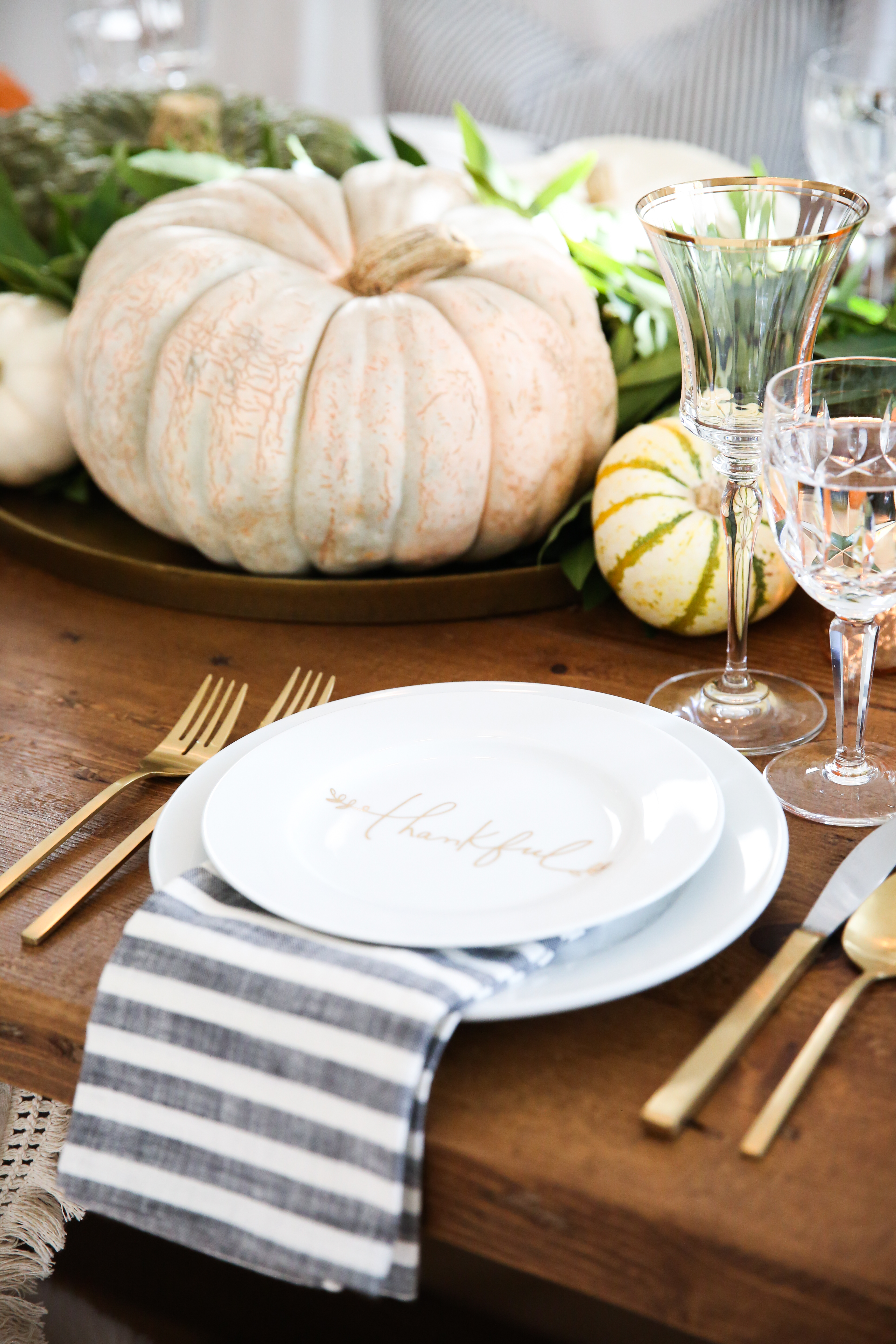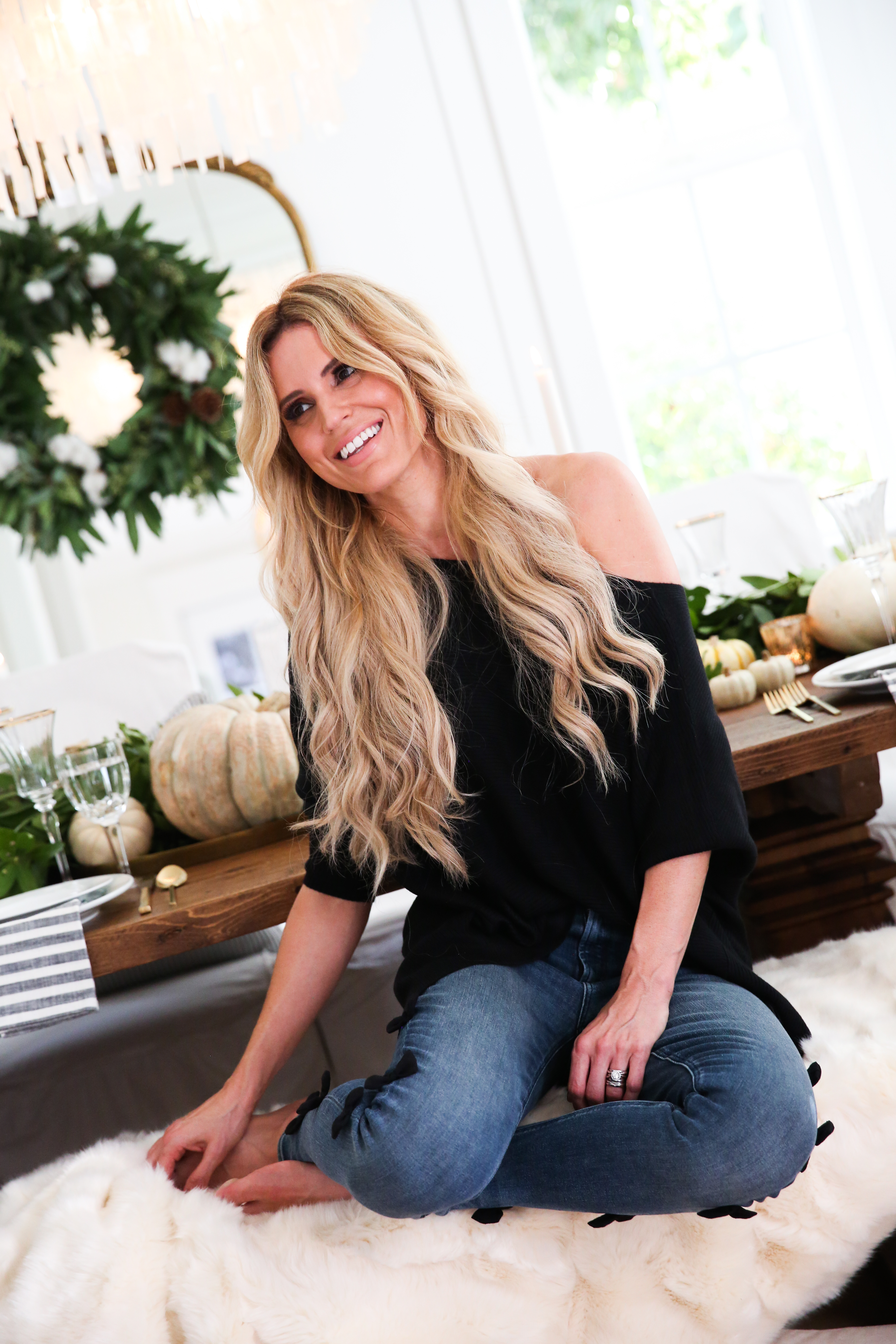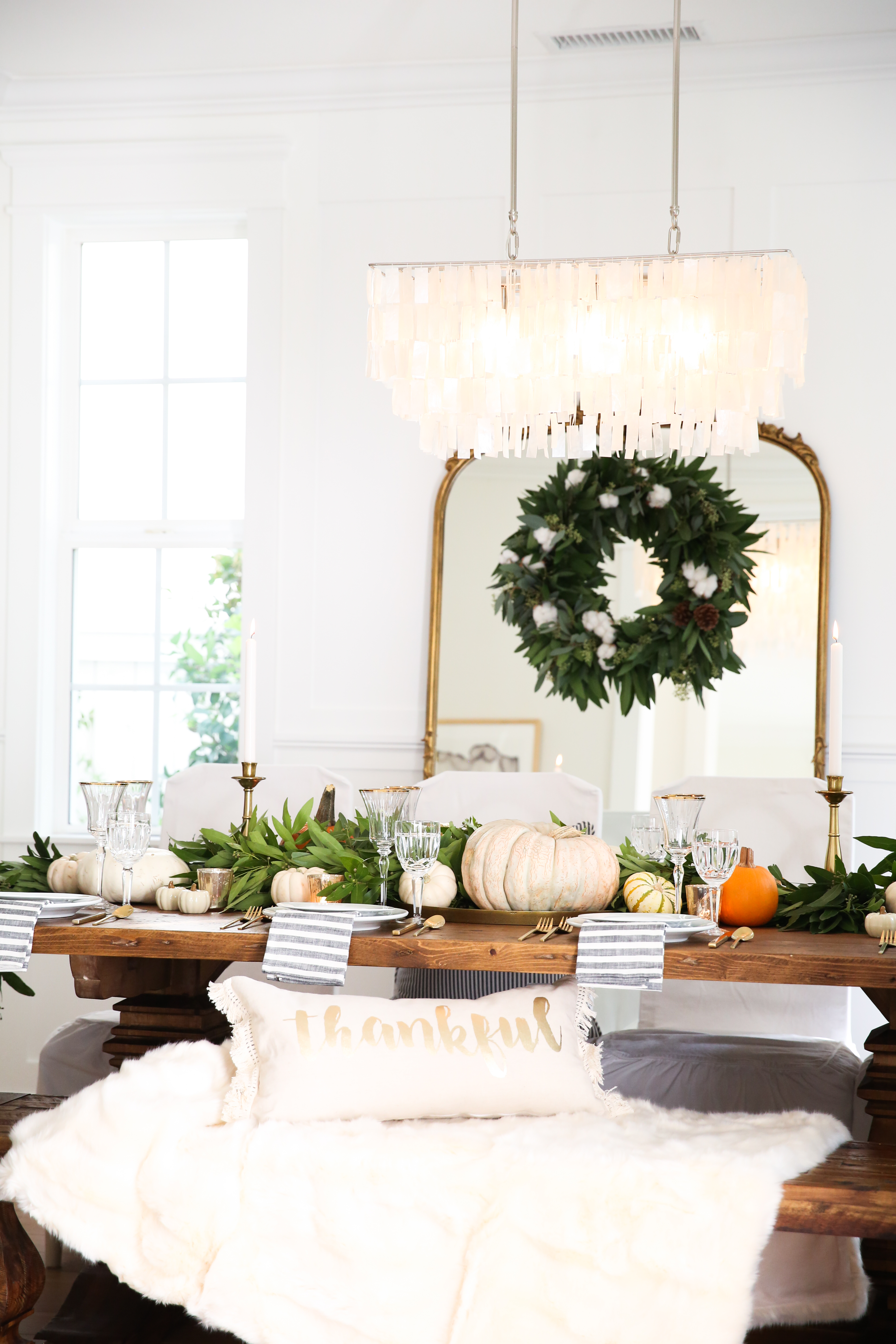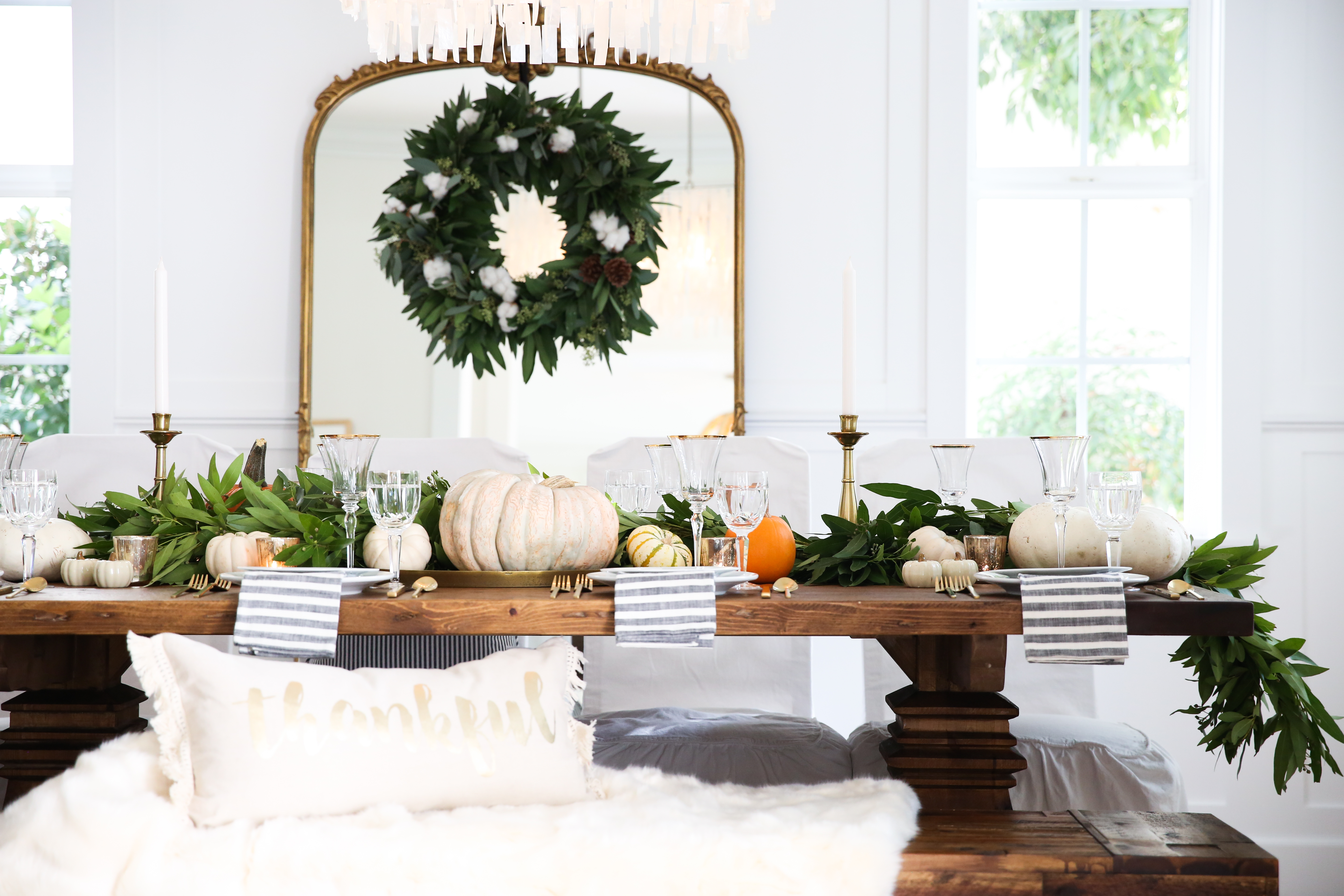 Table: Salvaged Wood Trestle Table | Bench: Partridge Bench | Chandelier: Large Capiz Chandelier | Floor Length Mirror: Antiqued Carved Wood Leaner (also love this one) | Garland + Wreath: MV Florals | Throw: Little Giraffe Luxe Loft Throw c/o 20% off with code MISSY20 | Pillow: Thankful Accent Pillow | Tray: Element Metal Antiqued Brass Tray | Plates: Dinner + 'Thankful' Plates | Flatware: West Elm a few seasons back (similar here) | Napkins: Striped Napkins | Candles: Arlington Taper Holders + Mercury Votives
Outfit: Sweater: Knot Back Sweater (comes in 3 colors!) | Jeans: Newton Mid-Rise Skinny Cropped Jeans
Home interiors give me LIFE. I go through phases where I am only interested in shopping for my closet, and then phases where I just want to make my house look pretty. We have lived in our home for about six years now and have slowly been going through room by room to make it exactly the way we want.
Right now we are in a crazy remodeling phase. There are so many projects going on simultaneously, and while I am excited that we are finally tackling some big things on our wish list the process isn't fun. Hoping we can wrap up a lot of these loose ends so I can do a little holiday home tour on the blog. 🙂
Anyway so this year my mom is hosting Thanksgiving, but I wanted to put together a Thanksgiving tablescape because I seriously live for this stuff and I hope it can inspire you to tackle your own. There's still time to order some of this stuff for your own table. And if you are a last minute shopper like me, I seriously love you.
When my husband and I got married, this table was the exact style of table we had at our reception so it has a special meaning for us. It's an investment piece, but I swear in the long run it actually saves you money. The cheaper pieces I add to my home are constantly getting updated every few years, but I will have this table forever. I love changing up the look of the table by switching out chairs for a more casual dining bench (and it's great for the kids too!).
This faux fur throw is my new favorite. It is so soft and cozy and exactly the kind of blanket I want to snuggle up with for the holidays. It also makes a great gift, and the people at Little Giraffe are so sweet to offer my readers 20% off all full priced merchandise on their website using code MISSY20 until December 31st.
I spent maybe $50 on everything (excluding the fresh greenery). I reused the same pumpkins I had in my fireplace (see that here), gold flatware that I got from West Elm a few years back, my everyday white plates, and glassware that was handed down to me from my Grandma. The garland and wreath are from MV Florals, and if you are in Orange County I highly recommend. I worked with the owner Meagan last year on some Christmas greenery (see it here and here), and everything she does is perfection.
These thankful plates are a favorite touch and on sale for less than $3 a plate! I adore them and will definitely pull them out again for next year. These striped napkins are also another one of my favorite pieces and my top pick from the new Target Hearth & Hand with Magnolia collection.
I think my favorite part of the room is the floor mirror with the wreath. If you have an oversized mirror in your home, I LOVE the idea of hanging a wreath from it for the holidays or draping garland down the side like here). I moved the mirror into the dining room just for my Thanksgiving table. It's permanent location is actually in my new home office which will be finished right before Thanksgiving (and is one of the big projects I was referring to). I can't wait to show you guys a PEEK… and also to have a place to work other than my kitchen counter! 😉
The title of this blog post is thankful, and I don't want to get too cheesy or anything but have to say…. I am so incredibly thankful for all of you for supporting my blog just by visiting. I am so very lucky to be able to do what I love and that wouldn't be possible with YOU. So thank you from the bottom of my heart!!!
Have a nice weekend. xo
Photos by Vincent Elejorde. Greenery by MV Florals. Hair + makeup by 10.11 Makeup.