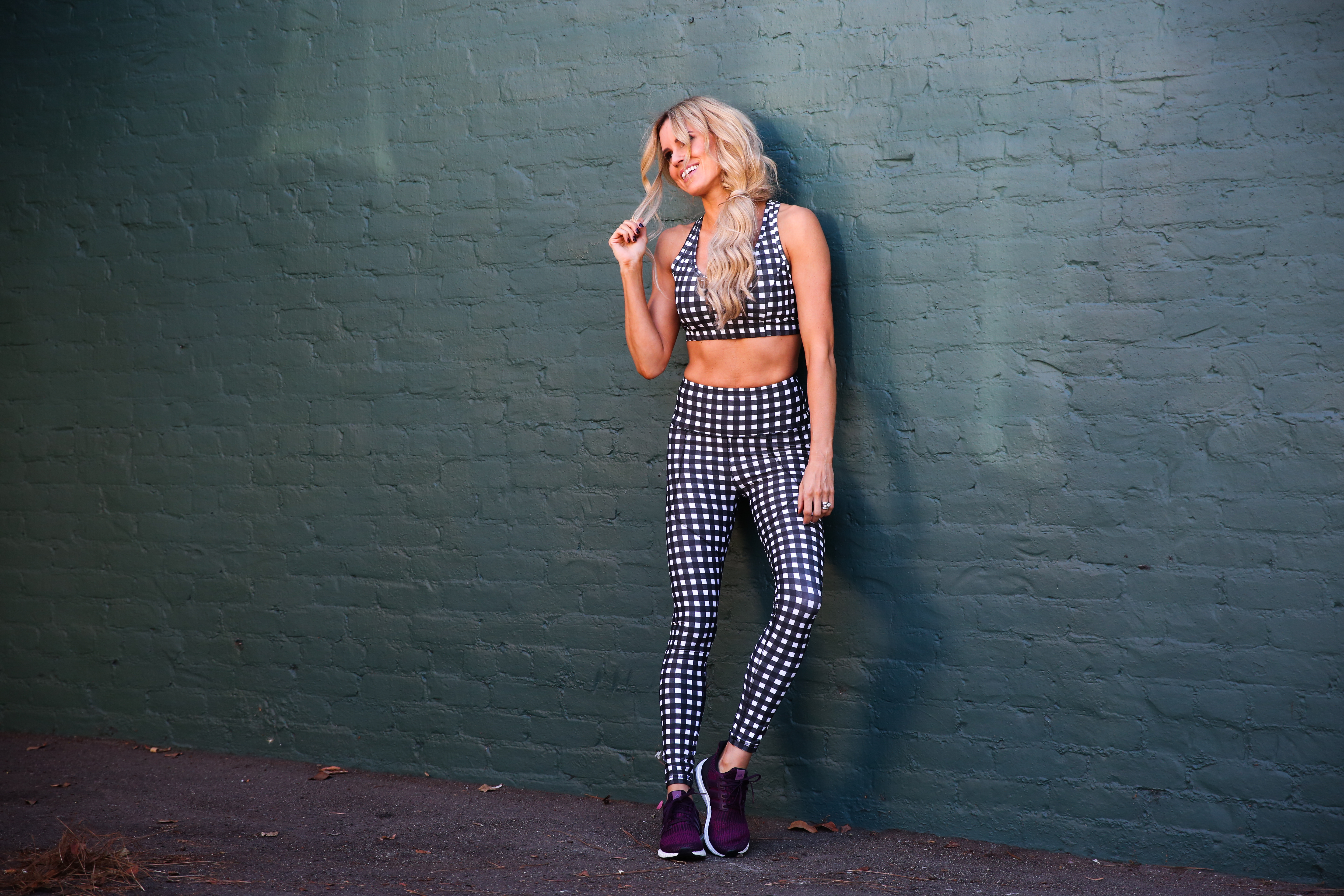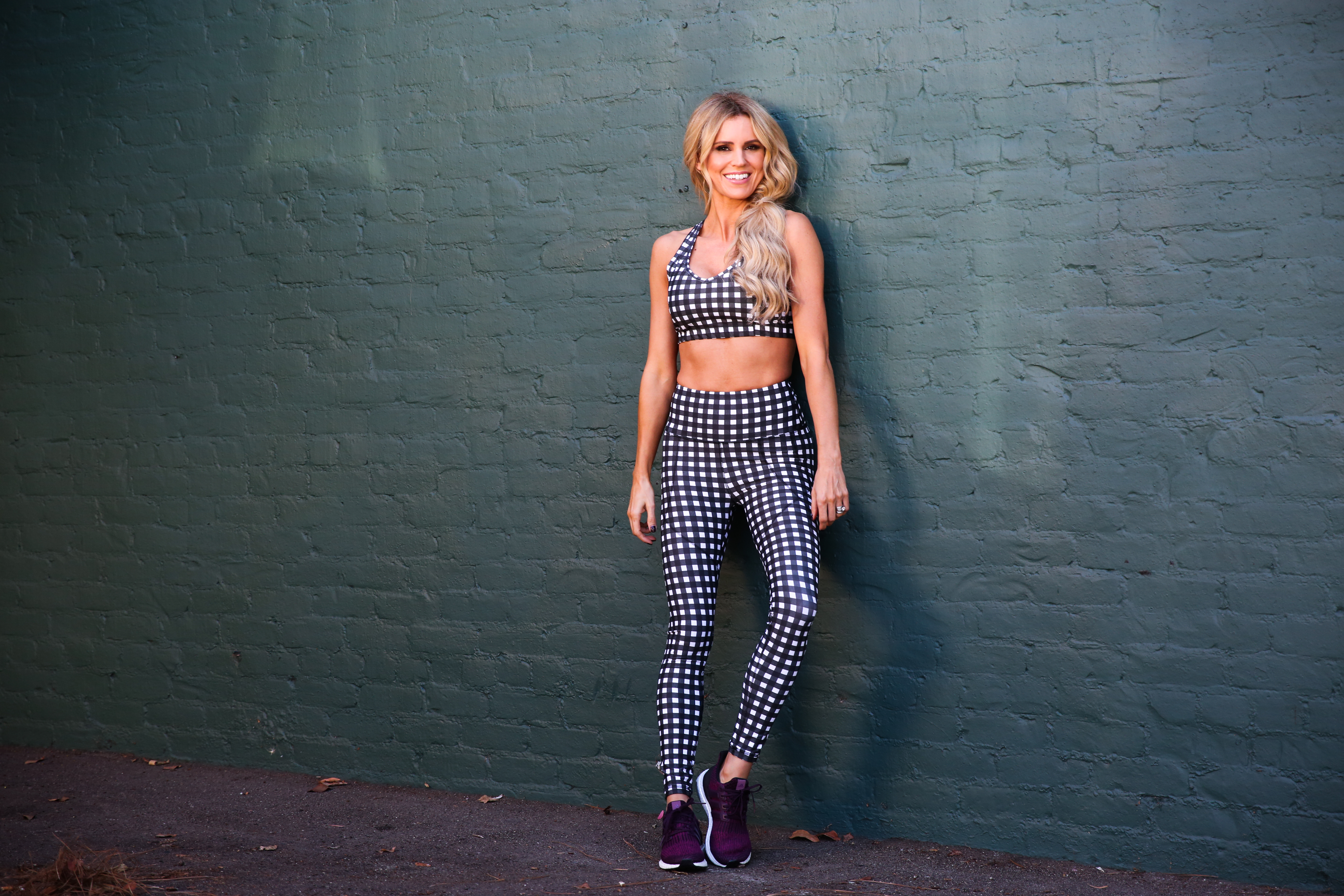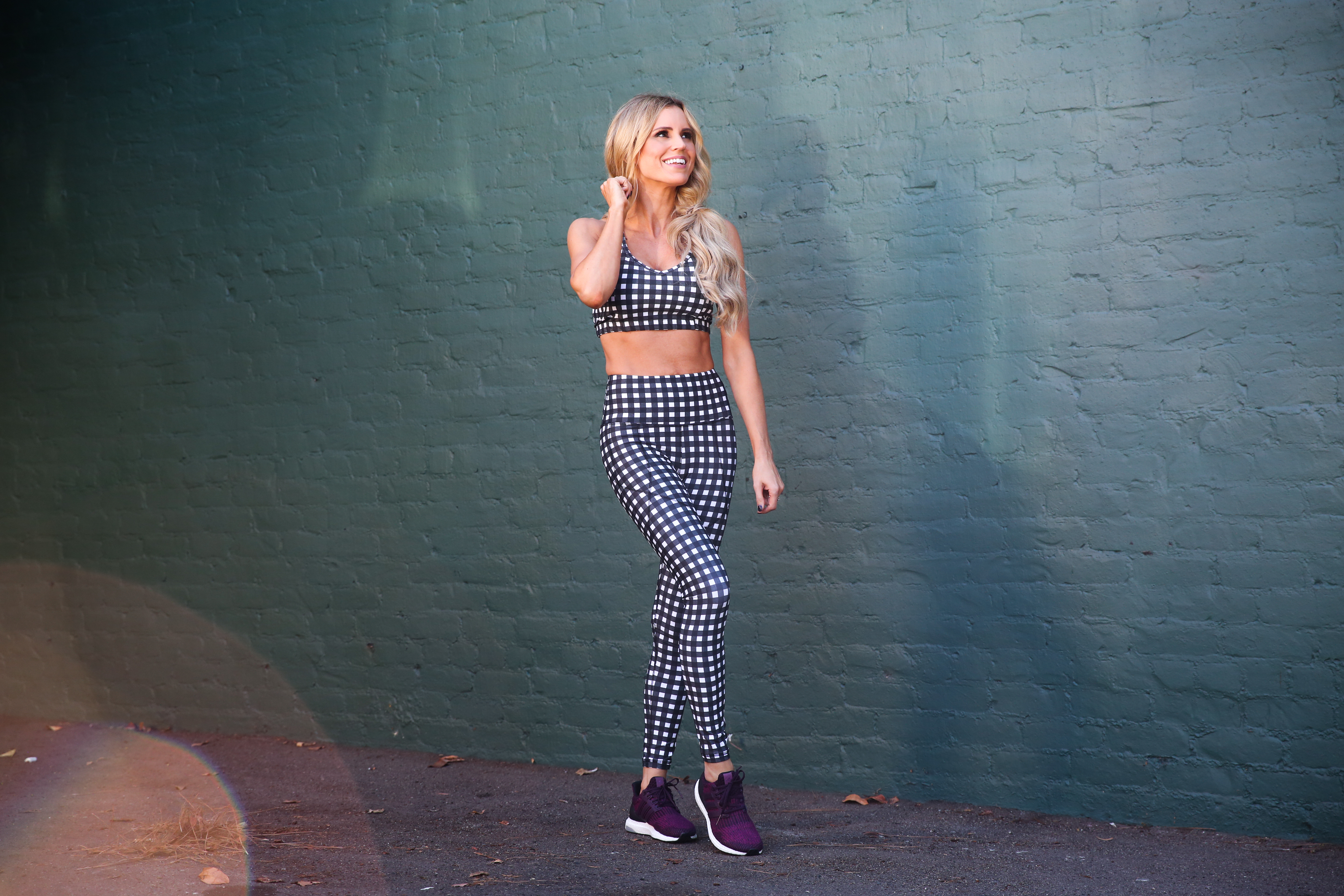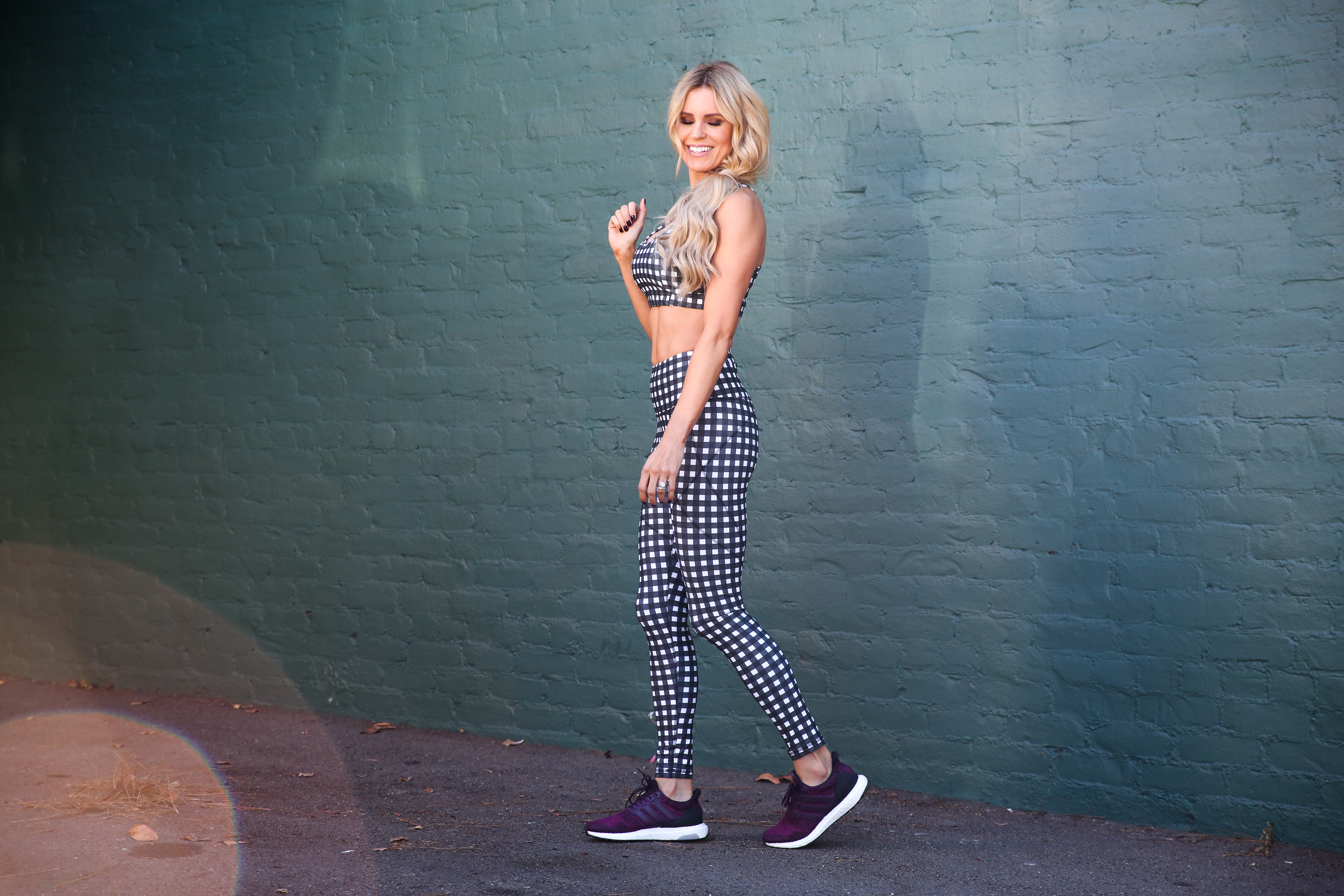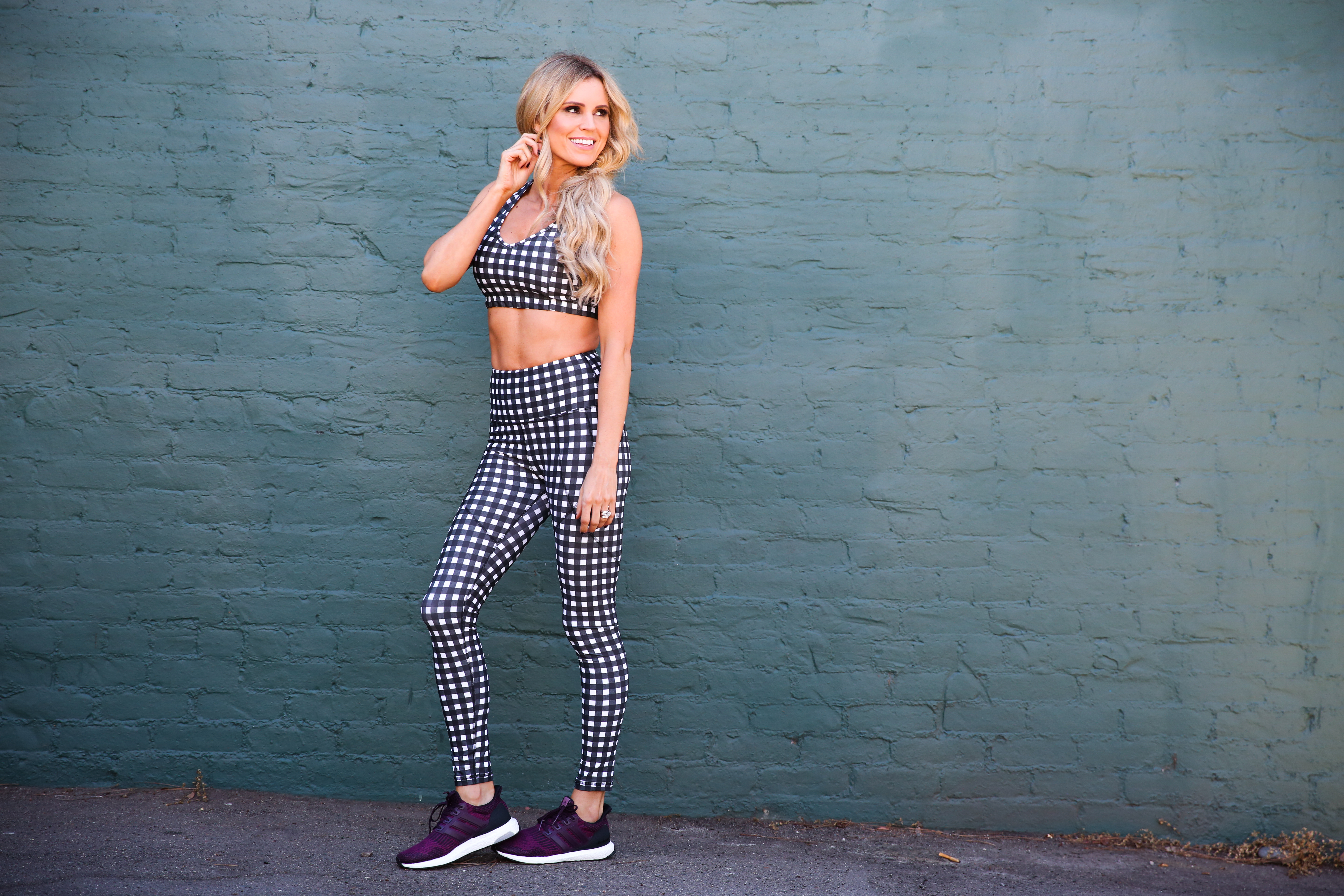 Sports Bra | Leggings | Sneakers
We spent this past weekend working on some major house projects, and I woke up this Monday morning feeling ready for the weekend! #notagoodsign Yesterday I worked on our Thanksgiving tablescape so make sure you stop by the blog later this week for a peek!
Even though I woke up feeling like I had just fallen asleep I still made it to the gym (even though I was late). I get a lot of questions on what I do for exercise and I am still working out exclusively at Orangetheory (in Mission Viejo) 4 times a week. I love the workout at Orangetheory because half the class is treadmill work and half is weights, and I feel like you need both!
I am a competitive person by nature so when I lift weights at Orangetheory I am always pushing myself up to the next highest weight. However I am not trying to bulk up or get bigger so I have toned down my weight choices. Like for bicep curls I used to do 20 pound weights but now I do 15 which is still challenging enough. And then when it is the cardio/treadmill time I really push myself by increasing speeds and limiting the amount of time walking.
With Thanksgiving a little over two weeks away, now is the perfect time to hit the gym! I know it's hard especially if you have fallen out of the habit of working out consistently. Here are 5 things that help motivate me to hit the gym:
New workout clothes- this sounds so silly but it works. I am much more likely to roll out of the bed in the morning to hit the gym when I have a cute outfit. There is so much GOOD activewear out there right now, and I have linked some of my favorites below (including these shoes I'm wearing which feel like clouds and I love the color).
Take a pre-workout drink. I was hesitant to talk about this on my blog, but it is a lifesaver for me. If I am feeling tired, I know that once I drink my workout drink all will be good with the world. It gets me up and going. Do your research before taking one. I take this one!
Set up a workout schedule. I have to sign up in advance for my classes at Orangetheory so I have already figured this into my week's schedule. If I miss a class and don't cancel in enough time, I get charged. This alone is sometimes enough to get me motivated to get up rather than pushing the snooze button.
Sign up for something with a friend. This is a great motivating factor for both of you, and you will be less likely to back out. Also, for me I rarely get together with my friends with life so busy and kids so what a great excuse to have that time with your bestie. It's a win-win.
Splurge on a cute New Year's Eve dress one size smaller. This might be aggressive, but it would work for me! 😉
One of my trainers said something the other day that really resonated with me. There is a double benefit to working out- your body gets activity AND you are more likely to make better food choices that day. When I have worked out in the morning, I am definitely less likely to grab chips to go with my sandwich at lunch, etc. Anyway hope this has helped you guys somewhat. If you have any specific questions please leave them in comments below. I love to hear from you guys! xo
Photos by Vincent Elejorde.