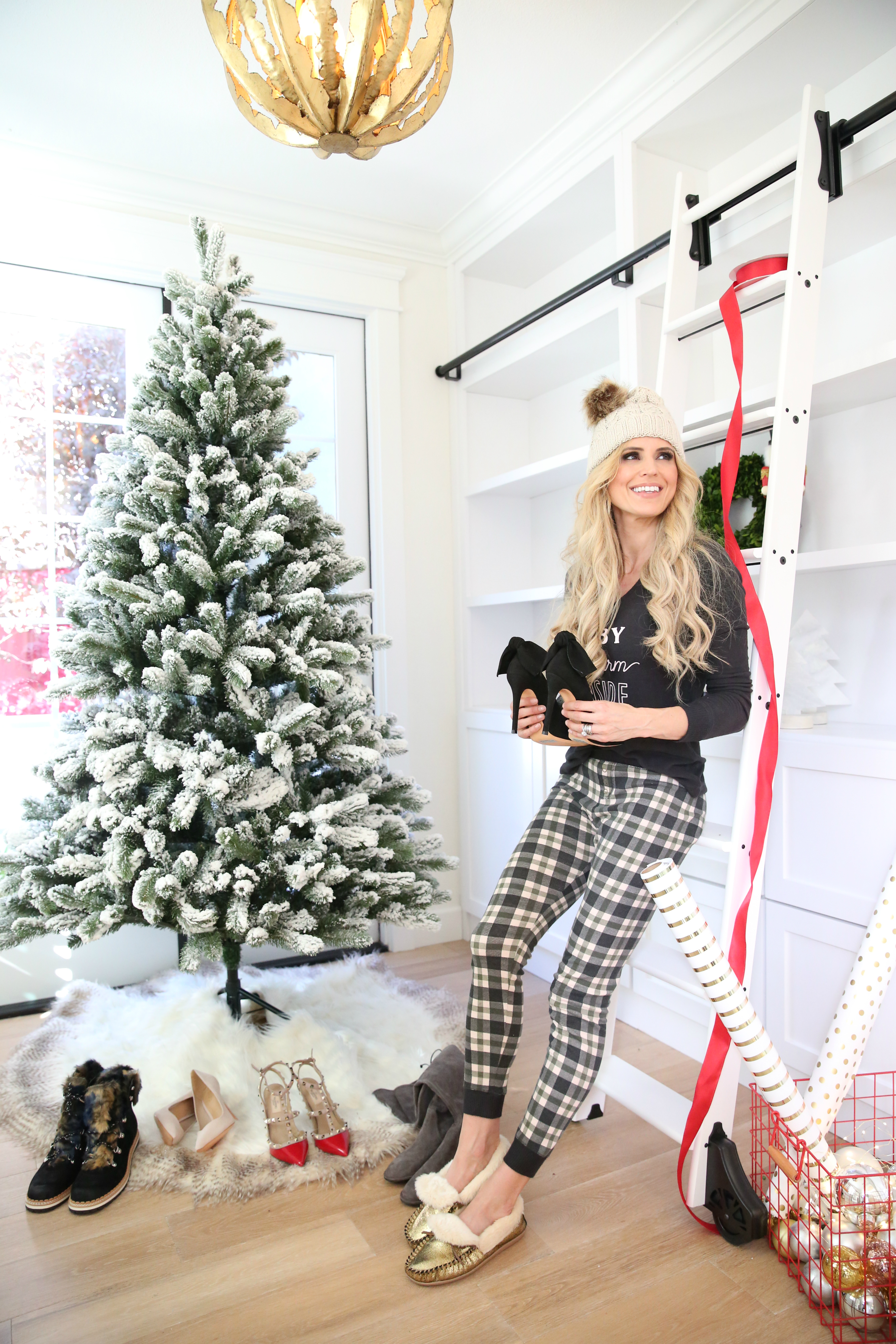 I've rounded up my top shoe picks to get you through all the holiday activities- from Christmas shopping and visiting the tree farm (or let's be realistic for most of us it's Home Depot) to holiday work parties. I had a really hard time narrowing it down to 5 pairs, but if we don't include these amazing gold moccasin slippers I'm wearing in the photos… I DID IT!
I'm also excited to share a peek into what will soon be my blogging office! The sliding ladder literally went in oh maybe an hour before I shot these photos. Our home is colonial style so it is divided into many smaller rooms. We really don't have room for our tree in any other part of the house so I am holding off on transforming this space into my office until after the holidays. What's one more month of working from my kitchen counter? ha.
So basically this room is our Christmas room. I'm envisioning wrapped gifts in all the shelves, lots of mini tealight candles, and a wreath hanging from the top of the ladder. I am trying out a different color scheme this year (incorporating navy velvet with pops of blush pink) so it will be interesting to see how it turns out! I might just decorate with reds upstairs.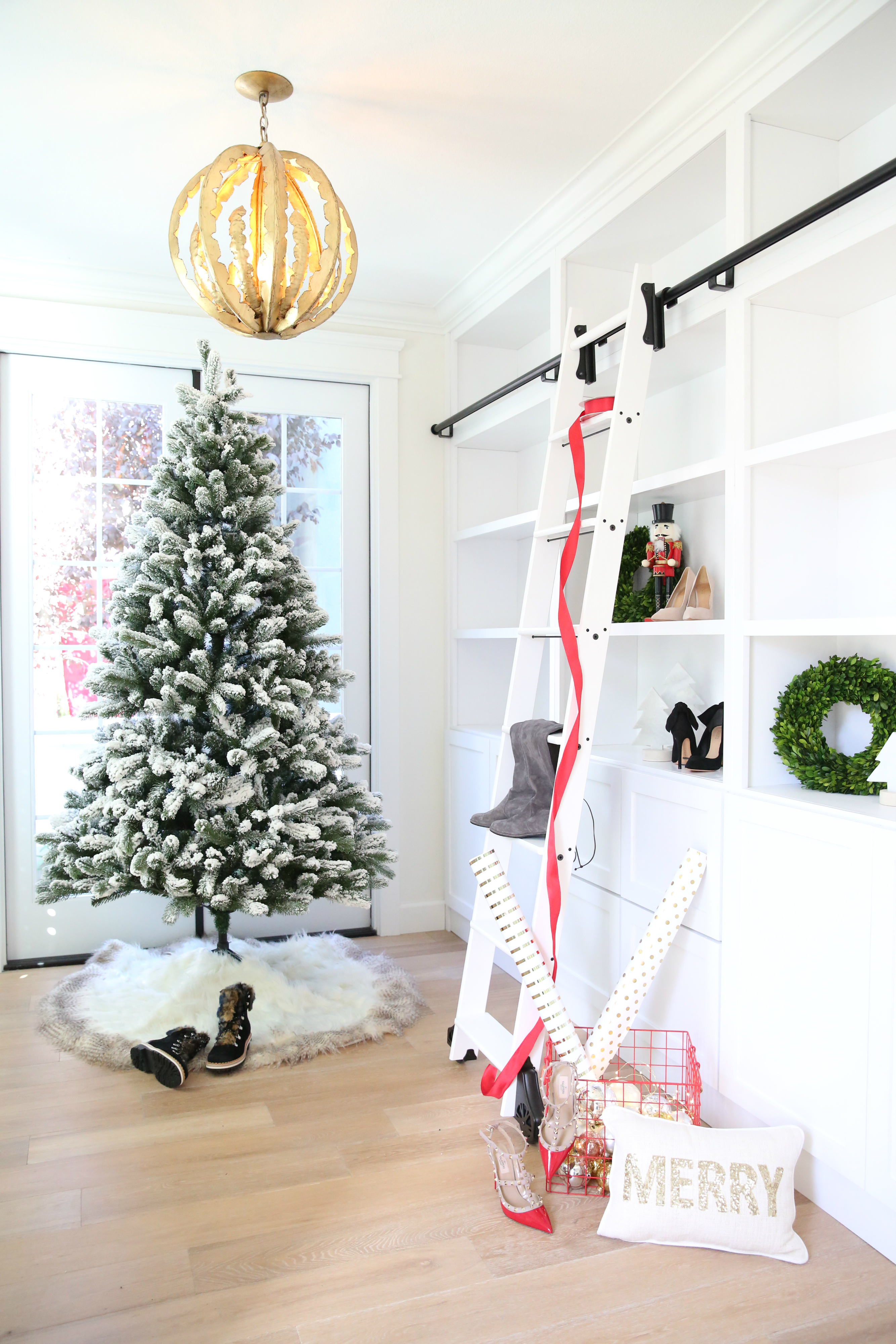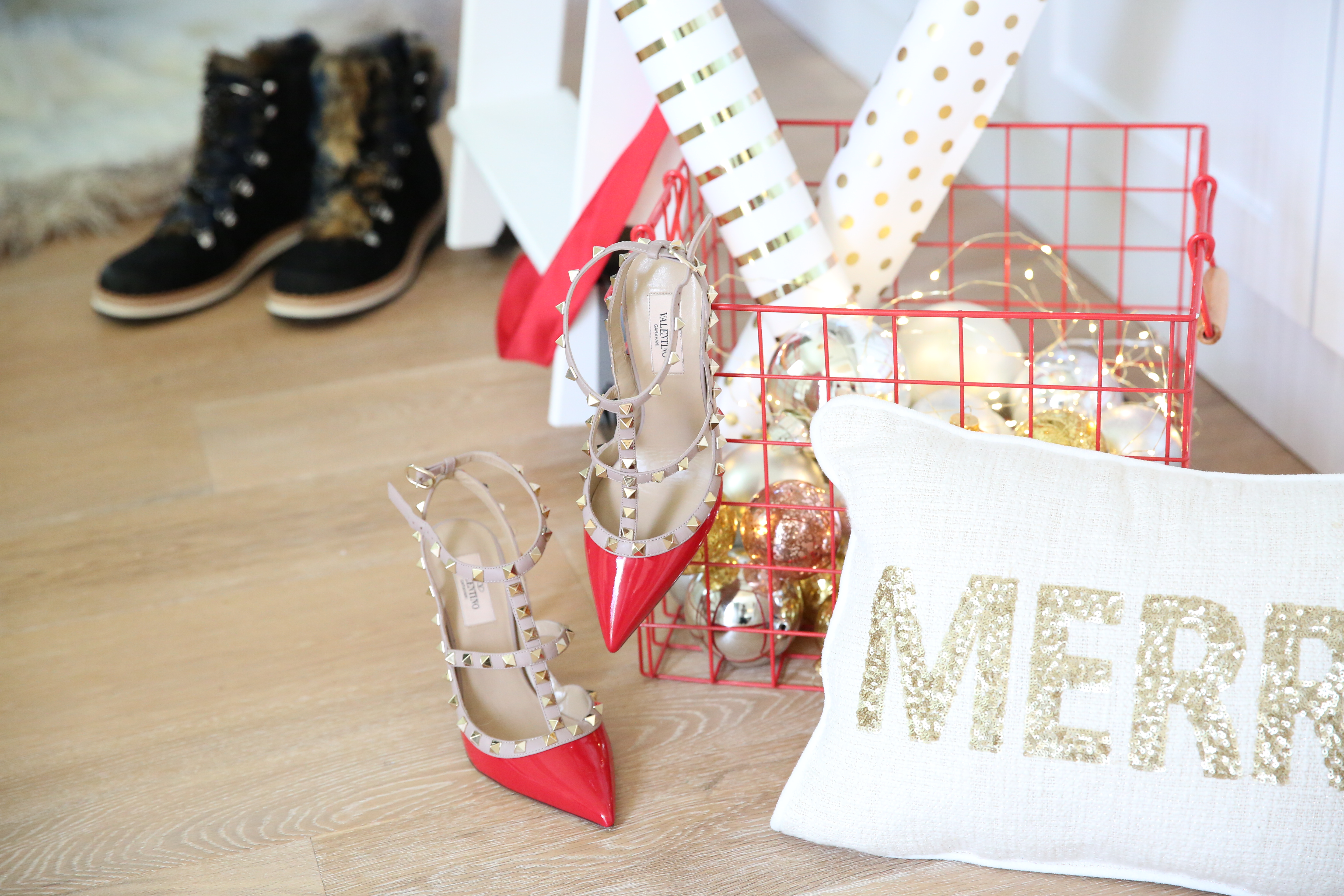 These red rockstuds are so fun for the holidays! I recently did a poll on my Insta stories and a majority of you guys thought these shoes were a YES for the holidays. Would be so cute with a long flowy white skirt or dress… the perfect statement shoe to wear to all the holiday parties and events.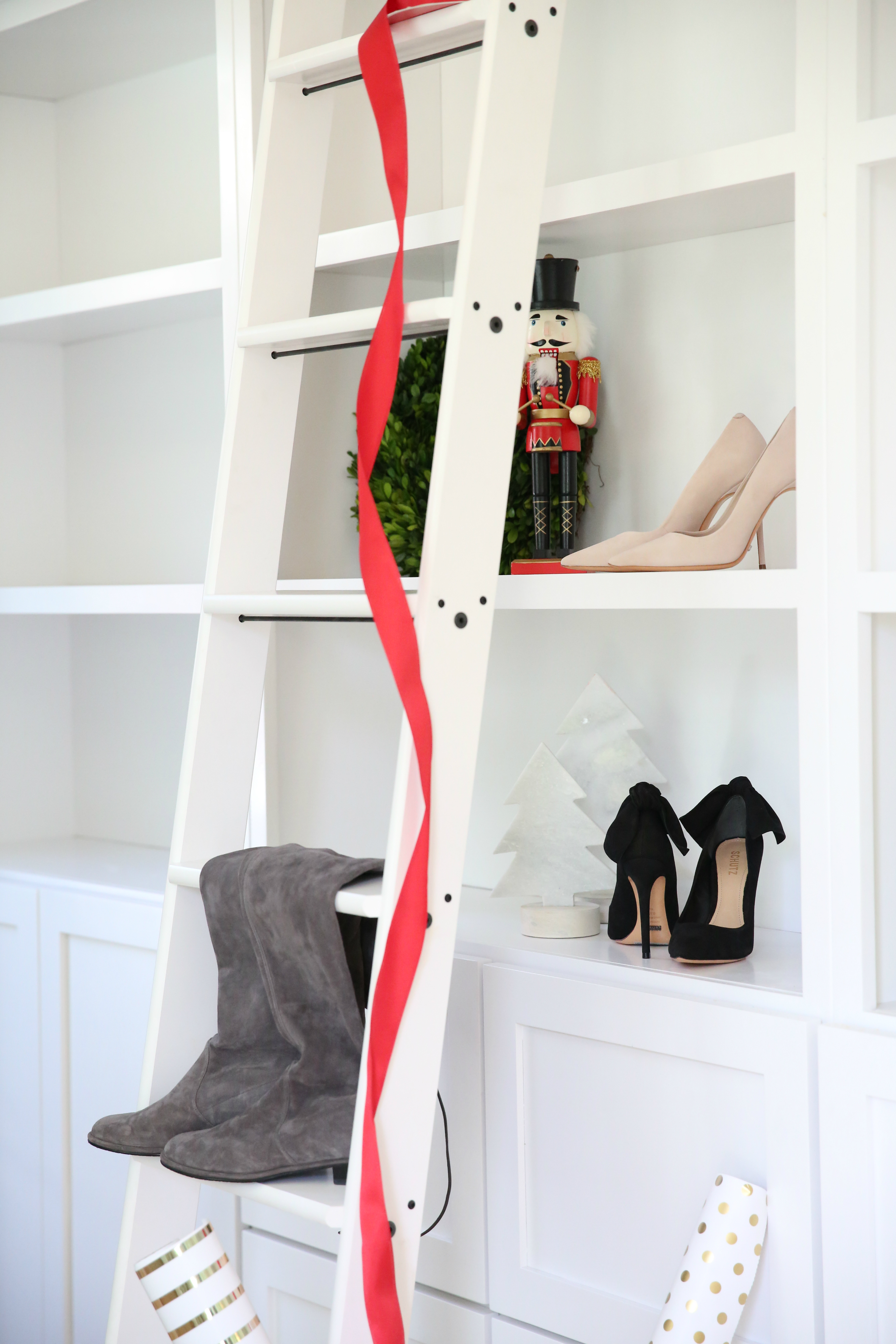 I wear these gray over-the-knee boots at least once or twice a week. They go with almost everything I seem to throw on these days and give more of a wow factor if I pair with any sort of dress. You can see how I styled them recently a few different ways on my Instagram.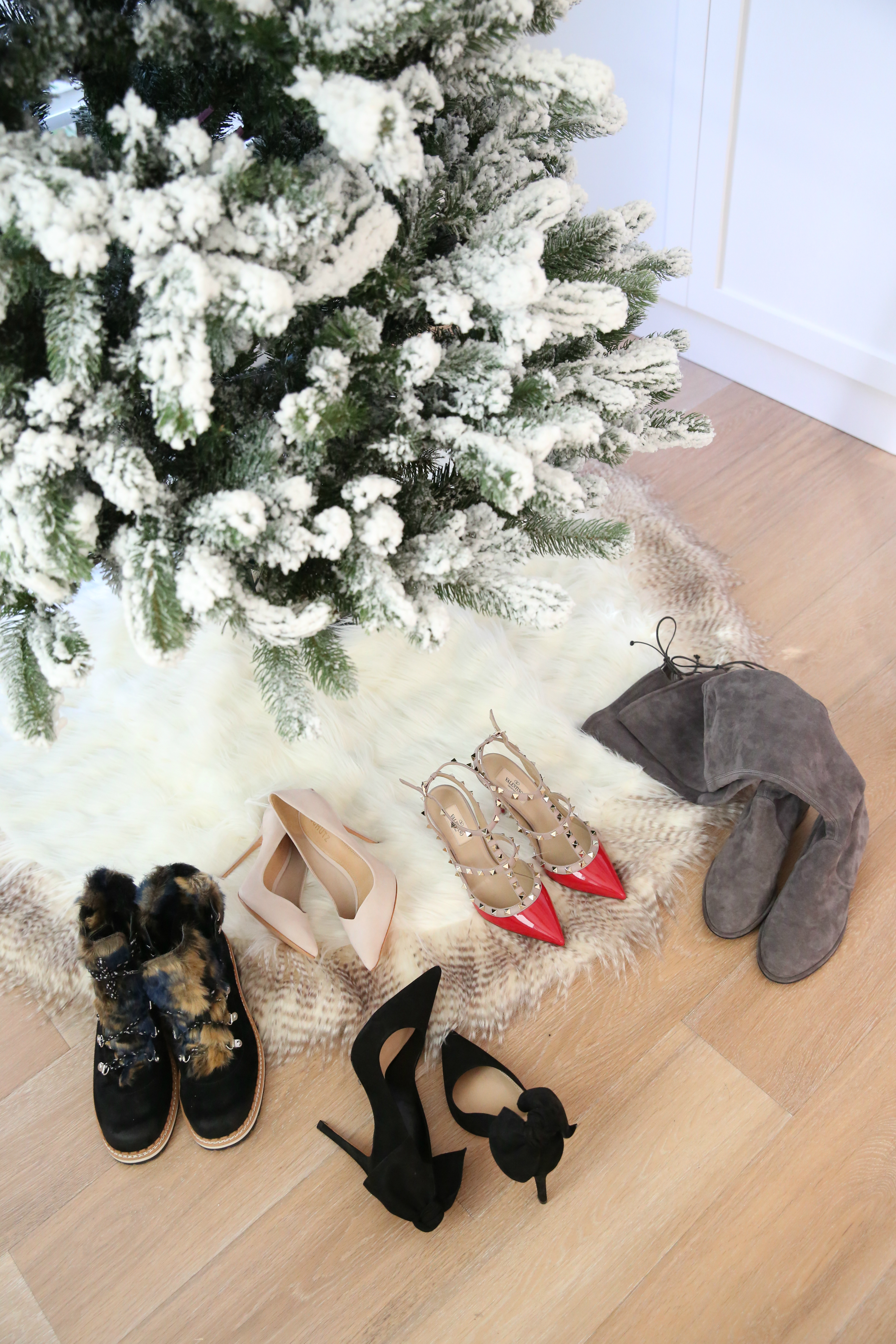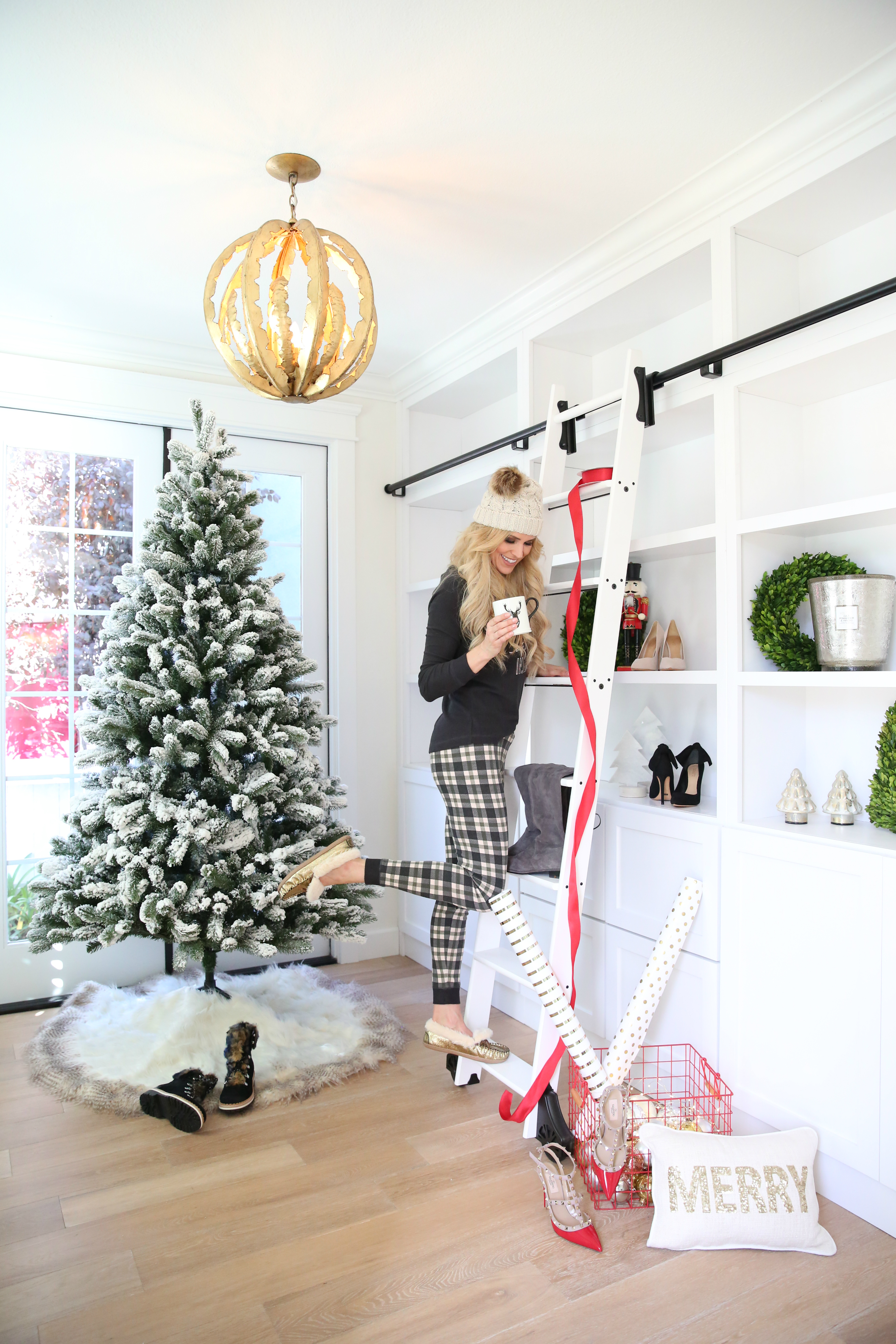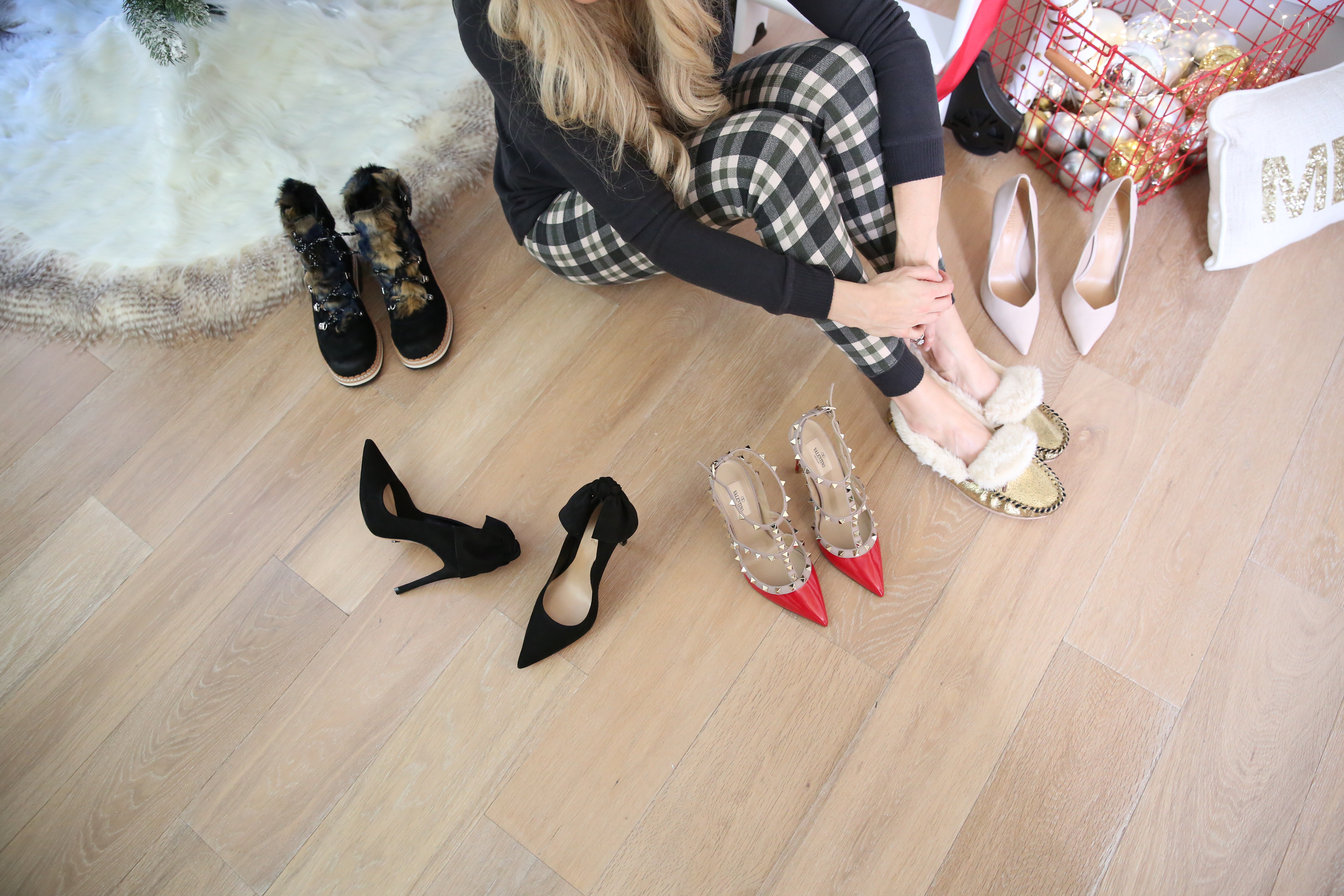 This classic nude pump will never go out of style! I especially love the color (perfect shade), the suede material, and the detailing at the toe bed. I recently wore these heels for a winter white look that is coming to the blog later this week. I am telling you, these pumps are GORGE!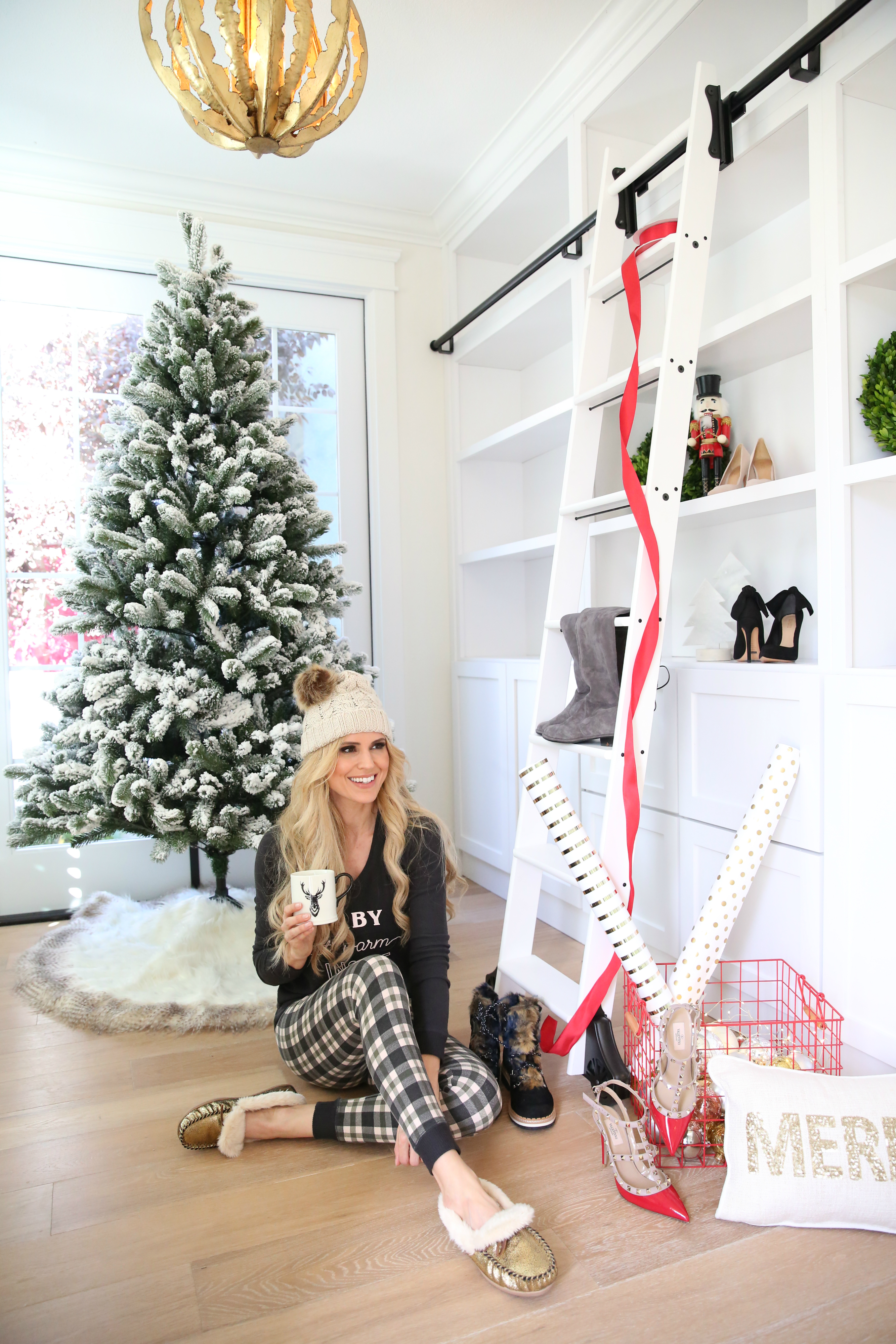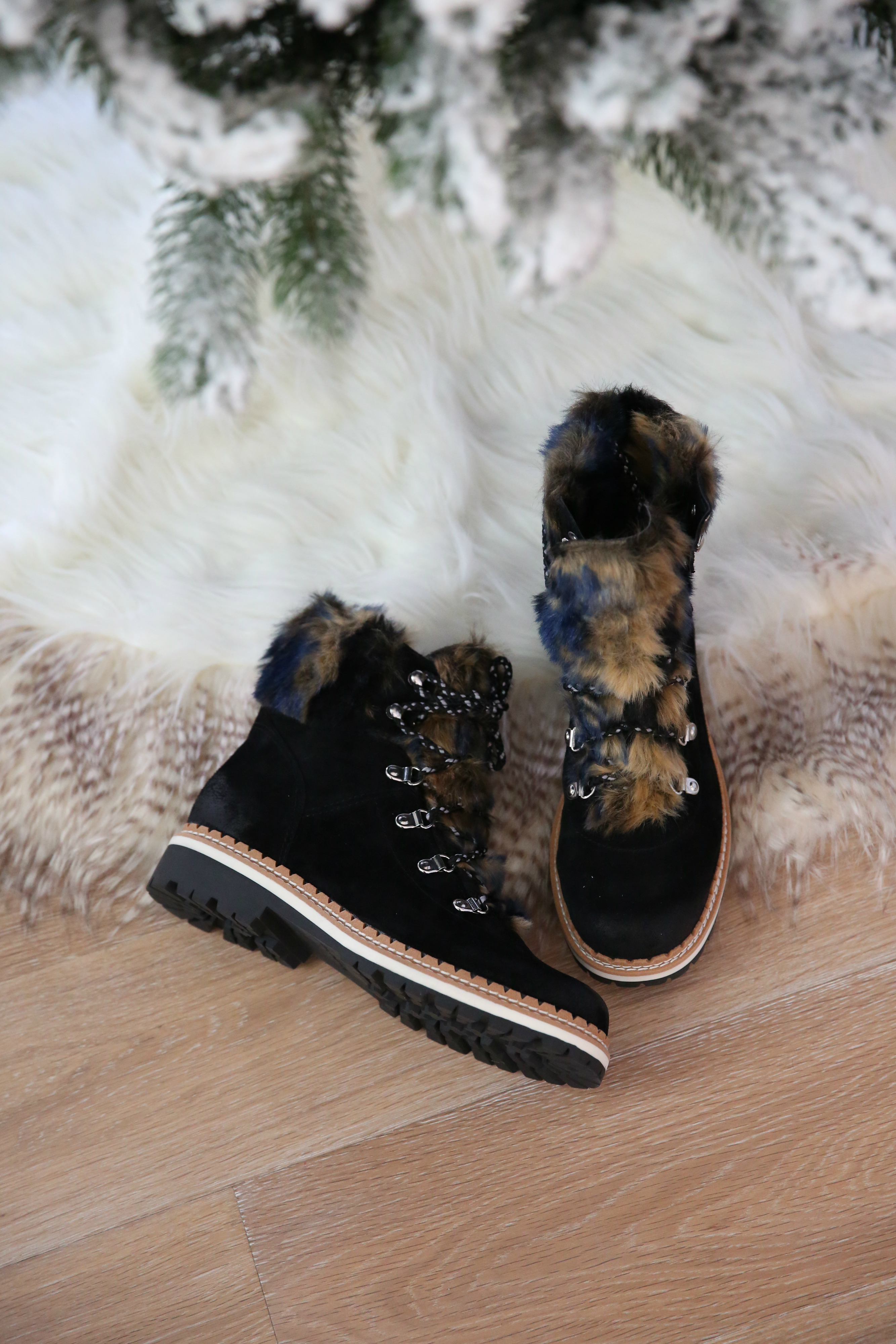 How great are these fur-trimmed boots for all your casual Christmas outings? We are getting a tree this weekend, I will definitely be wearing these! Cozy and comfy! Just spotted this pair which I think I need too… #tistheseason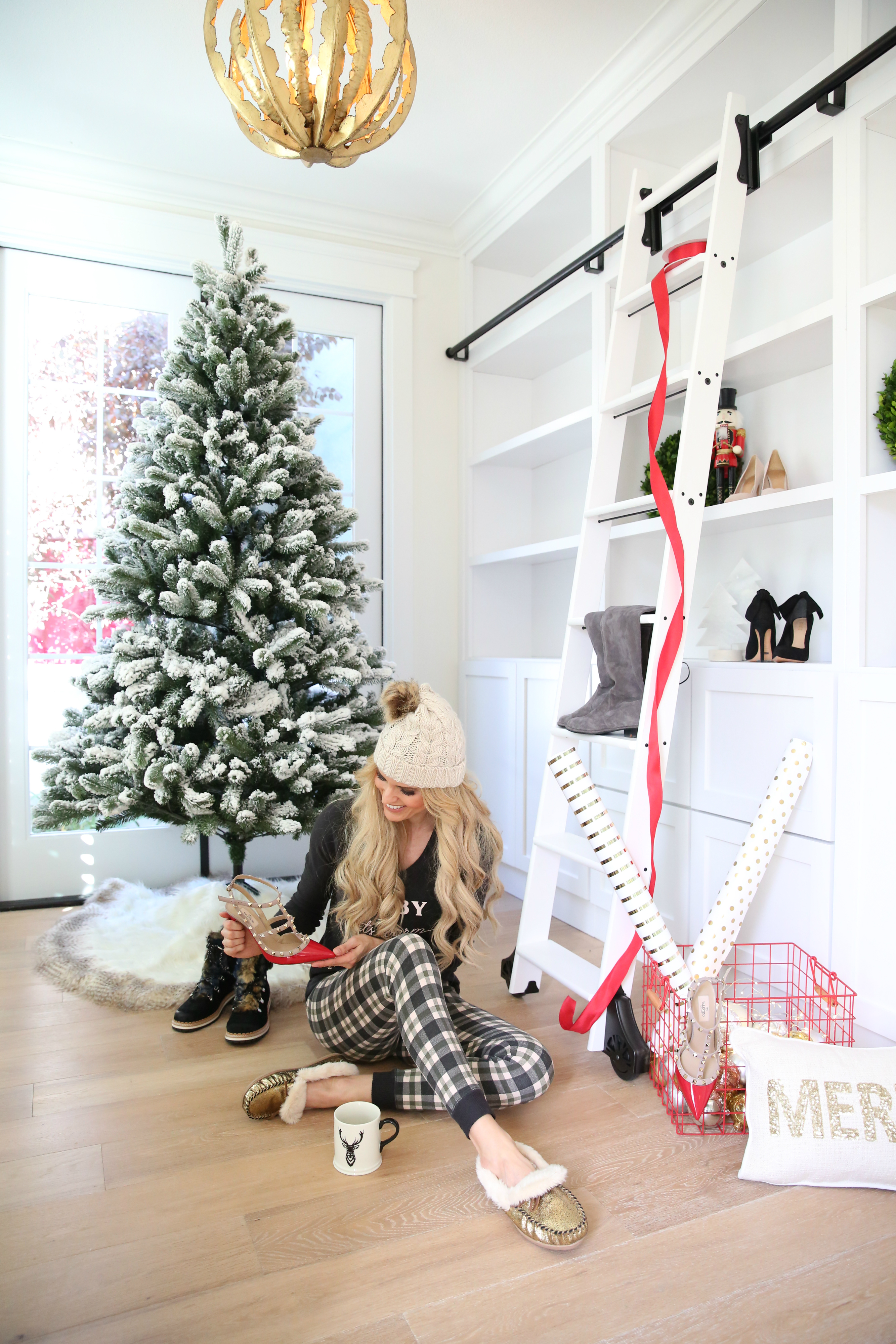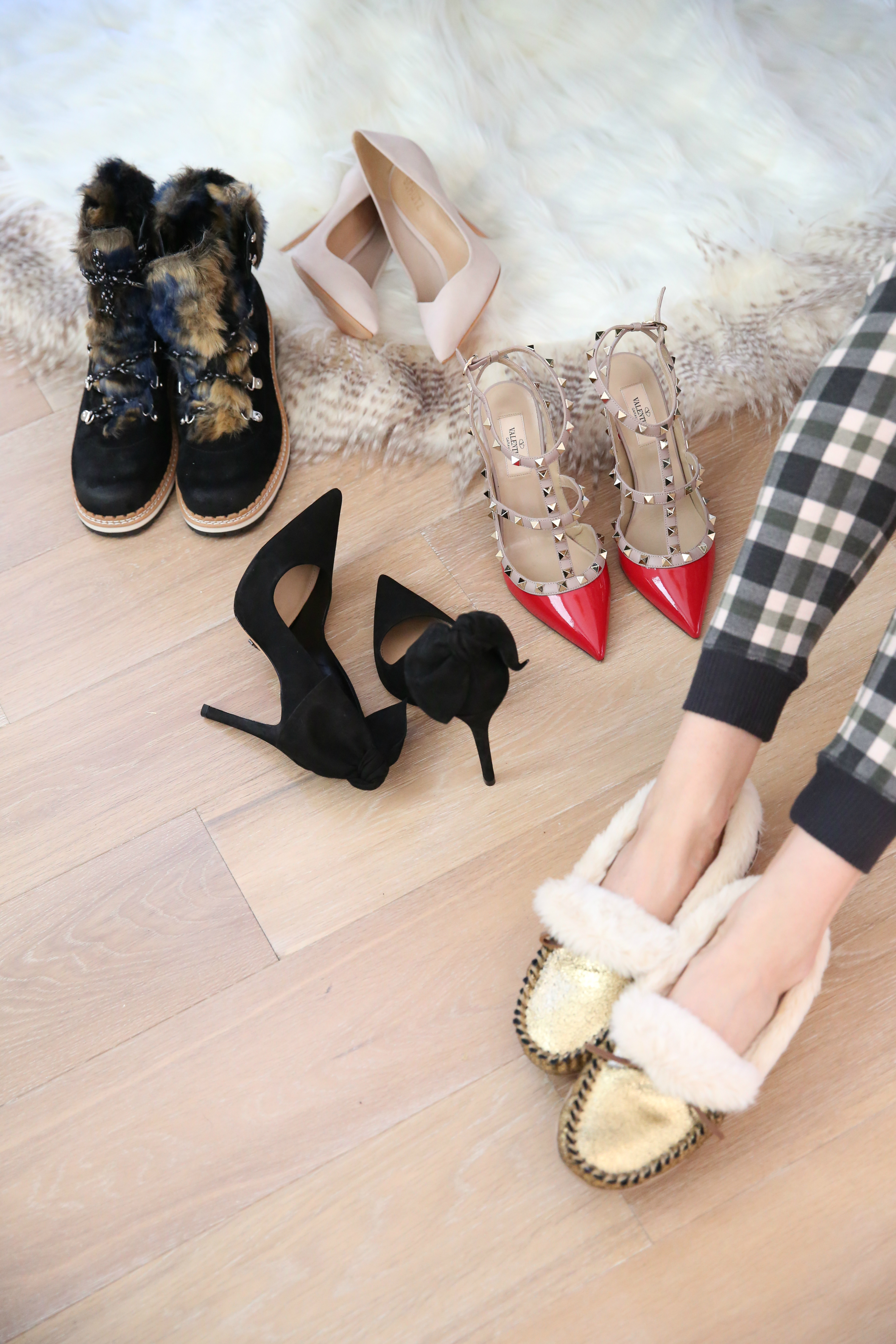 These black pumps have a darling oversized bow detail on the back. I wish you guys could see it better! They also come in a blush pink color. I had a hard time deciding between the two, but went with the black. I plan on wearing them with faux leather skinny pants and an oversized sweater.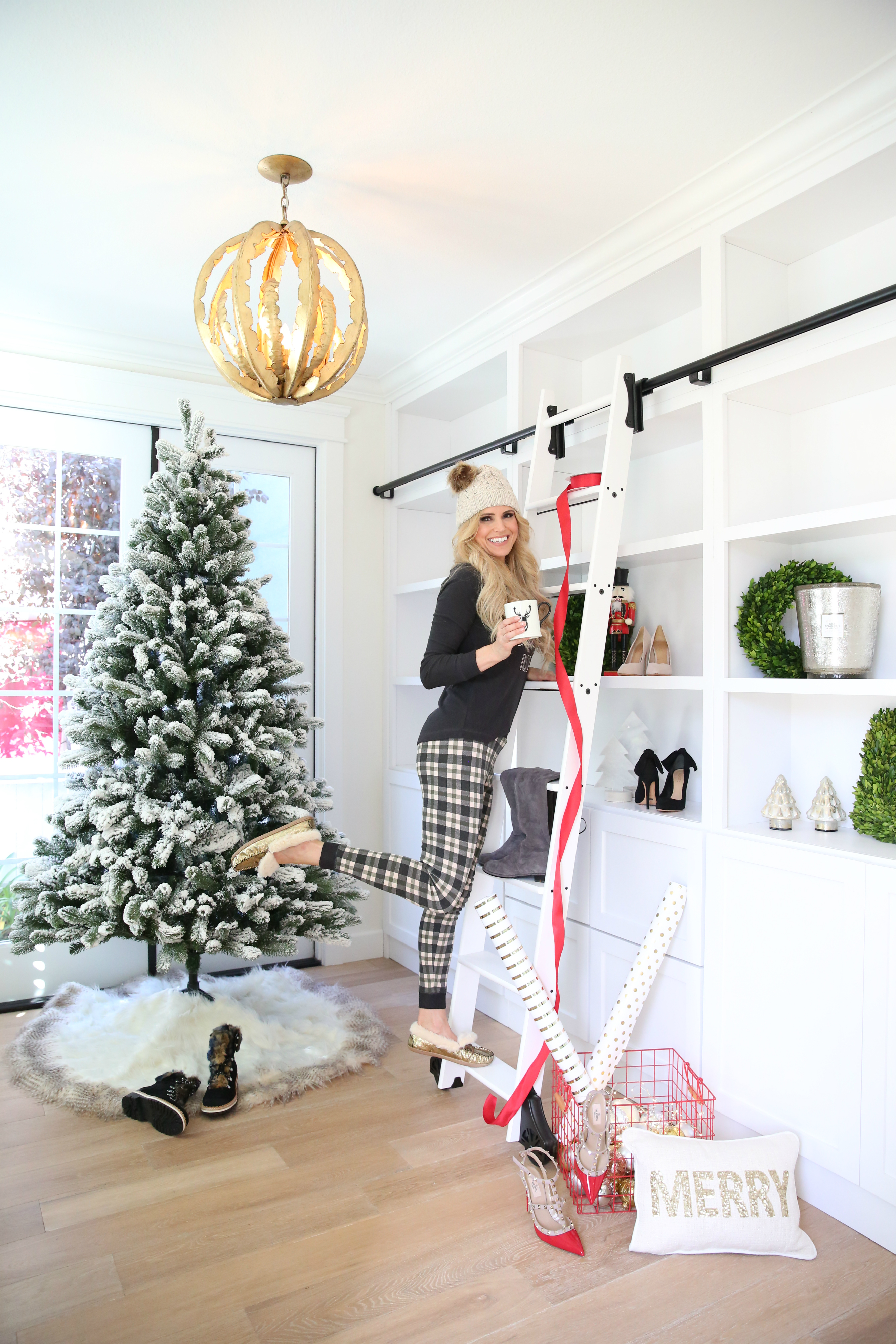 Pajamas (cute gift idea!) | Gold Slippers (also recently bought THIS PAIR) | Knit Beanie with Fur Pom
Fur Trim Boot | Over the Knee Boot | Nude Pump | Red Studded Pump | Black Bow Pump
All of these shoes are available at Nordstrom, and I'd like to tell you I have a favorite but they are ALL my favorite. I'm usually not much of a house slipper wearer so the fact that I bought these is HUGE. They are so pretty and feel so luxurious and fancy to wear at home. We are a no shoes house so it's nice to have a pair to wear inside. I also recently got these pompom slippers and apparently I can no longer say I am not a house slipper person. Both pairs of slippers would make amazing gifts for your girlfriends, mom, or mother-in-law.
Nordstrom has an incredible return policy that we all know and love. It's the reason Nordstrom is one of my favorite places to shop. And even more so around the holidays for gift giving! One of my favorite gifts to give is pj's and this pair says Baby it's warm inside and would make an incredible gift (even if it's a gift for yourself ha!).
Thanks for stopping by! xo
Thank you Nordstrom for sponsoring this post! All thoughts and opinions are my own.
Photos by Vincent Elejorde.