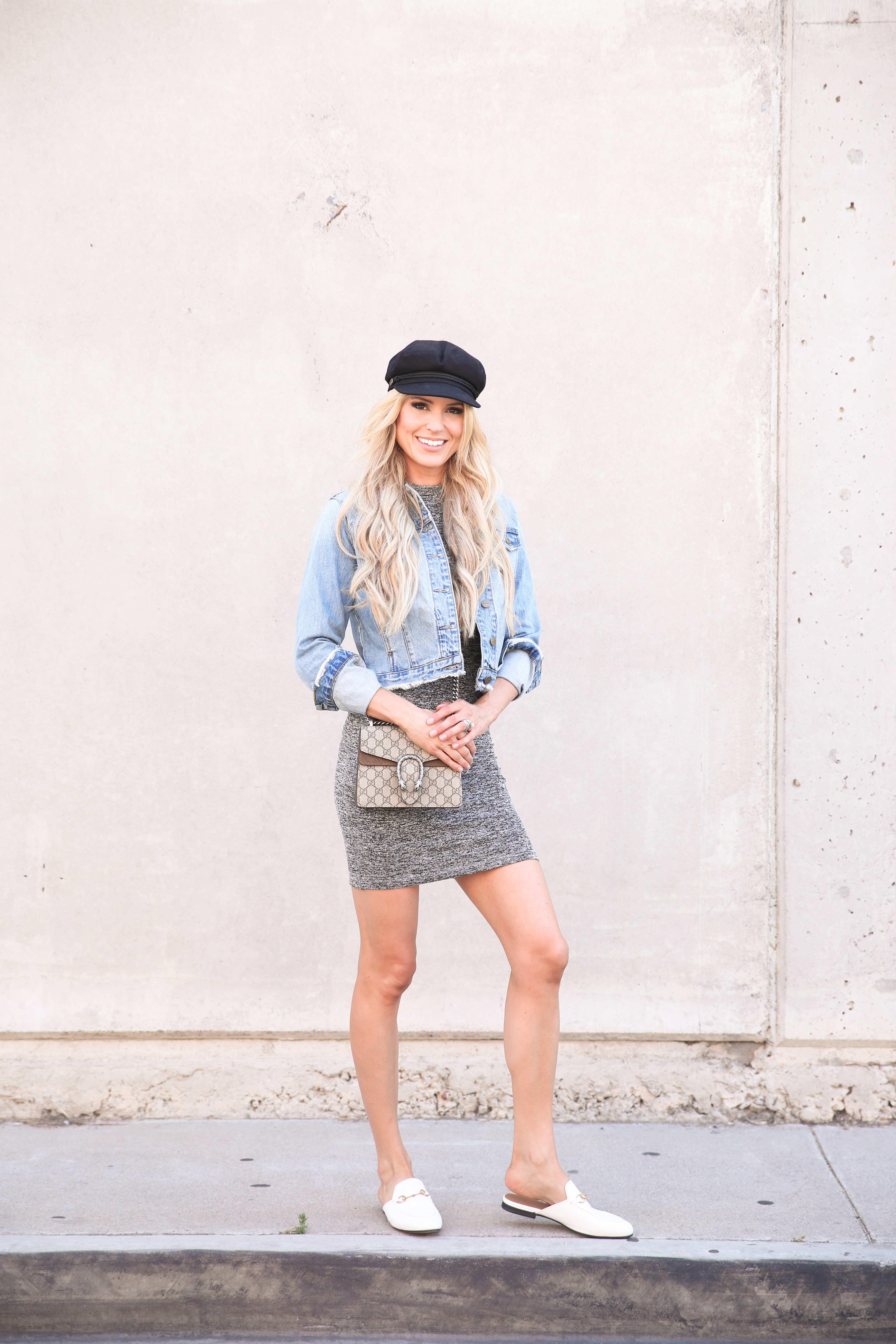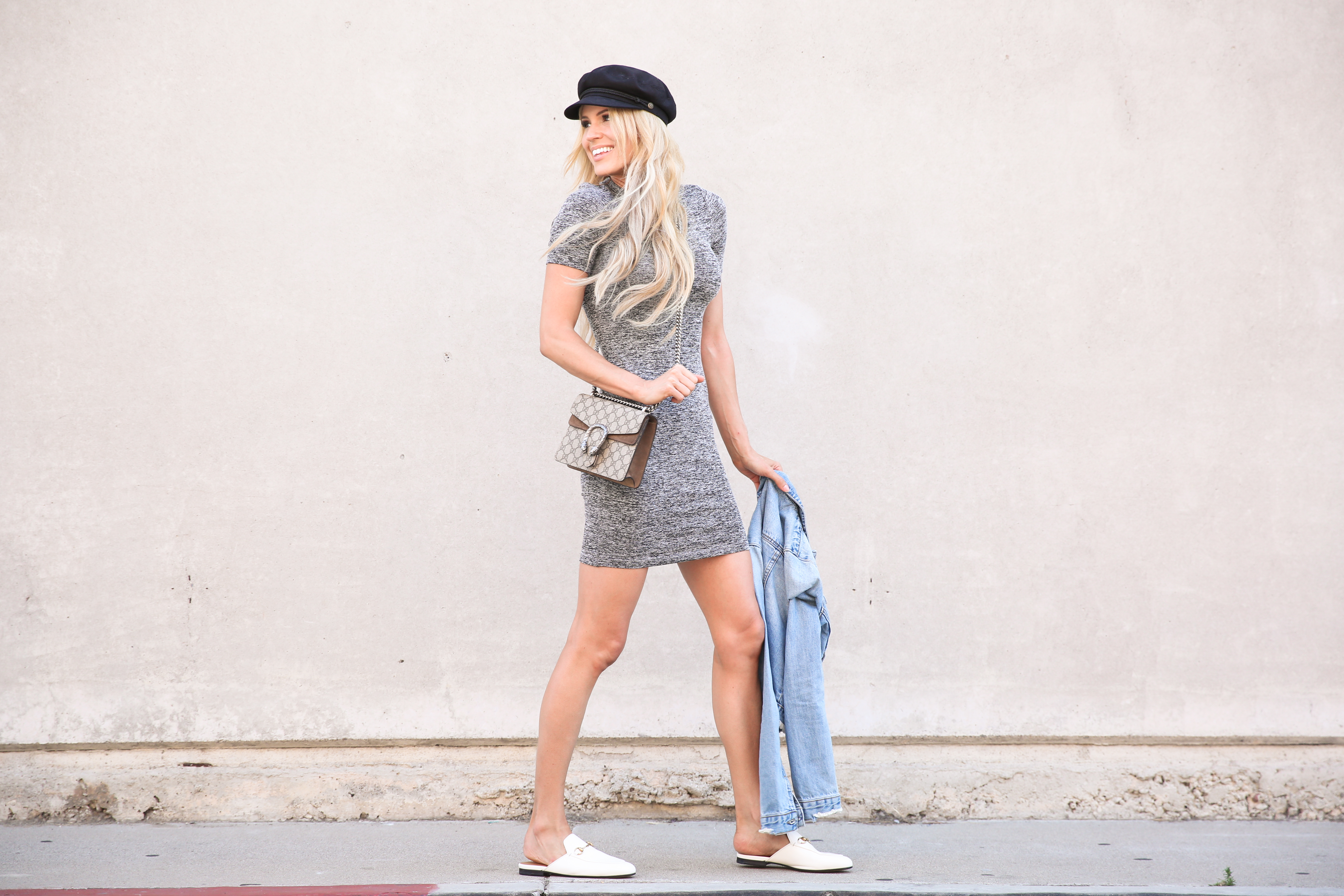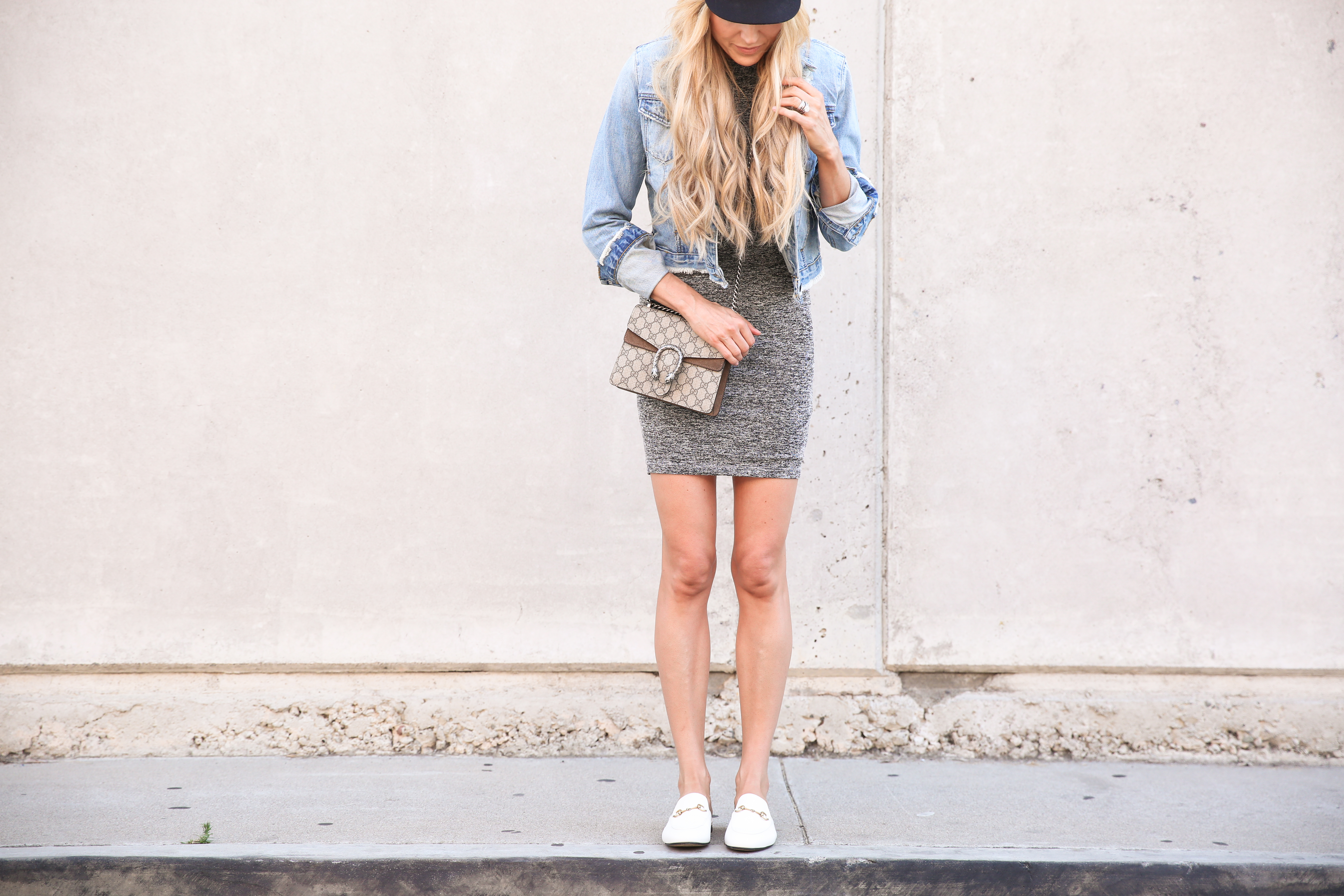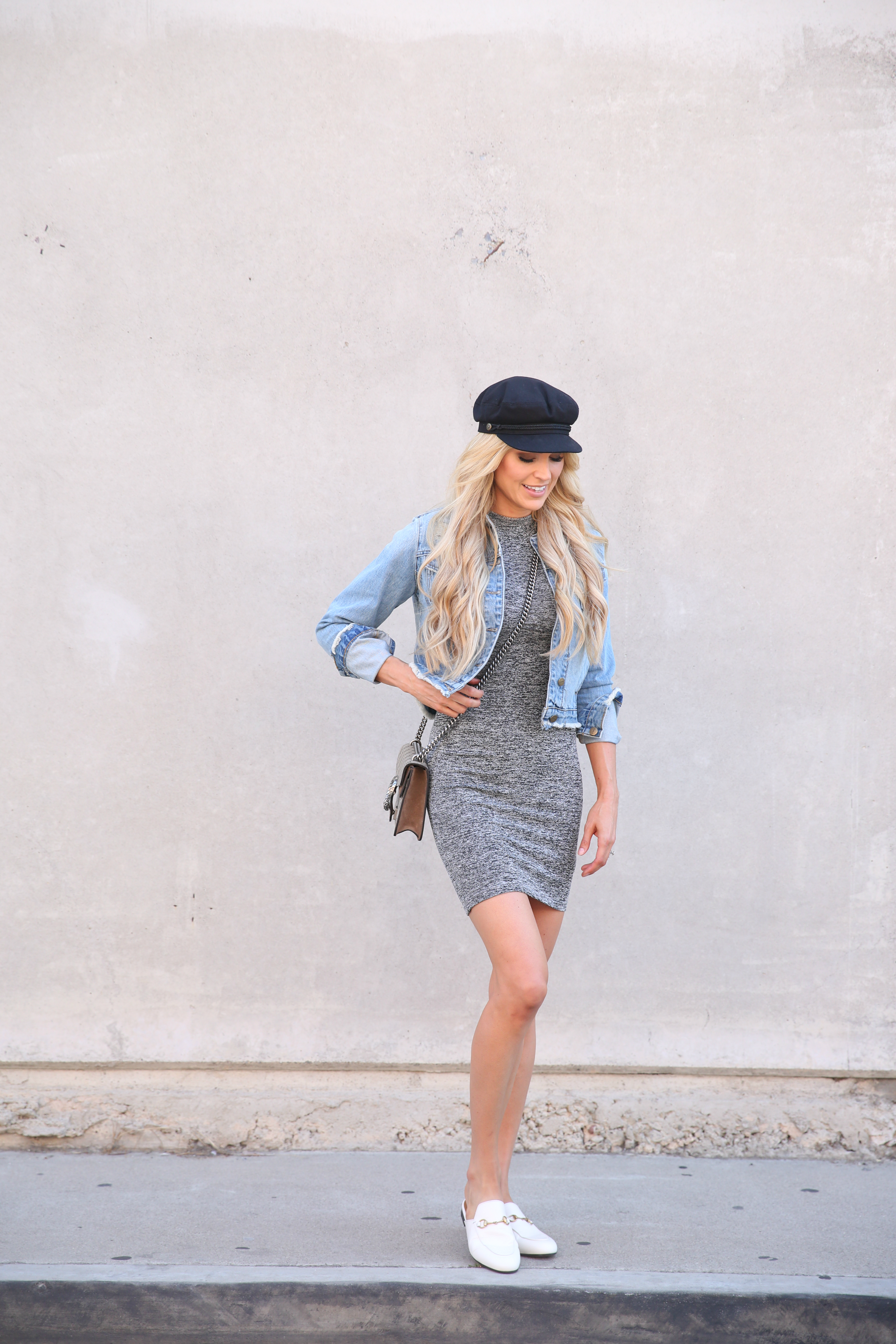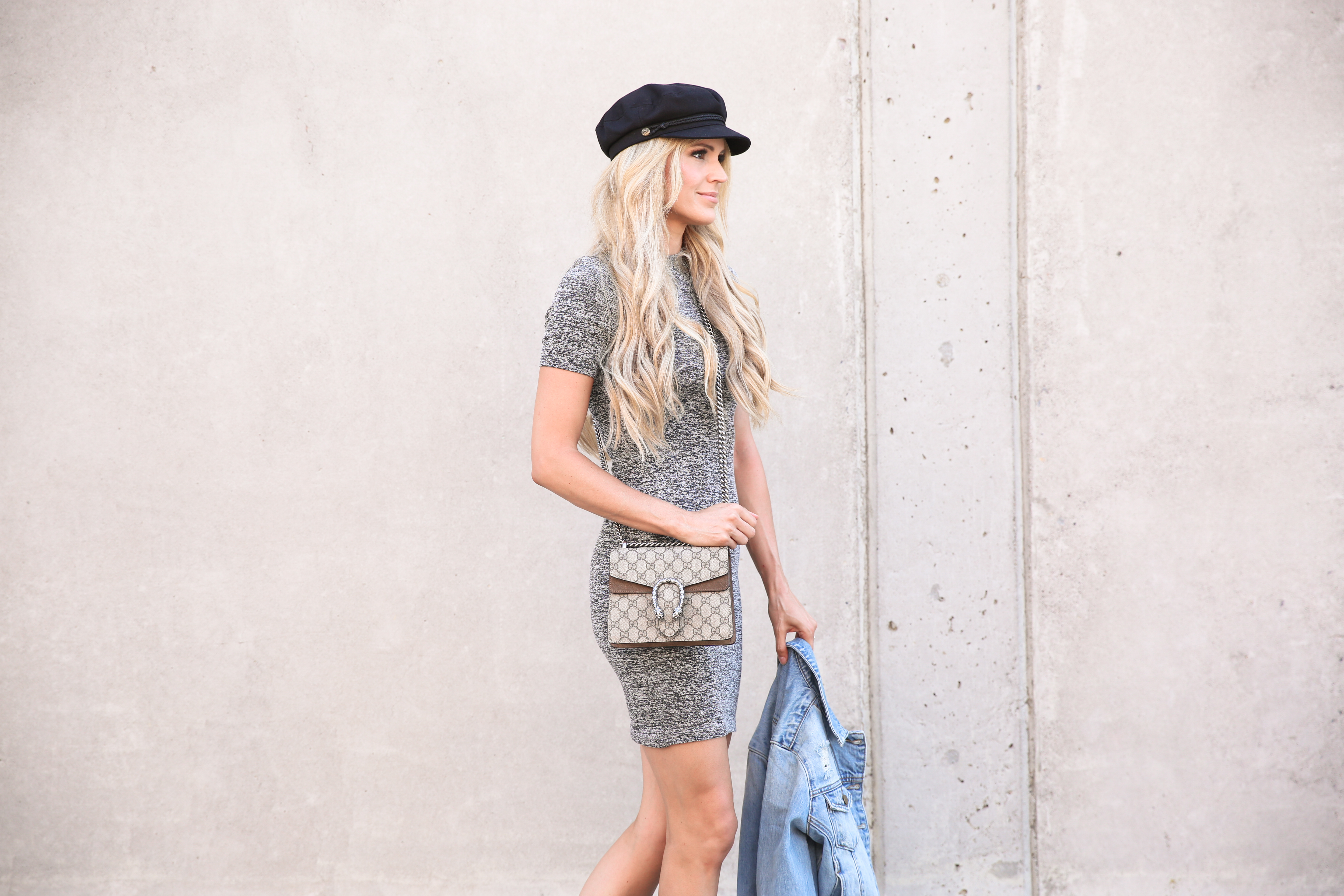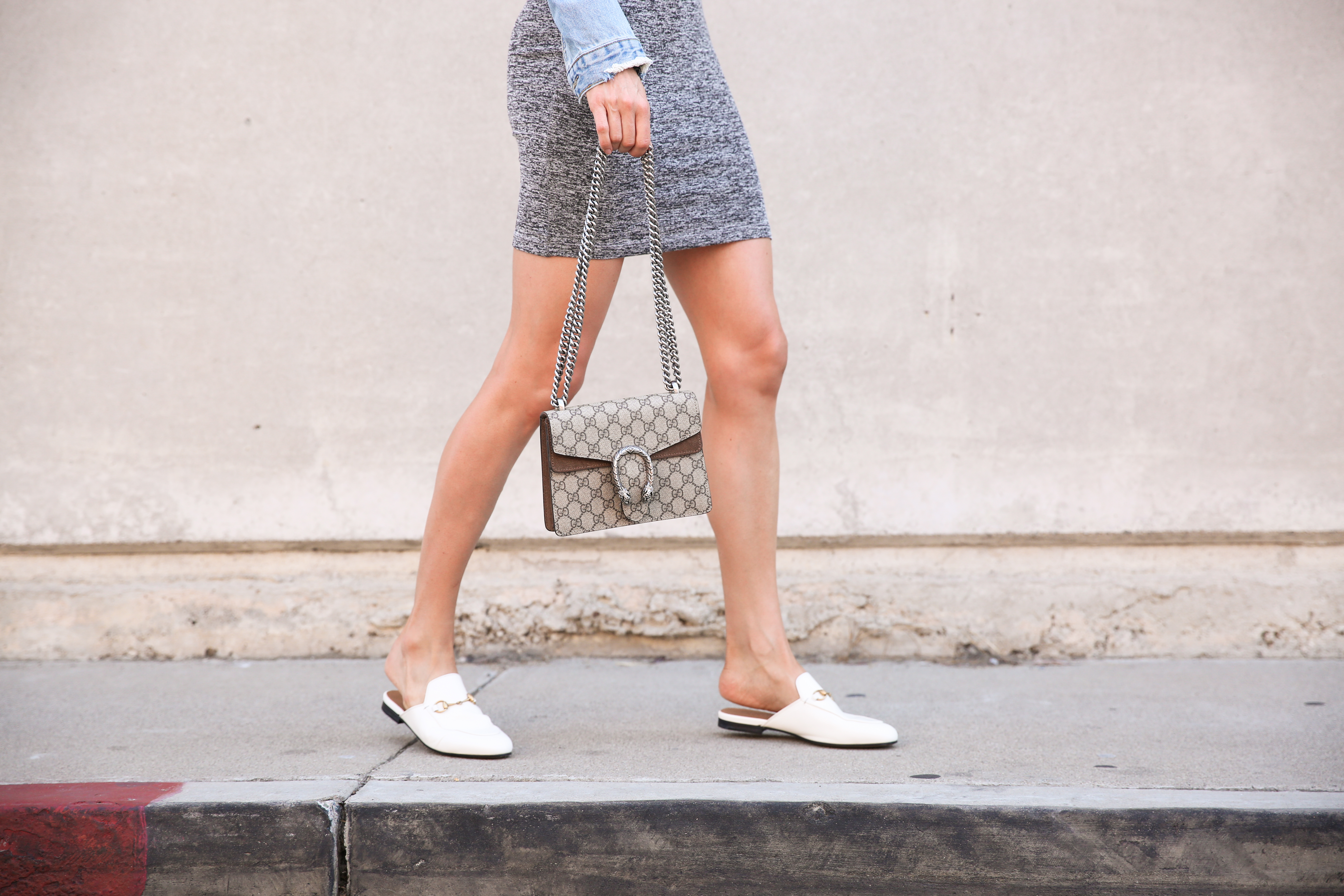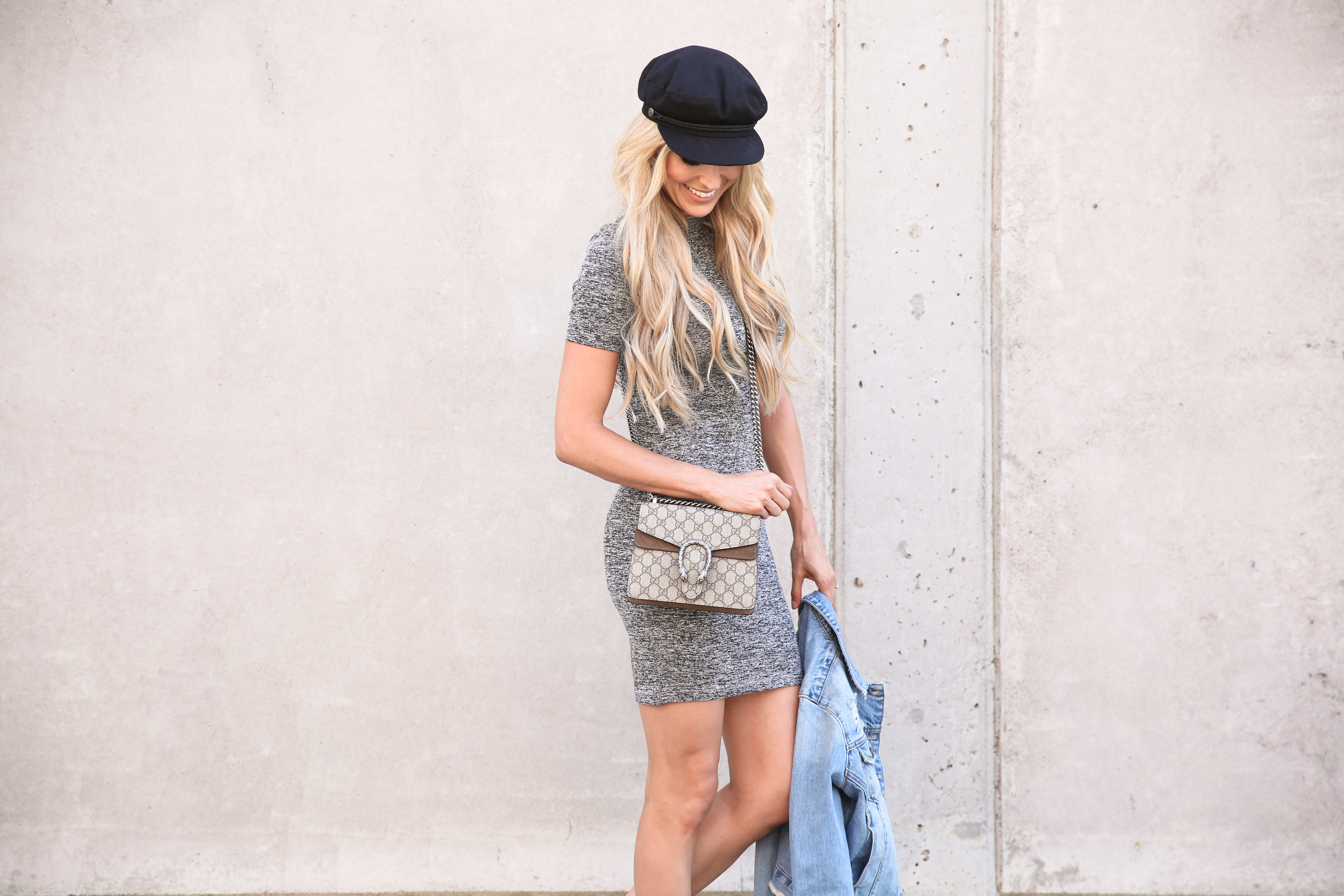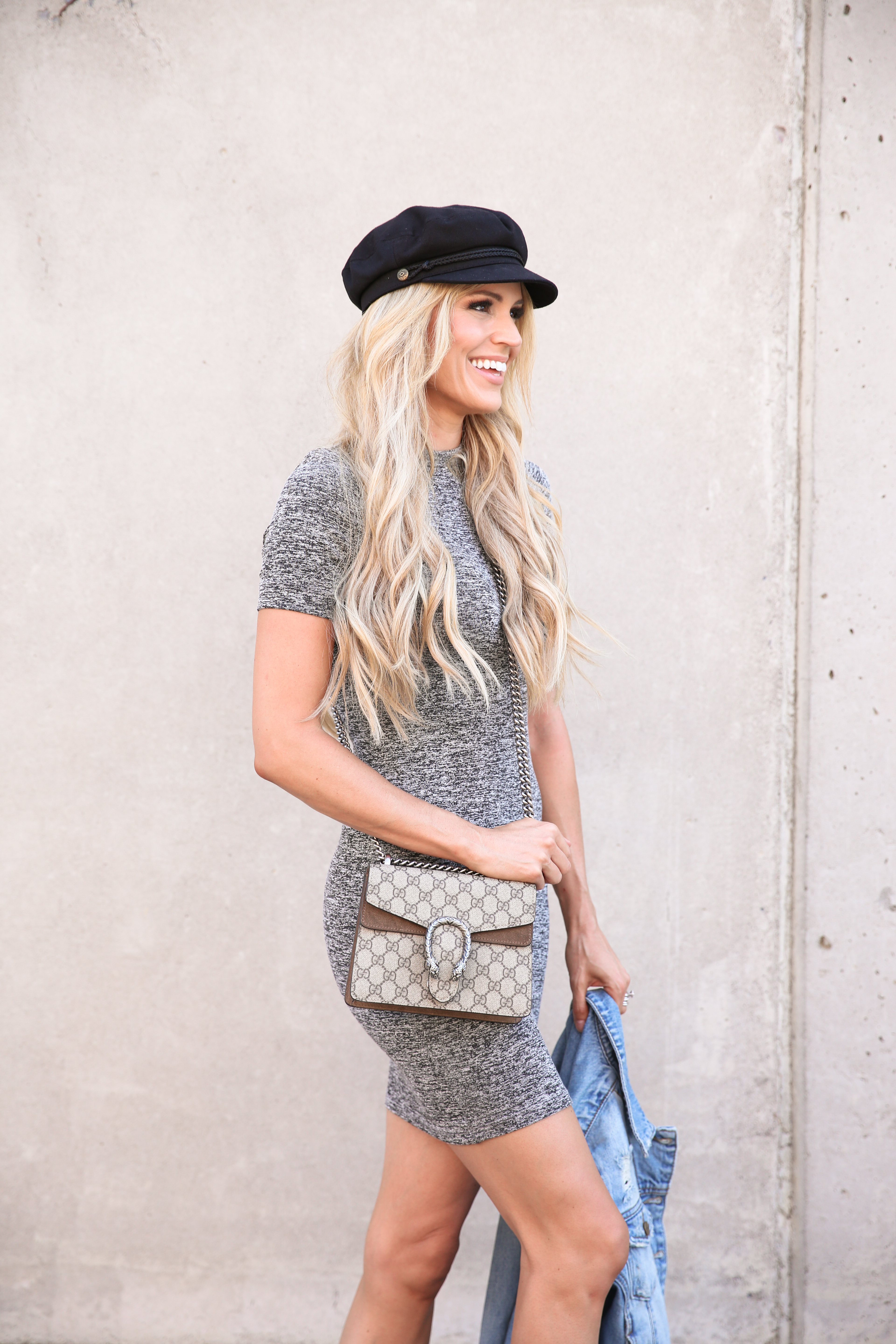 Dress: Sweeter Sweater Dress under $100! (wearing a size 4) | Jacket: Crop Denim Jacket | Bag: Mini Dionysus GG Supreme Shoulder Bag (obsessed with this similar option!) | Shoes: Princetown Loafer Mule (similar option for less here) | Hat: Fiddler Fisherman Cap (wearing a small)
Today's blog post is in collaboration with Nordstrom. Thank you for supporting the brands that support my blog. It is always a pleasure partnering with Nordstrom because it truly is my favorite place to shop.
You might have noticed that lately I have been a little MIA on the blog. This usually means I have some sort of project going on. And right now, it's a huge closet clean-out. Lately I have been thinking I would rather have a small, curated closet of staple pieces that I love rather than a closet filled with stuff I don't wear and forget I even have.
I have a huge guilt complex when it comes to throwing things away. Mix that with being a blogger and the freebie stuff that comes along with it, and I am well on my way to becoming a hoarder. Lol. Kidding… well kind of. 😉 Even though I say I would rather have a smaller closet filled with items I love, I don't live that way. It's scary getting rid of all your stuff! Oh God, now I am even sounding like a hoarder. But you know what I mean… a majority of us probably only wear a small fraction of our wardrobe. For some reason, there is something reassuring about seeing all those options hanging in the closet. Even if they aren't really options.
I have been kicking around the idea of a series of blog posts on creating a capsule wardrobe with 20-30 pieces and showing how to mix these pieces to maximize your outfits. And maybe I can do this seasonally. Is this something you guys are interested in? Please let me know in the comments below.
So today's outfit post is the first with my new mindset. I can see myself wearing every single one of these pieces again and again with endless possibilities to mix and match. Just about every single item would make it into my capsule wardrobe. And it's a great transition to fall outfit which gives you a fall vibe even though it still feels like summer.
These Gucci loafers are my most recent investment purchase. Gucci made a huge comeback these last few years, and I was so excited when Nordstrom started carrying a large selection of their handbags and shoes. The first day I spotted a Gucci bag online at Nordstrom, I had to immediately text my blogger friend and share the good news. Whenever I am in the market to buy a designer piece, Nordstrom is the first place I check. I got these shoes a little over a week ago and have worn them so many times already (see how I styled on Instagram here). I usually wear a size 8 in shoes, and I sized up in these to a 38.5 for a perfect fit.
I love the versatility of this Gucci bag. It is big enough to fit all my daytime essentials, but small enough to wear for a night out. The chain can be worn as a cross-body or shoulder bag. It also comes with black accents if you wear more black than brown.
A denim jacket will definitely be included in my capsule wardrobe. It never goes out of style, and I love the cropped length of this one. It is perfect to layer over dresses and high waisted bottoms. This short sleeve sweater dress is the perfect summer to fall transition piece. This dress silhouette is timeless and personally one of my favorites. Wear it now, like I have styled with a light jacket. Would also look great with a leather jacket! Wear it in the fall with a chunky cardigan or coat and over-the-knee boots. The Nordstrom website suggested to size up, and I am wearing a size 4.
I've linked everything I am wearing above and below. You can click on the picture of the item, and it takes you directly to the item. And if you want to check out the rest of the Gucci line at Nordstrom, you can do that here! Some of my other Gucci favorites are this bag (red will be big this fall!), these sneakers (a great wardrobe staple item!), and this fragrance (smells AMAZING but needs to be reapplied).
Thanks for stopping by! xo, Missy
Photos by Vincent Elejorde.
In collaboration with Nordstrom. All thoughts and opinions are my own.