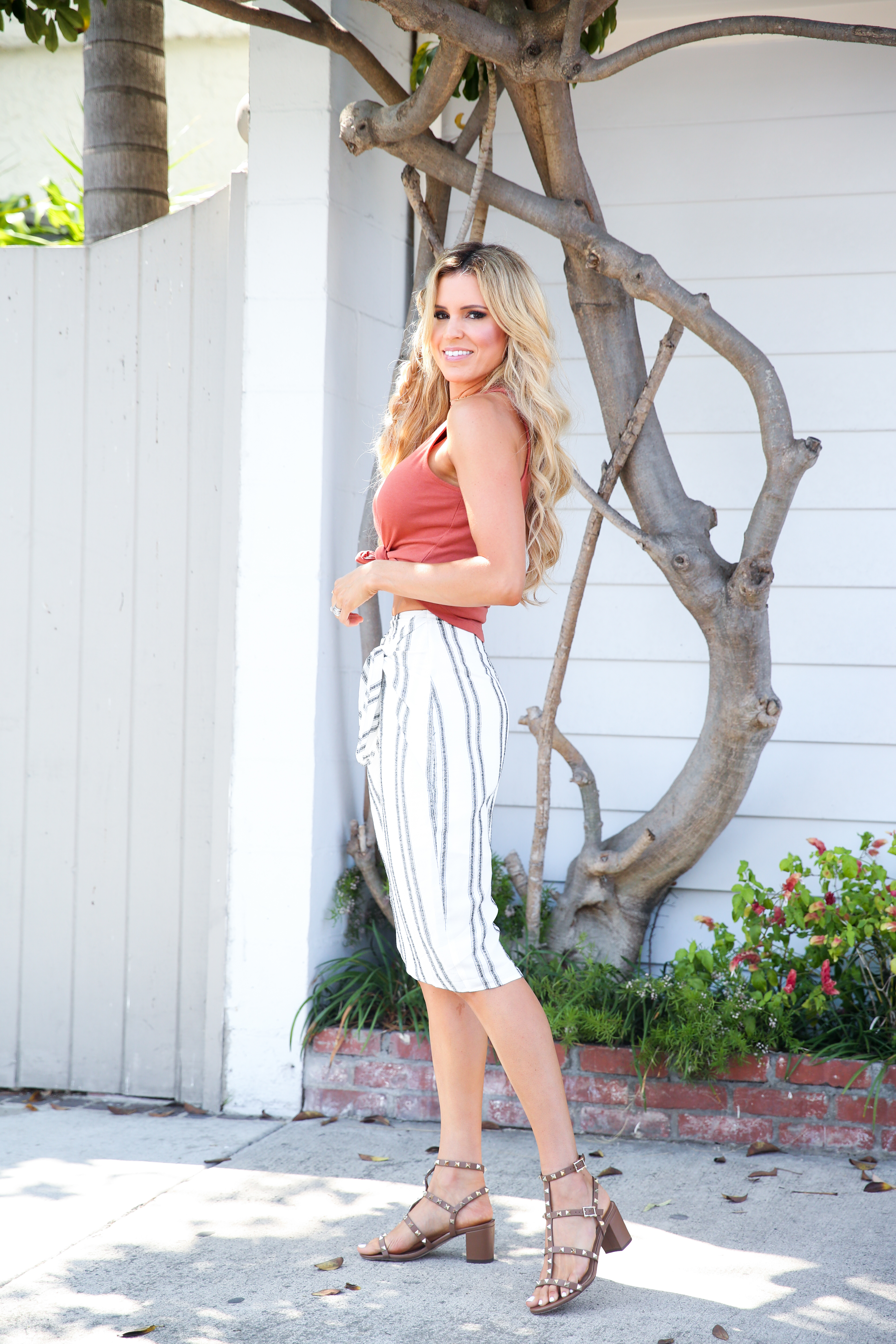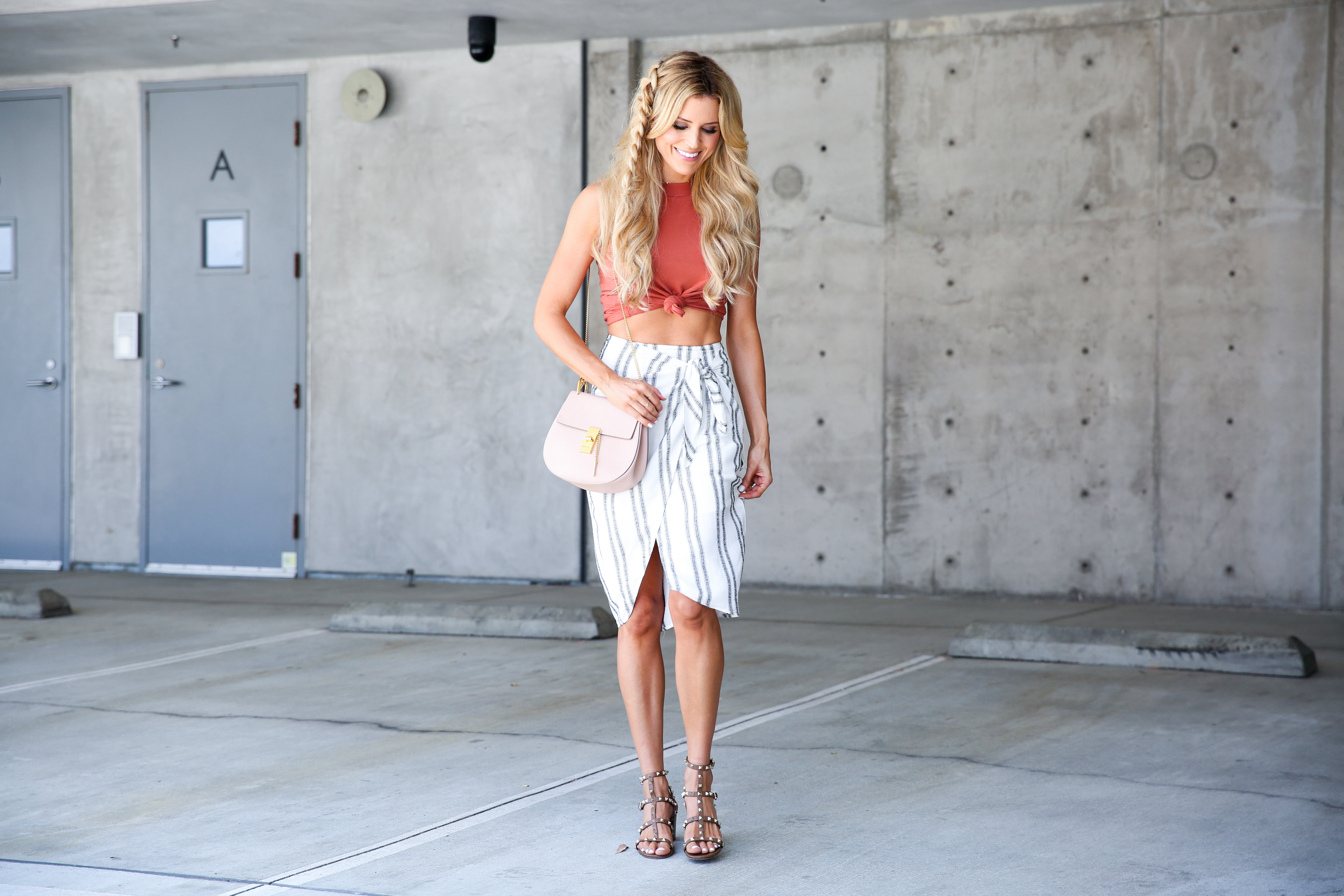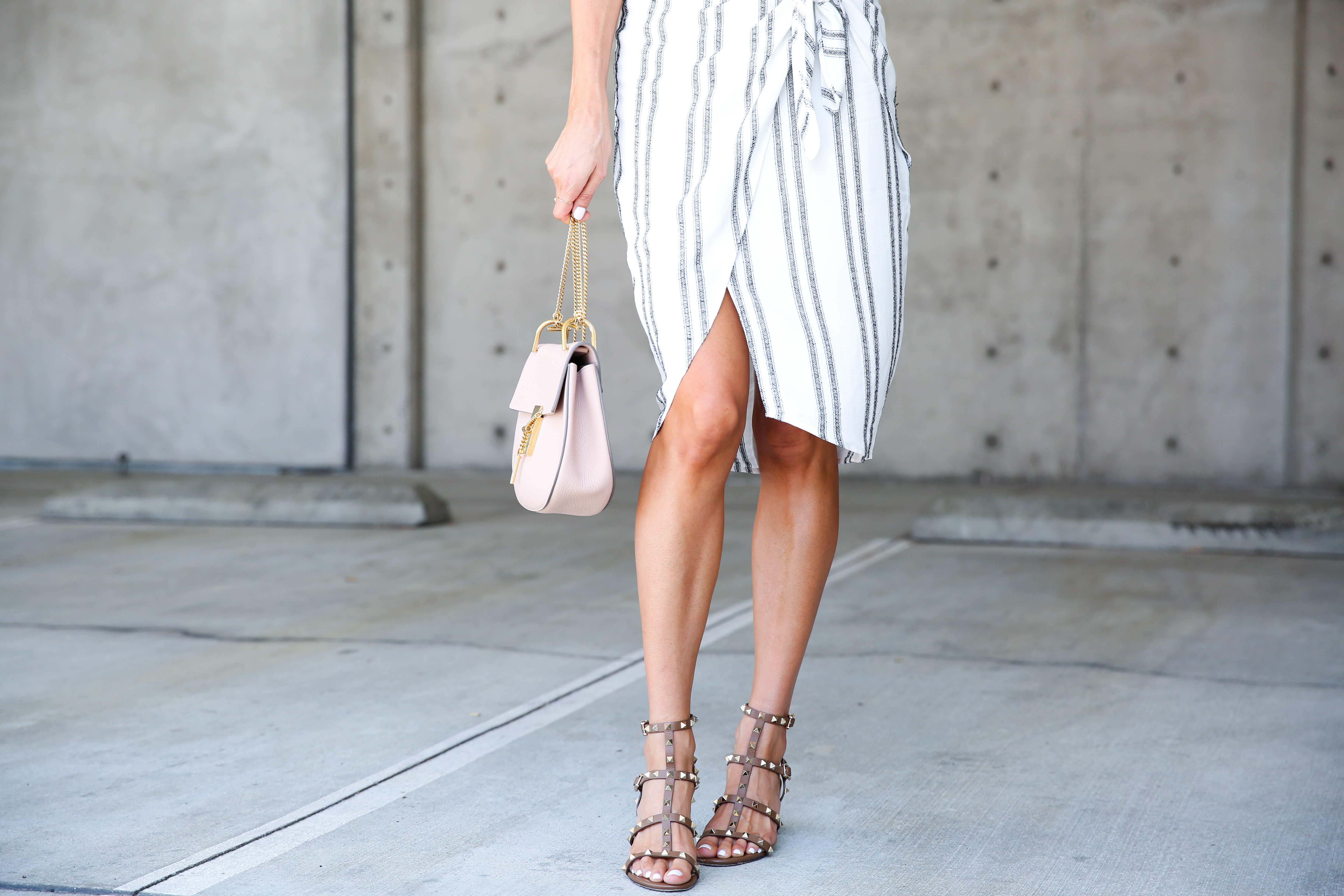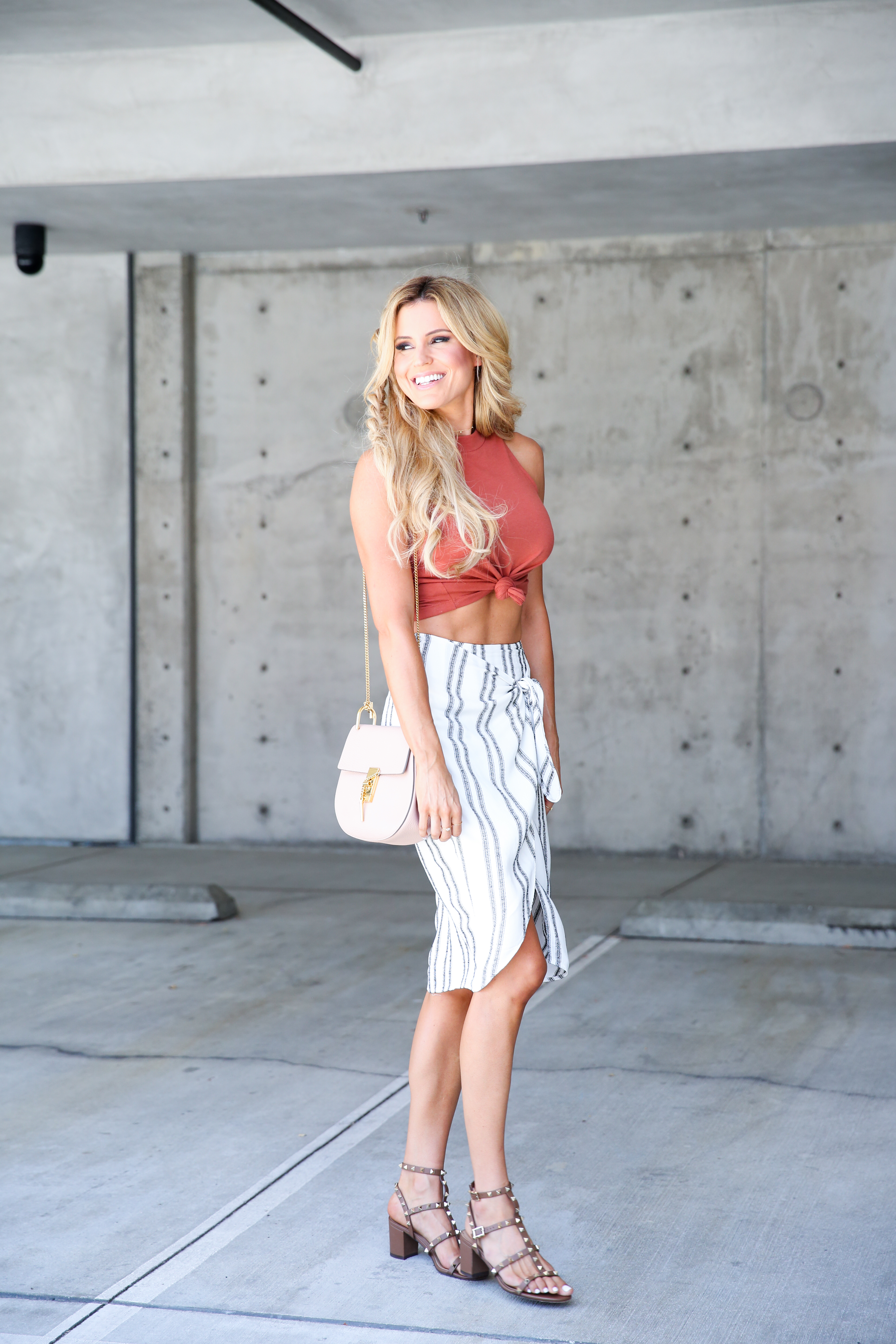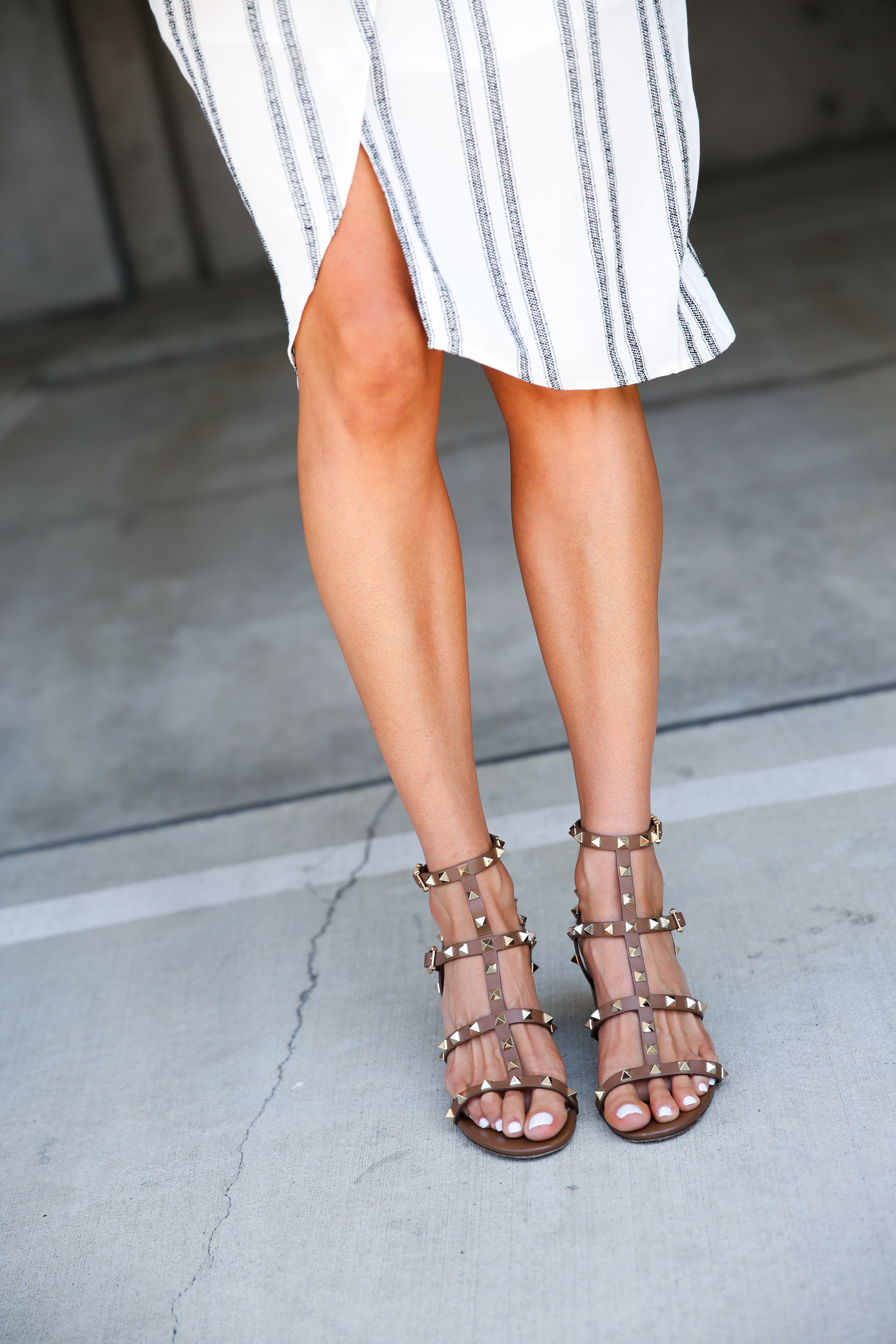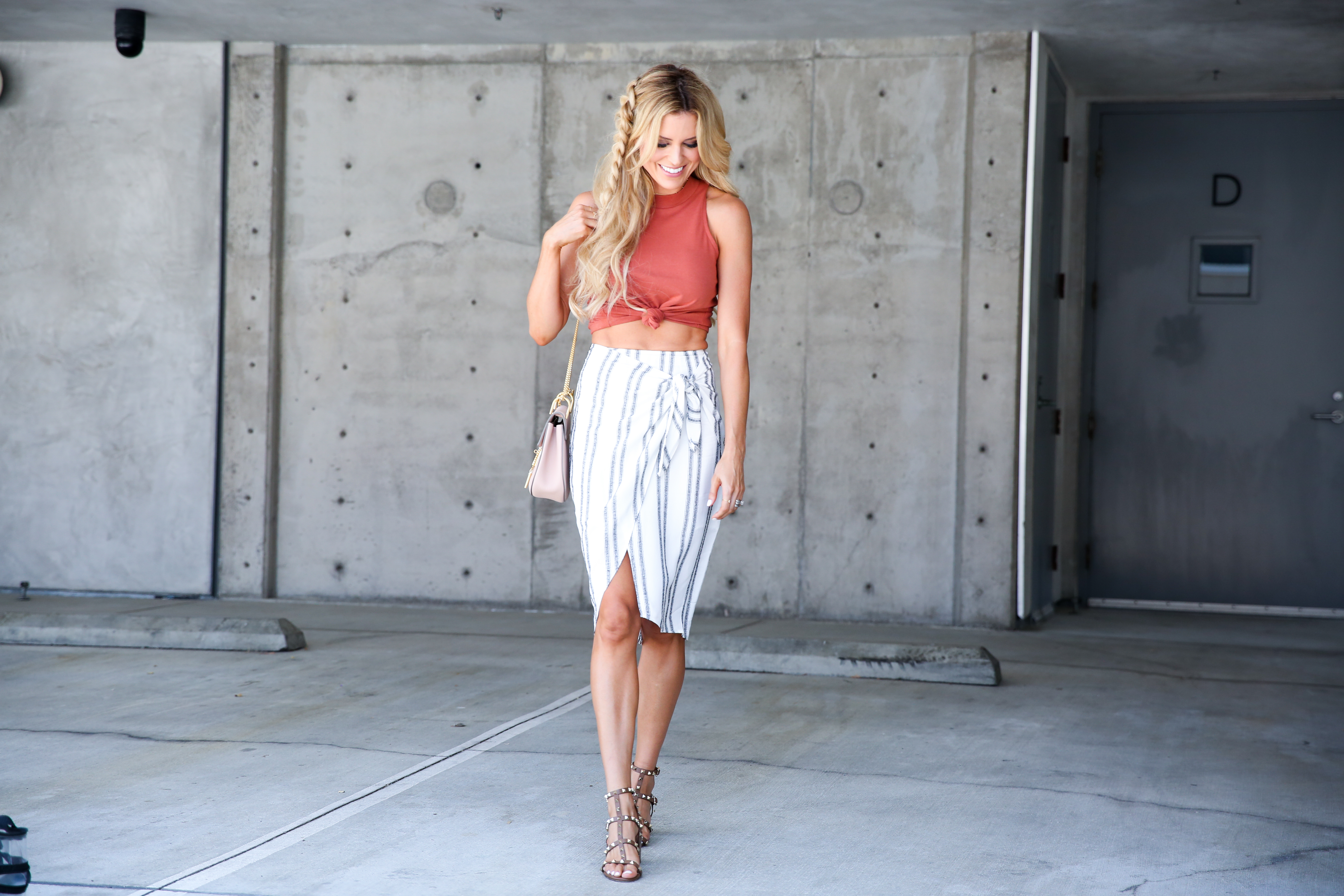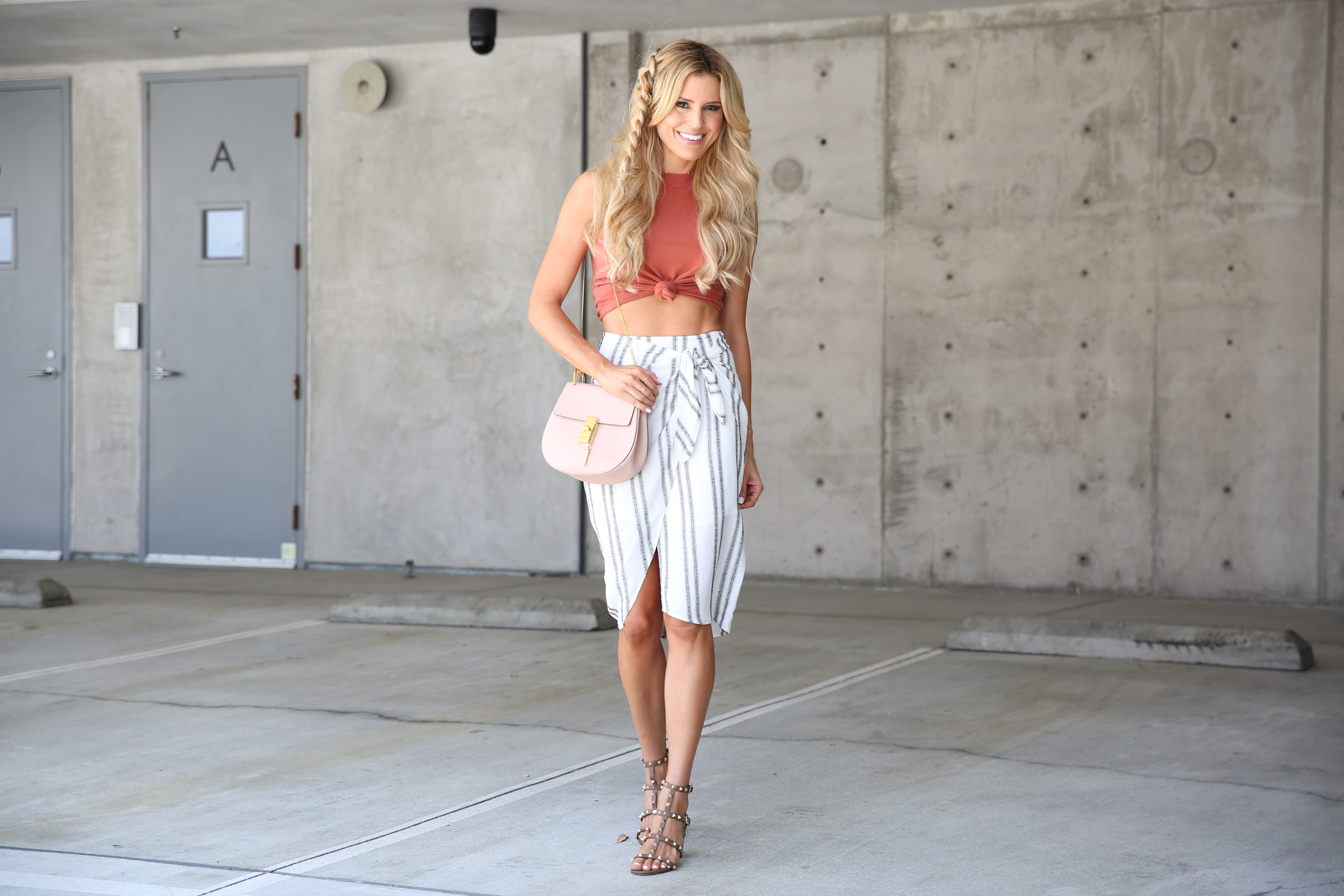 Tank: Mock Neck Tank (comes in 4 colors) | Skirt: Karina Wrap Skirt (similar option here!) | Bag: Drew Leather Shoulder Bag | Sandals: Rockstud Sandal
TGIF! Today's blog post is in partnership with Nordstrom. I do a lot of shopping for my "job," and Nordstrom is my favorite place to shop. They carry the best and widest selection of my favorite brands, and I just love their customer service policy.
My new favorite thing about Nordstrom is their in-store pick-up service. That way I can shop online, and quickly stop by the Nordstrom by my house and grab the item. It's completely effortless and genius. The pick-up counter is stationed right at the store entrance, and I am literally in and out in under 5 minutes flat. This is a beautiful thing when you have an active 4 year-old boy. He likes to play with all the sunglasses while I pick up my order. (oops).
And to make it even easier, Nordstrom added a curbside pick-up (at select stores) so I can keep Max strapped in his car seat. This feels like a guilty pleasure. Especially when the thing I'm picking up might be a small bottle of moisturizer, and the curbside people don't accept a tip. Whaaat?!
Okay I am totally digressing, but I am very passionate about Nordstrom. I love the direction that shopping is going in being mostly online based. The other day I was shopping at Nordstrom while on my cell phone shopping at Nordstrom. Please tell me I'm not the only one that does this! 😉
When I am in the market to buy a designer item, Nordstrom is my preferred place to shop. I know the item is authentic and that Nordstrom stands behind it. I also feel comfortable returning that designer item to Nordstrom if for some reason I change my mind. It is already stressful splurging on a designer item, but at Nordstrom I feel the most secure.
When purchasing a high-end item, I really try and ask myself. Will I get a lot of wear out of this piece? Will it still be in style in X amount of years? Will it go with what I already have in my closet? I think about the cost-per-wear of the item. Like this Chloé bag, it has really been such a great purchase for me. It is neutral enough to go with a majority of my wardrobe. It is a quality piece and still looks great even though I've been using it for years.
These Valentino studded sandals have also been a great designer purchase for me. They go with everything! Denim, dresses, skirts, and they are so incredibly comfortable. The shorter stacked heel gives enough height to make me feel dressed-up, but it is totally wearable. As soon as I got these sandals, I wore them for almost 8 hours of walking around, and they didn't hurt my feet one bit. They have also held up beautifully and look brand-new.
Designer pieces can really hold their value, and I consider mine an investment. Especially handbags and shoes. I have been selling stuff on Ebay for years, and I have made a great return on designer pieces that I no longer want.
I usually pair my designer pieces with more affordable items. I am absolutely smitten with the color of this cropped tank. I have been seeing this shade everywhere and it's such a great color for fall. You don't have to tie up the tank like I did. I matched the tank with a high-waisted skirt which is so cute it's selling out, but this wrap skirt is another cute option.
We have a busy weekend planned ahead, and I am ready to get my jump on it! You can follow along on Instagram! Have a nice weekend….xo
In collaboration with Nordstrom. All thoughts and opinions are my own.
Photos by Vincent Elejorde. Hair + Makeup Erica 1011 Makeup.