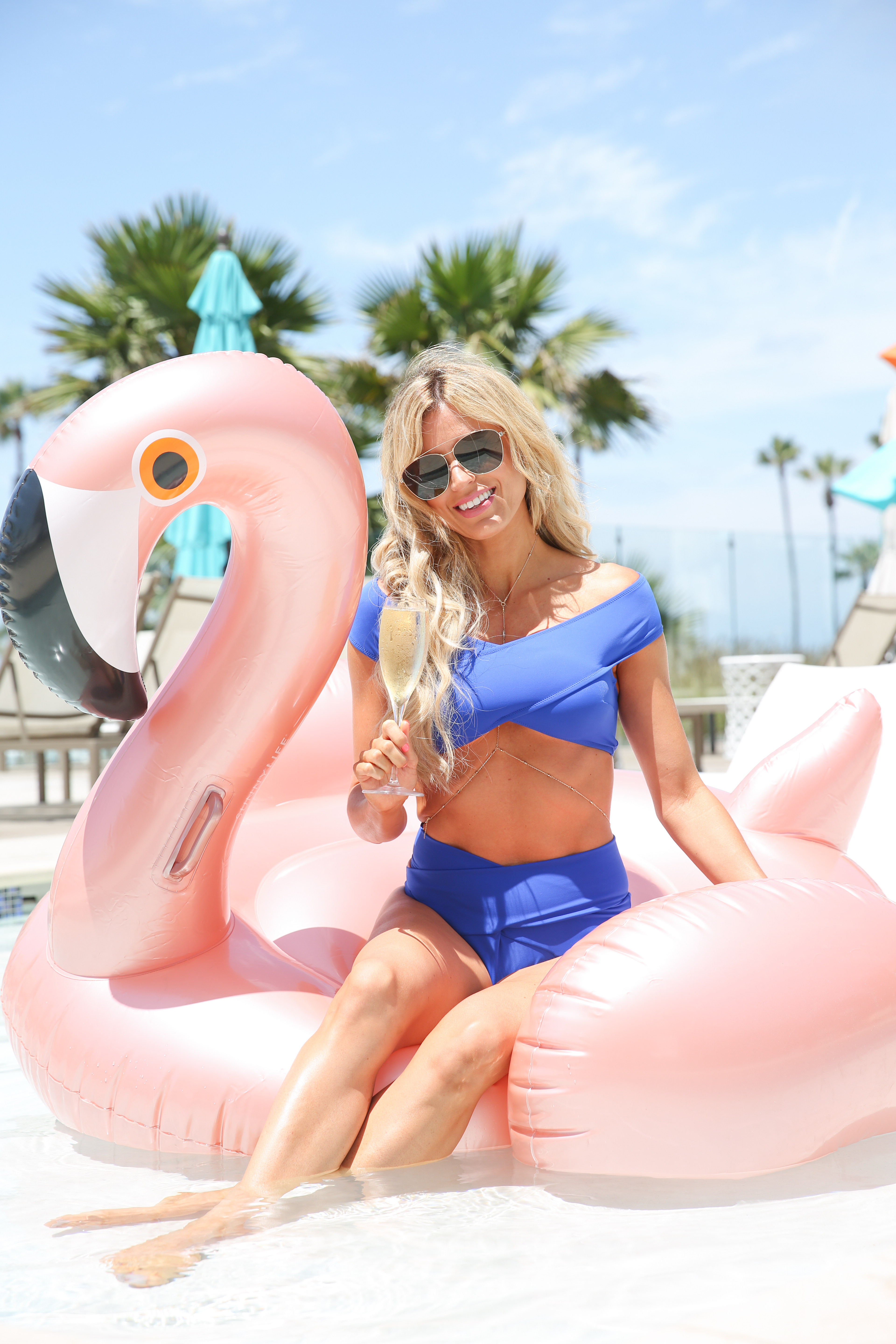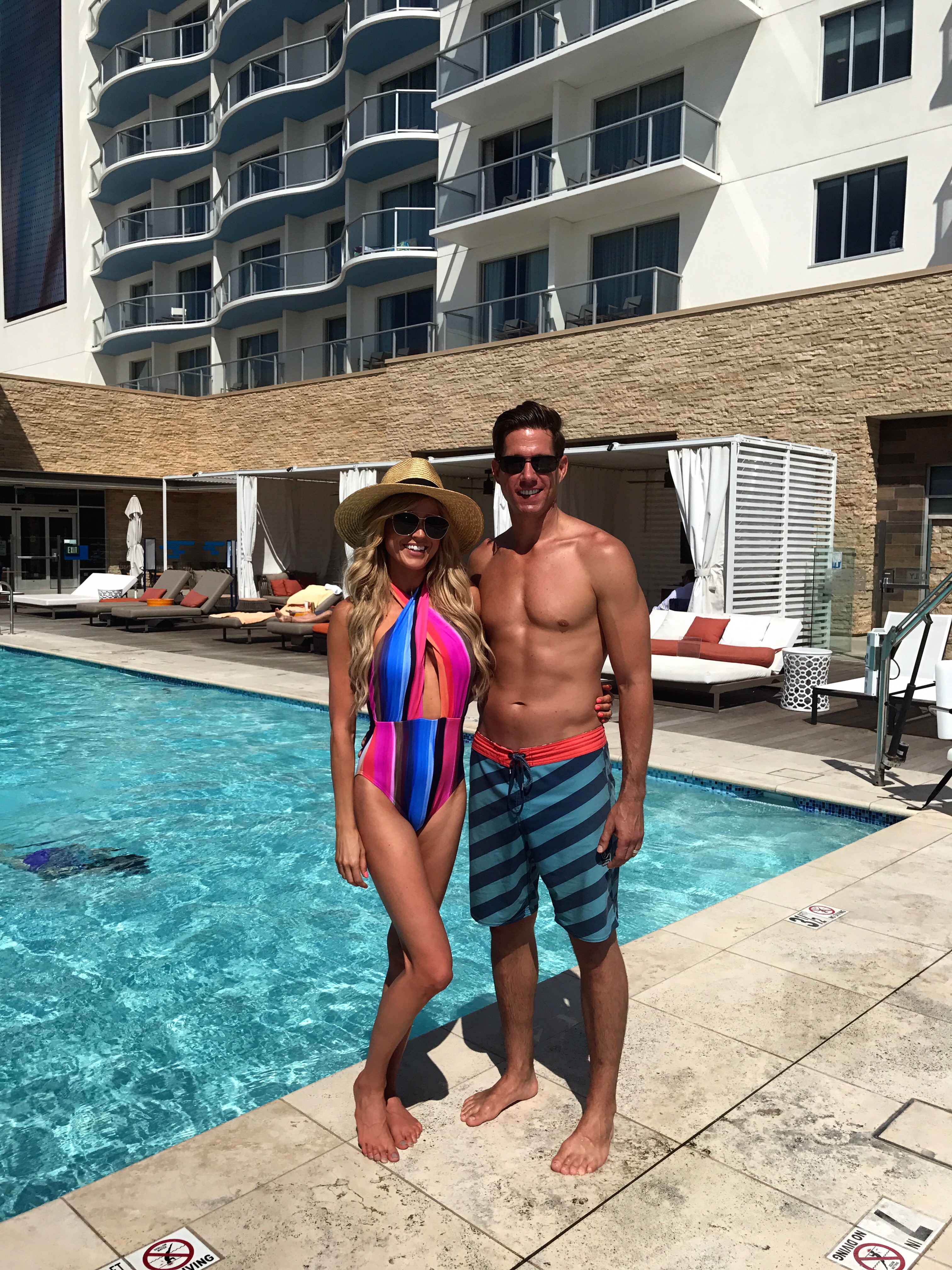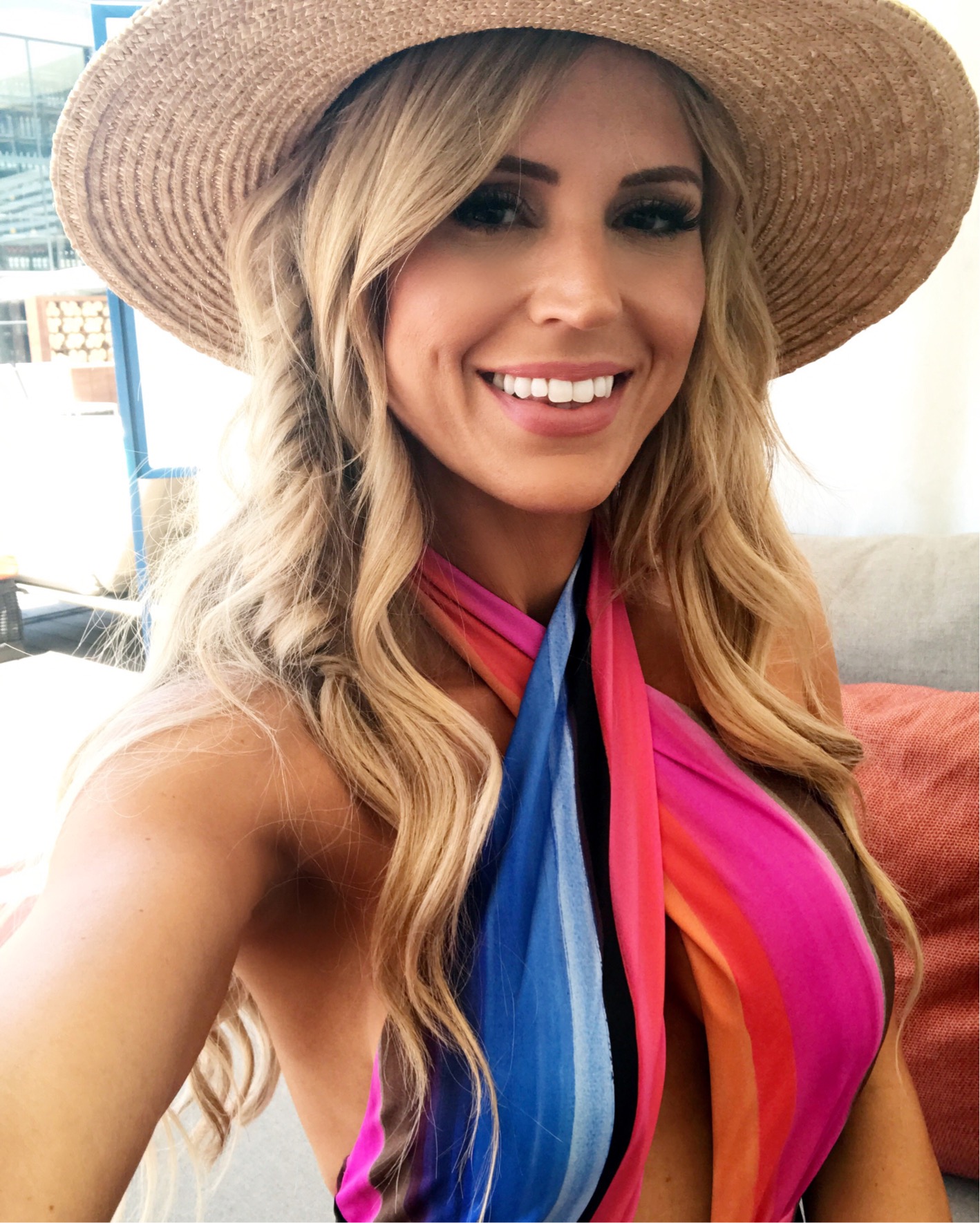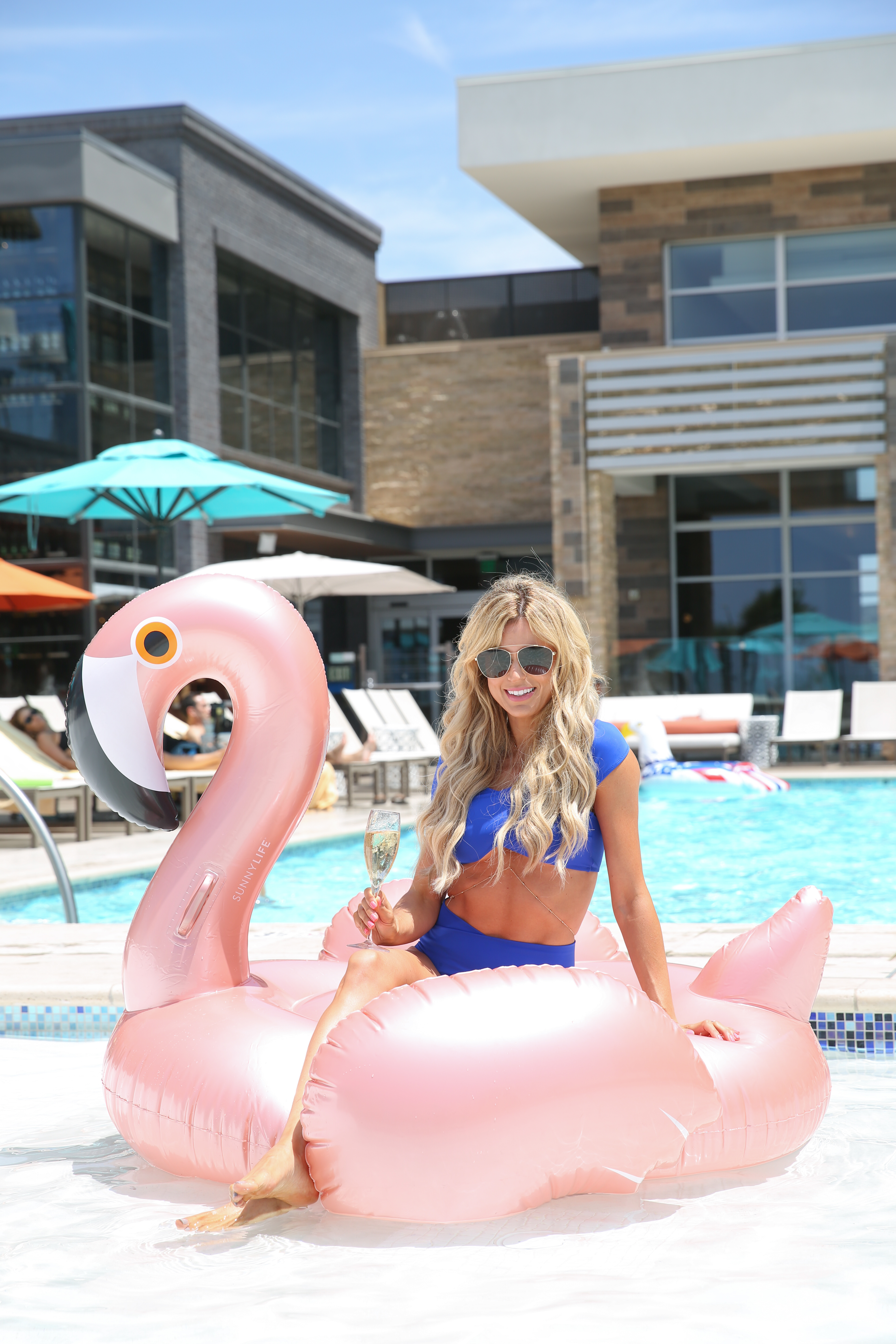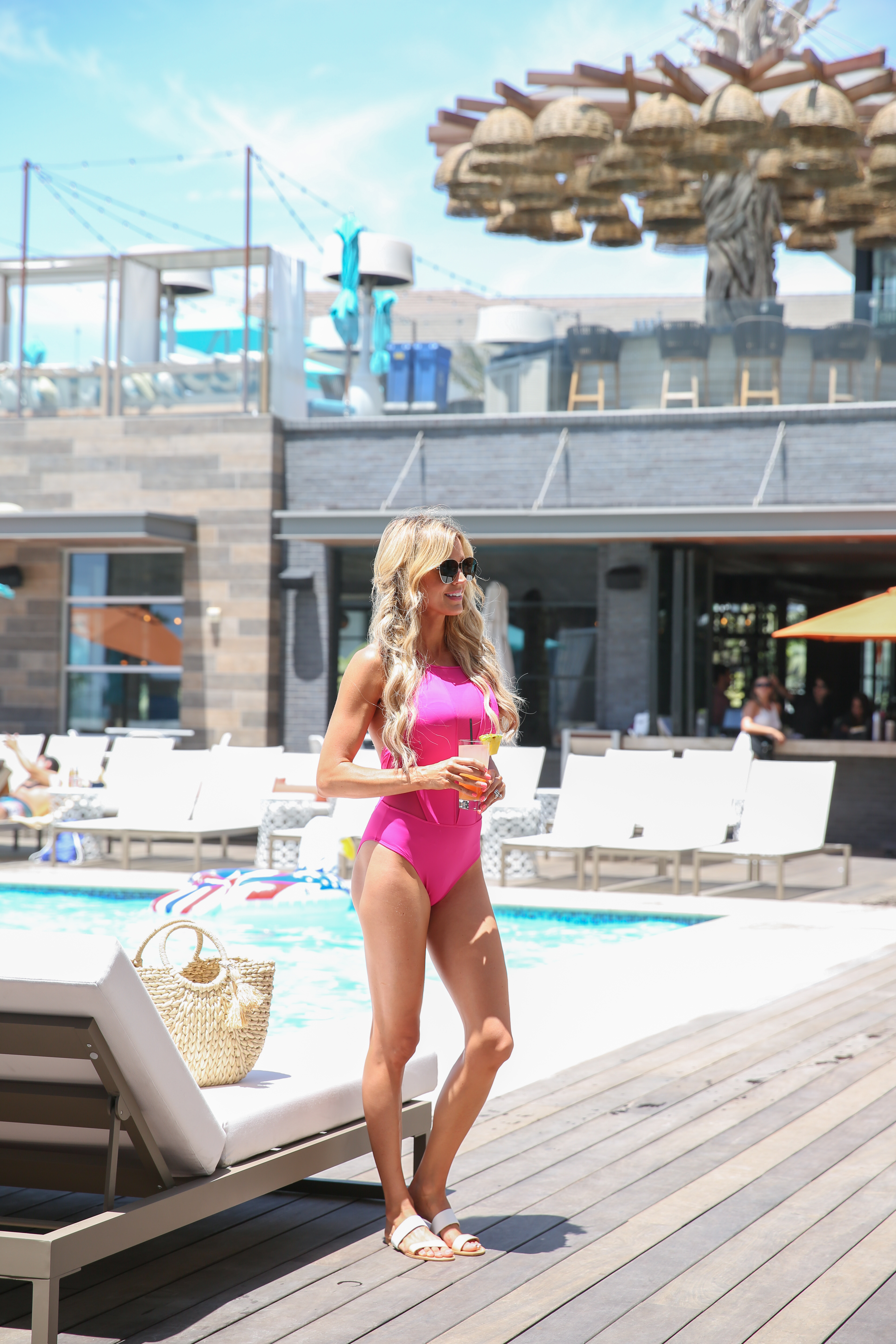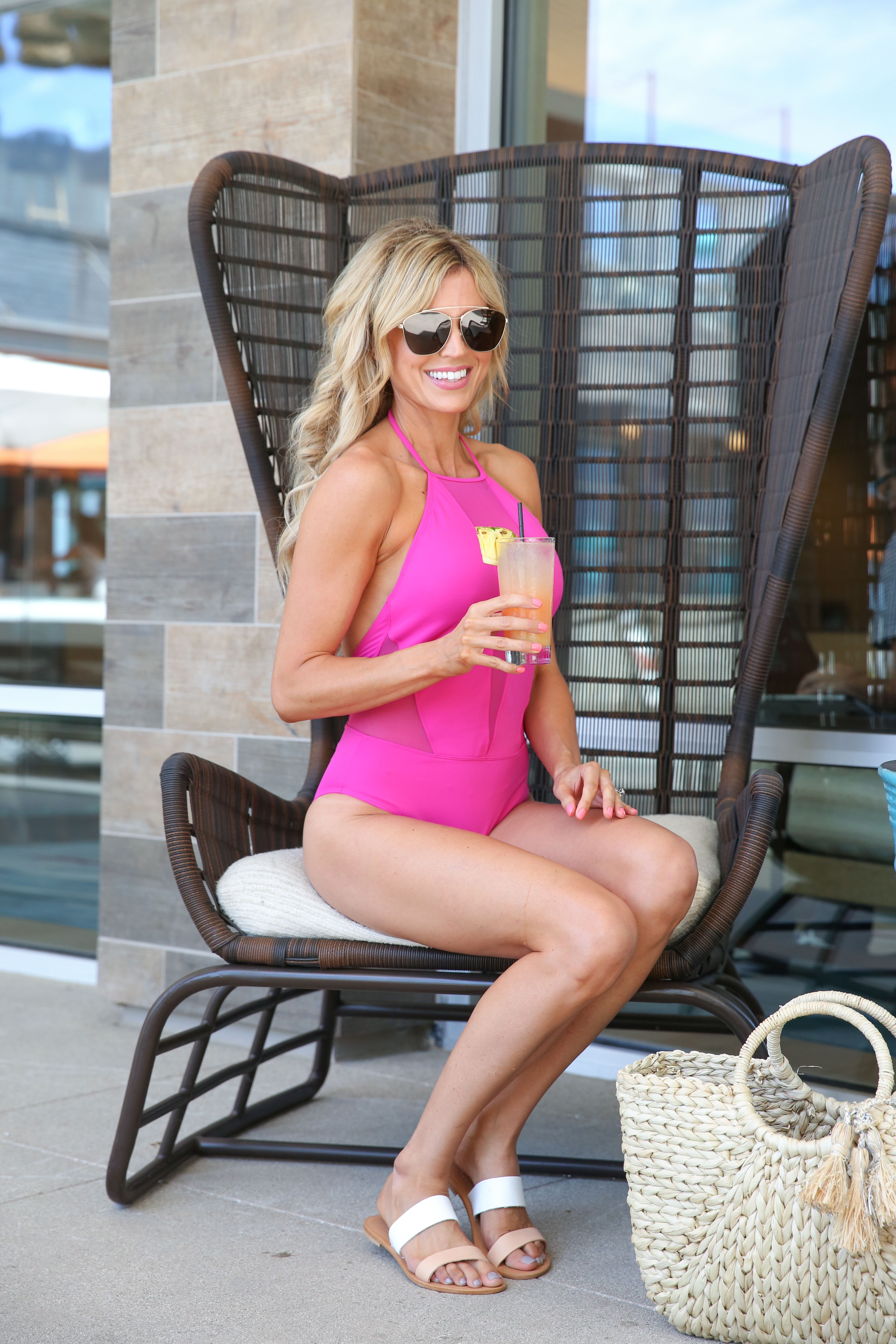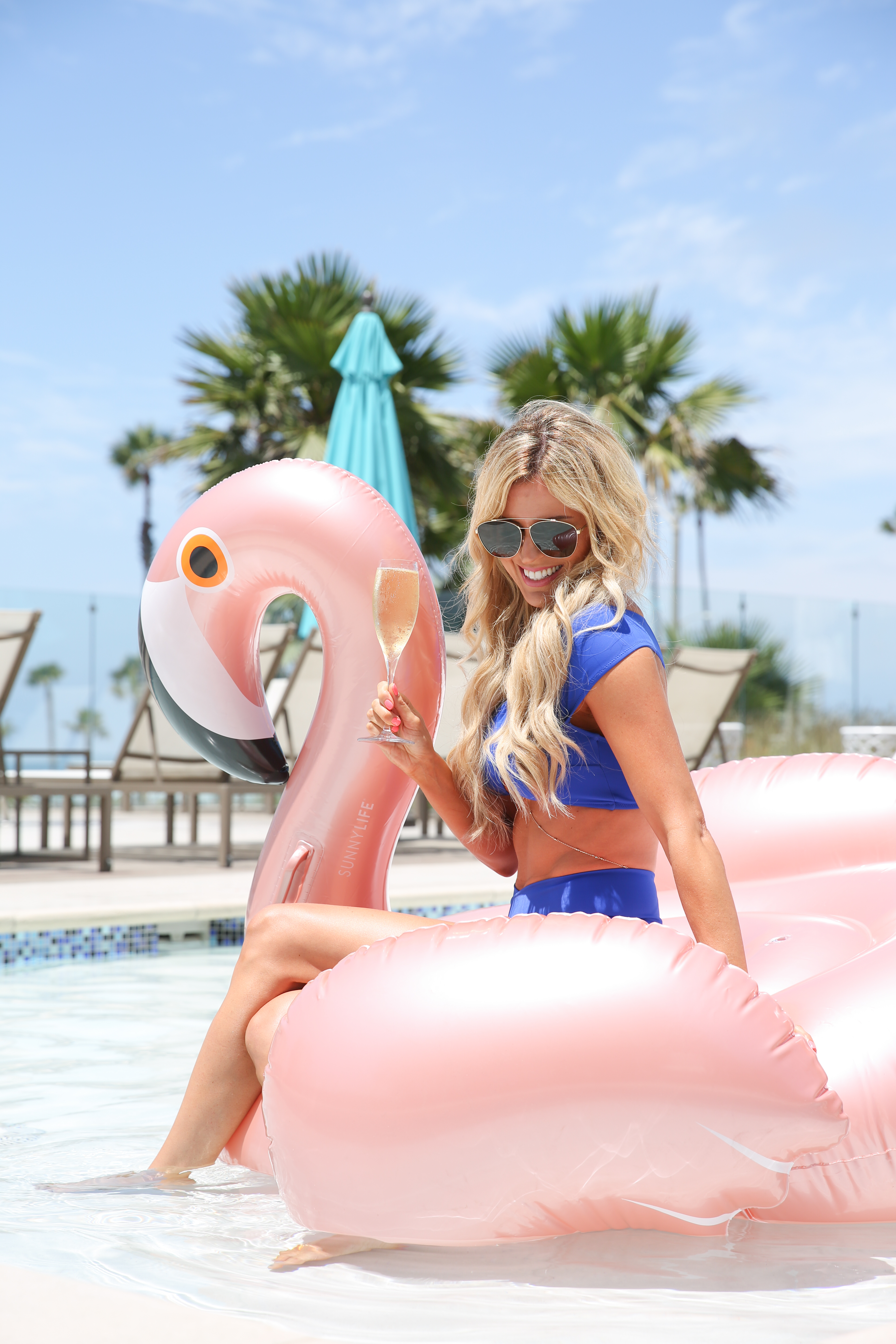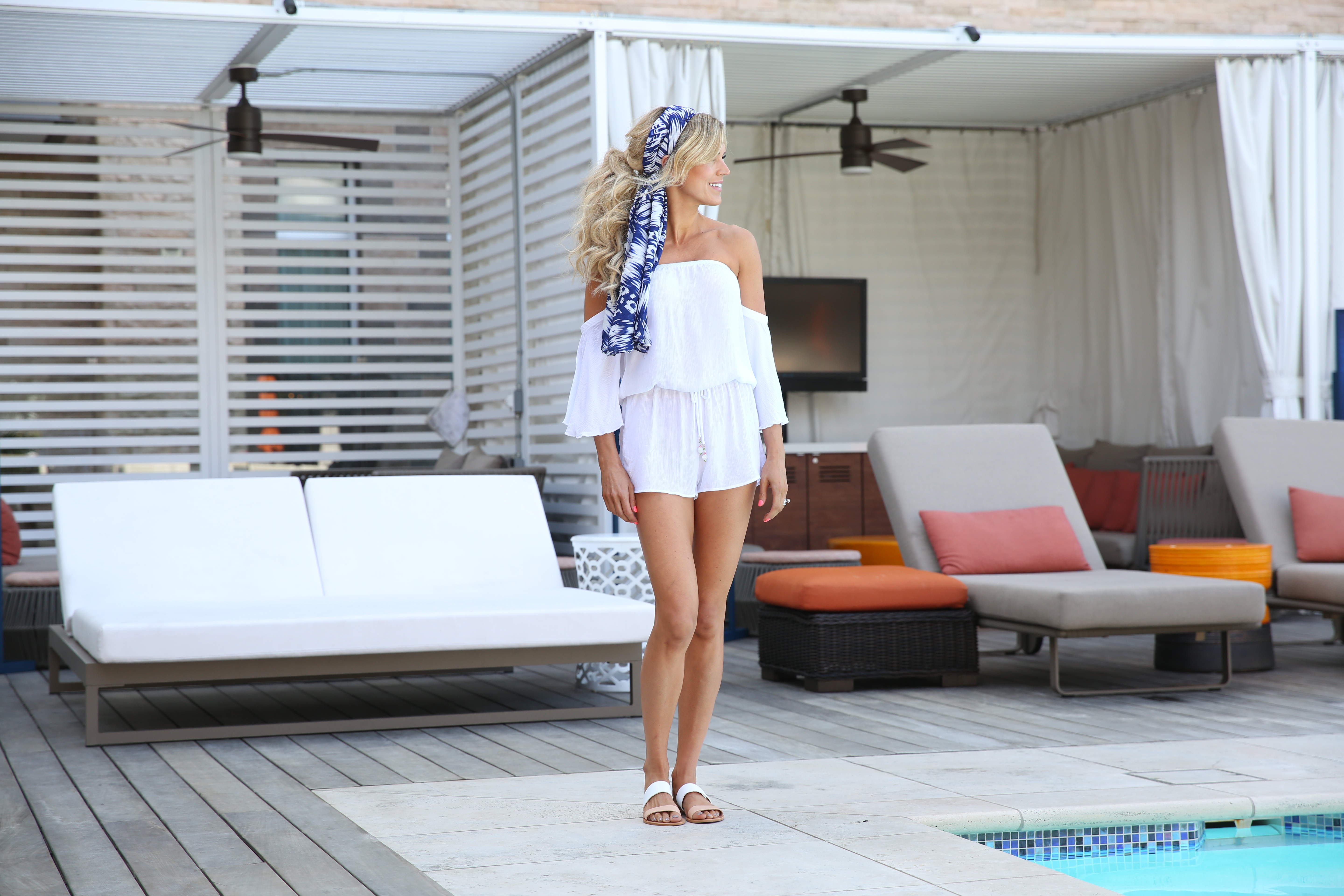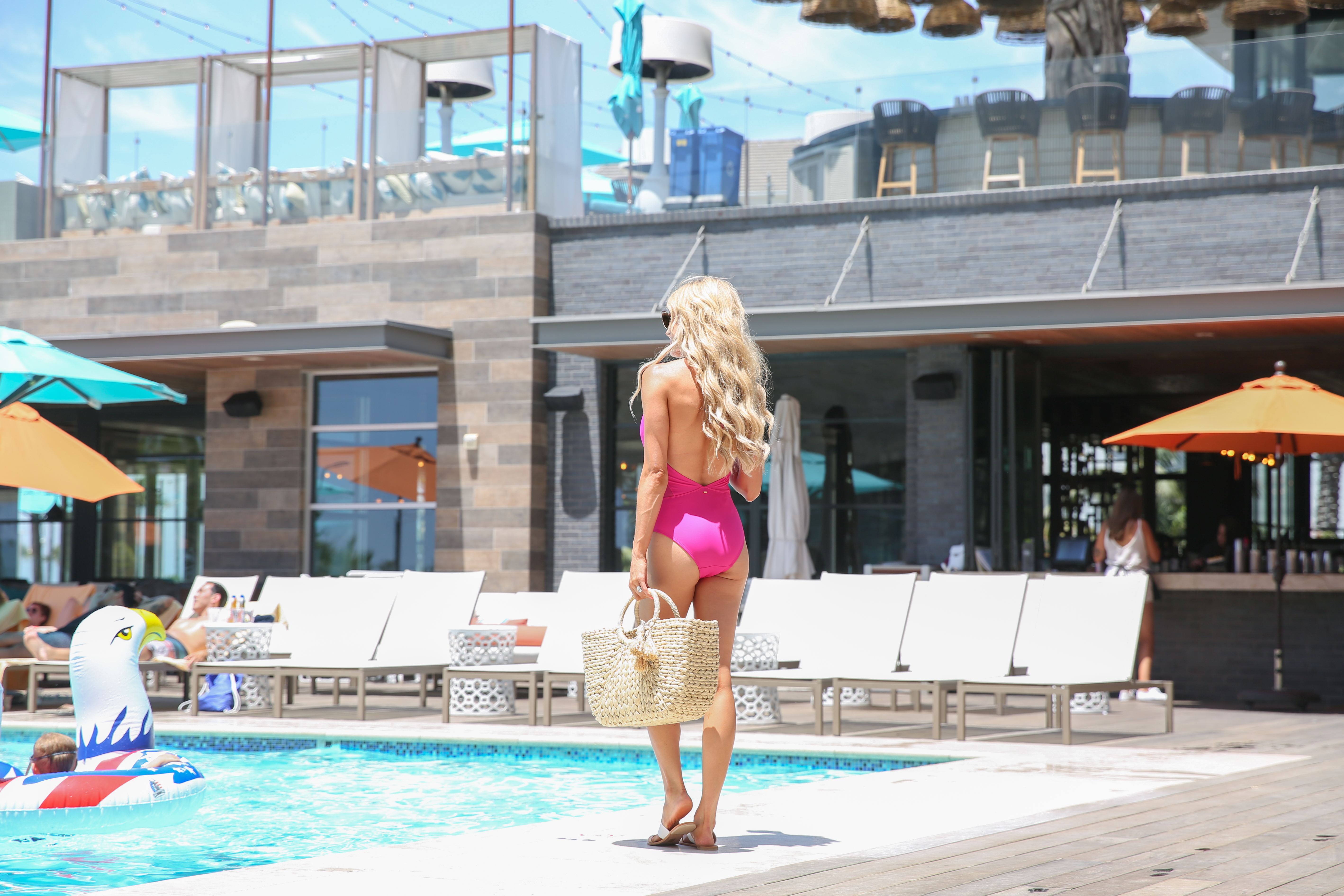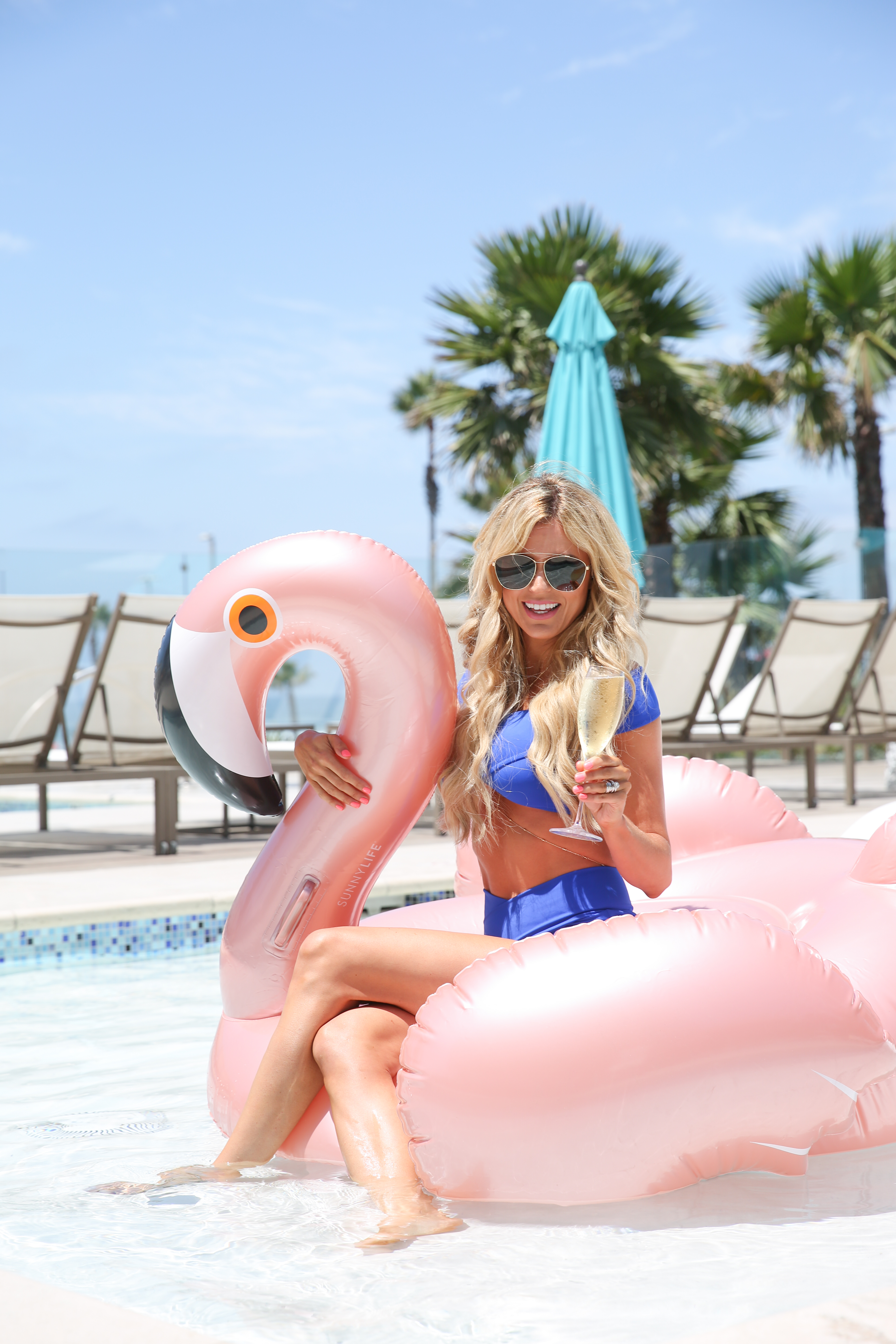 Whenever I book a hotel for vacation, the first thing I check out is the pool. My favorite thing to do on vacation is lounge poolside (ideally wearing a new swimsuit!) and have someone serve me food + drinks. At home, I am usually the one doing the serving, and I have the type of personality where I don't know how to sit still and relax. There's always something to do, and I am always busy. When I go on vacation, I am the exact opposite. All I want to do is relax… in the sun, by the water, and most importantly with a beverage in hand.
In Orange County there are a lot of great resorts, and lately we've really been enjoying daycation trips to just hang by the pool. That way at the end of the day we can go to our own home and tuck the kids in bed and sleep in the comfort of our own bed. It gets tricky (and expensive!) vacationing as the kids get older because if you share a room… do you all go to bed at 8 p.m.? And what about the romance… in order for that to happen you have to get two rooms which is double the price. I am sorry but the bathroom just doesn't cut it!
I have done some fun things through my blog, but my experience using ResortPass to book a daycation at the Pasea Hotel & Spa in Huntington Beach is definitely one of my favorites. The idea behind ResortPass is totally brilliant, and perfect if you're anything like me.
ResortPass is exactly as it sounds. Book a day pass to get access to pool, spa, and other amenities at luxurious resorts. It is currently available in California, Arizona, Florida, Texas, and Hawaii and you can read more about how it works here! For my experience, we booked a cabana at the Pasea Hotel & Spa which is a super trendy, modern boutique hotel in Orange County.
The whole experience went so smoothly. Instead of checking into the hotel, I checked in with the concierge which showed me to my cabana. The cabana came with a big-screen TV (Max got a kick out of watching T.V. outside), a beautiful fruit platter, and my favorite- an attendant that helped us throughout day. It felt like a 5-star experience, and at the end of the day I felt relaxed and ready to go home.
ResportPass is perfect if you are planning an intimate gathering like bachelorette party, birthday party, romantic getaway, or anniversary. I had the best experience, and I highly recommend. I think we want to get a ResortPass here next! I might be a little addicted.
A word about the bathing suits. I actually brought THREE with me for my day trip at the Pasea. LOL I swear I am not normally that high maintenance, but I knew we would be taking photos and couldn't decide. This summer I am a HUGE fan of one pieces, but my second favorite is a bikini with a high-waisted bottom. Both are so flattering, especially if you are a busy mama. I can't really worry about flashing people while I am running after my crazy four-year old who has no fear of anything and doesn't know how to swim yet (his swim lessons start tomorrow yay!). I've linked the 3 suits in these photos above and below. Which is your favorite?
xo, Missy
In collaboration with ResortPass. All thoughts + opinions are my own.