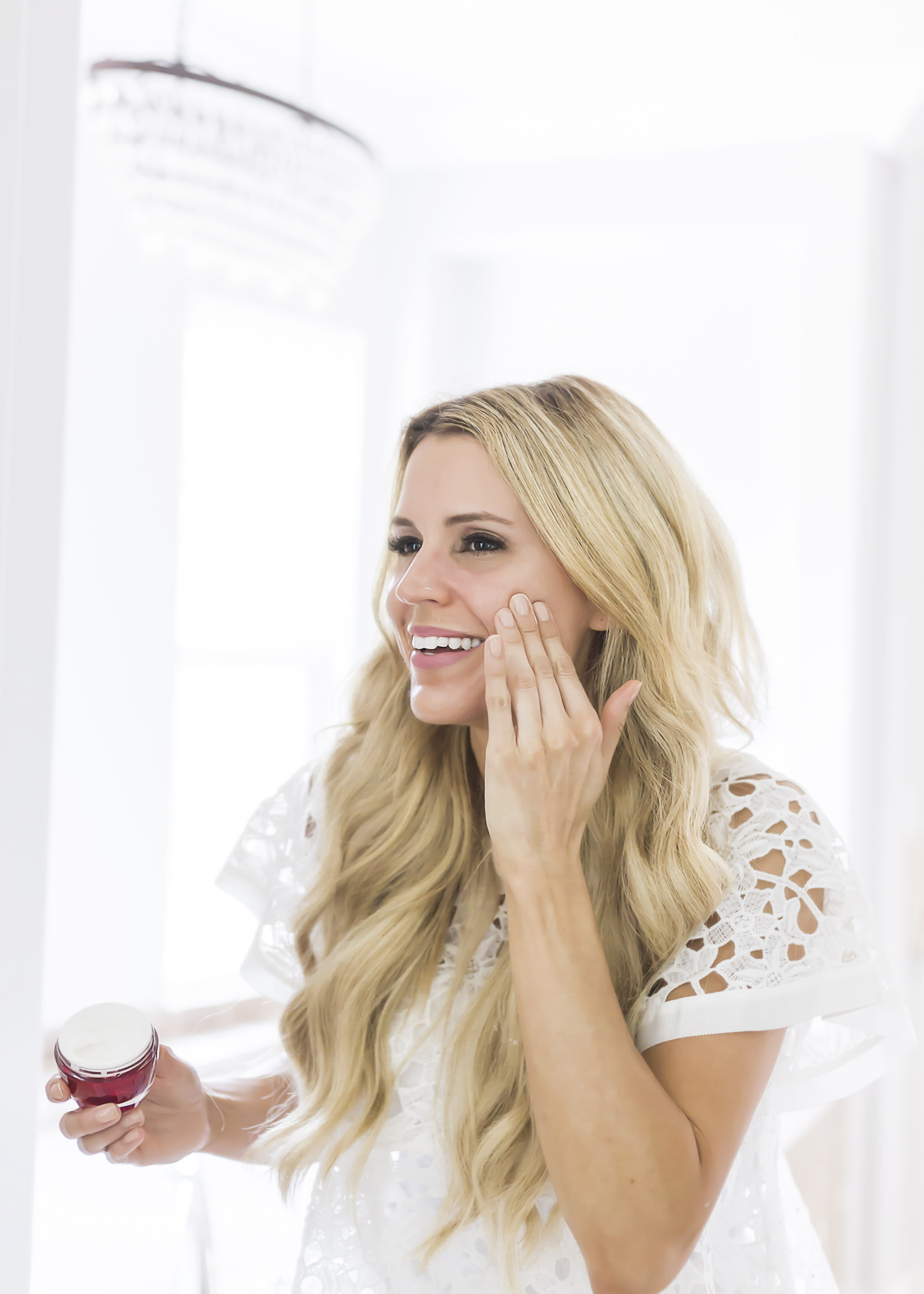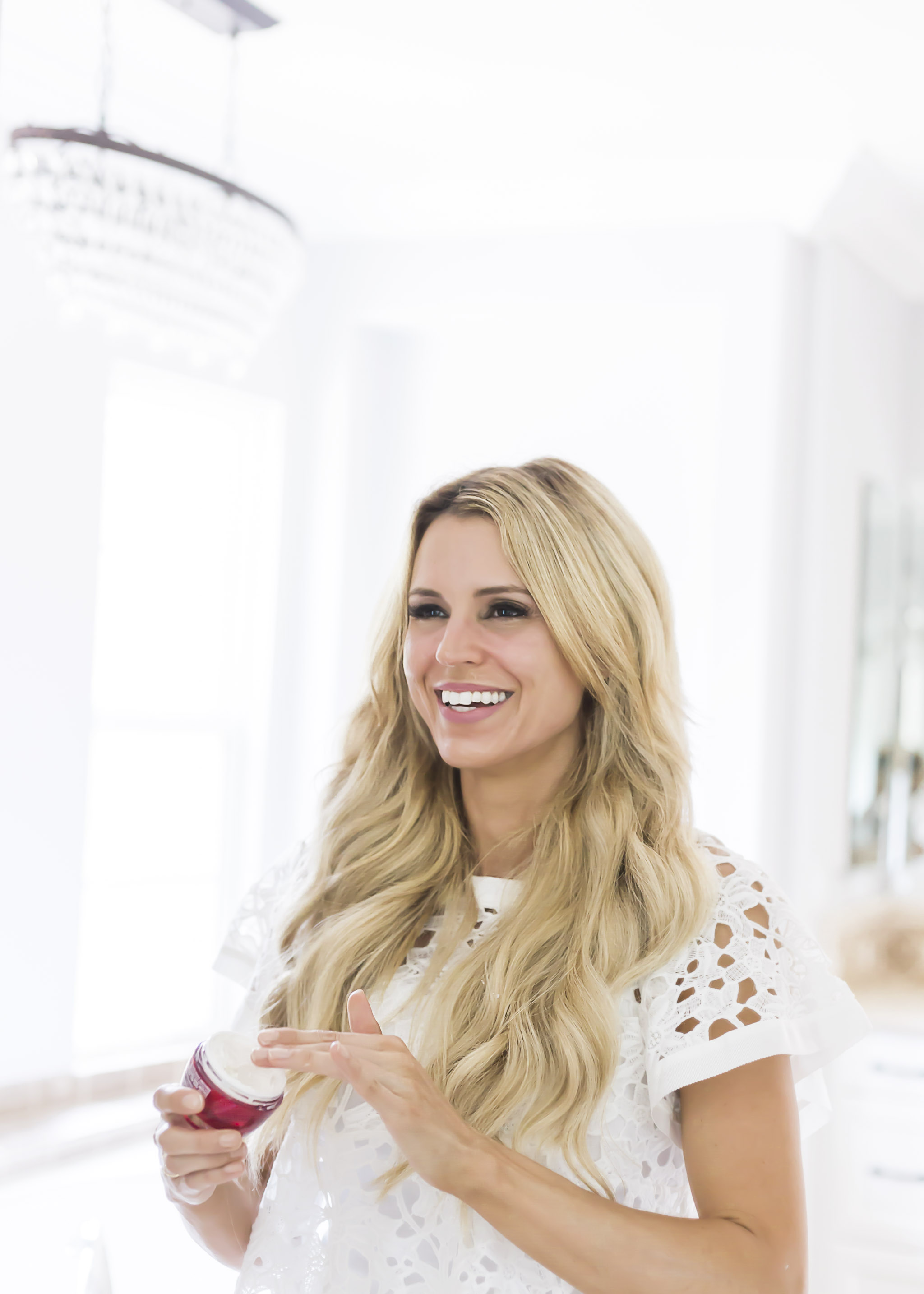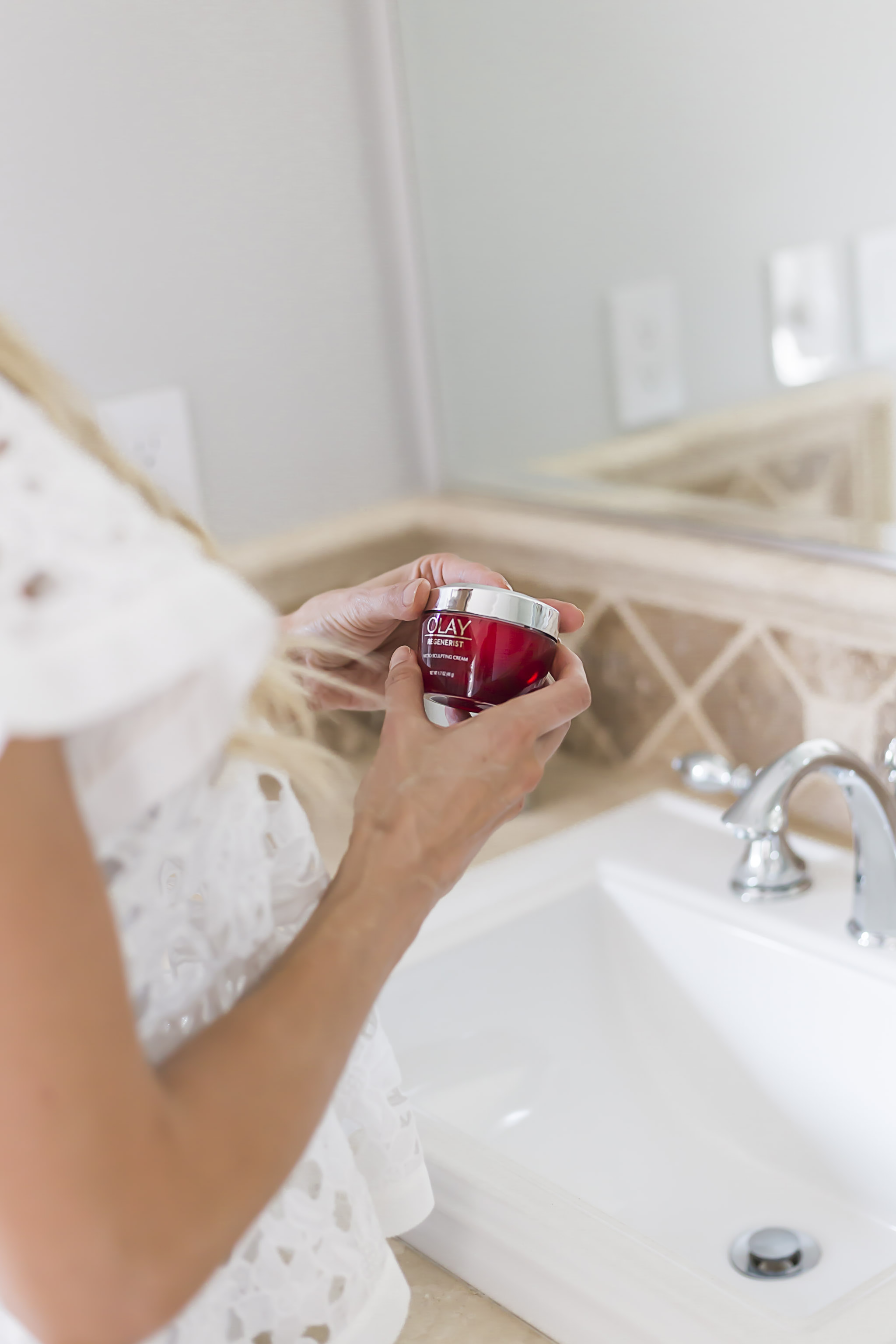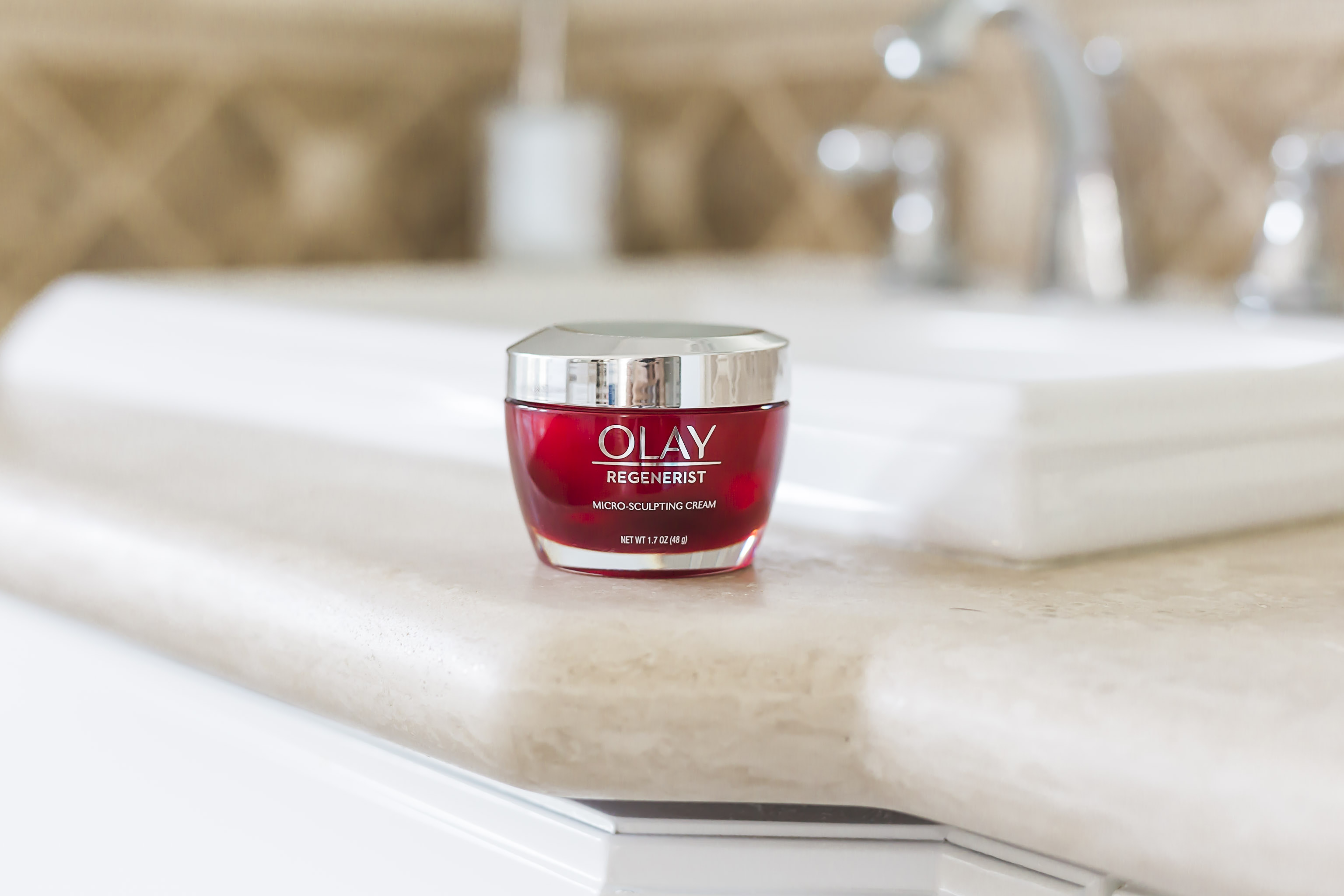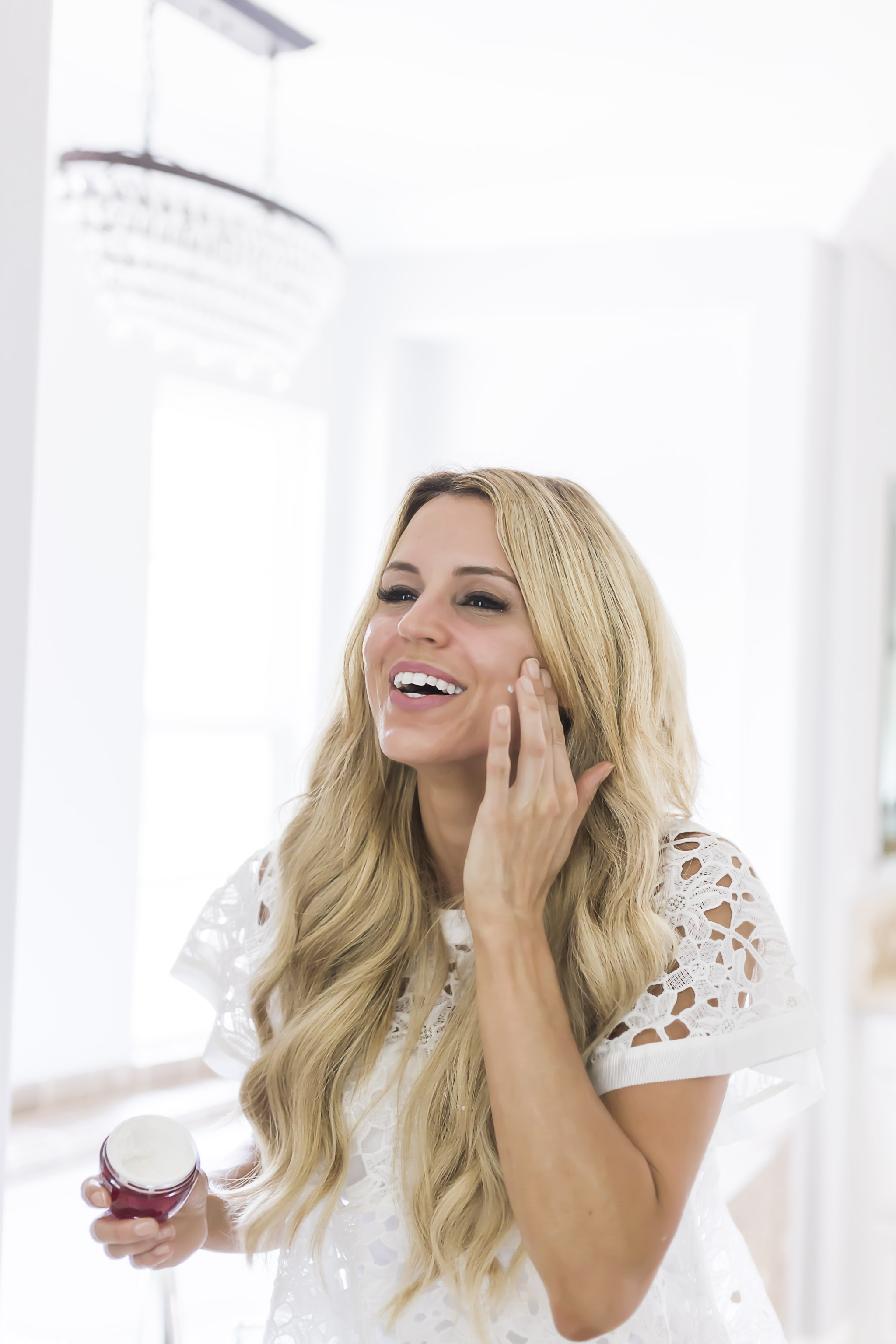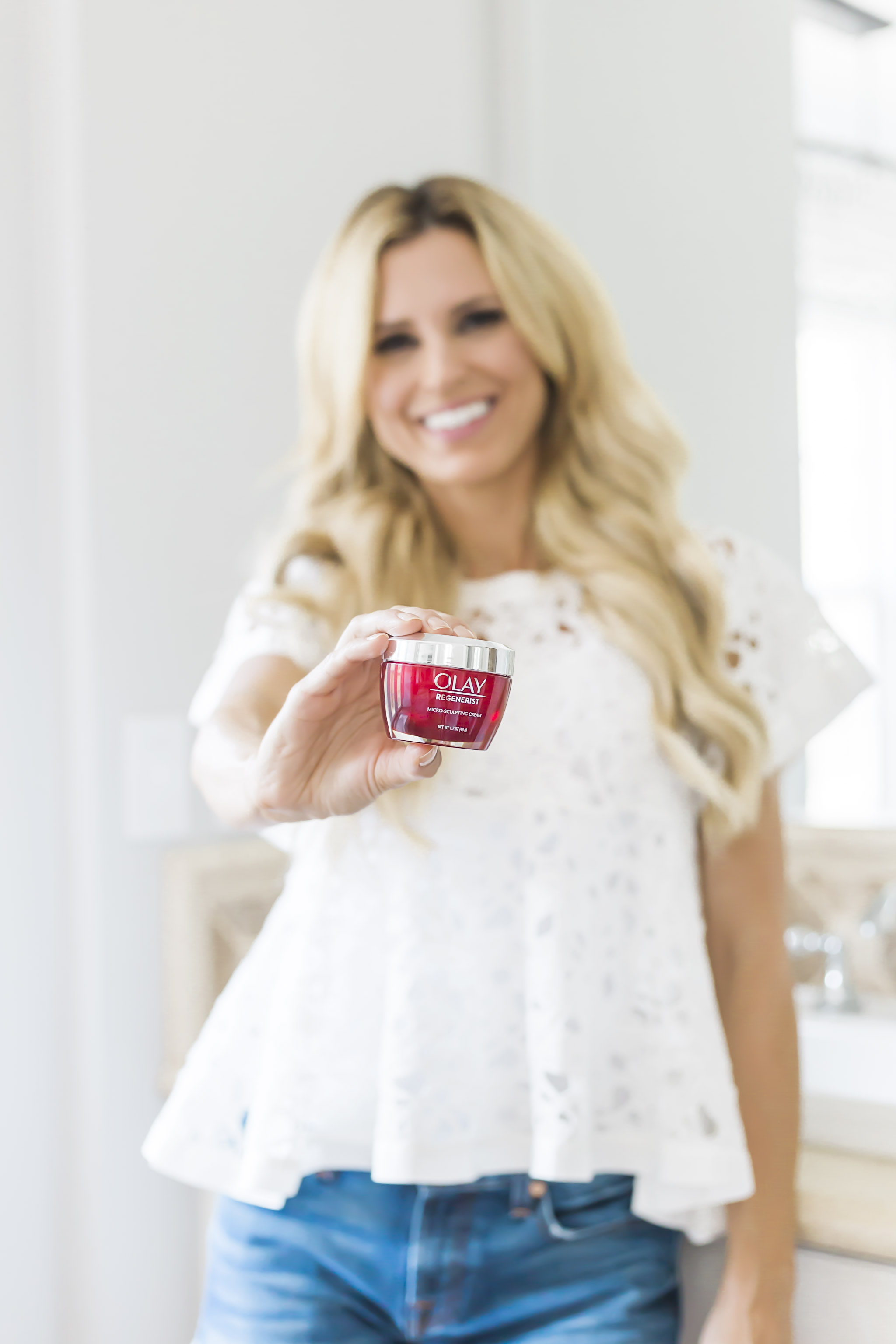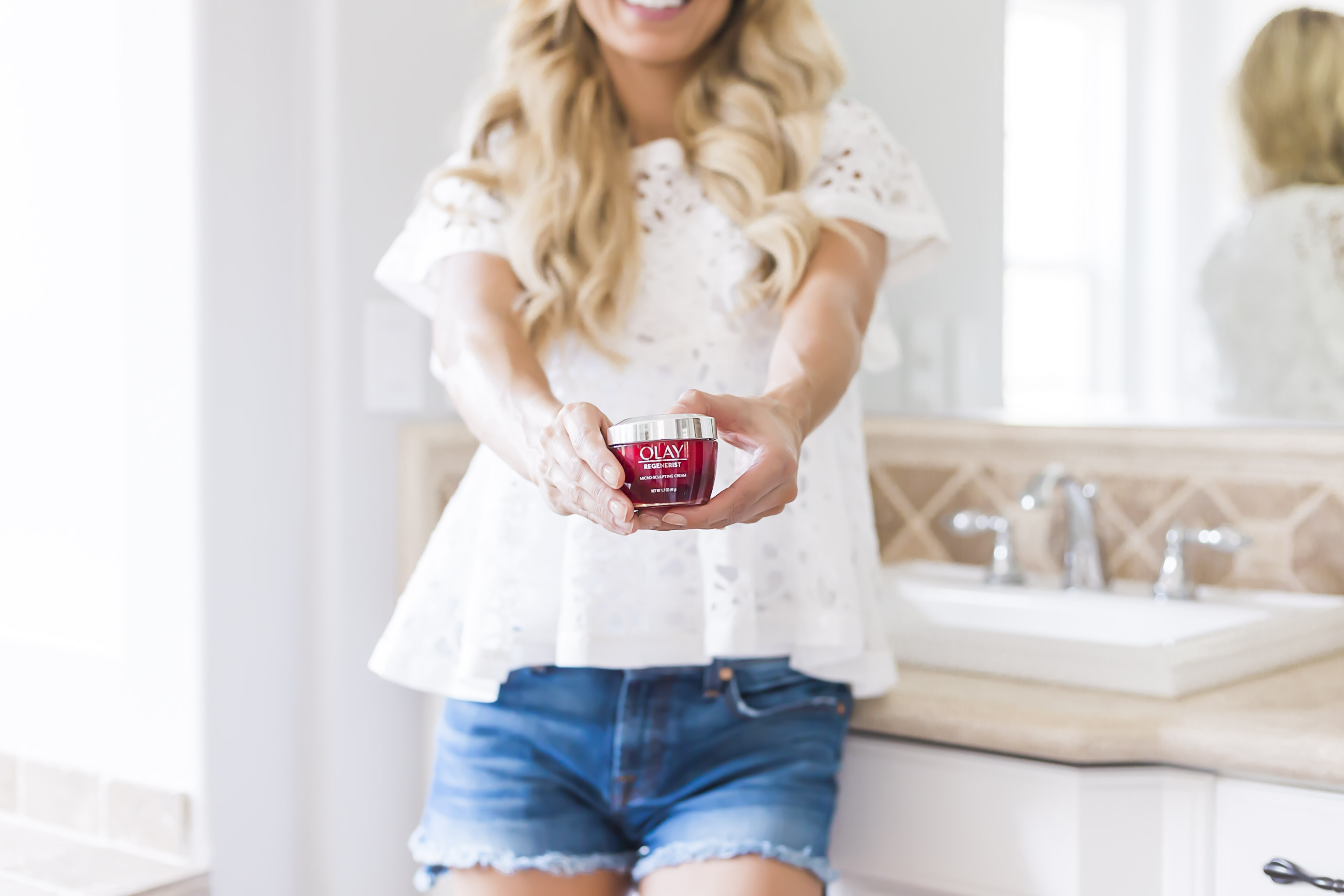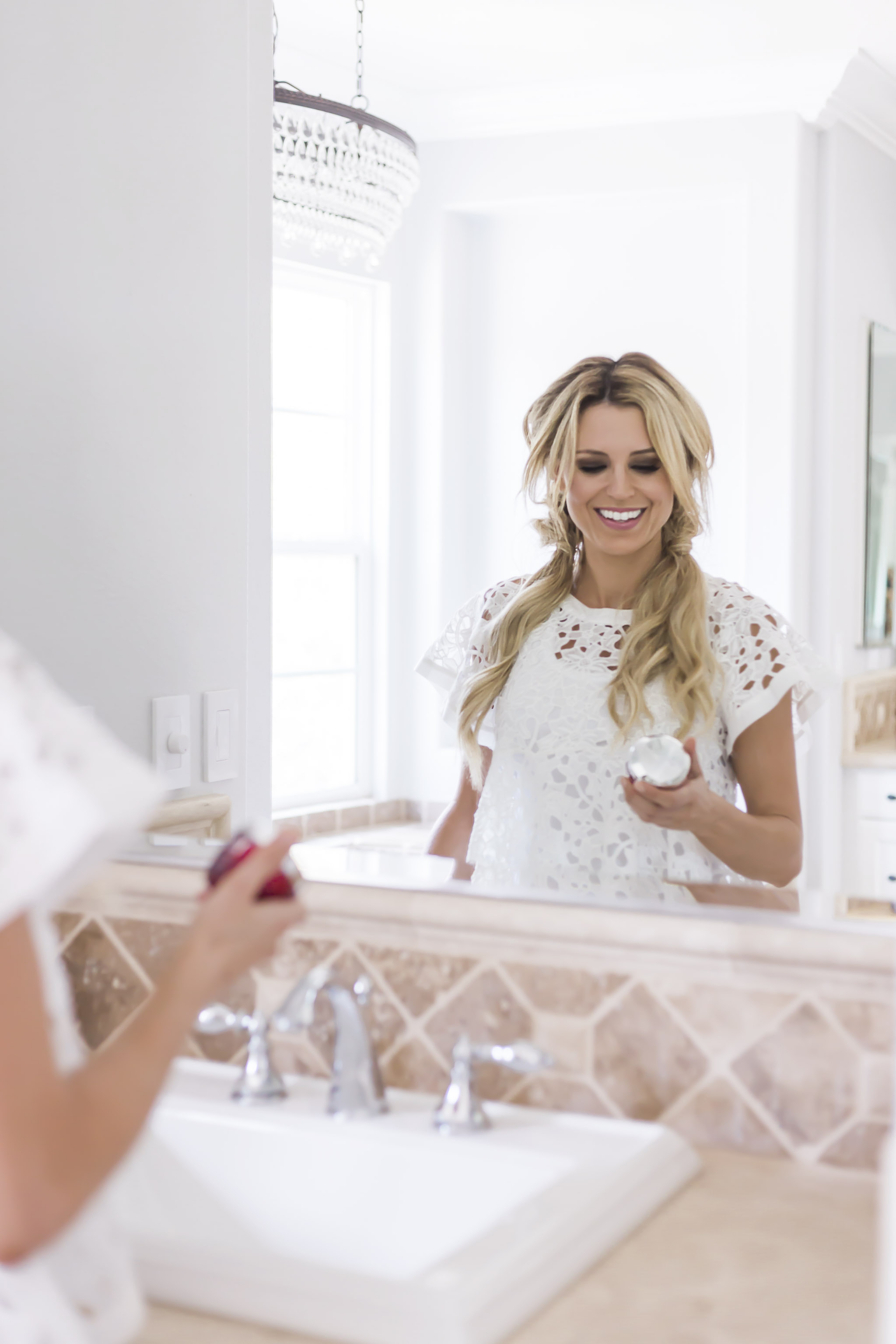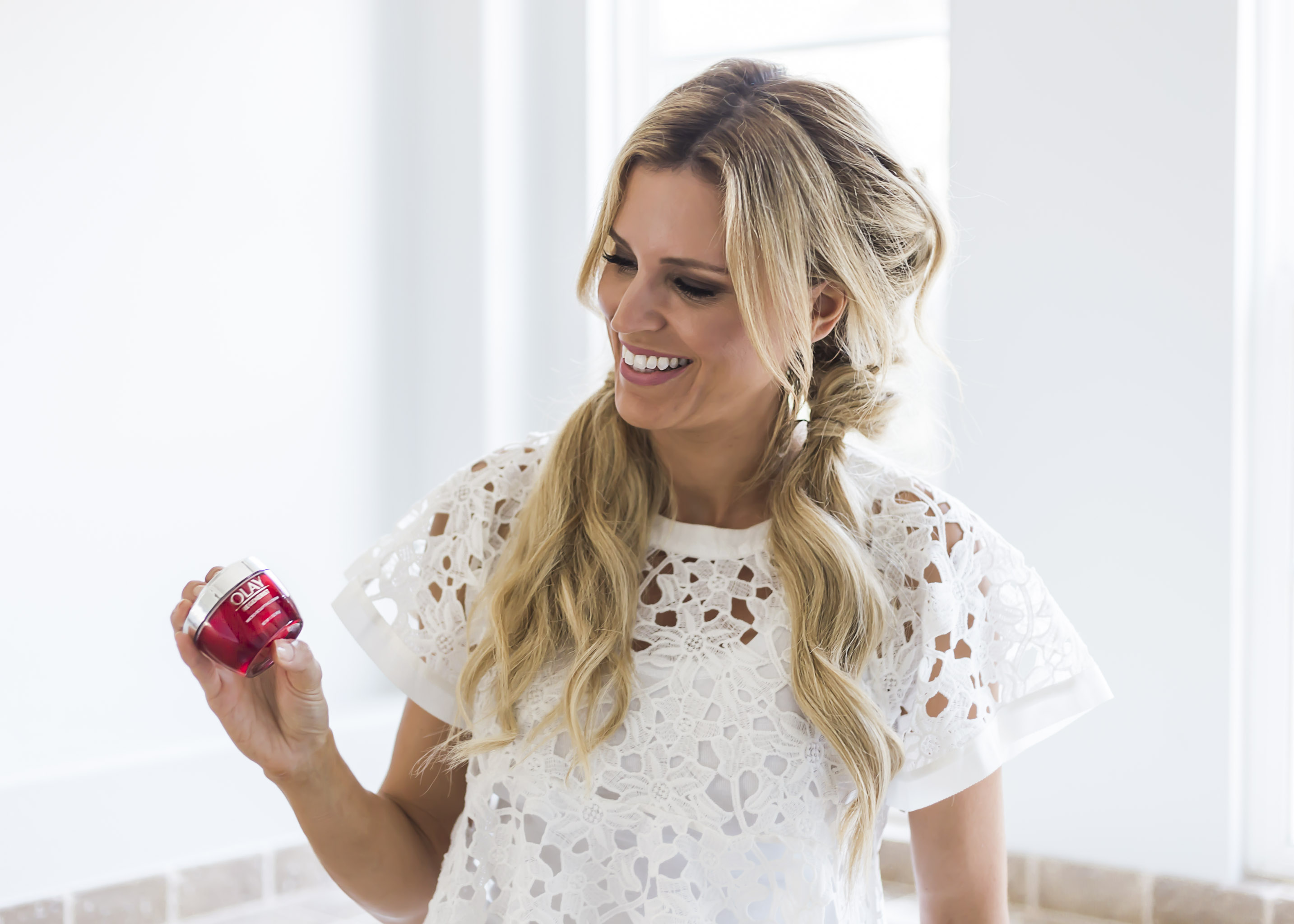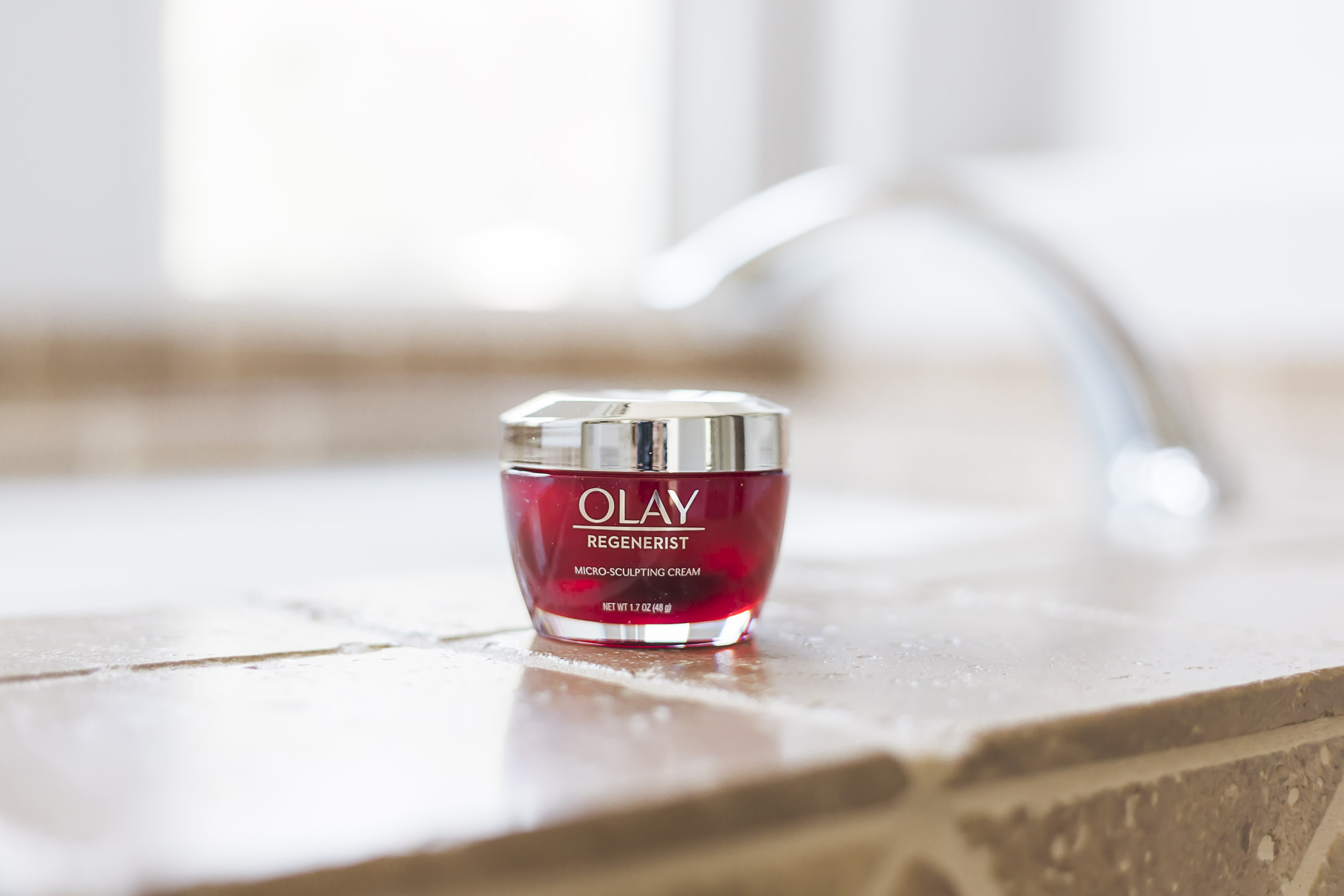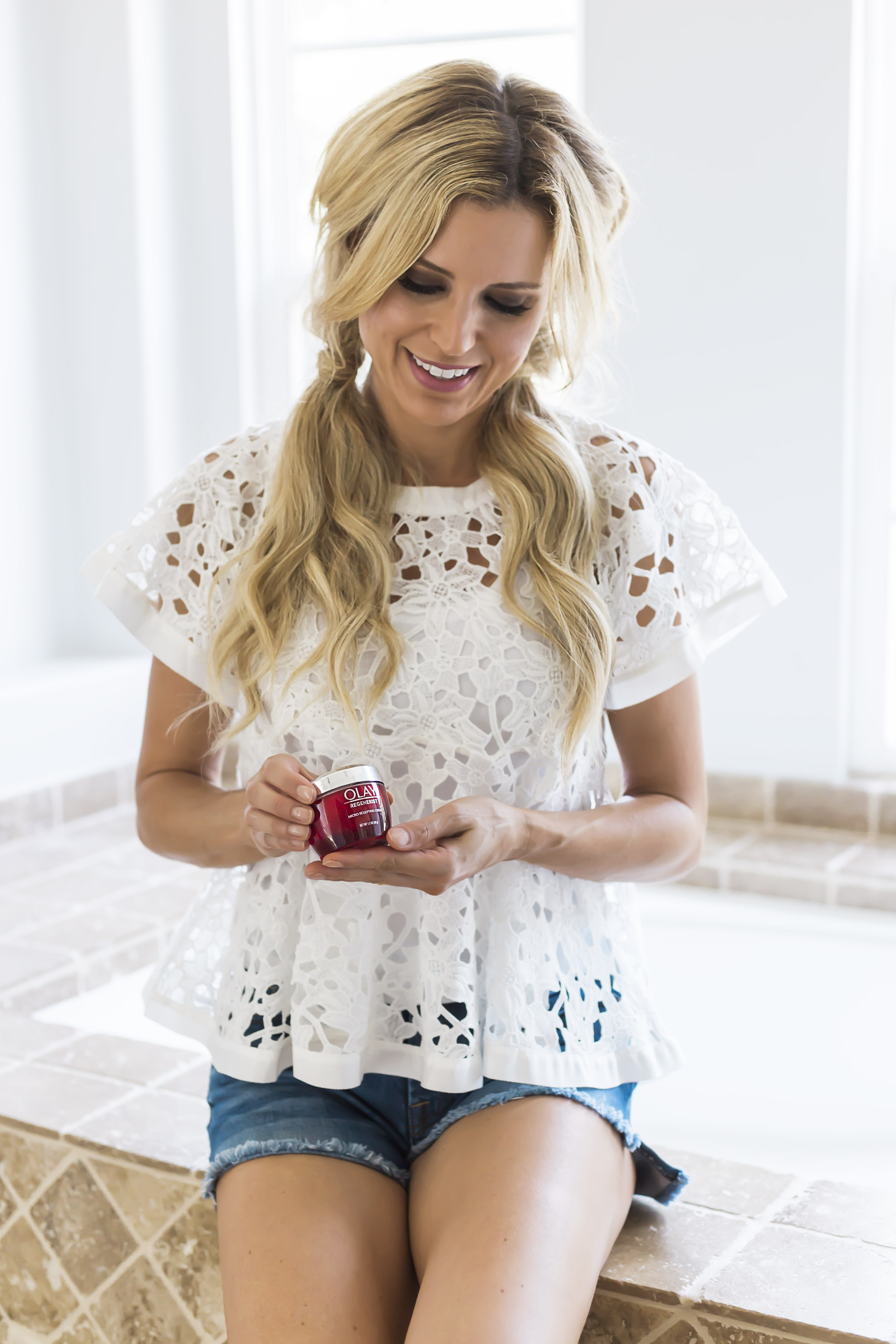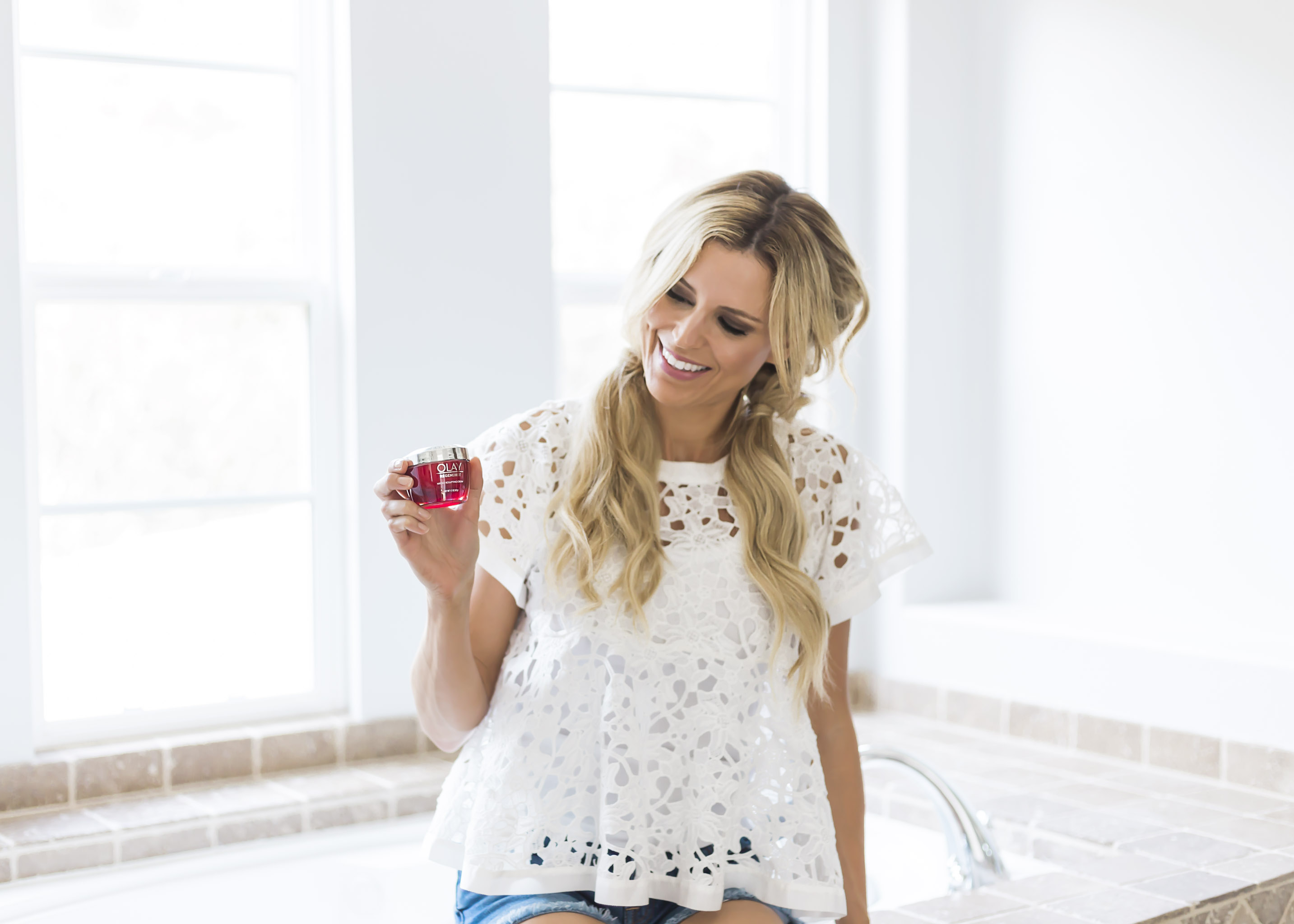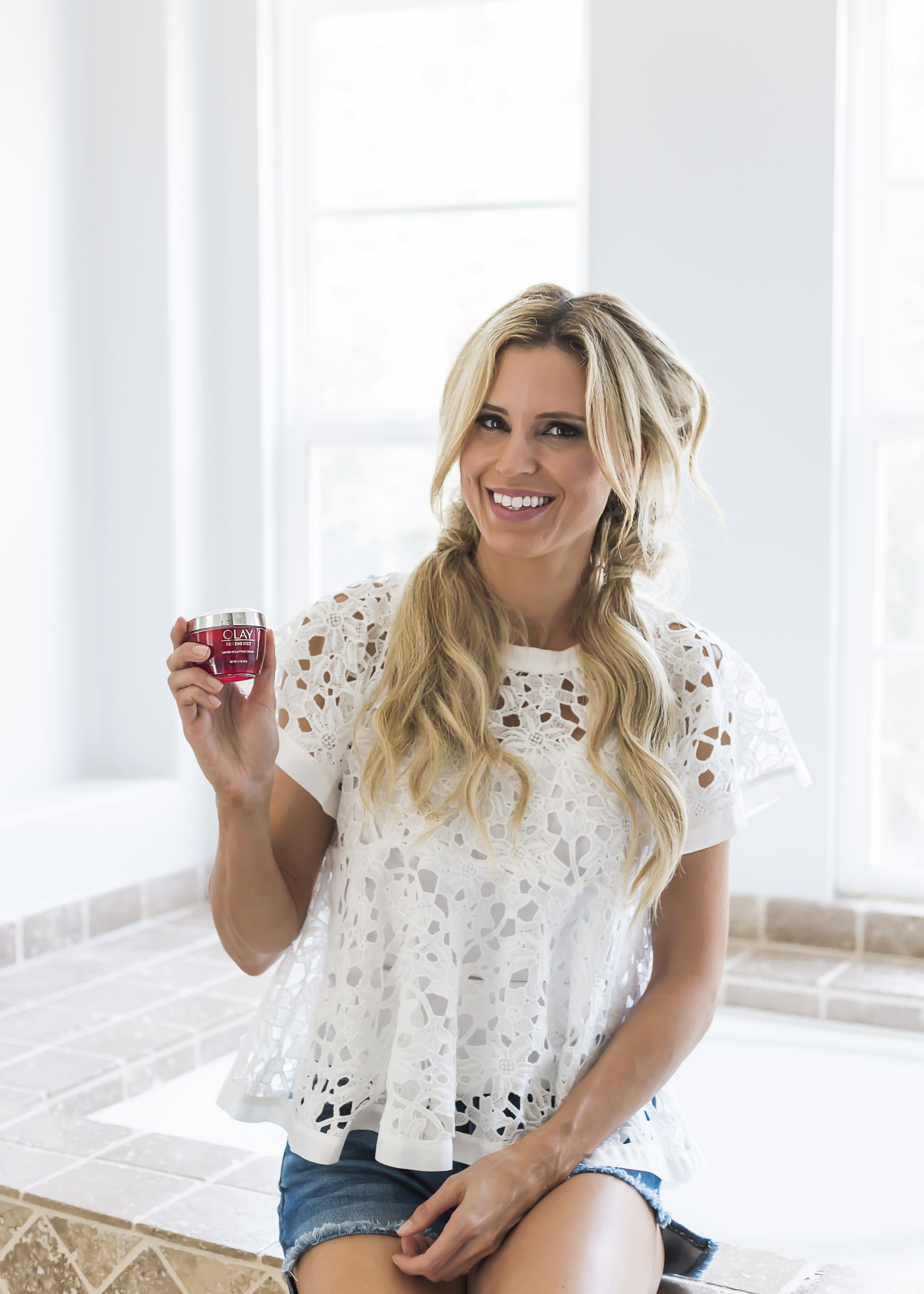 Over the past year, I have really stepped up my skincare game. In my 20's, I was just struggling to take off my makeup before I went to bed. 😉 Now that I'm in my 30's, I am doing everything I can to keep my skin looking as young and fresh as possible. Today's post is in collaboration with Olay, and I will be sharing exactly how I take care of my skin with the help of Olay Regenerist Micro-Sculpting Cream.
My skin tends to be either dry or combination, but there is always some form of dryness that I'm battling. I took Accutane in my early 20's (game-changer), but my skin switched from being more oil-prone to dry. I shoot photos for my blog on a weekly basis so it's really important that my skin stays super hydrated so that my makeup goes on smoothly.
I swear I run out of face moisturizer faster than anything else. Because my skin tends to be so dry, I moisturize generously morning and evening so I go through tubs of moisturizer very fast. And as we all know, that can get very pricey! I'm always on the hunt for the holy grail moisturizer that will cure my dry skin forever and I've spent hundreds of dollars on face creams without any significant results.
Well guess what? I don't do that anymore. Things changed after I got my first facial laser treatment. The laser technician asked me what products I used on my face and she was shocked to hear what I was using because it was so expensive and my skin wasn't in the best shape. And in case you are wondering, I got a combination IPL + pixel laser treatment, and the results were amazing.
When I ran out of the skincare products I was using, I switched to my drugstore favorites. I've used Olay products off and on for years, and it has always been my go-to drugstore product. An independent study by Good Housekeeping Institute (GHI) tested the Micro-Sculpting Cream formula against 10 creams ranging from $26-$440, and it outperformed every single one, including the product with the $440 price tag. I'm really not surprised because like I said I tried super expensive face creams and never saw any results. It really goes to show that you don't have to pay a premium price to get great results and take care of your skin.
I keep my daily skincare routine simple so that I can stick with it. I always wash my face with my Clarisonic before I go to bed at night. I moisturize with the Regenerist Micro-Sculpting Cream which instantly plumps up my skin and smells so good! I apply a prescription retinol cream every other night. I sleep on a silk pillowcase to prevent sleep lines. In the morning I don't wash my face again because I feel like it's too drying. I apply another layer of the Olay Regenerist Micro-Sculpting Cream, let it sit for a minute and then apply my sunscreen.
My skin has never looked or felt better! I also try and moisturize from the inside out which means staying hydrated by drinking lots of water. This has always been a tough one for me! If you are in your 20's, 30's, or beyond, Olay Regenerist Micro-Sculpting Cream is an amazing hydrating product and great for anti-aging, preventative measures.
Thank you for reading, and have a fantastic weekend!! xo, Missy
Thank you Olay for sponsoring this post! All thoughts and opinions are my own.
Photos by Sara Tinnelly.