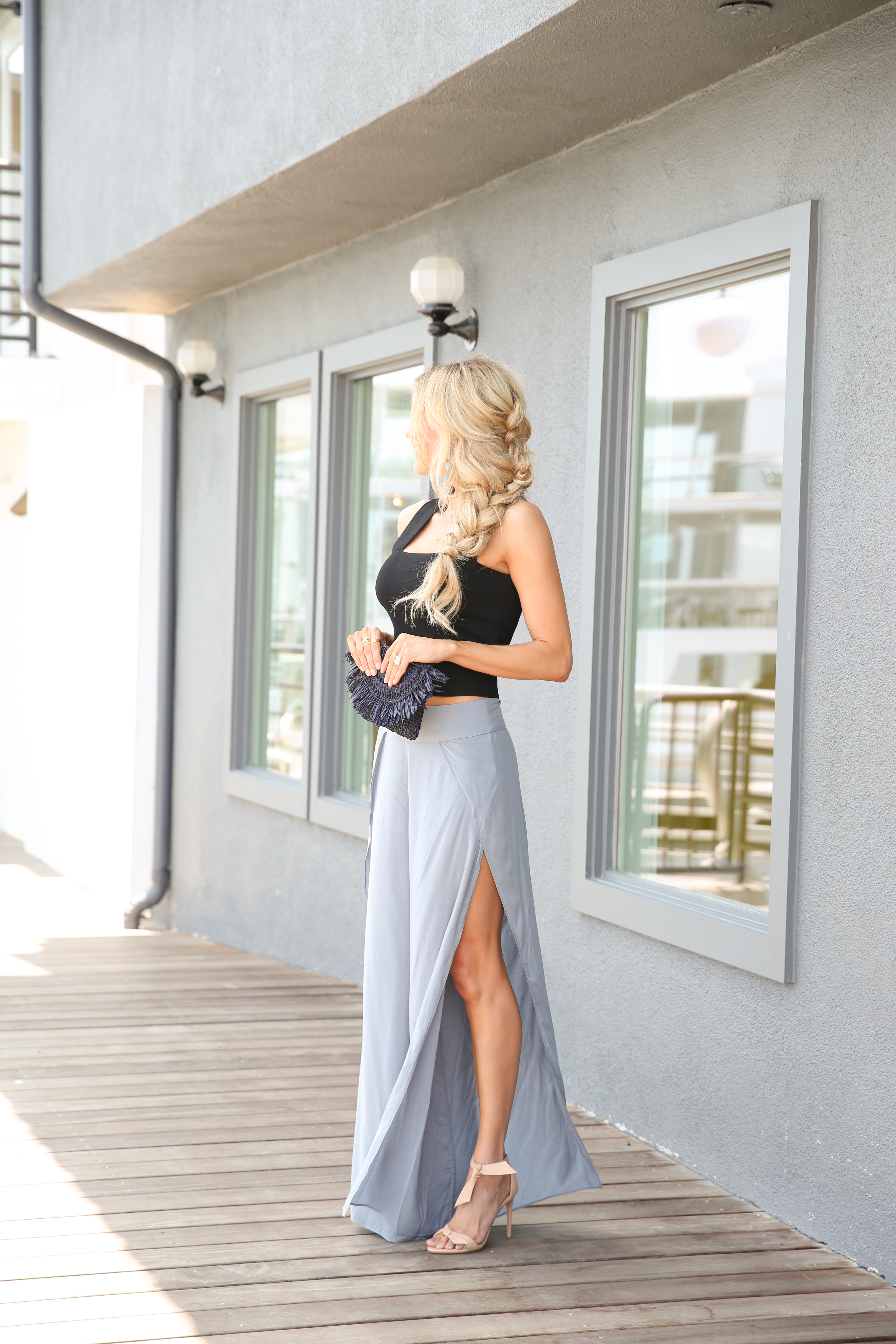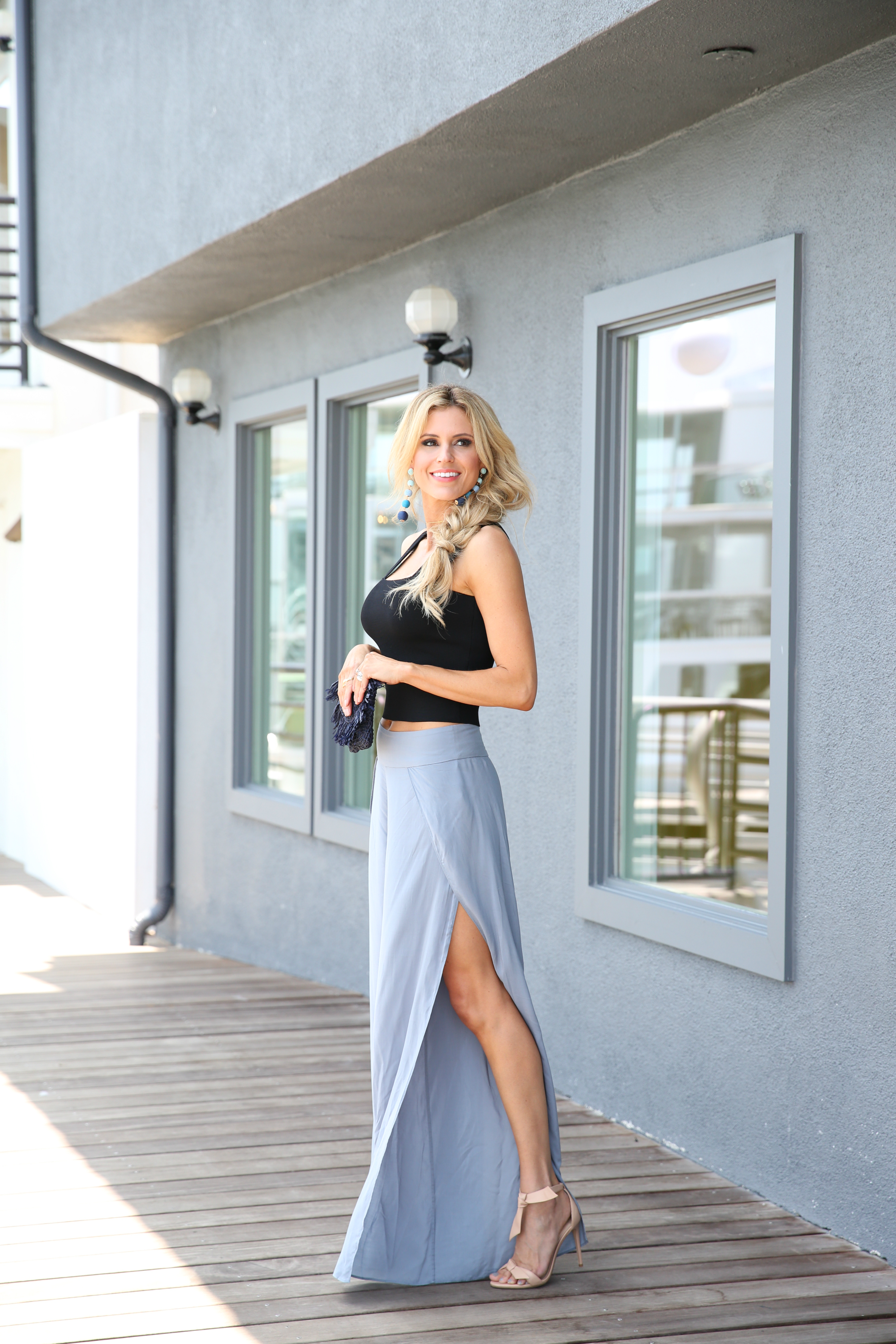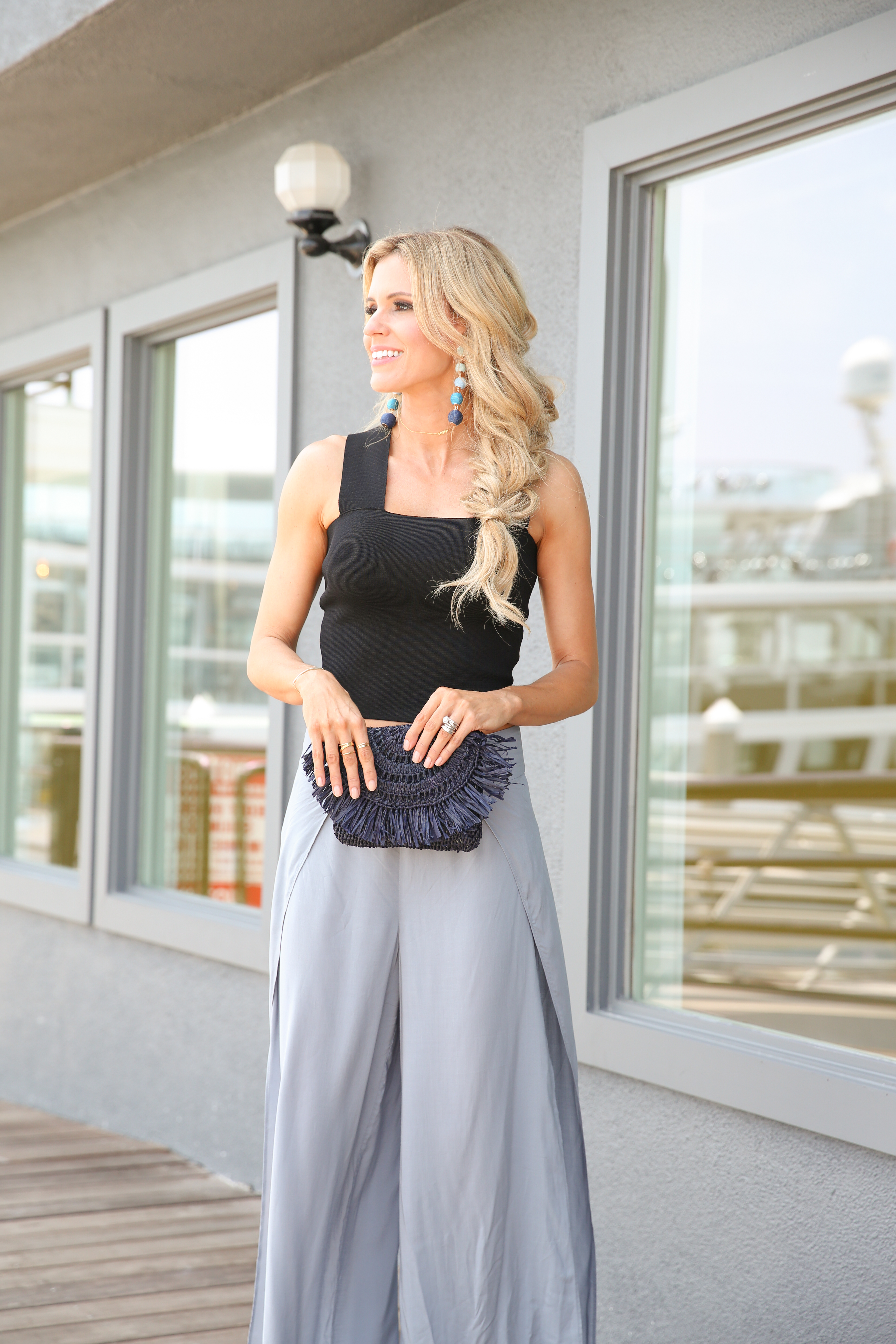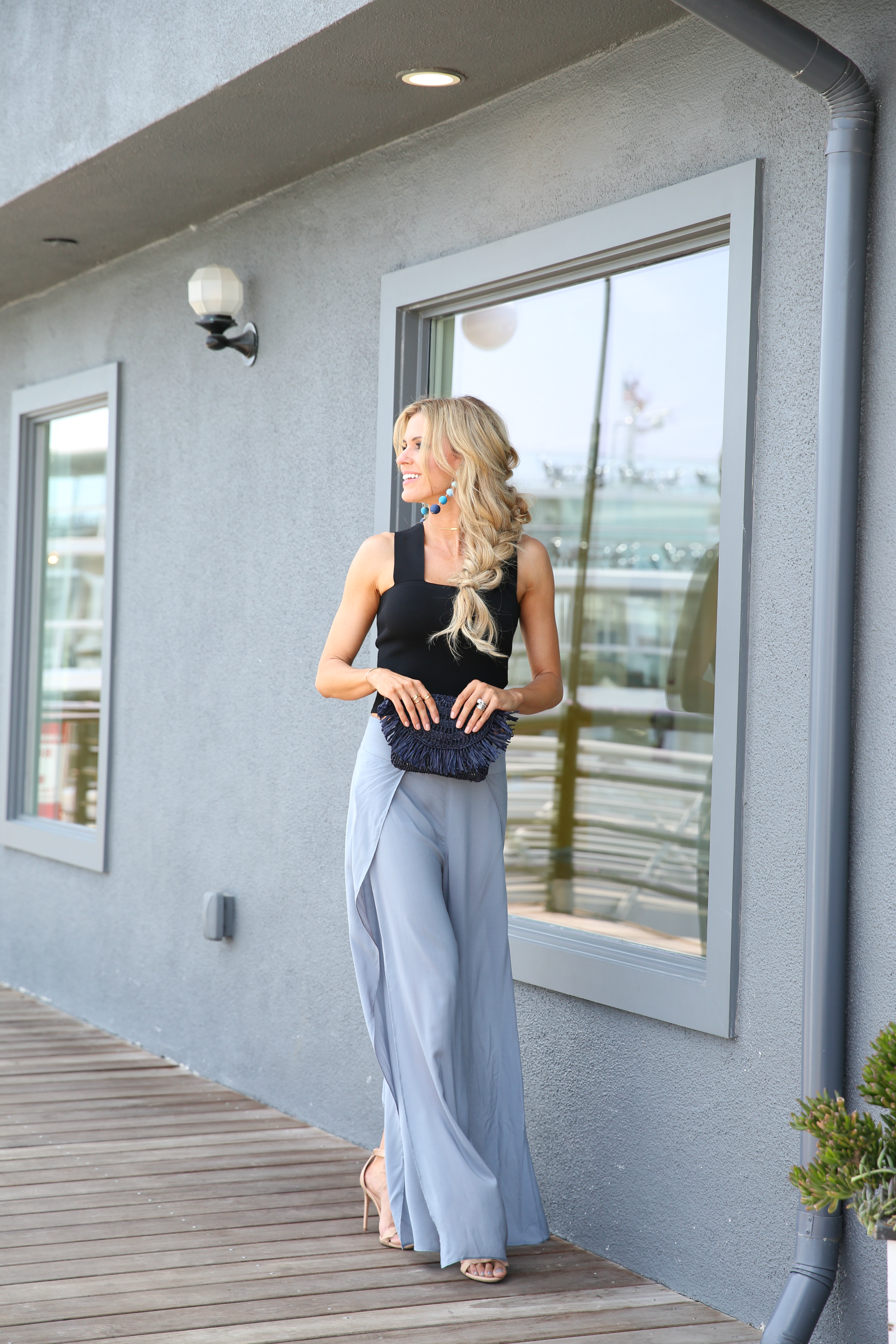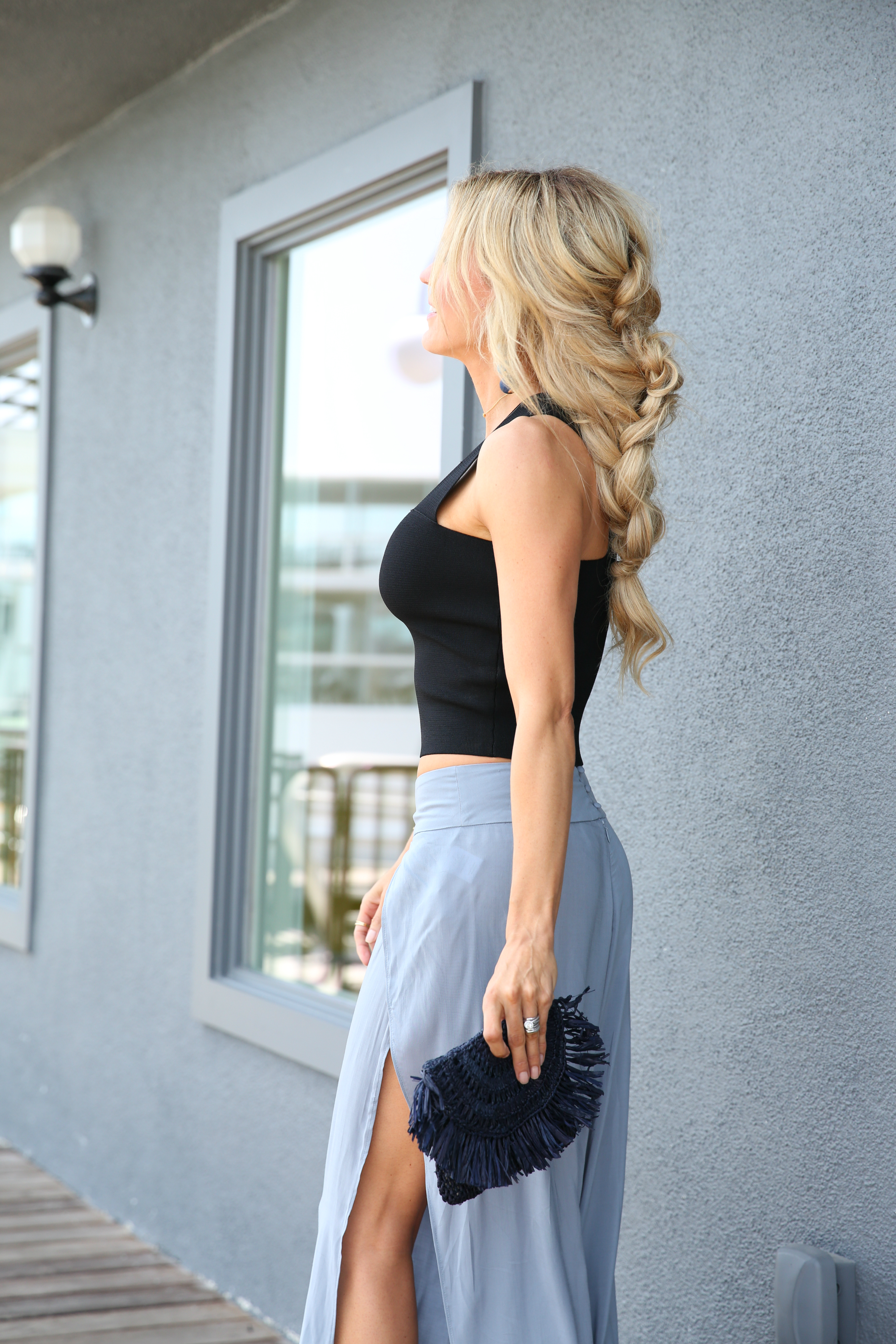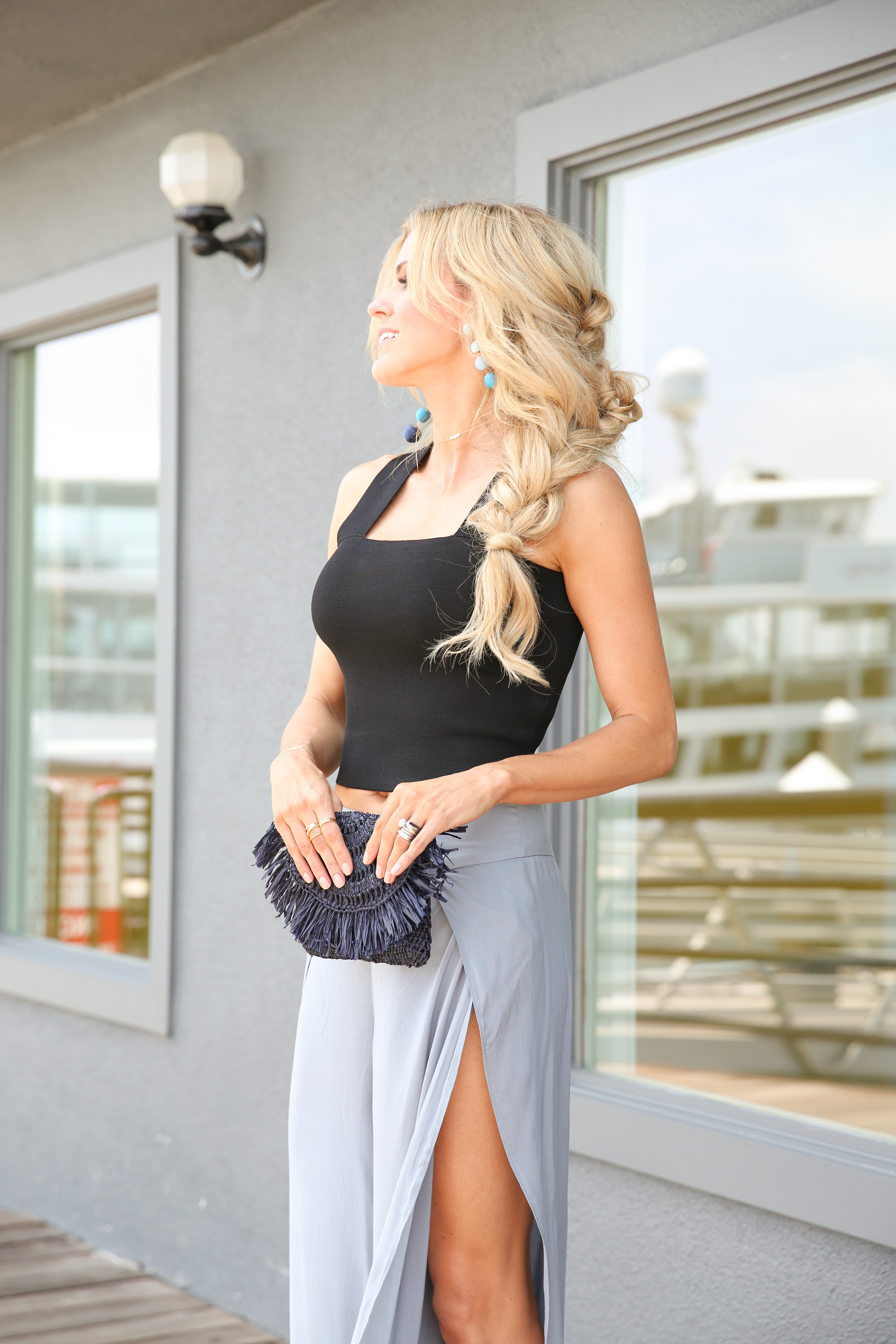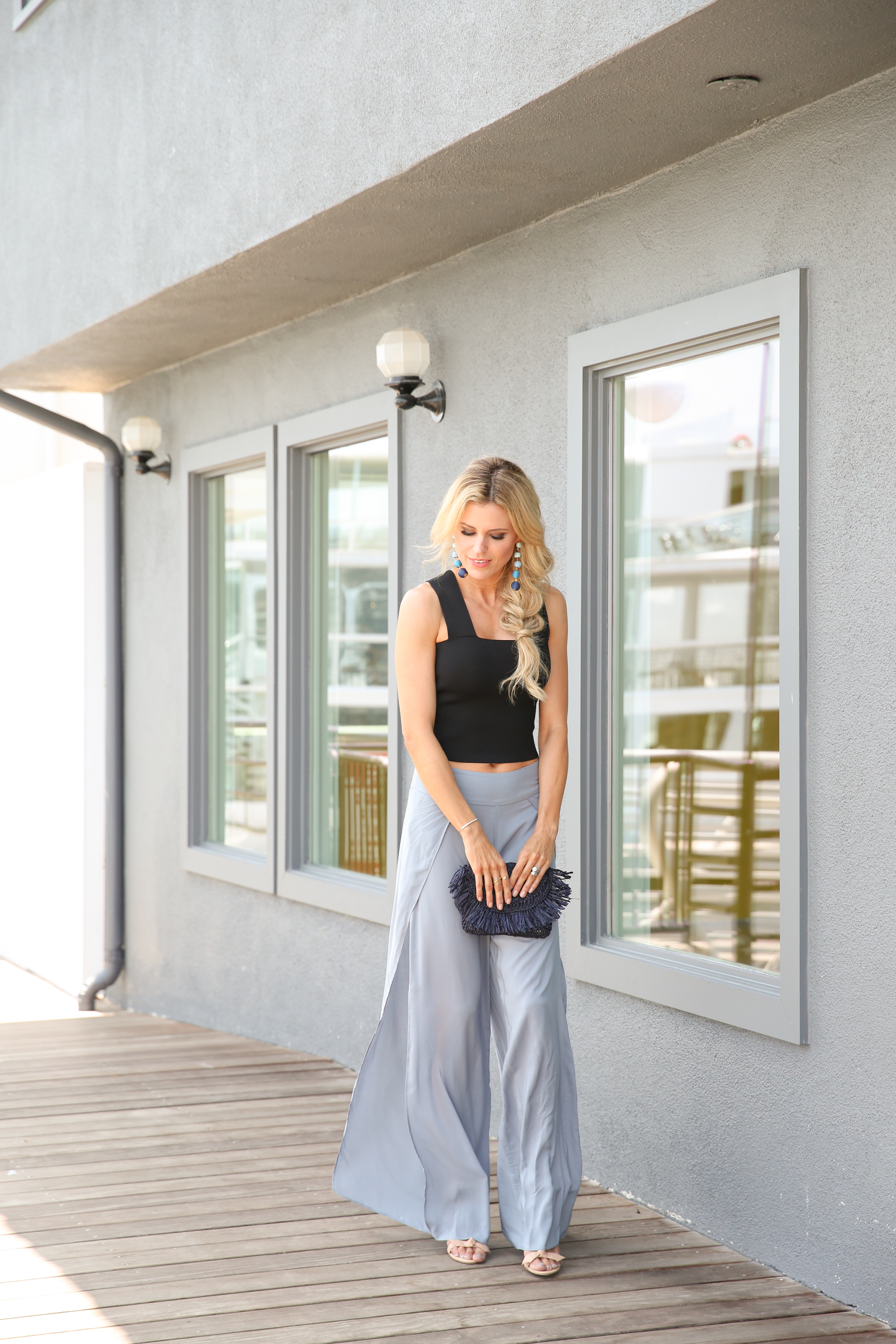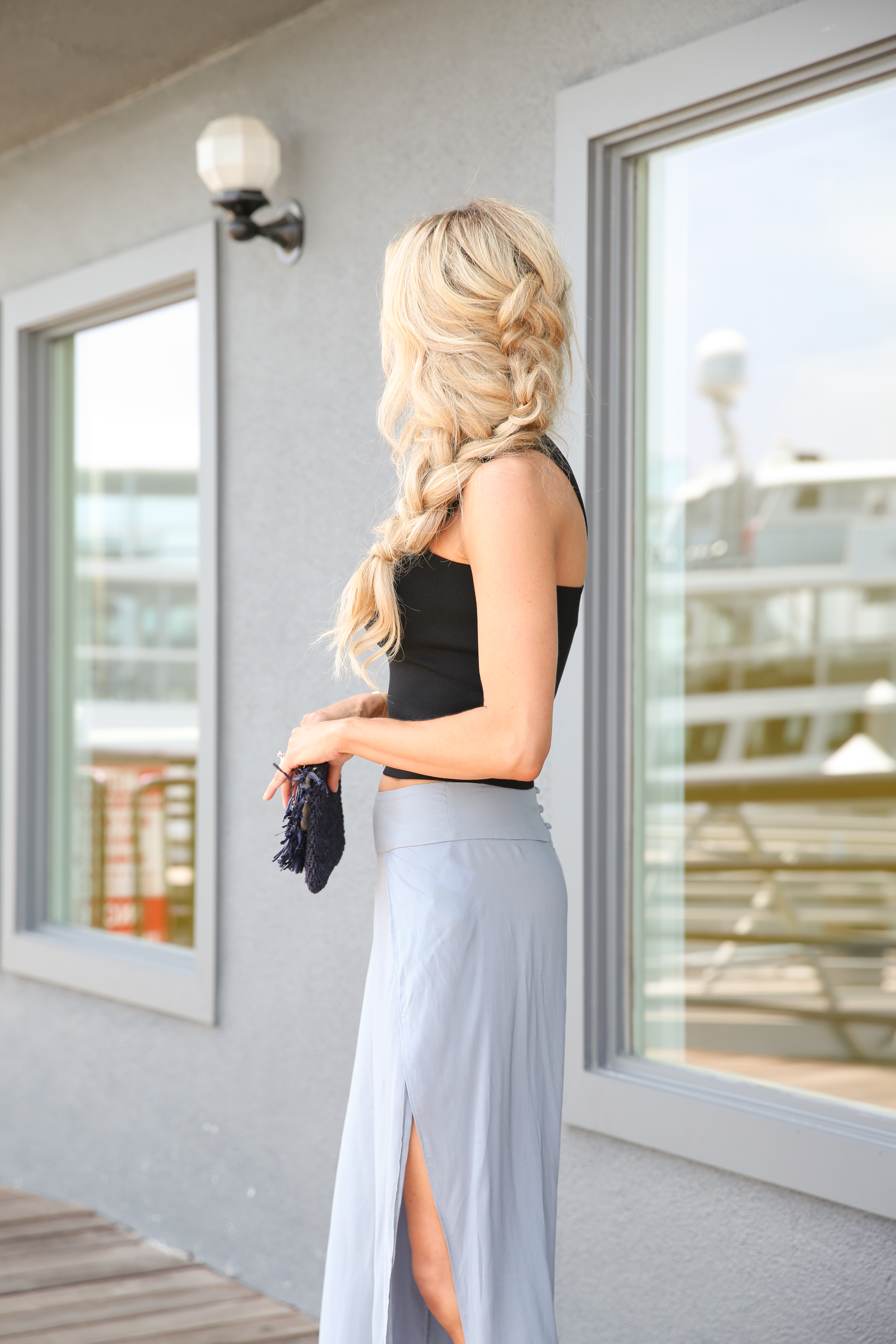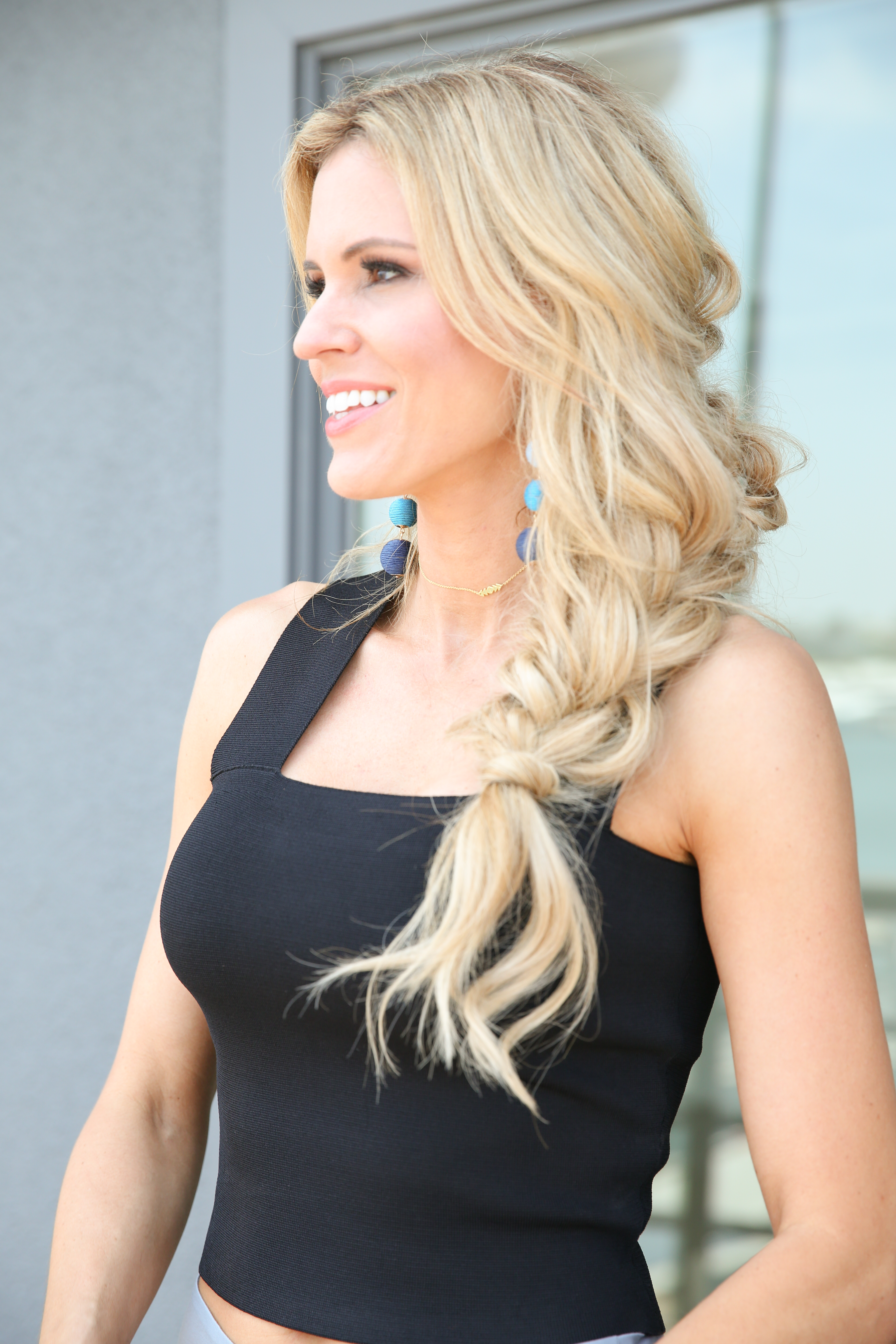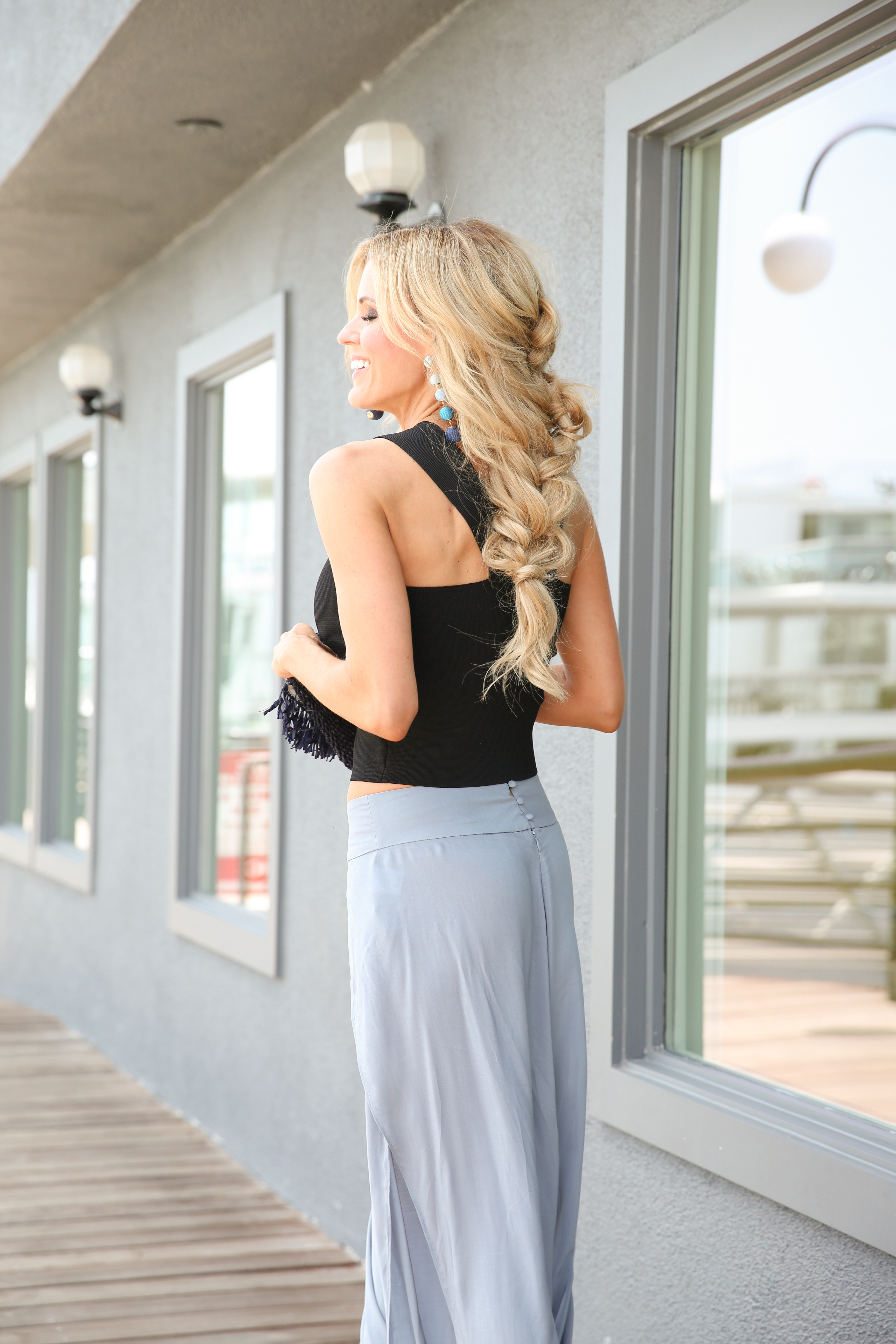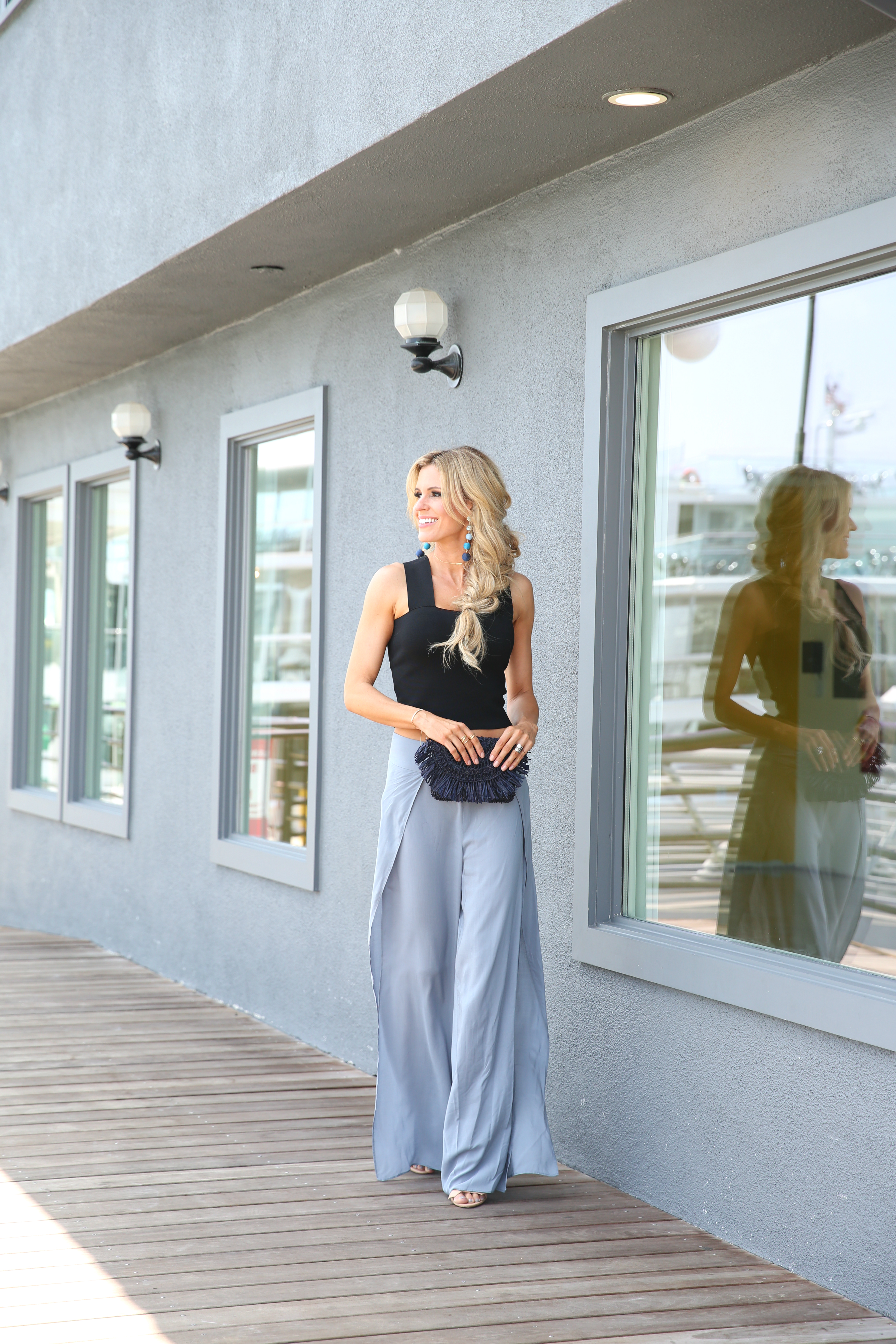 Top: A.L.C. Lia Cropped Top (and here) | Pants: Ale by Alessandra Joana Pants (similar option here) | Clutch: Mar Y Sol Mia (also love it in mustard!) | Heels: Alexandre Birman Clarita (and here) | Earrings: Shashi Tilda | Necklace: Gorjana Mika Choker c/o
If I am being honest, I have never been a huge fan of pants. There are a few reasons why. I grew up in Bakersfield, and the weather was so freakin' hot most of the year (except when it was freezing for 2 out of the 12 months), and I lived in shorts and dresses. Not much has changed since. I don't like being hot, and I tend to get hot if I wear too many clothes. Yes, my husband is a blessed man. Kidding! 😉
Also, I despise when jeans stretch out and you have to keep pulling them up all day. That's the worst! If you have discovered magic jeans that don't do this, please share! I am also extremely feminine so I tend to stray more towards dresses. And they are so easy to throw on in a rush, and as a mom I am always late or in a rush (working on this).
Anyway, so that's why you don't see me wear a ton of jeans and pants on my blog. With that said, I am a HUGE fan of wide-leg pants. Yep, I am a total contradiction. I have a new obsession, and it's these flowy pants with slits that look like a maxi skirt. Every time I show my husband a pair, we both talk about how it's amazing how nothing shows. Because it looks like the slits go all the way up and your underwear might peek out but it never happens.
I already own this pair, which I am completely obsessed with! They keep selling out, and they are available right now on pre-order so get yours before they sell out again. You can see how I wore them as a beach cover-up pant here. They are high-waisted and completely flattering, and the color goes with everything. I just bought this pair which I do not need because they kind of look like my other ones (see above- obsessed) and this pair.
These pants in the photos are a silky material and best dressed-up. Because they are so flowy, I paired with a more fitted top. Let's chat about accessories- this little straw clutch is so cute and only $35! I am head over heels with the mustard colored one, and it's currently in my online shopping cart (scratch that, I just bought it LOL). For the price you really can't go wrong!
And these blue ombré earrings! They are a knock off of the much more expensive designer version by Rebecca de Ravenel which I seriously lusted after for months but were sold-out. I am so glad I waited because this pair does the trick just fine.
Thanks for stopping by guys! Love you! Missy
Photos by Vincent Elejorde. Hair + Makeup Erica 10.11 Makeup.