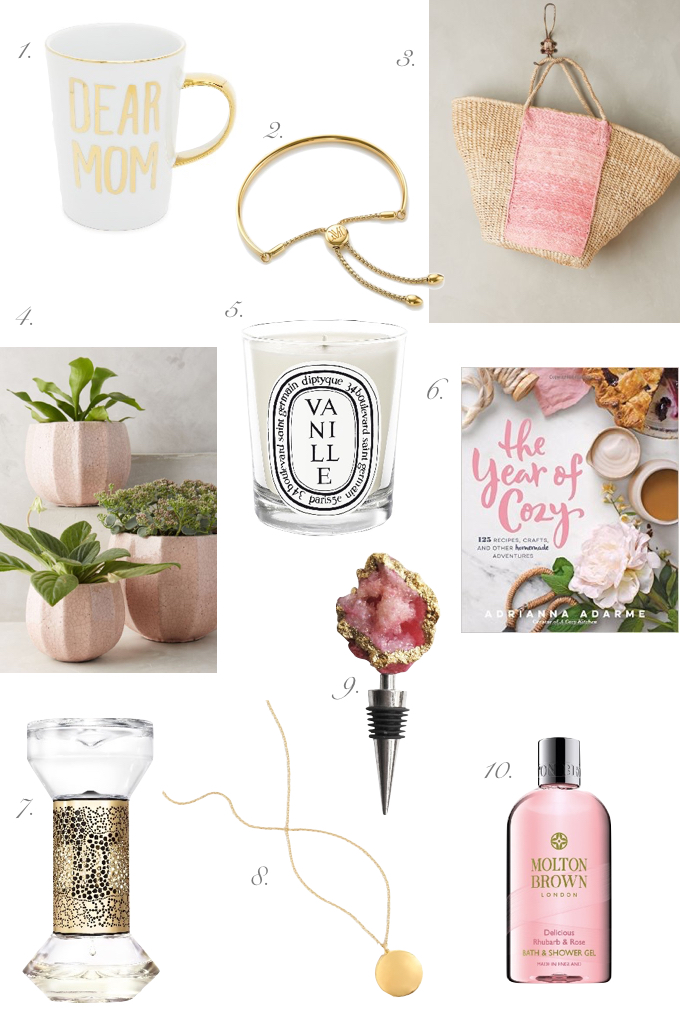 1. | 2. | 3. | 4. | 5. | 6. | 7. | 8. | 9. | 10.
I am kind of obsessed with this year's Mother's Day Gift Guide. But seriously… I will take one of each! Unfortunately while I was browsing for goodies to include on this gift guide I found so much good stuff for myself. Damnit. Why is it when I need to find something, I never do… but when I am not even shopping for myself I find everything I never even knew I wanted?! 🙂
In case you were wondering, I bought these pj's (was trying to find the perfect pair for my collage, which ha never happened), these red statement earrings (and got distracted a good 15 minutes by this pair which are WILD and ultimately decided against), and this cute dress (only $38!!! and selling out quick, I got the taupe).
So back to the gift guide. I am completely enamored with a few of these items!
This hourglass diffuser is not only beautiful but makes everything smell pretty too! Dying for one of my own just to decorate with…. like maybe in my new blogging office.
And speaking of pretty smells, I've heard great things about this candle. It's the next candle I will buy. It's vanilla scented- but a sultry version with woody accents.
In my opinion, the best Mother's Day gifts have a personal touch- like putting a sweet photo in this locket necklace or planting succulents in these gorgeous terracotta pots.
I get to spend this Mother's Day with my mom…which doesn't always happen since we live several hours apart… and I am completely ecstatic! And I need to figure out which of these to get for her! 🙂
Thanks for stopping by, and have a fantastic weekend! xo, Missy