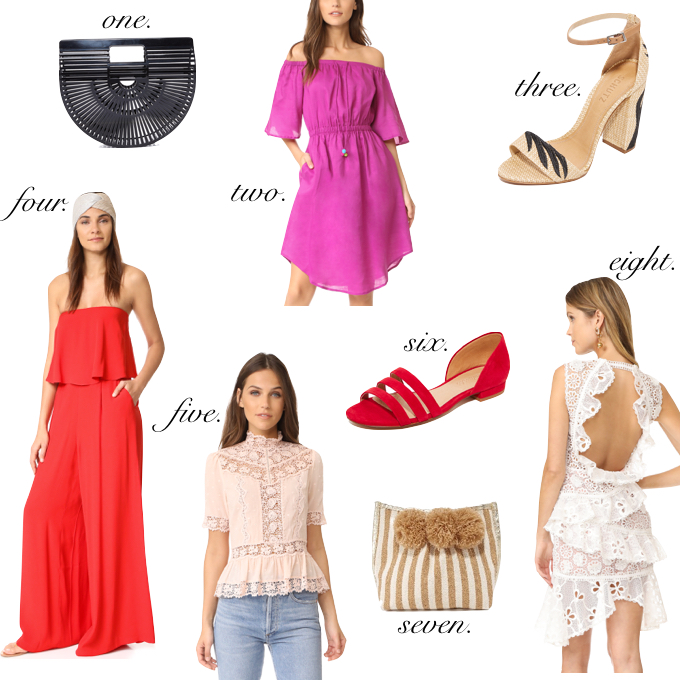 one. | two. | three. | four. | five. | six. | seven. | eight.
The Shopbop Event of the Season Sale is here! For 3 days only, and starting today!! Shopbop is one of my favorite places to shop, and this kind of sale is my favorite. Where *everything* is included in the sale. There are some exclusions so check out their site for details. Get 20% off orders under $500, and 25% off orders over $500 with discount code EVENT17.
I'll be honest, there are SO MANY good things included in this sale, that narrowing it down into one collage is impossible. I've included the things that are on my own wish list.
One. This Cult Gaia bag is everywhere. It's so cute and the price is right, and you have probably noticed me wearing it all the time on the blog lately. The black acrylic version is more expensive, but I love that it's different from what everyone is carrying AND you can get it on sale!
Two. I actually just spotted this dress for the first time this morning. It is so cute and perfect for spring. I love the color! And it's under $100!!!
Three. I literally went to buy these sandals first thing this morning, and I am devastated that they are sold-out in my size. But maybe you will be luckier than me. These sandals will go with everything this spring and summer!
Four. Matching sets are my jam right now! I am obsessed with this one- the color and the wide leg. I have been contemplating getting this set to wear to my friend's birthday where we are going out on a little boat for a sunset cruise.
Five. This top is so pretty! The lace and blush color are on trend for spring. Would look so cute with white skinny jeans or denim cut-off's.
Six. These slides are so cute, and I always love a good pop of red to brighten an outfit. They also come in a mustard yellow color which looks sold-out right now.
Seven. This cosmetics pouch is just about the cutest thing ever. I mean the pom pom's! Perfect to hold those smaller items in your beach bag.
Eight. I am not kidding you but this dress makes my heart skip a little beat. I know it's crazy expensive, but I couldn't help including here because I love it that much. I especially swoon over the open back. This is one of those dresses where you have to wear your hair up or swept to the side to show off the detailing in the back. I have a special trip to New York planned at the end of May, and this dress *might* have to come with!! This dress also has amazing back detailing and is a more affordable option.
Thank you so much for stopping by! You can check out the rest of the Shopbop sale here! I will be getting back to the sale myself. 🙂 Oh, and please make sure to stop by the blog tomorrow because it's a special post. xoxox