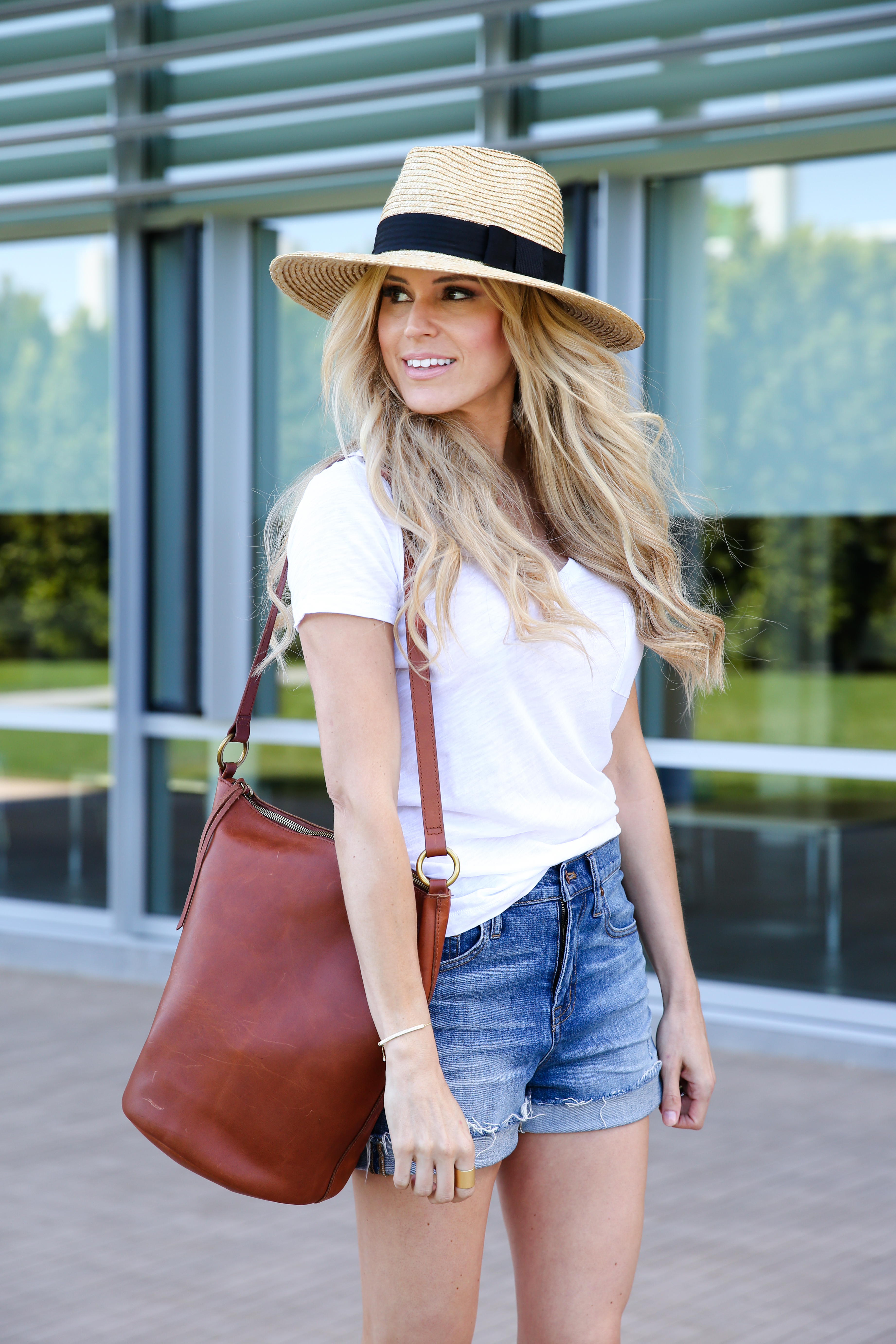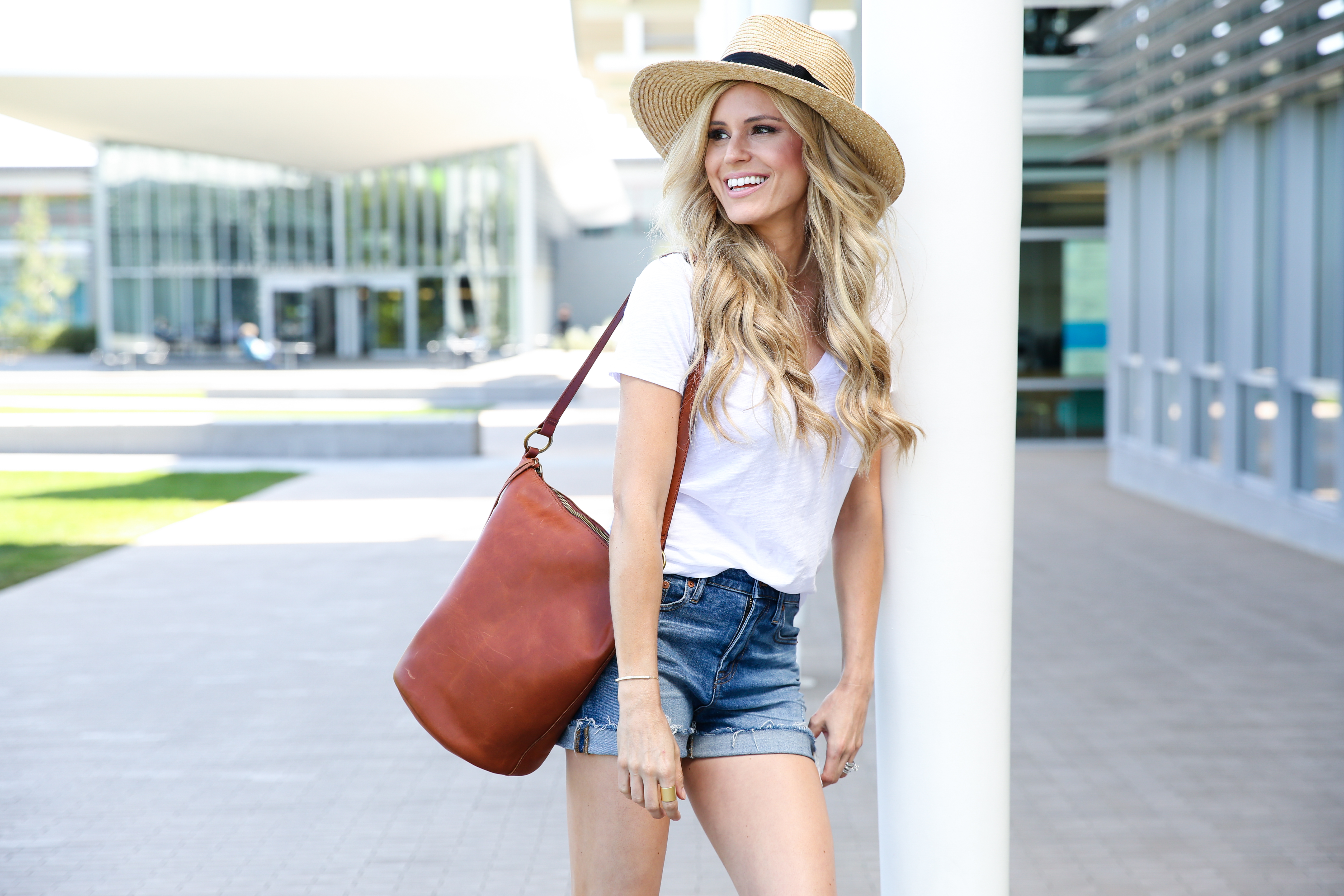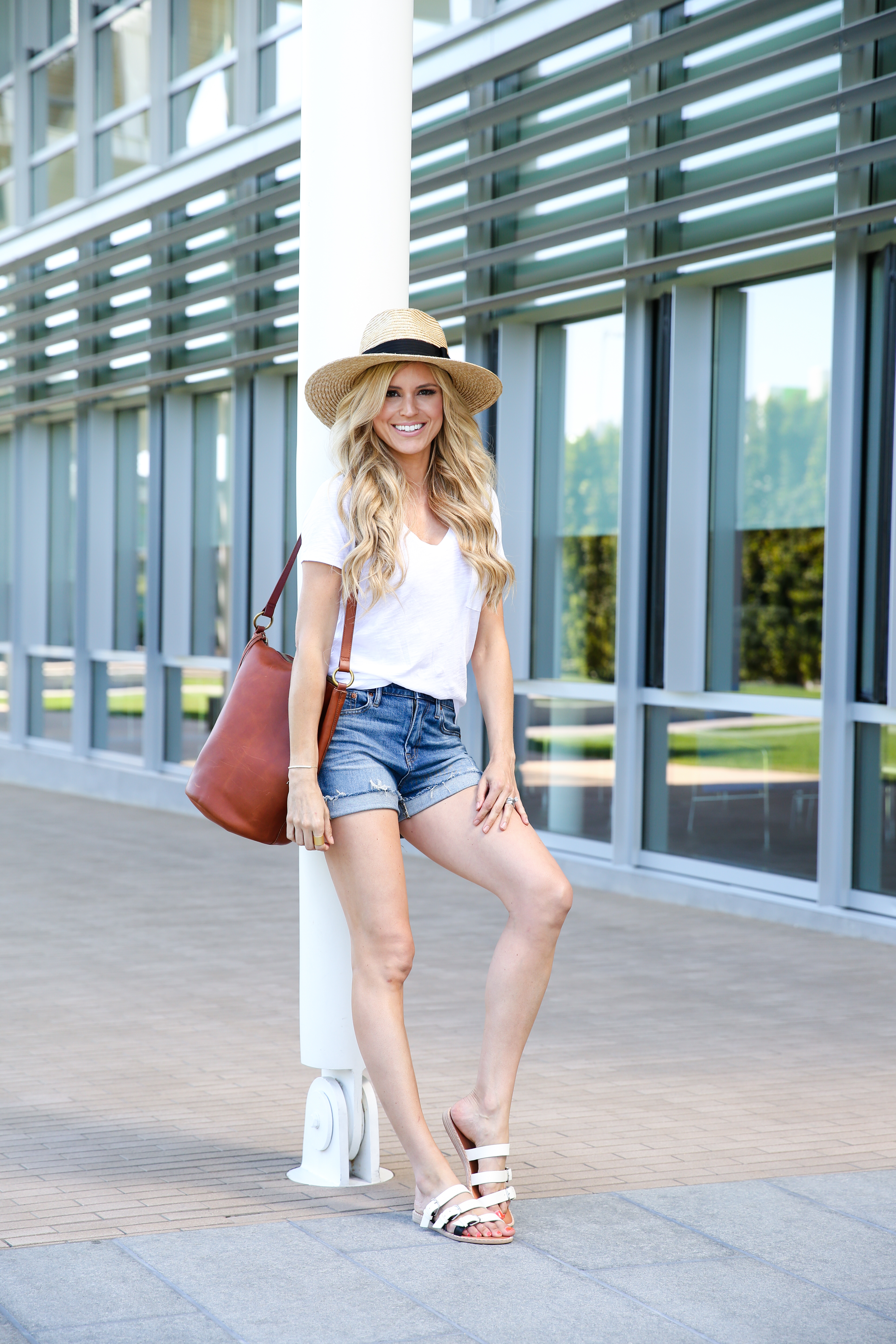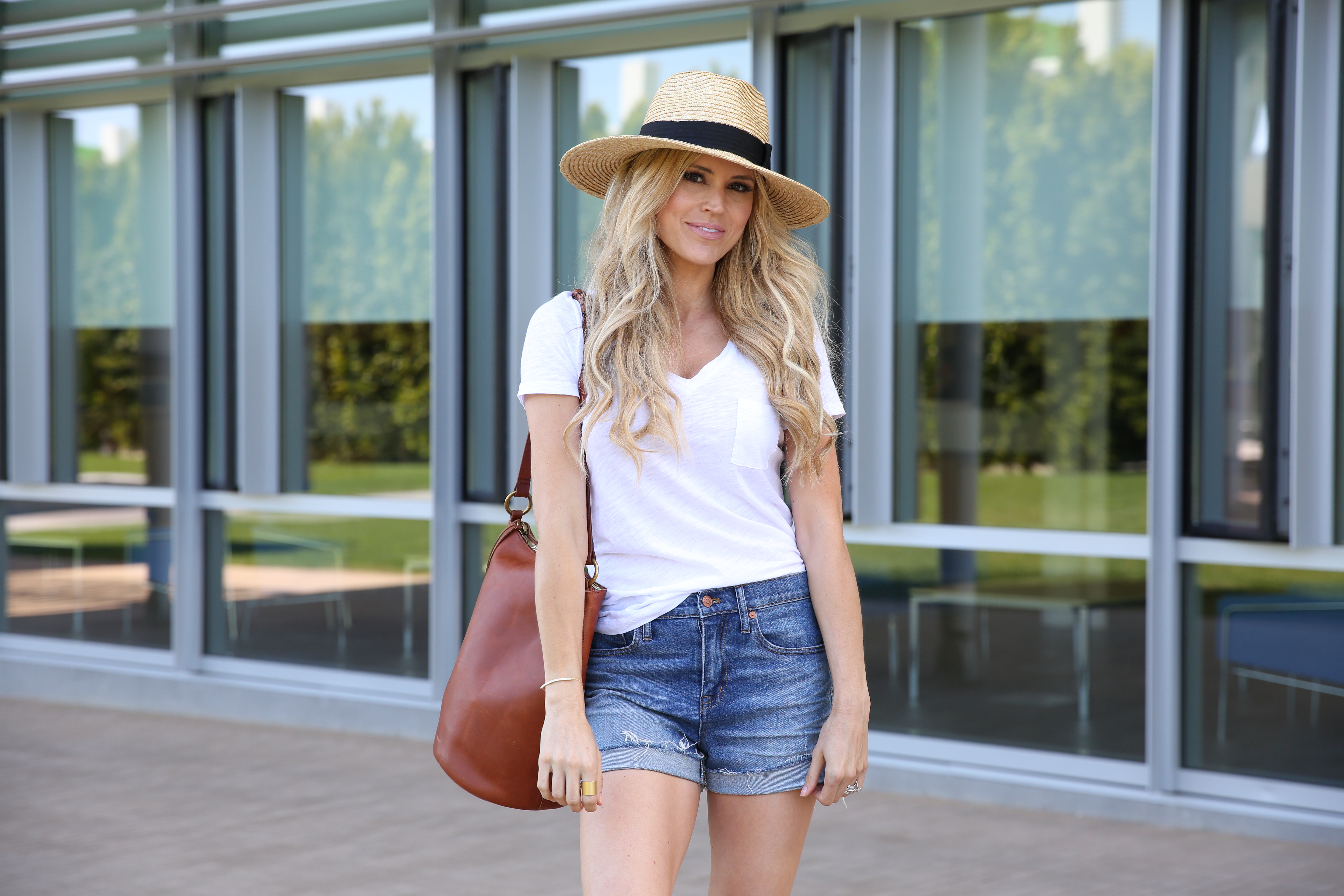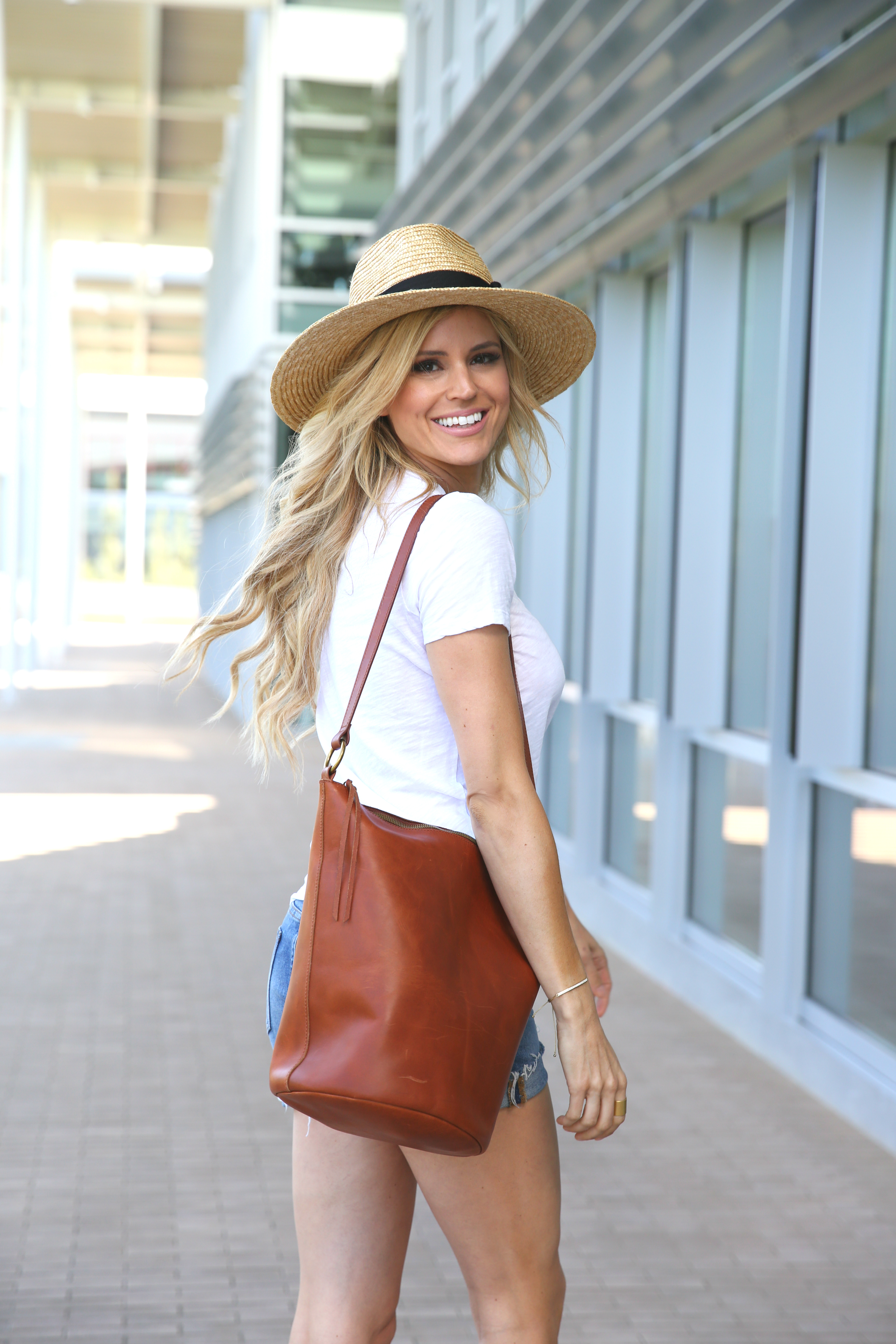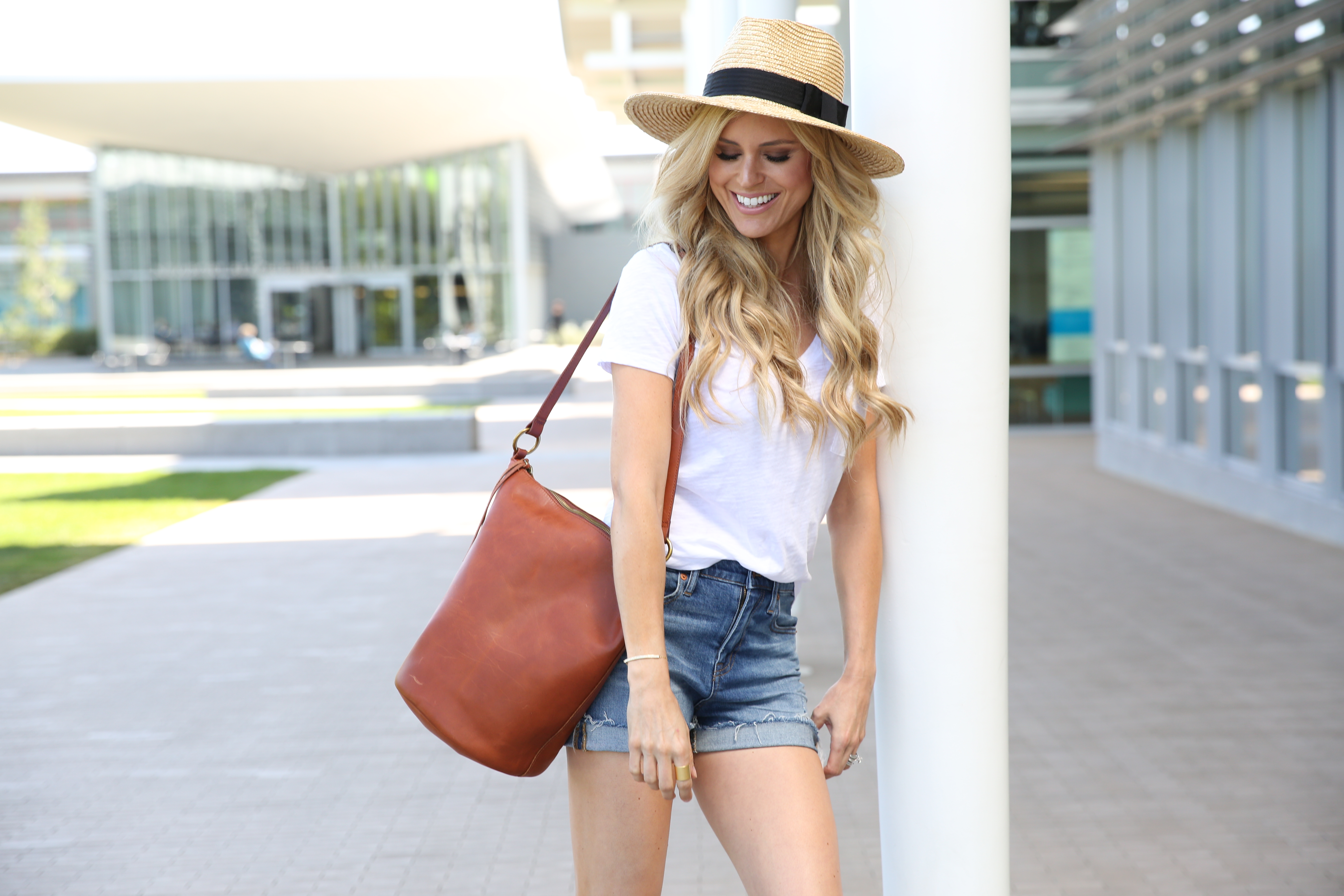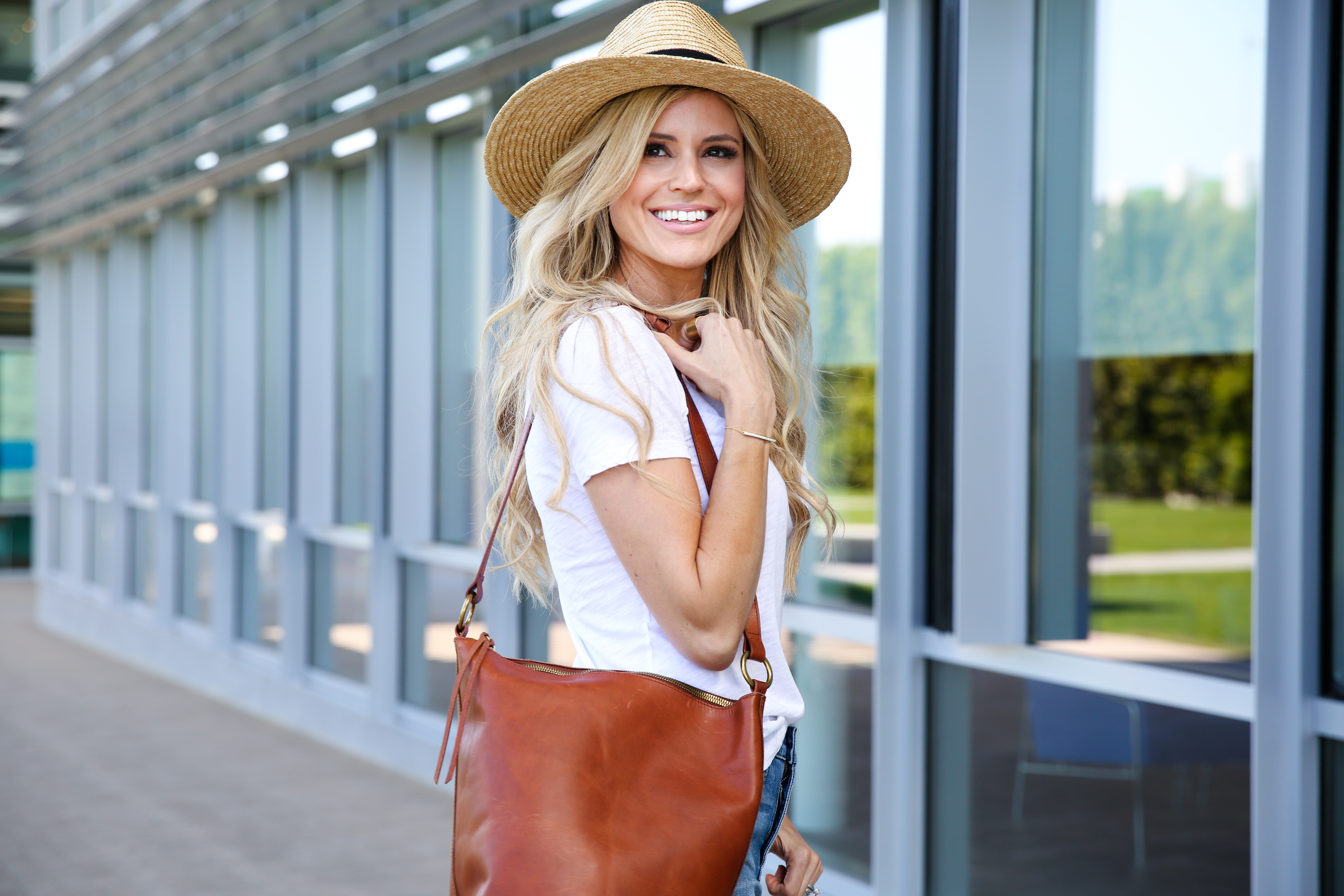 Tee: Madewell Cotton V-Neck | Shorts: Madewell High Rise Cuffed Denim Shorts | Sandals: Dolce Vita Para Sandal | Bag: Madewell O-Ring Leather Bucket Bag | Hat: Brixton Joanna Straw Hat | Ring: Madewell Band Ring
There are a few basics every girl needs in her closet as we roll into spring and summer, and I am wearing some of my very favorites. There was a time shortly after I started blogging where I felt like I had nothing to wear. And it shocked me because I was investing more money into my wardrobe than ever before. It opened my eyes to the kind of pieces I was investing in- which was mostly super fun dresses that weren't suited to my day-to-day mom life. Now I make more of an effort to buy staple pieces… along with the fun dresses.
Did you know that Nordstrom carries the Madewell line? Madewell is known for their basics! And I love that I can get Madewell at Nordstrom. Nordstrom carries all my favorite brands including designer all in one destination. And it is just my favorite place to shop. The end. The online shipping and returning is always free. I can order online and pick up from my local store. This is key when have a very active 4 year old boy! I can order things that I need in a pinch and just swing by and grab at the front and be done in 5-10 minutes.
Let's talk about your everyday basics, which are so not basic:
the perfect white tee– I had been on the hunt for the perfect white tee for a while. I can't even tell you how many I've tried on and sent back… sometimes even paying upwards of $50. For a t-shirt! They were either too bulky, too sheer, too low-cut… okay, so maybe I am a little picky. Let me save you the trouble and just tell you to get this one. It's the tee I am wearing in the photos, and I am wearing an extra-small. Size down one size for a fitted look. I love how this tee fits, it's under $20, and I give you permission to stock up. Oh, and it comes in twelve colors! Personally, white is my favorite. But black and gray are great everyday basics too! A white tee is probably one of the most important staple pieces to have in your closet- you can dress it up, use as a layering piece, and it is universally flattering.
high rise denim shorts– In the warmer months I live in dresses and denim shorts. I'm obsessed with these ones because they are high rise (why was low-rise ever a thing?!) and also they are the perfect length. I love the look of short shorts, but sometimes it is a little unrealistic for everyday.
the bucket bag– I just got this bag, and I can't stop wearing. I'm obsessed! The tan color goes with everything, and there is just so much room I can't get over it. I was always bragging about how much I could fit into my little tiny micro bags, and then I wore this bag and realized what roomy is. We were heading out to dinner as a family when I wore it for the first time, and I threw a denim jacket in it and a huge stack of Bernstain Bear books for Max, and the thing looked empty. And still felt so light! Bucket bags are utilitarian but also look cool.
sandals– All I wear from May on is sandals. I love these ones because they can be worn with both casual and dressy looks. There is no heel so they are super comfortable, and the white looks so fresh.
sun hat– I have worn this hat more times on my blog than any other single item, including shoes. It looks good on everyone I tell you. It comes in 5 colors and is under $45! Works great with a swimsuit at the beach or a sundress. If you need a great hat, this is the one. I am wearing a medium because I have a slightly larger than average head (and a lot of extra hair ha).
So what do you all think? What are your favorite closet basics? Thank you so much for stopping by guys! I love you! Missy
In collaboration with Nordstrom. All thoughts and opinions are my own.
Photos by Vincent Elejorde. Hair + Makeup by Erica 1011 Makeup.
More Nordstrom Madewell Everyday Favorites: