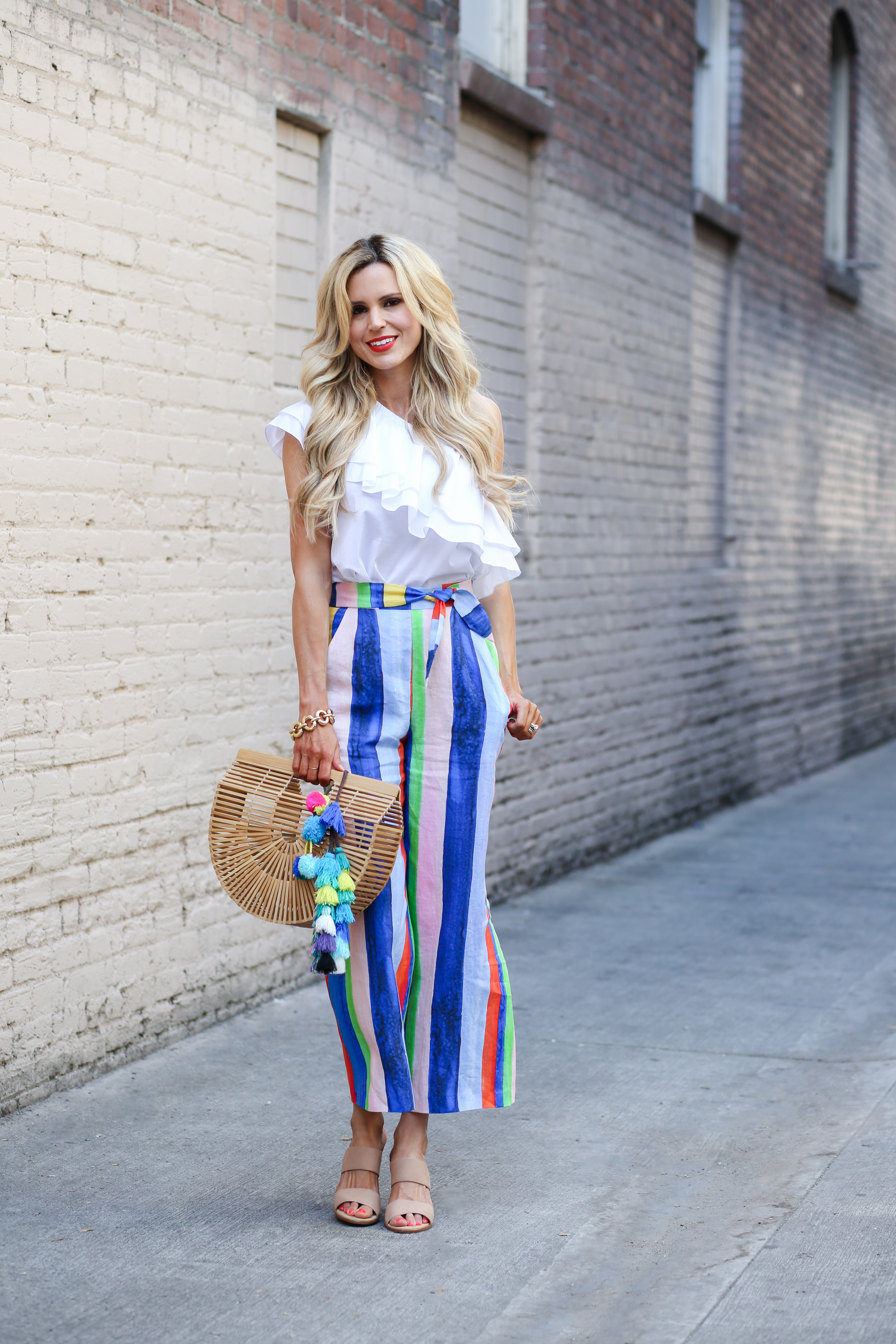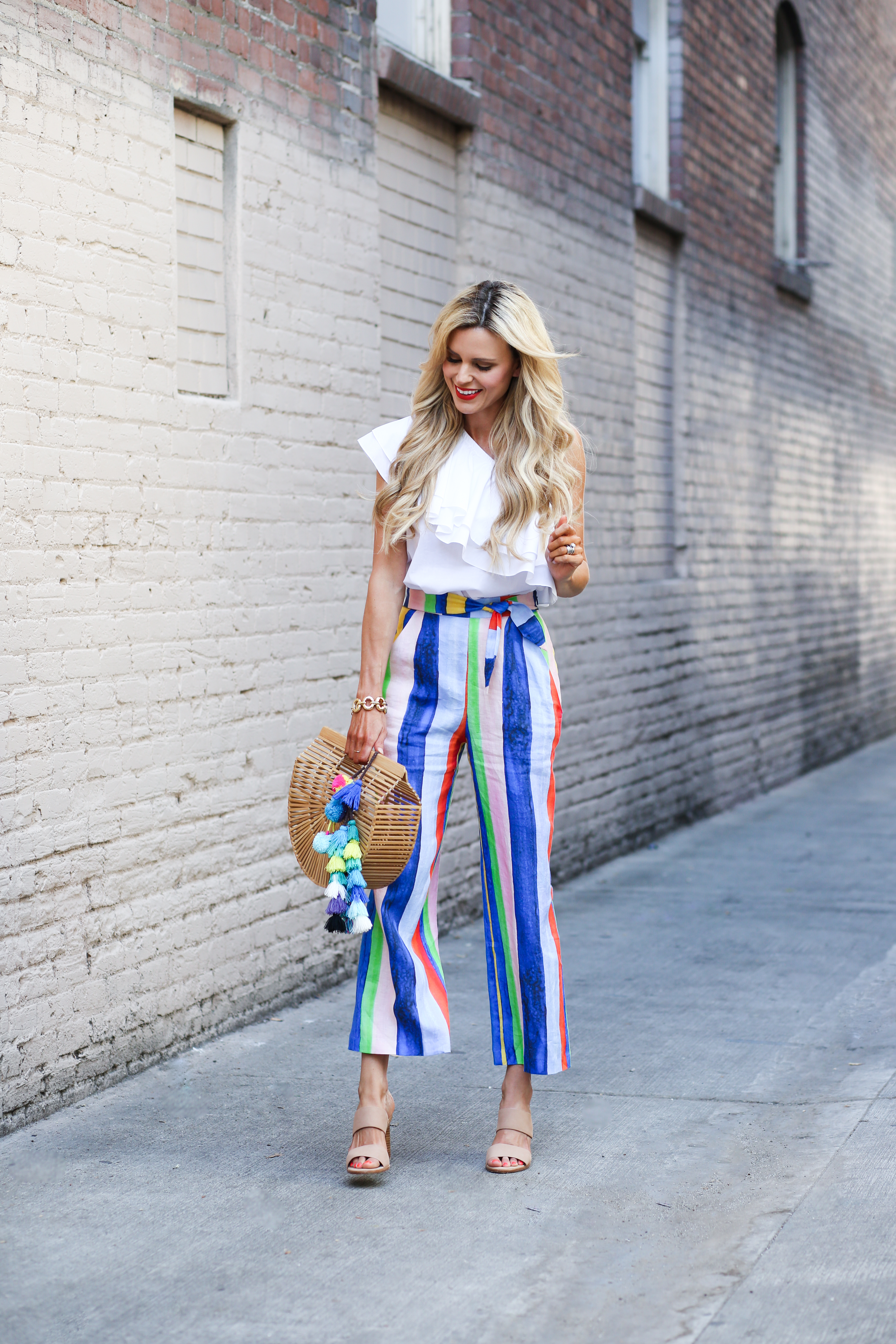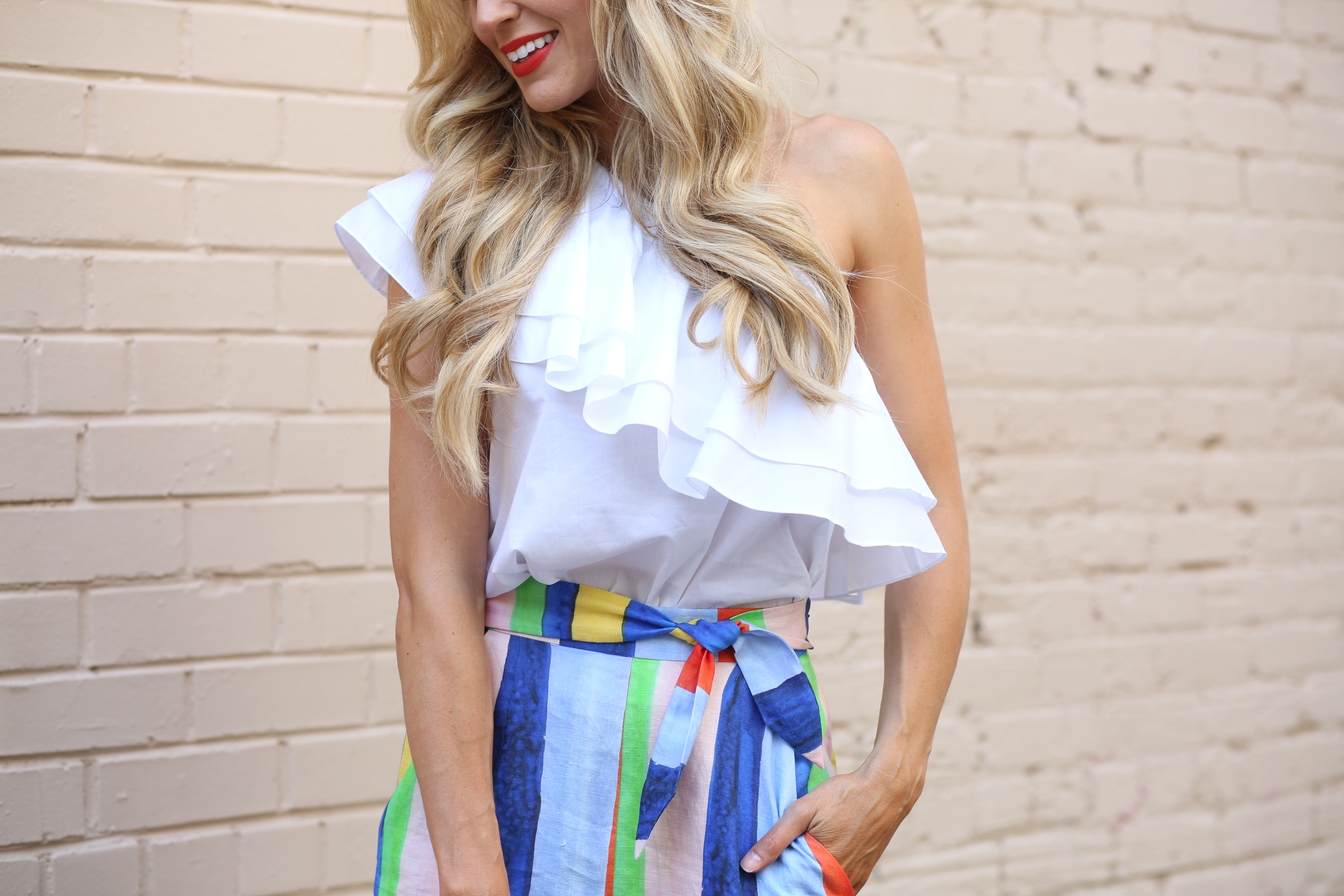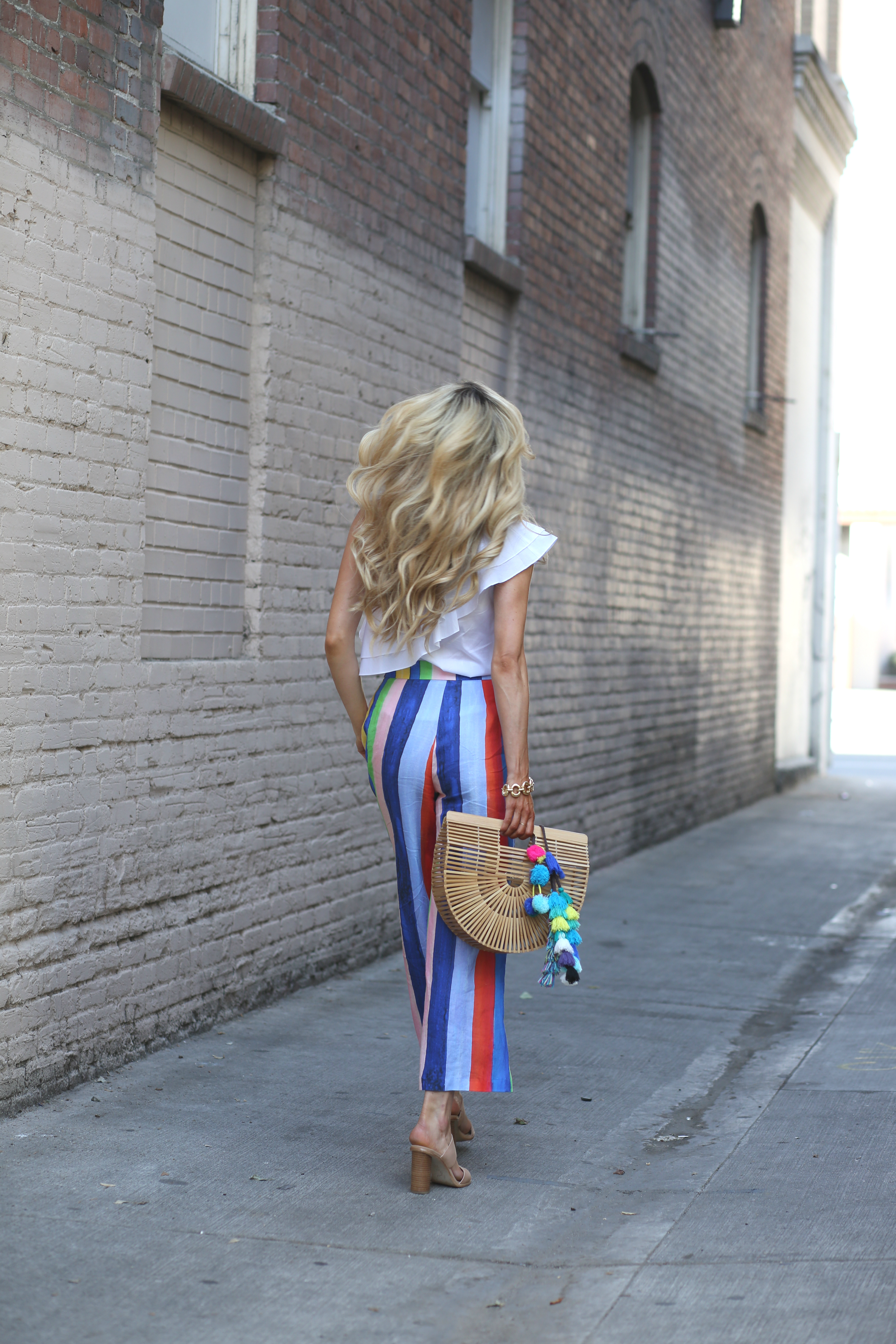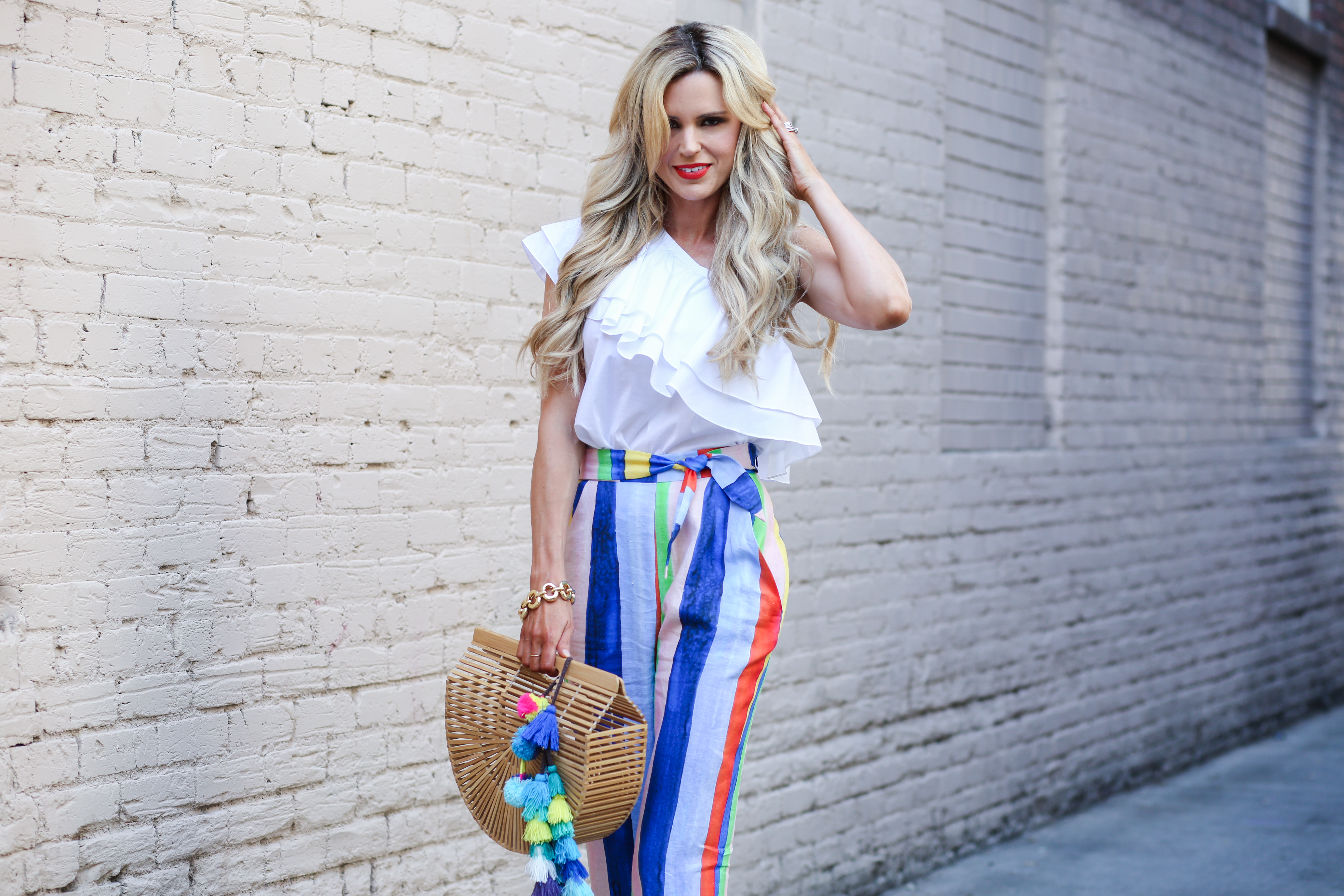 Top: Chelsea28 Ruffle One-Shoulder | Pants: Mara Hoffman Tie Front Pant (and here) | Sandals: Joie Banner Sandals | Bag: Cult Gaia's Ark Bag (and here) | Bag Pom Charm: MISA Sayeh Bag Charm | Bracelet: J. Crew Gold Chain Bracelet | Lipstick: MAC Lady Danger
I've been spring breaking it hard. As evidenced by my lack of blog posts last week. 😉 If you missed me here, make sure you are following along on Instagram where I am usually always posting. I promise you I have lots of fun stuff coming to the blog this week to make up for it.
Could these striped pants be any more happy? They had me at hello! 🙂  Do you love them or hate them? I think they could also be dressed down and worn as a beach cover-up pant. Pair with a simple white bikini top and you are good to go! Wear with caution because the bright bold stripes are an attention grabber. But in the best possible way.
As you may have noticed, I have been wearing this Cult Gaia bag nonstop. It's funny because when I put my outfits together I start with all my other bags first to see what works, and I inevitably come back to this one. I don't want to bore you guys with over-wearing it, especially since I just checked and it's sold out again (boo). I love how it makes a statement while still being simple and neutral toned. It gives any outfit a bit of texture and excitement without overpowering.
And yes, I actually put my stuff in it! I usually carry my little odds and ends like lipstick, lip balm, etc. in a makeup pouch like this one so I just throw that in. I had to laugh because the other night I even threw a bottle of Moroccanoil straight up in my bag for date night, and if you looked hard enough you could still see it through the bag. P.S. If you have hair that tends to frizz in humidity like I do, Moroccanoil is the best!
Thank you so much for stopping by today. Please check back through the week because I have a lot of exciting content coming to the blog… including my blog's 2 year anniversary (whaaaattt!) where I will be sharing some tips + secrets, and what I've learned.
Love you guys! xo
Photos By Vincent Elejorde.
And if you are digging the Rainbow Brite vibes of Mara Hoffman's line (like I am!), here are more of my faves: