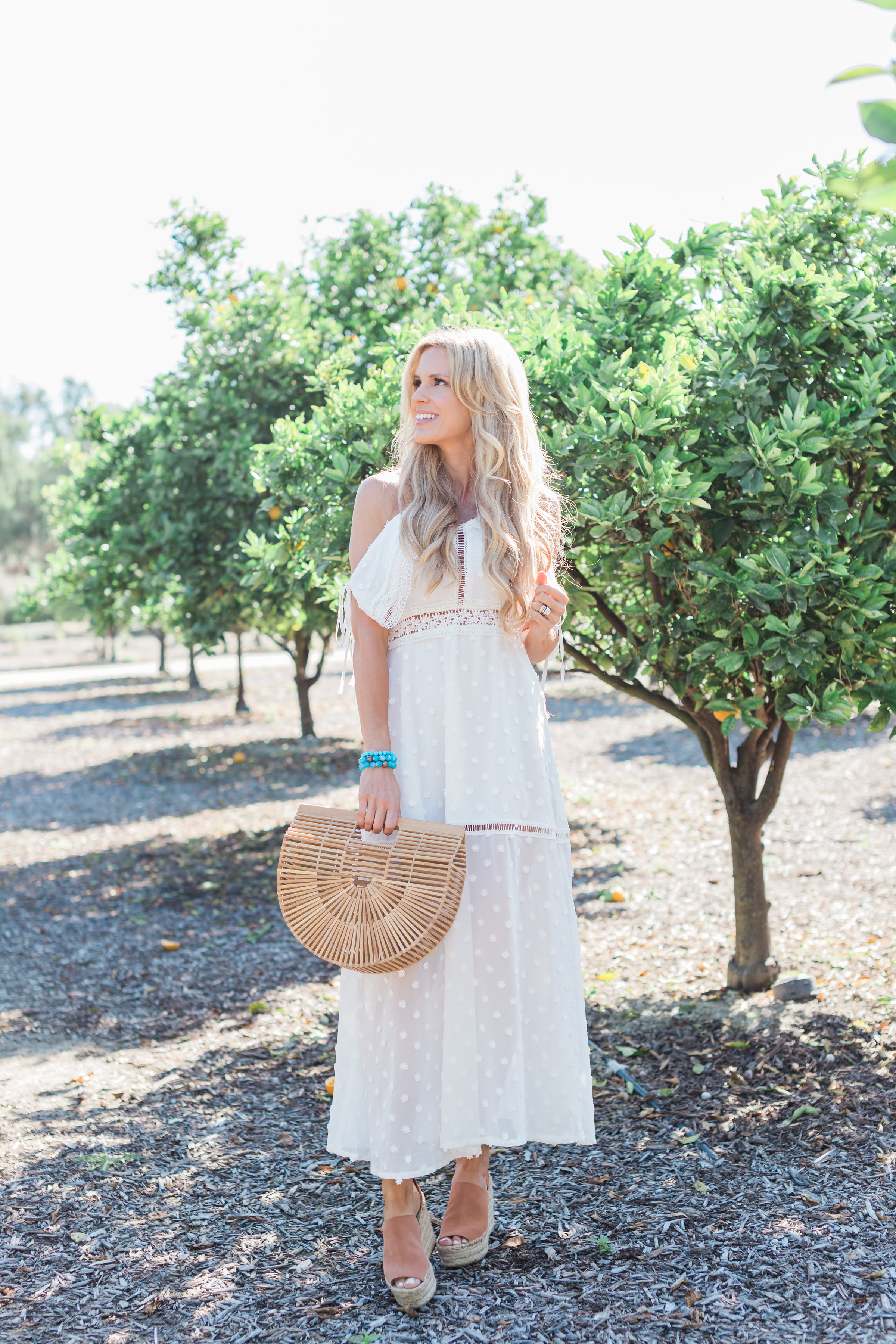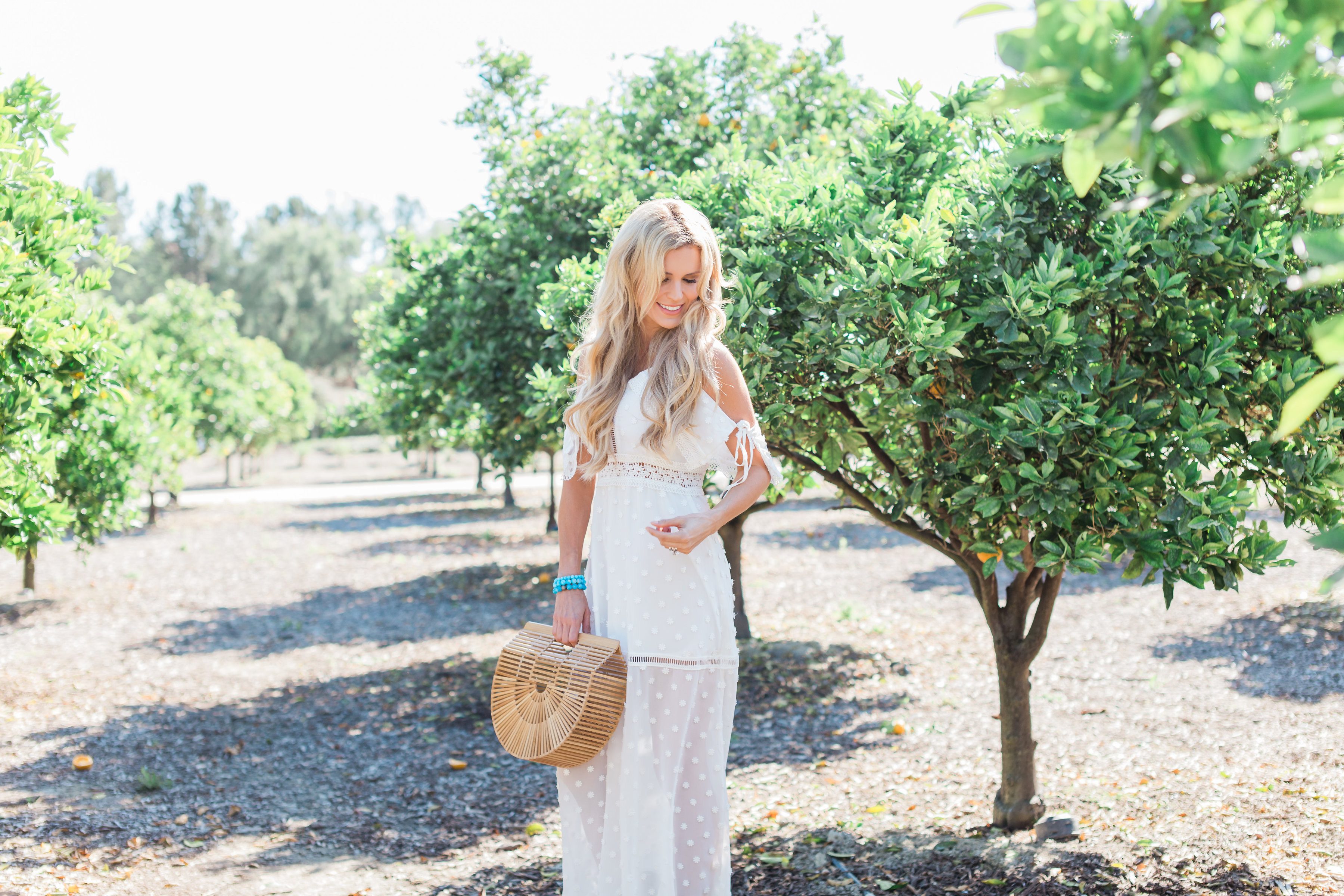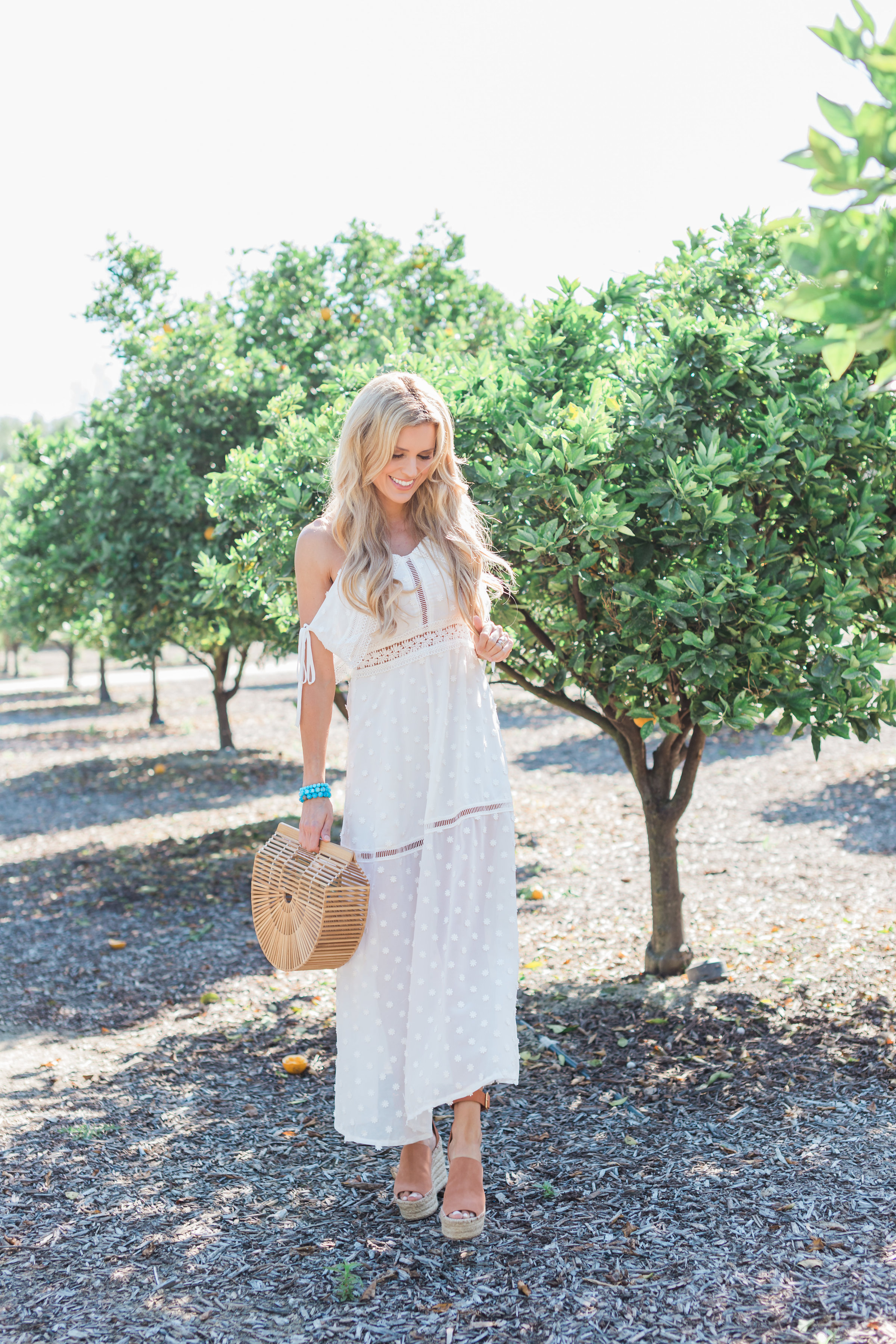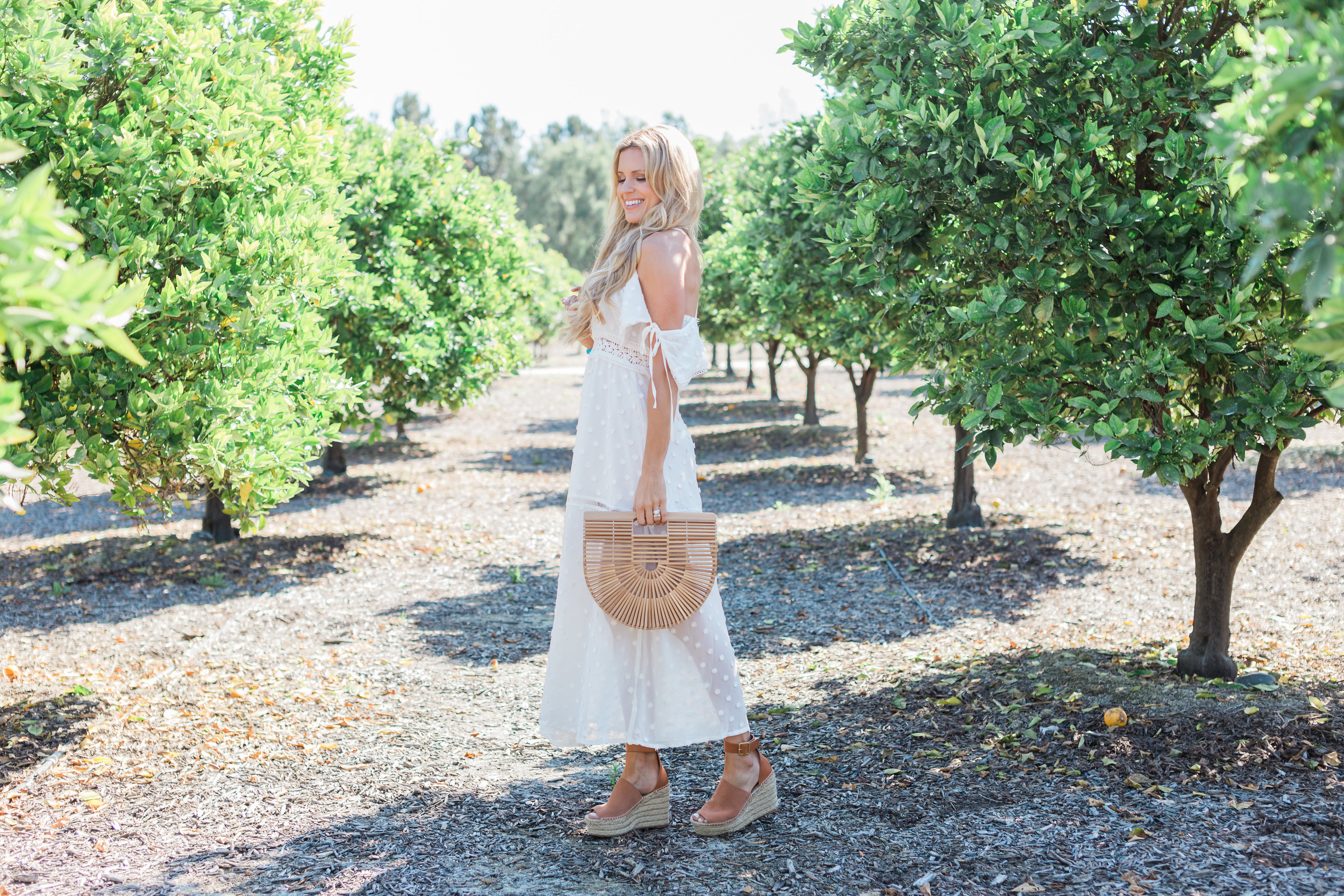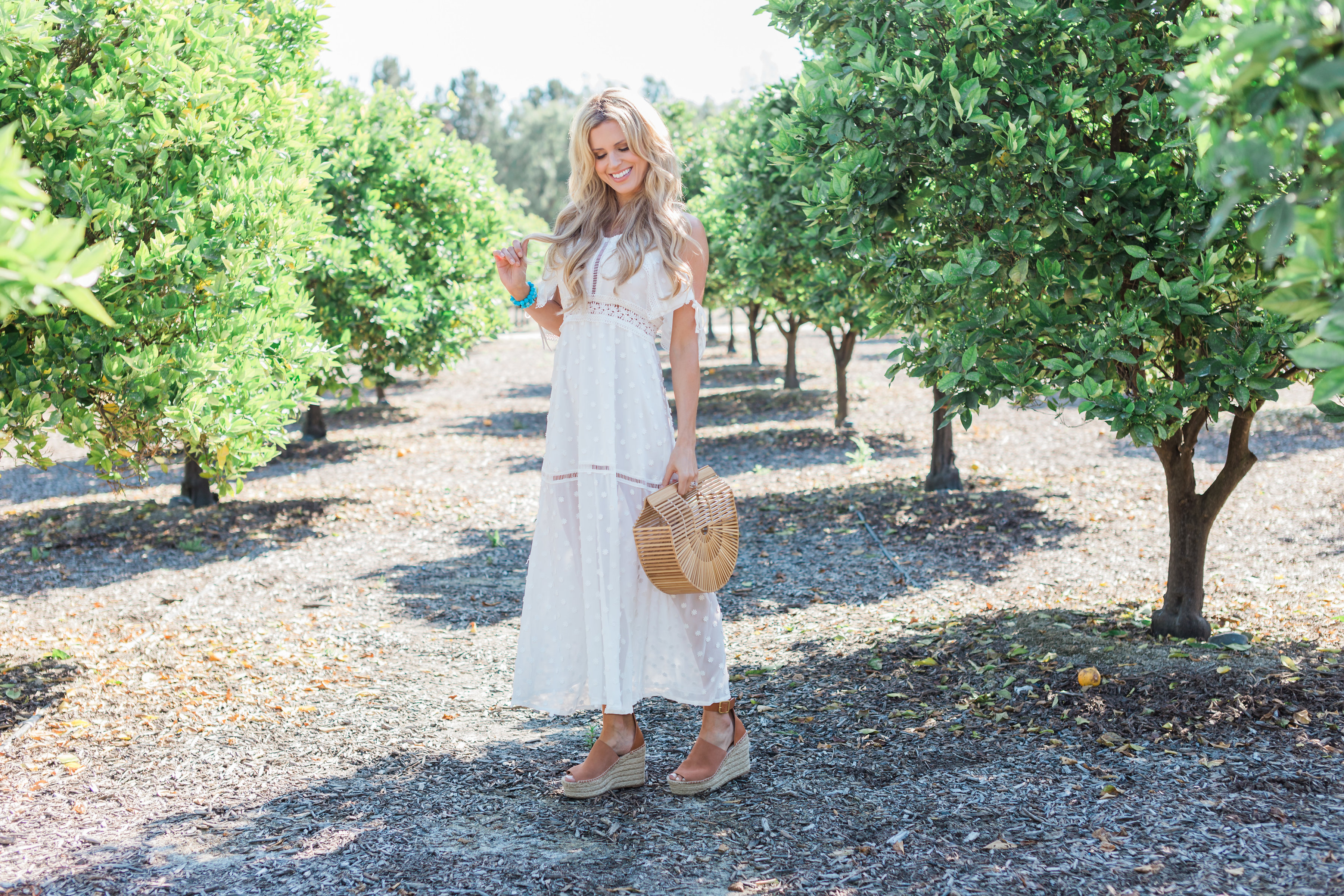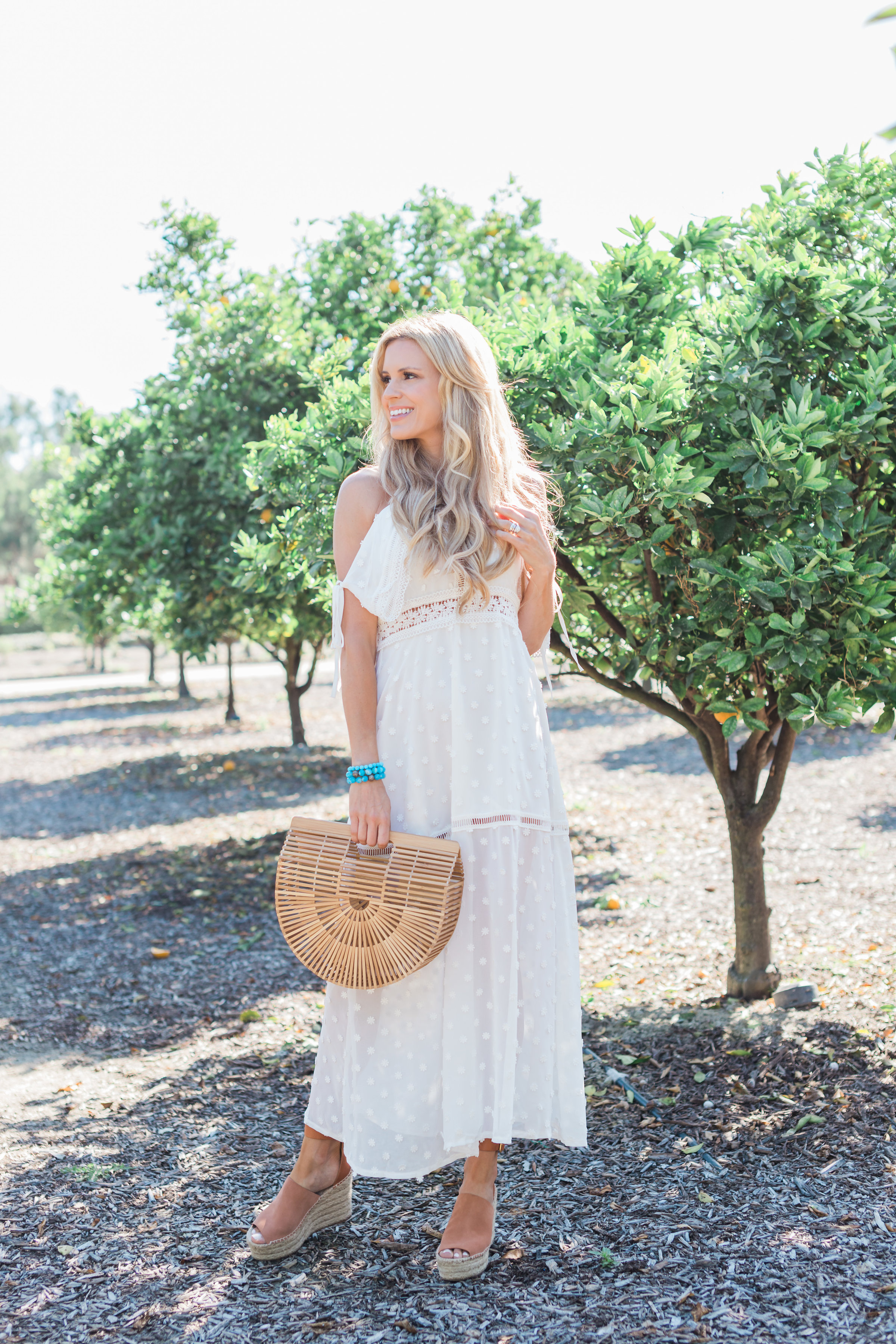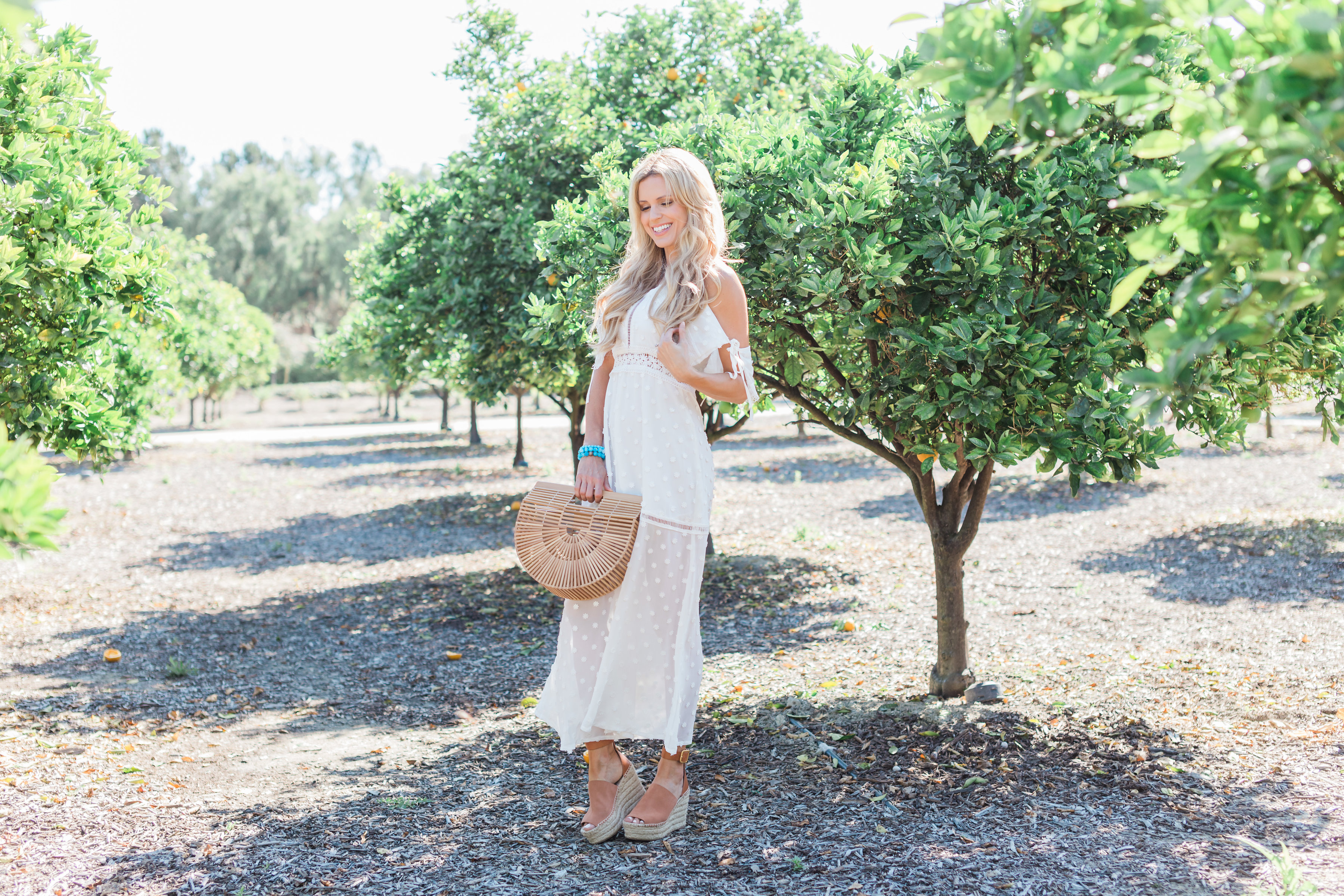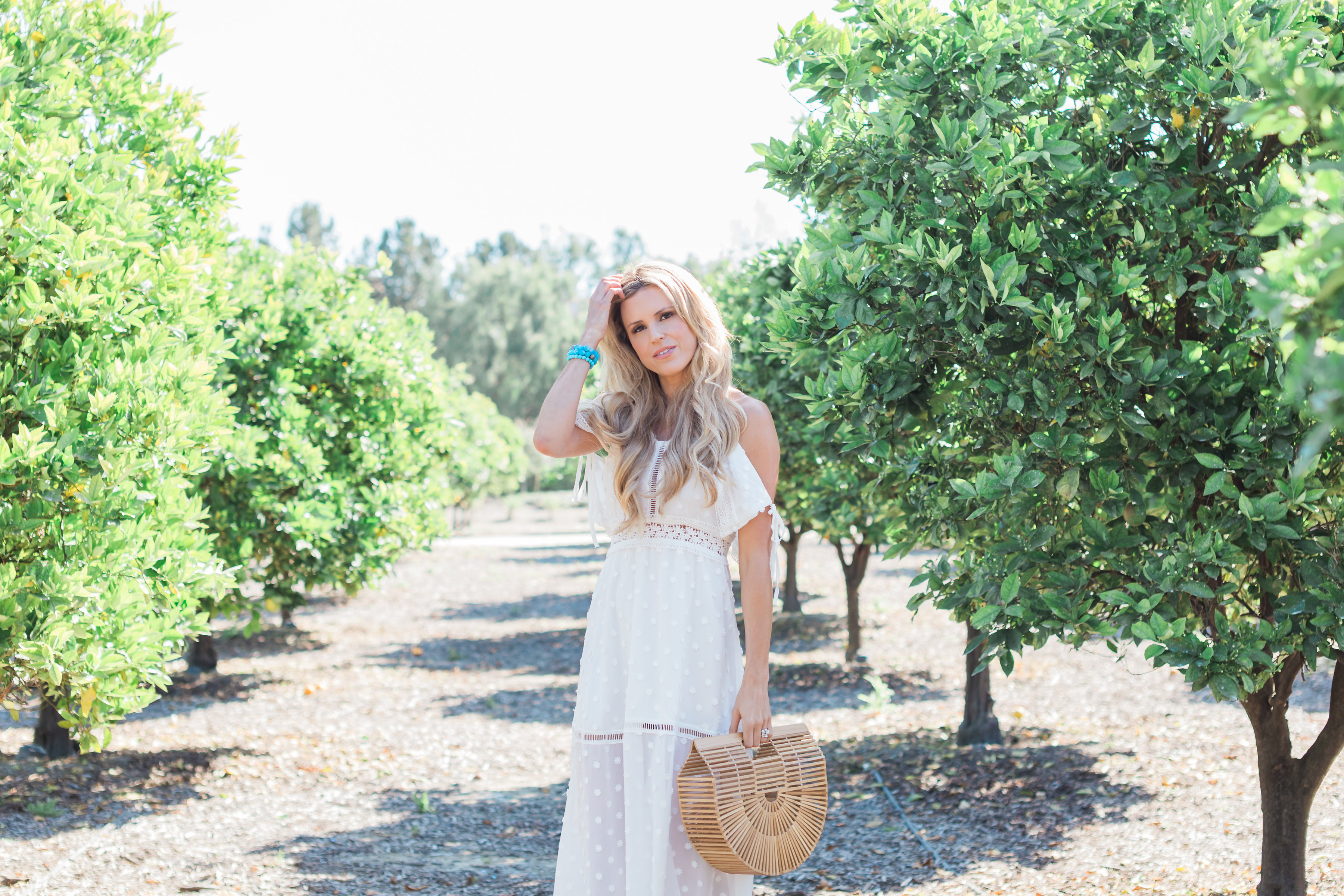 Dress: Lioness Sway with Me Ruffle Dress (and here) | Bag: Cult Gaia Ark Bag, large size | Heels: Chloé Espadrilles (similar for less here and here) | Bracelets: Similar here
If I had to name the single hottest handbag to carry this spring season, it's Cult Gaia's Ark Bag. And the great thing is you can get one for around $140 or less (depending on the size). Just to forewarn, this bag sells out at lightning speed. And because demand is so high, they recently raised their pricing. I am carrying the large size (will discuss sizing here in a bit), and I paid $95 at the time. And today the price is $138. STILL, at least it won't break the bank like a Gucci!
This bag is definitely a conversation piece. I went on a group date night this past weekend, and my bag was a hit. Everyone was passing it around to check it out, and even the guys seemed interested haha. All the men in our group are very metro. 😉
Let's chat about sizing. I am one of those people that overanalyzes the tiniest little details. Case in point- whether to get the small or large size of this bag. Here are the exact measurements taken from the Cult Gaia website:
SMALL: 11″ x 8″ x 3″
LARGE: 12.5″ x 10.5″ x 4″
After much internal dialogue and then debating the pro's and con's with my poor husband, I ordered the smaller size back in November. Keep in mind, we were about to head into winter and I had ZERO need for this bag. But I randomly saw that it came available and didn't want to miss the opportunity to get it before it sold out again. When something sells out, I want it just that much more. UGH.
After all that, I ended up sending the small size back and re-ordered in the large. There's really not too much of a difference in the sizes, and that's why I had such a hard time deciding when looking at comparison photos on the internet and Instagram. I guess I feel like the large can be used as both a handbag and a small beach tote. The smaller size is definitely more of a clutch/handbag. Honestly I kind of want both! I am a little over 5'8″ tall so I feel like the large size doesn't overwhelm me. If you are petite, maybe go for the smaller one!
You can get the Gaia's Ark bag at a few places like Shopbop and Need Supply, but the only place I see them in stock right now is here! It is truly one of my favorite bags right now, and I LOVE how it looks with dresses. It really is the perfect spring bag, and I feel like it goes with almost all out the outfits I've been wearing lately. If you don't believe me, just check out my Instagram. I just ordered this pom pom accessory which I think will look so cute with this bag.
Before I leave you to the rest of your beautiful Monday, a quick work about this little white dress. To be completely honest, I have way too many white dresses and don't really need even one more haha. So it takes a really special one to catch my eye and make me order. This dress is even more beautiful in person, and it's under $100! The detailing is SO PRETTY! What almost looks like polka dots in the photos are actually little flowers. The back of this dress is so gorgeous too… you can see that here! This dress is so great for Easter or bridal shower and spring in general. I just love and think you will too!
Thank you so much for supporting my blog by stopping by. I wouldn't be able to do this without you. And I am so grateful! Wishing you all a brilliant week! xo
Photos by Gabi Wells.