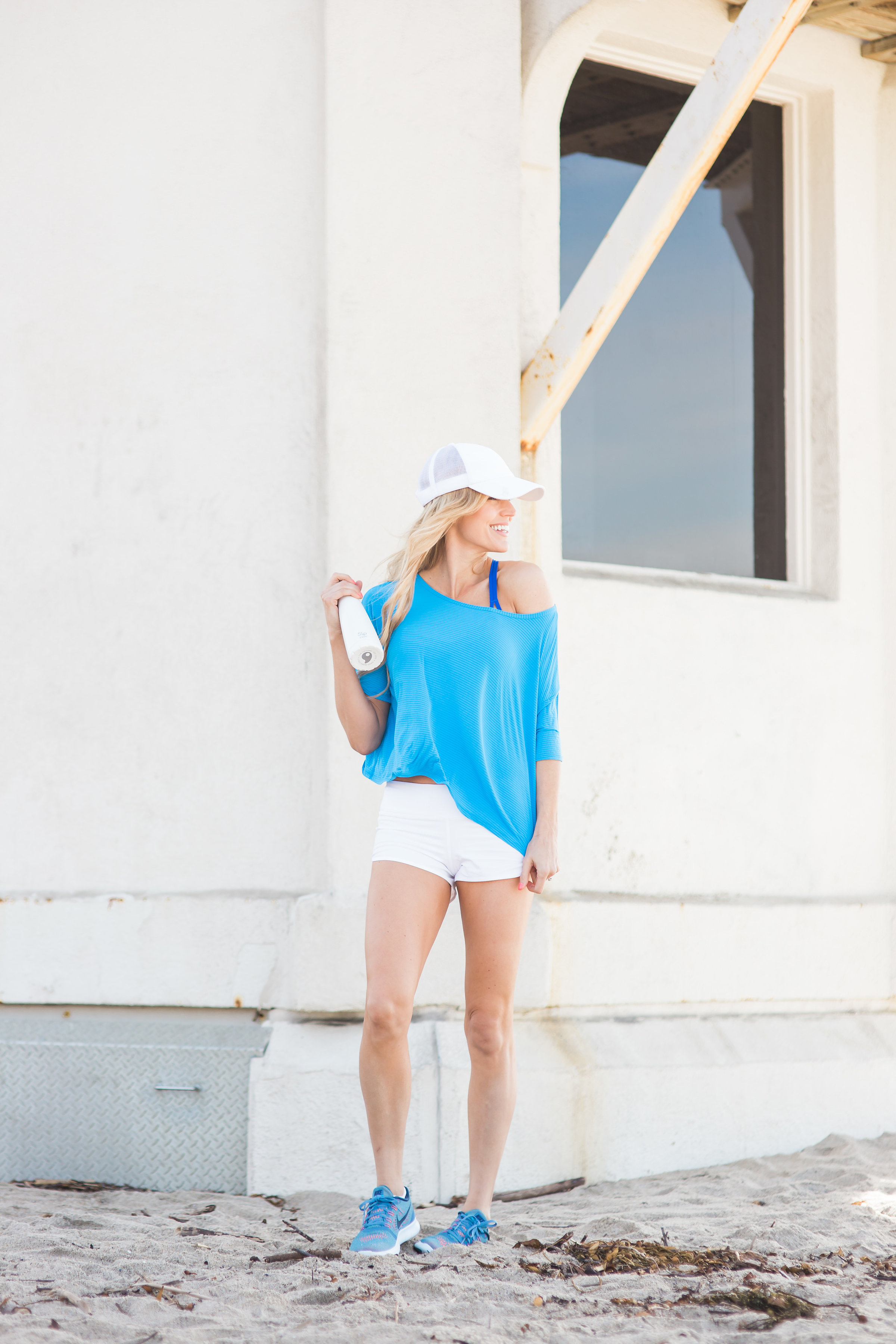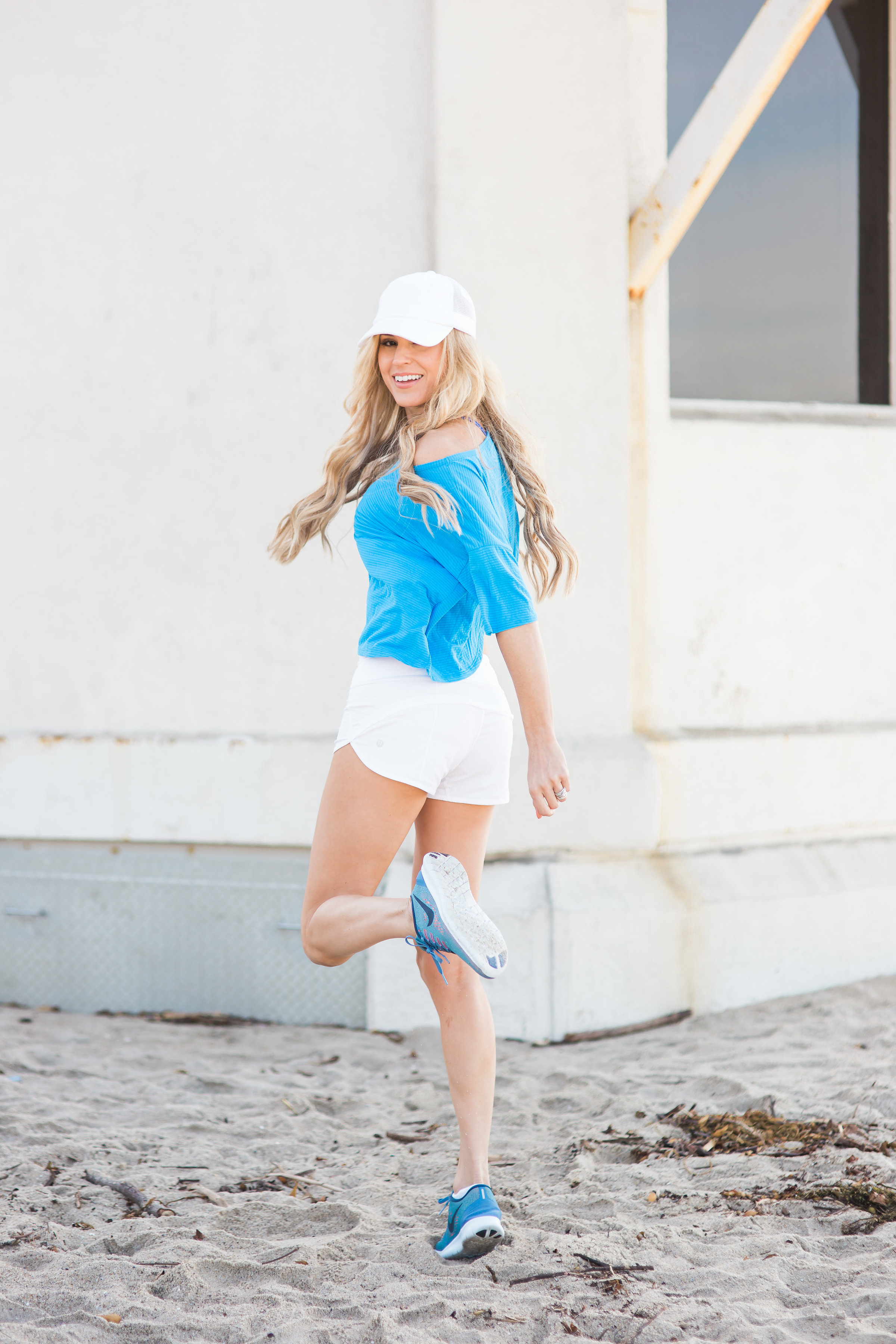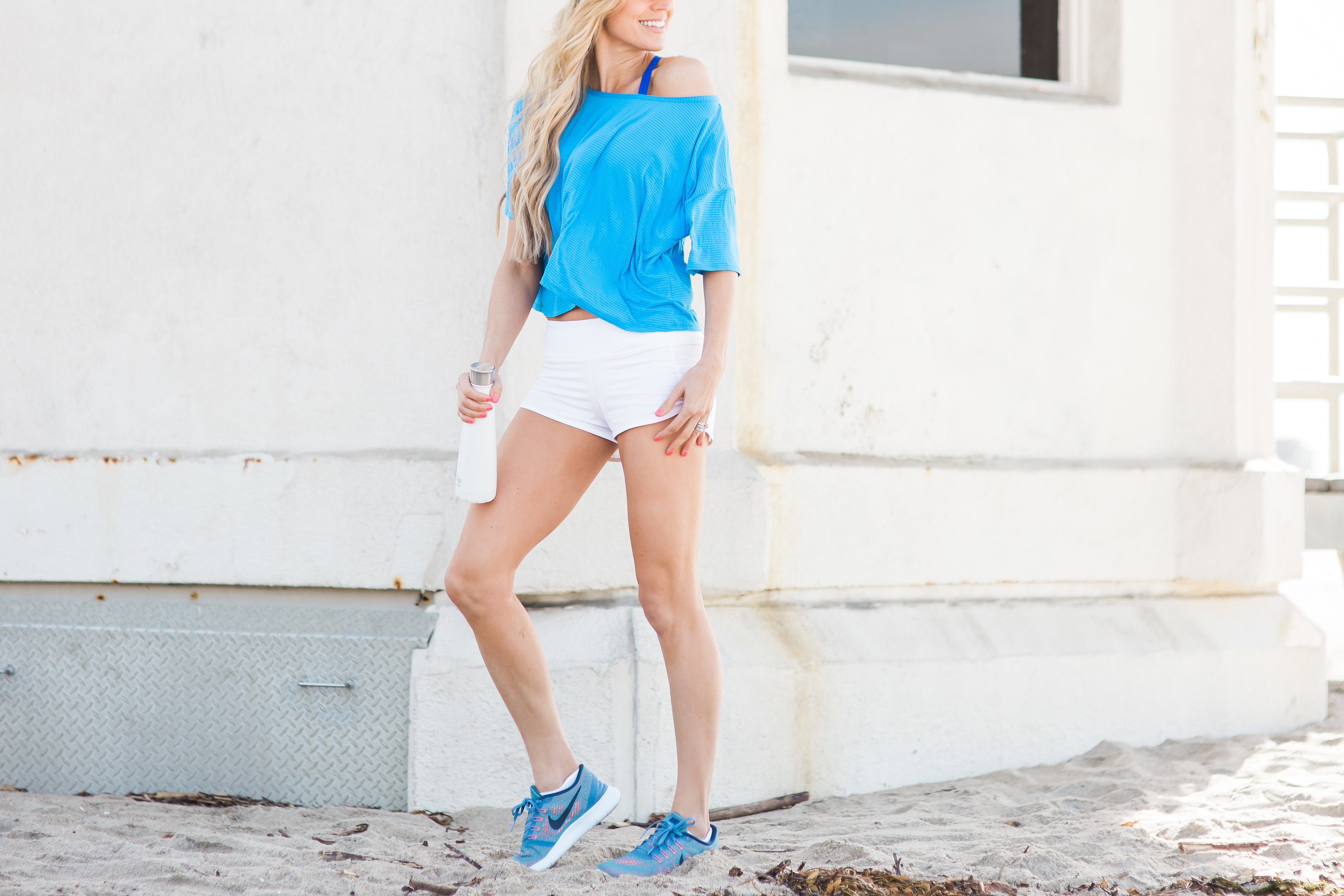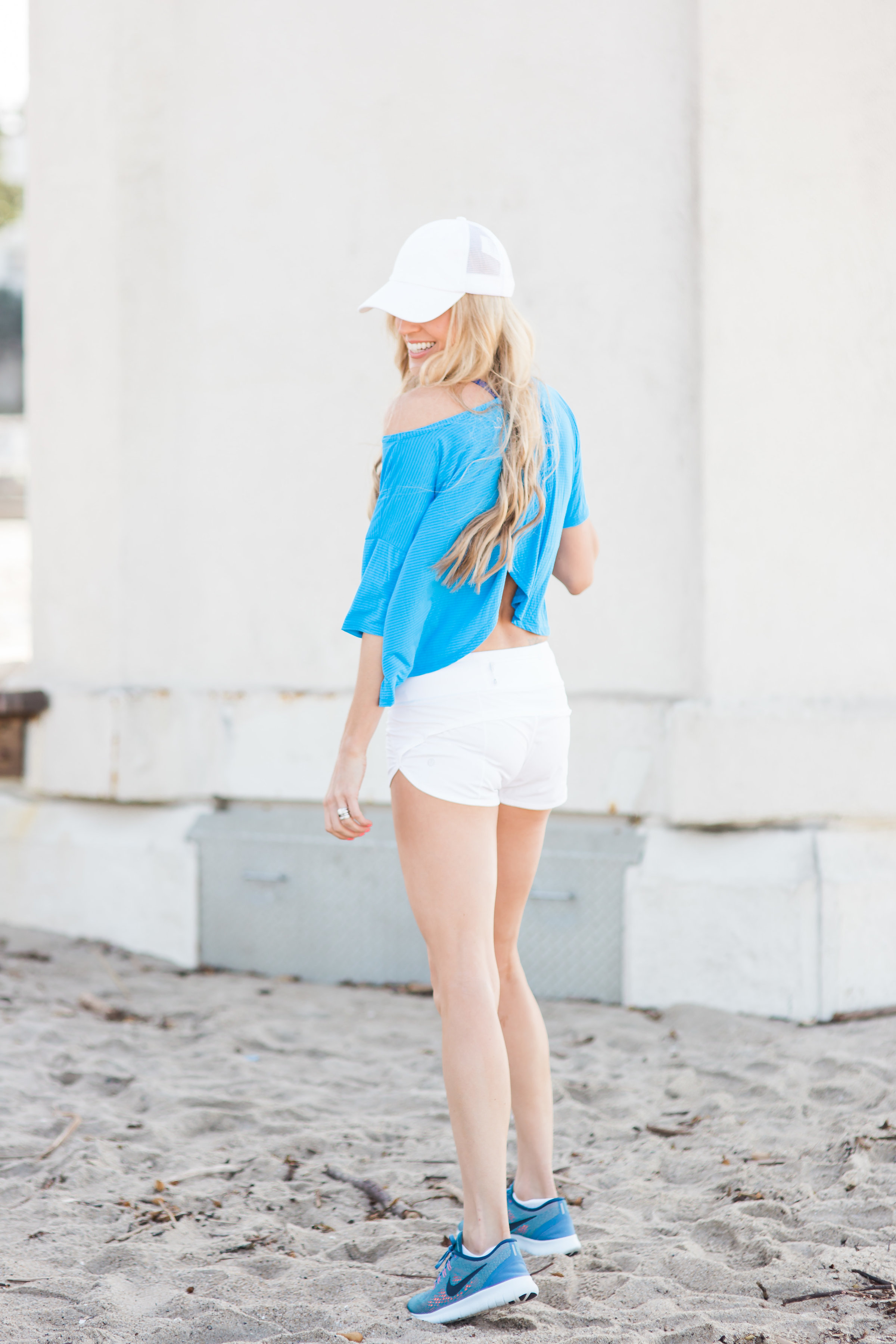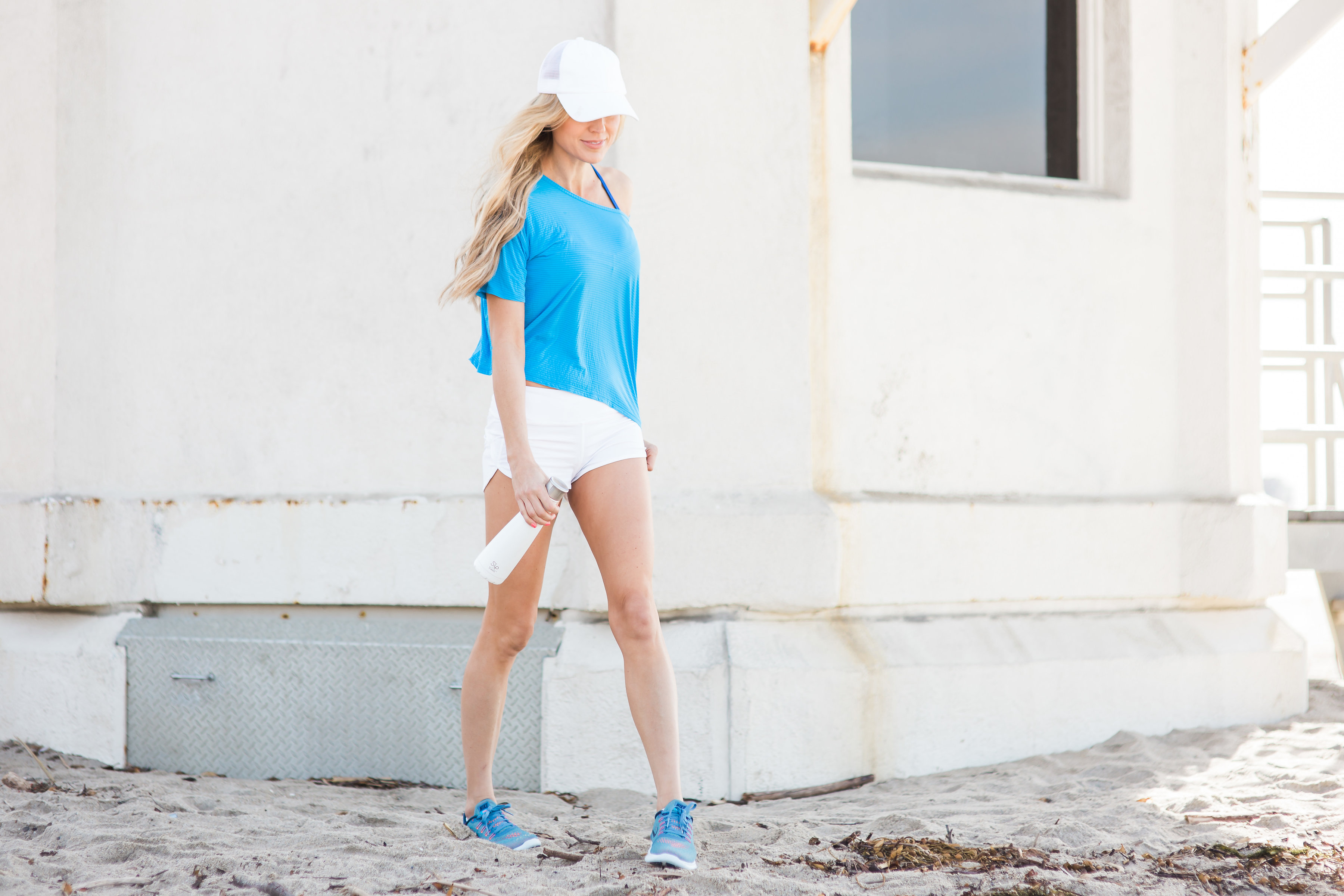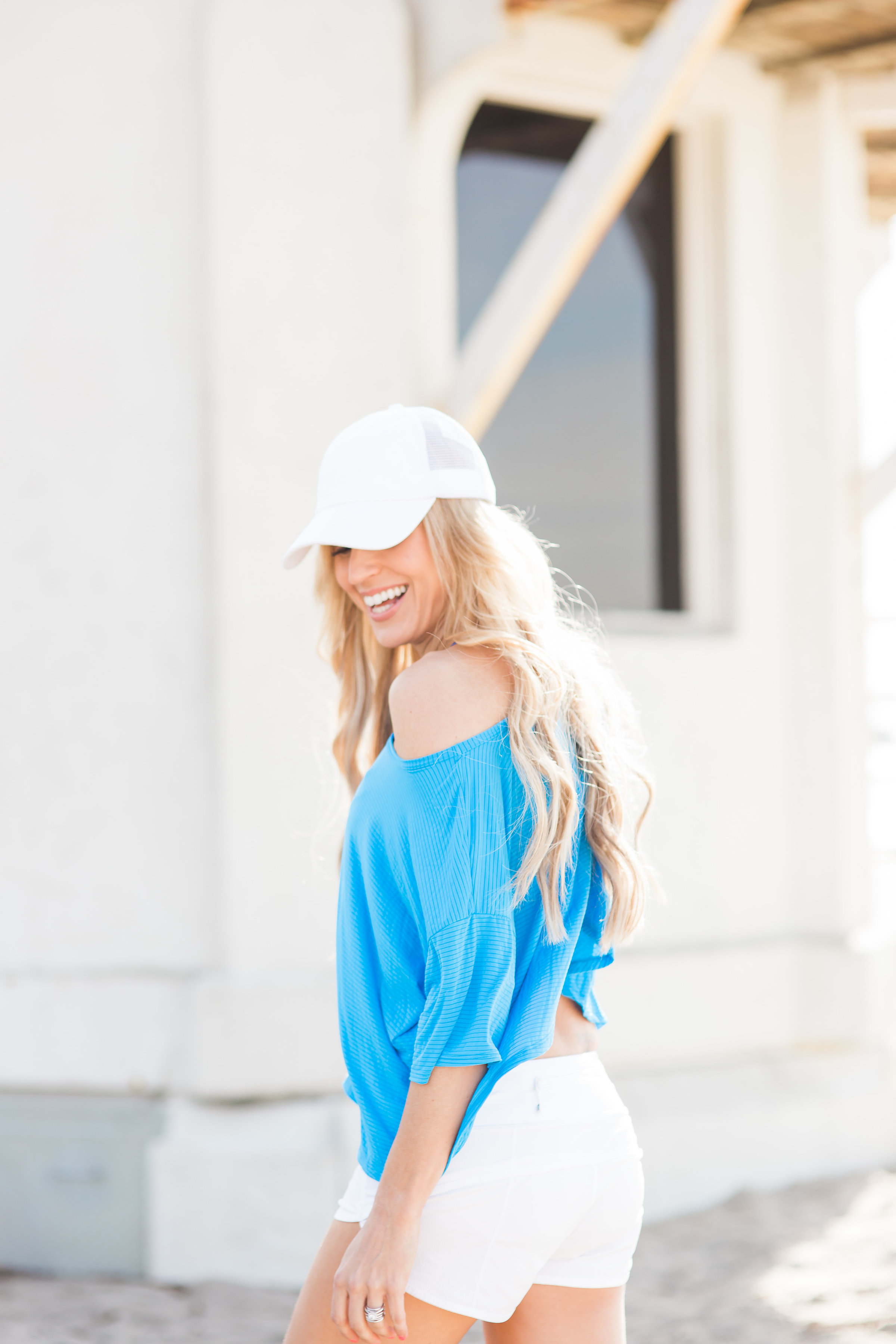 Top | Bra (favorite sports bra) | Shorts | Sneakers | Hat | Bottle (keeps water SO cold!)
It's been a while since I've done a fitness post so I'm excited to share a fitness update with you guys! And in case you missed my last fitness post, you can catch it here.  In that post, I admitted that I'm an all or nothing type of person when it comes to exercise… either I am totally into working out and going all the time (at a 110 miles an hour) OR I quit all-together. True to form, actually shortly after I wrote that post… I took a complete break from working out.
I had every excuse why I couldn't work out- too busy, the holidays, too hard when you have a kid… The list went on and on. Luckily when the new year rolled around, I had that drive to hit the gym again. I have been working out regularly at Orangetheory Fitness in Mission Viejo since January, and my results have come faster than ever before. I have a fun Q & A below with the most common workout related questions I get AND the secret to my recent success. And it's random I tell you! 🙂
But first…
Before I jump into the Q & A, I wanted to share something important… Orangetheory Fitness is currently running a national fundraiser to raise money for ALS. ALS is a progressive neurodegenerative disease, also known as Lou Gehrig's disease. As the disease progresses, people lose the ability to move or even speak while their brain remains intact. There is currently no cure. This weekend, I am participating in the fundraiser in a special 90 minute class to help Burn for a Cure. You don't have to take the class to participate.
If you would like to contribute to the cause, you can contact my local Orangetheory at (949) 335-7600 and give your information over the phone OR  click here. Every dollar counts! The more I read up on the disease, my heart goes out to those affected and their families. I am excited to partner with Orangetheory to promote this cause.
FITNESS Q & A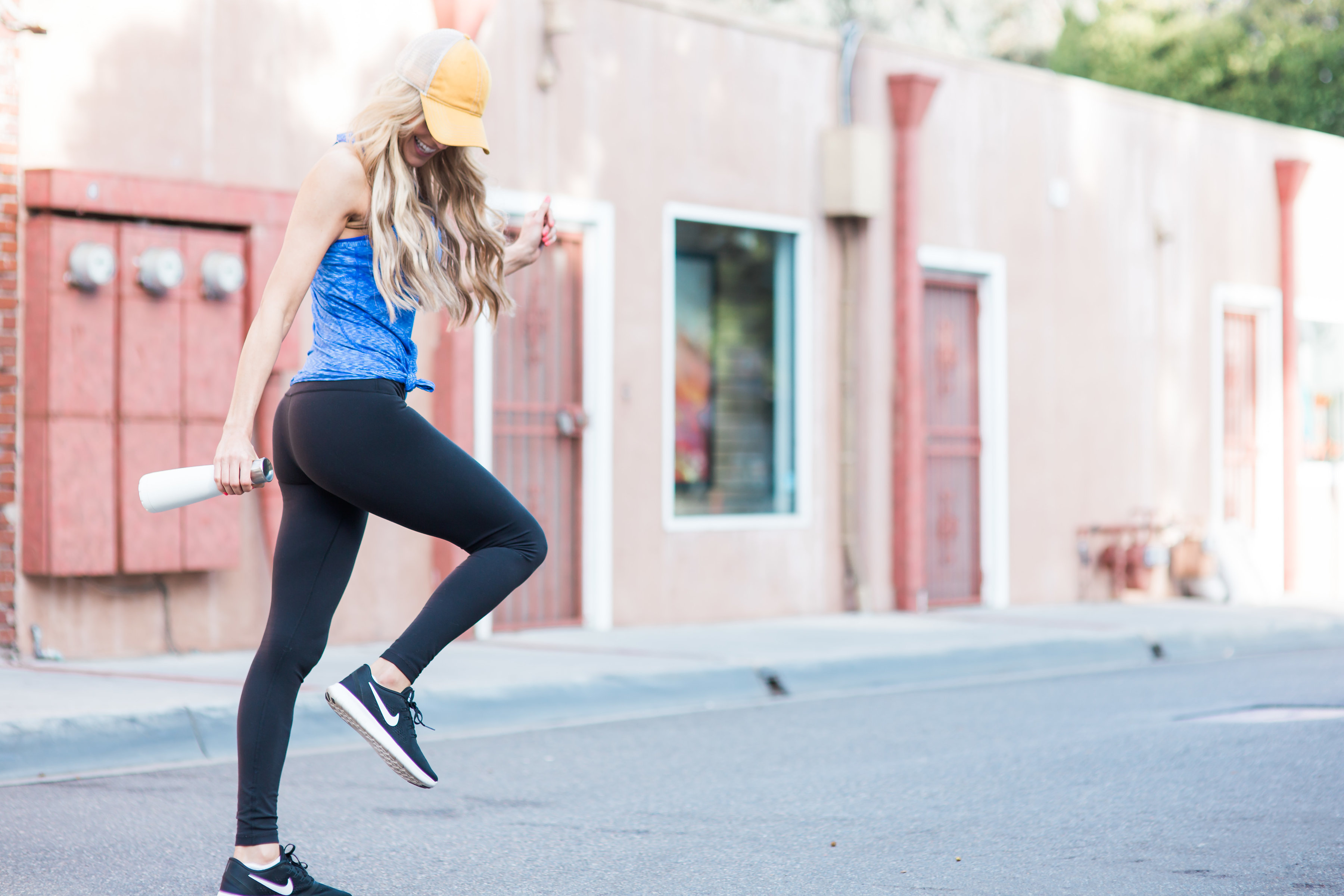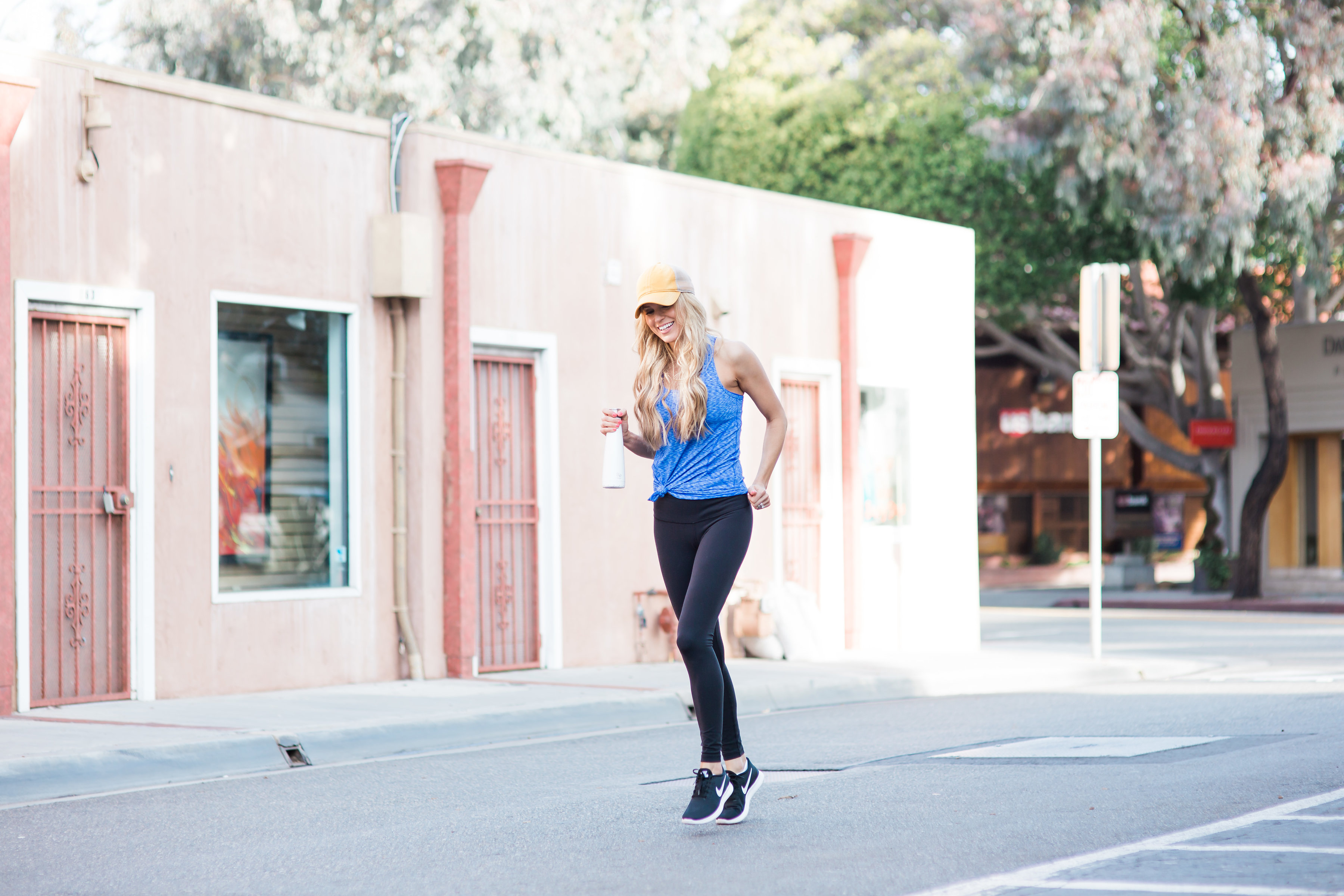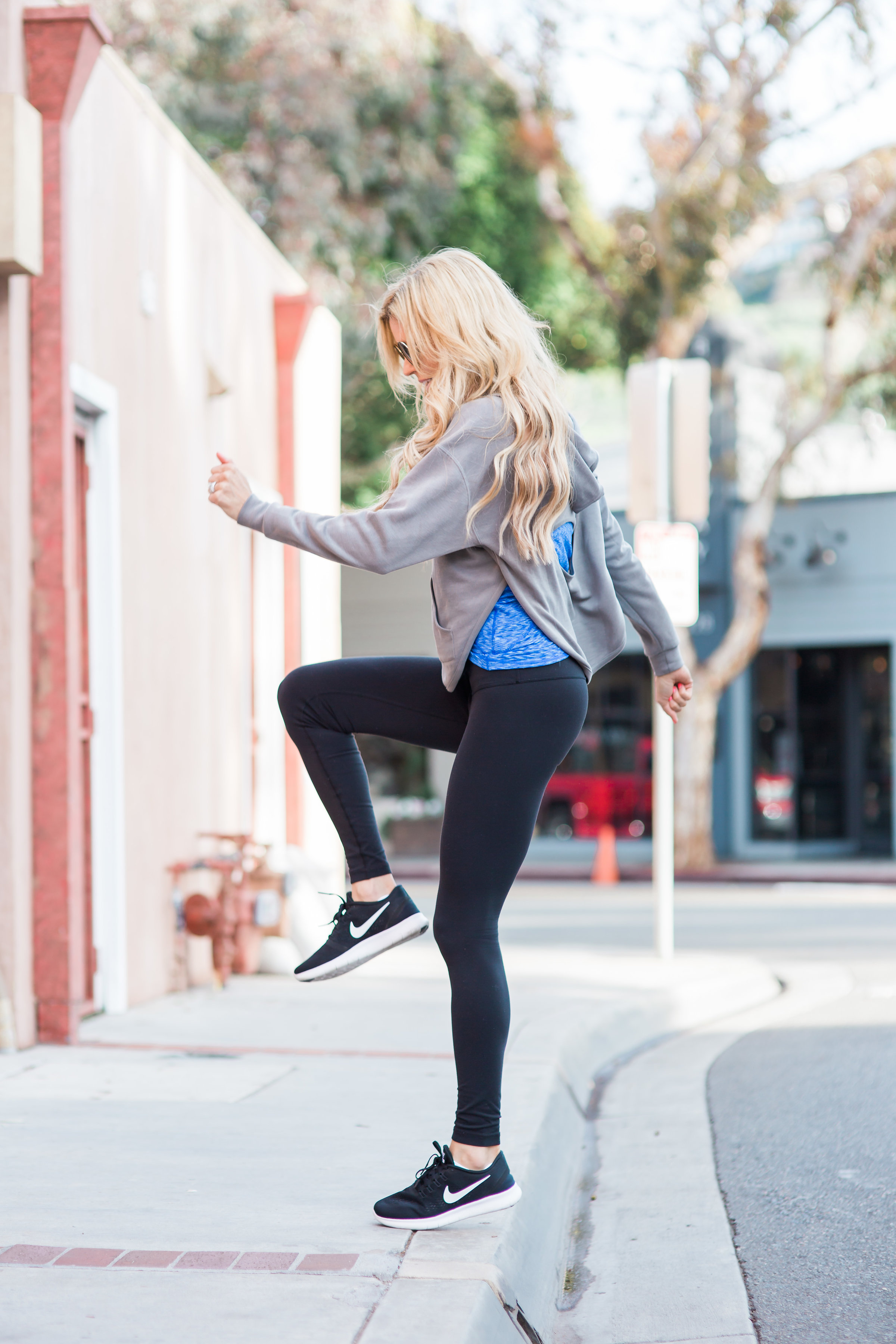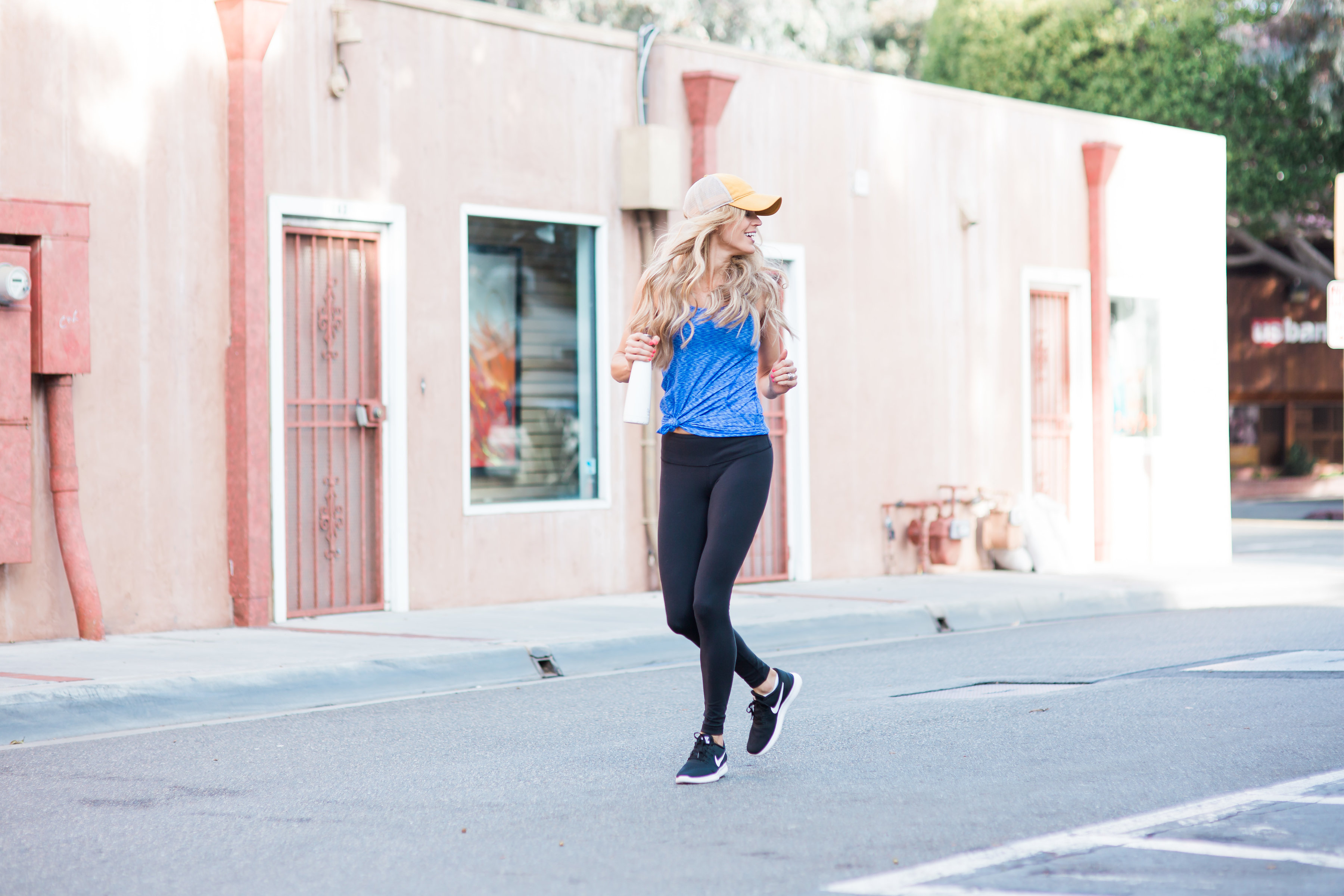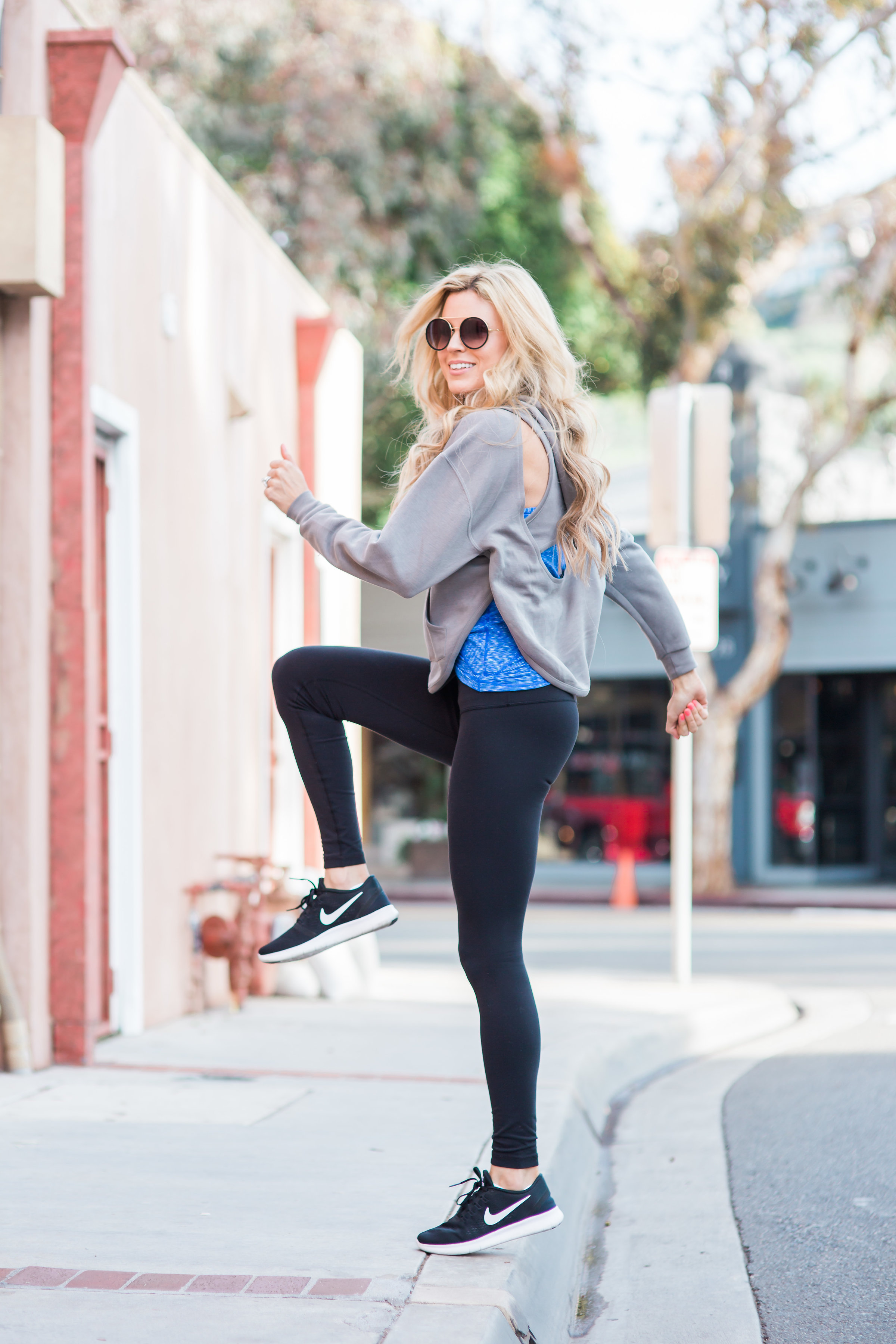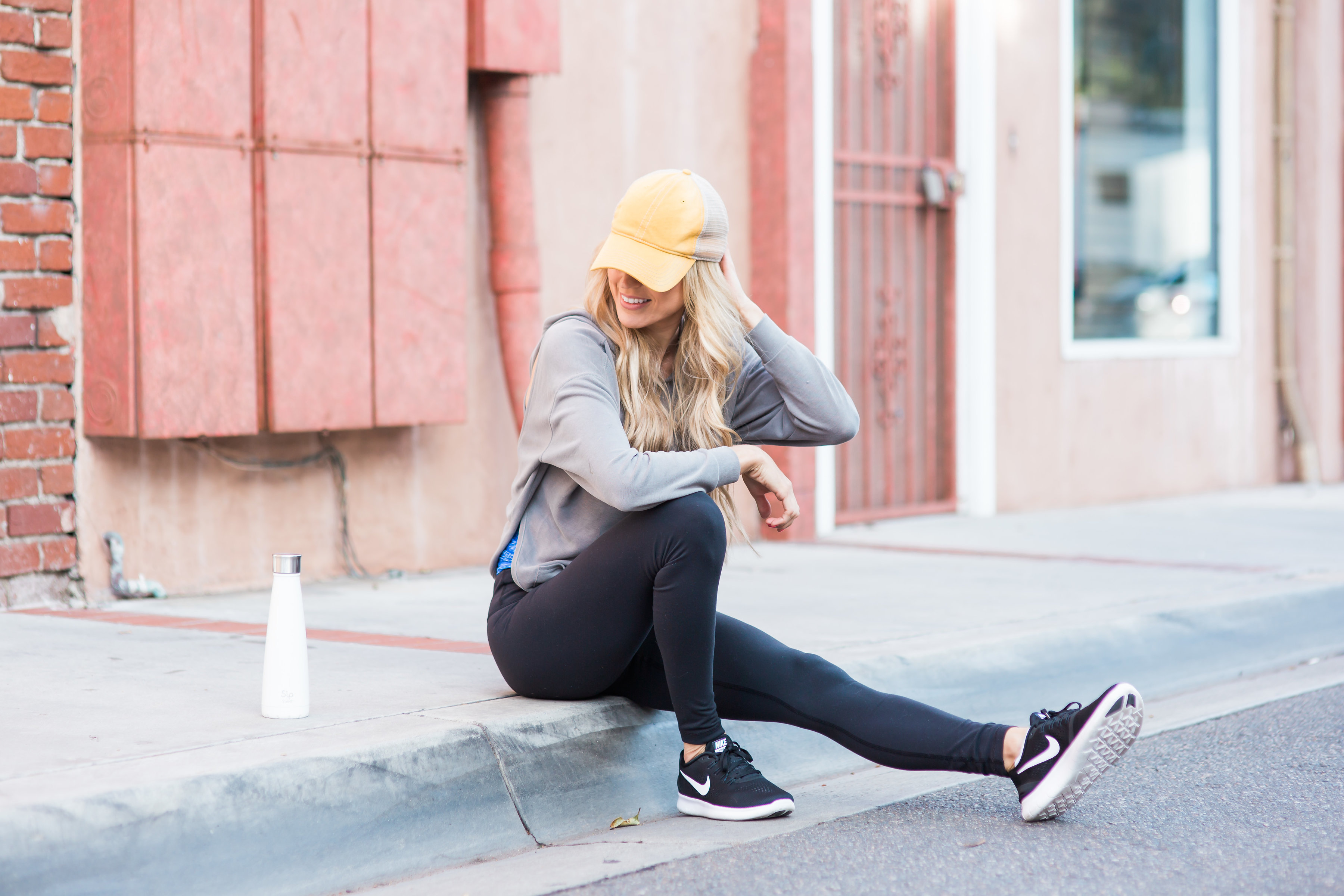 Hoodie | Tank | Leggings | Sneakers (favorite sneakers!) | Hat | Sunglasses | Bottle
How often do you work out?
Right now I am working out 4-5 times a week. We have a Hawaii vacay planned in early March so I am trying to hit the gym 5 times a week to prepare for that. After Hawaii, I will probably bump back down to 4 times a week. Thursday and Sunday are my rest days. I shoot photos for my blog every Thursday and Friday so it helps as far as hair washing and beautifying goes to skip work-out's those days.
What are your tips for post-workout hair?
I have a LOT of hair… most of it not really mine. haha. That struggle between wanting to work out and not wanting to mess up your hair. #girlprobs I got this question on my Instagram and it stumped me for a second. Basically I throw my hair back in a ponytail and forget about it. I really don't find that my hair gets very sweaty and gross. My hair is more on the dry side but if I was prone to oily hair I would use a dry shampoo. I plan my workout schedule around when I need my hair to look good and popping haha.
What is your vacation prep?
I am trying to keep it simple, without too many rules so that I can actually follow through. In the two weeks before the trip, my goals are:
Exercise 5 times a week at Orangetheory
No alcohol. Not that I am a big drinker but I like my wine while I make dinner and this is going to be HARD.
No food after dinner. I have a habit of snacking after dinner and this is going to be another tough one for me.
And that's it! I had considered eliminating sugar, chips, and soda from my diet and I will keep those things to a minimum. I figure the no wine or snacking after dinner will be sufficient with my heavy work-out schedule. I love Coke Zero but haven't had any in a few weeks anyway. As long as I don't buy it at the grocery store, I'm good. I read something that stuck with me- say no at the grocery store once or to your pantry all day long.
What's your favorite thing to wear while working out?
Shorts! I haven't been able to wear shorts lately because it's actually been pretty cold in Orange County, but I definitely prefer to wear shorts over fitted leggings. They feel so airy and breezy and free. We do a lot of treadmill work at Orangetheory and I just feel like it helps to wear shorts. I usually wear the Lululemon speed short but I actually love these Forever 21 shorts just as much. They look identical to Lululemon's for a fraction of the price. People are always asking me if they are Lululemon. The shorts may seem short but they have built-in underwear so I feel covered.
Because it's been chilly, I've been wearing leggings and I'm obsessed with these! The waist line stays put and has a great compression factor. They are seriously my favorite!
Why do you love Orangetheory?
Let's be honest… the reason I work out is for the results. I have gotten the best and fastest results from working out at Orangetheory Mission Viejo than any other exercise that I have tried before. The class is a combination of weight training and cardio, and I feel like you need both! I have worked out one-on-one with a personal trainer in the past where we did weights only and I was supposed to do cardio on my own time… and it never happened. You spend half the class at OTF doing treadmill work, and the trainer pushes you way beyond where I would push myself. I also find I work out better in a group training setting than on my own. If I work out on my own, I give up way faster, but at Orangetheory everyone just keeps moving so I do too. You can read more about my love for Orangetheory in this post.
What is your secret fitness tip?
I've only been working out regularly since January, and I swear my results are the best they have ever been. There are two reasons why. One- I did a personal challenge of 7 workouts in 7 days (check it out on my Instagram). I completed 6 OTF classes with a 1 day planned break halfway through where my workout was a walk. Honestly this was really aggressive. The workout at Orangetheory is HARD, and looking back this was HARD. I am not a licensed trainer or nutritionist so make sure you talk to your doctor or gym before trying this for yourself. 🙂 But damn, it worked!
Two- wear a cropped shirt while you work out. But no really! So I had a photo shoot the other day and was hitting Orangetheory afterward. I grabbed a new workout top that came in the mail that day and didn't try on. I didn't realize how cropped the top was until I changed into my workout clothes at Orangetheory, and it was the only shirt I had with me. I used to wear a longer tank or tee to work out in, but now I have completely switched to fitted and cropped tops. The first class that I wore my cropped top in was a-w-k-w-a-r-d… I just wasn't used to showing my midsection while working out, and I was constantly sucking in my stomach. That's the thing…. if your tummy is showing you are more likely to suck it in. It's that whole keeping your core tight thing. My stomach muscles have never been this strong or defined. Just make sure you go for the high waisted compression leggings. 🙂
For my body type, all my weight gain goes to my midsection while my arms and legs stay thin. My abs have never been tighter and the only thing I have changed is wearing a shorter top! And I've never heard this tip before so thought it was kind of cool.
I hope you all have a very Happy President's Day… thank you for stopping by! And don't forget you can contribute to the Orangetheory ALS fundraiser by calling (949) 335-7600 or clicking here. No dollar amount is too small!
xo
Photos by Gabi Wells.
In collaboration with Orangetheory Fitness Mission Viejo. All thoughts and opinions are my own.