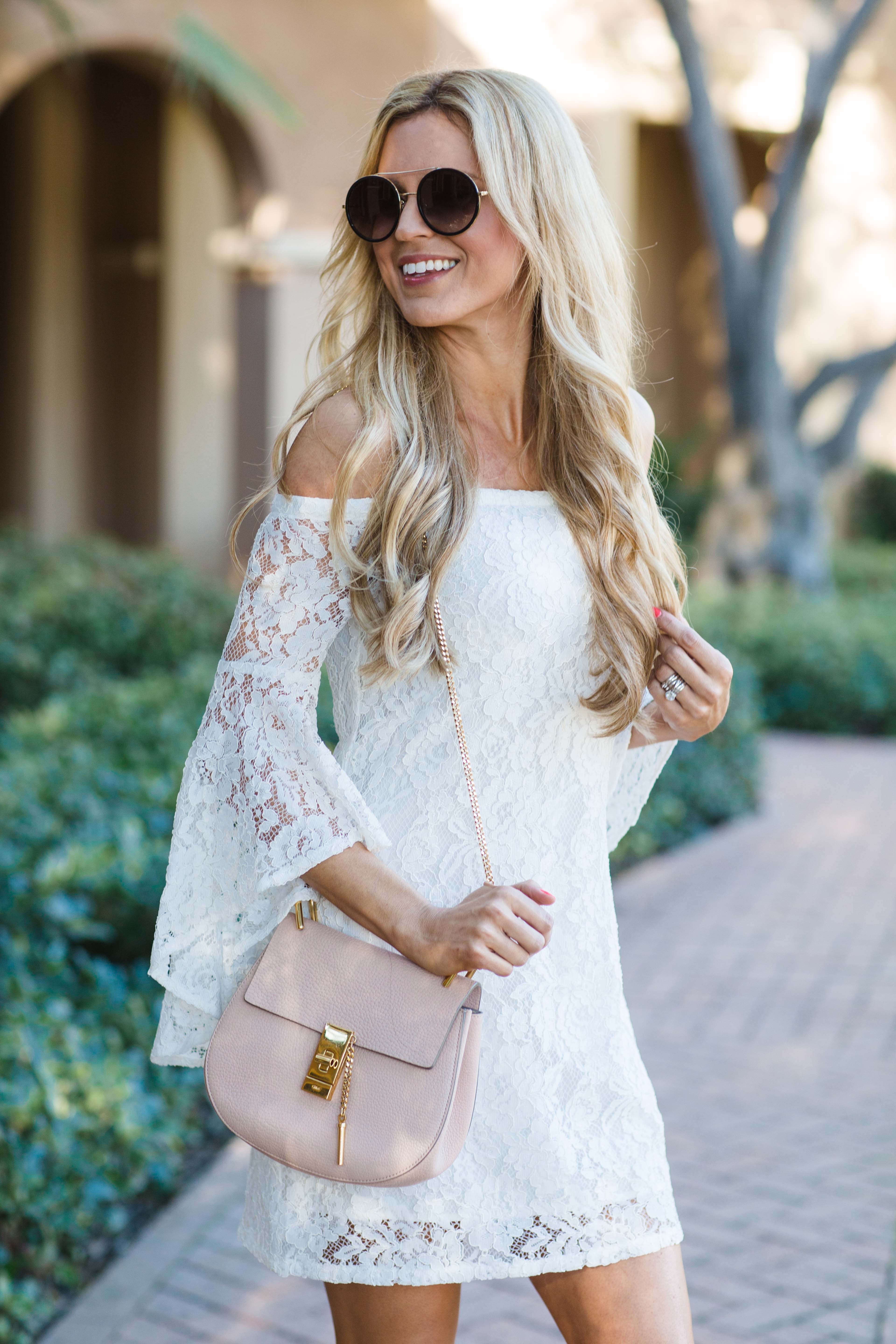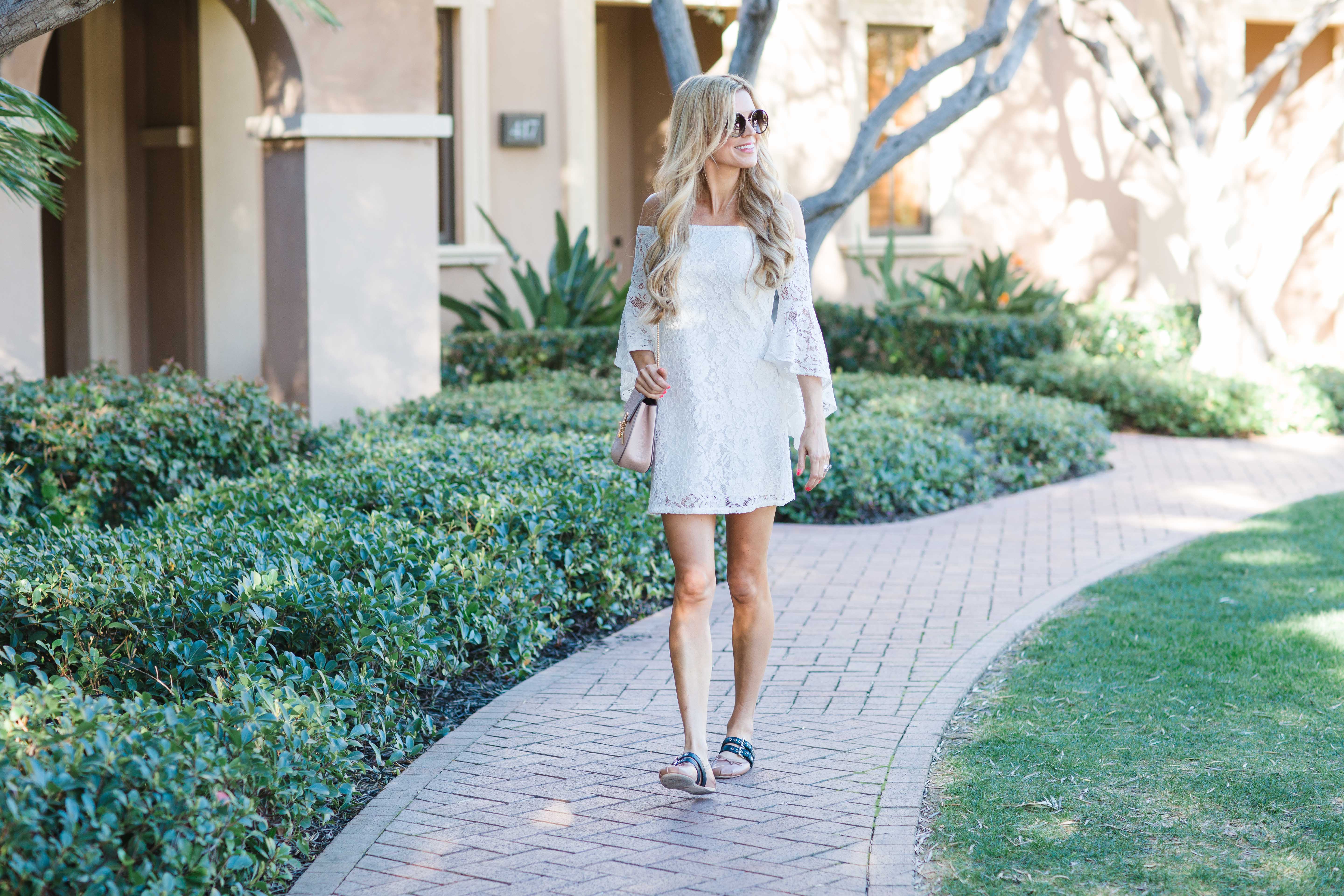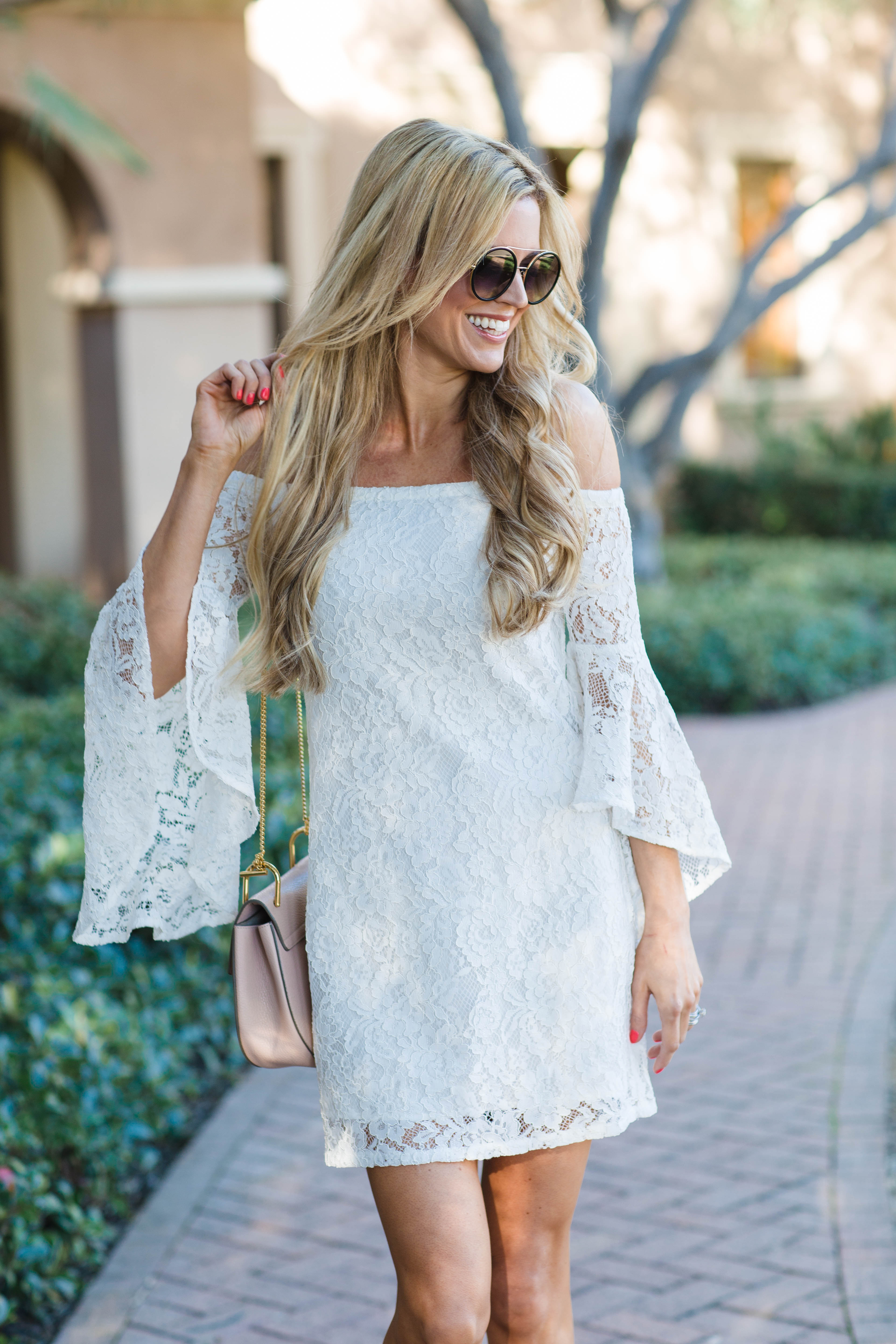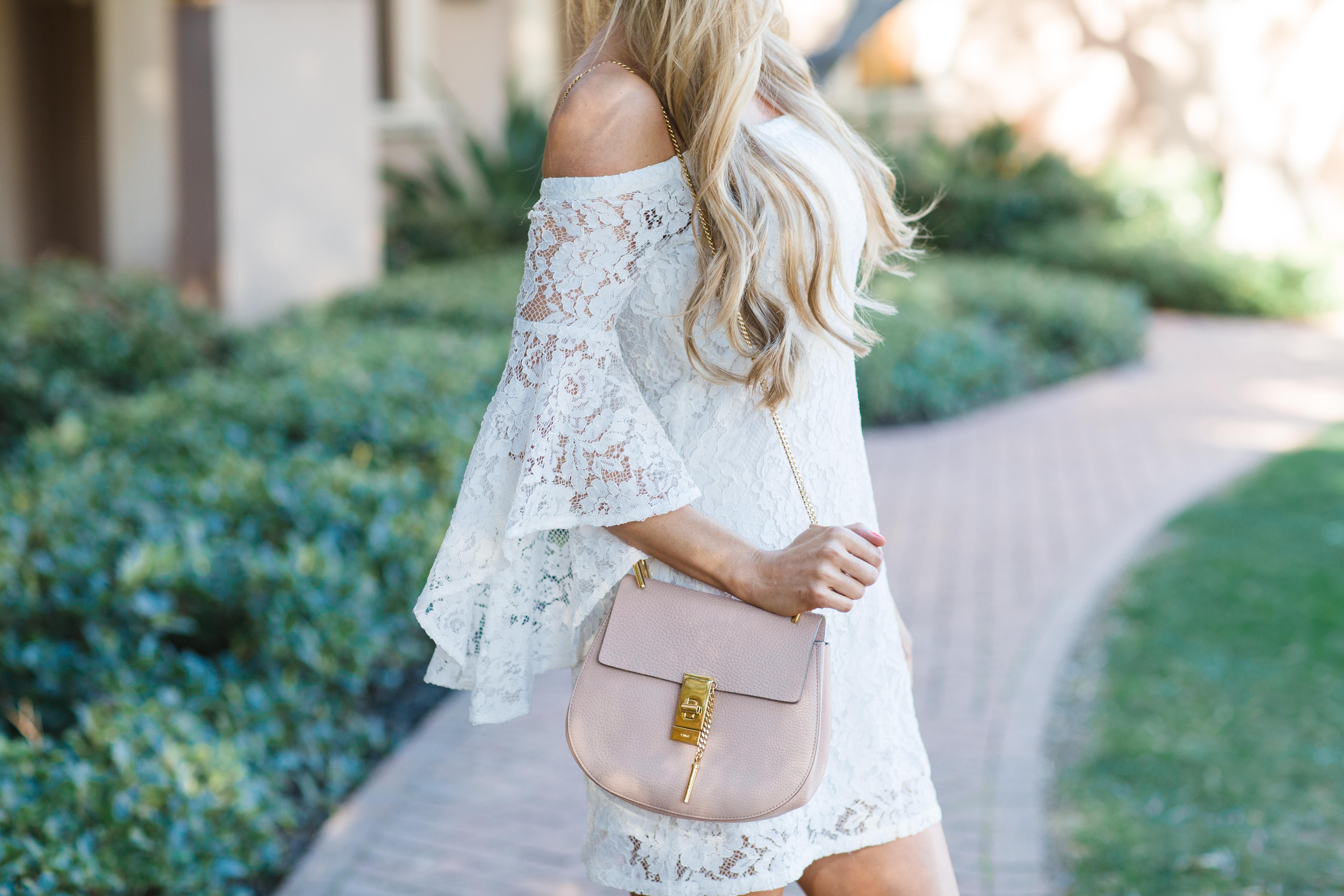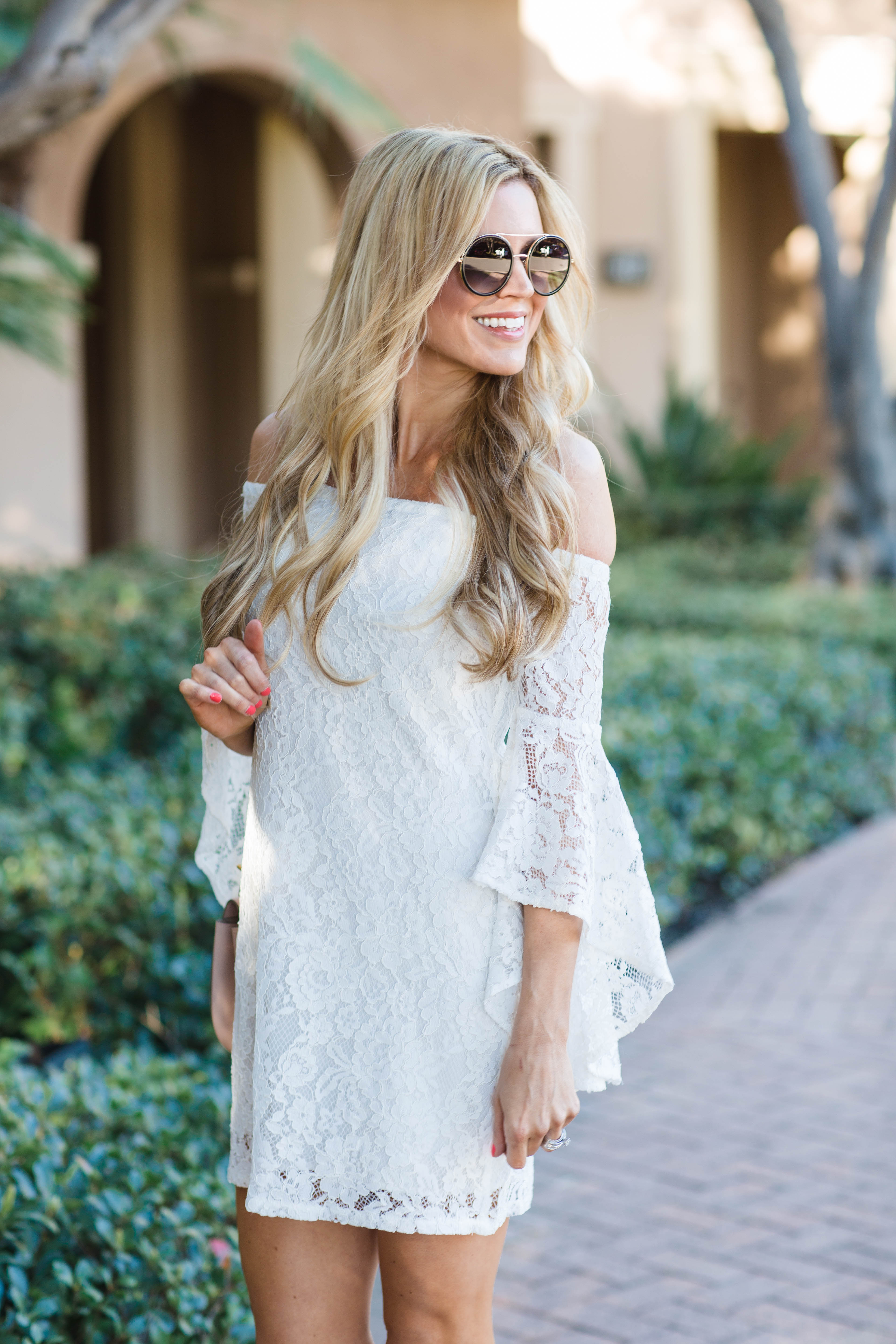 Dress: WAYF Off-the-Shoulder Lace Dress (and here) c/o | Bag: Chloé Drew | Flats: Miu Miu Lace-Up Ballerina Flats (similar style for less here) |  Sunglasses: Gucci Round Sunglasses (similar style for less here)
Happy Valentine's Day my loves! Nothing like Valentine's Day on a Tuesday, am I right? We plan on keeping things pretty low-key tonight and making a special dinner at home. If you don't have a Valentine this year, there's no better day to buy a treat for yourself! This off-the-shoulder dress is seriously so perfect for spring and summer. What really makes it special is the bell sleeves! They are so dreamy in the lace!!! I love a good dress that's under $100 because let's face it… unless it's a house dress (see my favorite house dress here), you can't wear it all that often. Not only is it obvious that you are wearing same thing over and over, but it gets kind of boring.
Just a small note- you should definitely consider sizing down a size in this dress. I am wearing an extra-small and feel like the small would have been way too big. It is my personal opinion that this dress is running one size large.
I am curious if you guys are watching The Bachelor and what you think! I only watched about half of last night's episode, and it's going to be hard to function throughout the day without finishing it! Going into this season, I was on the fence with how I felt about Nick. He won me over a little on Bachelor in Paradise, but now I am not so sure how I feel again. He doesn't seem to be a whole lot of fun on the dates and seems super awkward and uncomfortable. As far as the girls go, I am obsessed with Raven, and I really like Vanessa for Nick. Who are you guys rooting for?
Wishing you all the best Valentine's Day!!! xo
Photos by Taylor Cole.