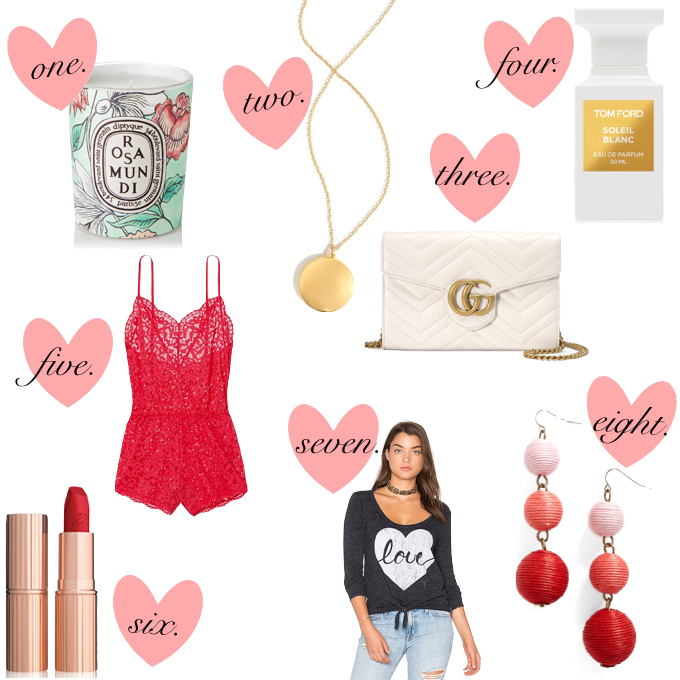 one. | two. | three. | four. | five. | six. | seven. | eight.
I have a major love for Valentine's Day.! It gets me through the post-Christmas blues knowing it is not too far off. With Valentine's Day, I always know that warm weather and dress season is right around the corner which is so exciting. Now that I am married to my Valentine, I almost feel like its Christmas again and get excited for my present. haha. If you are single, all the better reason to buy a lovely gift for yourself! As I am working on this blog post, I have the movie How to Be Single on in the background. It's one of those movies that gets funnier every time you watch it. Such a perfect movie to gather all your single girlfriends for movie night on Valentine's Day!
Diptyque is one of my all-time favorite candle brands. I am a candle fanatic, and also a bit of a candle snob. Diptyque candles are beautiful and strong. Despite its size, the scent of the candle will fill a large space. This one is their limited edition, Valentine's Day scent. It is beautiful and on my wish list!
This locket would make a great, personalized gift for someone you love. I feel like lockets used to be so popular when I was younger. I love the idea of lockets and carrying around a photo of those you love most close to your heart. This locket is simple and understated, and affordable too!
Gucci made a major comeback to the fashion world, and it is the designer handbag to carry. Right now, the white leather version is the one to carry. I have seen a lot of bloggers carry this camera bag version, and this oversized studded version. I personally love this one!
My husband bought me this fragrance for my birthday, and it is the perfect warm weather scent. Reminds me of beautiful days in the sun with beachy hair but in a totally sophisticated way.
I just picked up this red lace romper, and it is so cute for Valentine's night! I have been searching for the perfect red lipstick. Mind you I already own at least 5 tubes of red lipstick, but I can't. get. enough. Heading to the mall in a bit to try this one on in person!
This casual pullover is so cute for lounging and beyond. It looks really soft and comfy too!
These ombre earrings are perfect for Valentine's date night. I also love this pair!
Thanks for stopping by, and have a great week! XO