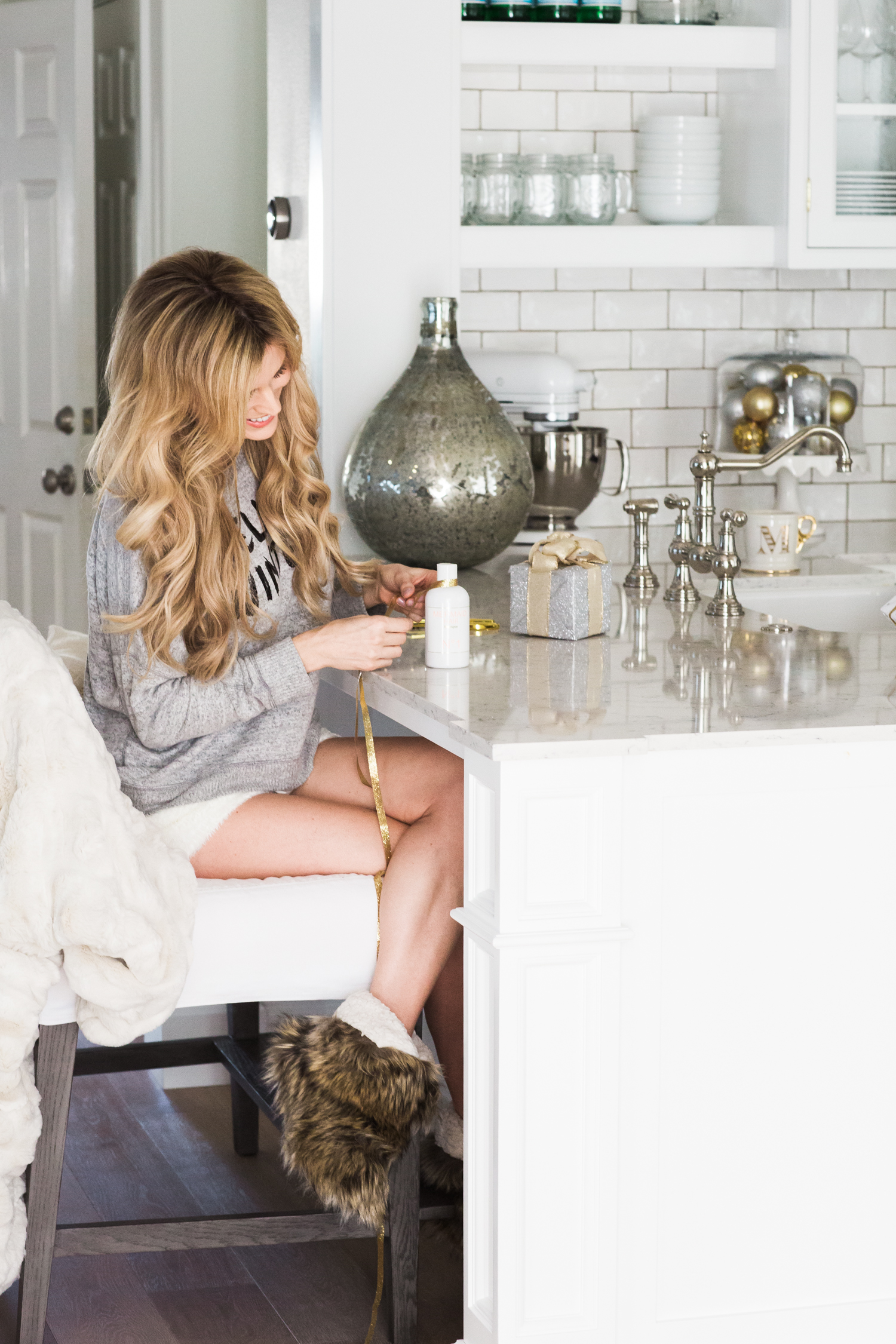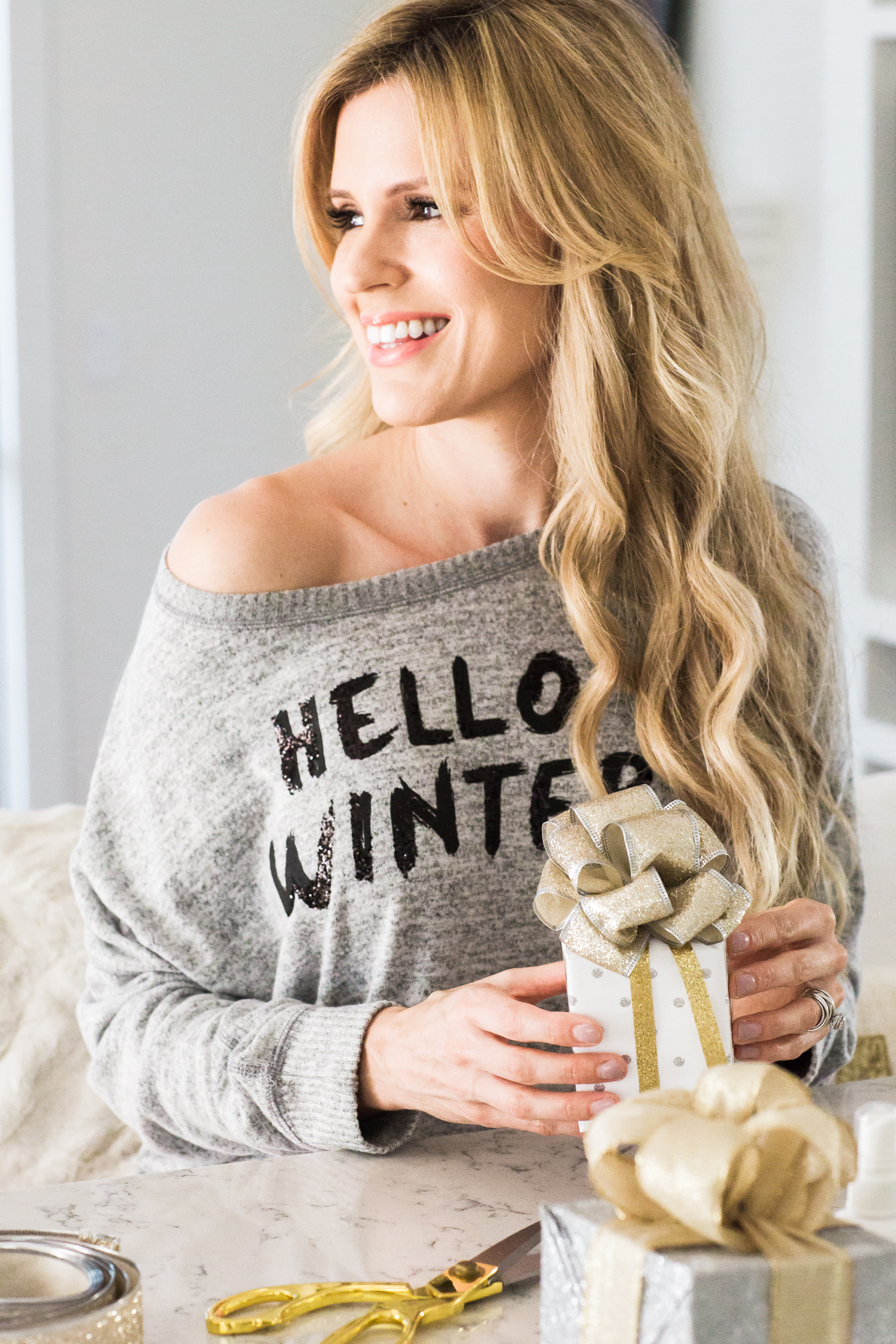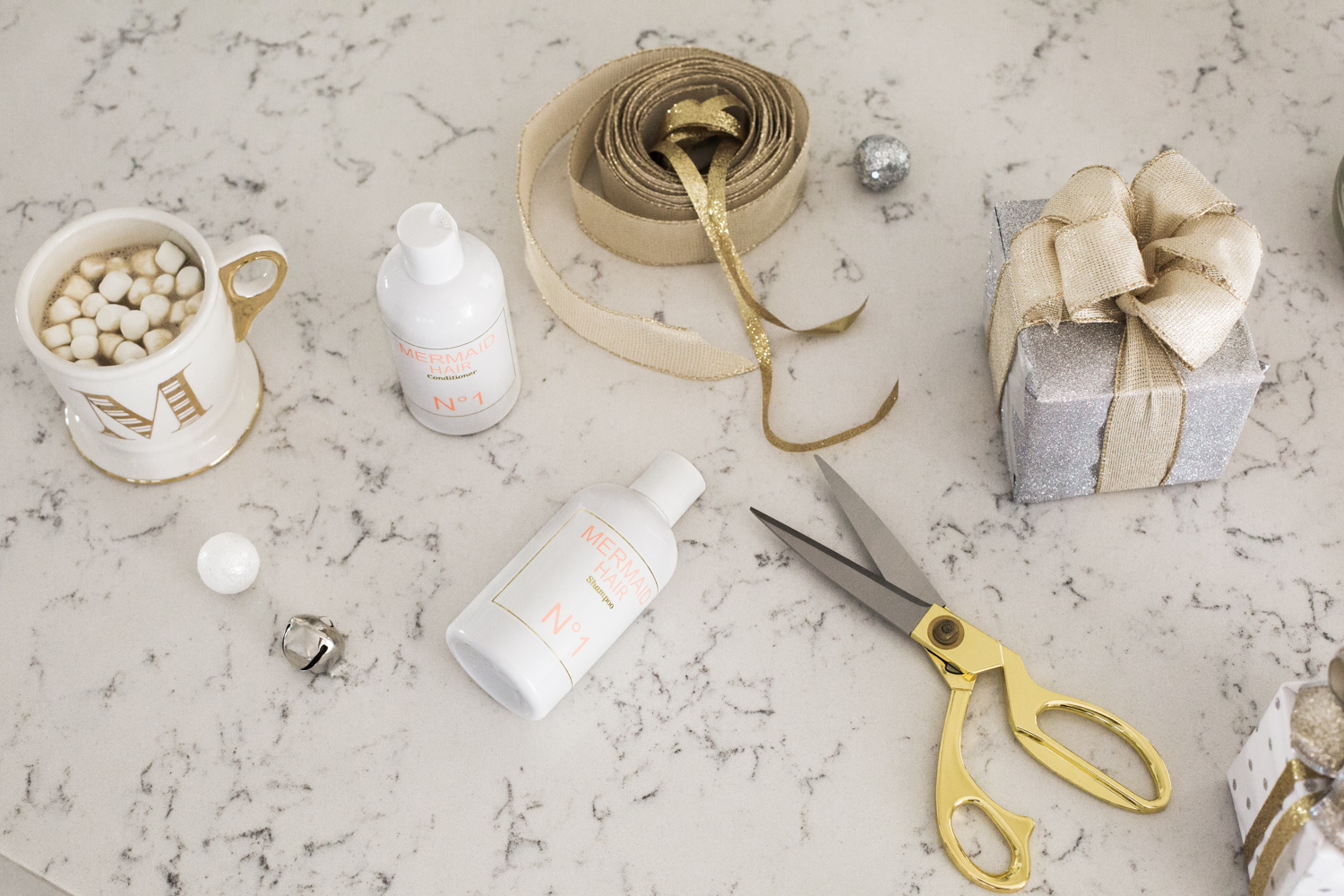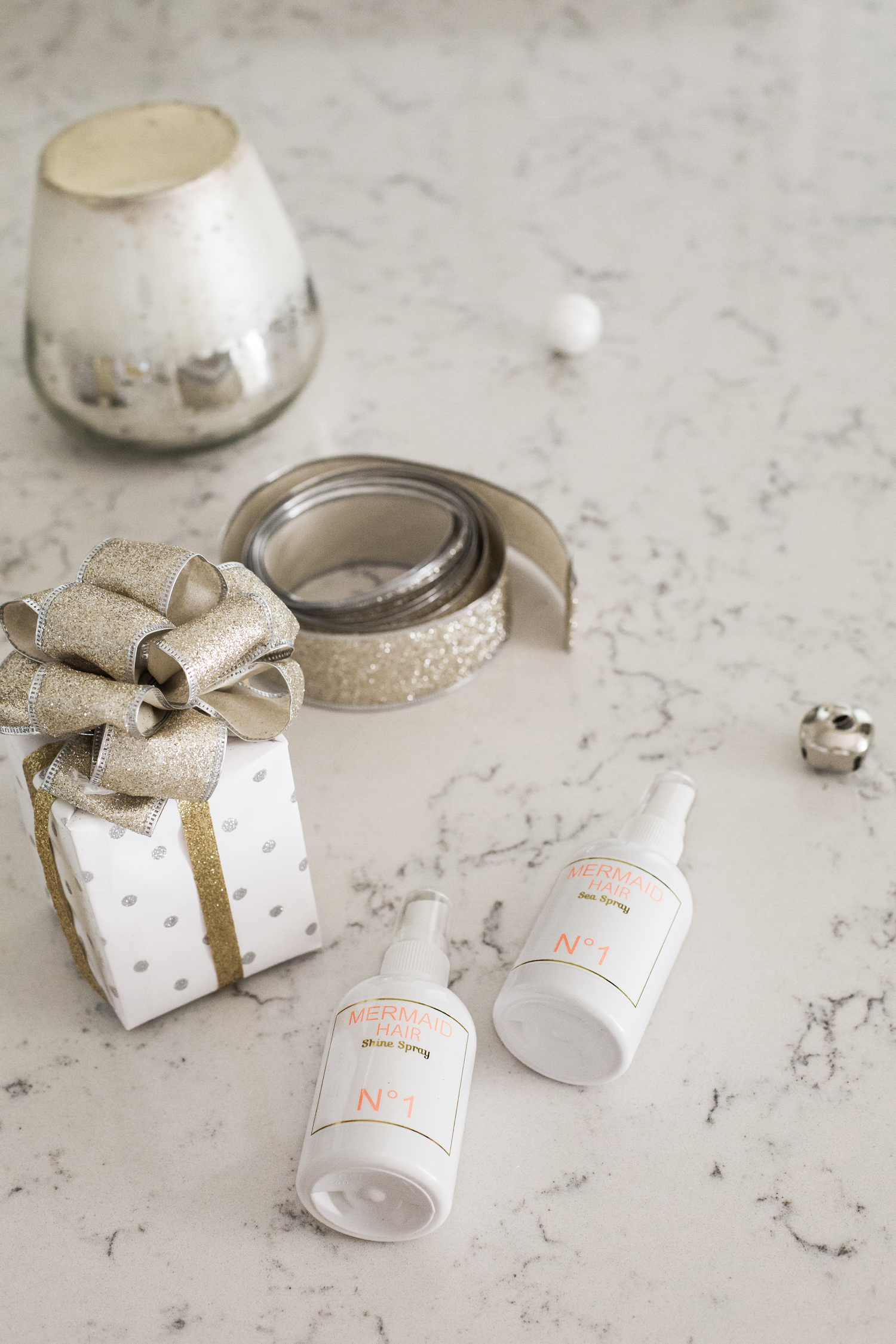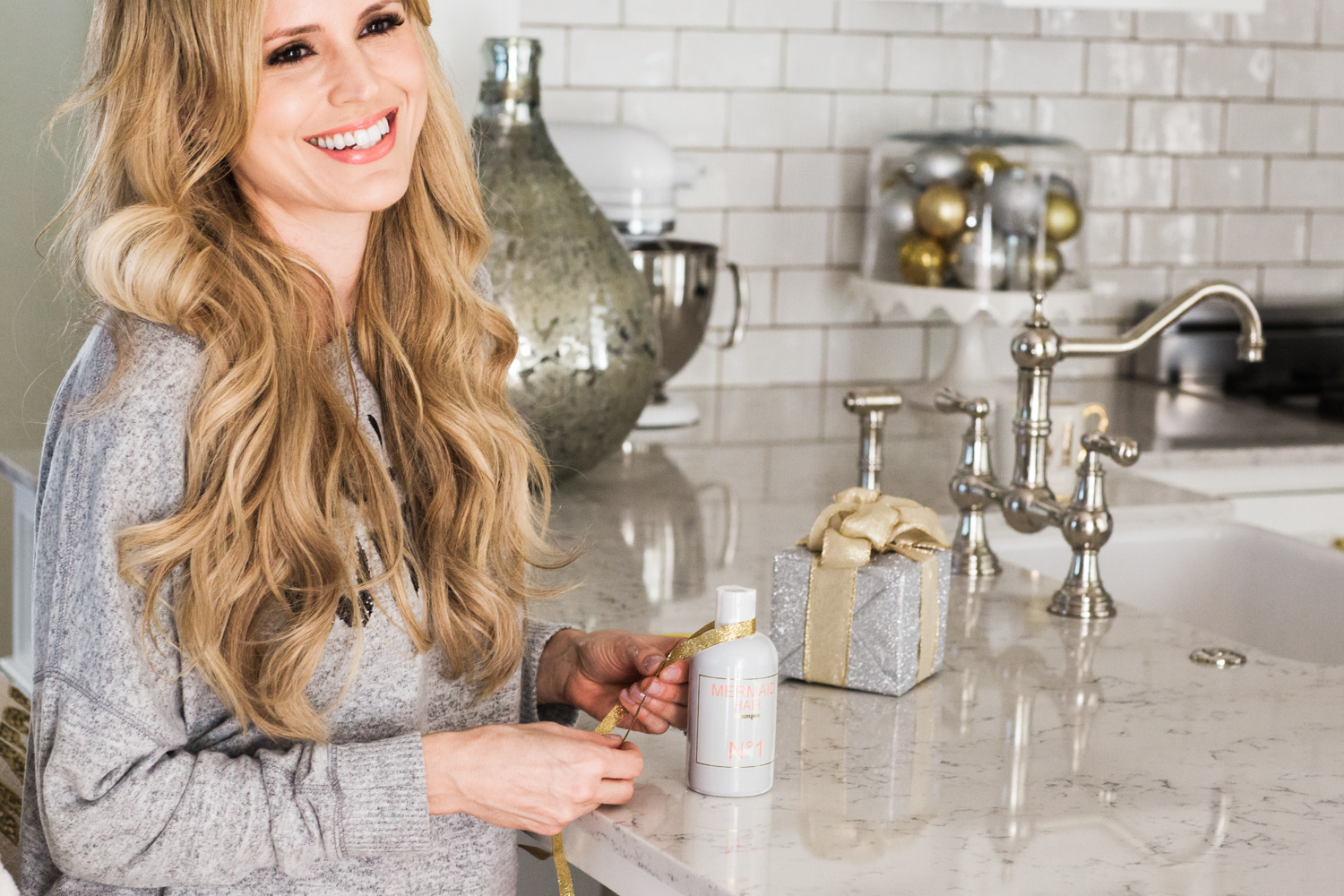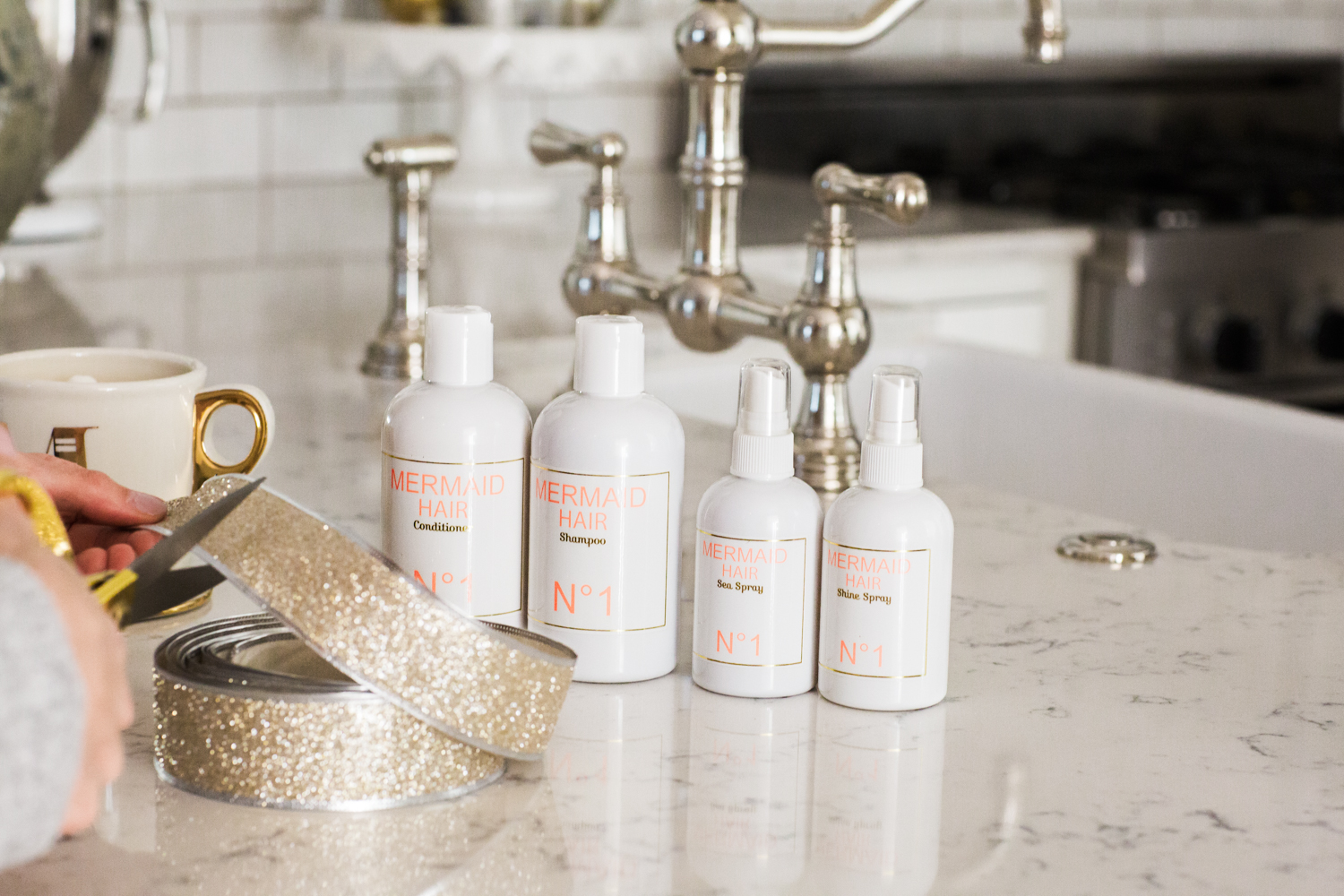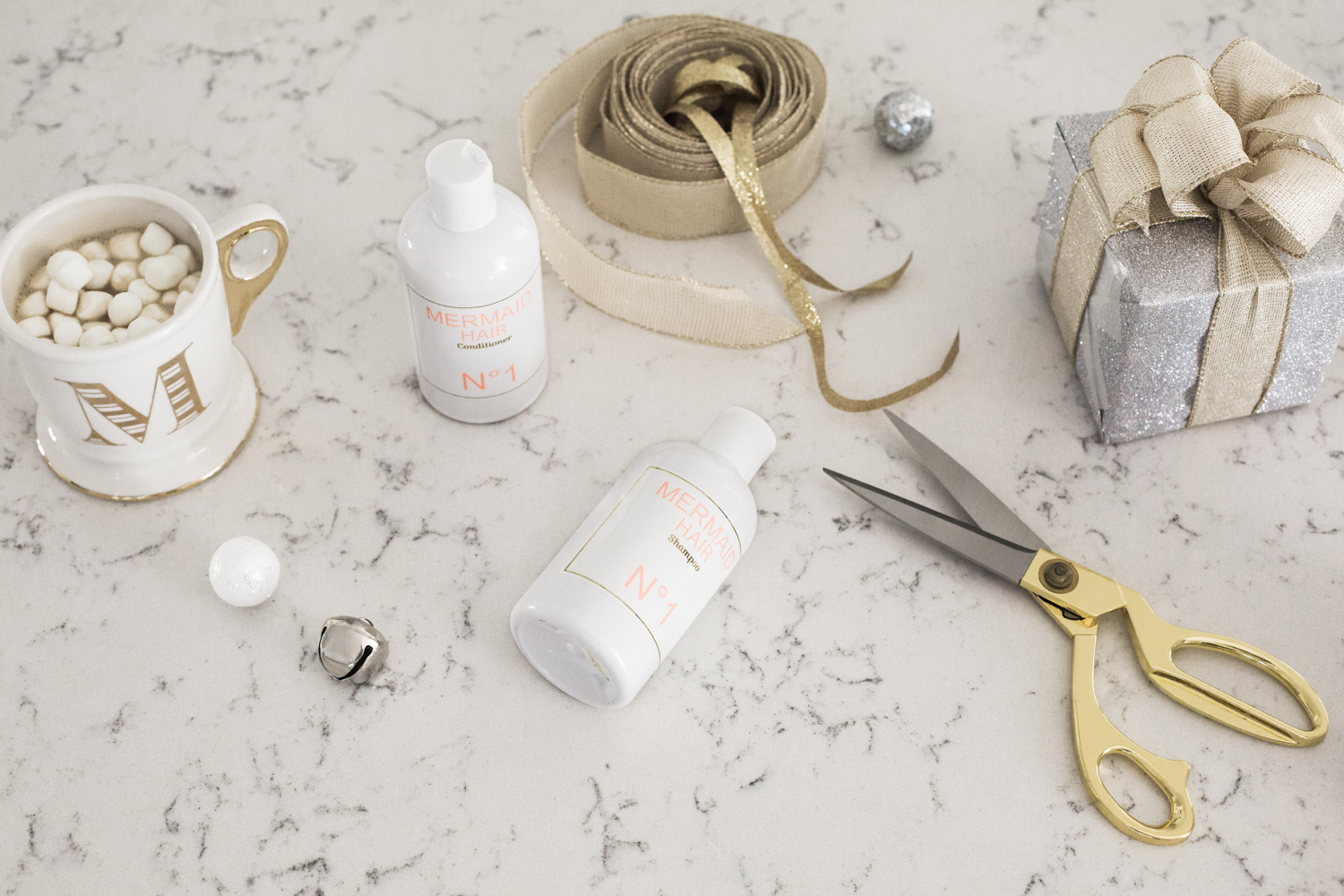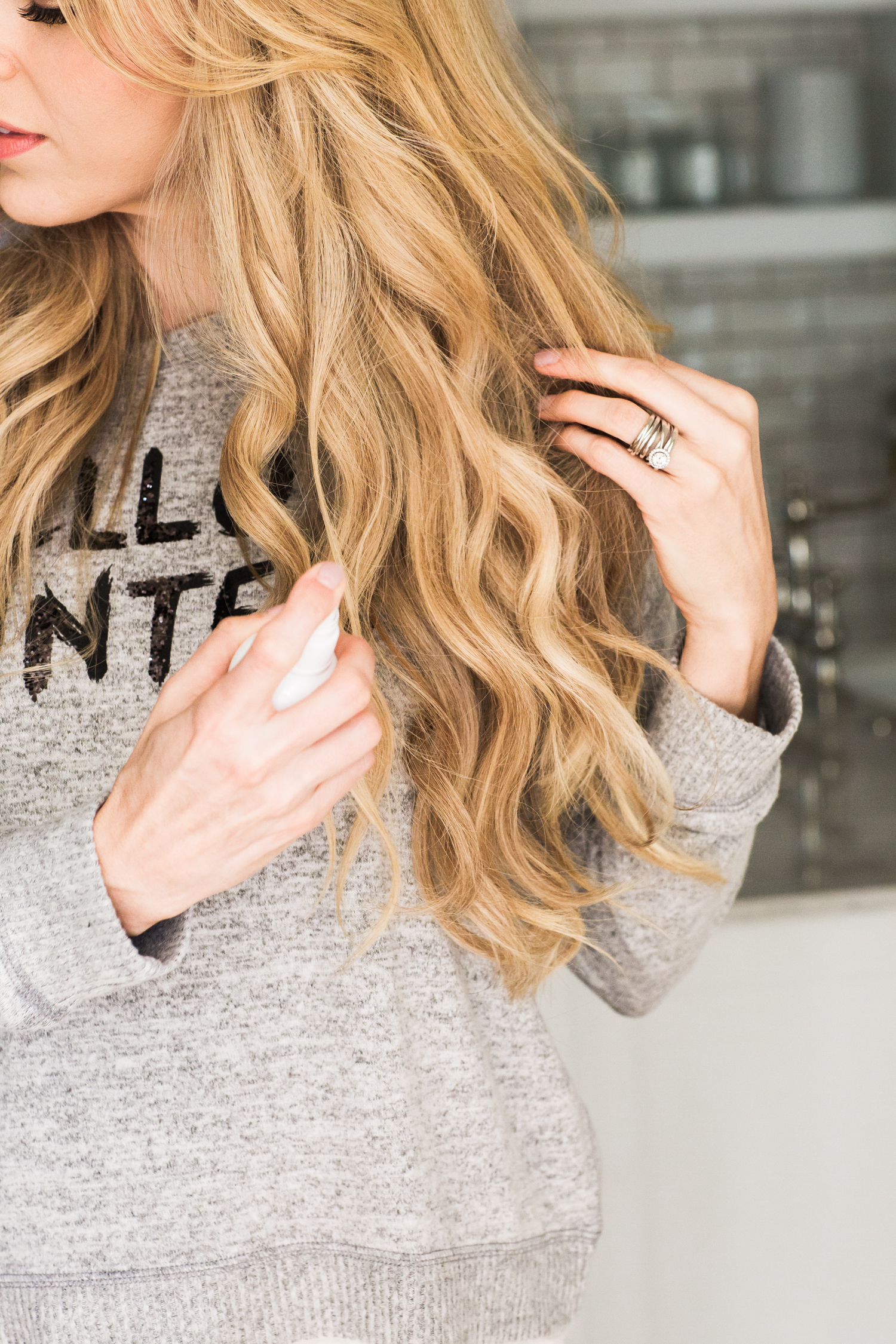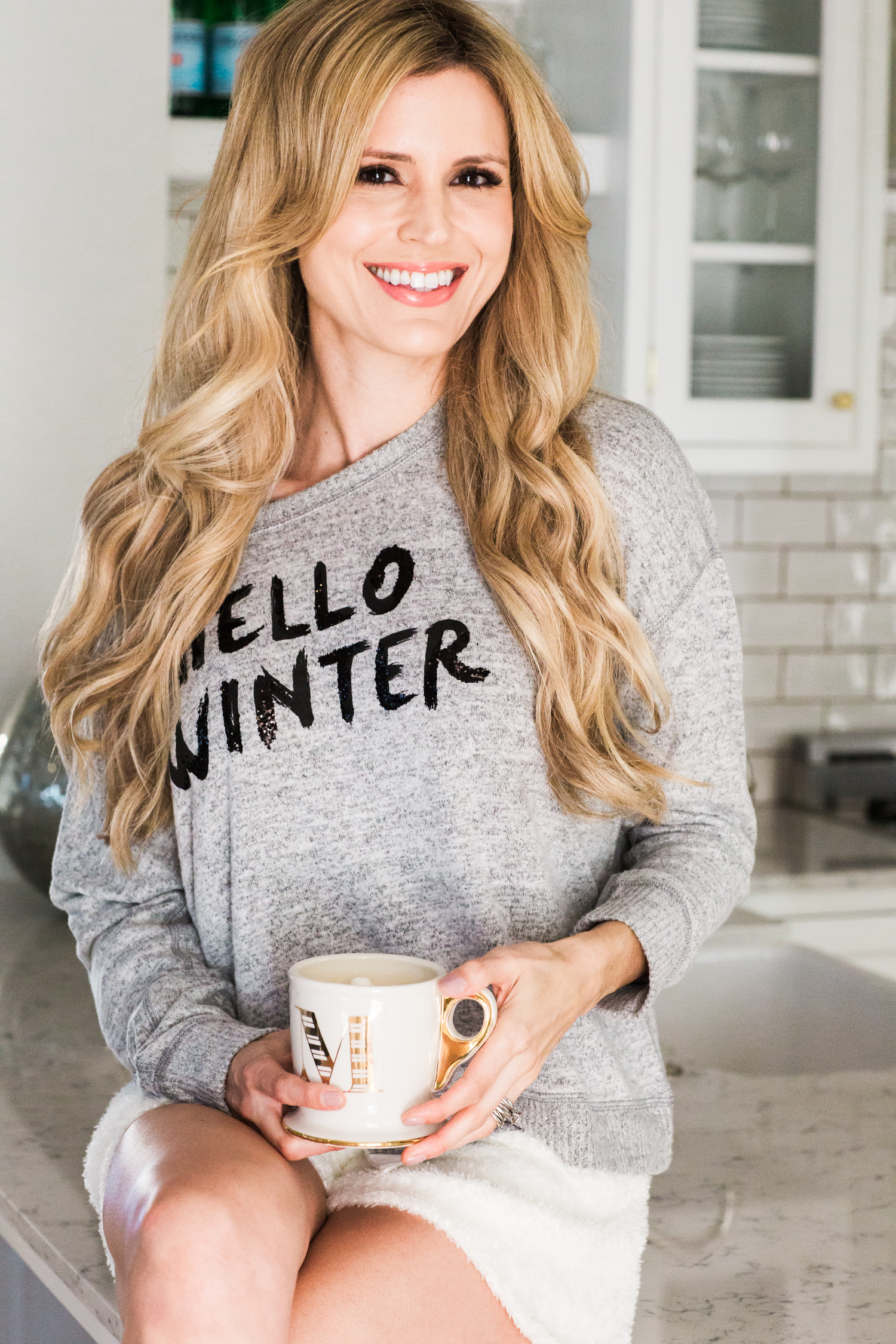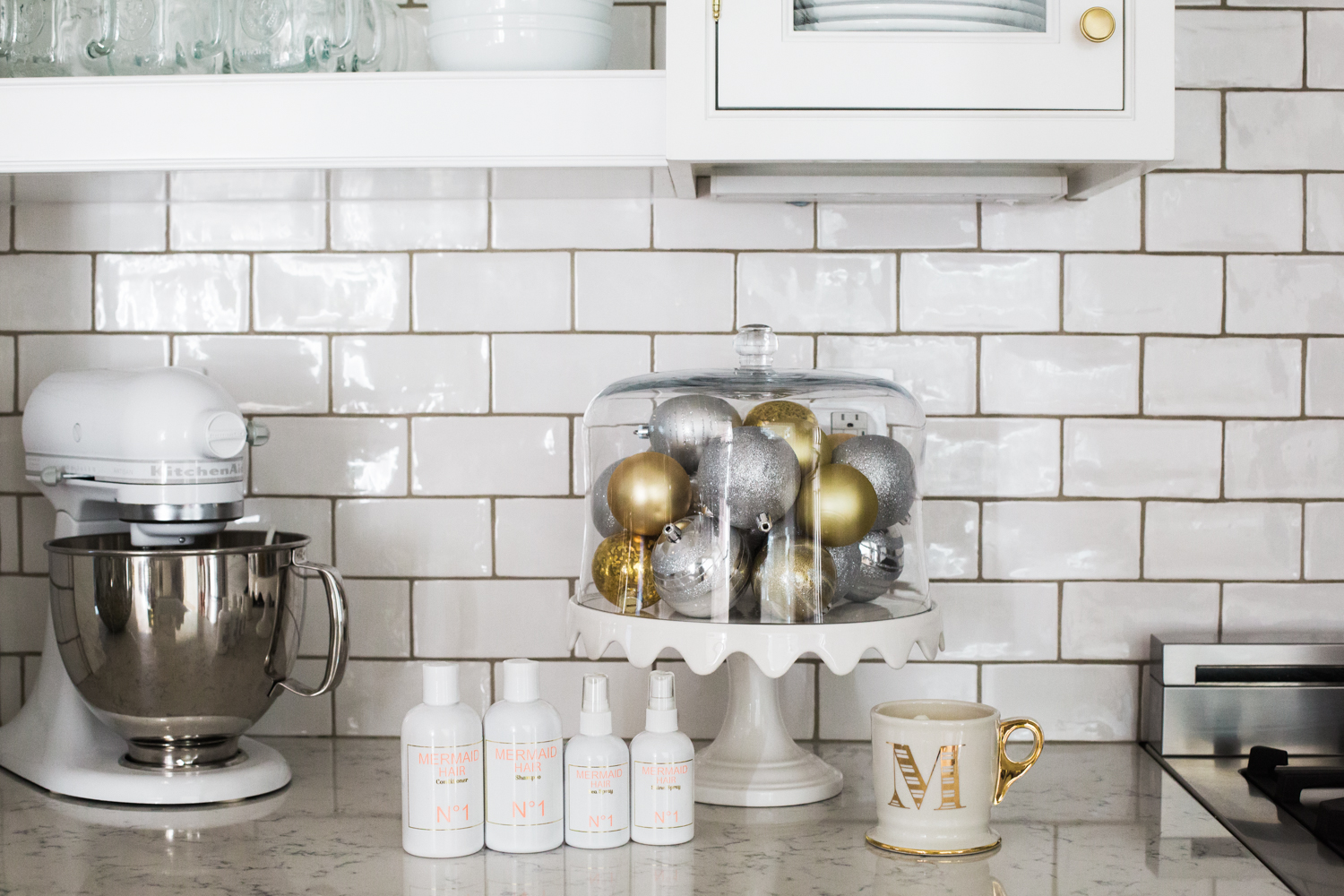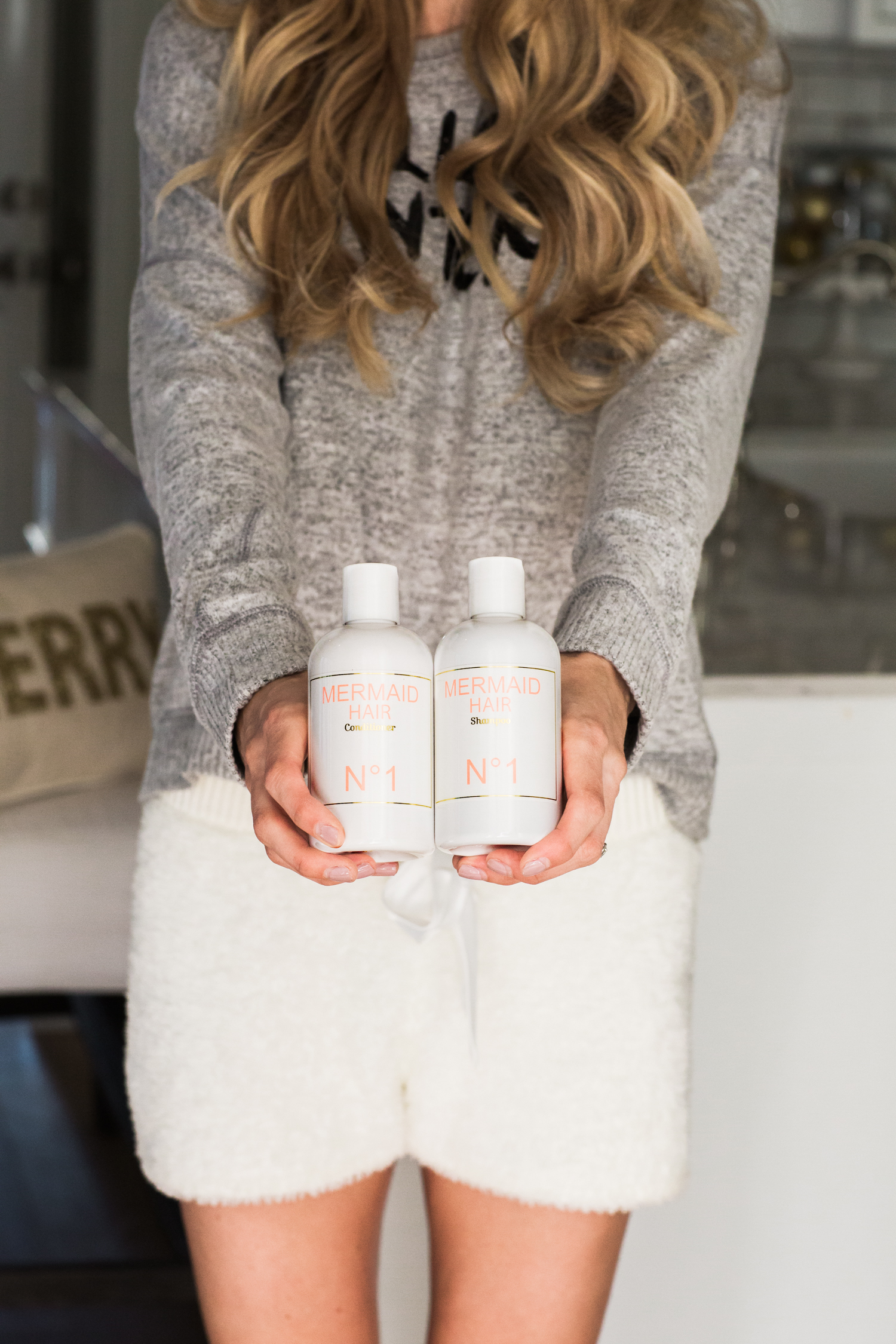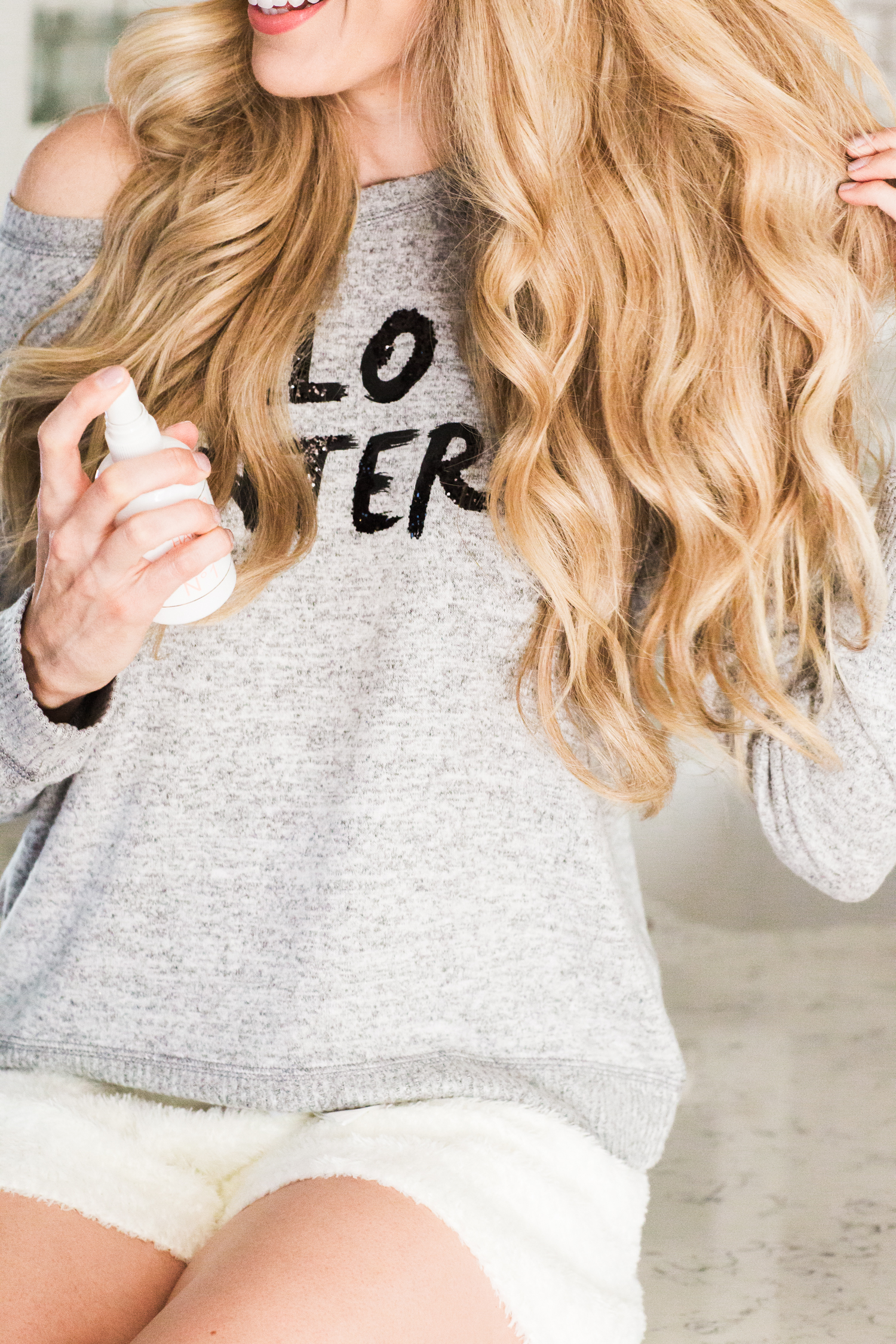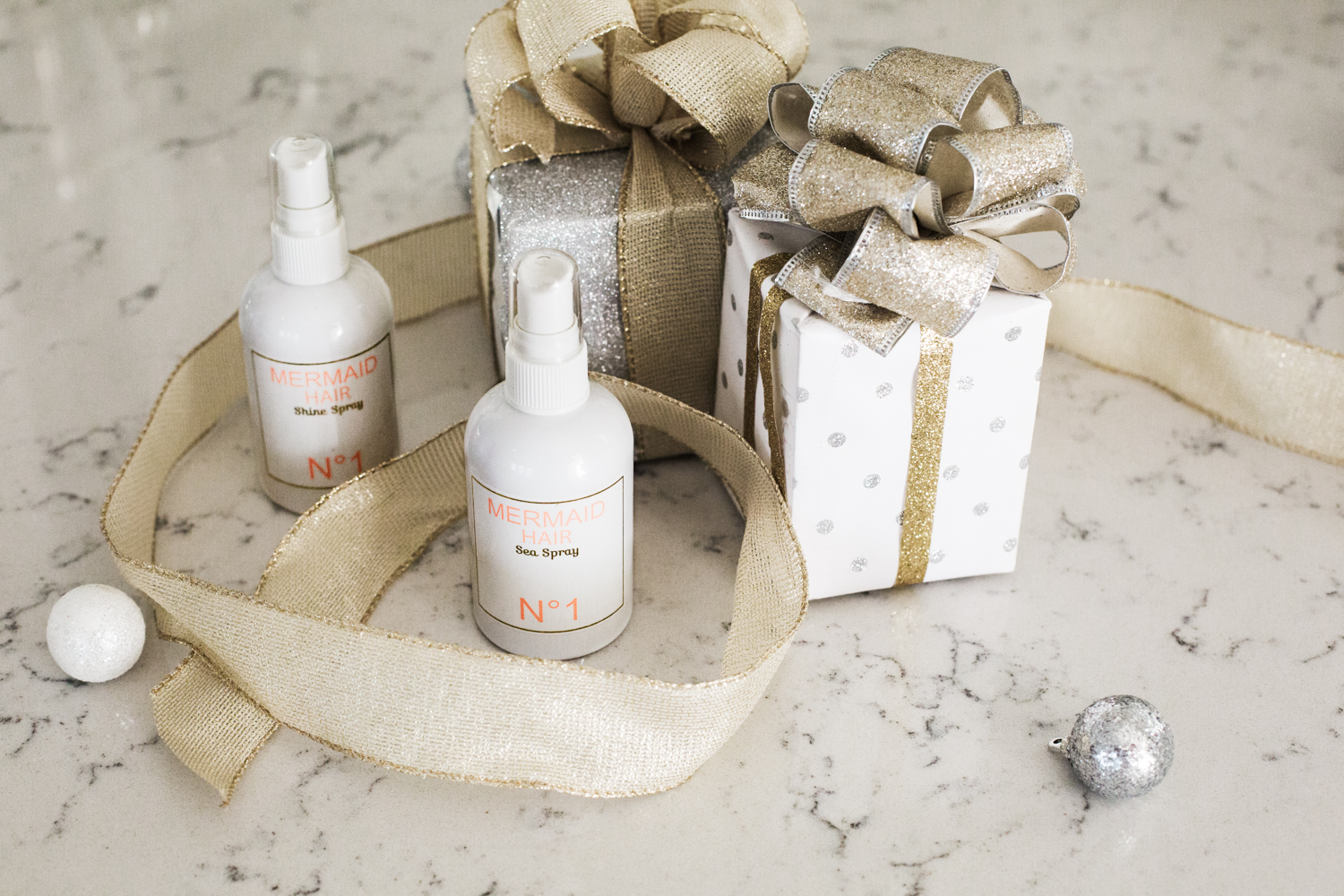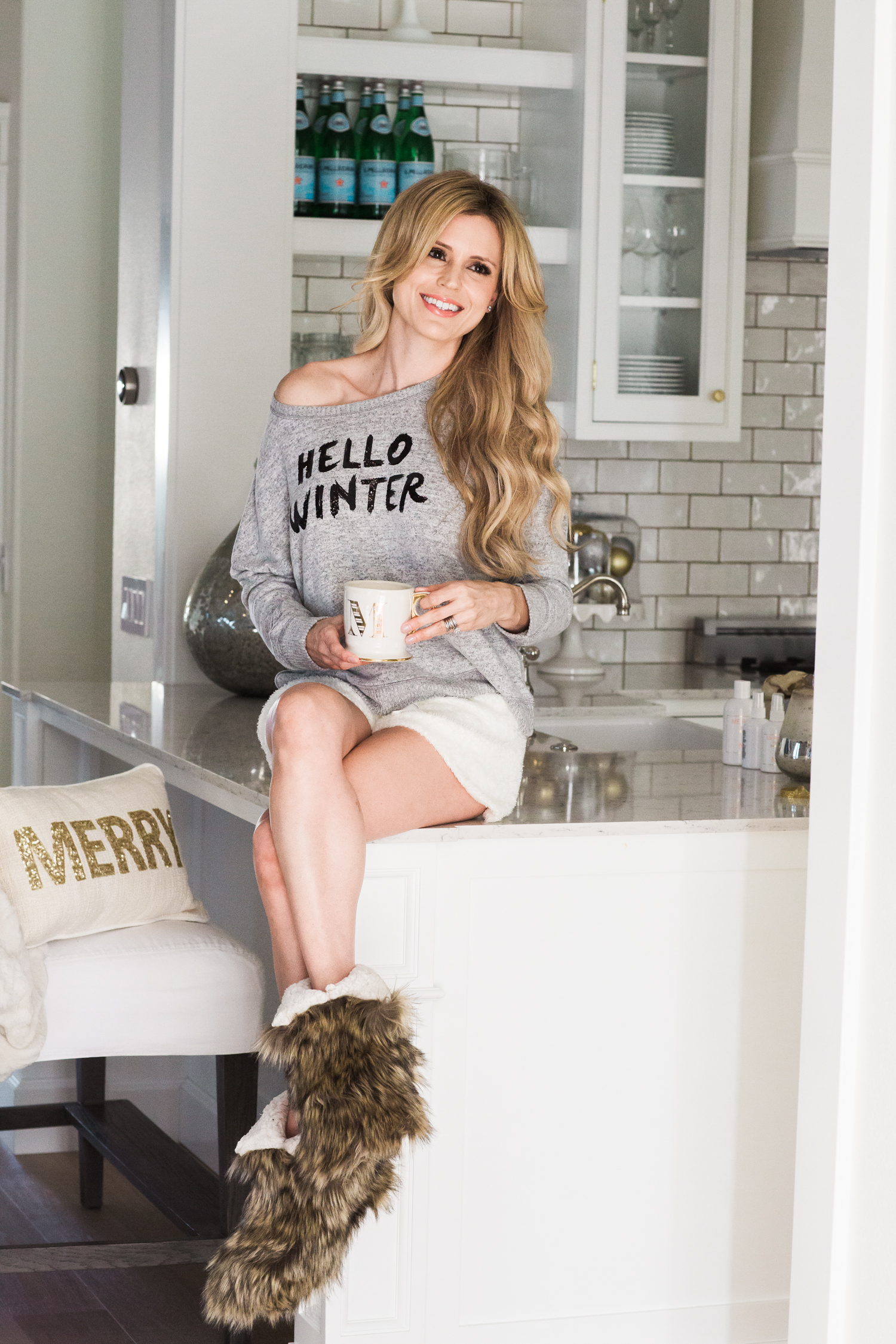 Top: Abercrombie & Fitch Shine Crew Sweatshirt | Shorts: Make + Model Fuzzy Lounge Shorts | Slippers: Abercrombie & Fitch Faux Fur Boot Slippers | Coffee Mug: Anthropologie Golden Monogram Mug | Mermaid Hair Products: Shampoo, Conditioner, Shine Spray, Sea Spray c/o
I have to laugh when I look at these photos because they have a total California Christmas vibe going on. It is still blazing hot here, but I am trying to get into the Christmas spirit… and really Christmas will be here before you know it! This post is the first of many holiday/ gift giving posts so make sure to keep checking back… especially if you are running out of gift ideas.
Each year for Christmas, I purchase at least half of my gifts from Nordstrom and Anthropologie combined. Nordstrom is great for it's wide selection and phenomenal exchange/return policy. Anthropologie will always be one of my top places to shop… some of my all-time favorite pieces in my closet are from Anthropologie. You can really find a special gift there, and shopping in their beautiful store is an experience it itself.
I discovered Mermaid Beauty while shopping at Anthropologie. That's another great thing that I love about Anthro… they carry a lot of unique lines that I might not have heard about otherwise. The first Mermaid product I tried was the perfume. It smells incredible. I am really into how things smell- for me smelling things really brings back memories and puts me in a certain mood. I think that's why I am so into candles. I am also extremely picky. I prefer scents that smell natural or like something you could eat… like coconut and vanilla. The perfume is orange blossom with a hint of coconut, and it smells like your best summer memories.
I am also extremely selective about products I use in my hair. (geesh how high maintenance am I sounding?) First, they have to work, and second they have to smell good. I wear hair extensions, which are a financial investment so I really baby them. The better I take care of my hair extensions, the less I have to switch out for new hair which saves me money. I always make sure my hair products are sulfate free, and I try to steer away from products that contain a lot of artificial ingredients. I have extremely sensitive skin, and it can get really irritated if I don't use a high quality product. Luckily I only wash my hair about twice a week so even though I splurge on high end hair products, they last forever.
The Mermaid shampoo and conditioner are a little pricey- they run at $35 each, but that's because they use the best ingredients. You get what you pay for! I recognize every single word on the ingredient list- no crazy chemicals or sulfates, and it's all natural. Ingredients like seaweed, quinoa protein, henna, chamomile. I have to admit though my favorite part is that it smells out of this world incredible. Like the best coconut smell EVER… and if you have a tropical vacation planned in the near future you need to bring this!
I am completely addicted to the shine spray, and it has become a product I use daily. Lately I have noticed that the ends of my hair extensions are a little bit drier than normal. I spritz some of this on the bottom half of my hair and run my fingers through, and it instantly feels moisturized without being too greasy or heavy and it smells absolutely fantastic!
The Mermaid products would make a great luxury gift for that someone in your life that maybe wouldn't buy this for herself. Personally I appreciate those gifts that maybe I wouldn't by for myself but would absolutely know I would enjoy. You should definitely check them out the next time you are at Anthro or just take my word for it and order here!
Thank you so much for reading, and make sure you stop by the blog tomorrow for a special post! xxx
Photos by Felicia Lasala.