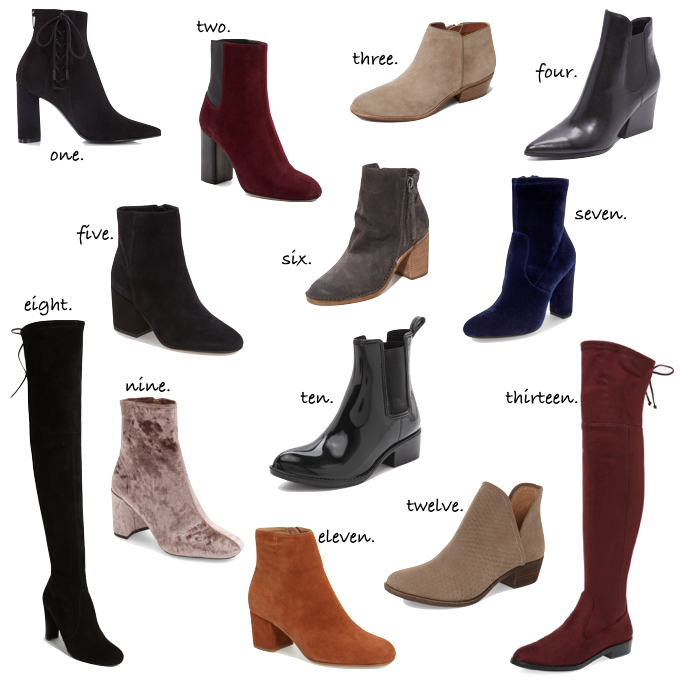 1. | 2. | 3. | 4. | 5. | 6. | 7. | 8. | 9. | 10. | 11. | 12. | 13.
In Orange County, it doesn't feel like fall until fall is almost over. Okay maybe I am exaggerating a tiny bit, but seriously it still feels summerish here. I think that makes me crave fall even more. We always want what we can't have right? So unfortunately, I can't bust out my scarves and sweaters just yet. However, I jump right into the boots and booties this time of year. One of my absolutely favorite looks is throwing on a dress with a pair of booties. It is effortless and so comfortable.
Boots and booties are always popular in the fall, but this year it's all about the statement bootie- the velvet bootie. Honestly velvet booties are kind of ugly-cute aren't they? They are literally FLYING out of stores and selling out so fast. Like this pair… it doesn't get much more fabulous than this. Throw on with a basic outfit, and it immediately adds that chic factor. I am also kind of crazy about these sleek rain booties! And they are $55!
I am still on an everything-black kick, and recently got these black midi length booties (go with everything!) and these investment black over-the-knee boots. I will be styling them on my blog (over and over again)! 🙂
Which is your favorite? xo, Missy