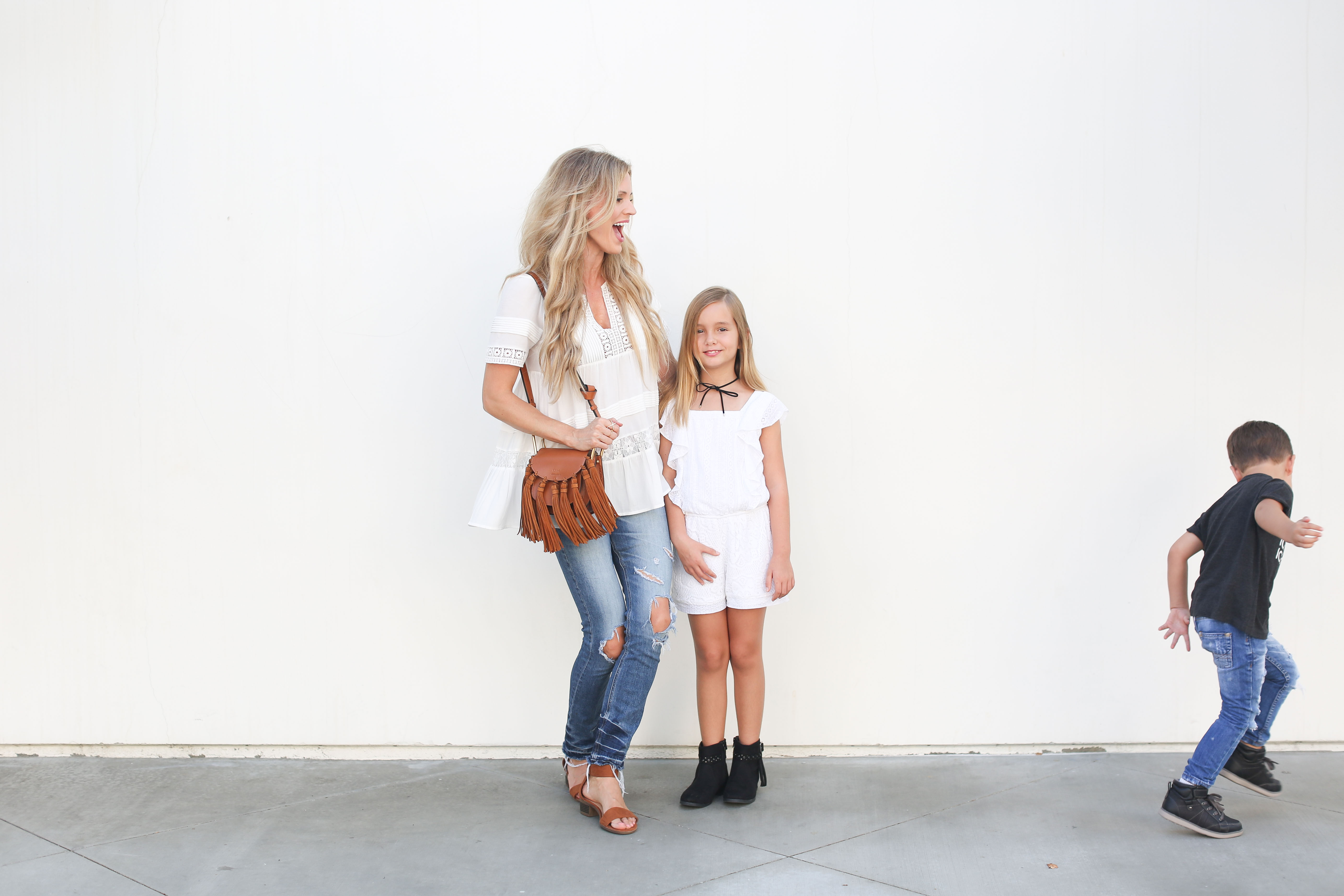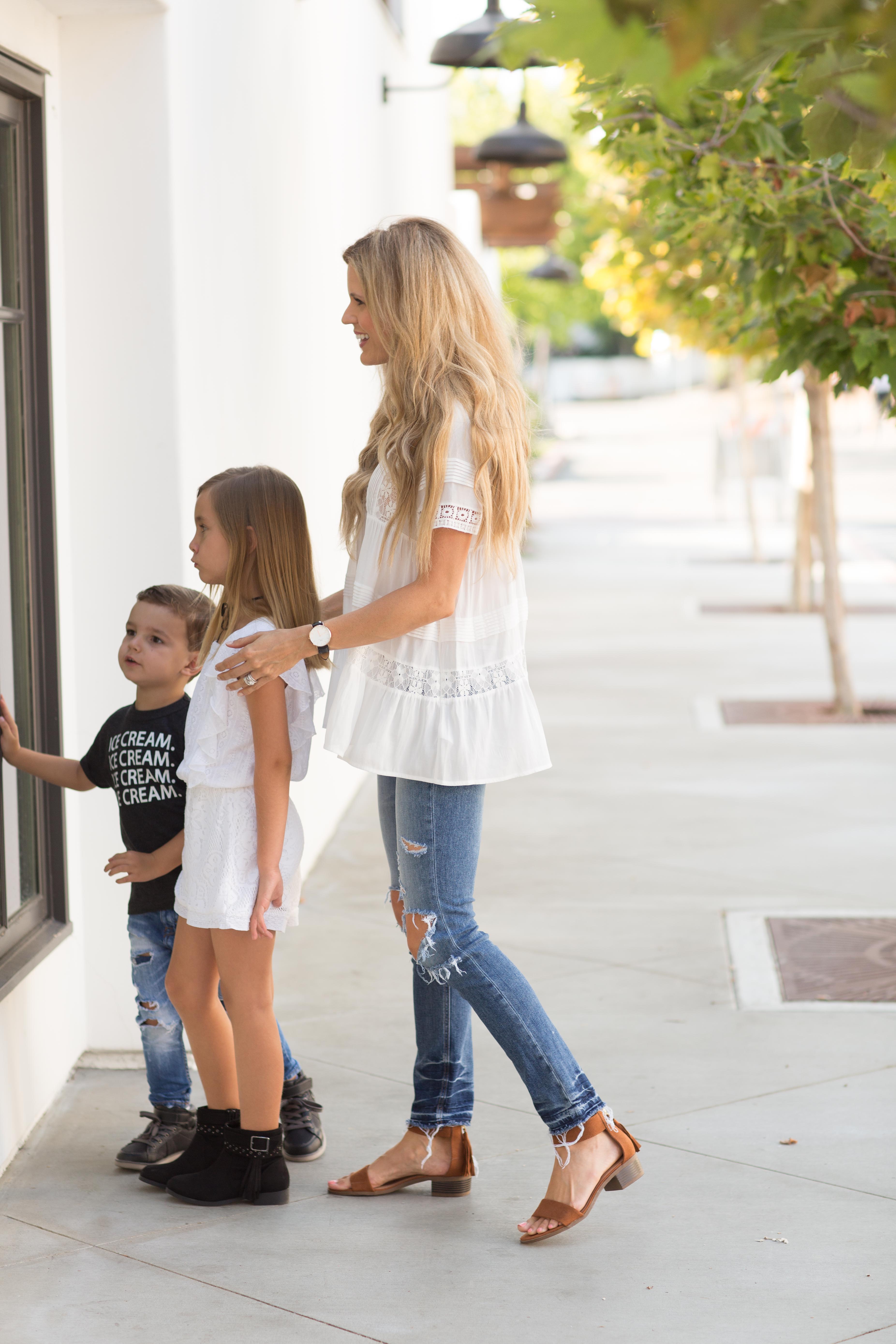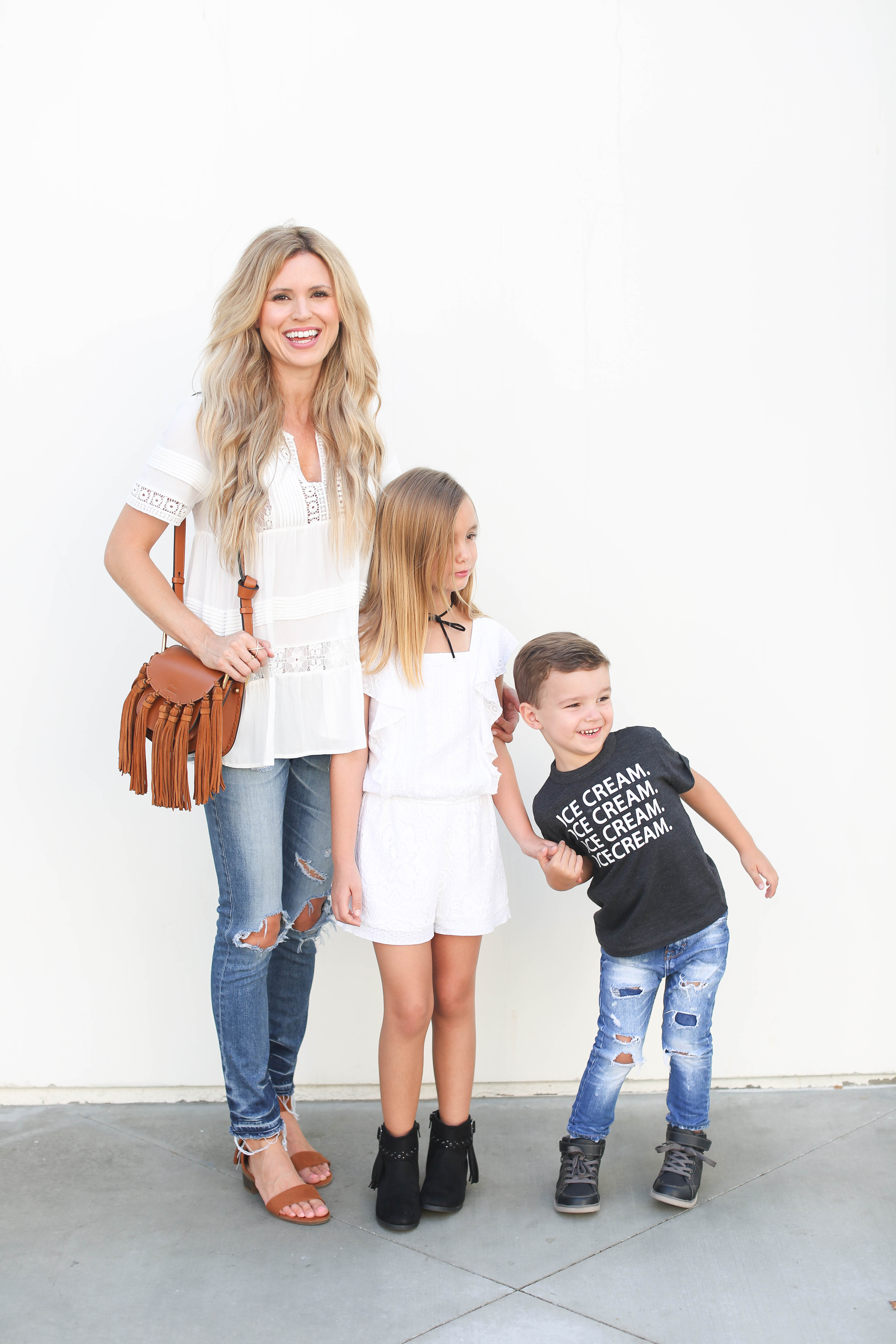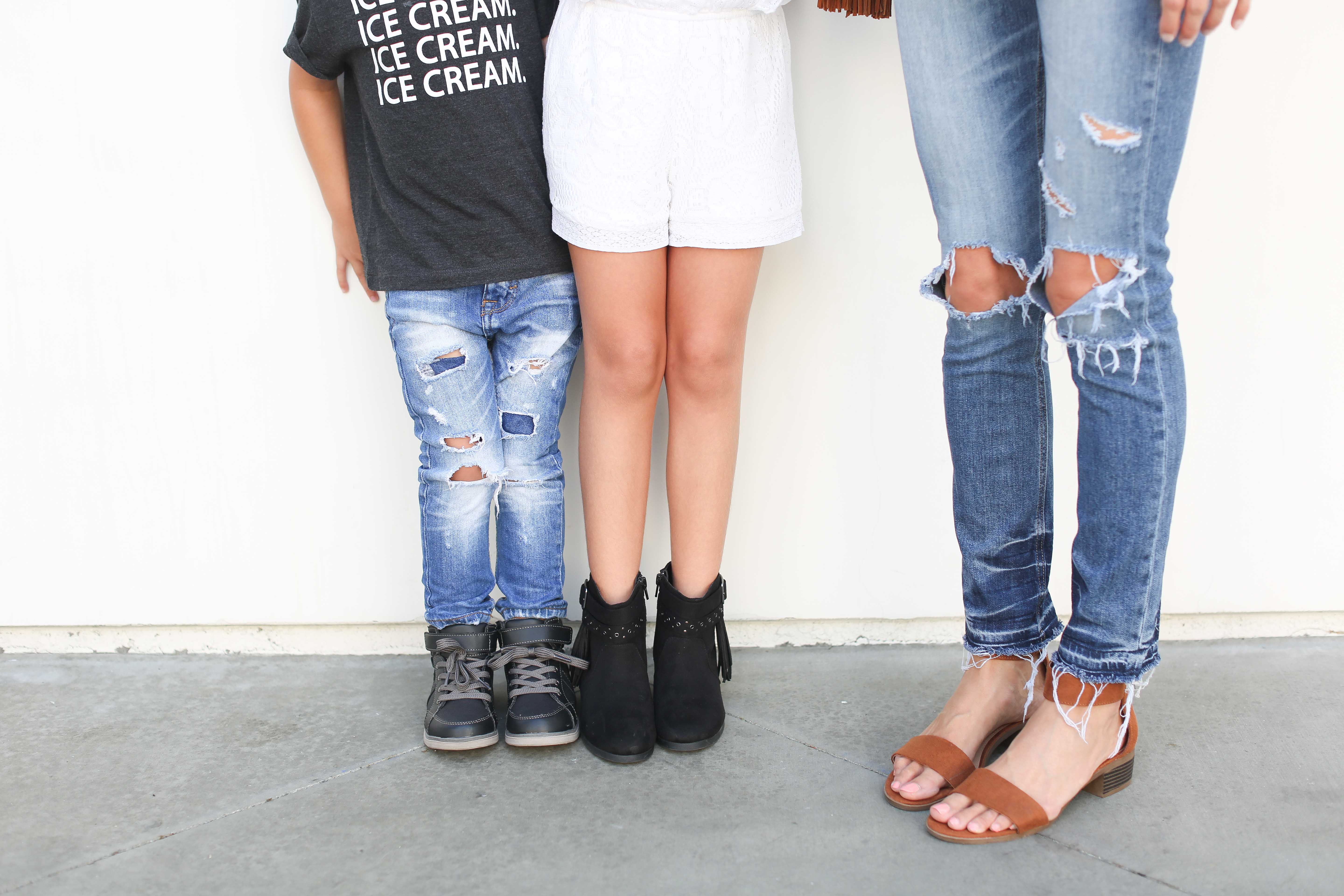 Max's Sneakers | Lily's Booties | My Sandals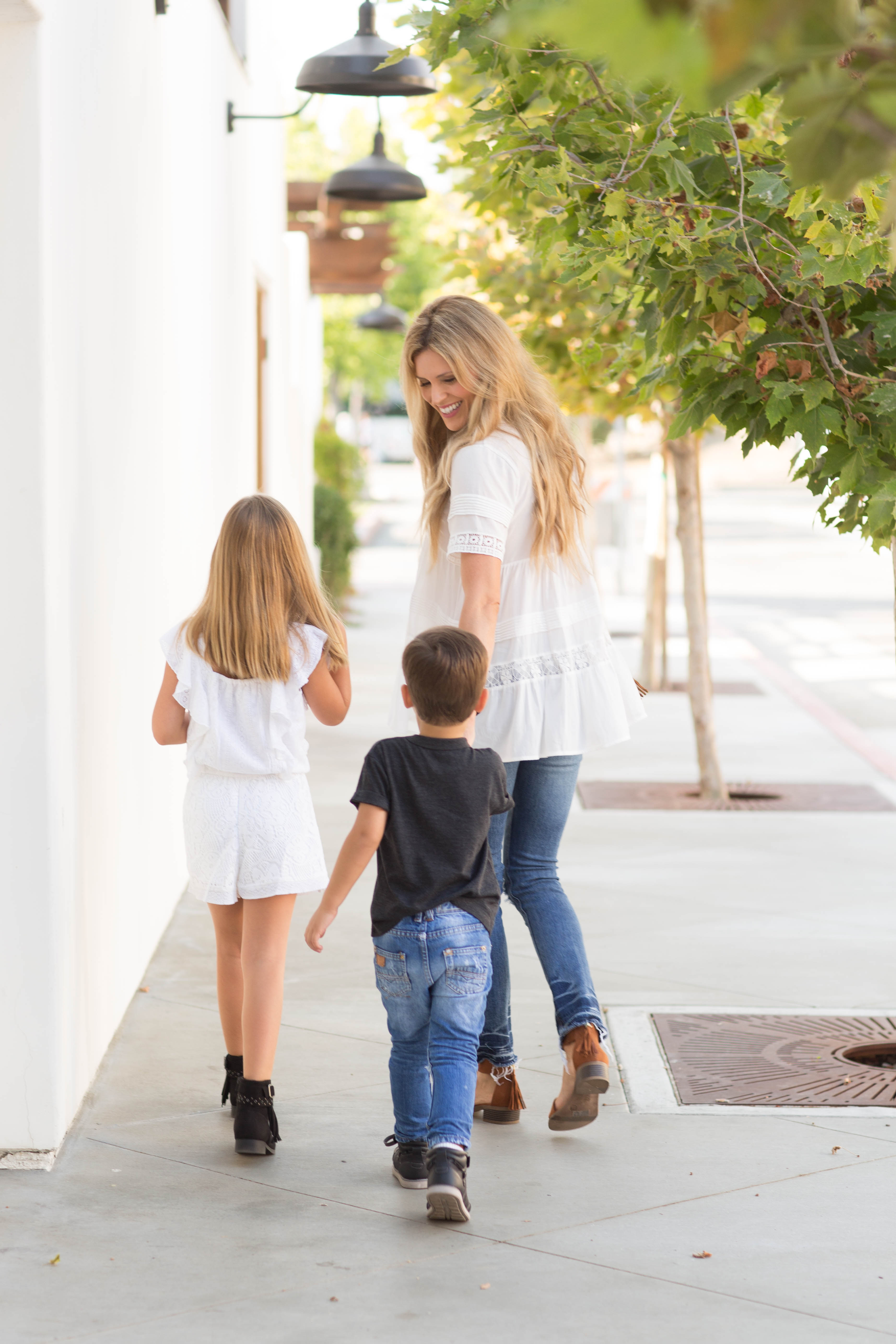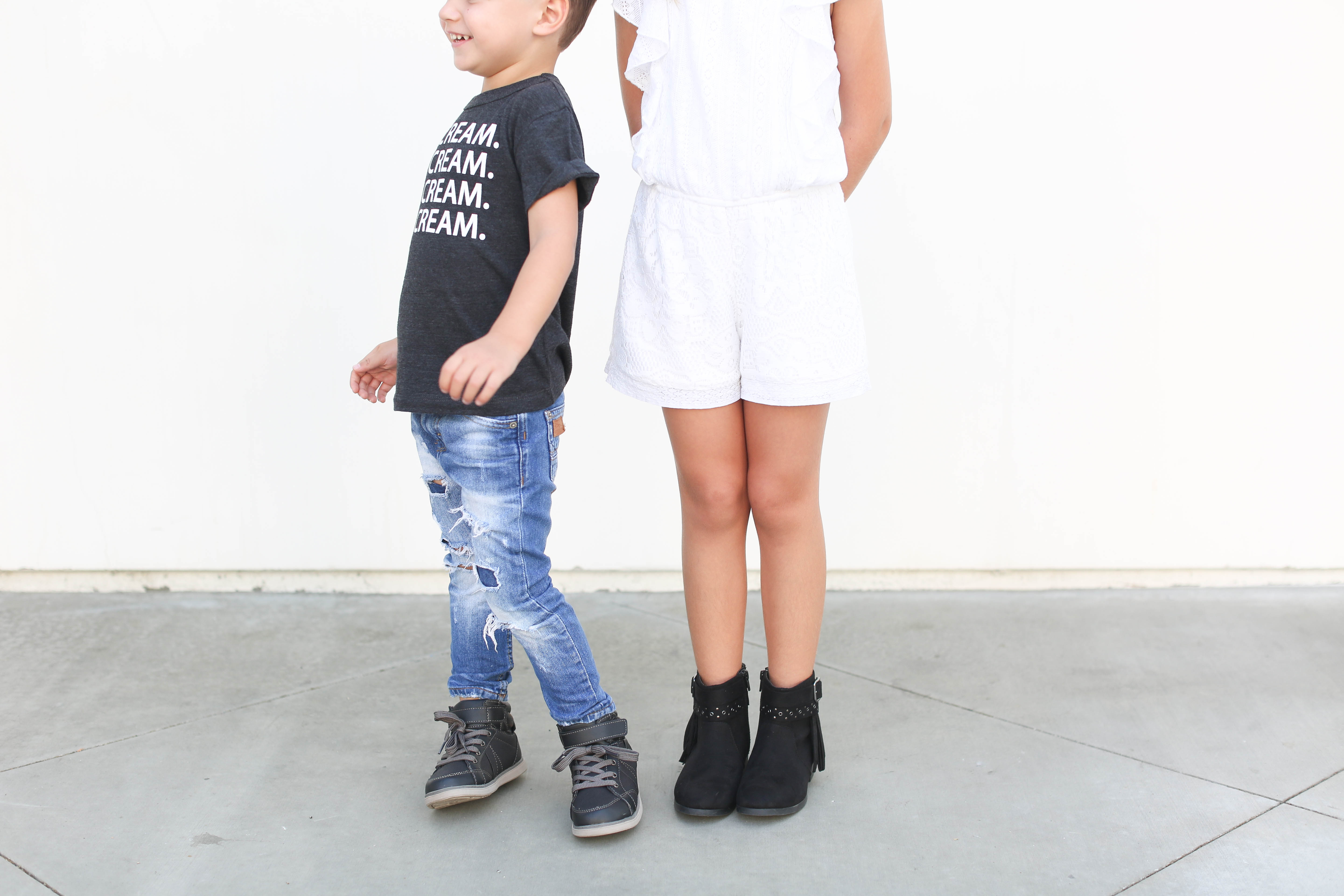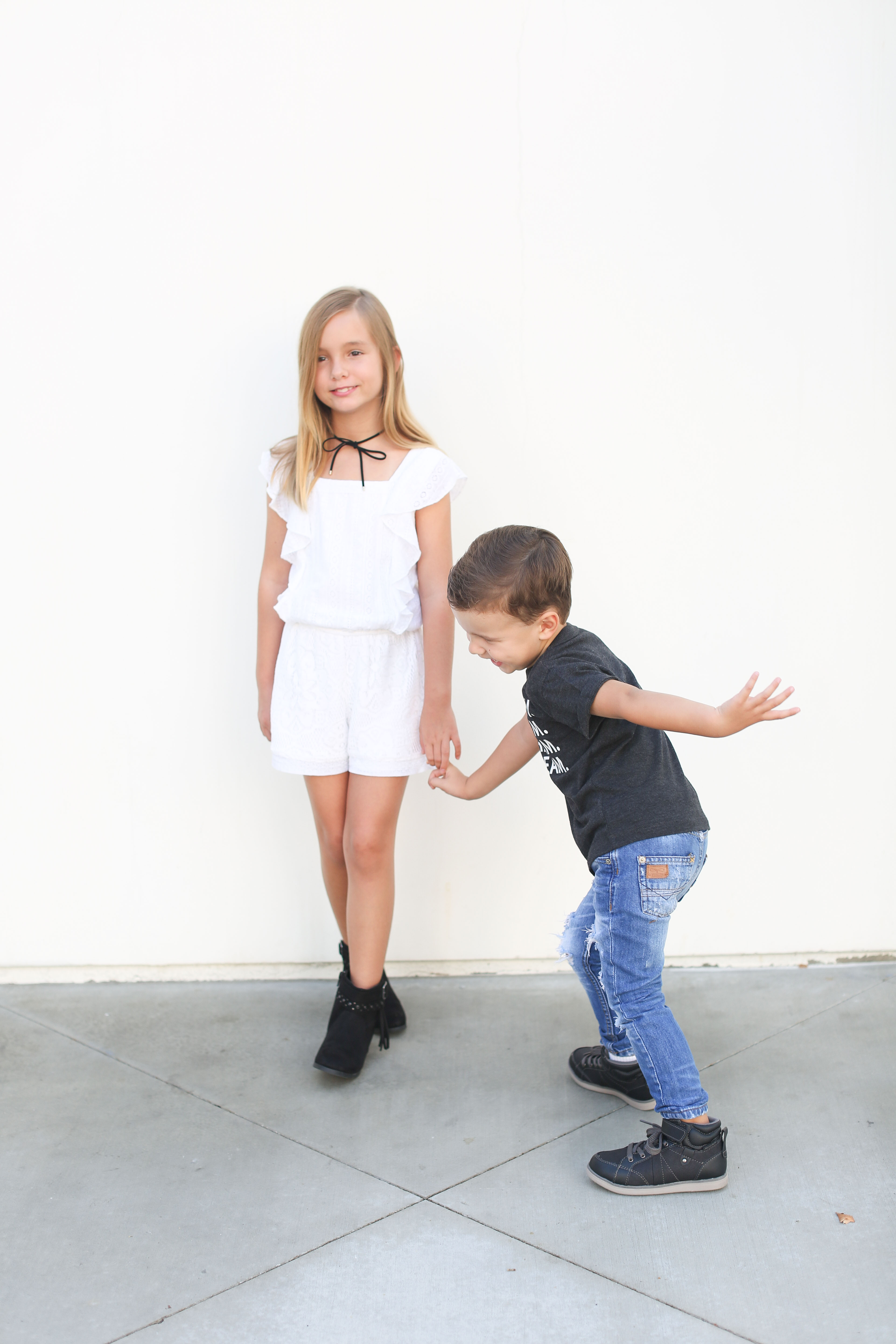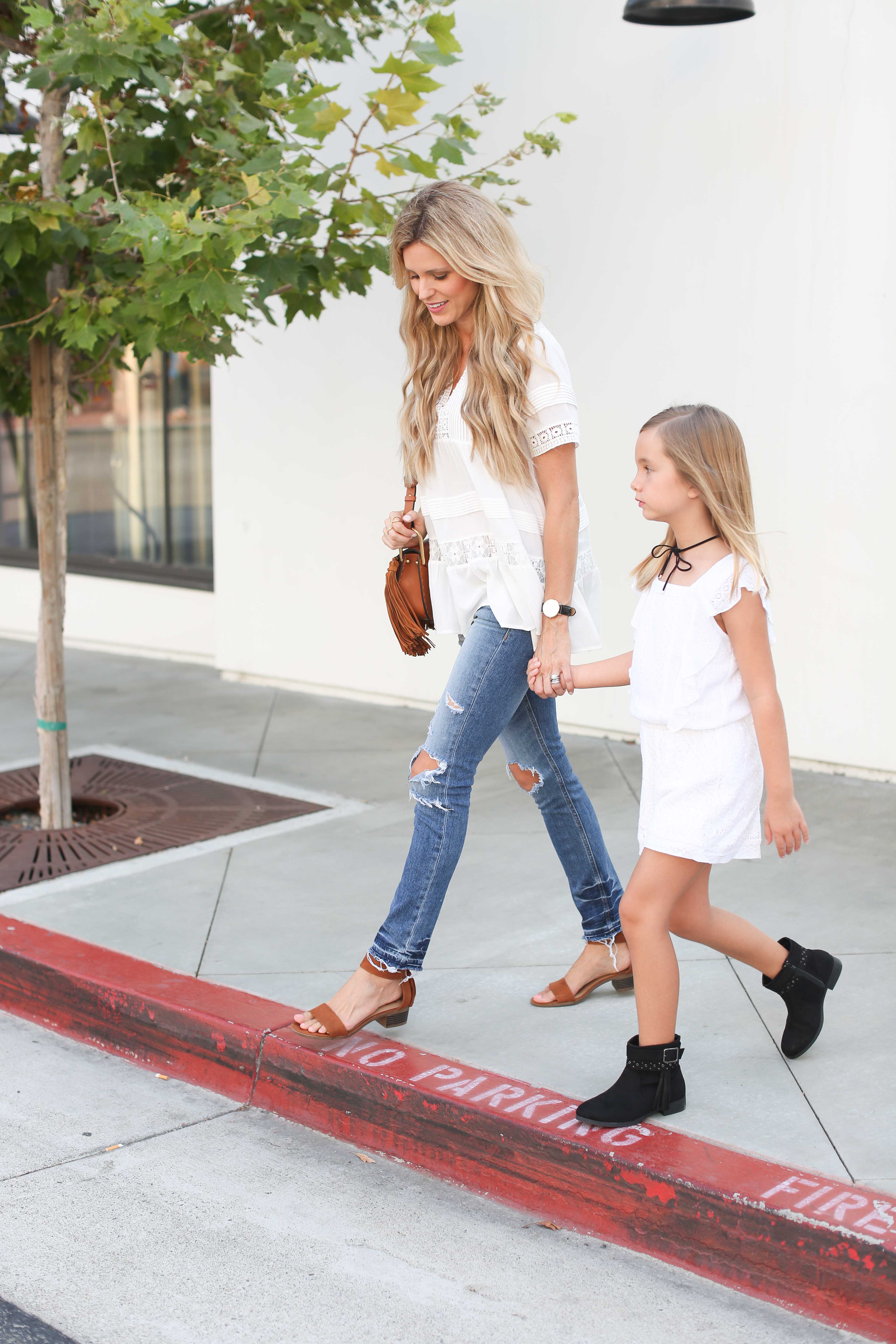 Little girls + booties are oh, so cute!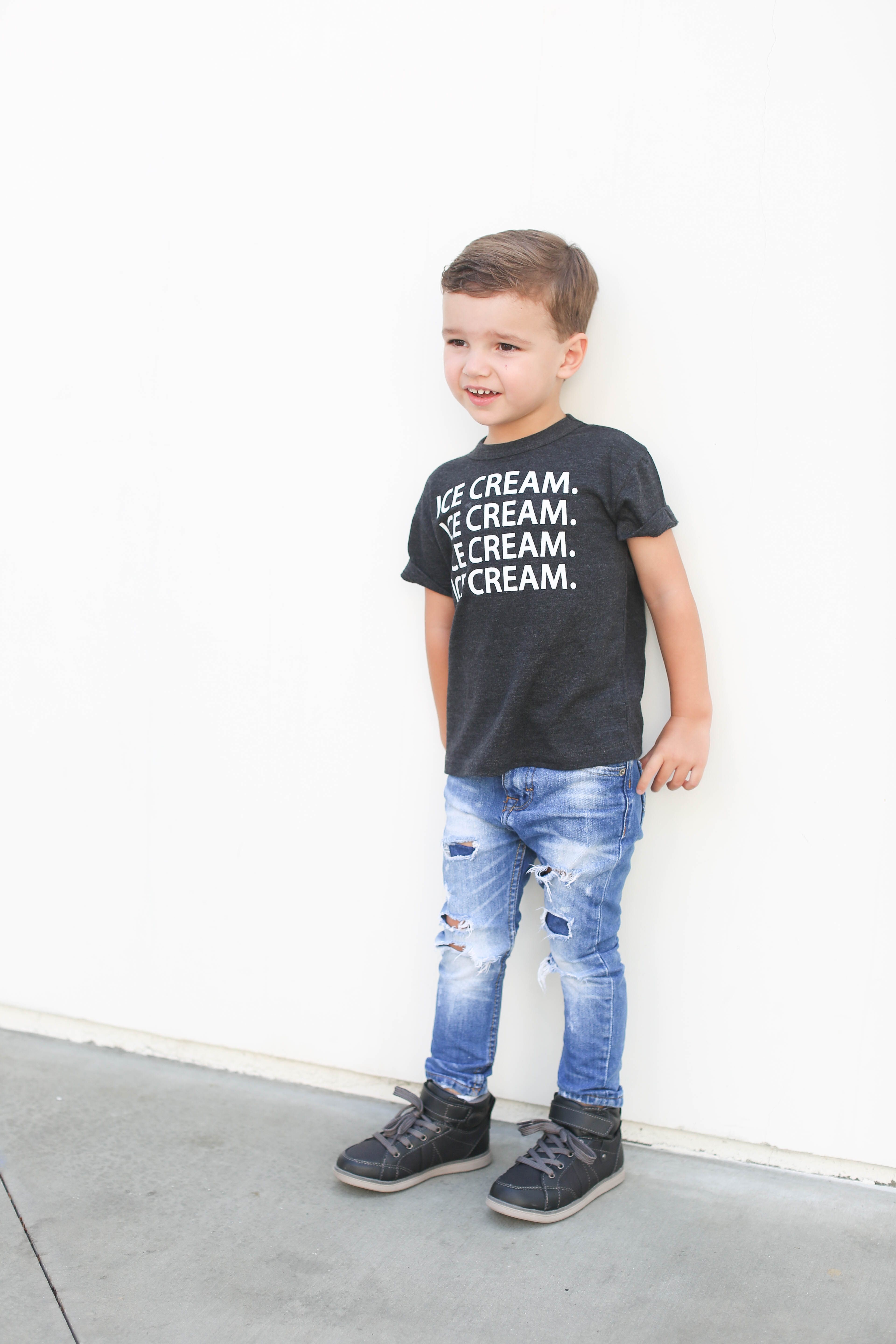 Max's tee from Revolve Mini.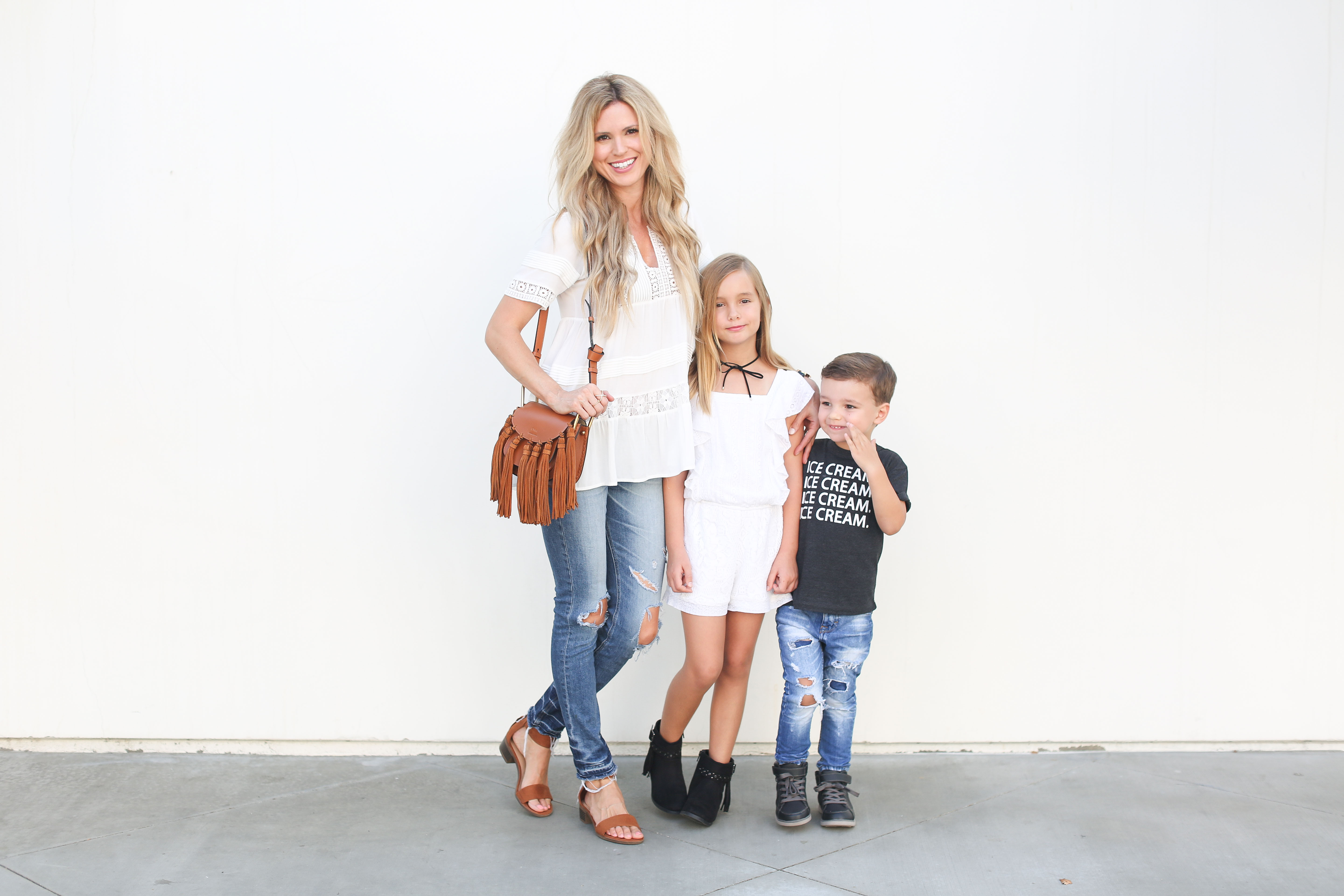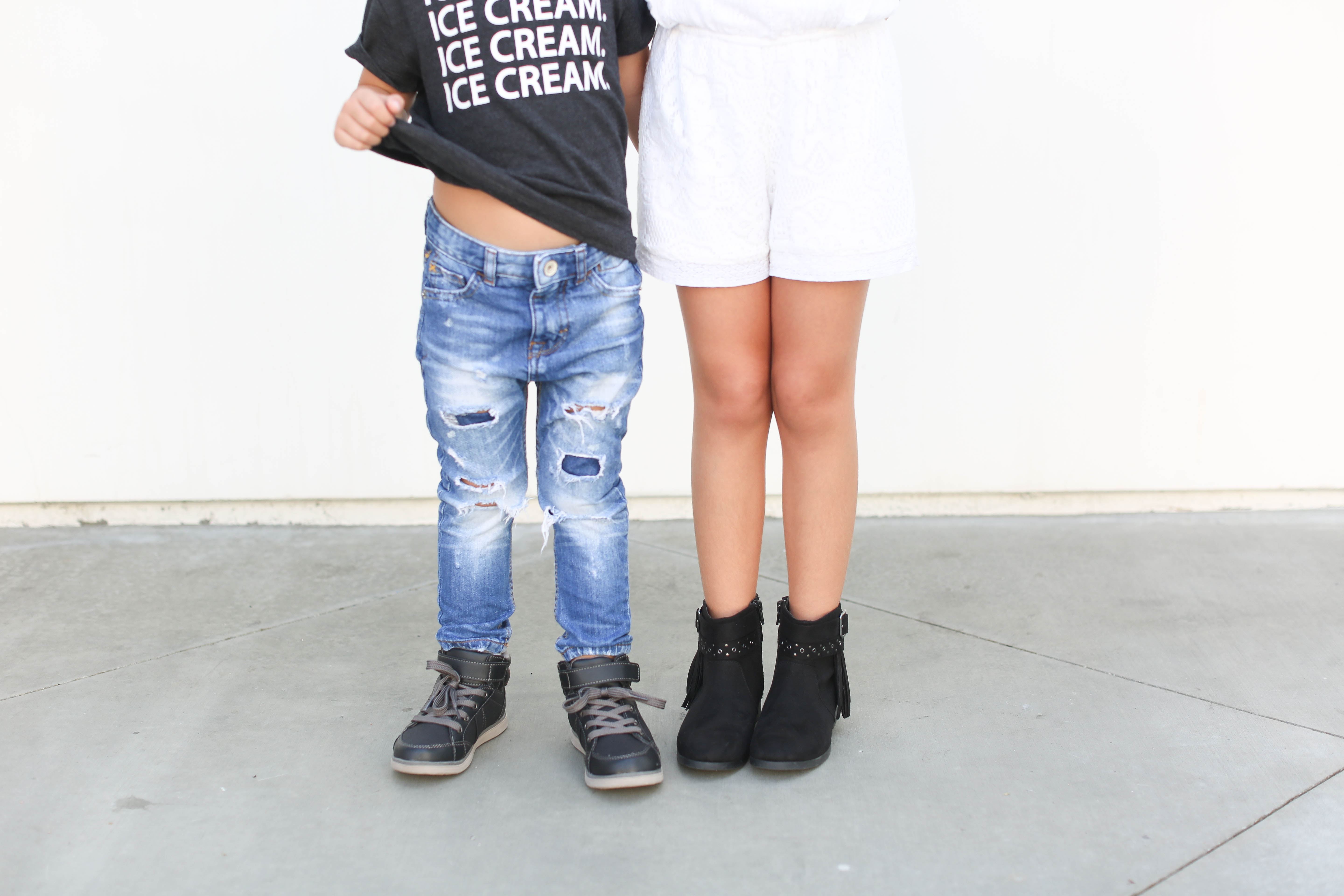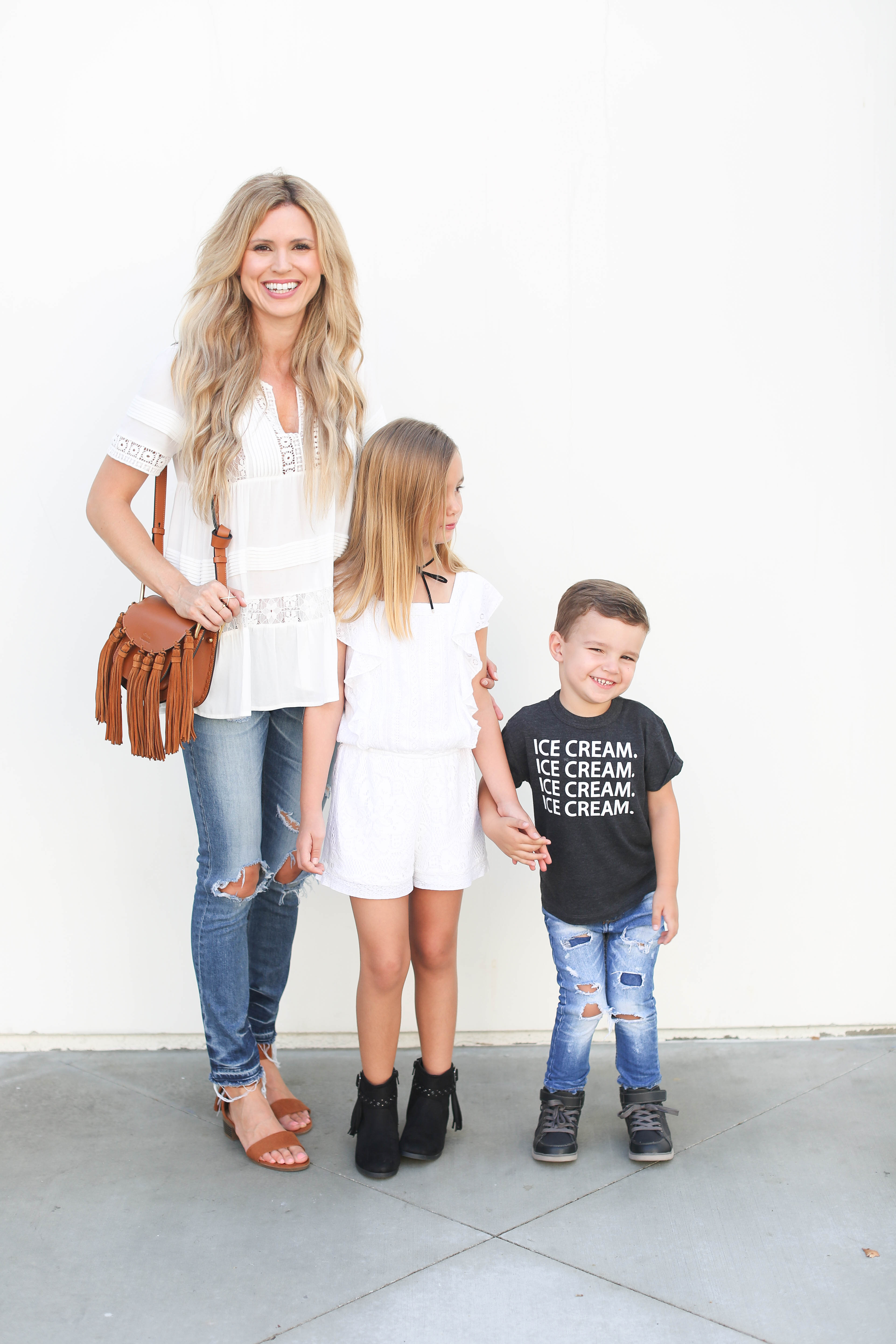 My Outfit: Top | Jeans sold out (love this pair) |  Bag | Sandals: Payless Nadia Block Heel c/o
Lily's: Romper | Booties: Payless Olivea Fringe Boot c/o | Choker
Max's: T-shirt | Jeans: Zara sold out (this pair is cute) | Max's Sneakers: Payless Chase Mid-top on major sale!!! and smaller toddler sizes here c/o
Happy Monday guys! So these are my cute kiddos that I have been hiding away. 😉  I had so much fun taking photos with them, and I can't wait to hang some of these prints in my home. Buuut, it also made me realize how much easier it is to shoot alone haha. I swear there is an art form to being a mom and having to get yourself ready AND two kids. I usually work on myself first, then get them ready right before we leave so they look fresh and don't have time to roll around on their heads (literally). Then I do a quick touch-up on myself, and we are out the door. However, I always look a little messier than if it were just me. And then when we shoot, there is the challenge of getting Max to cooperate. The first photo is so classic… Taylor totally captured a real moment where Max was running away when were supposed to take a picture. However this might be my favorite photo of the bunch. 🙂
So I had this realization last week. Summer is almost over. Max's pre-school sent out their August newsletter for the last month of summer school, and I did a double-take. His last day is less than two weeks away. So crazy! It seems like just yesterday that I was stressing out about getting him potty trained to start his new school, and now here we are. Poor guy has had so much change in such a short time- potty trained, got rid of the binky, transitioned to big boy bed, and a new school. He is handling all the change like a champ, and you can just tell  that he is an energetic, happy guy.
I have to admit that I am glad that summer is almost over. I love fall… it is absolutely my favorite time of year. It feels so fresh, like a new beginning especially now that I have kids and it's back to school time. Lily is starting 5th grade and Max is continuing at his school. This is the time of year we tackle our back to school shopping including back to school shoes. I don't mind splurging here and there (hello, Chanel?), but kids shoes can be so darn expensive, and they get SO beat up SO fast from all the playing at school. It can be hard to gear up to spend $50-$100+ on a pair when you know they are going to take a beating.
We hit the jackpot with kids shoes at Payless. I couldn't be happier with the quality and they are so freakin' cute. And both the kids love their new shoes! Max has several pairs of sneakers, and when I let him pick which shoes he wants to wear to school he always picks his Payless sneaks. I love that they still look brand new after so many wears. They wipe clean like a dream. They have a high top so less sand and wood-chips can get in, and the velcro makes them easy on and off. The price is amazing, and we will be stocking up on more sizes.
Lily likes to keep her outfits pretty simple. I am always buying her maxi dresses and cute rompers (like the one in the pics), but she prefers a top paired with denim. But I must say she likes to dress with a little edge. She is always wanting me to get her a leather jacket, so she fell in love with these black booties and thinks they are beautiful. They look great with leggings and jeans and she can wear them with her dresses when we go out to dinner.
Payless carries some really cute women's shoes too. Cognac is such a great color for fall, and I can tell that it is going to be especially big this year. These cognac sandals are the perfect fall transition shoe. The material and color make them feel fall appropriate even though they are a sandal. It really doesn't get cold in Orange County until late October (if that) so these will be a great go-to for me for a while. They are also easy to slip on in the morning when I am doing the school drop off (instead of flip-flops). I also love this pair which are so cute with amazing reviews. They kind of look like my Sam Edelman lace-up ones for a fraction of the price.
I loved including my kiddos in this post, and I hope it was a fun change-up for you guys to check out. Don't worry, I will still be doing a lot of outfit posts with just me but I want to sprinkle in more lifestyle posts including the kids and some home stuff (which is another passion of mine!).
Thanks so much for reading! I appreciate each and every one of you so much for following along! XO
Photos by Taylor Cole.
In collaboration with Payless. All opinions are my own.