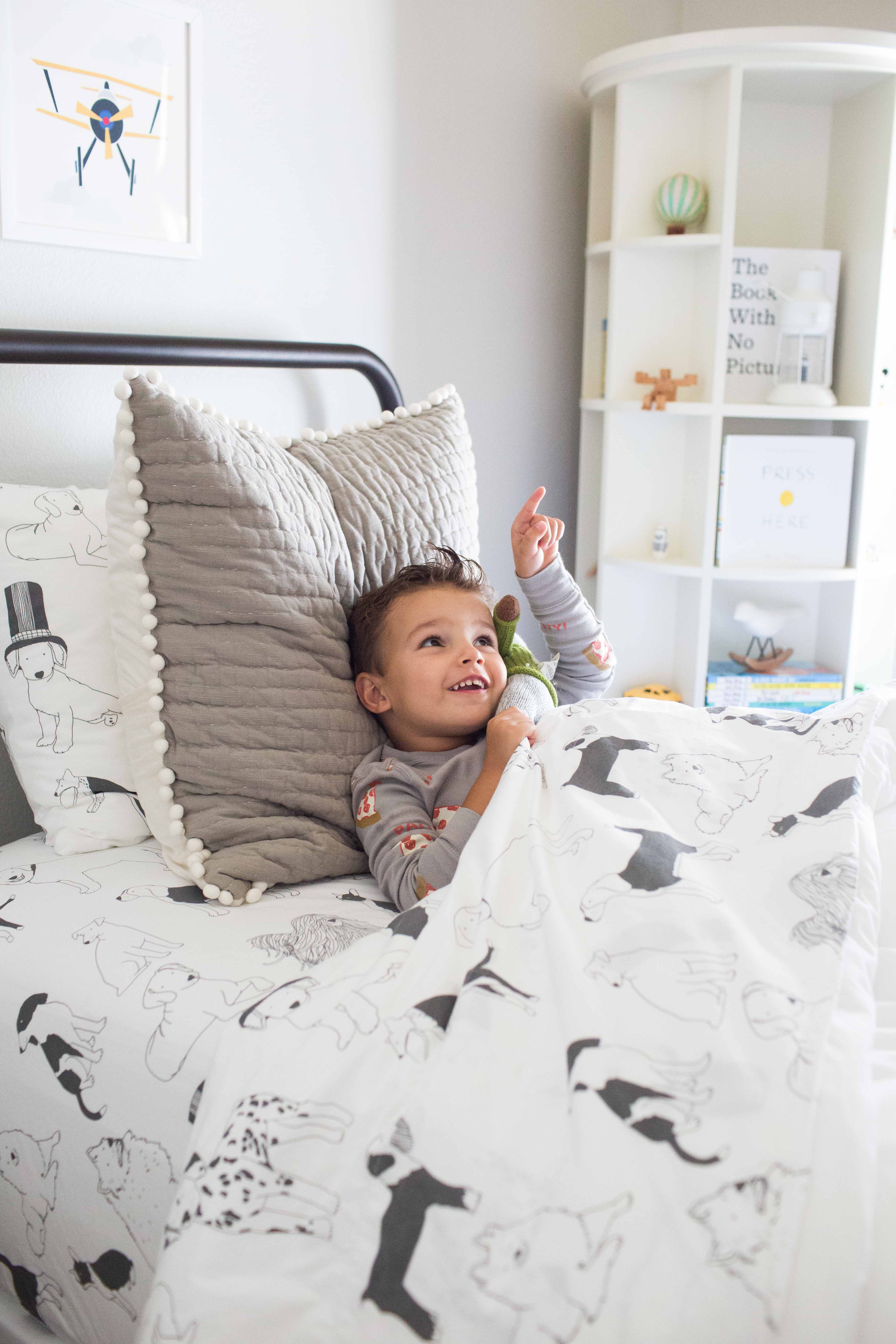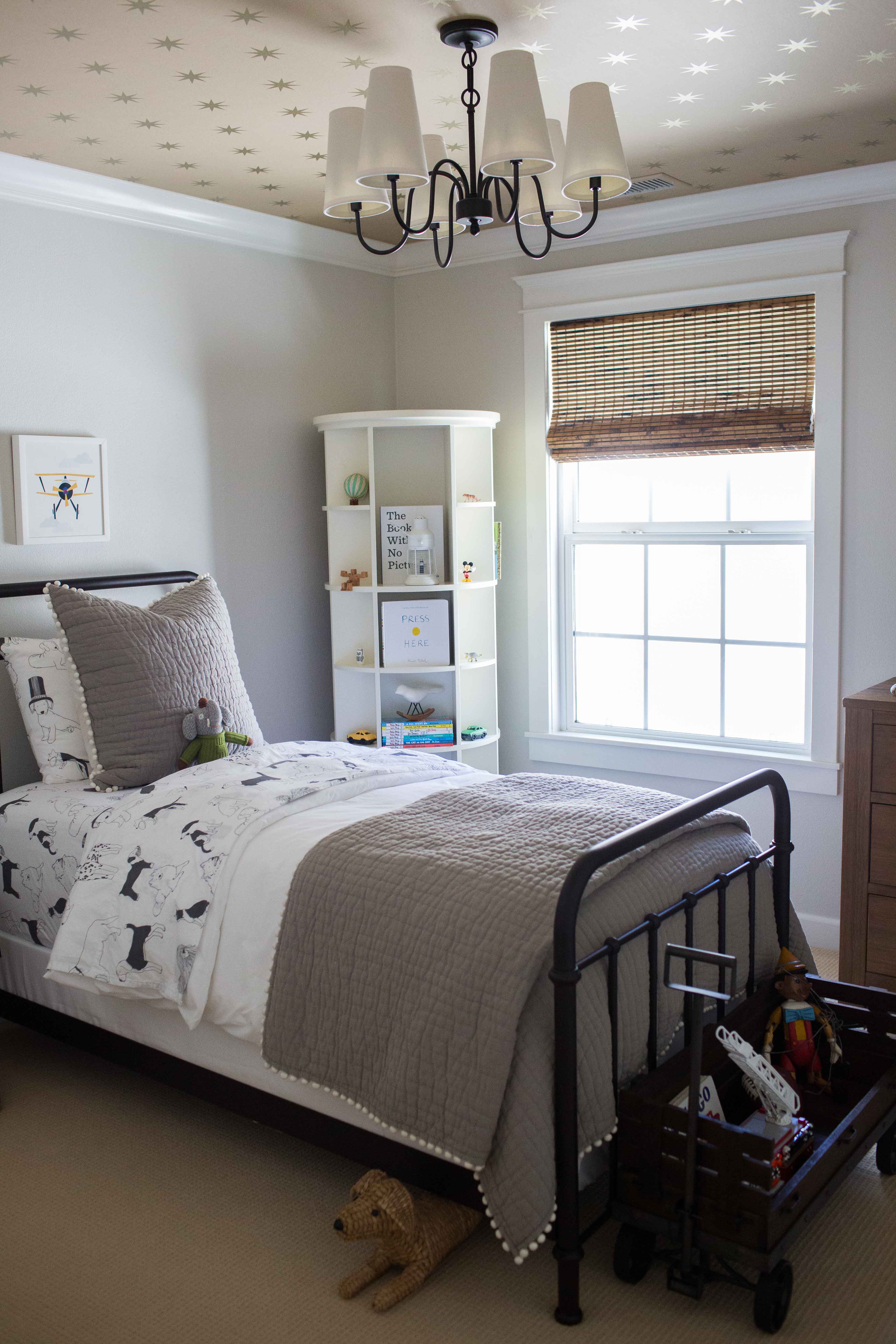 I am so excited to share a peek into Max's big boy room on the blog today! I will be honest that it's not 100% done, but if I waited until it was… who knows when (or if!) it would ever make it to the blog! I am such a perfectionist and over-analyze every single little thing so it takes me F-O-R-E-V-E-R. A few years ago I was considering being an interior designer and even took a few introductory classes at a design school. But I think I would be terrible because I would never be able to finish my projects! lol! I think my strength is in finding great pieces for the home, but I have a hard time pulling it all together and calling it done. All sources are tagged at the bottom of this post. 🙂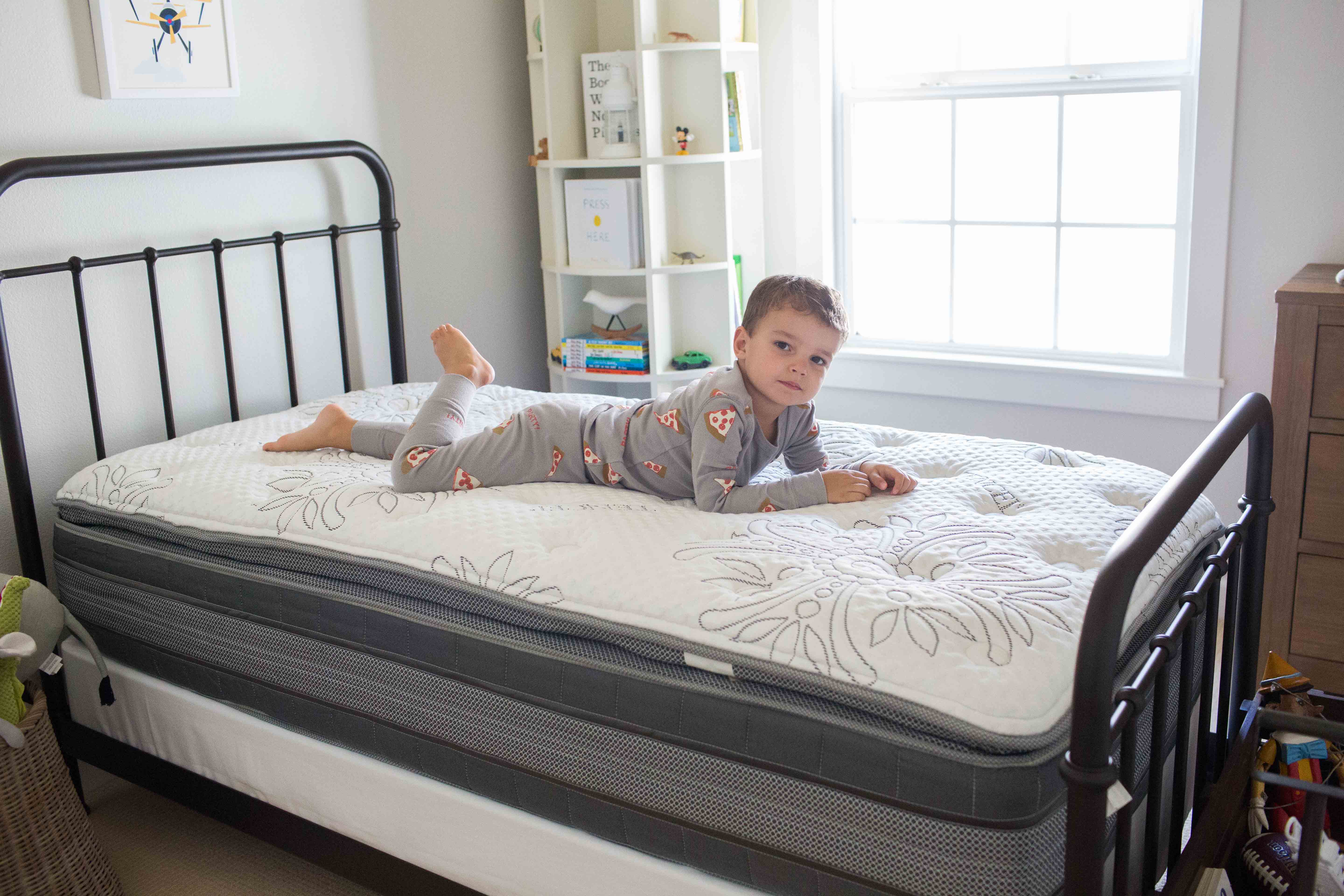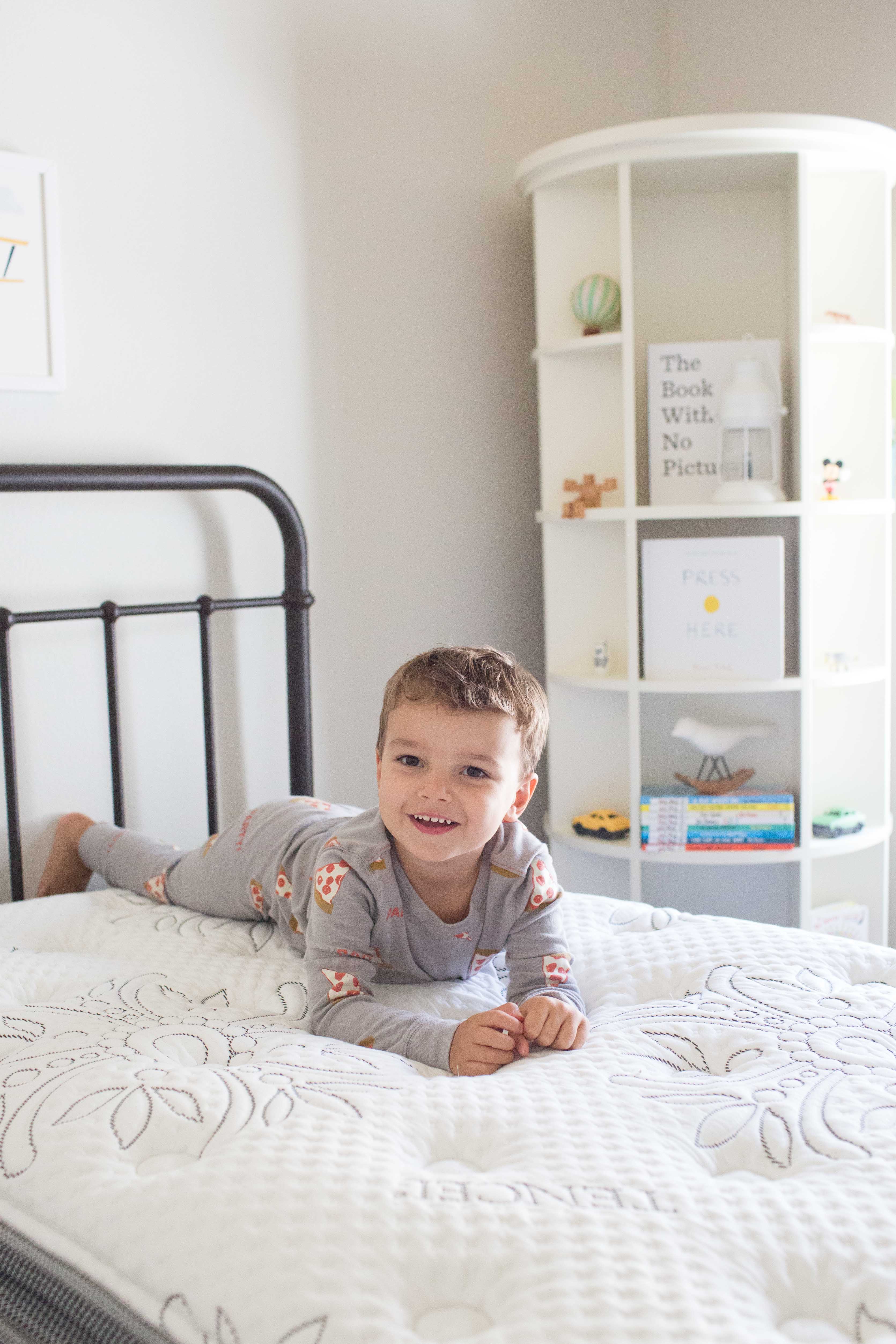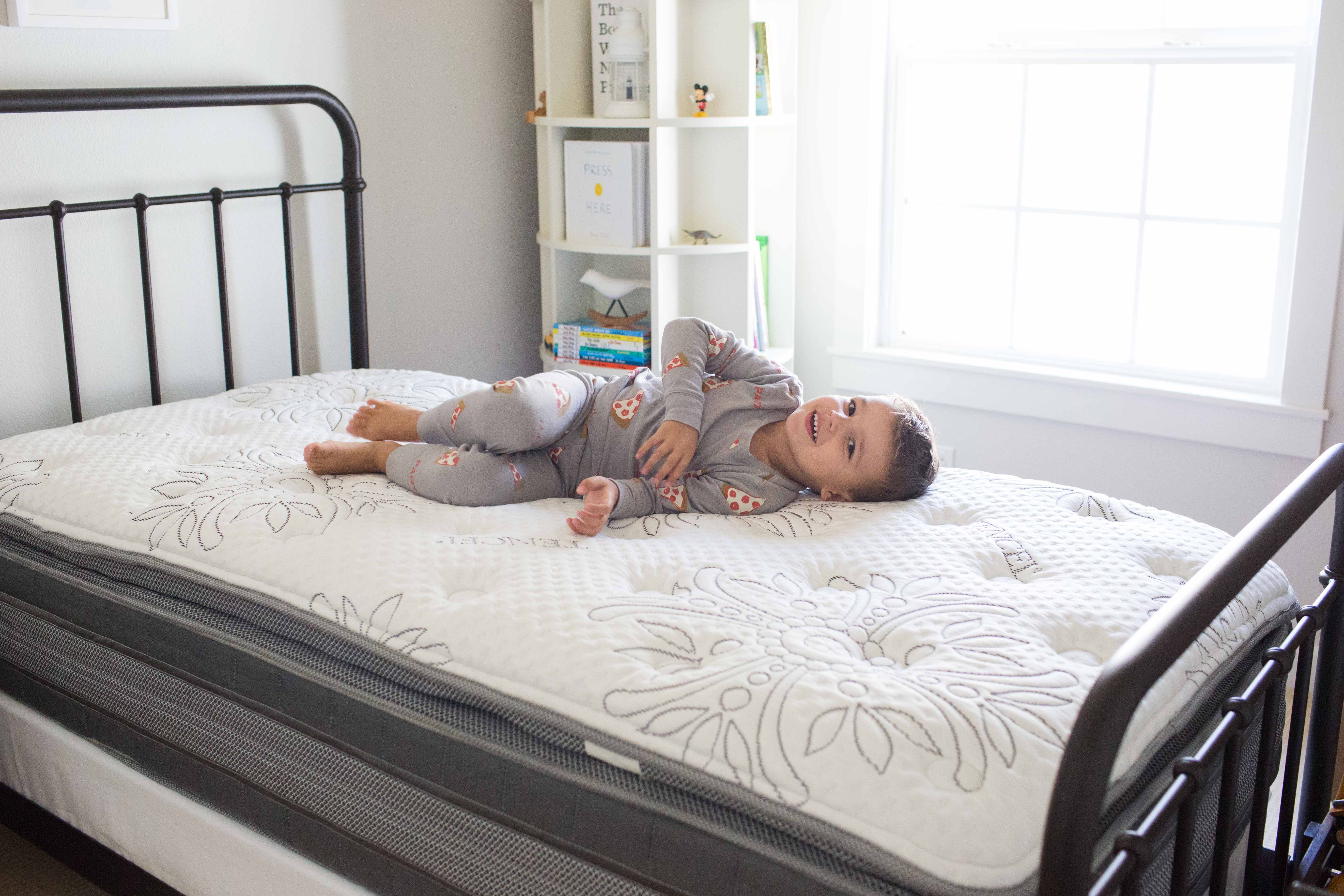 One of the amazing things about blogging is having the opportunity to try new products. I absolutely hate mattress shopping… I rate it on the same level as going to the DMV. I have been intrigued by these mattress companies where you order online and have the mattress delivered to your home in a box. It can be kind of scary ordering from a company if you haven't had someone you know that has used them. Max's mattress is from GelFoamBed, and this is the exact mattress we got. The mattresses are made in the U.S. which I love. I am being 100% honest when I say that I am completely blown away. His mattress is actually comfier than mine, and we have a nice one that we purchased from a mattress store. I don't like a mattress that is too soft, but I want it to feel like a pillow. That's not asking for a lot right? His has the pillow-top so it is so plush, and the mattress is really good-looking too! It came in a box, and we simply had to unroll the mattress and that was it! It was already plump, but it plumps up even more within the first 24 hours. The people at GelFoamBed are offering my readers $50 off with code sapphirediaries!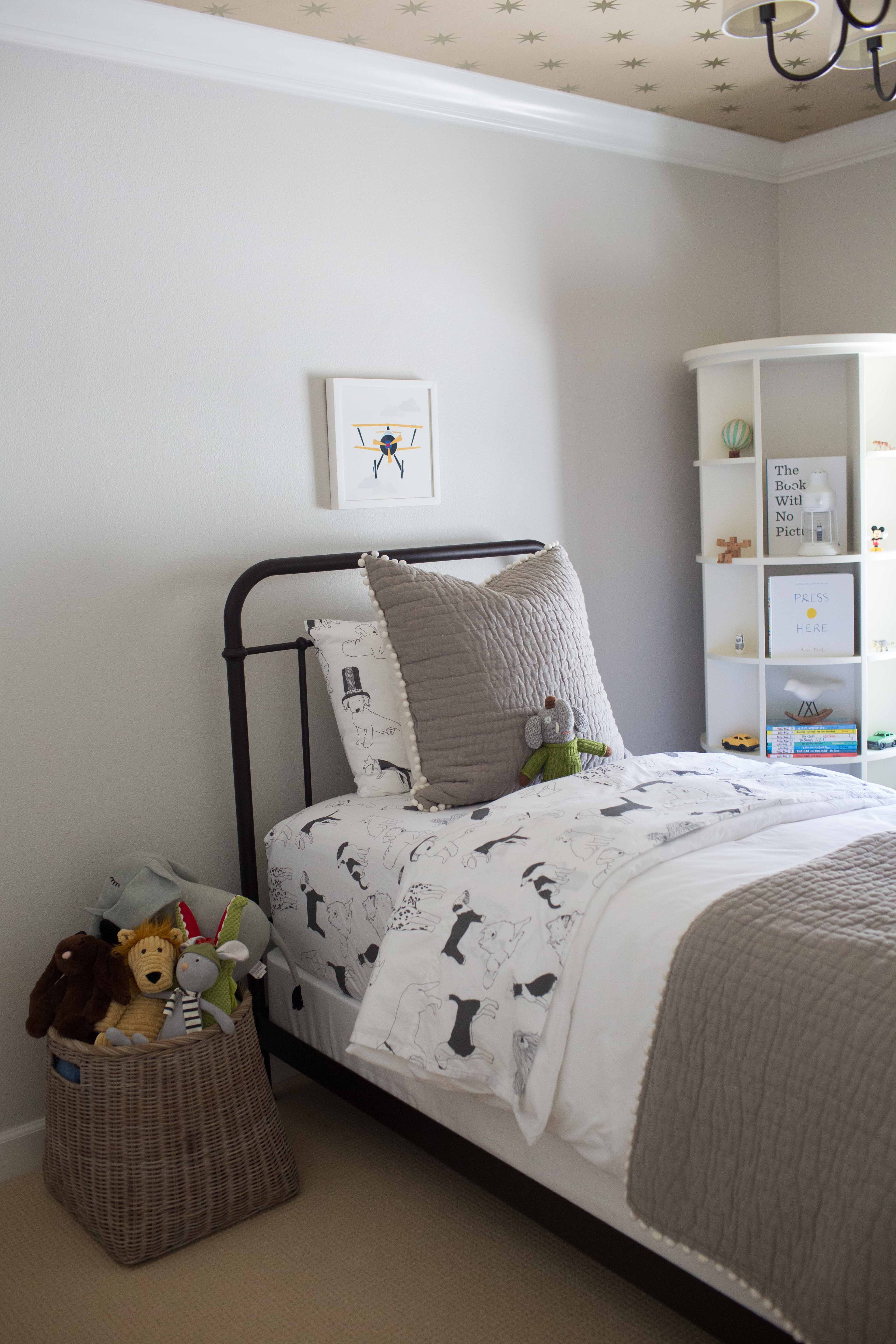 Hands-down, one of my favorite things in Max's room is his star wallpapered ceiling. The wallpaper was part of his nursery design, and my plan was to transition him into a different bedroom and use this room as a nursery for the baby girl (that we didn't have ha!). I actually really like the wallpaper in his big boy room. It adds a touch of whimsy, and at nighttime the hall light shines on some of the stars and they kind of glow. Max and I will sometimes lay in his bed at night and look at the stars. 🙂 My inspiration for the star wallpapered ceiling was this Pinterest image. Thank you Pinterest! 🙂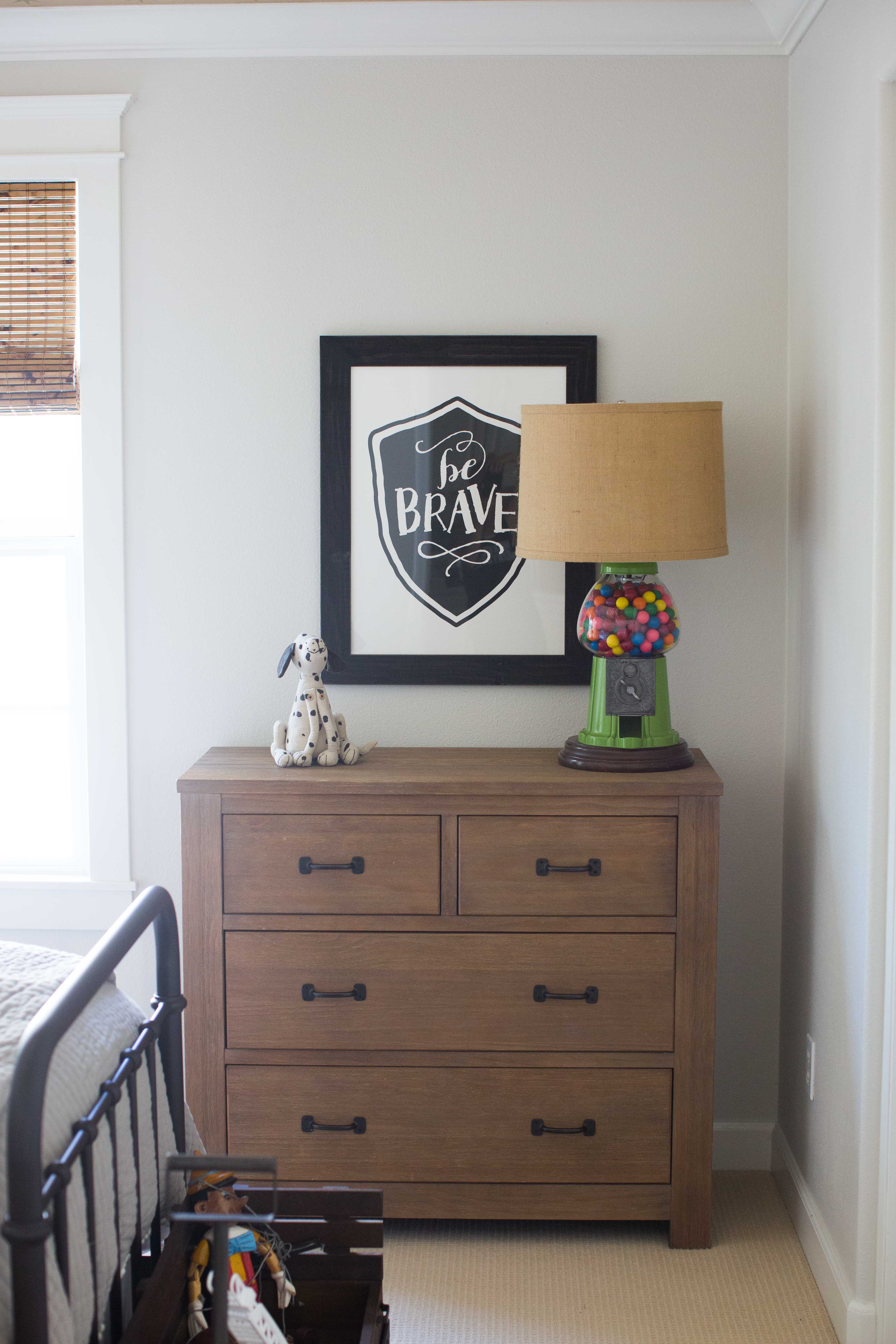 This lamp has been passed down to each of my brothers, and I love that Max has it now. It's a really special heirloom that we will continue to pass on. The candy actually comes out, and my mom would fill with goodies like jelly beans. For now, I keep these large gum balls that are too big to dispense.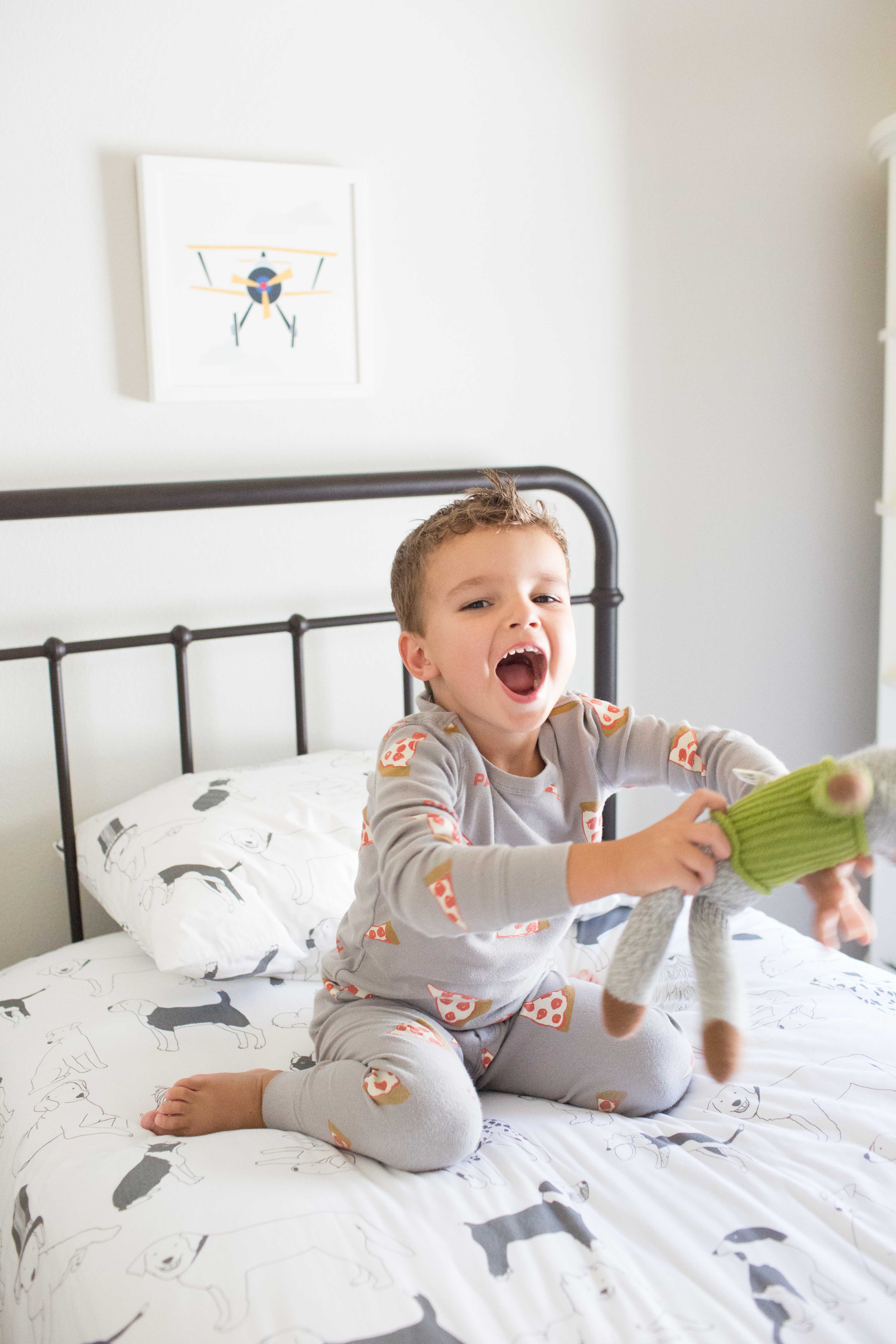 I don't know which I love more… these darling puppy dog sheets or his cute pizza pj's. Btw, can you tell he's a bit of a ham?!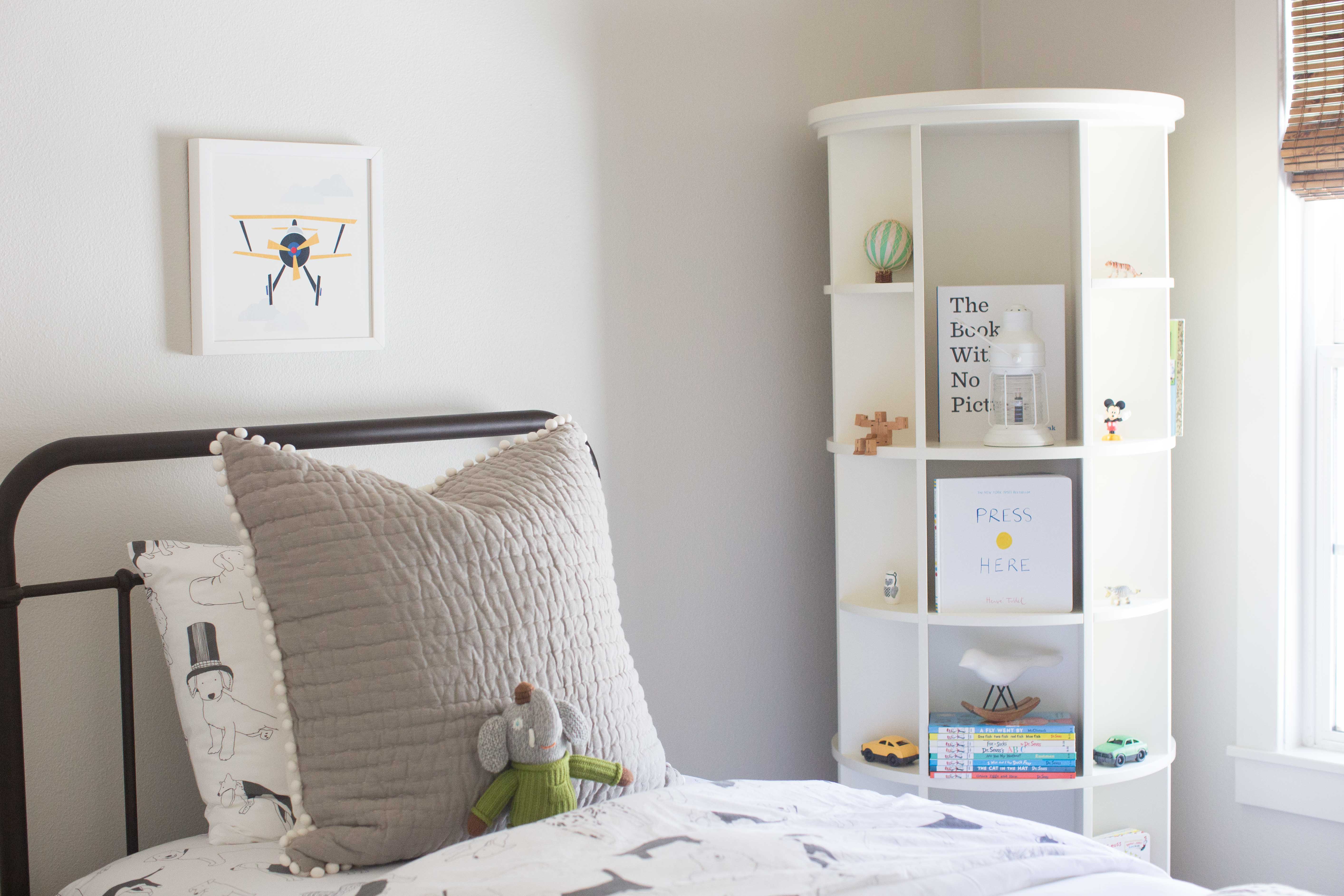 This revolving bookcase had been on my wish list for a long time, and I still love it so much to this day! When Max gets a little older, I will probably transition it to my blogging office. How cute would that be? I am a huge reader, and we have tons of books. This bookcase is perfect because it can hold so many. Part of our bedtime routine is to pick a book from the shelf and read it in Max's bed. We were in a rut for a while where we read the same book every day, but the last week we have been having fun picking a new book that we have never read before.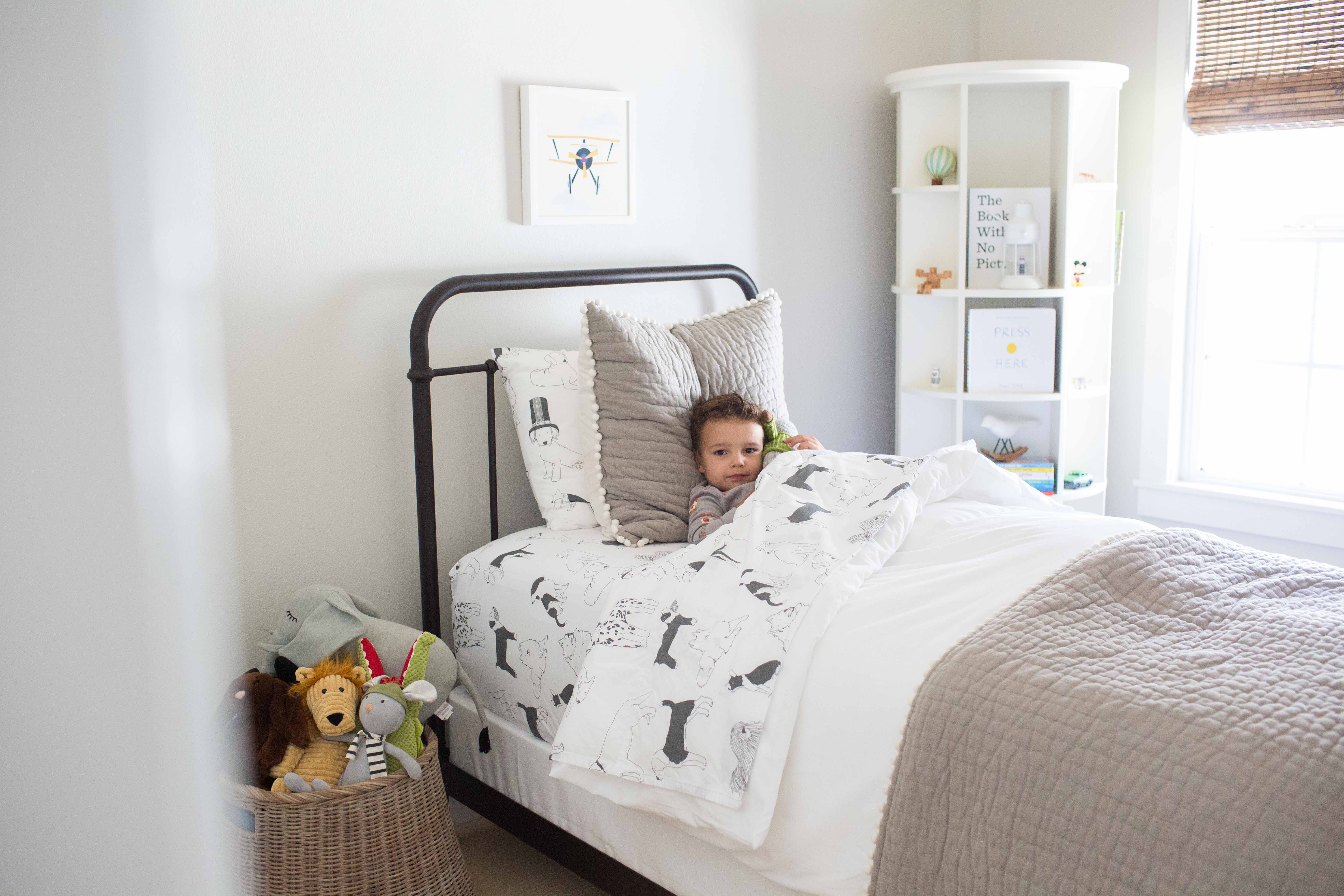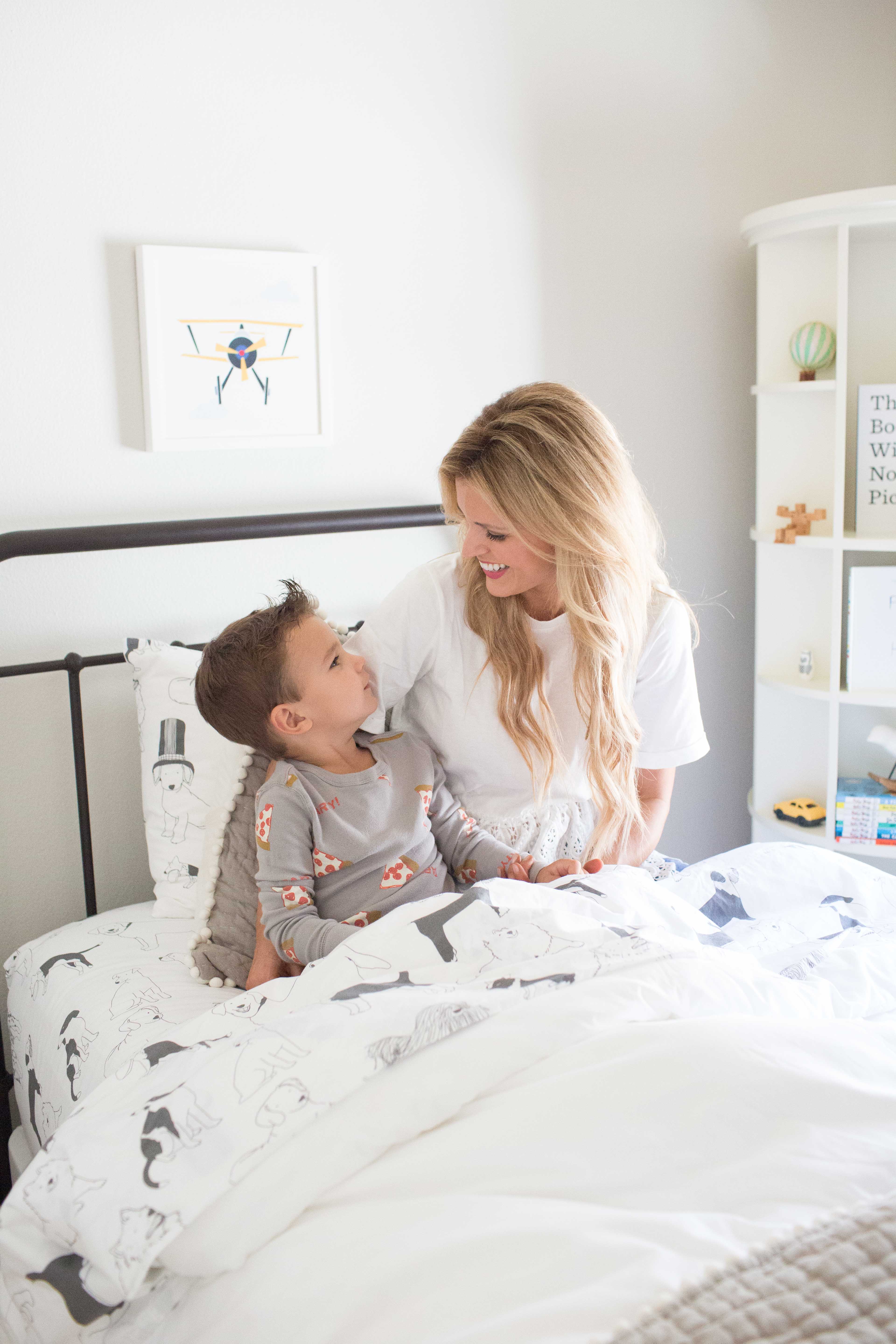 Okay so funny story. I am a total procrastinator. I just don't feel inspired unless I am under the wire for a deadline. So I knew we were shooting Max's room, and the print I ordered for above Max's bed wasn't right for the space. Max and I were shopping at PBKids in Mission Viejo the day before the shoot, and I noticed that they have an amazing artwork collaboration with Minted who I partnered with on Max's room. Max and I both gravitated toward this sweet plane print which was the perfect size to go over his bed. Long story short it was too last minute to order the print so the store was kind enough to let me borrow it overnight.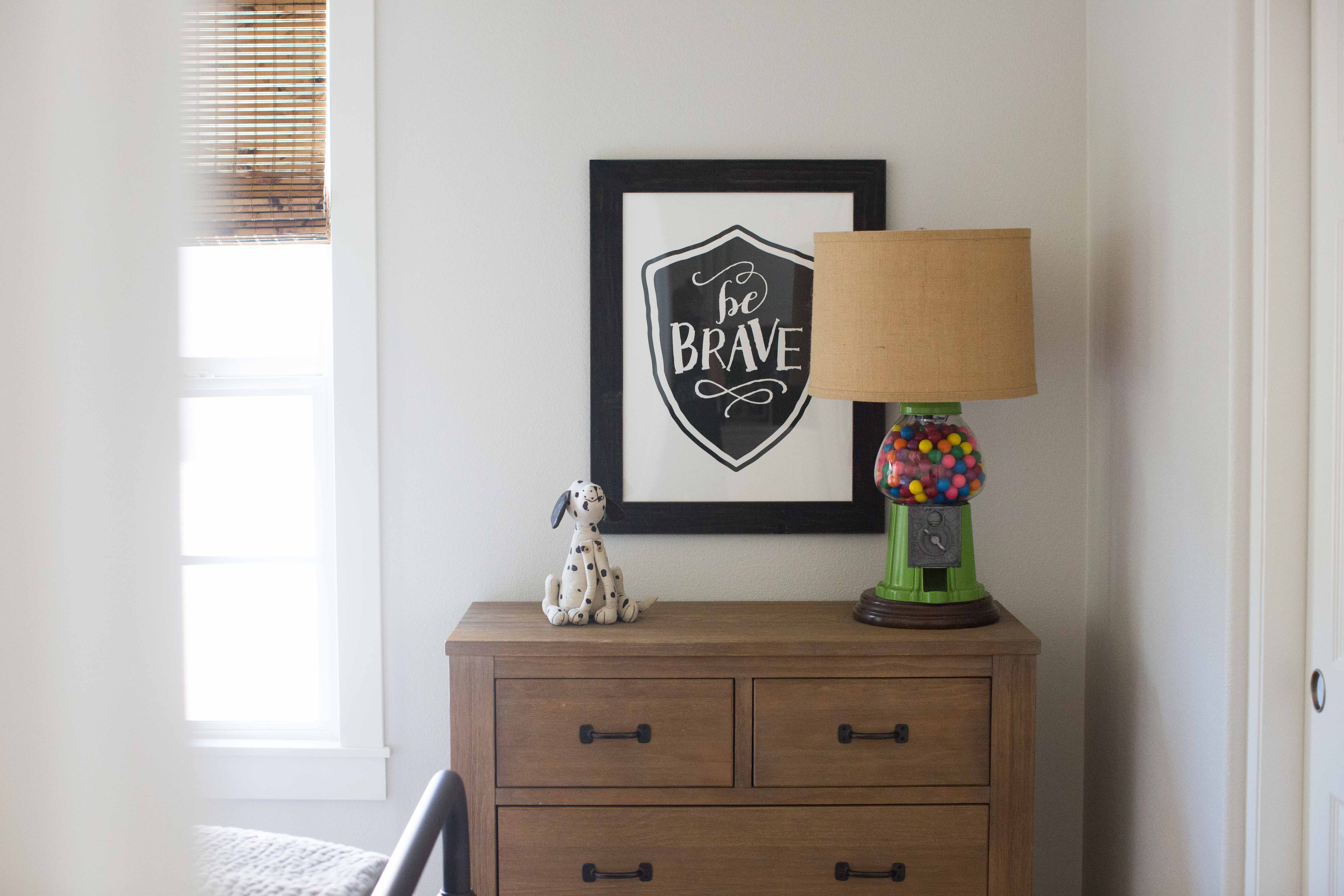 Minted has so many amazing prints, not only for children but for your home. Beware though because you can be sucked into the vortex of looking at artwork for hours. There are so many good prints to choose from, it can be really hard. Especially for a Libra like me! I really wanted Max's input on his room so I narrowed it down to a few favorites, and he chose this Be Brave print.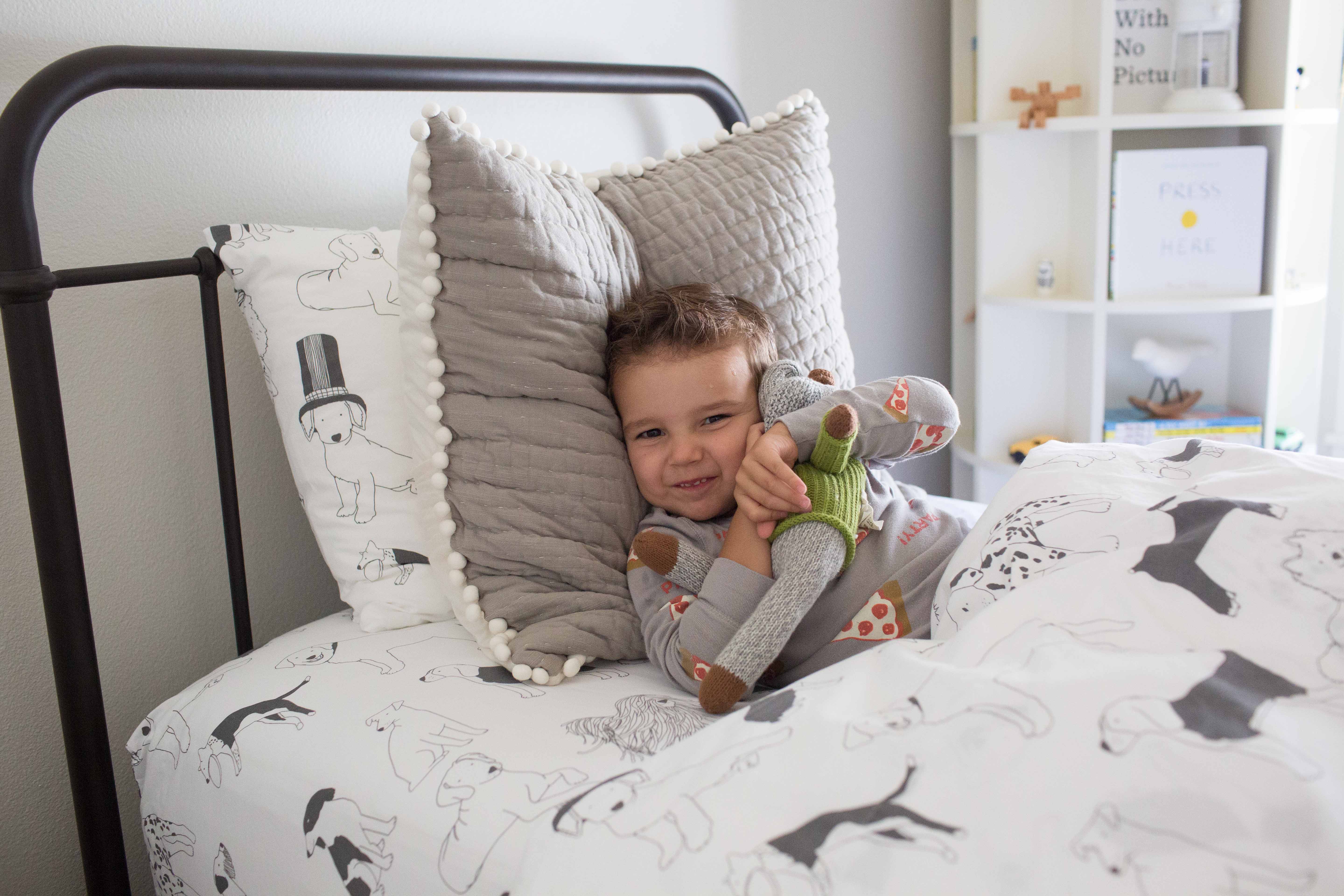 I can't handle his squishy little face! To finish his room, we need a night stand and maybe a little desk. I am still on the fence because he has no need for a desk just quite yet. Our next home projects are a gallery wall in the upstairs hallway and a living room refresh. I will be documenting it all on the blog so make sure and check back!
Thanks for reading! xo
Photos by Taylor Cole.