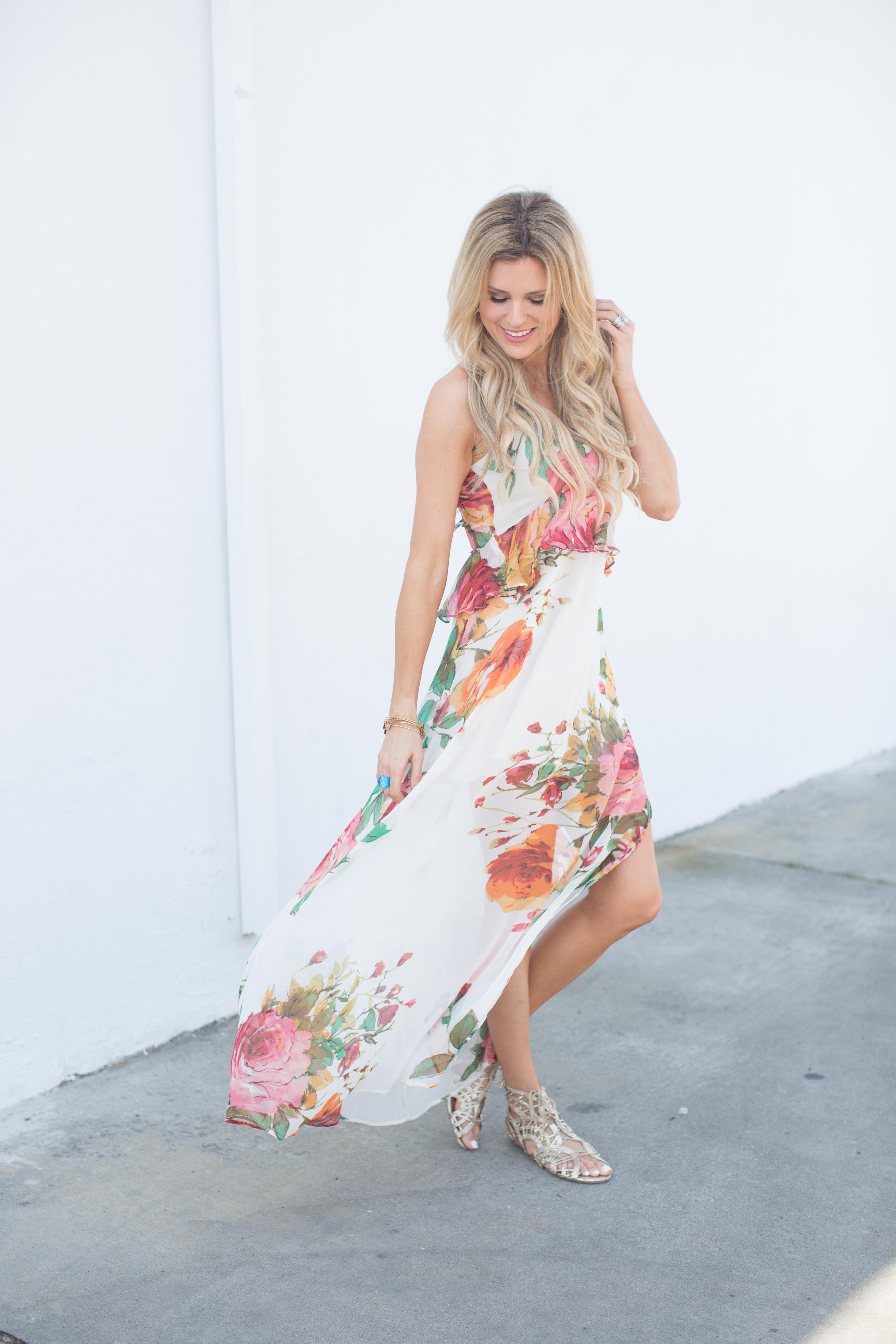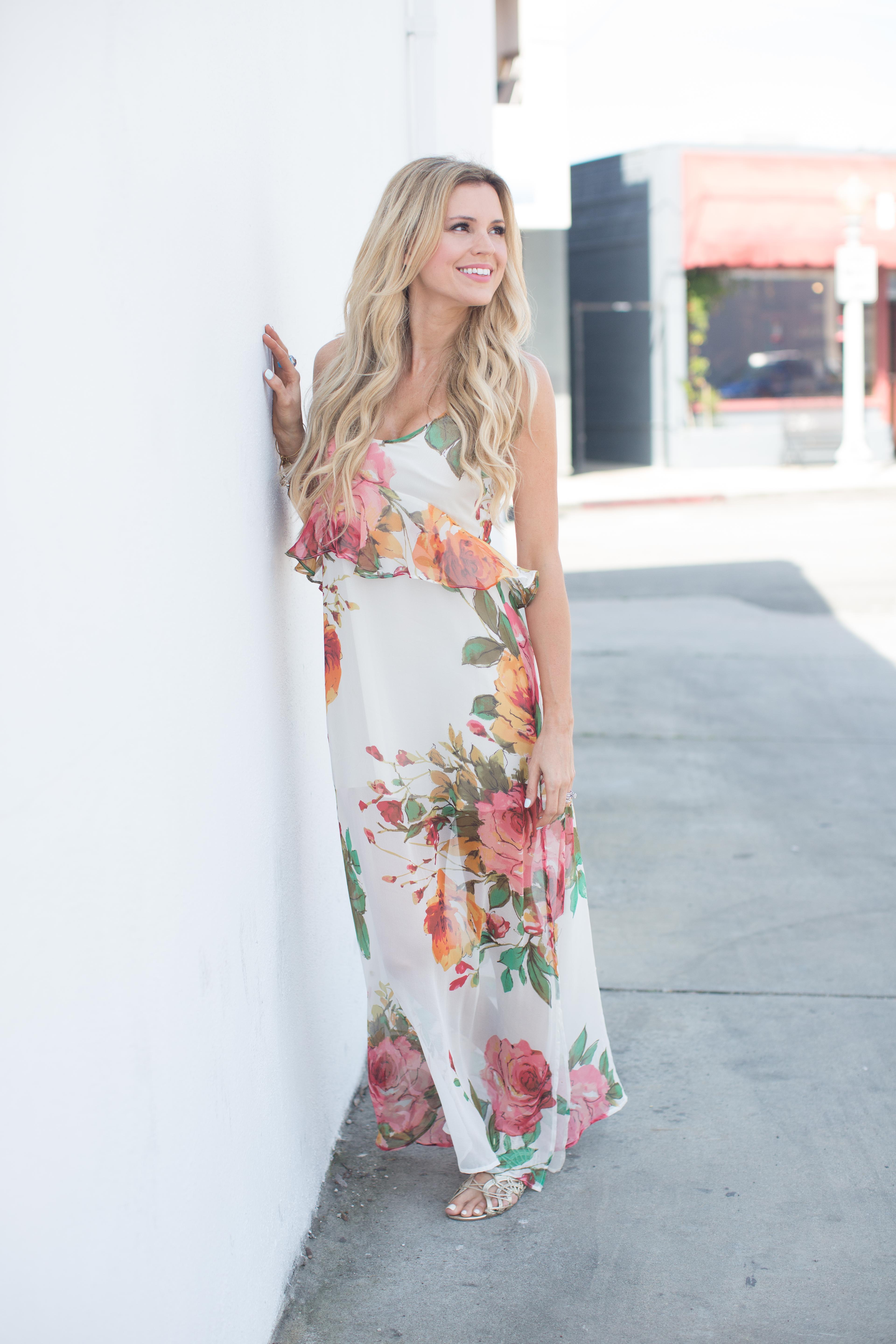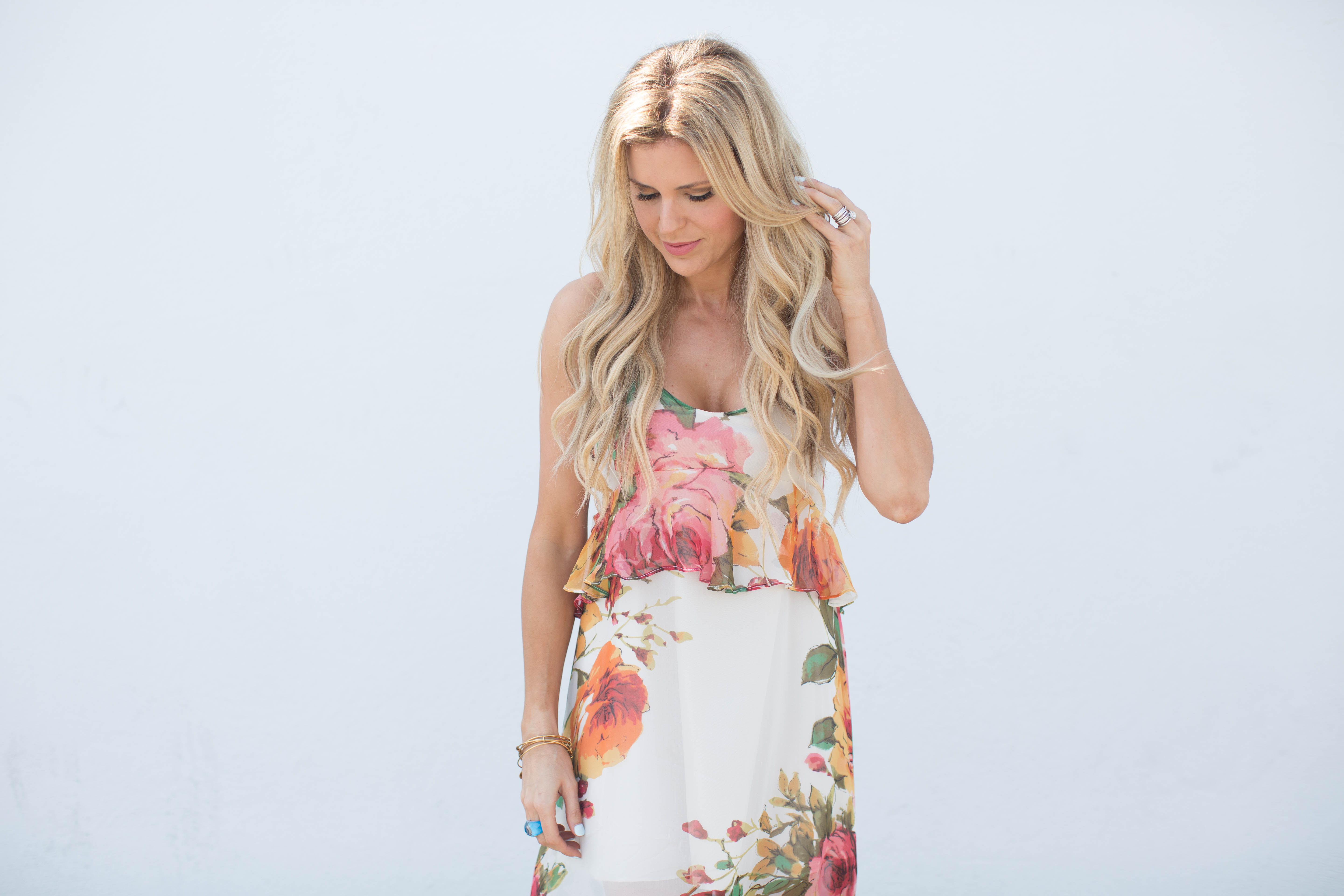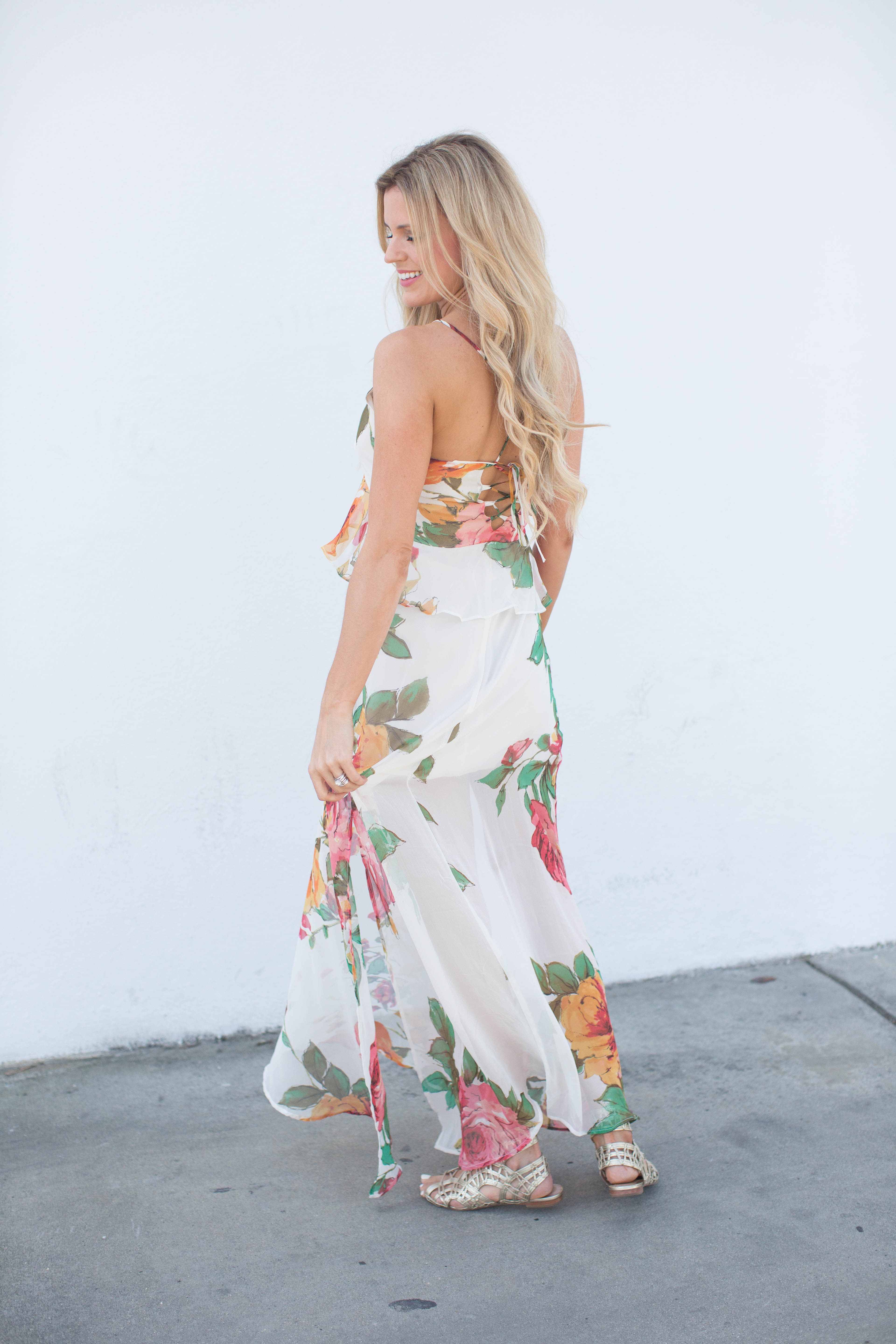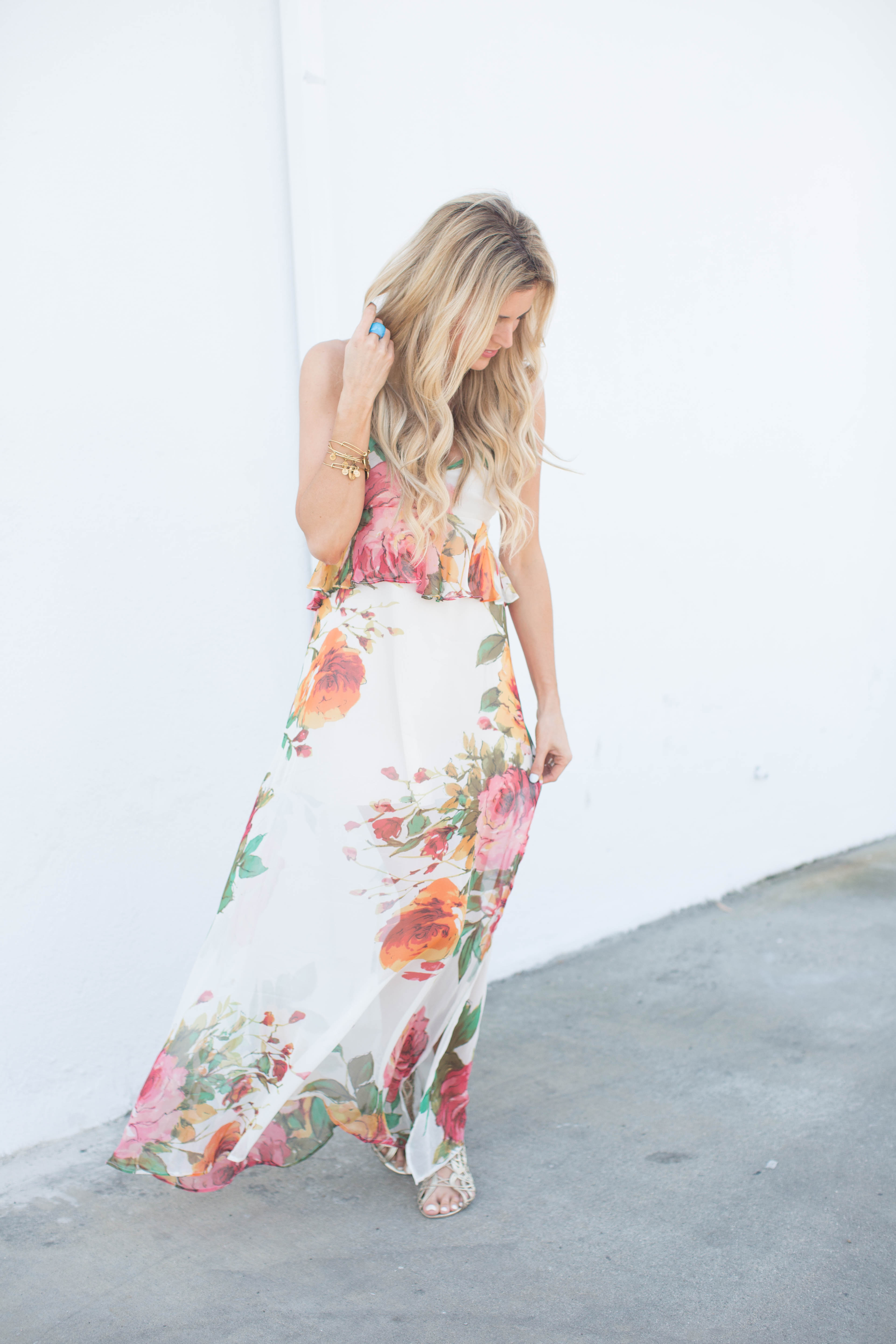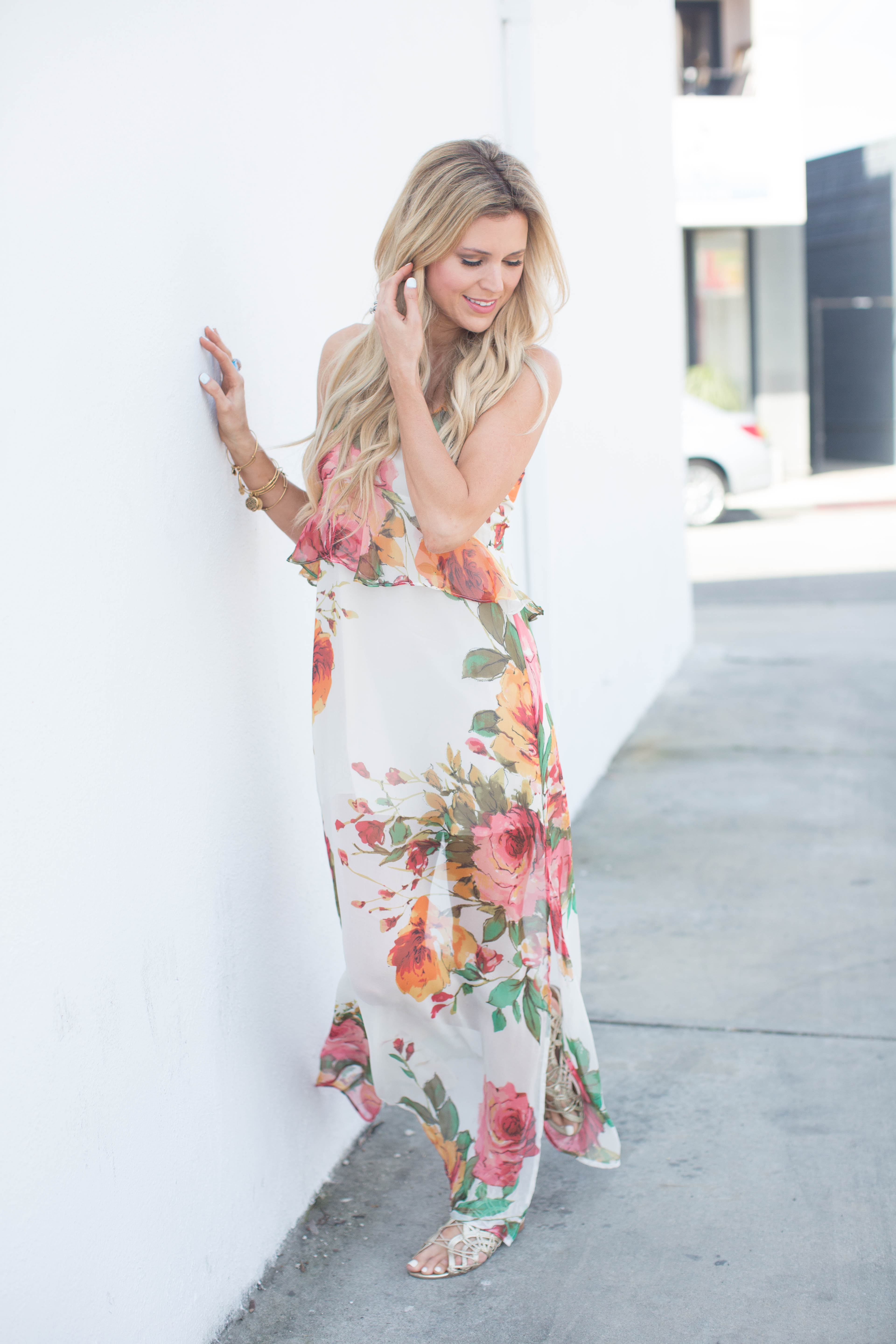 Dress: c/o Roe + May Jolie Maxi | Sandals: Joie Renee Gladiator Sandal older style/sold out (similar style here & here)  | Bracelets: Alex + Ani Bangles | Ring: Swarovski older style/ sold out
How stunning is this dress? It's the perfect summer maxi dress, great for brunch, date night, and how stunning would this be as a bridesmaid dress?!! I am in love with everything Roe + May, and this floral maxi is one of my favorite pieces. I am also obsessing over this dress! I know… totally adorable, right?
I am introducing a new segment to my blog called what's in my shopping cart. And to eliminate any confusion, I am not talking about my grocery cart. I keep a running shopping cart/bag at my favorite online retailers which are Shopbop, Revolve, Nordstrom, and Anthropologie. These are places I consistently purchase from, and I feel comfortable with their buying & return policies. Ever since I had Max, I do a majority of my shopping online. We still go to a mall once or twice a week (my favorite is Fashion Island), but I usually can just get a return or two done and then we hit up all the kid stores and spots.
In the morning after I have had my cup of coffee, I am in the mood to shop! Max watches his favorite show Thomas the Train, and we snuggle while I do some work on my blog and browse the new arrivals. If I am really caffeinated, I will add a ton of stuff to my shopping cart and it sort of feels like I am going on a shopping spree. Usually the stuff sits in my shopping cart for a while, because I am a Libra and overanalyze even the simplest purchases. I thought it would be interesting to share what's on my wish list.
Shopbop is my favorite place to shop right now so not only do I have a running online shopping cart, but I also have tons of items favorited on their site. I have had my eye on this blush pink boater hat for a while now. I love the style of hat because I think the shape is so flattering, and the blush pink is so striking and unique. This dress has been on my favorites list for so long now… maybe even a year. I finally just got it, and I am kicking myself for not getting it sooner. It is adorable in person. It's always on the Top Sellers list on Shopbop, and now I see why. It does run really short (like crazy short) so I sized up to a medium. I am really into cut-out's this season, especially on dresses and bathing suits (like the dress I wore recently in this post so I am loving this dress and hope to get it soon!
This little white dress is at the top of my wish list right now. I really don't need it because I have so many white dresses (but a girl can't have too many right!) so that's why it is sticking in the shopping cart for now. If you are in the market for a LWD, get it! Also loving this cute tote for summer and these blush pink block heeled sandals.
I actually finally purchased this top yesterday. It's an amazing dupe of a much more expensive top. It's a favorite of bloggers and I can guarantee it will sell out quick. It's the perfect staple top for spring and summer. Gotta get ready for your summer whites ladies. 🙂
In cased you missed the memo, stacked espadrilles are SO in right now. These beauties are under $100, and probably the only reason I haven't bought them yet is that I can't decide between the tan and the grey. I recently splurged and bought these ones in tan which is why I really don't need the other ones in tan, but I do think I like the tan better…. does anyone else overthink trivial things like I do?
I was spending SO much money getting spray tans, and not only were they expensive but a lot of the time they weren't even working. I had tried applying self tanner at home with cheapie brands, and they didn't give me great results. I finally splurged and got this self tanner, and swear I was a darker tan than when I went to a spray booth. The only drawback is that it is a bit messy on your sheets so I am still figuring out that deal, but it is so worth it to get a dark tan and save money. My next purchase is this at home spray tanner which is by the same brand and has rave reviews.
Off the shoulder is such a hot trend right now, and I love this perfect white staple off the shoulder top and this cute off the shoulder dress. Anthropologie is another one of those places where I keep a shopping cart and also a list of favorited items. They just opened a beautiful new Anthropologie at Fashion Island so if I can, I prefer to shop there instead of online. It's dangerous though because they have way too much cute stuff. The store is enormous and I could spend hours in there.
I hope you enjoyed the new feature! Thank you so much for reading!!! xo
Missy
Photos by Taylor Cole.