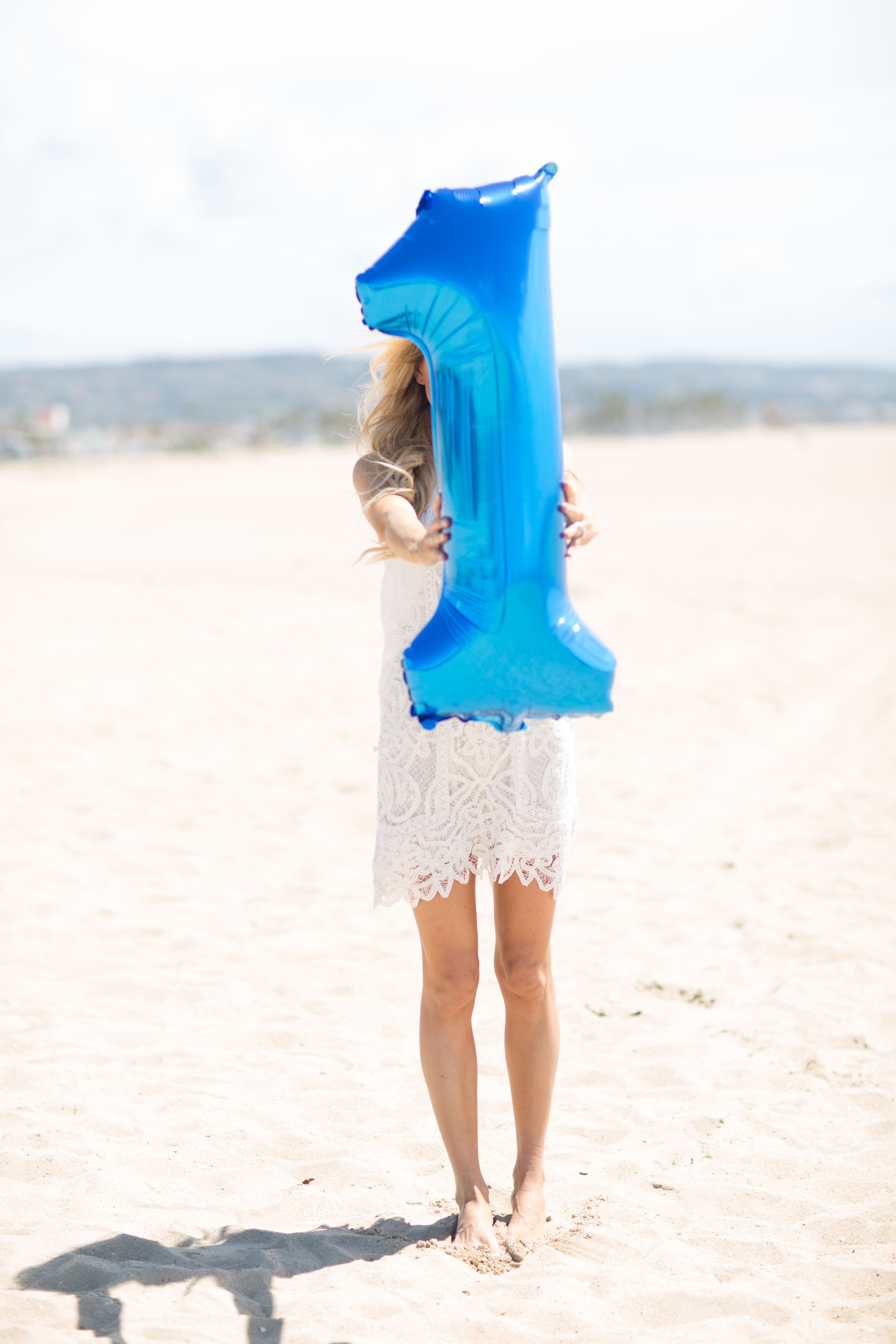 I don't consider myself a super sentimental person, but as I write this I find myself getting teary-eyed and emotional. My very first post on Sapphire Diaries was a year ago today. If you missed that post, you can catch it here and please don't get all judgy if it's not the greatest. ha! I have a really hard time going back and rereading old posts so I just pretend they didn't happen and then leave them up for the world to see… and hope there aren't any typos. 😉 Today being my one-year blog anniversary I thought there was no better time to revisit why I got into blogging in the first place and what my experience has been- the highs and lows and what I learned along the way.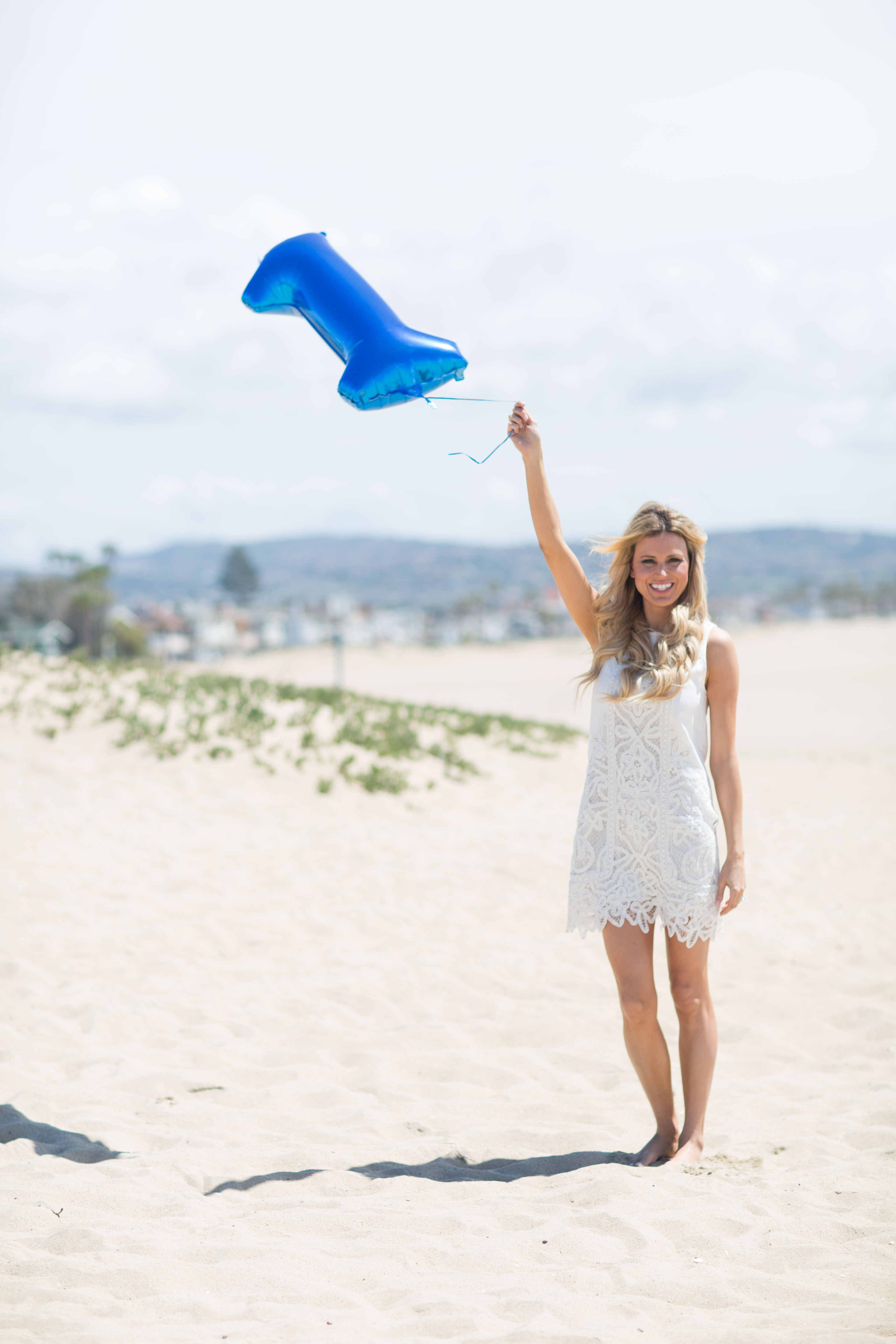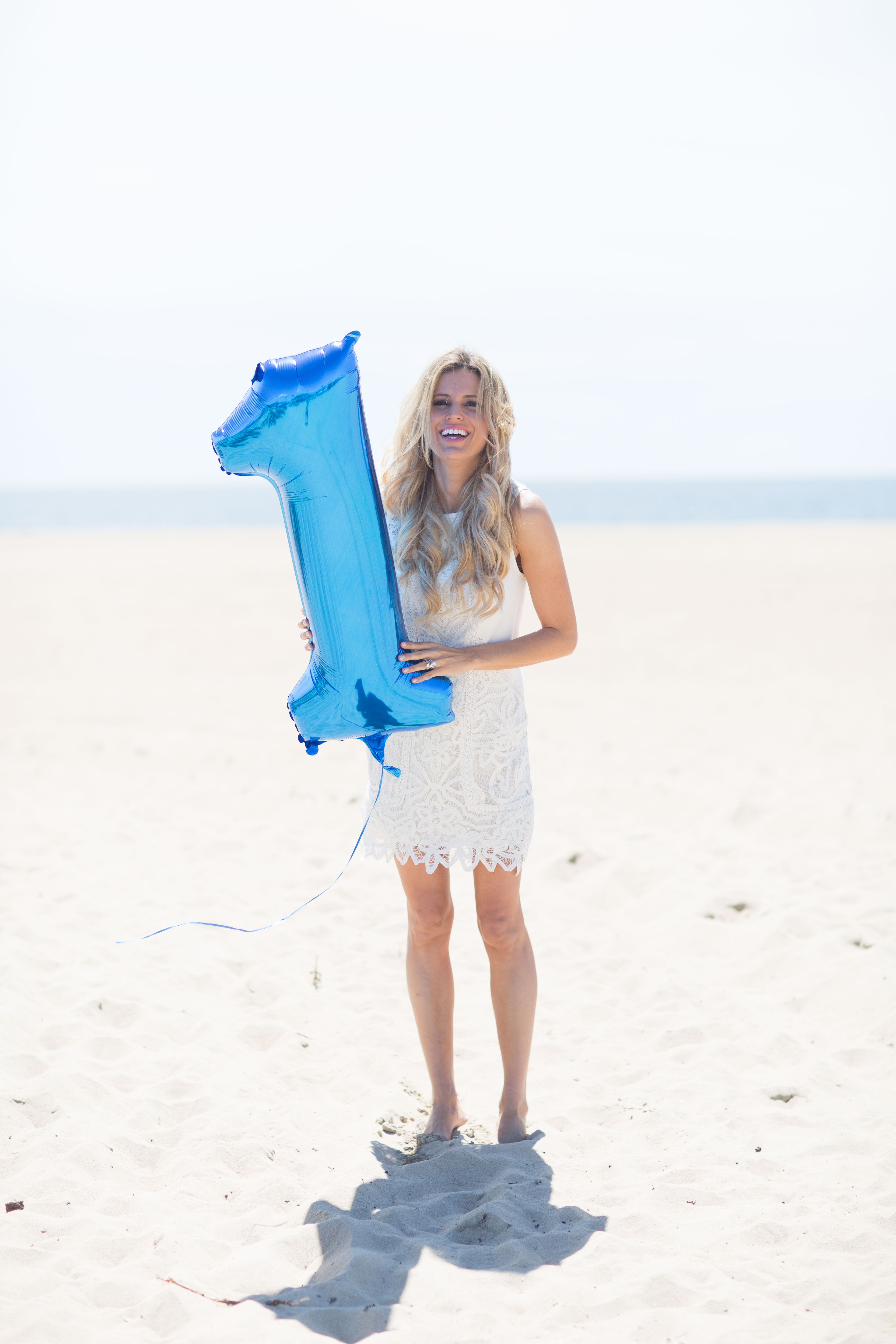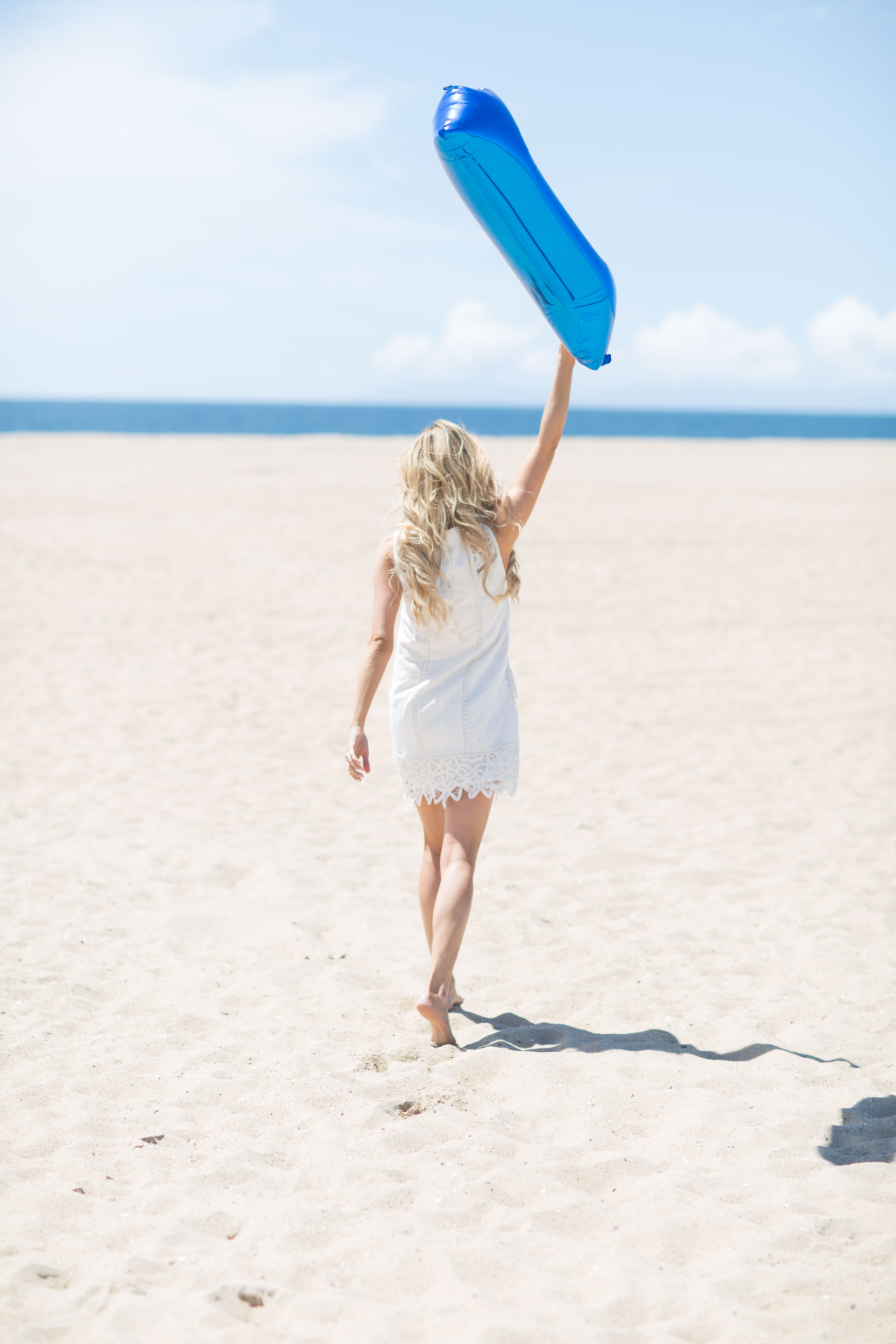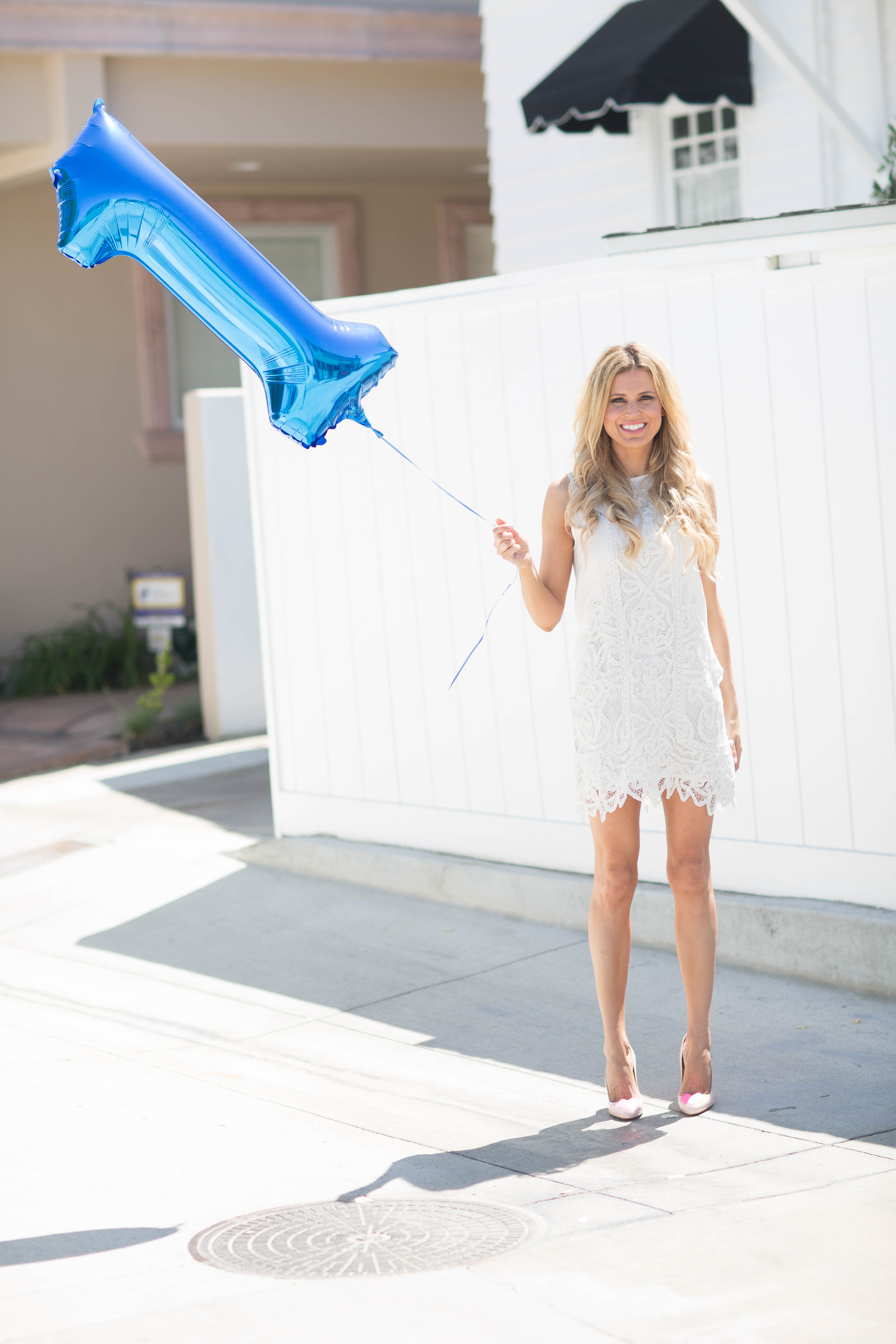 It's funny because this photo shoot sums up my experience of blogging in general. You can plan and plan, but it doesn't always turn out the way you expect. For the shoot I had envisioned this bright blue balloon with a super clean backdrop, wearing a simple white dress. What I didn't account for was the wind. When Taylor and I shot these photos, it was so windy that the balloon wouldn't even go in the air and my hair was a hot mess. We took about a million photos, most of them with me busting up laughing, the wind ratting up my hair and making my eyes water, trying to muscle up the balloon so that it actually looked like a 1. #totalfail
Let's start at the beginning. Why did I start a blog?
I didn't really read blogs until Max was born so that was a little over 3 years ago. I remember occasionally checking out the Sincerely Jules blog way back in the day, but that was about it. After Max was born, I was in a style funk. I didn't feel like myself, and I started buying some really random things that I definitely didn't need for my new mom life. Like a white crochet skin-tight mini dress that I still haven't worn. When Max was a baby, he constantly wanted to be held, and for the first almost year of his life he took his naps in my arms. I spent a lot of that downtime scrolling on my phone and checking out style blogs. I really connected with the bloggers whose style was more relatable, and that planted a seed… hey, maybe I can do that.
As time passed, I started getting back into the groove of things and feeling my creative inspiration coming back. I really do feel like putting together outfits is a form of creativity (it's my kind of art!) and self-expression. For me, when I love what I am wearing, I feel like the best, happiest and most confident version of myself. I started walking around mentally cataloguing my outfits- like shirt/ Nordstrom (yes, I am a dork). I kicked around the idea of starting a blog for maybe a year or so, but I still wasn't ready to commit.
My mom is a food blogger so she really encouraged me to start my blog. Then I met Danielle from DKW Styling who started doing my hair, and because she also blogs she told me how to make money blogging. Finally one day, I thought to myself- that's it, I am doing this, and I scheduled my first photo shoot. That gave me a an actual deadline to work toward which helped motivate and keep me going. I talked to a web designer and set a tentative completion date of April 13, 2015.
What is the best part about blogging?
You might think the best part about blogging is all the free stuff. And I have to admit, yes! that part can be really fun! Especially when I first started getting into the groove and had a package or two arriving almost every day. My hubby would give me a hard time thinking I ordered all this stuff, and it was fun telling him that they were gifts. I think that was when he realized that this was the real deal.
For me the best part about blogging is feeling creatively inspired and fulfilled. Having a purpose in my life, that is outside of being a wife or mom. It brings out the best in me, and I am able to fulfill those other roles in my life in a more positive way because I am happy. I love blogging, even when I am complaining… I love it, and I really feel this is what I was supposed to do.
Now that my blog has grown, I am starting to work with major brands that I love and it is so thrilling. Just yesterday Wet Seal reposted my photo on their Instagram, and it made all my childhood dreams come true. ha!
The hardest part about blogging.
The hardest part is the time. Blogging takes a lot more time than you might think. It's not a 9-5 job, it's a lifestyle. And it's a lifestyle that your family (and friends) have to become a part of. When I go to dinners or birthday parties or celebrate holidays, I want need to take photos of what we are doing, what we are eating (before anyone can eat). And now with Snapchat becoming more popular, there's even more pressure to show your day-to-day personal life. I feel a lot of guilt when I am working on my blog while watching Max. I mostly try and work on my blog while he naps, and although he takes a long nap it's just not enough time. He goes to preschool twice a week for a few hours, and that's usually when I sneak in a photo shoot or do photo shoot preparation. I really could be working on my blog a full 8 hours a day and be busy the entire time. I am a total perfectionist, but I just can't be with the blog because I don't have enough time. It definitely wears on my husband because he's at work all day, and when he comes home he wants to feel special and like he is a priority. I really try and have all my blogging done so that I can spend my evenings with him, but it doesn't always work that way. It's really, really hard.
Mistakes I've Made.
Okay, so let's talk about free stuff. While the free stuff doesn't come with a price tag, it can come with a set of expectations. These expectations will vary from brand to brand. My mistake was over-extending myself. I had gotten in a very generous spirit and was saying yes to many of the brands reaching out to me with gifts. When I received some of these items, they were not things that I myself would normally buy. And I am extremely protective of what I promote on here because it has to reflect my personal style. And I was taking on way more than I could do with the time I have available. Now I really try and take my time and fully consider each offer that I receive. It's okay to decline an offer, and I am getting better about saying no. Keep in mind when you accept a gift, you are accepting that brand as a partner.
I am sure I will continue to make more mistakes along the way. There is definitely a learning curve, and this is one of those jobs where you just have to get out there and do it to learn. You don't have someone training you on how to do your job. You have to figure out what works for you. I love blogging in Orange County because there are so many amazing bloggers here, and there's not much I love better than to get with other bloggers and talk about blogging.
I love to be surrounded by beauty. (This is supposed to be a Libra thing). I love photography and styling, and also reading and writing. Blogging is something I can do from home and continue being a stay-at-home mom. I feel blessed to have found something that I love doing and can make money while doing it. I feel like everything I have done in my life has brought me to this point.
I truly appreciate you for supporting my blog just by stopping by and visiting. Thank you so much from the bottom of my heart! I am excited to see what Sapphire Diaries has to being in year #2!
Love, Missy
Photos by Taylor Cole.