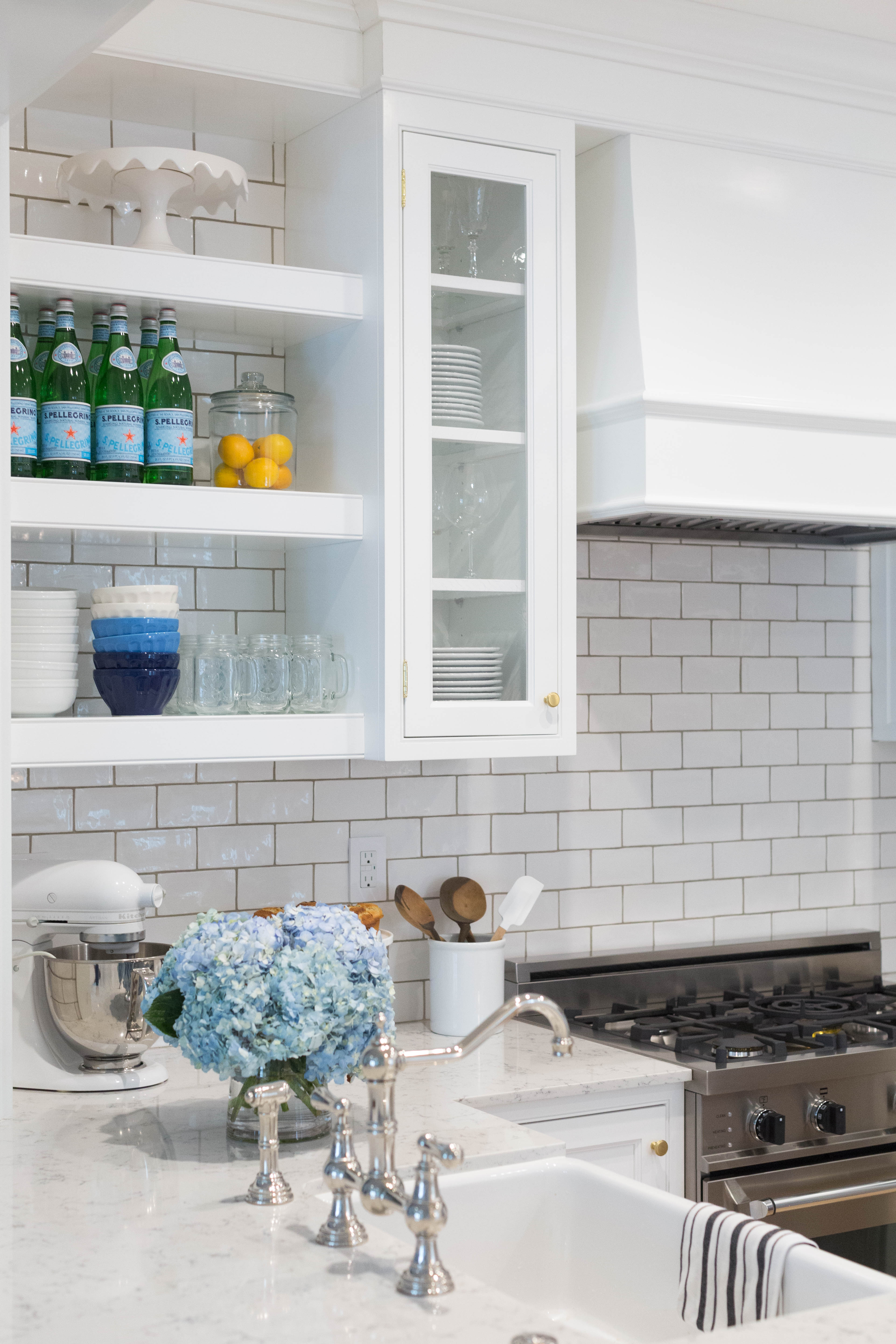 Yay, kitchen reveal day is finally here! If you are following along on Instagram, you may have already seen snippets of our newly remodeled kitchen (and if you aren't following me, you can do that here). I have unintentionally built this reveal up WAY too much, and for that I am sorry. We have done a few shoots in our new kitchen over the last few months, but I am still trying to figure out exactly how I want everything set up and there are some accessories I still need to buy (wood cutting boards, a cute rug…). It really does take time to make a house a home so I want to make sure and only buy pieces that I love and not just buy a bunch of stuff so that I can say I am done.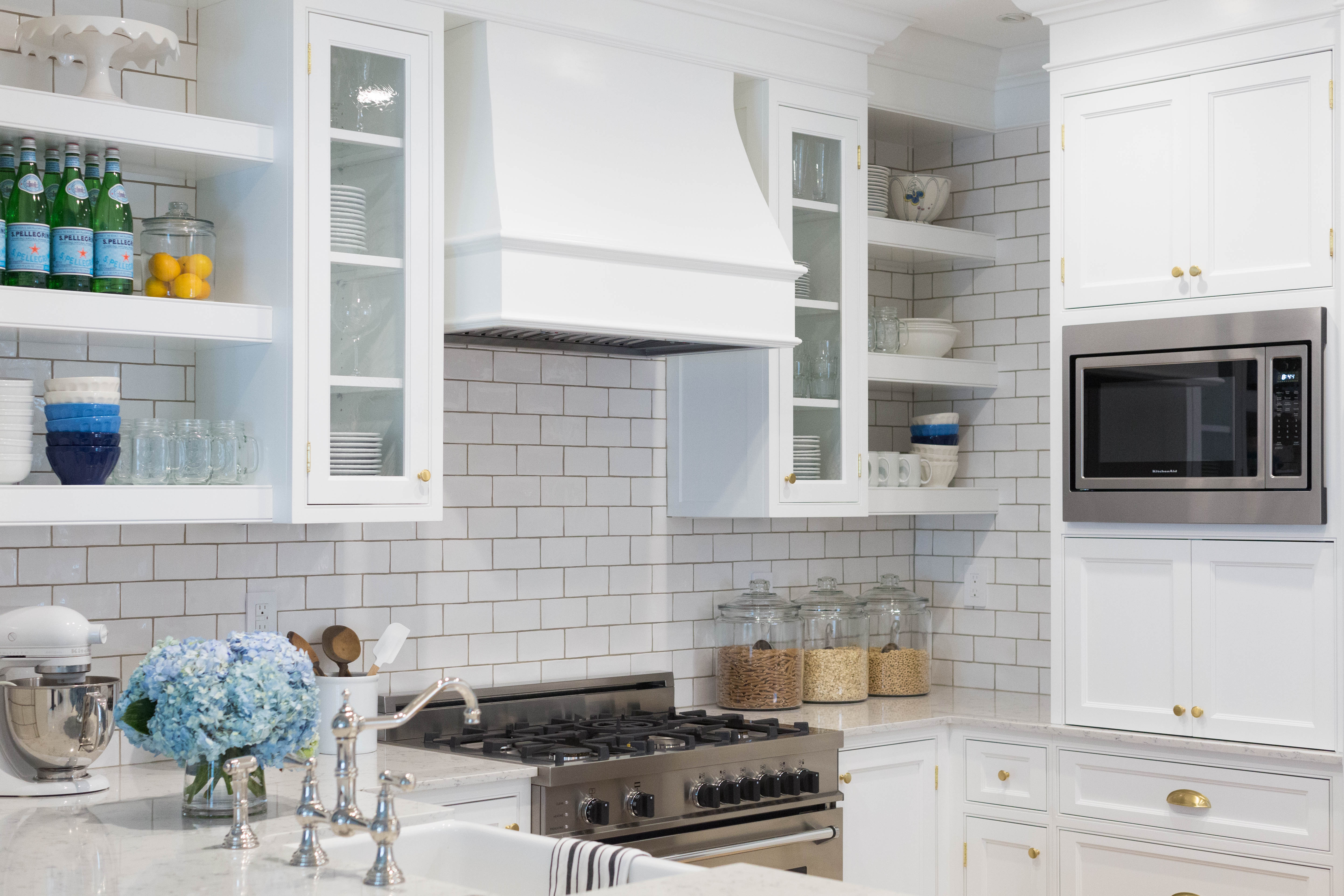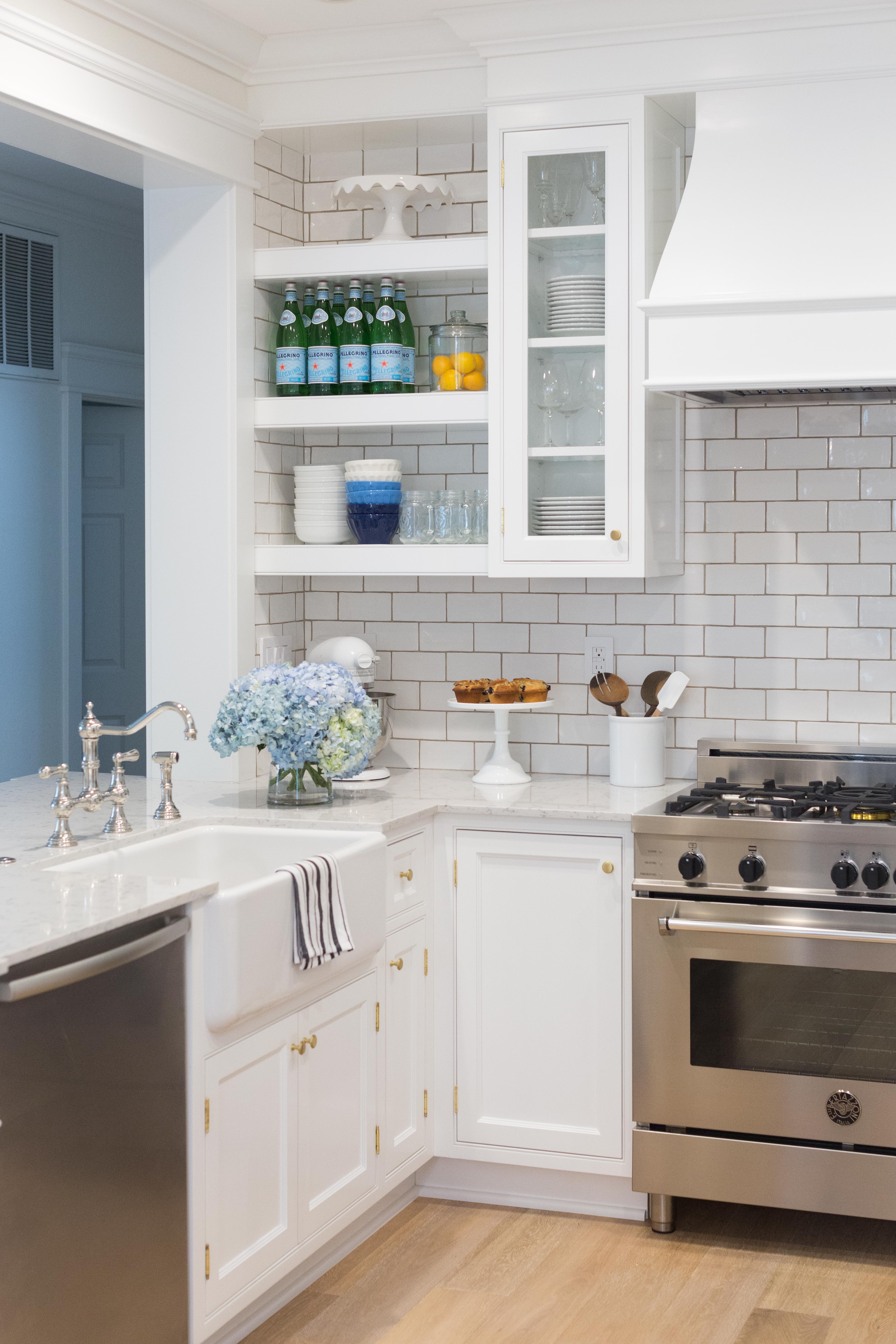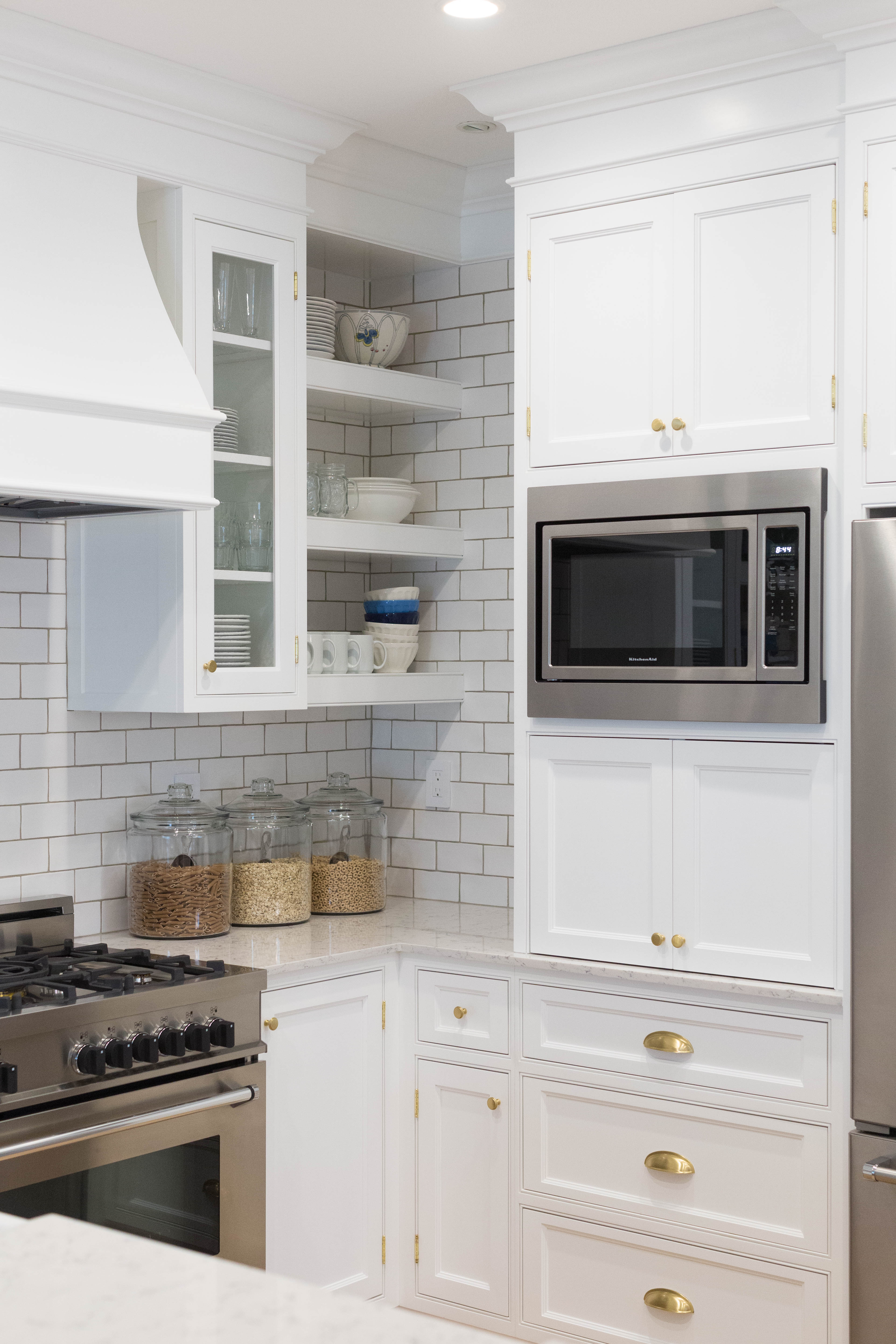 One of my favorite additions is the built-in cubby underneath the microwave. That's where we hide all our uglies, LOL. There is an electrical outlet in there, and the doors both fold open and slide in. We currently keep our toaster and coffee pot in there. I really like a clean, streamlined look with minimal stuff on the counter-tops so this really helps us keep the counters looking clean.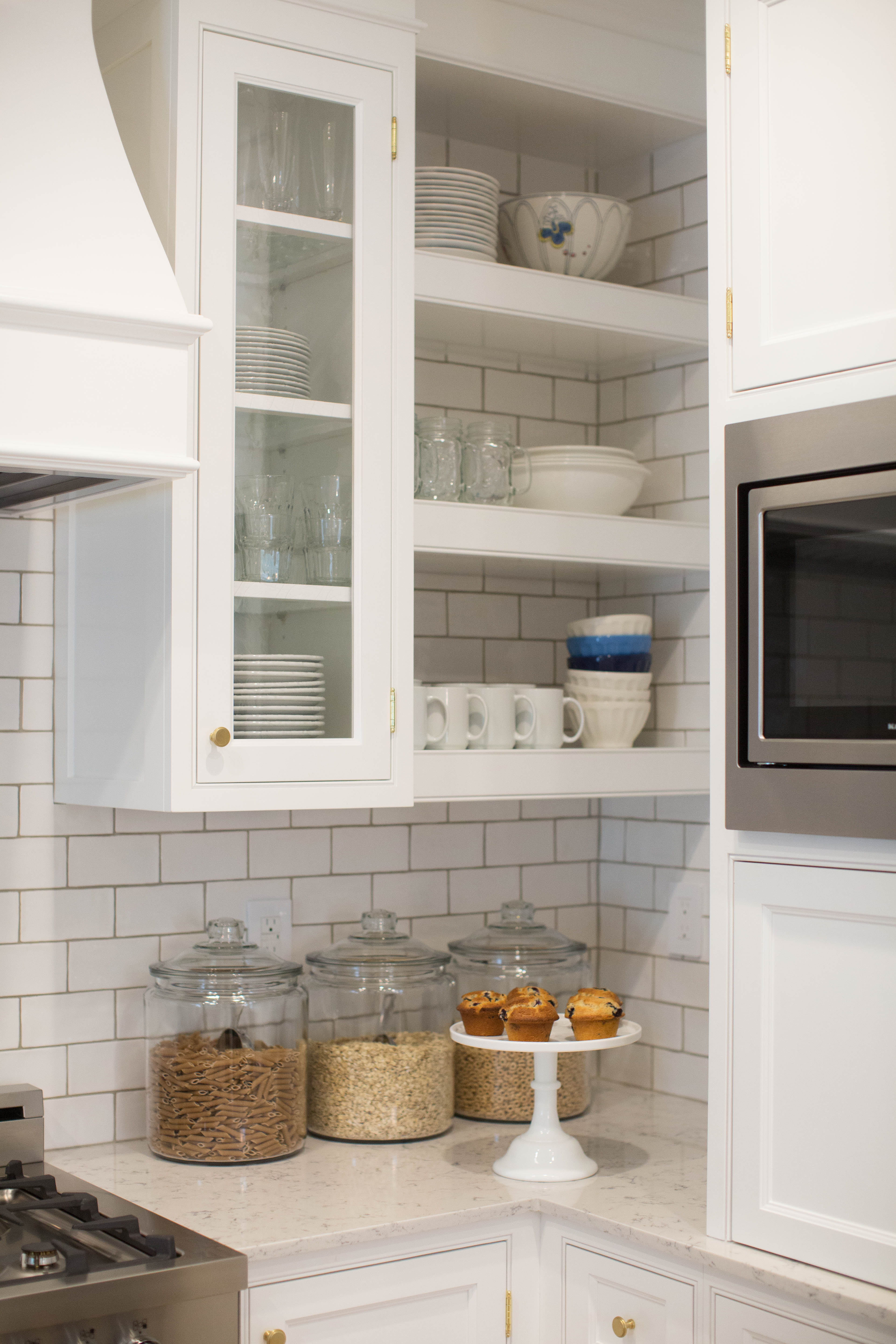 The only thing our interior designer wanted us to keep from our prior kitchen were these three oversized jars. (lol) I love jars as kitchen accessories because they are multi-functional. They look pretty (which let's be honest is the #1 function) and give you extra storage space which is important since my kitchen is on the smaller side. I actually purchased these jars right after Max was born… I remember because I was in this really weird mental space and bought some random things online. One day I thought- I need jars! and bought these jars from Crate & Barrel and stuff to fill them with on Amazon. These jars are humongous and even the filler I needed weighed a ton. Huge boxes were delivered and my husband was like- what the heck is in these? The day that I cleaned those jars and filled them- well that was all I got done that day besides taking care of Max and it was a proud moment. #fussybaby.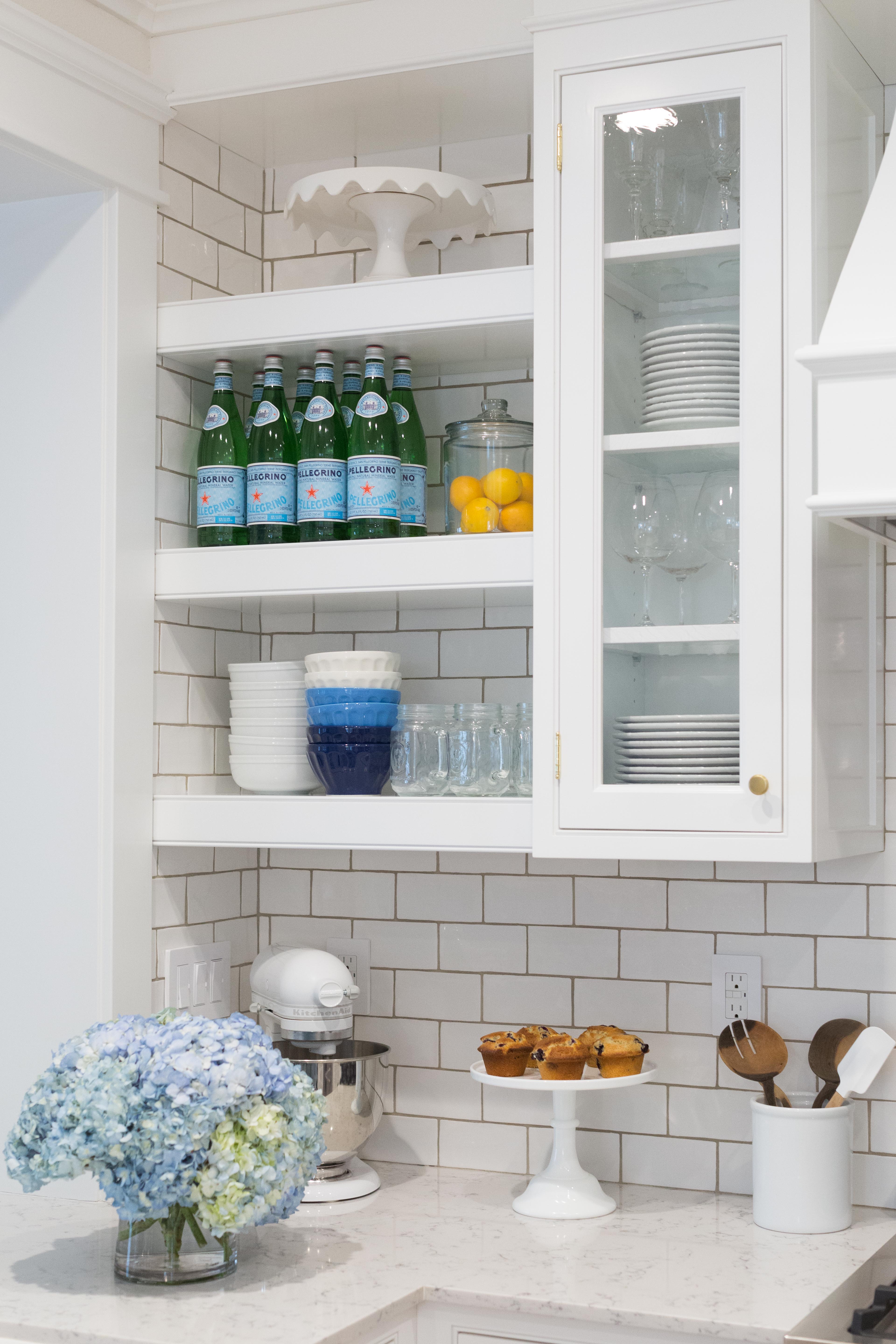 My husband and I chose to work with an interior designer on our kitchen remodel. There were a lot of reasons why we ultimately went that route instead of hiring contractors ourselves. Long story short, we wanted it done right the first time with minimal stress (who was I kidding). I had been planning this remodel in my head and on Pinterest oh for like 2 or 3 years so I knew exactly what I wanted. I just needed someone to help rein in my thoughts and make it one cohesive design and tell me if we could make it all work. Here what was on our must-haves list:
A White Kitchen. Compare the before & after pictures below. Look how light & bright the white transformed our kitchen.
Level countertop so it is all one height instead of bi-level with bar height. This makes our kitchen look bigger and gives more countertop space.
A mix of open shelving and closed shelving with glass doors. This was number 1 inspiration photo.
A durable white countertop. We ultimately chose Quartzite over Carrera Marble even though the Carrera was actually less expensive (which totally blows my mind). I didn't want to have to stress about marking up my countertops or even allowing my hubby in the kitchen haha.
Farmhouse sink. This made my life. 🙂
White subway tile with a slight sheen & movement and gray grout.
A statement faucet. We really had to pick and choose where we "saved" and where we "splurged." We wanted a few statement pieces that really made the kitchen pop, and the faucet is the jewelry of the kitchen.
Gold Hardware. I knew I wanted gold hardware but was a little worried about mixing and matching with the appliances and faucet. Our faucet is polished nickel and hardware is gold brass but the knobs are brushed and the hinges are bright gold. Our interior designer reassured us that it would all flow and it definitely does. The gold hardware really adds some warmth to the kitchen. I think it might look too sterile without it. I still need to add a little rug and some cutting boards which will add some warmth and texture.
Lower on our list were things like appliances. That makes me laugh because a kitchen is for cooking! We had to cut back somewhere.
I spend a lot of time in the kitchen cooking and cleaning, and I must say I enjoy it more now. I am just thankful to be done with the whole remodel process. My hubby gave me my dream kitchen, and I am so grateful!
Thank you so much for stopping by. Feel free to leave any questions or comments below.
xoxoxoxox,
Missy
Photos by Taylor Cole.
Design by E. Madison.