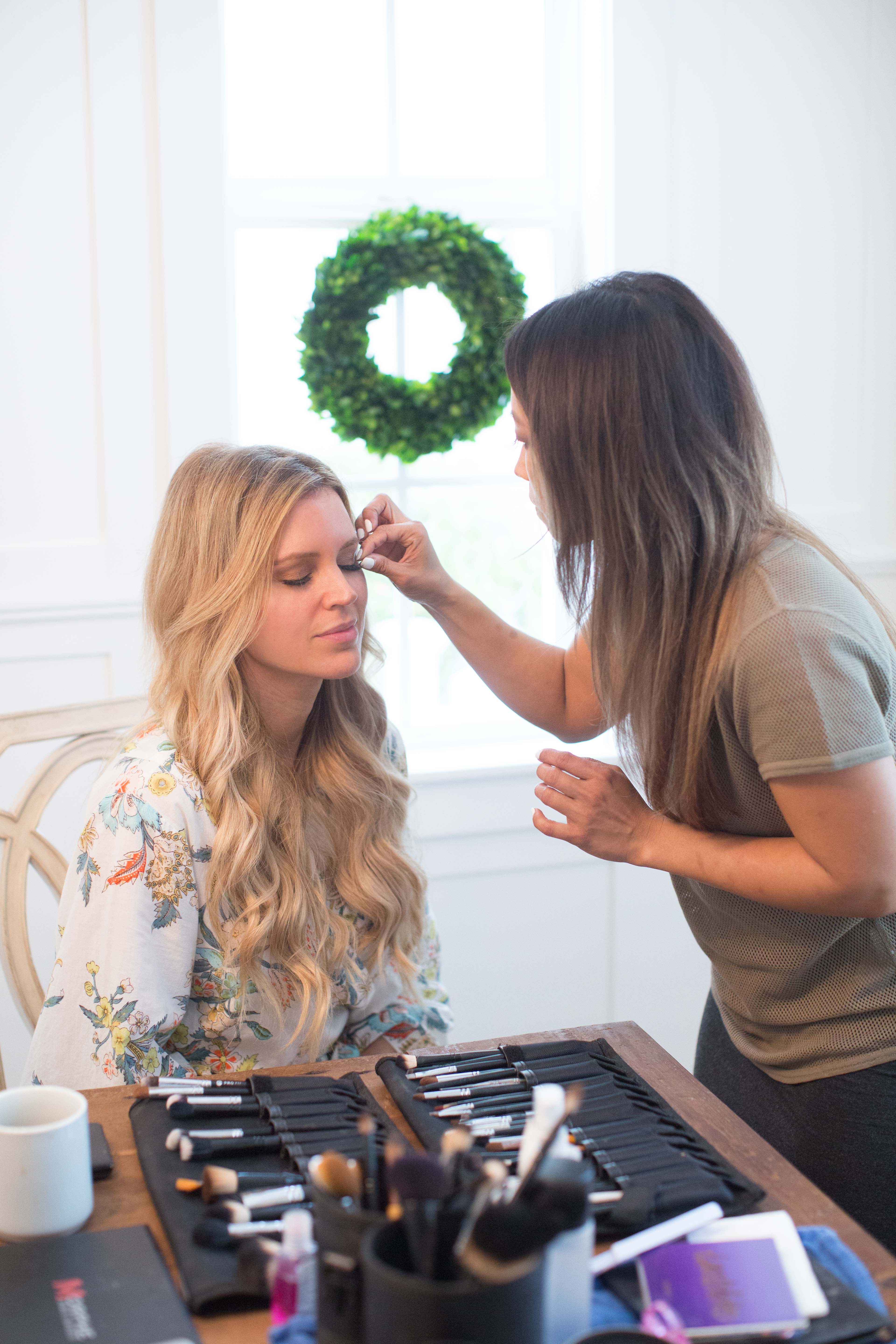 Hi! I am so excited to share my review of The Glam App with you, but before I jump into that a word about this pretty little robe by Plum Pretty Sugar. I wore this same exact robe on my wedding day (in 2011). I wore it again in the hospital when Max was born (in 2012), and I wear it whenever I really take my time getting ready with hair and makeup (which let's be honest is almost never since I became a mom, but still). I love it just as much to this day, and if you are in the market for a light robe you should definitely check them out! And, no this is not an ad. #unfortunately. ha!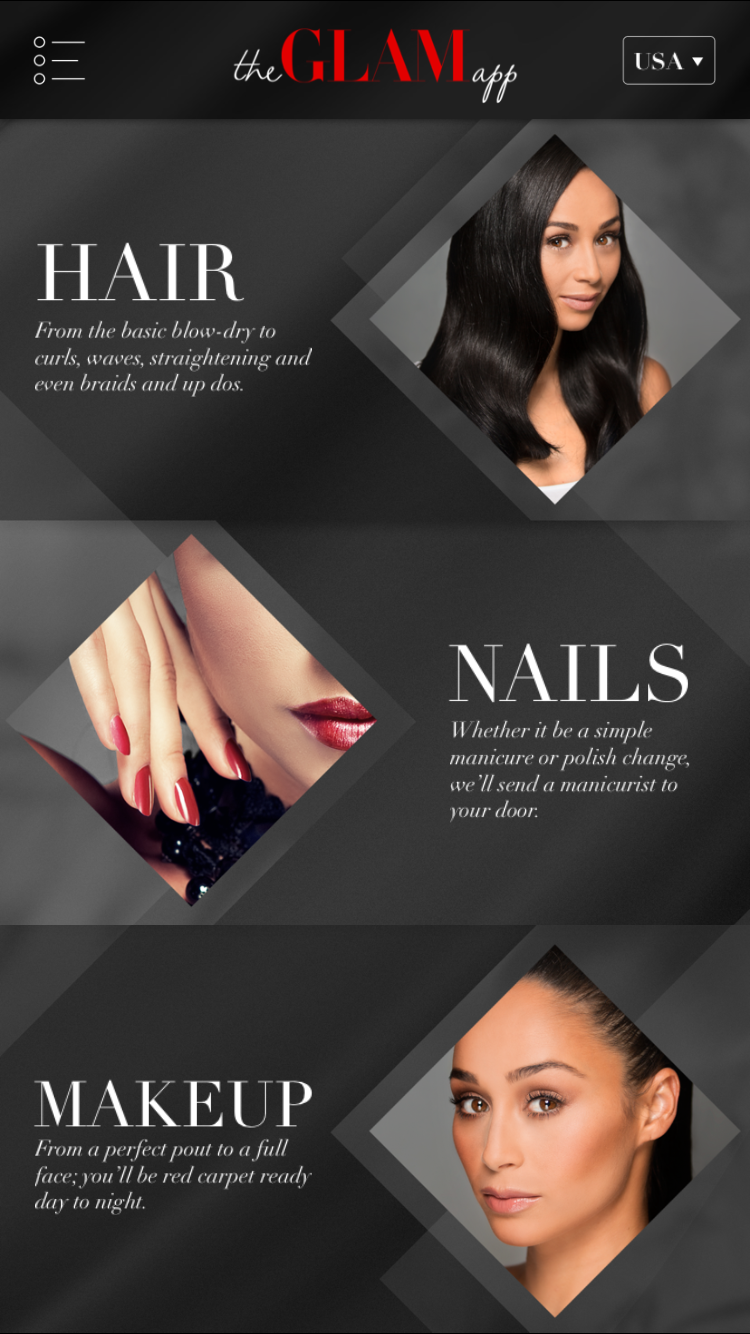 So what is The Glam App? It's an app that you download onto your phone, and you can schedule freelance hair, makeup, and nail artists to come to your home (or hotel or wherever) for beautification. It's like when you watch The Real Housewives, and they are getting their makeup done in their own homes, and you wonder- hey! How do they do that?! And I wish I could afford that. Well now you can!
The Glam App is quickly expanding and is available in 21 major cities and areas- Orange County, San Diego, & L.A. to Las Vegas, New York, & London. To find out whether it is available where you live, check out their homepage here.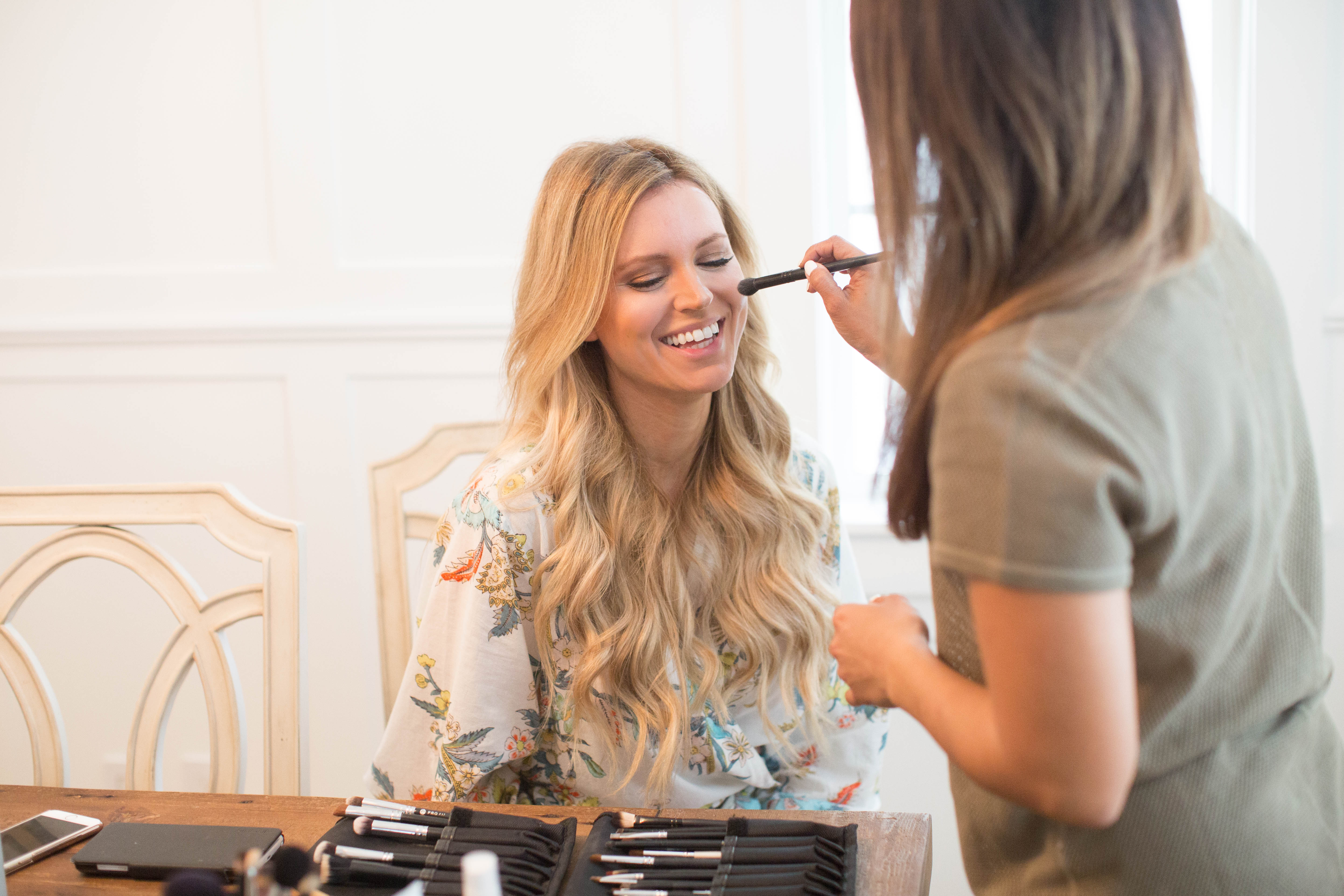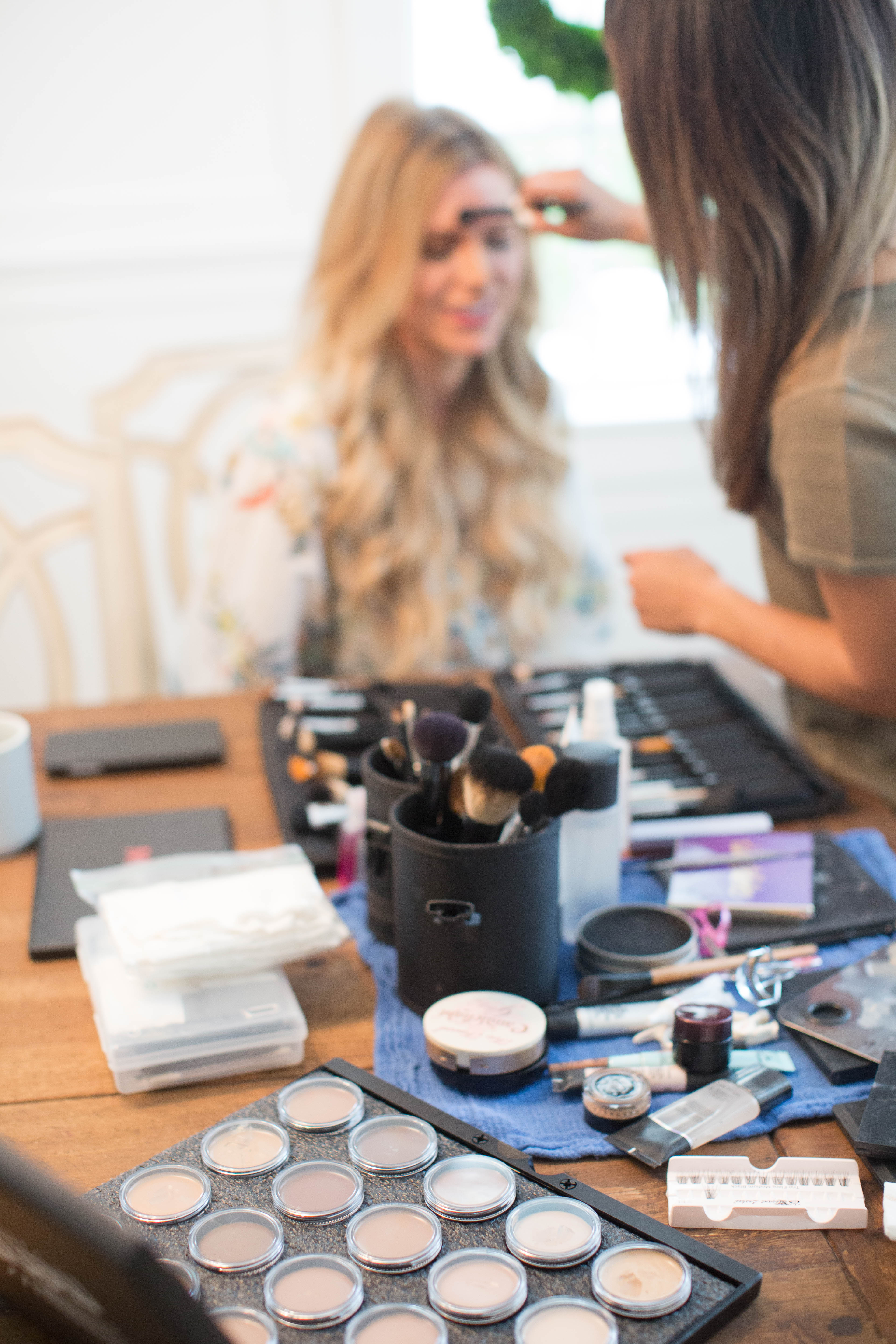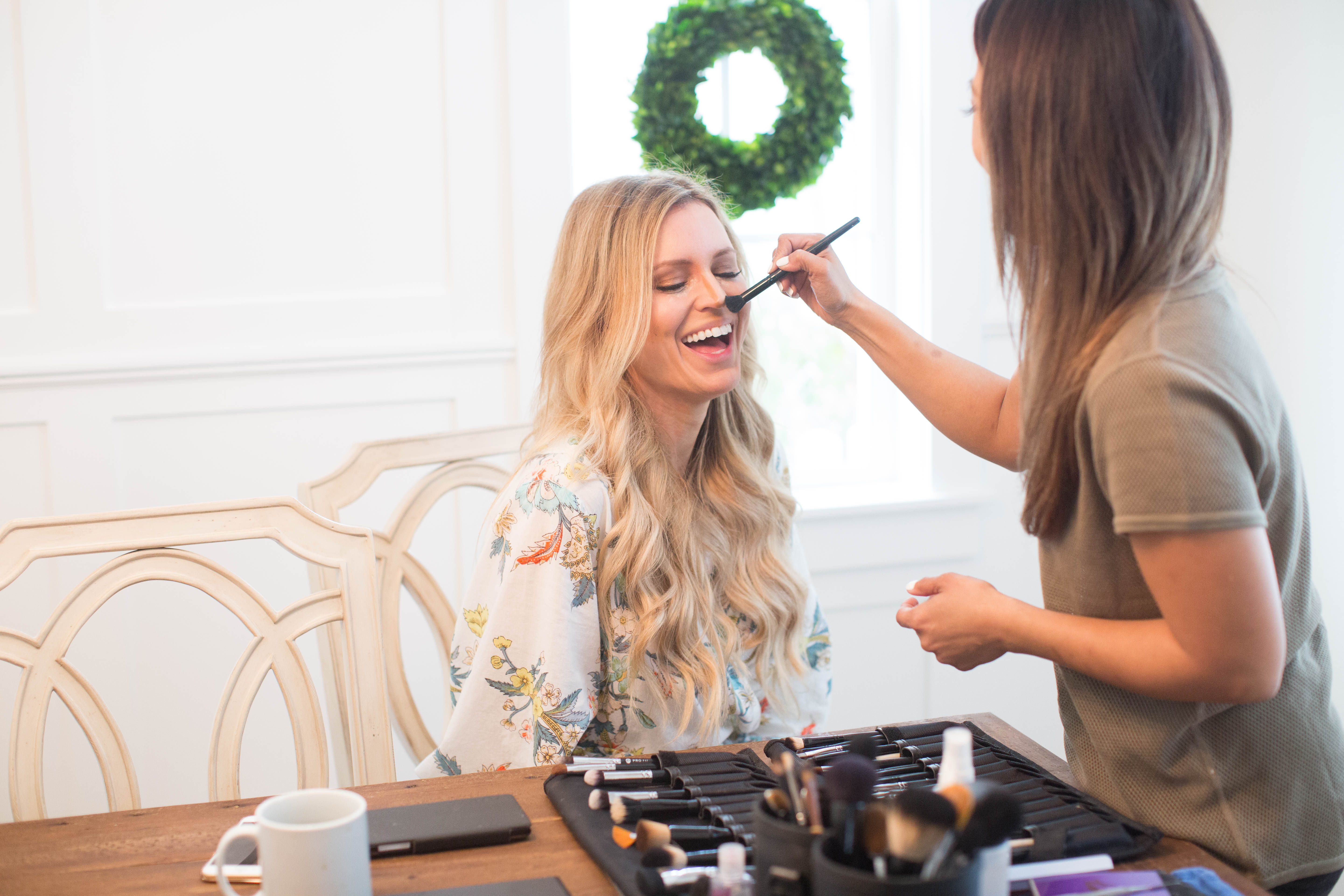 I am such a dork 😉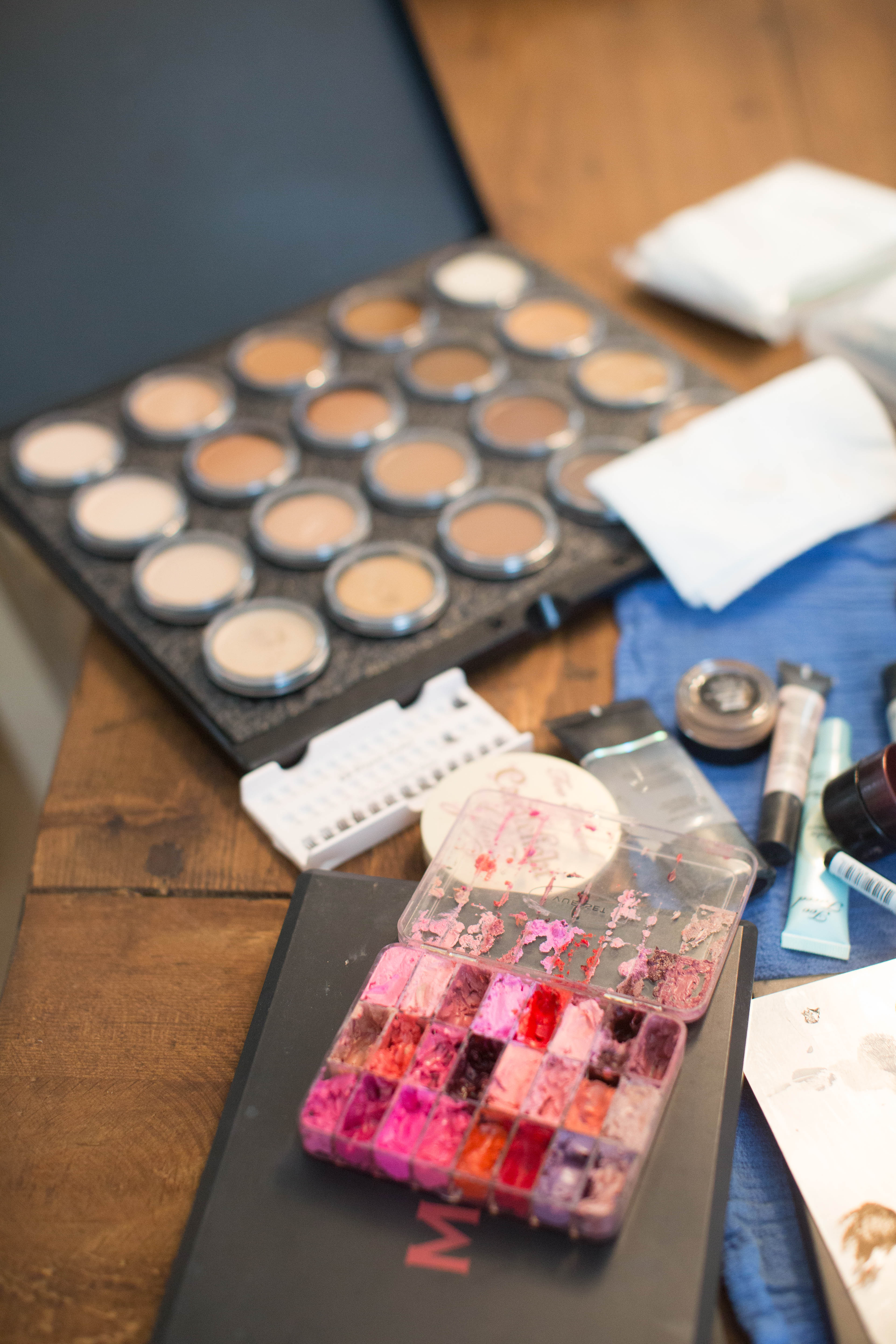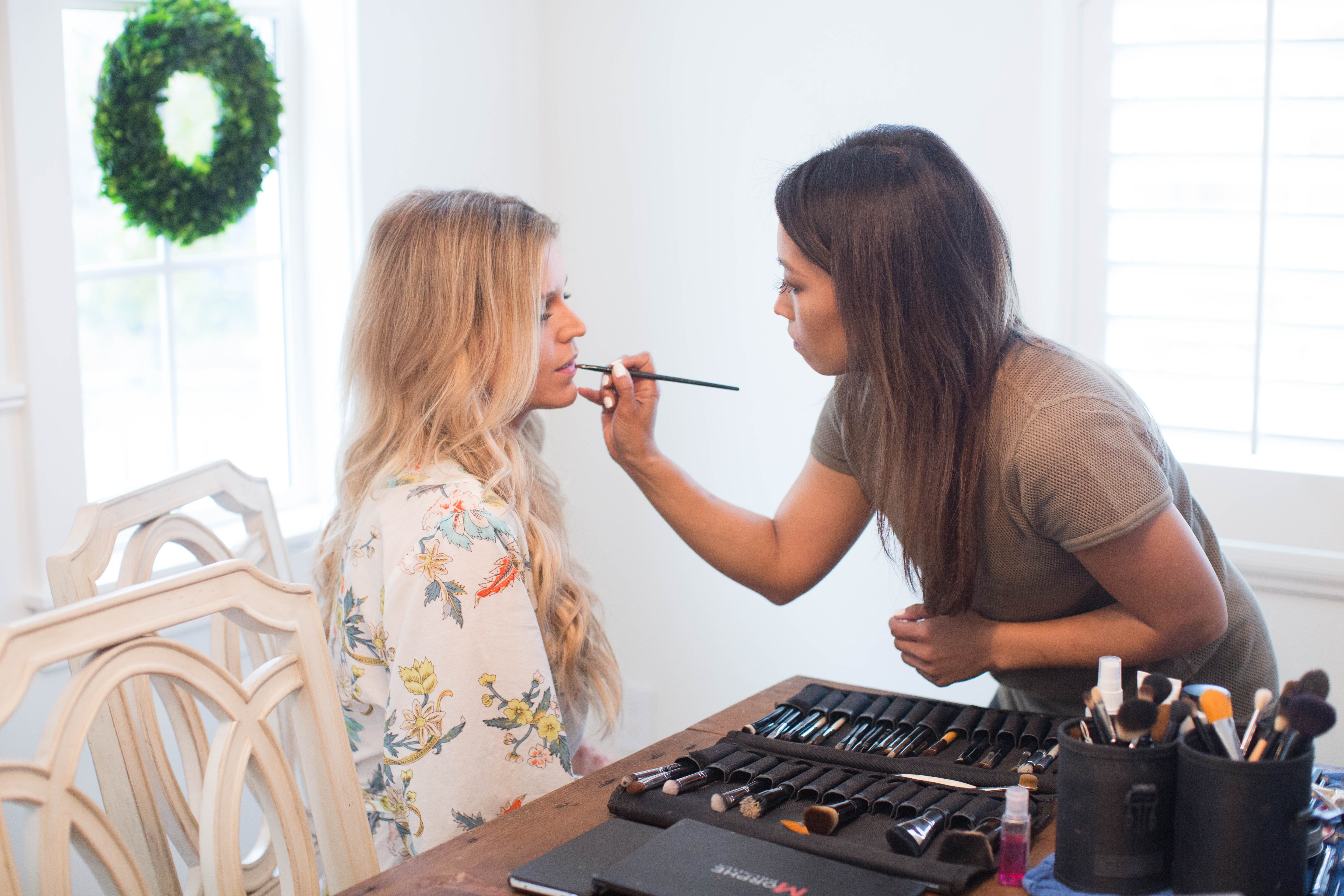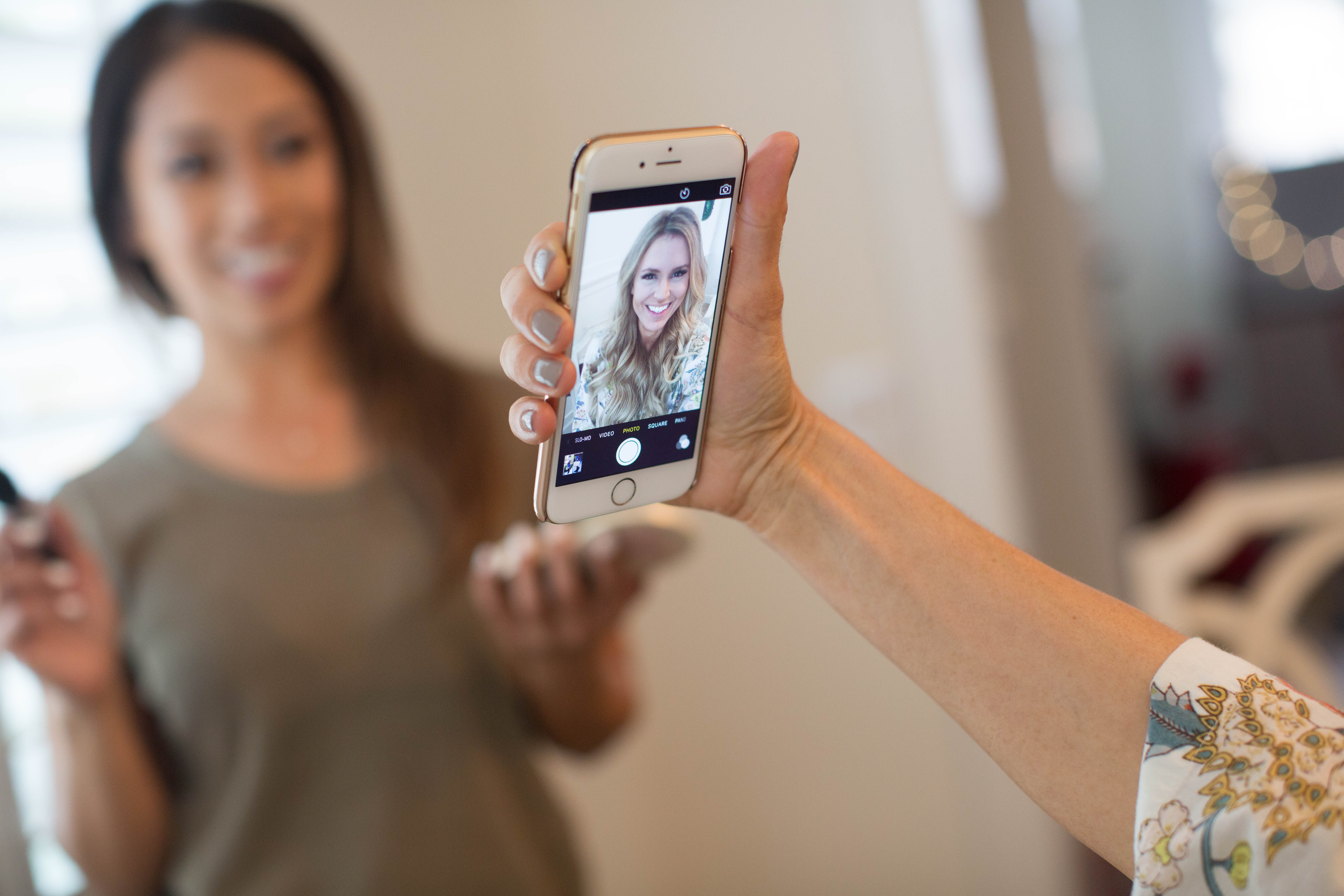 Robe: Plum Pretty Sugar
I love getting my makeup done. I will be honest with you… I am just really not that good at it. I have gotten to a point where I can get by and have a few makeup tricks up my sleeve but there is a serious talent/art to doing good makeup and there's nothing like having a professional makeup artist do your makeup. I mentioned that The Glam App does hair, make-up, and nails, and my review is for makeup only.
Okay, so I started by downloading The Glam App to my phone. That's always a little touch and go for me since I never seem to remember my password. Anyone else seem to have that problem? The cloud password… the iTunes password… and don't even get me started on trying to change my Apple ID from my old email address with my maiden name to my current. Sorry getting sidetracked…
I chose the date I wanted service, the type of service (makeup) and from there you can choose the style of makeup you want. It reminds me of Drybar where you see the pictures of the different styles and choose the one you want. For the most part, the price of the different styles is the same, but it varies a little based on complexity of the makeup look. I chose Contour Queen because I have absolutely NO IDEA on how to contour so I thought that would be fun. From there, you choose between three levels of stylists' experience and the cost varies based on expertise. I chose the middle of the three (stylist has 2-5 years experience), and the price for the service I chose is $80.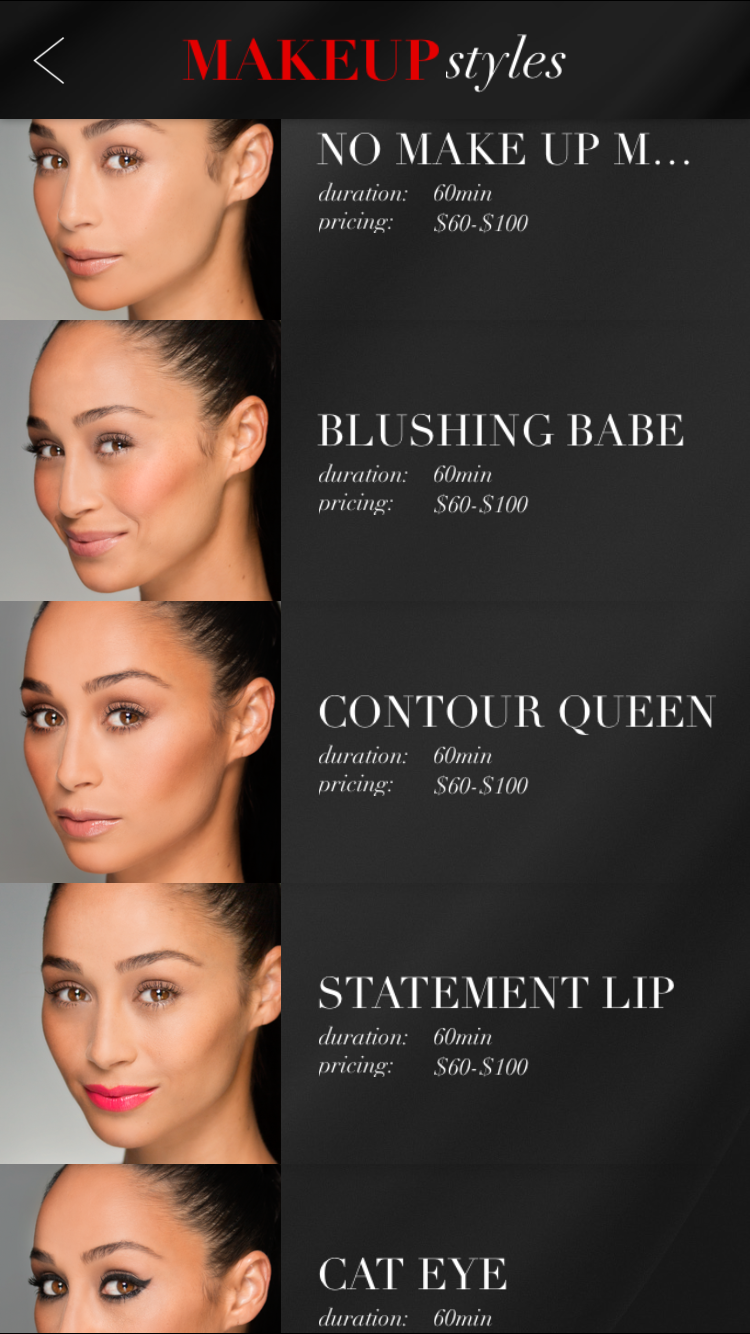 You enter your credit card information to reserve the service, and that was that. I could tell that a makeup artist immediately booked the job, but other than that I didn't really get any correspondence. On the day of the service, I got an alert on my phone that the artist would be at my home shortly.
Keep in mind that this service again reminds me of DryBar in that it's really a network of artists so you may like some artists better than others. I was lucky because the artist that booked my appointment was actually the top level/ Pro.
The makeup artist was totally nice & normal and I felt fine about her coming into my home even though we had never met prior. I really like the results of the makeup. You can see the shoot I did afterward wearing the makeup here. I told her I like natural makeup and I showed her a few inspiration pictures that I had screen shot on my phone. Whenever you get your hair or makeup done, it's best to show an inspiration photo to make sure you are on the same page. Because something in your mind is not the same to somebody else. For my makeup, I like a smokey eye but with browns instead of gray/black. I like false lashes, and just a little bit of color on my brows, and a pinky lip.
Some ideas for occasions to use The Glam App are: bachelorette party- hire a bunch of artists to beautify you and your friends before a night out (how fun would that be?), bridal/baby shower, or if you are on vacation and want to get dolled up for the night… like how perfect would this be for a night out in Vegas?!
Overall thoughts… I really enjoyed getting my makeup done in the comfort of my own home. It felt super glam and was a really nice treat. I will definitely be using this service again. One of the things I really like is that no money is exchanged between you & the artist. It is all done over your phone with the stored credit card… in that way it reminds me of Uber. I always feel so awkward dealing with money & the tip so that is nice.
My blog has been pretty fashion-based so far, but I am expanding my subject matter with posts like this. Stay tuned later in the week for a post on home interiors where I am finally showing my kitchen before & after and talking about my whole remodeling experience (um nightmare) haha.
Thanks as always for stopping by!
XO Missy
Photos by Taylor Cole.