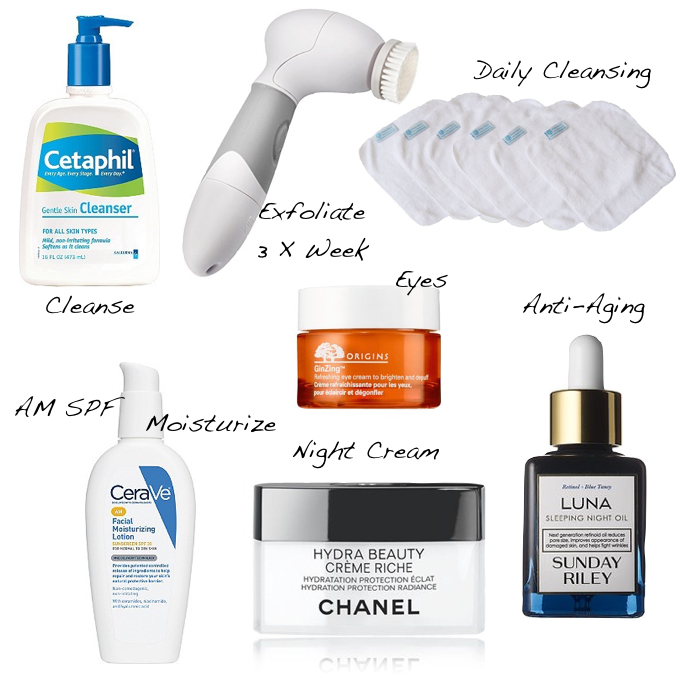 Cleanse | Exfoliate | Washcloths | Eyes | A.M. SPF | Night Cream | Anti-Aging
During the holidays I seriously neglected my skin, and boy did it show. I ran out of my normal facial cleanser and night cream and was making do with what I had. I won't get into the gory details. ha! I wasn't getting enough sleep or drinking enough water, and I had dark under-eye circles and dry, dehydrated skin. Because I had fallen off the wagon with my normal skincare routine, it became a pretty obvious choice for my New Year's resolution- taking better care of my skin.
I spent January 1st googling and scouring the internet for the best products. I could get lost for hours on Into the Gloss (only click on that link if you are ready to fall into the dark hole of internet browsing haha), and from there I discovered Caroline Hirons. Caroline Hirons is really a straight shooter on skincare, and I LOVE it! Based on my research, I purchased this anti-aging product and this moisturizer. Both have been permanently added to my rotation. I love them that much!
I have very sensitive, dry skin. At night I have to use a very rich moisturizer, especially in the winter. I was first turned onto this moisturizer because I heard Gigi Hadid uses it, and if it is good enough for a supermodel it is good enough for me haha! My choice was clinched when I discovered that Caroline Hirons recommends it as well.
I am completed obsessed with this sleeping oil. It is a mix of a retinol and natural oils, and I seriously saw results in days. My skin texture is so much smoother, it's incredible. My makeup goes on so much better now. I definitely make sure to layer on my AM moisturizer with SPF in the morning after using this. I worried that my skin would be red and peeled since I have such sensitive skin, but I haven't had any of that and have been using the product nightly.
Before I did all my research, I was using my cleansing brush every night, and apparently that is bad for your skin. I have since switched to gentle organic washcloths and only using the brush every couple days. I got this eye cream as a sample and haven't been religious about using it, but it has a sort of shimmer to it that brightens my eyes without an under-eye concealer.
I have to keep my skincare routine pretty simple without a lot of steps or else it's just something I know I won't stick to so I don't use a toner or any additional creams. I am always curious about what products people are using so I wanted to share mine with you. I don't profess to be an expert in skincare, but this is what is working for me. Please share any products you use and are obsessed with below.
Thanks for stopping by!
XO Missy