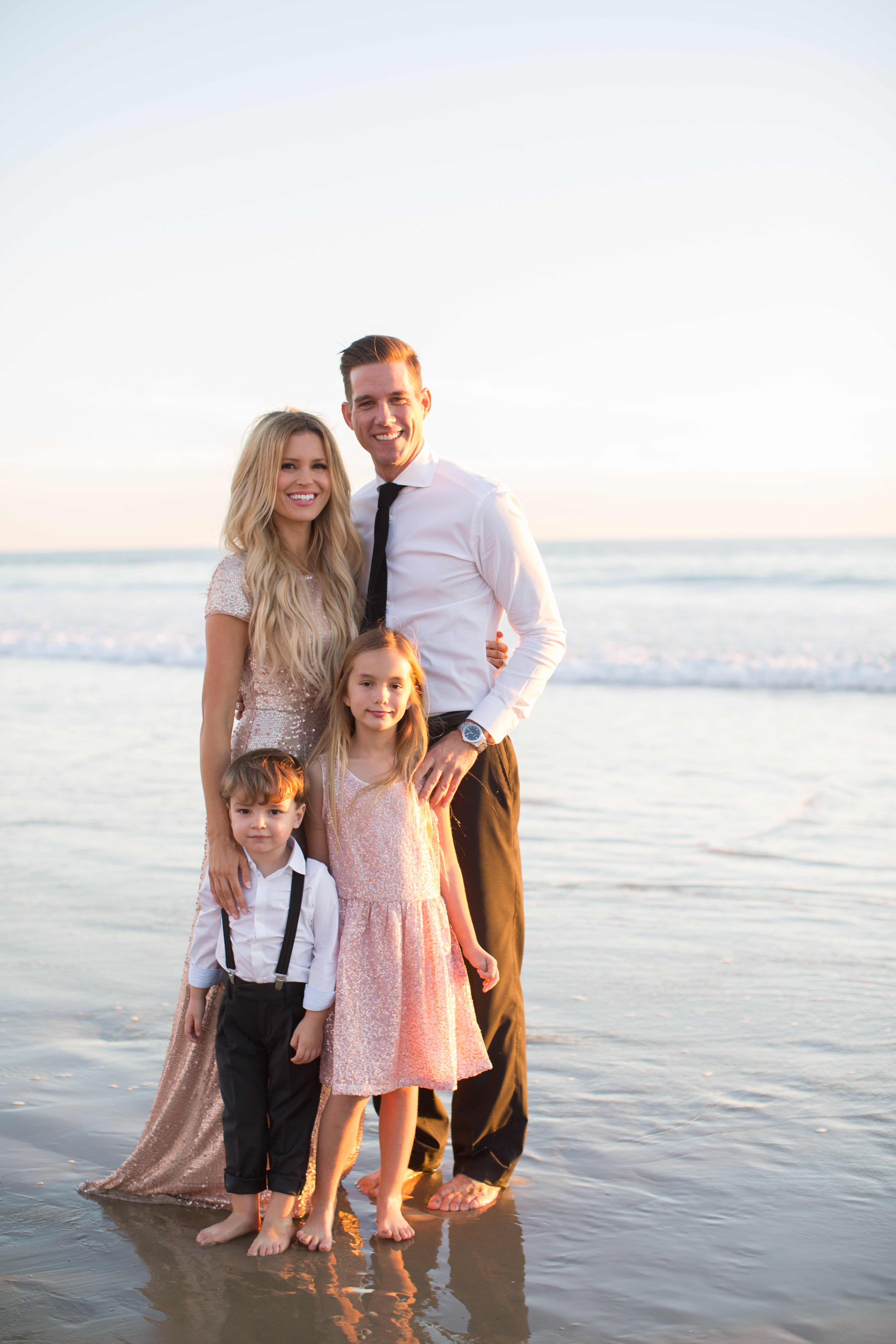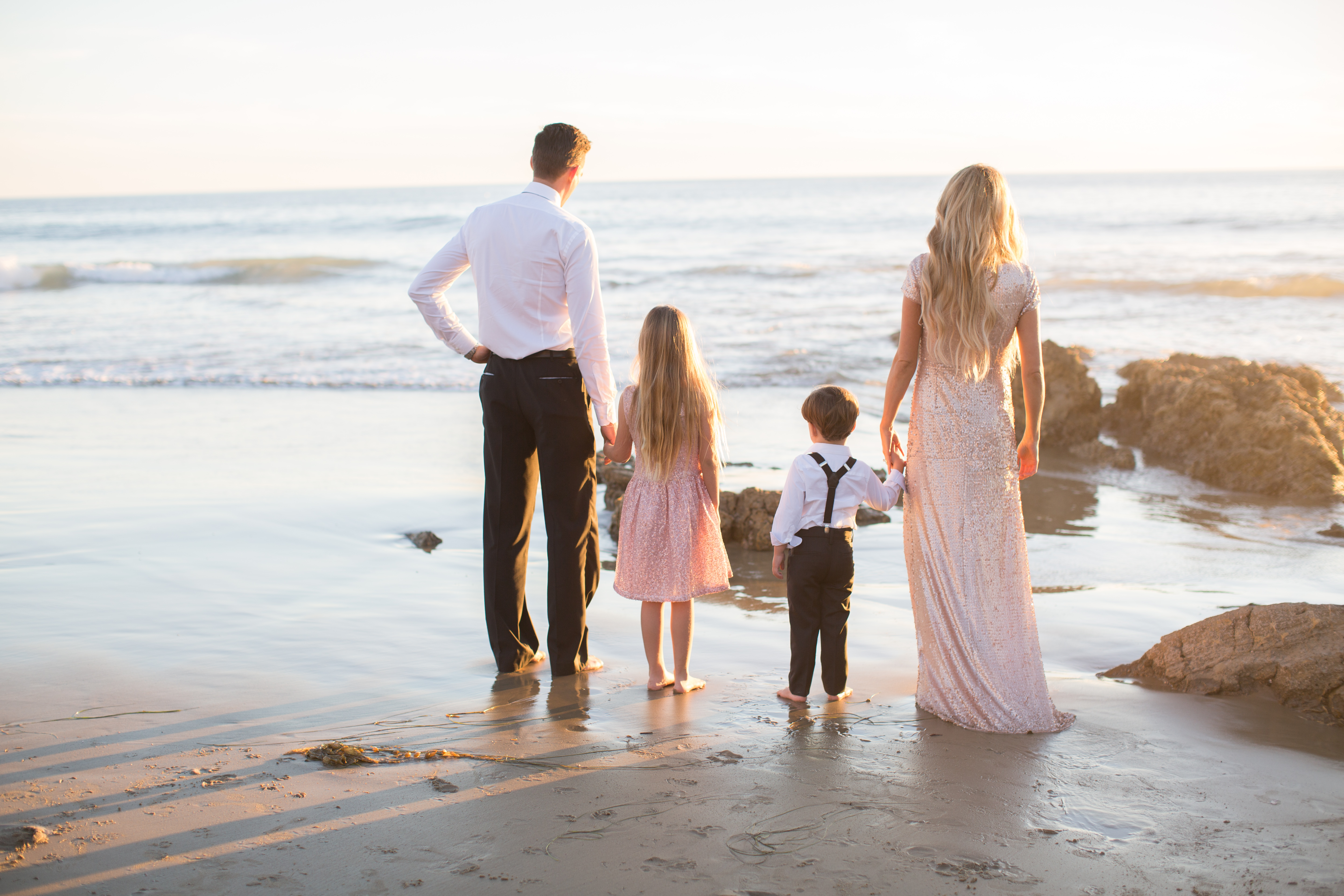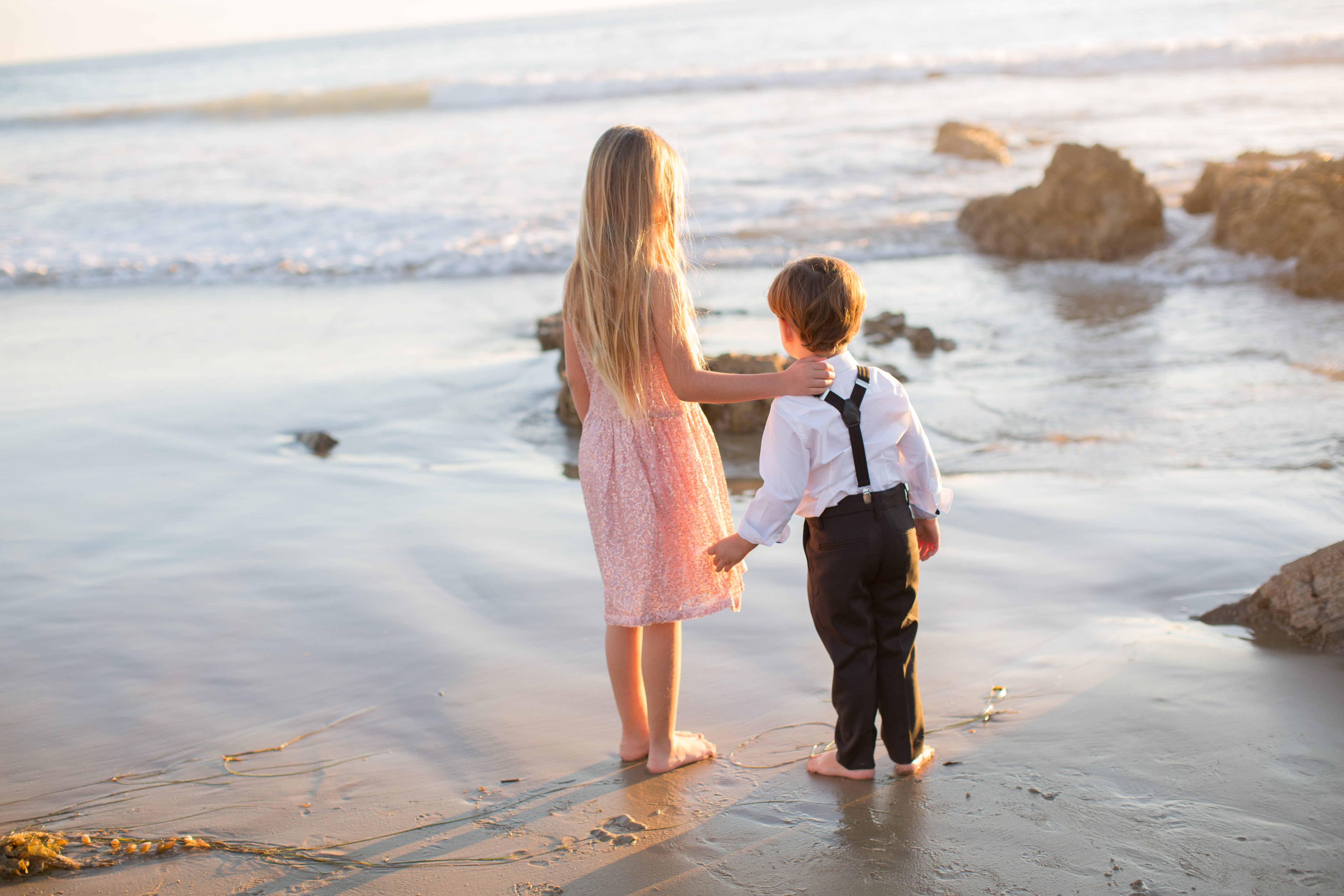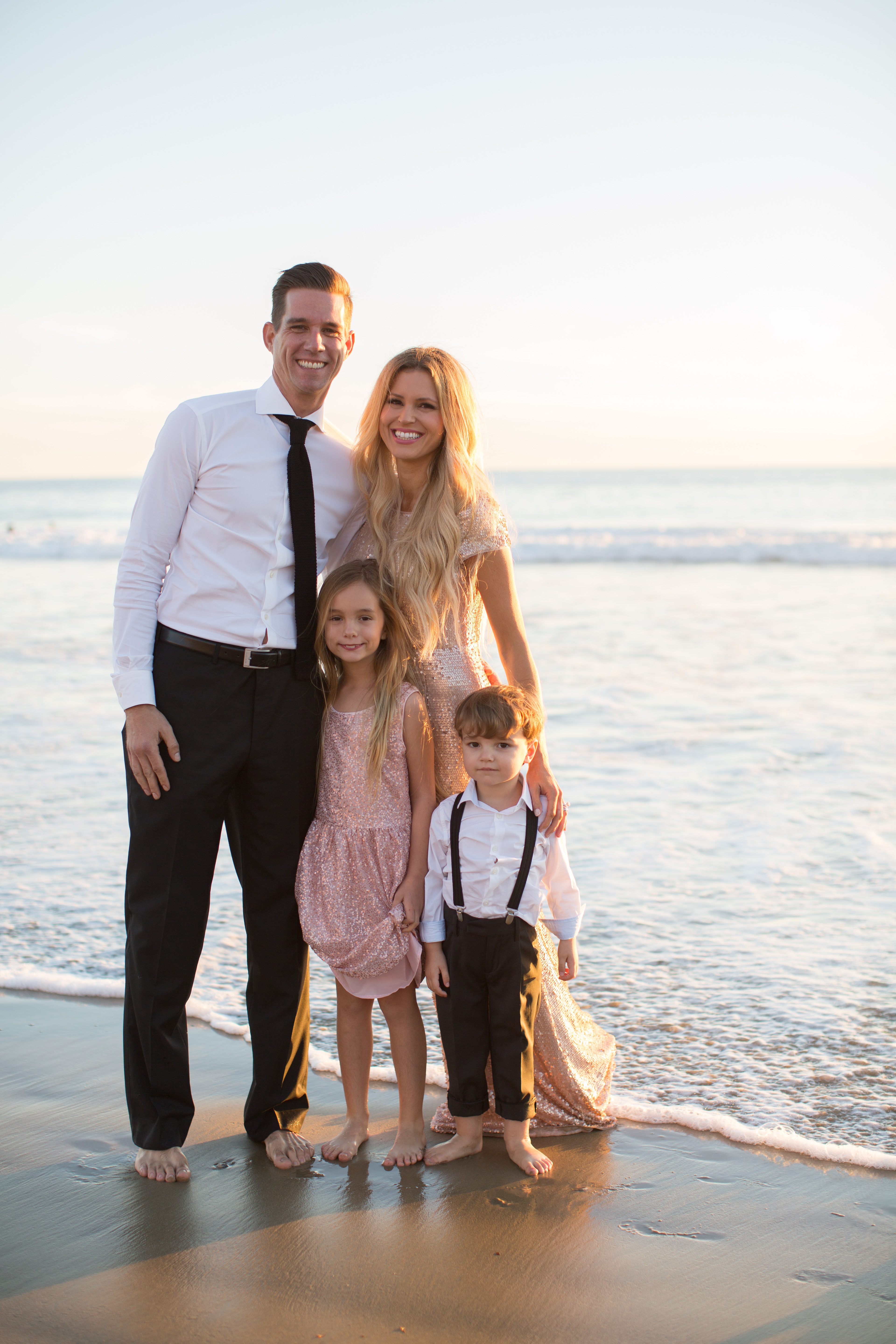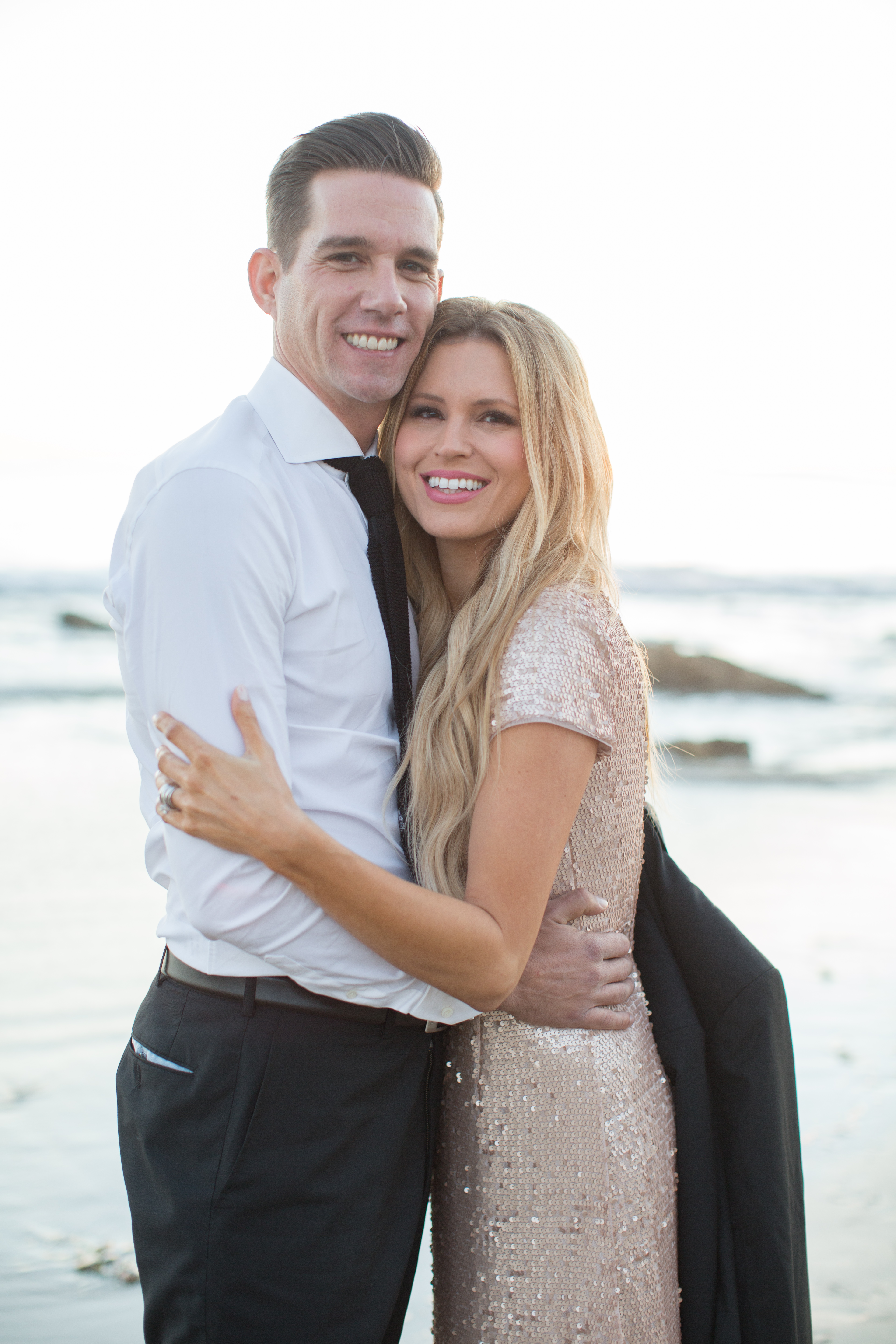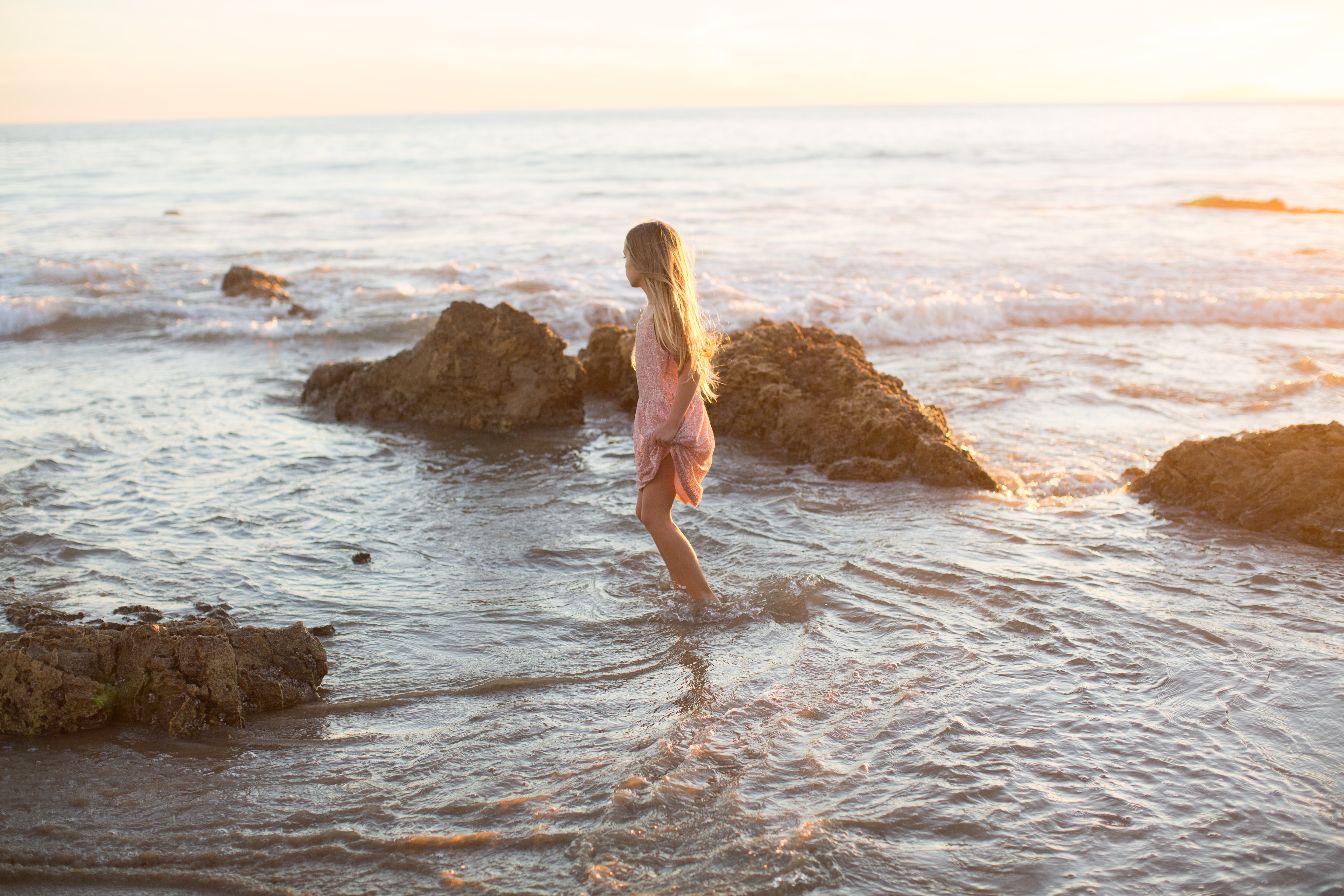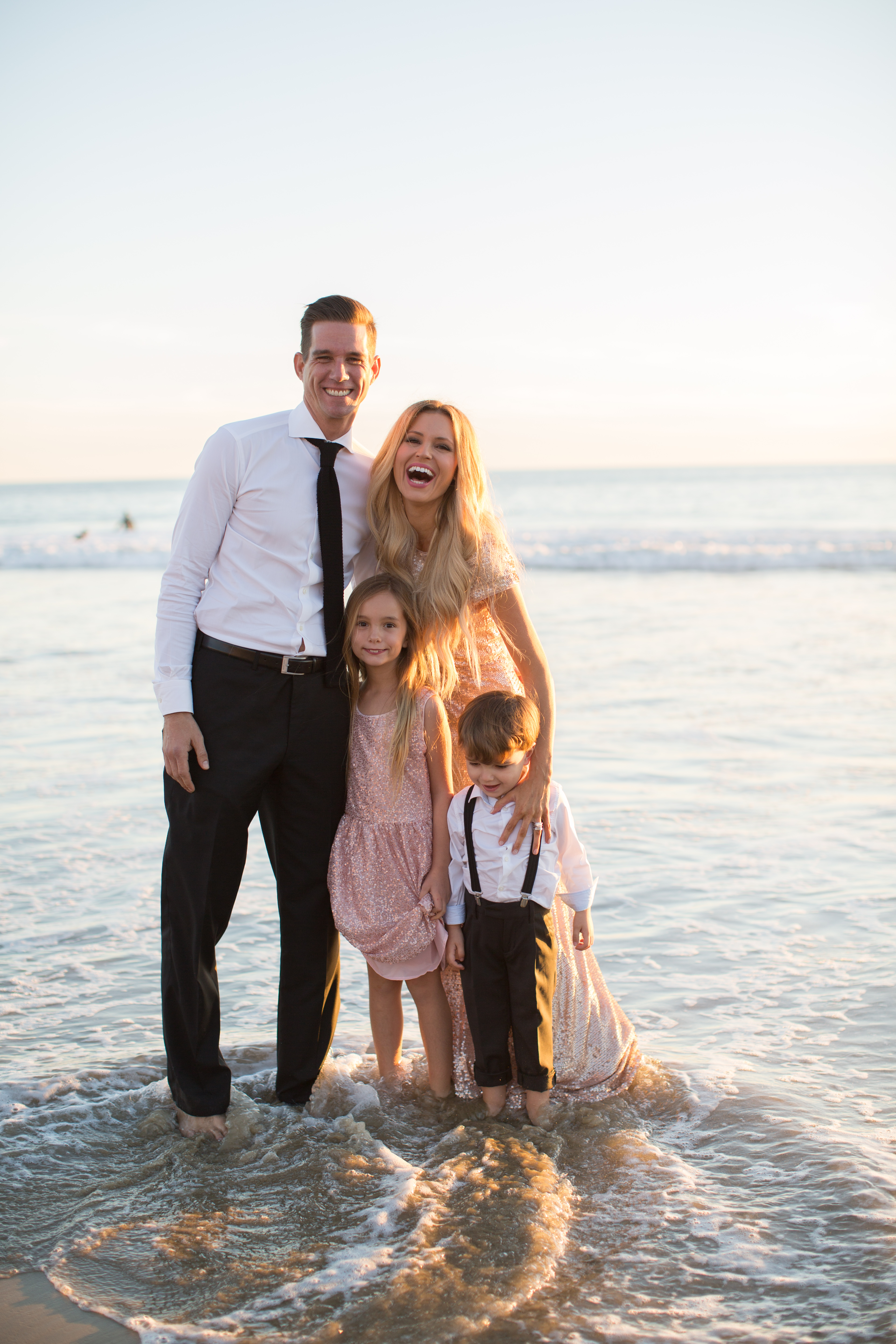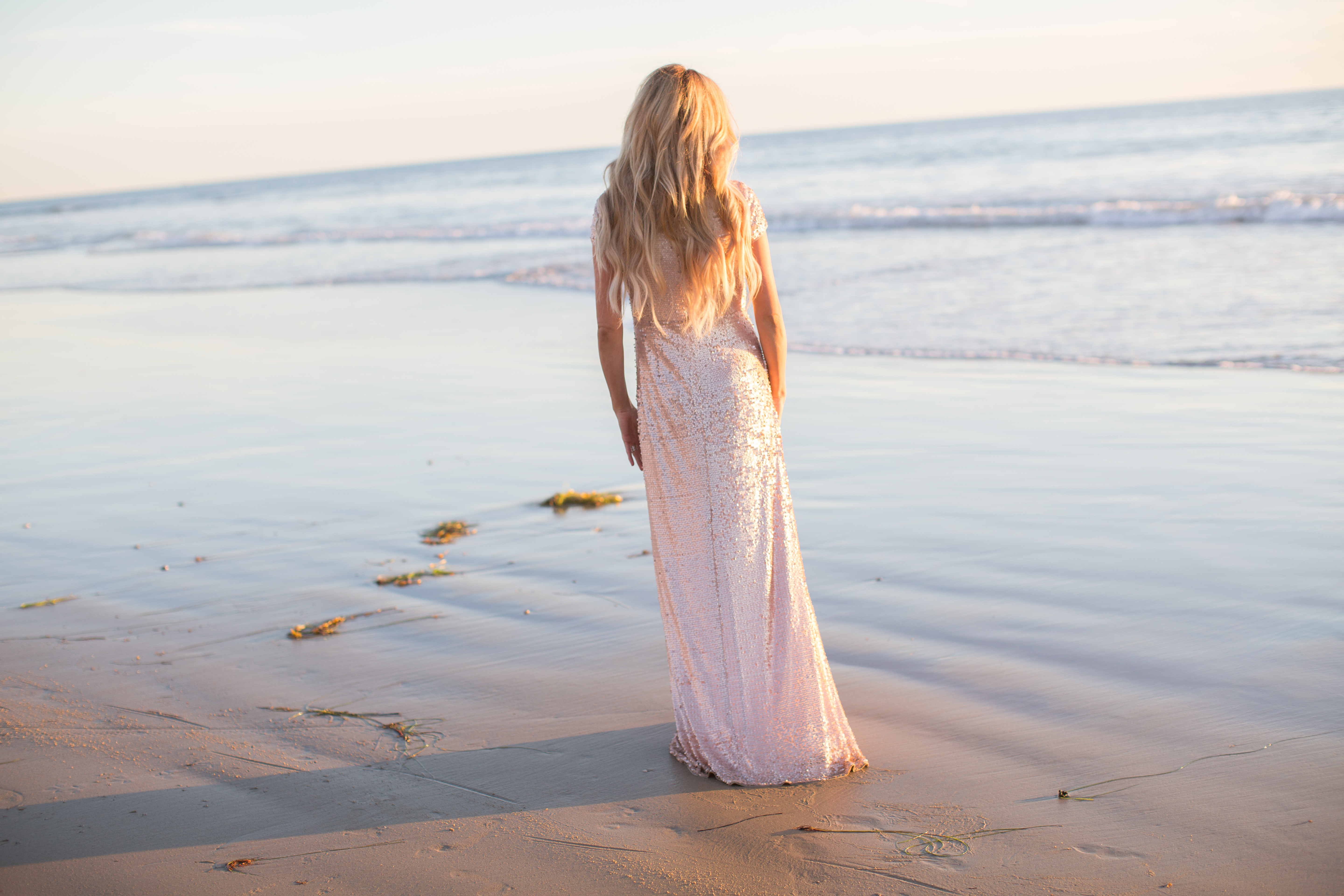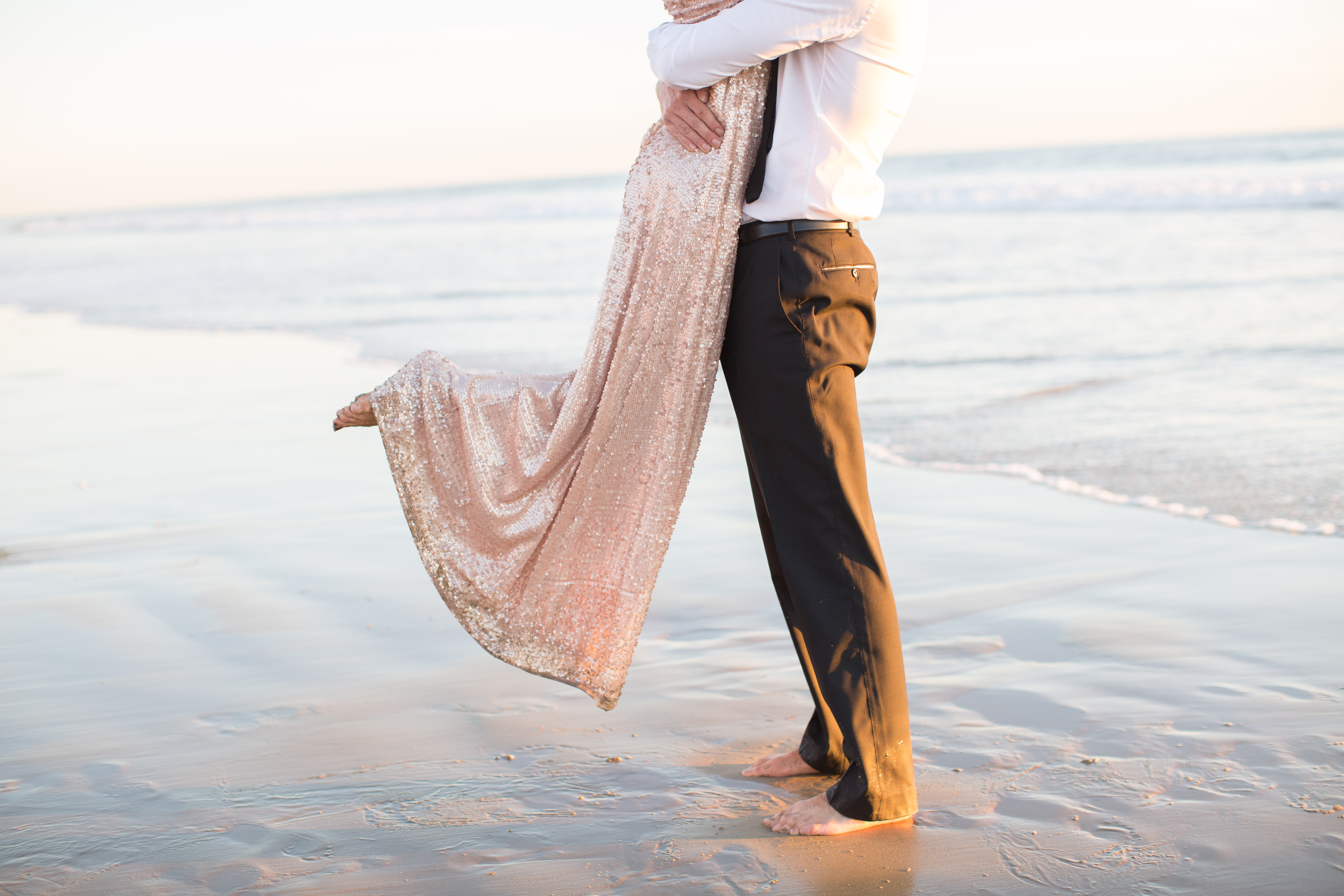 My Dress: Adrianna Papell Short Sleeve Sequin Gown c/o | Lily's Dress: Gap Sparkle Fit & Flare Dress | Max's Shirt: Zara Slim Fit Shirt | Max's Pants: Zara Suit Trousers
Today is super exciting because I get to share our amazing family photos shot by Taylor Cole. I adore photos- I always have. Which is probably what led me to blogging. I feel like all bloggers share a love for beautiful things captured with beautiful photography. I can't say I enjoy getting my picture taken (you might be surprised since I put so many photos of myself out there), but the end product is so worth it.
Ever since Chad and I started dating, I've dragged him to do professional photo shoots. Before we were even engaged, we did family photos with Lily so that we could have photos of all of us together. We have done countless photo sessions… engagement, wedding, baby shower, newborn, family, the list goes on and on (my poor husband). We've made some mistakes during these shoots, sometimes painful mistakes (note to self- don't plan family photos on the day of your birthday), and I think we finally have the rhythm down and I wanted to share my tips for family photos with you. Some might be obvious and common sense, but I bet there are a few that you may have not considered. Let's face it- coordinating family photos isn't easy, and it's a financial investment so you want it to go as smoothly as possible. Based on my experience and past mistakes, here are my top 10 tips for a successful family photo shoot:
Plan the shoot around your baby's nap. A well-rested baby is a happy baby. You want to shoot at a time that doesn't disrupt your child's nap schedule (unless you are one of those people that has an always happy, easy-going baby, in which case I am completely jealous). Planning the shoot around nap time should be a relatively easy thing since the best time to shoot is that magic hour before sunset, and most babies are up from their afternoon nap by then. For some reason we shot family photos one time where it interfered with Max's nap, and it was a disaster.
Coordinate the outfits, but not too matchy-matchy. My favorite part about family shoots is planning what we are going to wear. Obvi.  The starting point for my inspiration is usually something I find for Lily or myself. I will see something amazing that I know she will love and look great in, and then I try to find a coordinating piece for myself (or vice versa). Chad and Max are pretty easy. I always want Chad to wear something classic & timeless- something he would normally wear so that it feels like him (we just adjust the color palette based on what the girls are wearing). For this shoot, this gorgeous Adrianna Papell sequin gown was the starting point and inspiration. In these photos, Lily and Max are dressed like mini-versions of Chad and myself (and I love how it turned out!). We match, but we aren't all wearing black t-shirts with jeans. That was only okay in the 90's, people.
Create a concept. Have fun with it! Especially if you plan on doing family photos (for Christmas cards) every year. If you need inspiration, use Google, Instagram, or Pinterest. There are so many creative ideas out there, and you don't necessarily have to copy. Just put your own spin on it so it feels like yours. My concept this year was super dressed-up and glamorous, barefoot on the beach. I initially envisioned Chad & Max wearing tuxedos, but finding a tux for my almost three year old seemed a little daunting so we went this route instead.
Wear colors that coordinate with your home interiors. (i.e. something you want to hang in your house!). I read this somewhere and thought it was so simple but so genius. This is especially important if you plan on printing an enlargement to hang somewhere conspicuous in your house. For photo shoots, I typically go for softer colors- I can't even tell you how many family photo shoots I have done in a white dress. It is simple, timeless, and consistent with the style of my house.
Shoot with the same photographer each year. The more familiar and comfortable you are with your photographer, the better and more natural your photos will be. This is especially true if your kids are shy. Also your photographer will already know what you like, and you will be happy with the results.
Bring a toy or prop for the photographer to hold. For this shoot, I secretly brought our Elf on the Shelf and handed it off to my photographer discreetly so she could grab Max's attention when he needed to look her away. A toy that your child really likes or a new toy works best.
Give inspiration photos to your photographer. Whenever I see a cute photo with an interesting angle or something fresh & new, I screen shot it on my phone and save it for future reference. There are only so many original ideas in this world, and most ideas are a spin-off from other ideas. I will show these images to my photographer to see what she thinks and we will do our own take on it. Keep in mind that at the same time, your photographer is an artist with a vision so be sensitive to that and let him/her do their thing.
Communicate with photographer about specific shots you want. This goes hand in hand with the inspiration photos. Before this shoot, I let Taylor know that I definitely wanted pictures of the entire family together, but also some of just the kids and shots of them by themselves, etc. Like you do for a wedding.
Add props for Christmas card pictures. Let's be honest… a lot of families do their family photos  to use for their Christmas card.  At the same time, you want to use the photos in your home so they can't look too Christmassy. For this shoot, one of my ideas was to throw on a forest green feather shrug and have Lily wear a pop of burgundy so we could transform our family photos into a Christmas look without having to change at the beach. I still love this idea and might do something similar next year. We are ordering our Christmas cards through Minted this year, and they have the prettiest rose gold foil card that matches perfectly with the dresses.
Try to relax. The best photos are usually the ones that aren't posed and seem natural, where your family is happy! The more I stress and try to make everything perfect, the more that stress leaks into the family and things can look forced. Have a glass of champs first if that helps.
There are a lot of factors that have to come together to create that perfect photo- the lighting, the cooperation of your toddler… the list goes on and on. There was something so magical about doing this shoot right before sunset on the beach. Max has been pretty fearful of the ocean up until this point, and our shoot was the first time that he actually had fun putting his feet in the waves. The kids were so entranced by the water, they almost forgot the real reason we were there.
It was also fun to have an excuse to get the family all dressed up. I have never seen Max in suit pants, and I couldn't stop squeezing him, he looked so precious. I felt like a princess in this floor length sequin gown. How perfect would it be for a bridesmaid dress or a black-tie holiday event?  There are limited sizes available at Adrianna Papell, and I would definitely say to size down one size since it runs slightly big. I also linked some of their similar beaded dresses below- soooo gorgeous. Lily's dress was shorter, but she held up her dress for most of the shoot after seeing me pick up mine. How adorable is that?
Thank you so much for stopping by! Can you believe December is finally here? There is some major Christmas decorating going on right now in the Ulmer household, and I will be sharing peeks on my Instagram. If you aren't already following me on Instagram, you can do that here!
Happy December!
xx, Missy