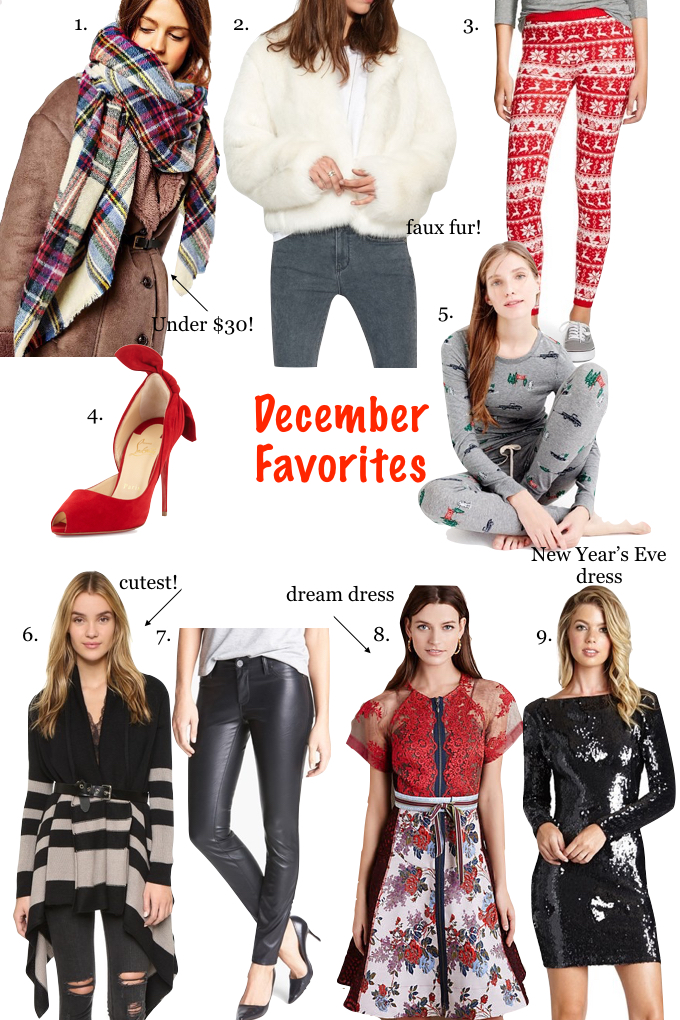 1. | 2. | 3. | 4. | 5. | 6. | 7. | 8. | 9. 

One of the hottest accessories right now is a plaid scarf. There are a lot of cute ones out there for under $40, but I have been noticing them sell out super fast. This one is my favorite, and is regularly priced at $33 and currently on promo for 30% off (which makes it around $23!). This would make such a cute holiday gift for one of your girlfriends or co-workers!
I am currently obsessed with Christmas jammies. For me. For the kids. It literally gets me in the Christmas spirit. For myself, I ordered this pair, this pair, and this pair (all on major sale!) and plan on keeping just one (that's my story and I am sticking to it!). Another way to go if you don't want to invest in Xmas pjs is just getting a cute pair of festive fair isle leggings. These ones are oh, so cute, and on major sale!
Red heels. Every girl needs a pair, and they are perfect for holiday festivities! This pair is a dream, but this pair (50% off!)  and this pair are both gorgeous and more budget-friendly.
Faux fur and leather is so in right now. I am in the market for a white faux fur coat that I can both dress up and wear with a casual top and jeans. This one is at the top of my list. It's a great way to incorporate your winter whites. So fresh and pretty! As for faux leather, I just purchased these faux leather pants. I have a few pairs of faux leather leggings, but I really want a decent pair of faux pants so I can wear shorter tops and not worry that too much of my leggings is showing (that's the worst!).
Another huge trend right now is sequins. Yes, you have my permission to bust out the sequins and it's not tacky! There are so many sequins things on my wish list right now. A sequin dress is so perfect for New Year's Eve, and I have been eyeing this one and this one. I LOVE these sequin trousers, and I just got this sequin pencil skirt and I am obsessed.
December means sweaters, and this one is adorable and looks so cozy. Cupcakes and Cashmere is killing it right now. A lot of their new stuff is on my wish list. So cute!
When did cyber Monday start being a thing anyway? Are you planning on doing some major online shopping today? Just in case you missed my most recent post rounding up gift ideas for the glam girl, you can catch it here!
Thanks so much for stopping by! Hope you get through your Monday. I can't wait until The Bachelor starts and I can forward to Mondays again. Seriously, can't wait!
xx,
Missy