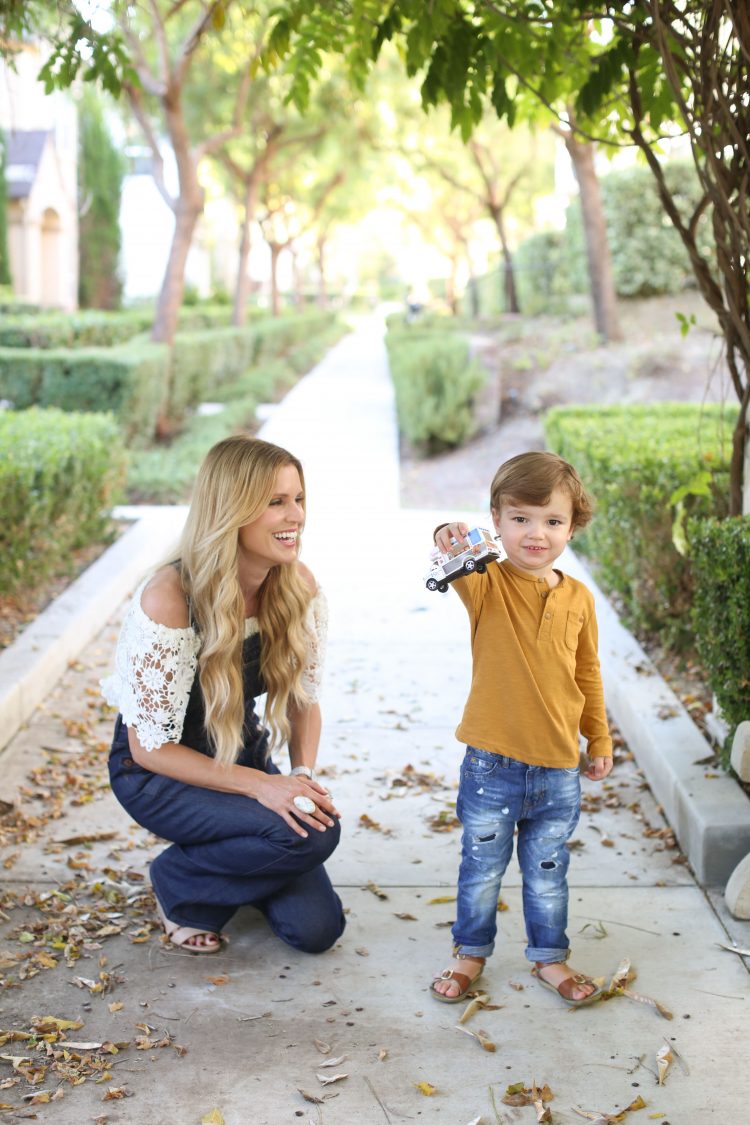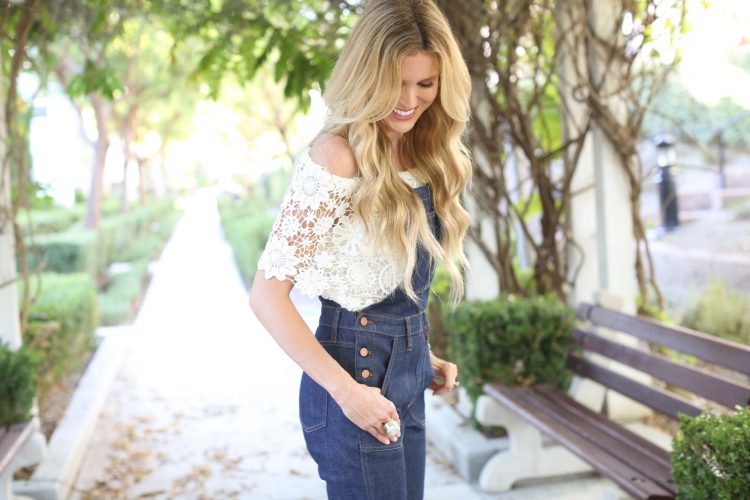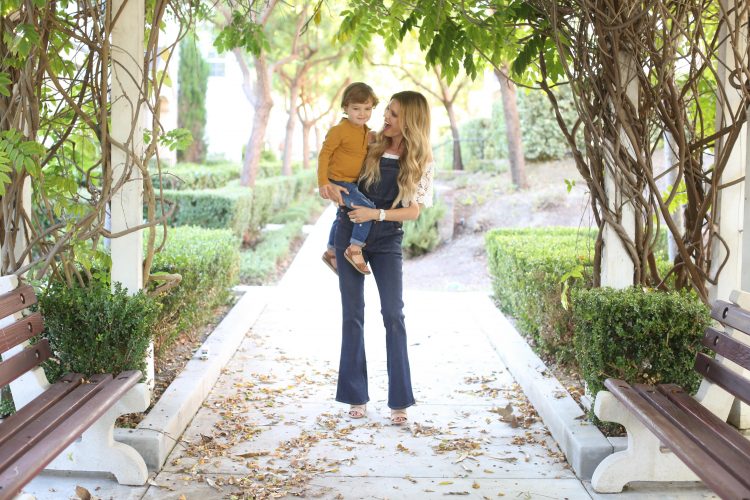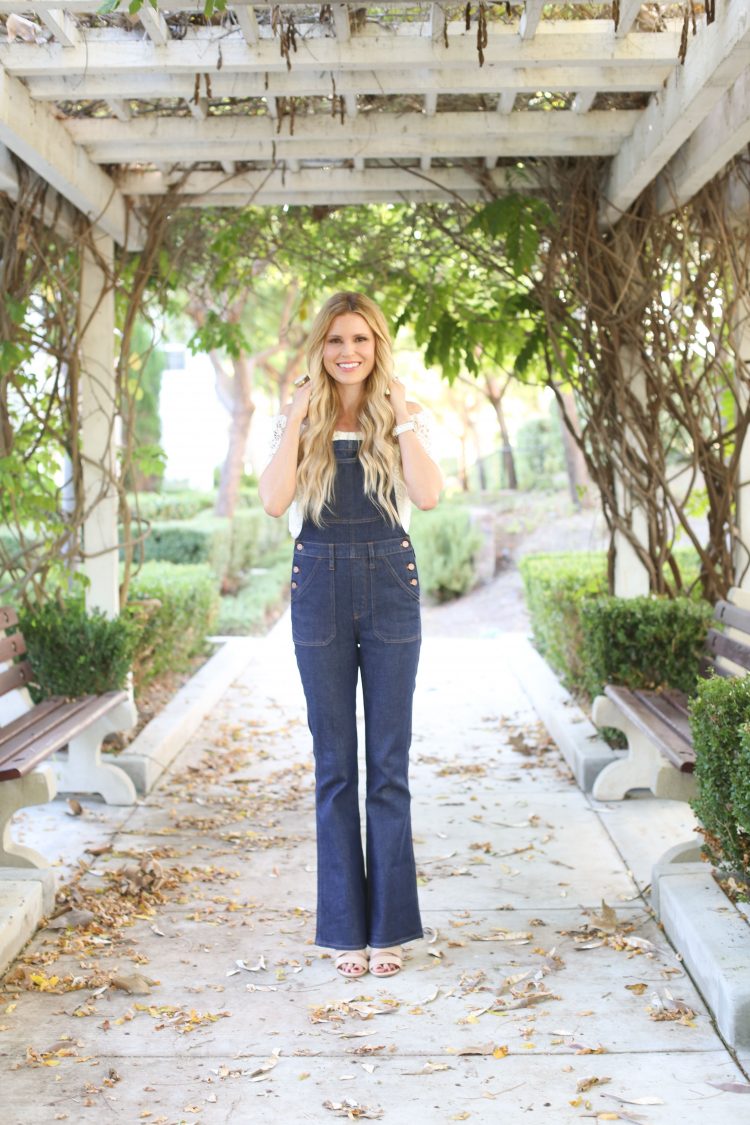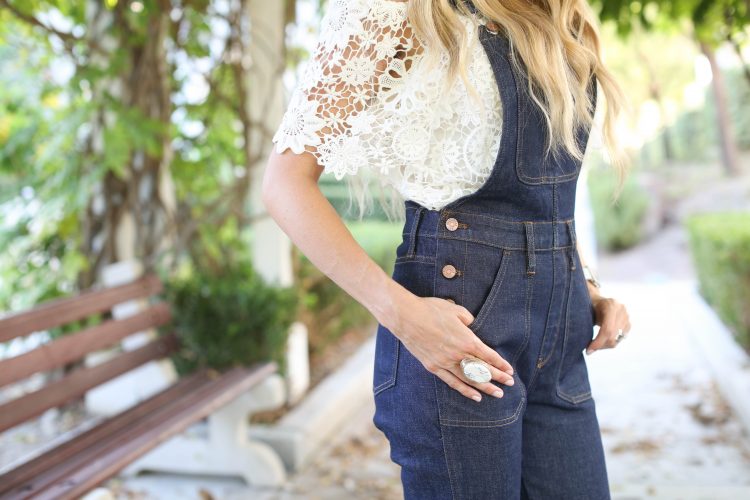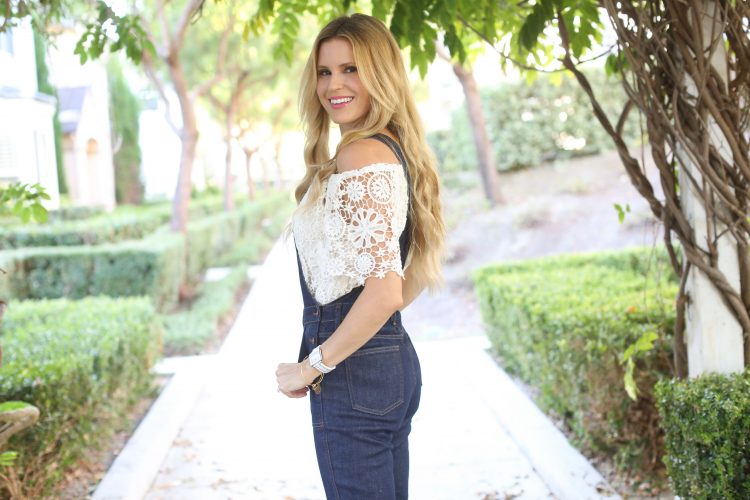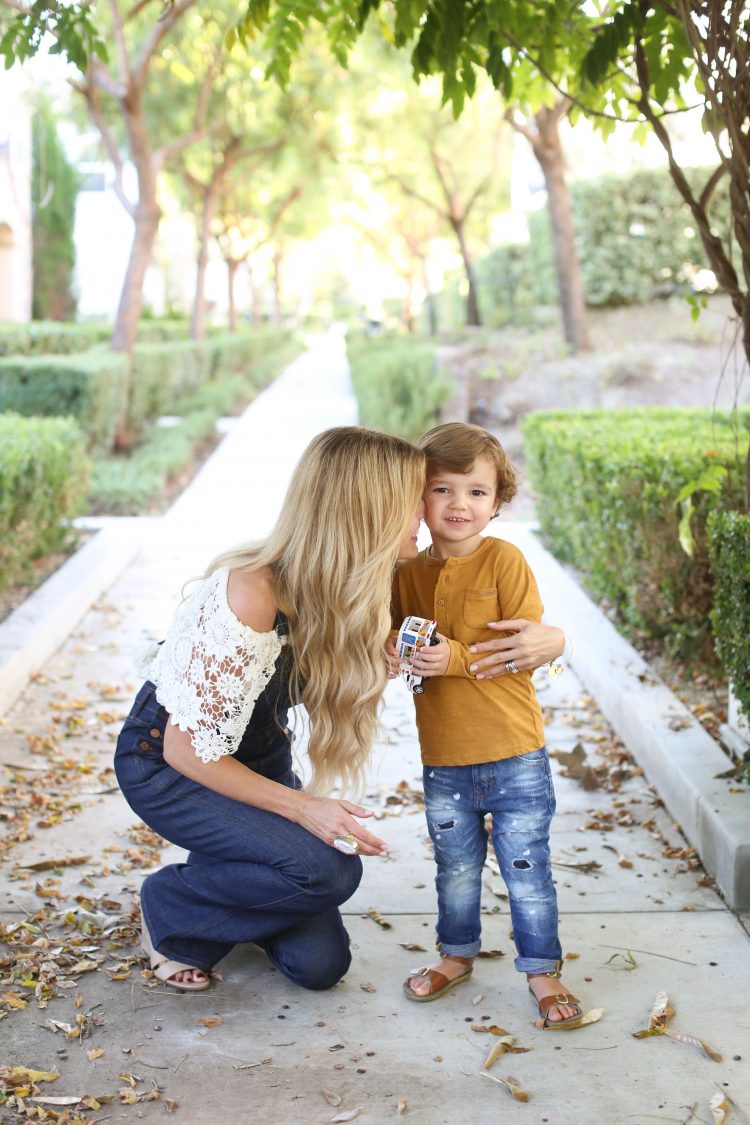 Outfit Details:
Top: Nightcap Clothing Caribbean Crochet Crop Blouse (and here!) | Overalls: Madewell Flea Market Flare Overalls (and here!) | Shoes: Vince Karen Wedge | Watch: Fendi Large Square Ceramic Bracelet Watch | Ring: Samantha Wills Dream On Ring White Howlite
Max: Top: Zara | Jeans: Zara | Sandals: Salt Water Sandal (best kid sandal ever!)
These pictures of my little guy just make me melt. He is pretty stubborn and only wants his picture taken on his terms. He got the cutest little taco truck toy, and the only reason he wanted his picture taken was so he could get a photo of the taco truck, haha.
I am always so interested in knowing what other people's daily routines look like, especially those of moms with young kids. I am thinking that if it floats my boat, you might be interested in too. When Max was a baby, I was obsessive about routines and constantly worried that he wasn't on a schedule. I am a major worrier (my poor husband). So anyway, I thought I would share with you guys what the typical day of an Orange County housewife (me) looks like. As a side note, our day to day has definitely been disrupted with the remodel. And there have been a lot more tears and temper tantrums which totally reaffirms that kids thrive on schedules. Yay for schedules!
Before I had Max, I worked in a sales position. I was good at what I did. I worked my butt off until just a few weeks before my due date. The plan was for me to start working part-time out of our home when Max was around three months or so and sleeping good. I was in for a huge wake-up call.
Max wasn't one of those "easy" babies. He didn't sleep. Ever. He was fussy and unhappy a lot of the time. And he constantly wanted to be held. The ironic thing is that now I would just die to hold him in my arms, and it is the last thing he wants to do, haha. Anyway I was one of those people strongly opposed to letting their babies sleep in their beds. And guess what? Yep, Max slept in my bed. He didn't sleep through the night until he was 1 1/2. I have never been so tired in my entire life. Fast forward to now, Max is turning 3 in December. He is a super happy guy and sleeps great on his own in his crib.
My stepdaughter Lily lives with us 50% of the time so our schedule really varies depending on whether it is a day that we have Lily or her mom does. This is an example of what our Monday will look like (and we have Lily).
7:00    Wake up (alarm has been snoozing since 6:45).
7-7:30 Help Lily get dressed & ready for school.
7:30     Kids eat breakfast (they have been eating in Lily's room since we have been remodeling).
8:00     Hubby drops off Lily at school on his way to work so it's just me & Max.
8-9:00 Max and I crawl back into my bed and he watches Chuggington while I work on blog.
9:30     Max and I go to my workout place (which he loves so he can play with the kids).
10:30    I grab a coffee and Max a snack and then we do something fun for him- like park, or go ride a train.
12:00    Lunch.
1:30       Max naps for about 3 hours and I try to squeeze all my housework, blog, and everything else.
4:30       Max loves playing trains or cars in his room by himself and has a snack.
5:30       I make dinner (and usually have a lot of house projects going at the same time).
6:30       Dinner
7:15        Bath time for the kids
7:45        Story time (I read to both kids in the rocker in Max's room)
8:00       Bedtime for Lily & Max
Now that I write this, I am thinking our life is pretty boring haha! Our days really do vary depending on whether Lily is here and whether Max has school. He goes to an early pre-school two times a week for a few hours in the morning. Once the kids are in bed, I finish up whatever laundry or house projects I am working on and then I do some more blogging. (It takes a lot of time right?). I really try to finish any blog posts during Max's nap time but sometimes that just doesn't happen). I am a total bath girl and will then get "stuck" in the bath tub for even an hour sometimes. I am also a big reader and spend a lot of time in the evening reading while Chad watches shows next to me. I haven't been watching much TV lately (because our TV downstairs has been out during the remodel and Chad has been watching his shows in our room).
That's pretty much it! We are coming close to the end of our remodel, and I am so excited to get the family back on track with healthier meals and more fruits and veggies. I really want to get more organized with my grocery shopping and have weekly meal plans. This is definitely a priority for me now that we have the new kitchen (and I am excited to use it!) so I will share my tricks and favorite recipes with you along the way.
Thanks so much for stopping by, and hope you have a great week!
xx Missy
Photos by Taylor Cole.