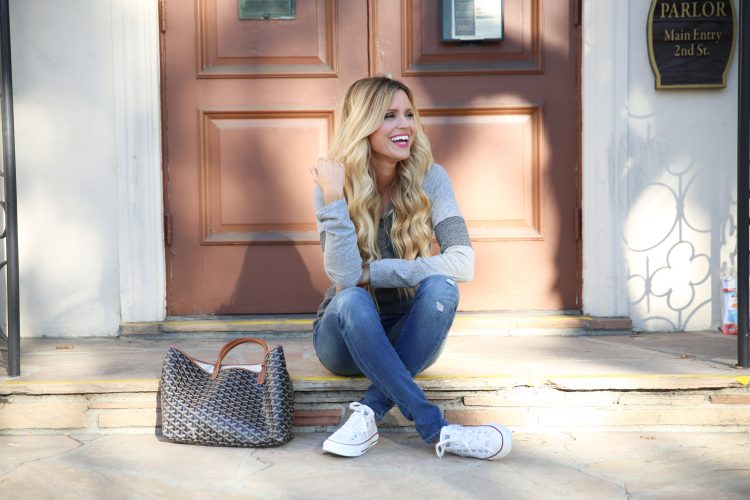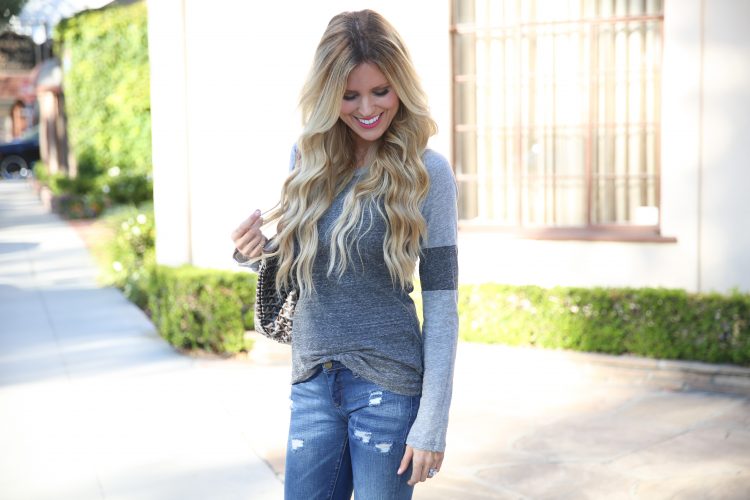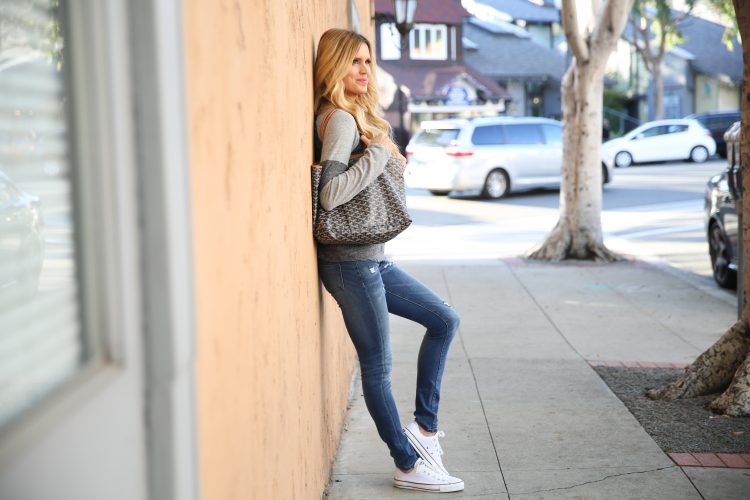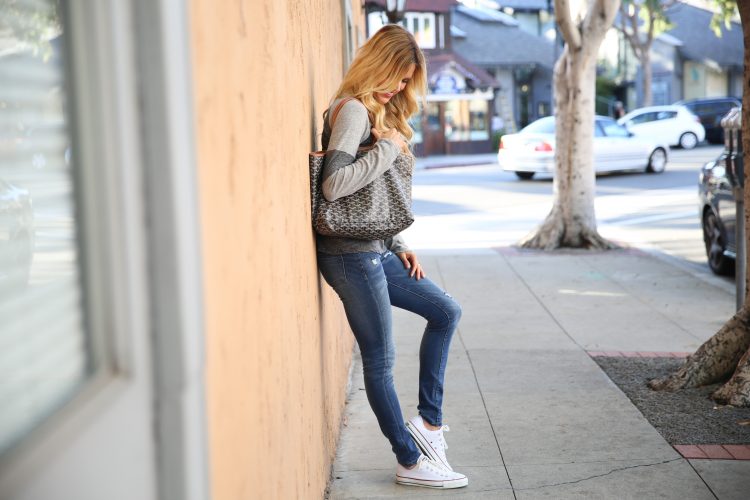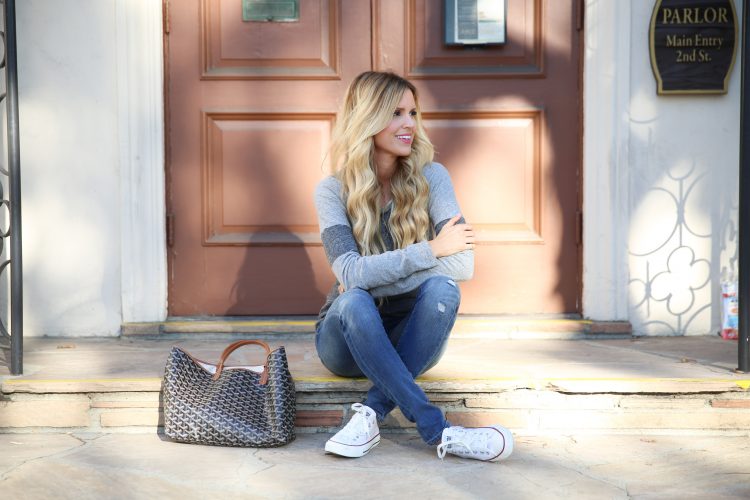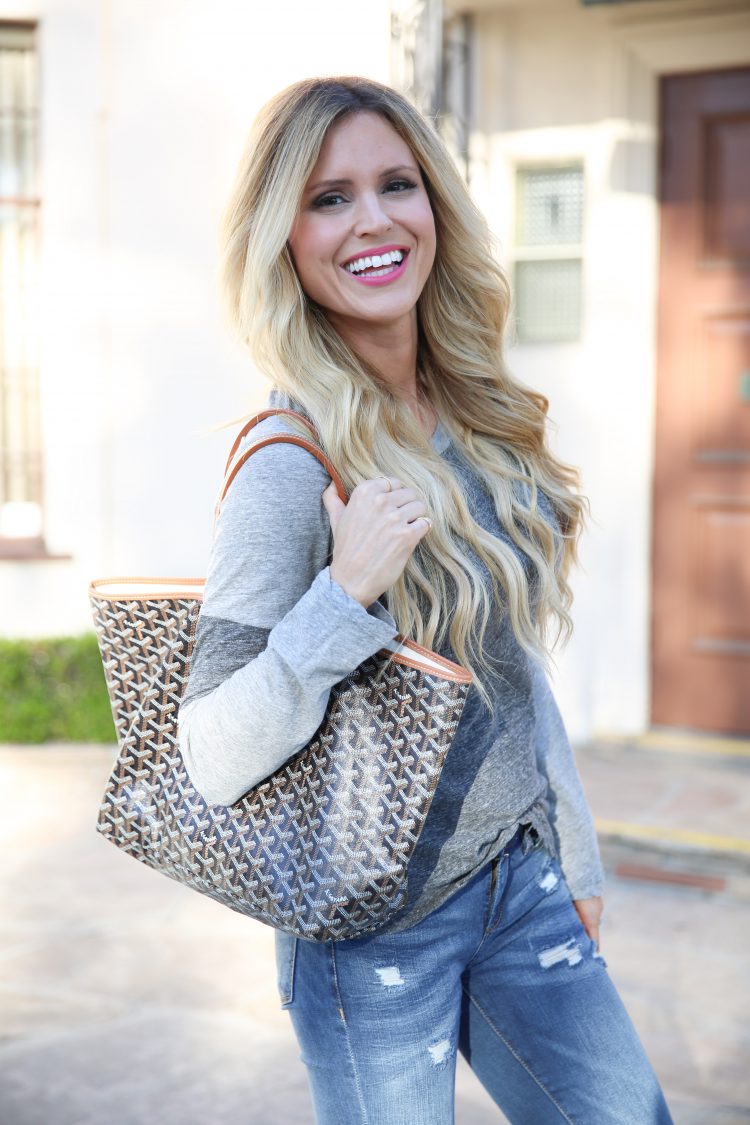 Outfit Details:
Top: James Perse Colorblock Raglan Tee (also here! and love this top for less too!!!) | Denim: Blank Denim Skinny Jeans (also here!) | Bag: Goyard | Shoes: Converse
The words comfy and cozy are two of my favorite words. They make me think of warmth and happiness and that feeling of good homesickness when you remember happy memories from the past. Okay I know that sounds cheesy, but it's true! Cozy is a cold, rainy day when you are snuggled inside under warm blankets with coffee and a candle going (and preferably with the house decorated for the holidays). Doesn't that sound amazing right now? All I can think of to describe this outfit is comfy, casual style. The perfect outfit for back to school or everyday mama style.
This James Perse raglan top is so soft. It feels like a dream as it should because it is a little pricey 😉 I can see myself wearing this top into the ground, and 10 years from now telling myself it is time to let this one go. haha I finally tried these Blank Denim skinnies that everyone has been raving about, and I am so glad I did! They are under $90 and comparable to a designer pair I have for over $200. In fact, I like them even better than the more expensive pair because they don't stretch out as much. One of my pet peeves is when jeans stretch out throughout day and you constantly have to pull them up (this happens to me a lot since I have no butt to hold them up haha). Anyway I have worn this pair a few times (haven't washed them yet), and they have retained their perfect shape. Flare denim is definitely making a comeback, but skinnies are still in style and look great when paired with longer tunics and loose fitting tops. Jeans are a definite staple piece for fall style, and this is my #1 pair I am recommending based on quality, fit, and most importantly price.
Thanks for visiting, and have a great weekend! 🙂
xx Missy
Photos by Taylor Cole.