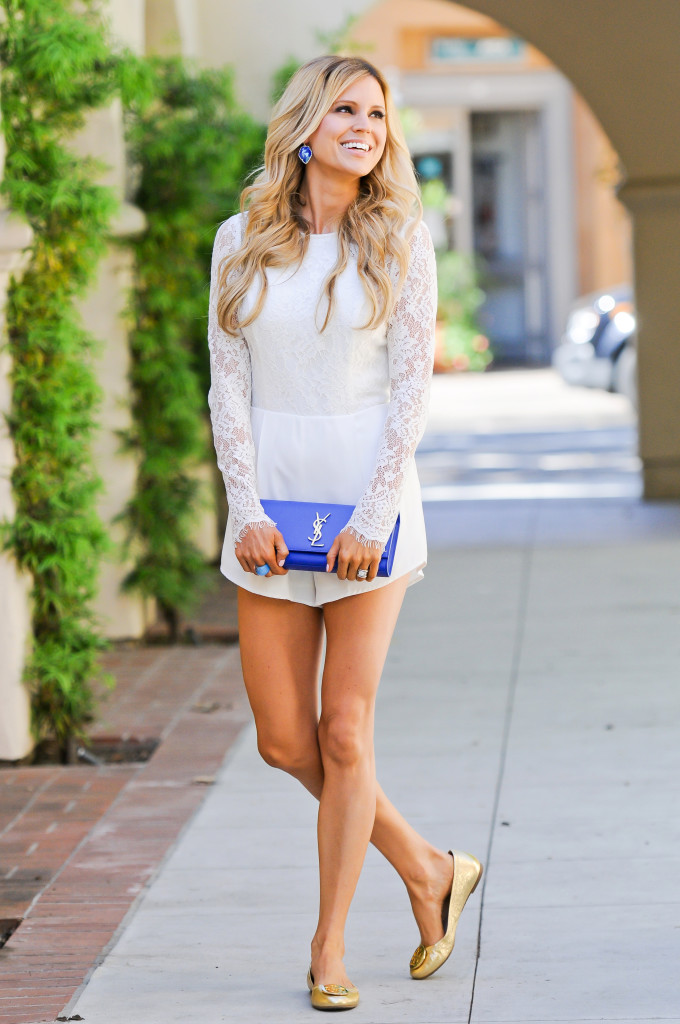 Outfit Details:
Romper: The Jetset Diaries (also here) | Clutch: Saint Laurent (similar here) | Flats: Tory Burch old/ sold out (similar here) | Earrings: Kendra Scott | Ring: Swarovski old/ sold out (similar here)
Hi!!! And welcome. This is my first official blog post (!!!!), and I am so glad you are here. I had absolutely no idea how much work went into making a blog, and I have a newfound respect for all you bloggers out there. As you get to know me, you will find that I am a bit of a perfectionist (borderline OCD, oops) which might be the Libra in me. I have a hard time making decisions because I am constantly over thinking things. So you can rest assured that a lot of time and thought went into choosing the outfits that I am going to share with you. However, that wasn't the case with this white lace romper. It was pretty much love at first sight.
Do you know how some clothes just make you feel so happy and more like YOU when you put them on? I was nervous to shoot my first photos for the blog, but when I put on this outfit I instantly relaxed. There are a few spring/ summer trends that I am really digging right now- especially the all white and lace so I thought this was the perfect first outfit to share with you.
Being a mom, I really prefer an outfit that is an all-in-one that I can quickly throw on and still feel pulled together. Because of this, I tend to wear a lot of dresses and rompers. I can see this romper dressed up or down, and I love the detail in the back and the fact that it has pockets. I paired this white lace romper with pops of bright blue, but it would also look stunning in all neutral tones… especially that blush pink that I have been seeing everywhere.
Thank you for visiting!
xx Missy
Photos by Carrie Zeller.